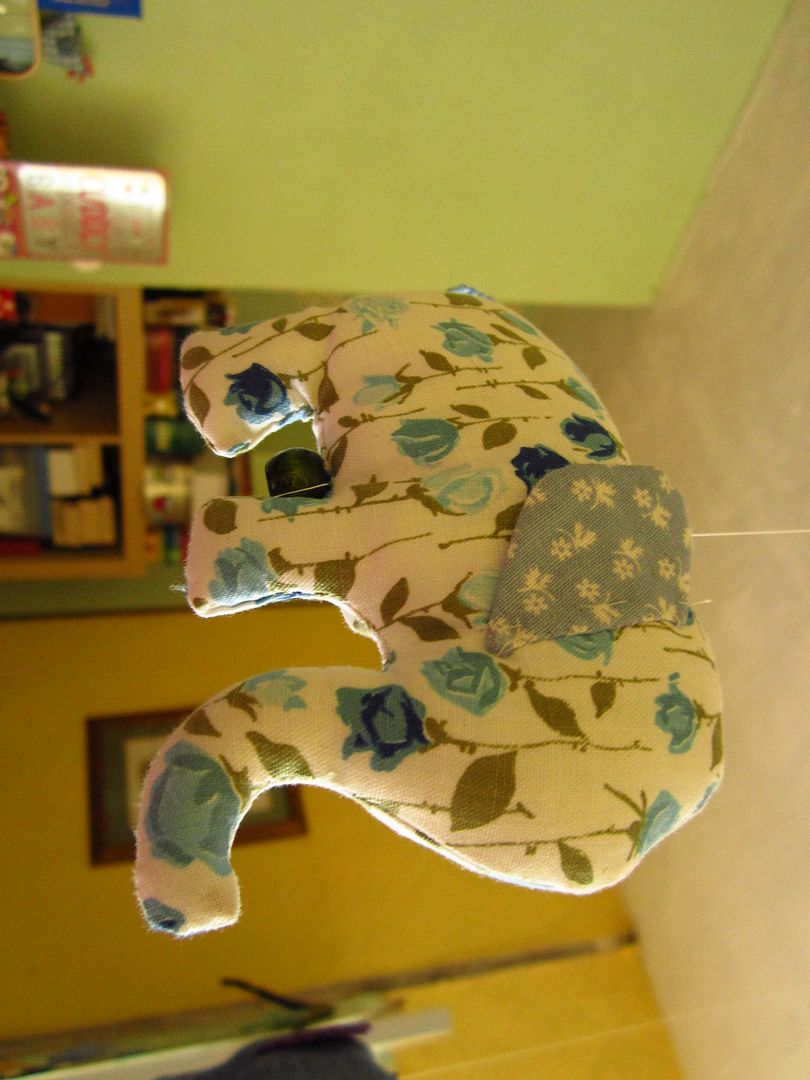 For weeks before she visited, Rachel made little hinty comments on Twitter about a secret project that she was working on for the baby, and how she was DESperate to tell me about it. I know how lovely it is to surprise someone with your handmade efforts so I deliberately didn't ask her about the project at all in case she ruined the surprise for herself.
Anyway the day finally came where she could give me the present … and we made her wait until Andy got home so that he could see it too! We were blown away by what she had made us … an elephant mobile! I mean seriously, how lovely is it? So much love has gone into making it.
The white elephant with the blue roses on is made from fabric that belonged to my Grandma from decades ago.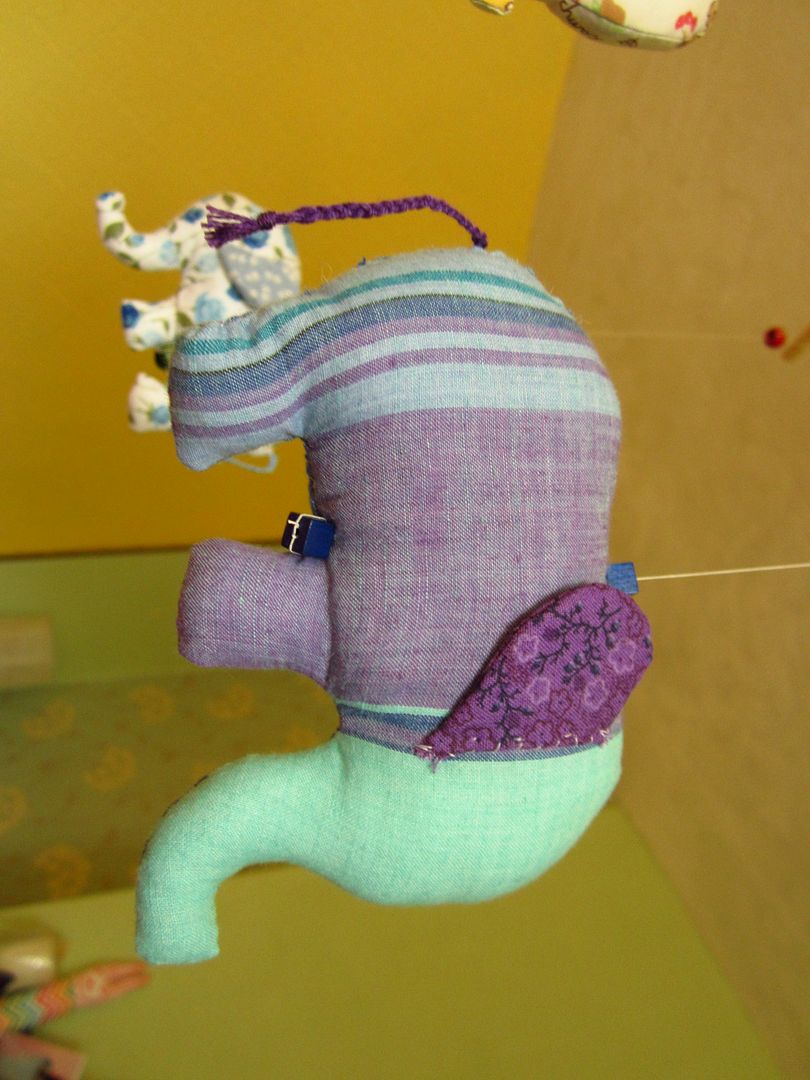 This purple and green elephant is made with fabric from dresses that Auntie Joan gave to me and Rachel when we were ten and six years old. They were given to us on the way down to Pevensey and when we arrived there we ran straight into the sea in them. I'll have to find the photo for you, it's one of my favourites. (Actually Rachel as you are at home can you have a look for it and email me a copy? Might be in one of my albums but not sure.)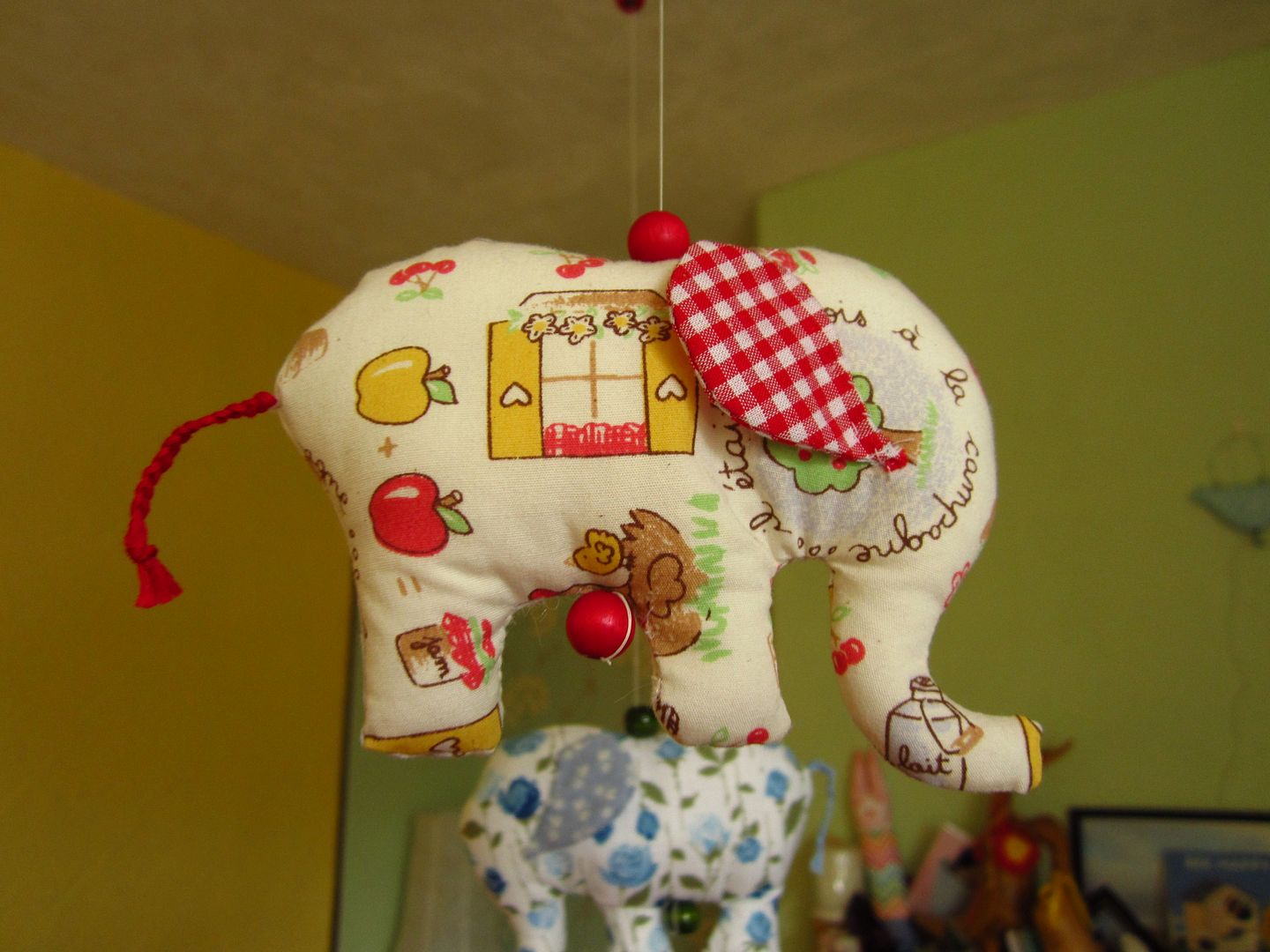 The French apples fabric my mum bought in a charity shop a couple of years ago, and the ear fabric Rachel bought in Winchester I think with her friend.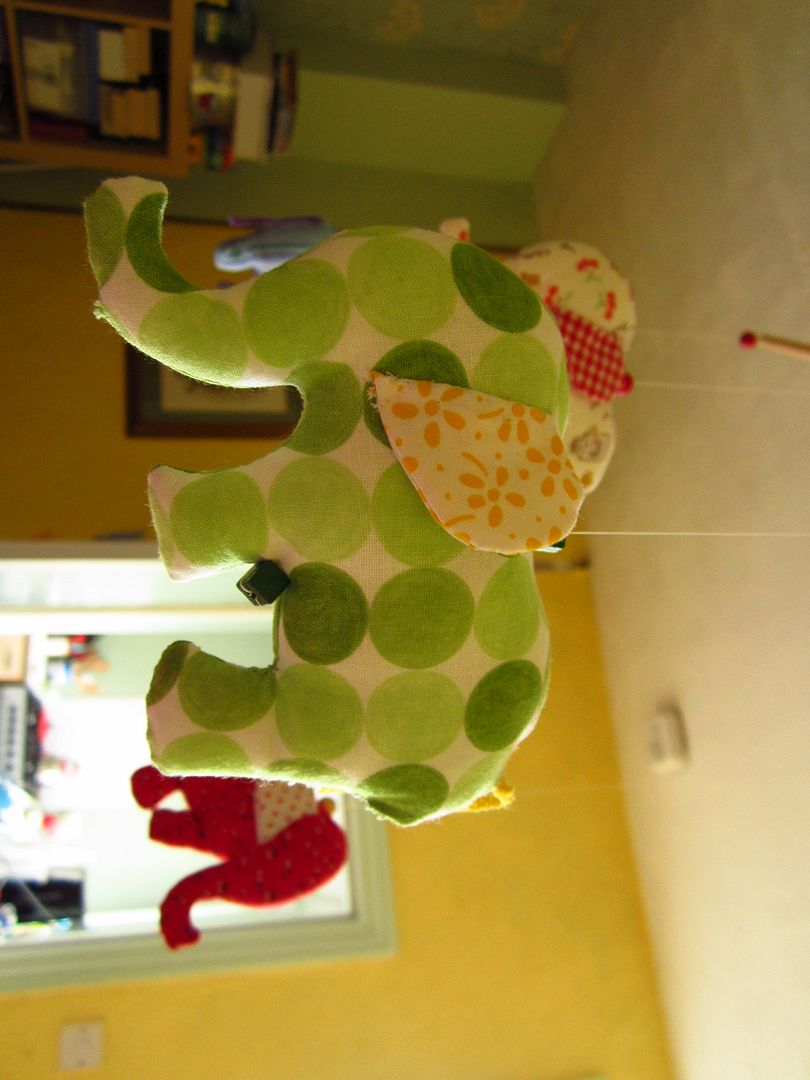 This fabric is a modern one from a Moda layer cake I bought a while ago, the same range as the little quilt my mum made for my cousin's baby.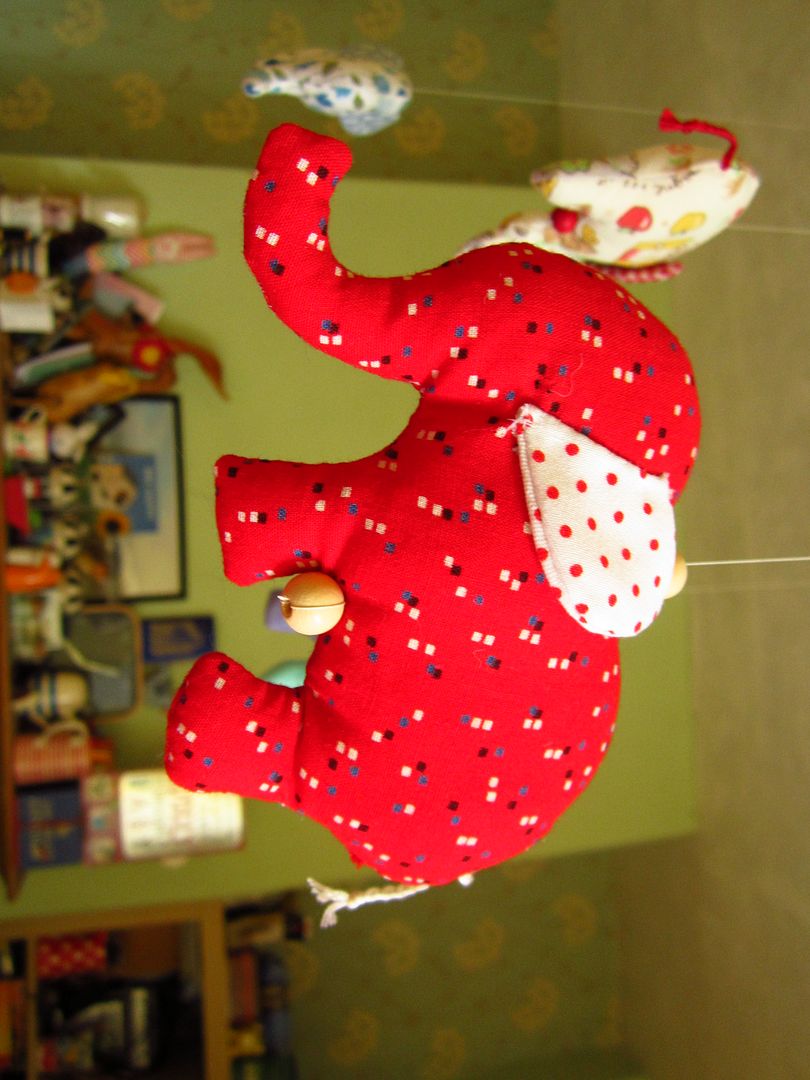 This red elephant is made from a dress that my mum bought at a table top sale in the 80's and is dear to me because I had things made from it as a child. It's very evocative! (Andy said that it's Very Eighties.)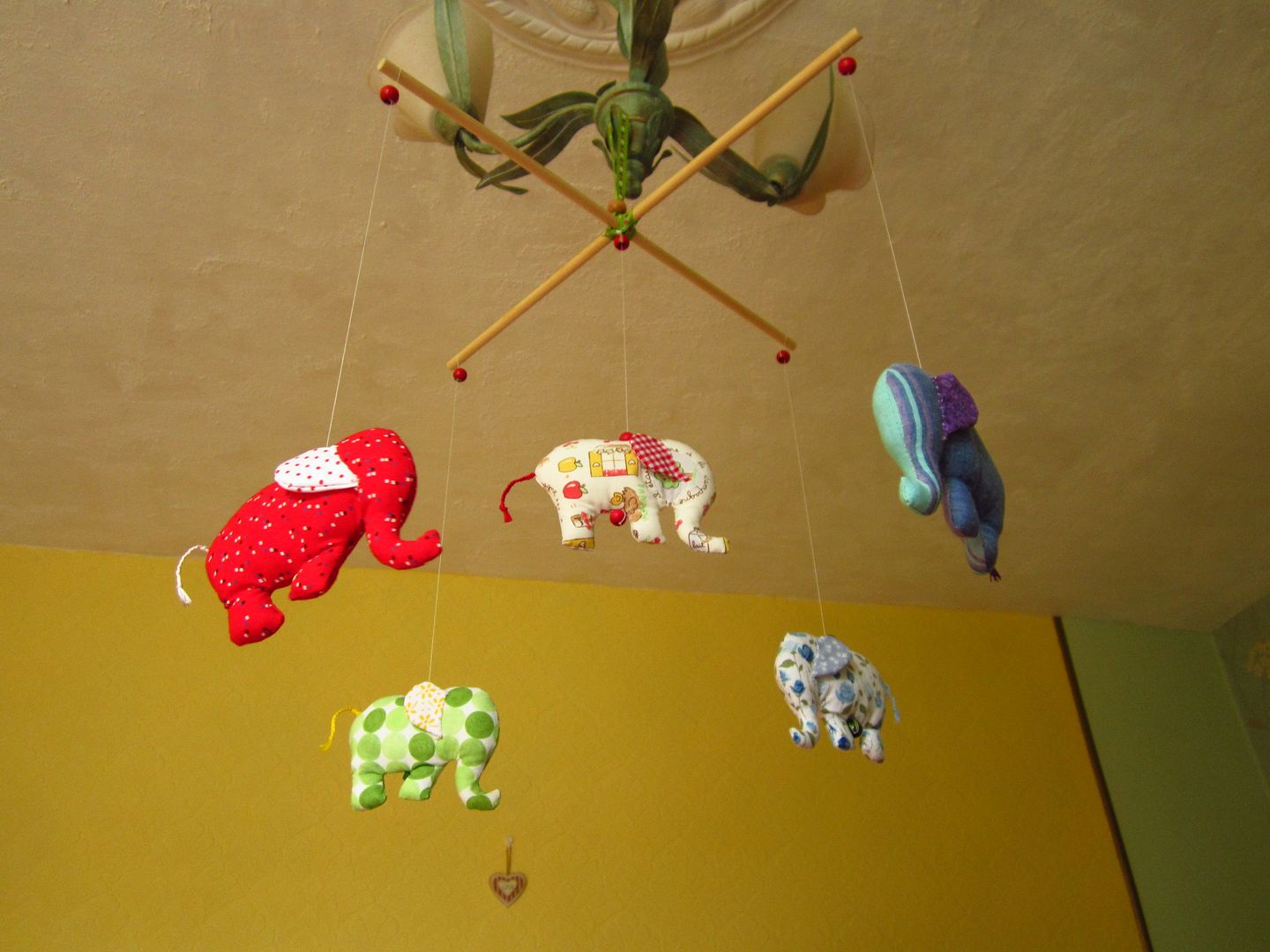 Apparently getting them all to balance was the hardest part!
We both love it so much and I'm tickled pink that baby has such a beautiful homemade mobile to gaze at.
Handmade is so special isn't it? So much love and effort has gone into making it and it makes me happy to know that my family care so much about my baby :-)
Thank you Rachel, you will be rewarded in due course with baby snuggles!
xxx
p.s this is my 500th post … blimey.