Last Friday, on my final walk to work before maternity leave, I passed the market as usual and did a little happy jig (just in my head, I'm a bit past jigging at the moment) as I saw that the flower stall had the very first buckets of dahlias for sale. Hurrah! I made a promise to myself that I'd be back next week (which is now this week) to buy myself some as a "happy maternity leave" present. I went on Wednesday but they didn't have any at all. Happily today, they had two buckets of them. Brilliant. Friday is always the best day for cut flowers and I hope to take advantage of it more often now that I am not at work.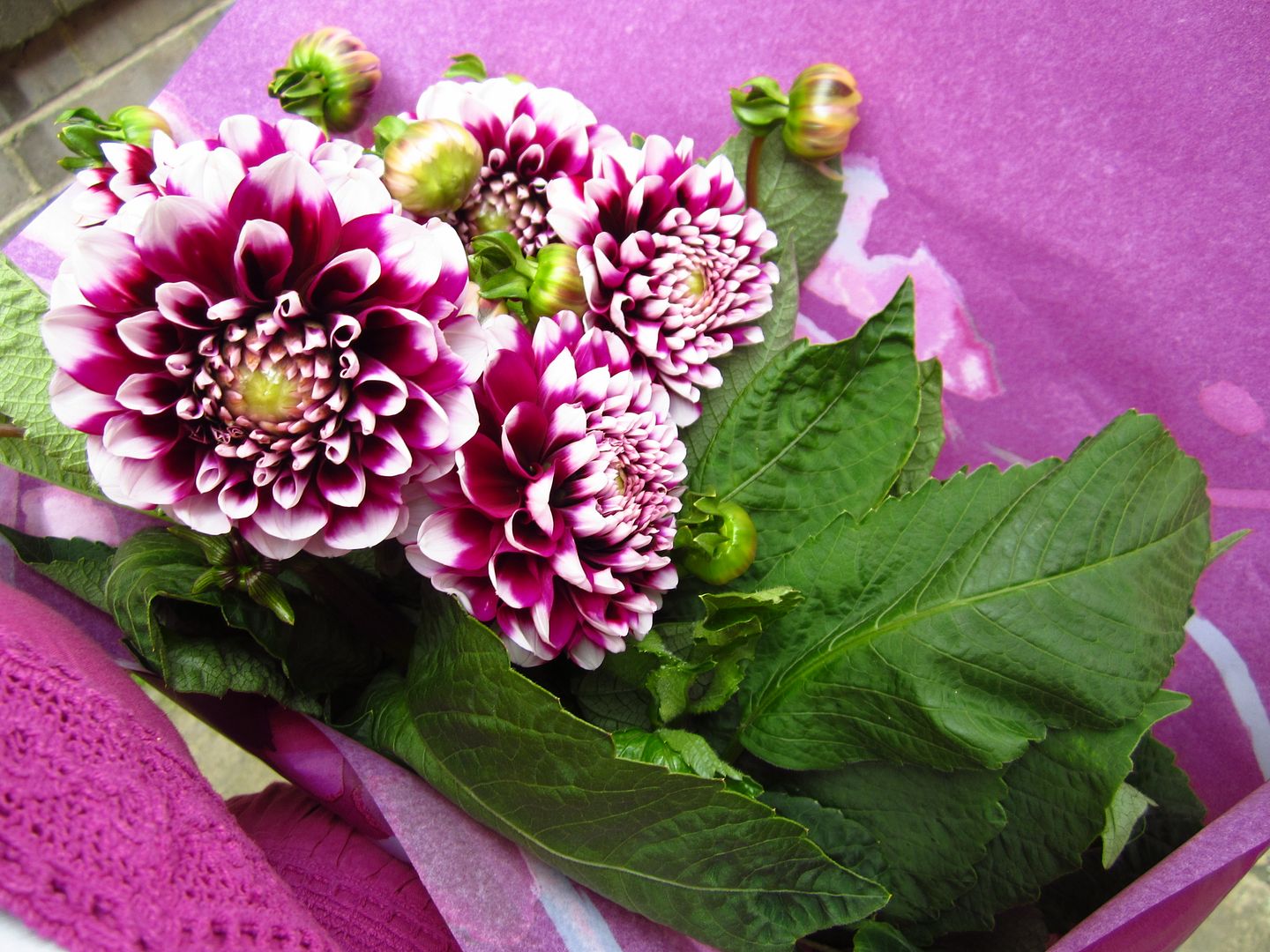 It's always hard to choose which ones to buy but in the end I went with the pink and white ones to match my dress. Next time I think I will choose the flaming orange and pink ones. These pink and white ones are impossibly pretty.
They had to wait while I had my lunch before I could chop them about and put them in water. I take most of the leaves off because I don't like how leaves go mushy and stinky in water. This does lessen the "wow" factor slightly but I prefer that to stinky wet mush leaves!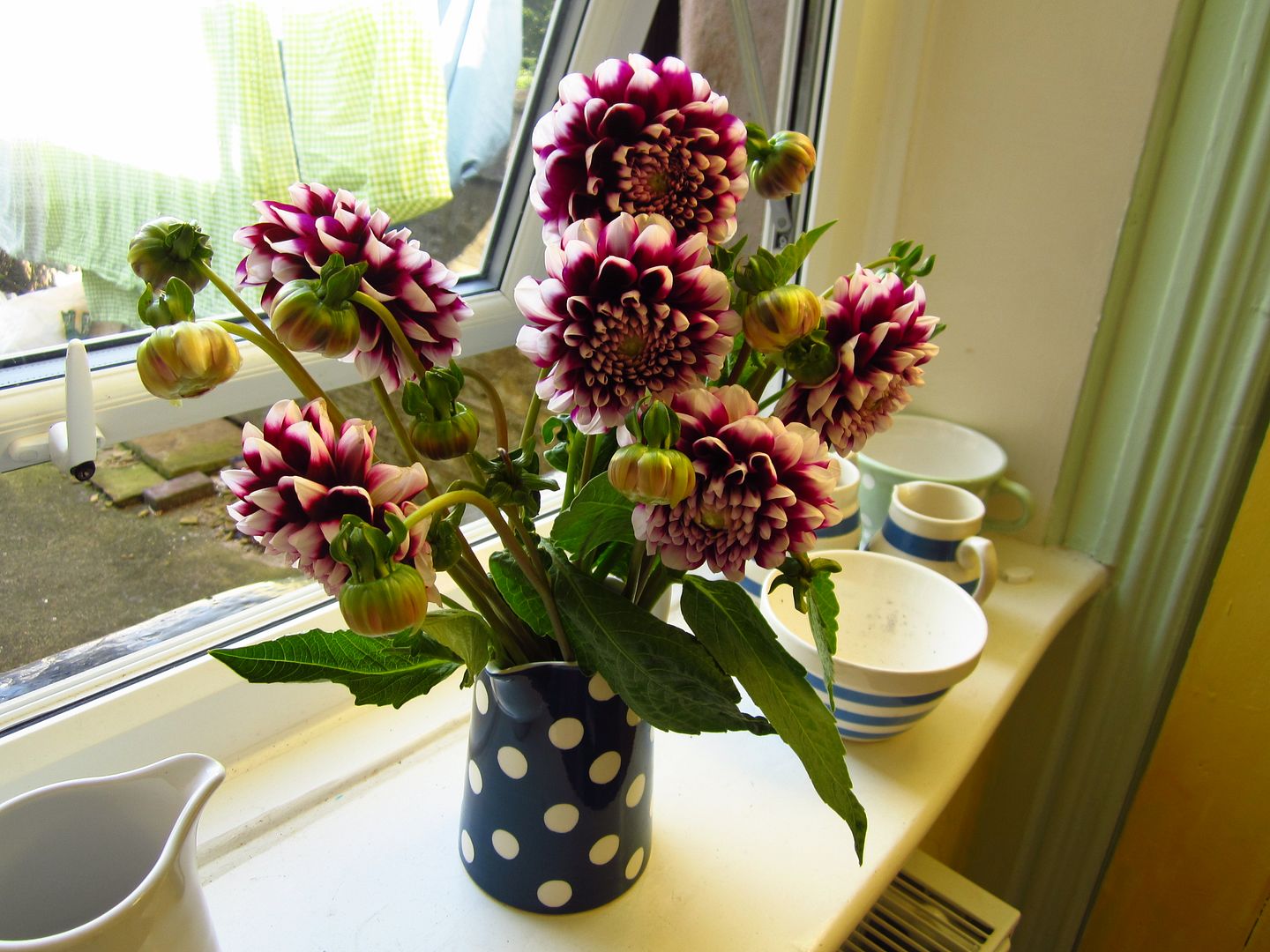 Blue dotty jug + dining room windowsill = lovely.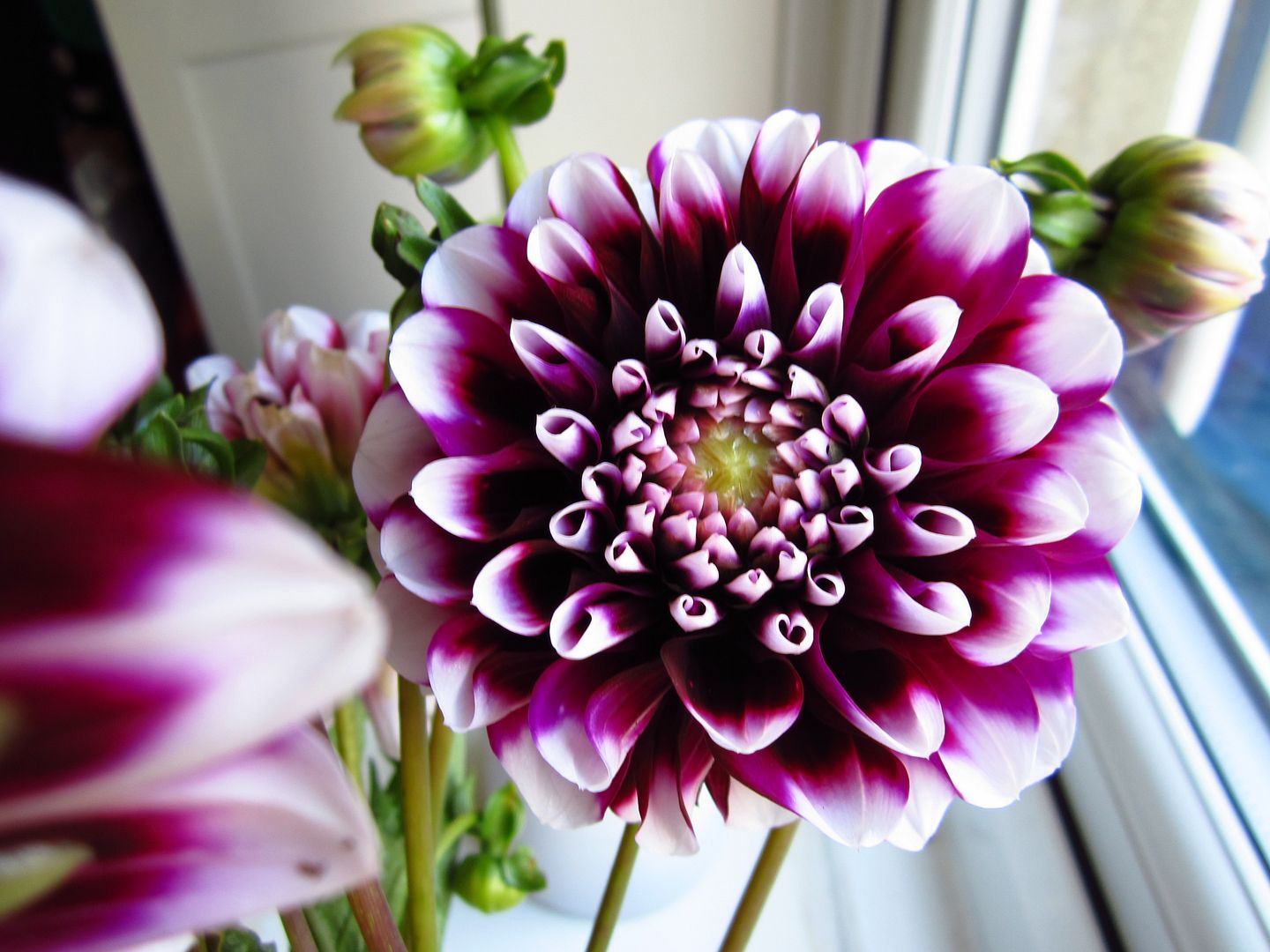 See, impossibly pretty.
It's been such a lovely day today. Last night our friends arrived with their 10 week old baby boy to stay the night on their journey up to Aberdeen. It was so good to see them! We've not seen them for ages and they moved from Yorkshire to Suffolk earlier this year. We hadn't anticipated being able to meet their new baby until next Spring, so to be able to host them overnight was great. They left this morning after I'd had lots of lovely baby cuddles. I also took the final deliveries: Ikea (much needed storage furniture for baby's room) and the books from The Book People. Also, (and I know this is really boring to read about) we had someone to come and clean the gutters on the house. I'm proud of this because it's the first house maintenance thing that I have organised and executed myself. Usually Andy sorts things out and it felt good to do it myself. I mean, I am perfectly competent at sorting things out and have no issues doing it, but it's just that Andy does it. But this, I found the person to do it, I booked it, I let him in, I sorted it and although Andy paid, I am taking it as a personal triumph. Also now we have clear gutters (they were growing their own little ecosystem up there!) we should hopefully have solved the damp problem in our bedroom wall which means that we might even be able to decorate our room. Fancy that! More normal people decorating.
After I'd waved goodbye to friends, paid gutter clearing man, signed for deliveries and helped Ikea park their lorry it was lunch time. Having nothing interesting in, I wandered to the market (primarily for dahlias I have to say) for some food. Some cherry tomatoes, a bunch of bananas and some balsamic onion cheddar from the cheese van all came home with me. Deeeelish. I am so glad that we moved here and are here to stay, I mean we were never unhappy as such when we lived in Leeds but our quality of life is so much better here and I love to take advantage of things like the market. I really love it. I don't think we'd be as happy anywhere else and it's gratifying to feel like we made the right choice as it's a huge choice buying a house and deciding where to live.
Have a lovely weekend everyone :-) xxxx