When I make baby blankets for friends' babies, I never have any problems deciding what size to make them, and I stop when it feels naturally proportionate. With this one though, the first "baby" blanket I've made, I had no idea how big to make it. I think that was mostly down to not knowing what the purpose of the blanket was … it's not a pram blanket as I have another one planned for the pram, and I've got one of those baby sleeping bag things so don't really need a warm blanket for the crib. After I gave it a purpose though, it became a lot easier to be decisive about the size. This blanket then, is my car seat blanket. A blanket for tucking baby up in in the car, and then when baby is bigger and sitting in a front facing car seat it will still be big enough to snuggle over legs if need be.
I found that the easiest way to do the ends was to do two at once. The yarn is fine and had no problem being done like this. Take them through one way, and then back the other. It's not the neatest end darning in the world but the stitches are so open it's difficult to hide them. It looks fine though and I'm not too precious about it, as long as they're not flapping about I'm happy. When I'm doing granny squares I prefer to diligently sew in all my ends as I go along but with a blanket like this I prefer to get my hooky momentum going and do my ends in a few sessions. It's quite a nice thing to sit in bed and do before going to sleep, surprisingly relaxing. It's worth it when done though, I love the sight of a blanket with all the ends done:
I lay the blanket out from time to time to see how I'm doing size wise and once it looked right I started on the border: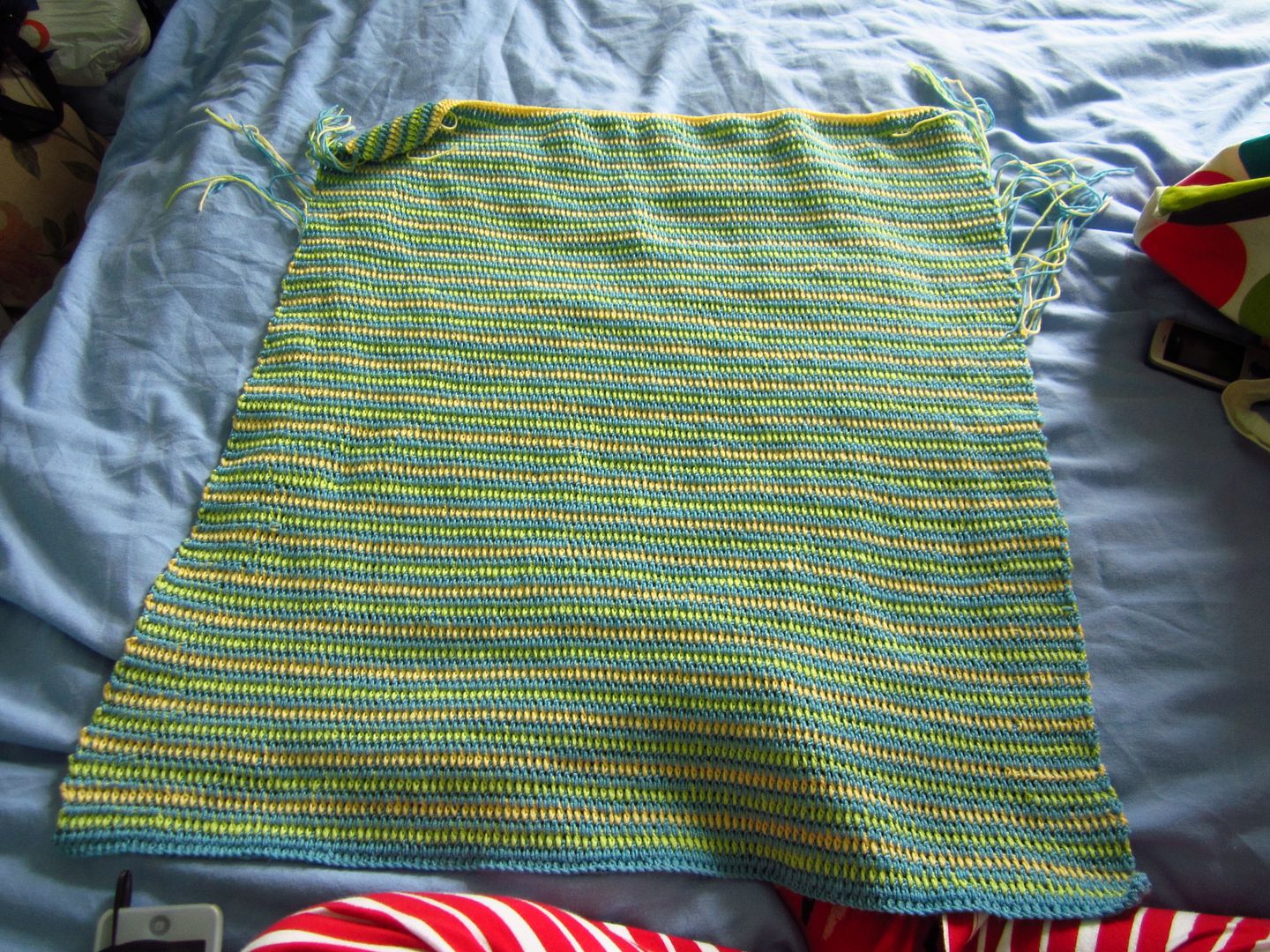 (this pic is pre-end sewing!)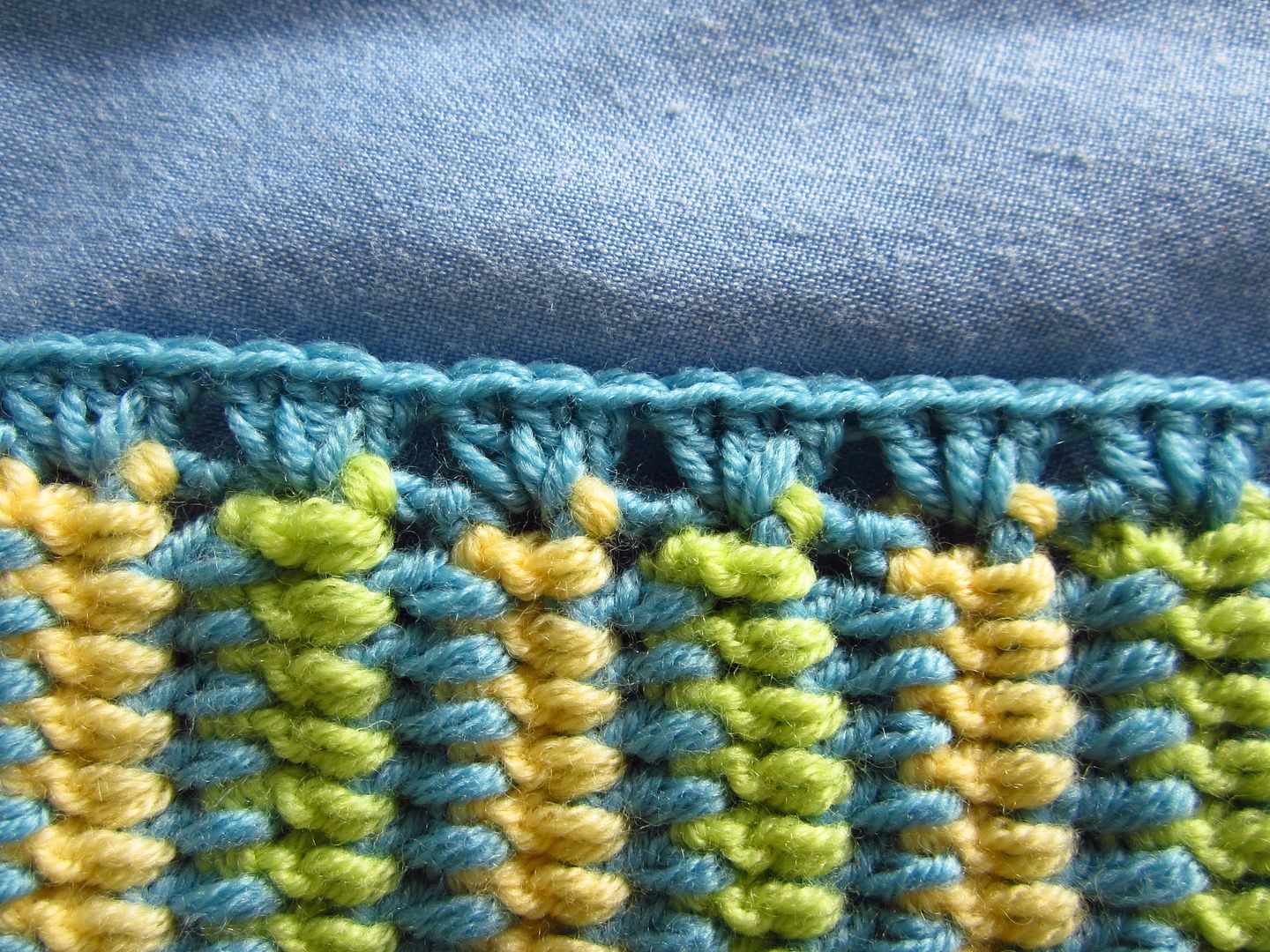 As I showed you previously, I like to start my edging with a row of granny clusters up each side. This gives a nice base for the border. You don't need to do a cluster in each row as it won't fit and you'll have more border than blanket. A cluster in every other row, with no chain spaces, works best in my opinion.
I had done two rows of blue at each end of the blanket so to make it even all the way around I did a further row of blue on top of the row of clusters. You have to bodge the corners a bit but it works out fine. After that I did a round of yellow and a round of green working in the tops of all the stitches. These were UK TR stitches worked in the tops as opposed to between them. The final round is a round of blue again, using UK DC stitches in between the stitches. I'm not really one for fancy borders, I just like the blanket to look finished really.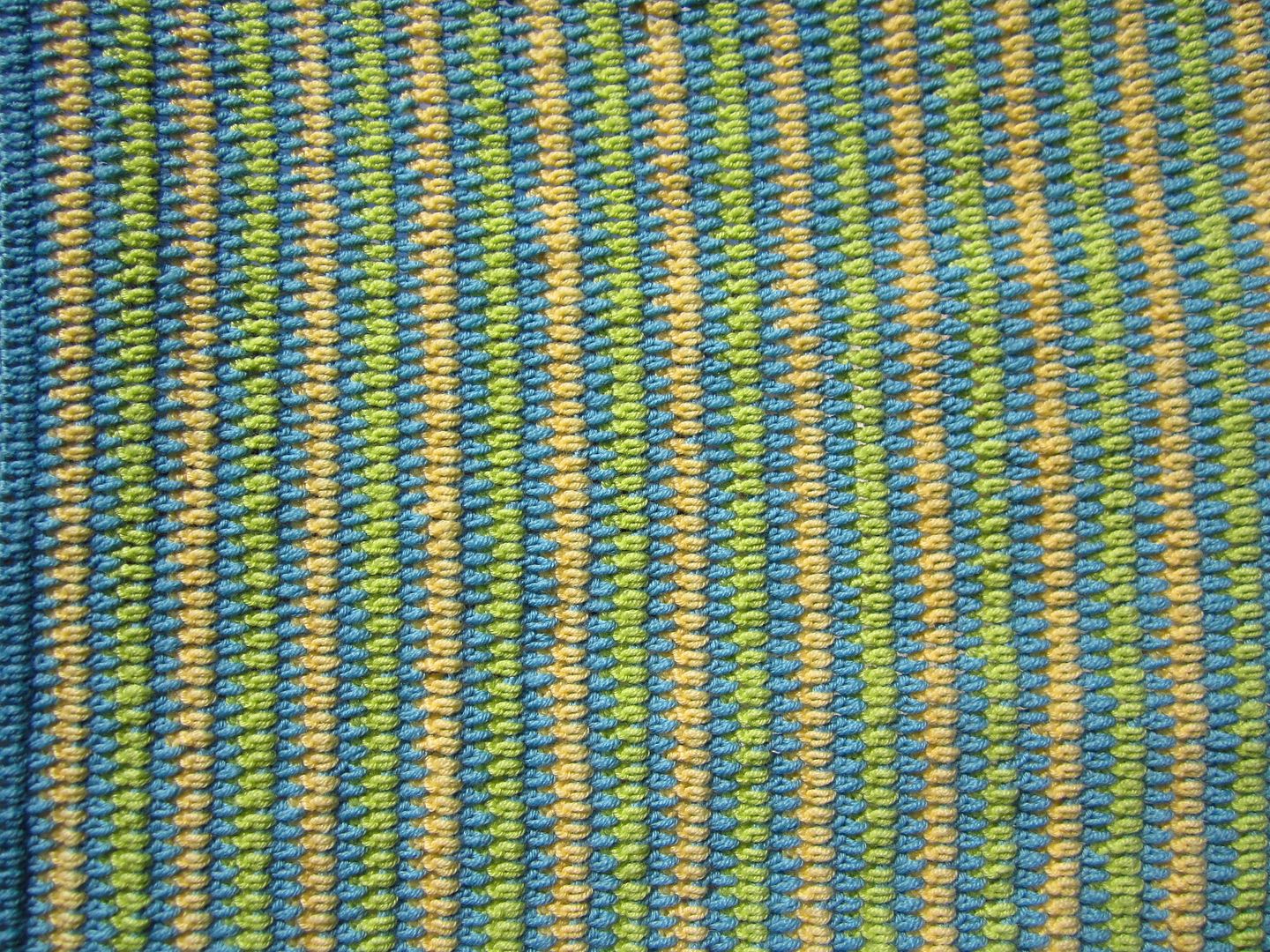 Crochet stitches all have a front and a back. When working in stripes, you turn your work each time and when you look at the finished piece, the rows where you can see the front of the stitches look thinner than the rows where you can see the backs. In the above photo, the blue rows are the front of the stitches and the yellow and green ones are the back of the stitches. I liked that this made the blanket look less blue and the yellow and green were dominant. I chose to put my border on so that this side faced up. The other side is just as lovely, it's just that the blue is a more dominant colour and I preferred the lightness and freshness of the yellow and green. For my next striped blanket, I am not going to turn my work each time, I am going to make all the stitches face the same way. This will make sense when I show you, I promise!
It would benefit from blocking I think, as the corners are curly. I'm not that bothered though and curly corners aren't going to matter when it's in use.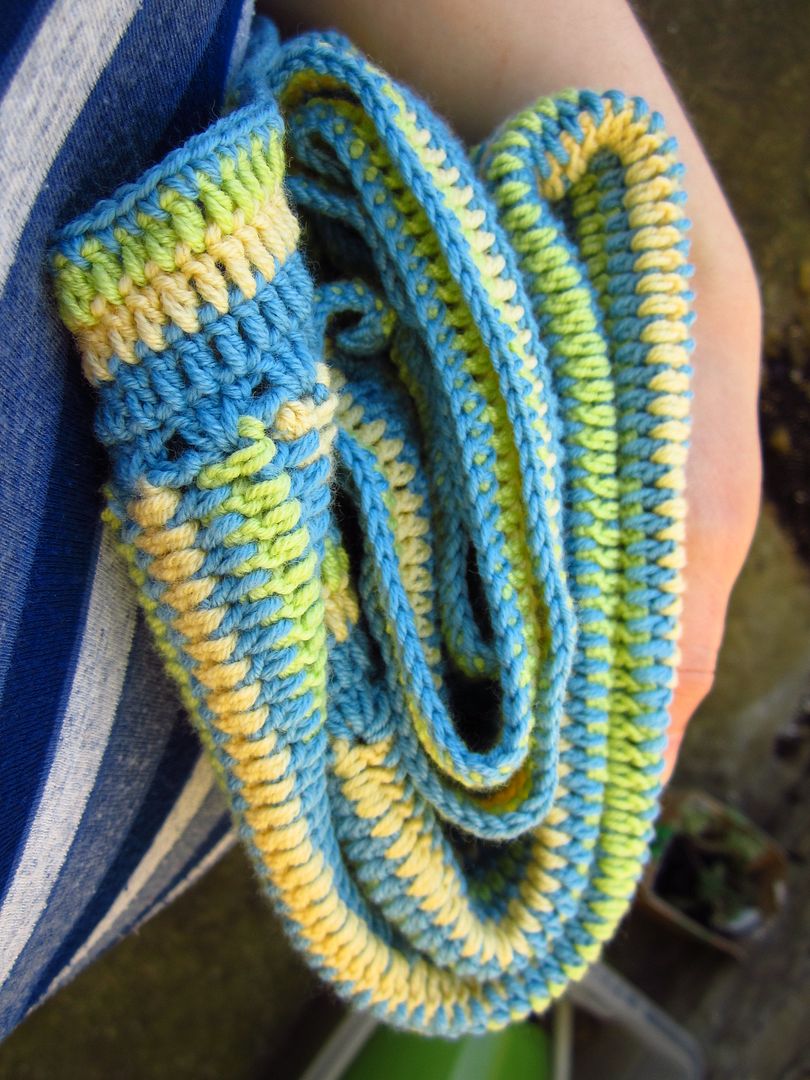 I started this blanket on the 14th of July and I finished it on the 8th August so that's what, 3 weeks and 4 days? Not bad for a 4ply blanket! The yarn is divine, it's 100% merino but it's not fibrous when you stroke it at all, but it's not heavy like cotton is. It's Katia Merino Baby in colour shades 14, 37 and 44. I used a ball and a half of each yellow and green, and three and a half of the blue.
So here you have it … one finished blanket for baby. That brings the count to two … I wonder if I can squeeze another one in before baby arrives?