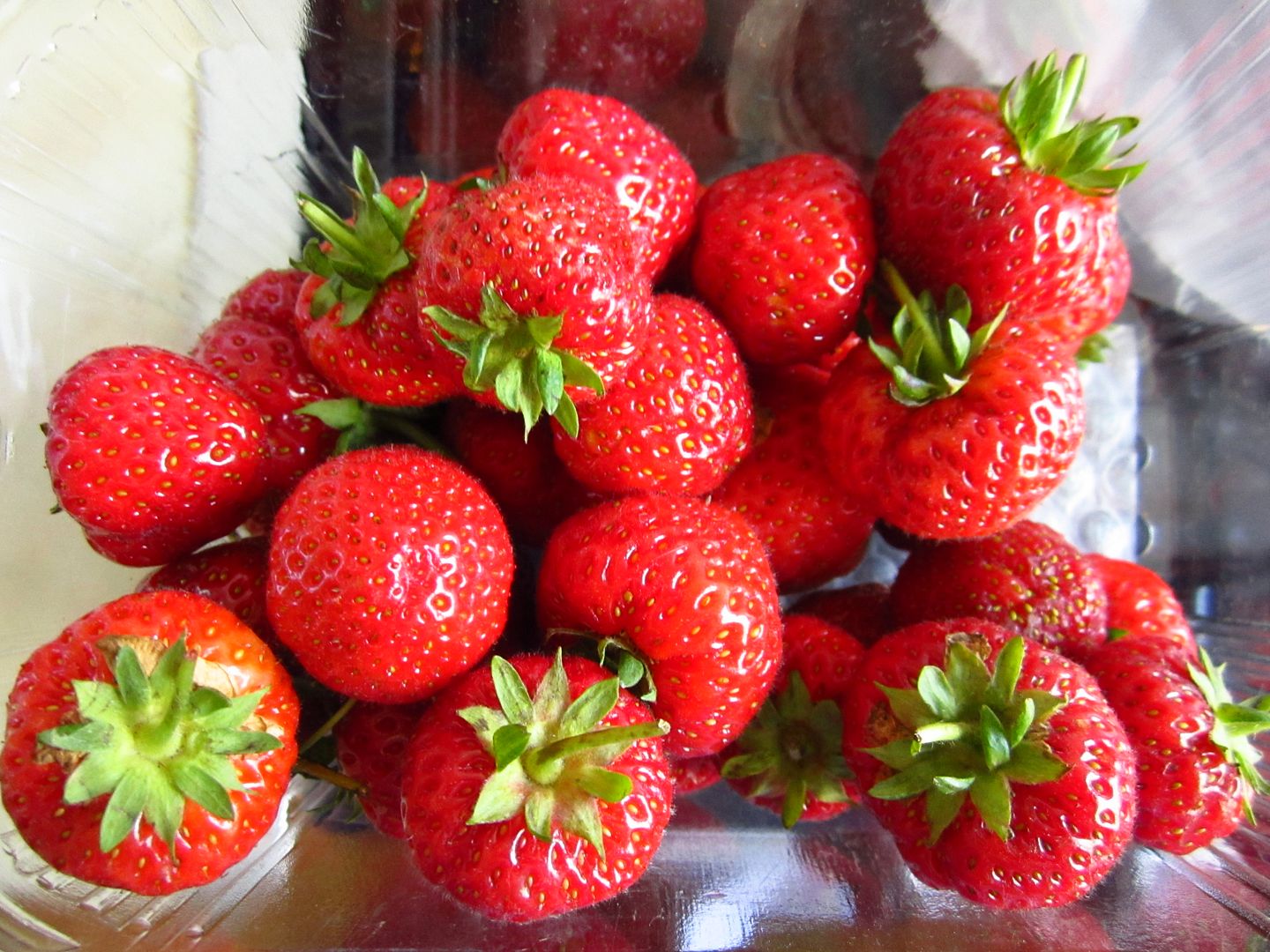 That's quite an exciting title for a post about putting stuff into a blender. This week so far has been spent waiting in for deliveries: two Amazon, two Mothercare, one Royal Mail (YARN!!!!) and one from Tesco (spare bed.) Just waiting on two sacks of rabbit food and some books from The Book People (early Christmas present shopping) now. Waiting in for things on one day is exciting, three in a row is not so much. After the bed was delivered just before lunch (slightly awkward as they tried to deliver it in an articulated lorry down our teeny tiny 120 year old terraced street) I Needed To Go Out.
I know … I'll take more things to the charity shop. I have so loved clearing out all of our junk in the name of making space for the baby. I've been such a hoarder all my life and it's so refreshing to finally get rid of lots of things. I can't even count how many times we've been down to the charity shop now but oh my, it feels so good to get rid of things. Today I took a bag of old clothes, a big cup and saucer from Whittards, 6 pasta bowls and a didgeridoo. After that I battled my way through all the old people (always avoid market day on a Wednesday) to get to the plant man on the market. I wanted some dahlias: they had them on Friday when I couldn't buy any but today of course they didn't have any at all. Must try on Friday. Not to come away empty handed I bought two packs of strawberries for £2, along with some Discovery apples.
For some reason I've had the idea of making smoothies in my head for a while. I don't like shop bought smoothies AT ALL but thought I'd have a bash at making my own and see if that was any better. I chopped a pack of strawberries and put them into my mini food processor. I don't have a blender, but this made mush of them soon enough!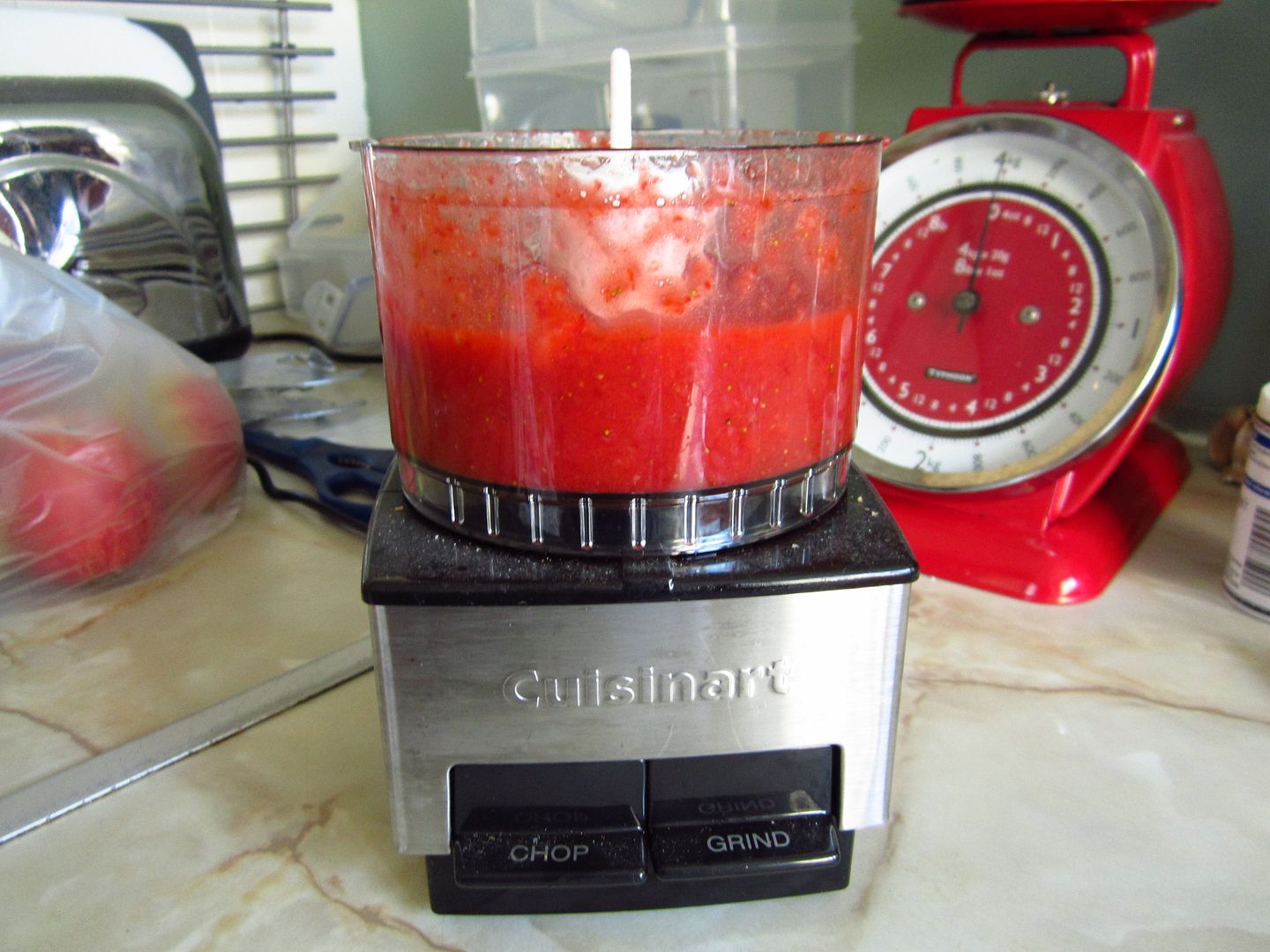 Hurrah for me, I made a glass of strawberry mush. Don't say I never achieve anything!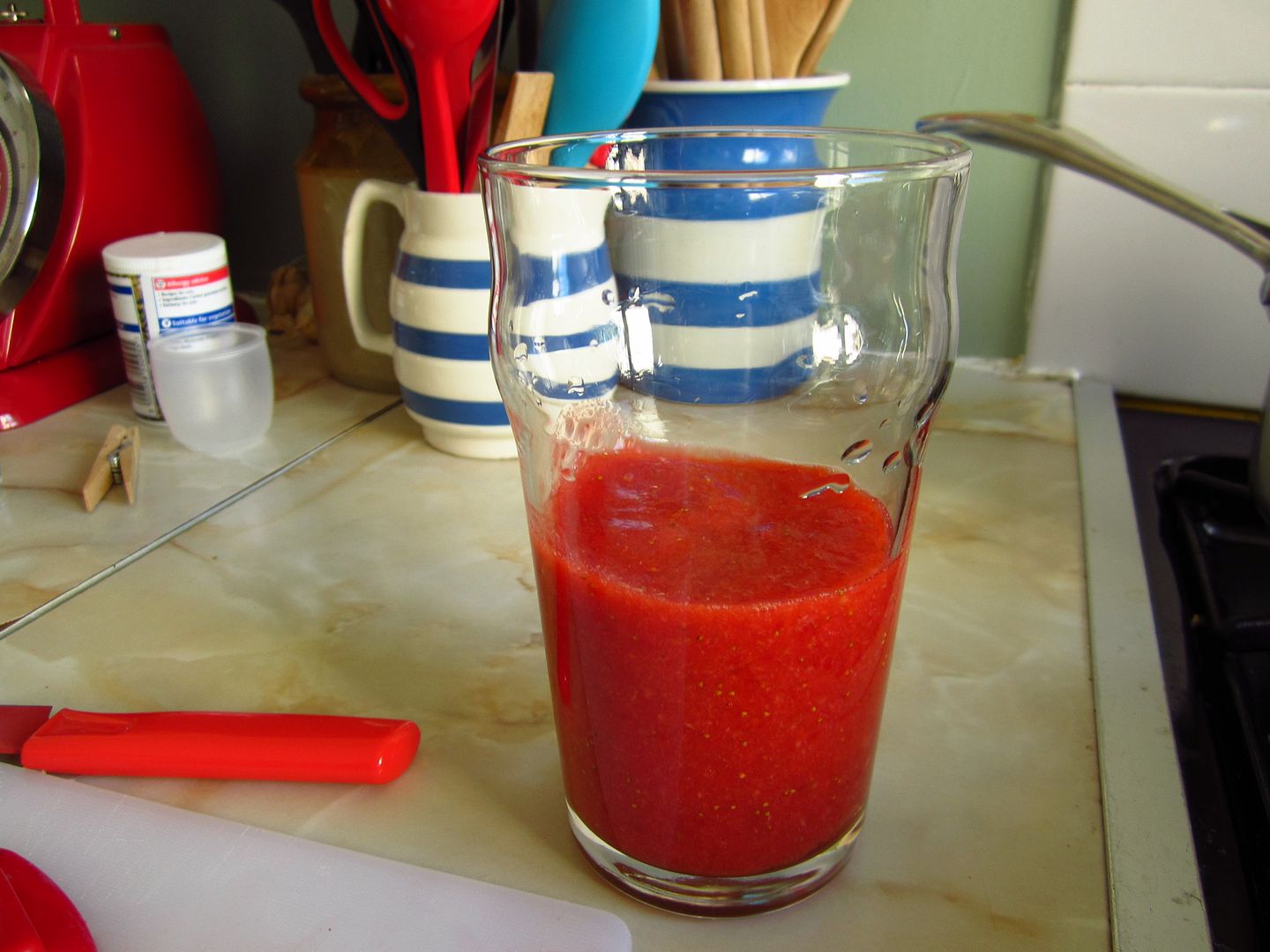 I added two spoonsful of natural yoghurt to make it into a smoothie and then scoffed it. Tasty but … I still don't like smoothies! Never mind, at least now I know and I have the fruity benefit of some strawberries in my tum along with some yoghurty protein.
Next I discovered that apples do not blend up quite so well, but they DO make a tasty puree.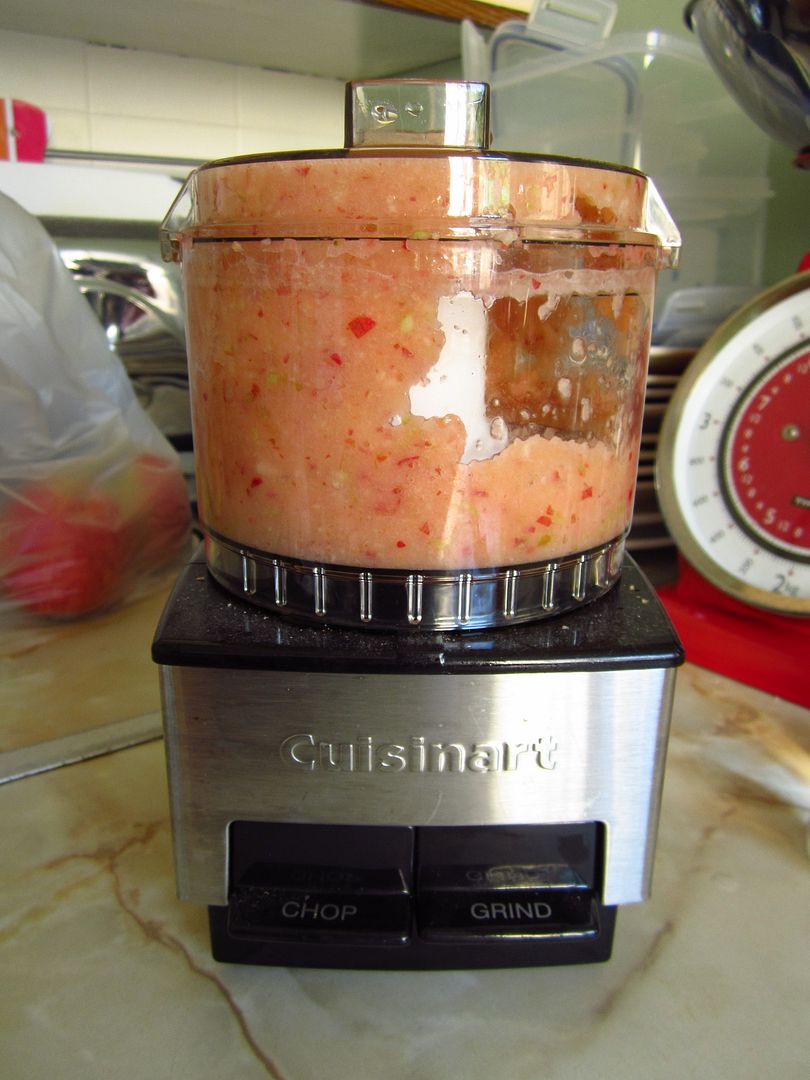 It's the first time this year that I've bought Discovery apples and I shall definitely be doing it again. They're delicious! They tasted just like they'd come out of some ancient orchard. The first mouthful though tasted far too much like the onset of Autumn though, and I am so not ready for Autumn yet – wait until October for that please. But yes, if you see English Discovery apples do try them, they're lovely.
Now then … I had better go and wash all of that stuff up. It's fun turning things into mush and all, but I think I'll just eat things normally in future …  I love fruit so it's not like I'm trying to trick myself into eating it in a different form or something! Still, that's 2 of my 5 a day, plus all the spinach I ate at lunch so that's not too bad. Isn't it strange being at home all day though? When I am at work I plan all my food out and eat really well but at home I find it hard to settle into an eating routine and end up really hungry. Can't have that! I've done a lot better today although I do feel like I spend all my time in the kitchen making food.
I also finished my little blanket, so I'm off to take photos of that now too :-)
xx