I knew that there was something I had forgotten to do! I suddenly realised this morning that I had not done my June Mosaics, and as it is now, ooooh the 25th of JULY, I thought I'd better get these posted pronto. Here we go:
So first of all, I worked on my Big Elmer blanket a lot in June and started laying out the squares to choose the order. My mother in law and her husband visited for a day and helped Andy put the ceiling up in the lounge. I bought Sweet Williams and haven't actually seen any in the shops since, so I'm glad I did. We went to see Ginger in York as my birthday present, I bought a crib for our baby and started on the first round of "clearing things out and taking them to the charity shop" to make room for said baby. I travelled home to see my family where they had some bonding time with the baby and we played with my new Ergo carrier. I also put my feet up a LOT as my ankles went a bit crazy.
While at home, we bathed the guinea pigs (who HATE it but it's so necessary), made chocolate brownies and had Grandma over for coffee to look at old photos, enjoyed time in the garden, ate delicious food, played with the rabbits and generally just had a lovely happy time together.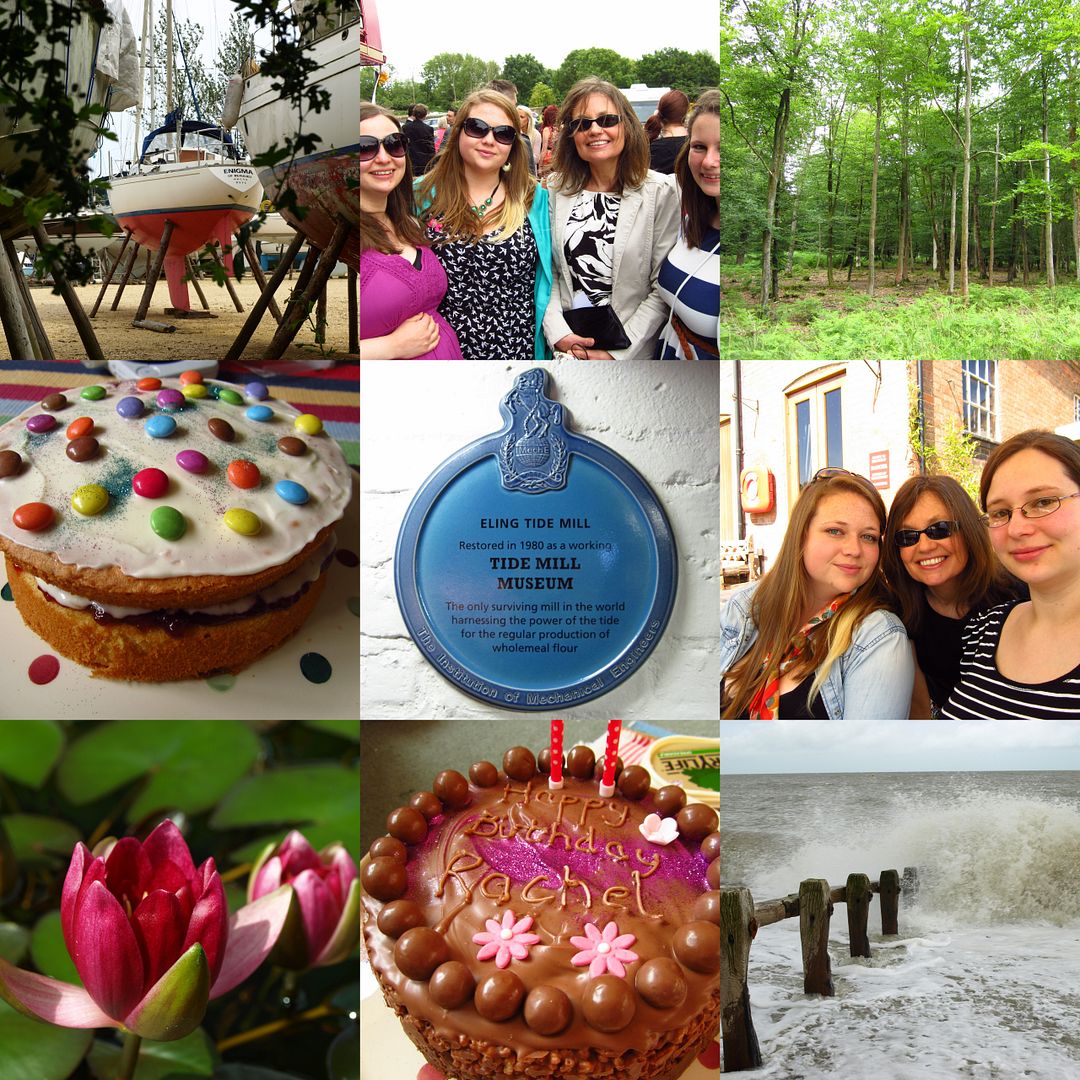 We went to Stratford on Avon for Rachel's birthday and then had chocolate crispy tiffin cake afterwards. We celebrated my birthday (intentionally late) with presents and yummy cake. We all went to Pevensey for our cousin's wedding and had a precious twenty minutes or so on our most favourite beach in the world. After that, my mum, Alice and Rachel all went home and me and Andy drove to Southampton to stay with Andy's dad for a while. He had water lillies growing in his pond! Aren't they lovely? While we were there we walked in the New Forest at Brockenhurst, visited Buckler's Hard and also Eling Tide Mill.
June was a jam packed month and I LOVE IT. I don't care that it was rainy, I had a lovely time and the two weeks I had off from work were pretty good weather wise. I look forward to taking baby away on holiday with us next June :-)