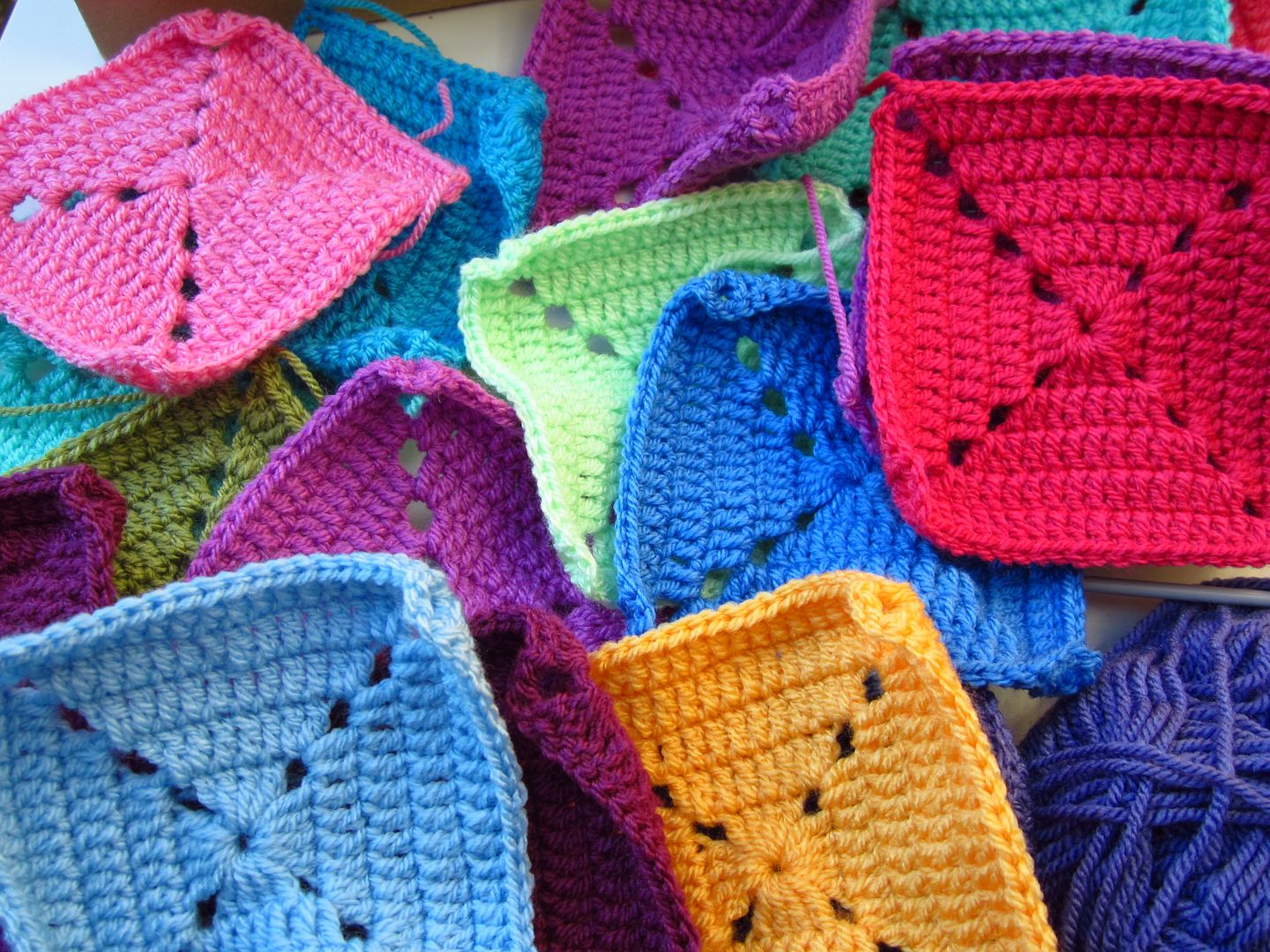 Back in May I showed you a small pile of square that I'd started to make. At the time, this was destined to be a blanket for my sister's birthday present. When I started to lay the squares out though, I realised that there was no way I could give it away. It simply HAD to be for Tiny Tin Bird. (Sorry Rachel!) I had already bought Rachel some other things for her birthday and I have already made her two blankets so I didn't feel too bad about the decision.
I'm proud to present the photos to you today of Baby's First Blanket. As in, the first blanket that I have made for TTB since being pregnant as I already have a couple of small ones that whilst weren't made with TTB in mind will be perfect for using with him/her.
It's taken me approximately six weeks to complete and I really pushed myself to do so. I gave myself targets of how many squares I had to make each day! I aimed for two on a week day and ten on a weekend day. Anything else was a bonus. The blanket is comprised of 100 squares and when I got to about 85 I stopped and arranged them how I wanted them, and then created the remaining 15 specifically to fit in nicely with the rest of the squares. Up until 85 squares I'd been making them without much thought to the colours.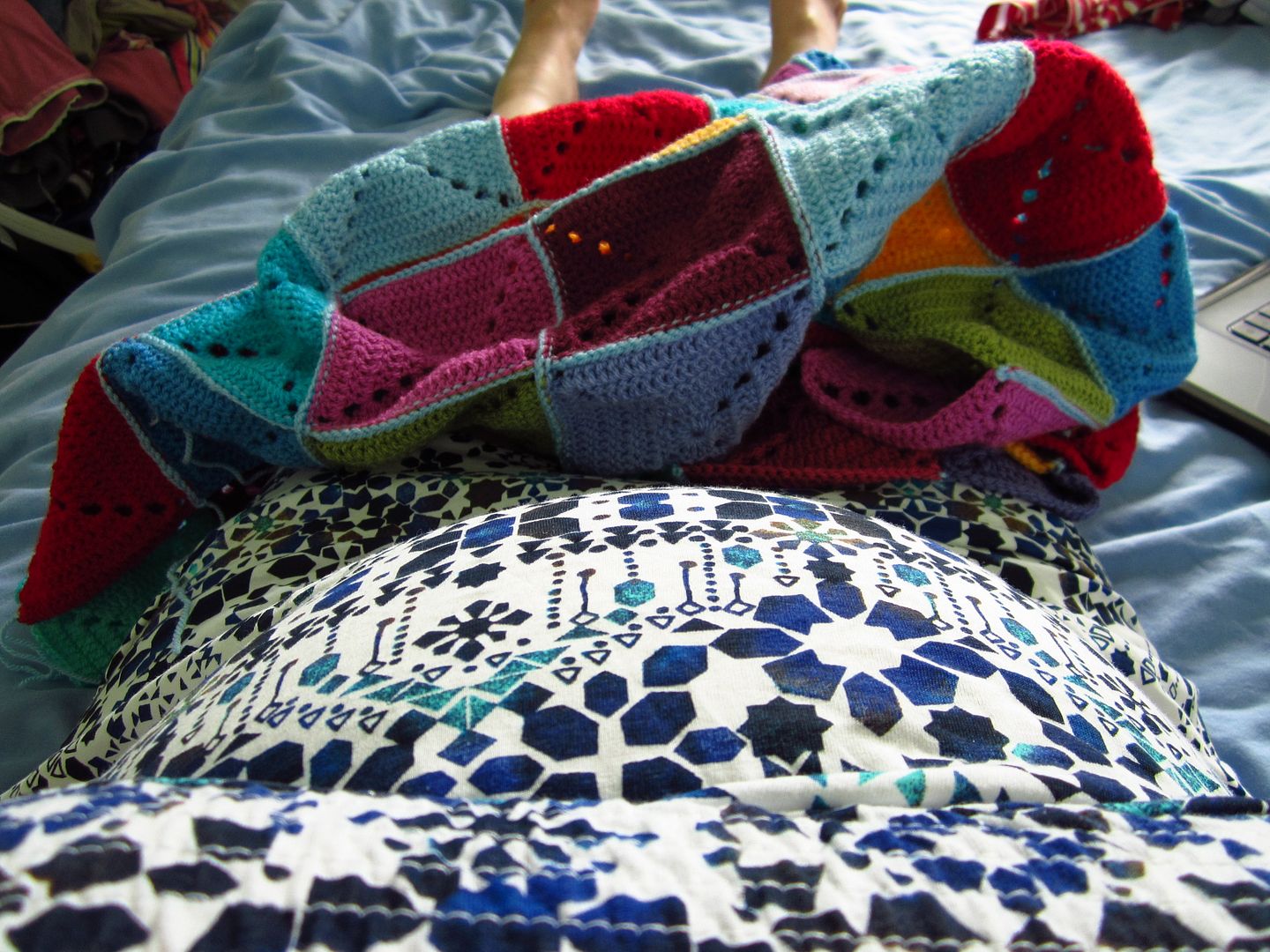 (When I had to come home early because of the heat at work last week, I took the opportunity to sew in all my joining ends and start the border.)
I used my Elmer Squares pattern to make these 5 round solid granny squares and I used Stylecraft Special dk on a 4mm hook.
The colours I used are the usual suspects: Turquoise, Cloud Blue, Aster, Sherbet, Aspen, Spring Green, Meadow, Saffron, Shrimp, Lipstick, Pomegranate, Raspberry, Violet, Fondant, Magenta, Plum, Clematis and Lavender.
Here we go: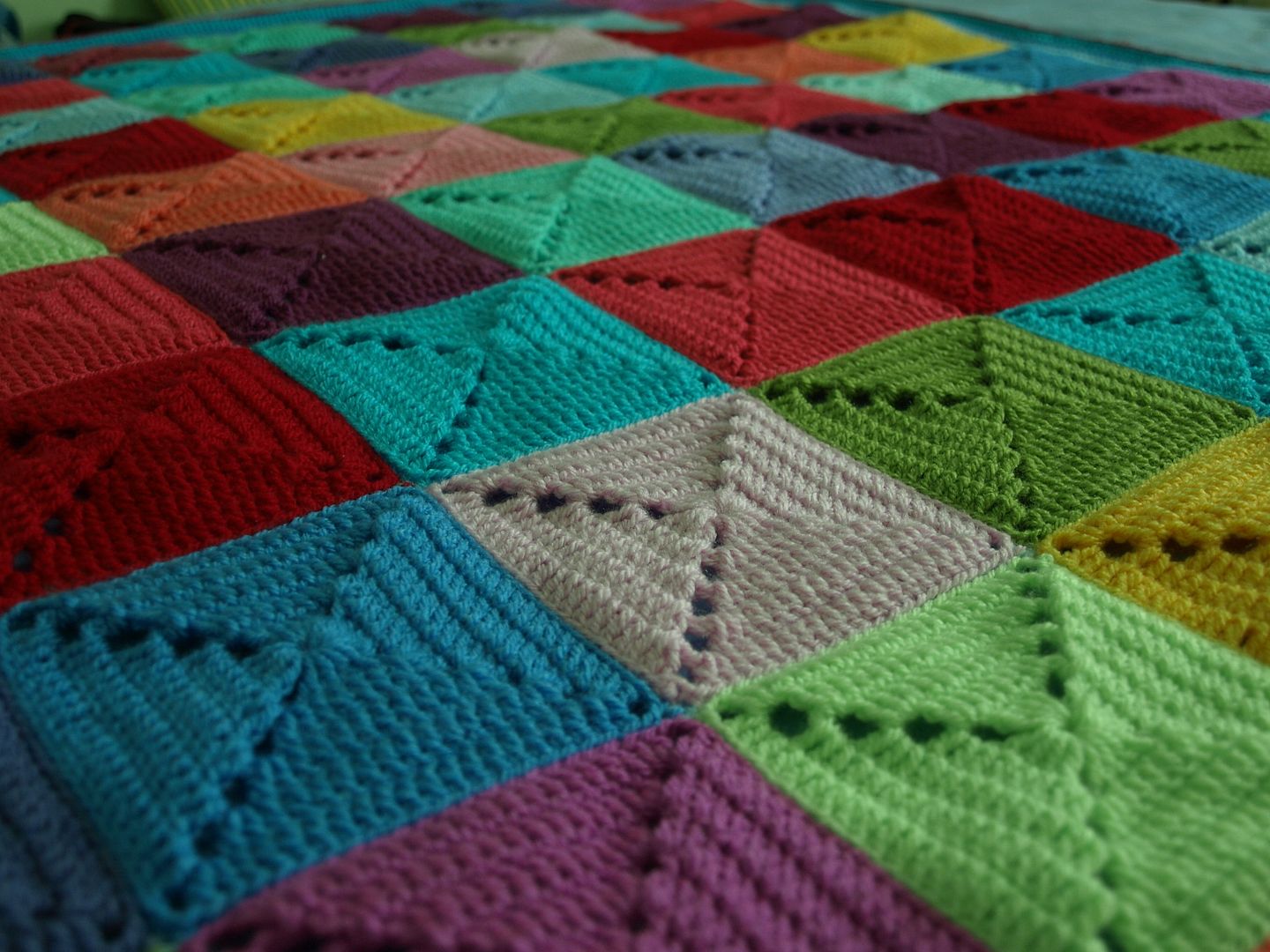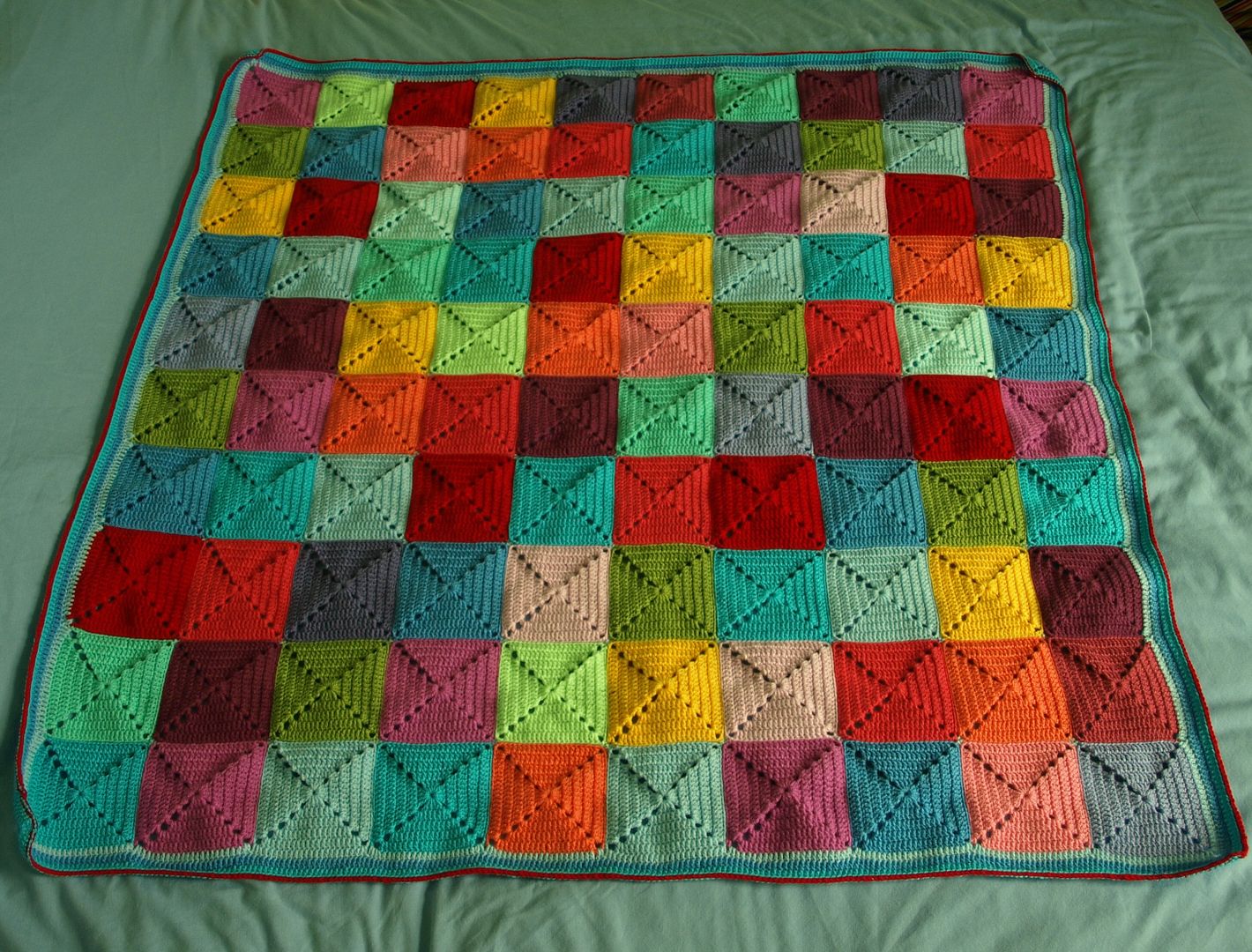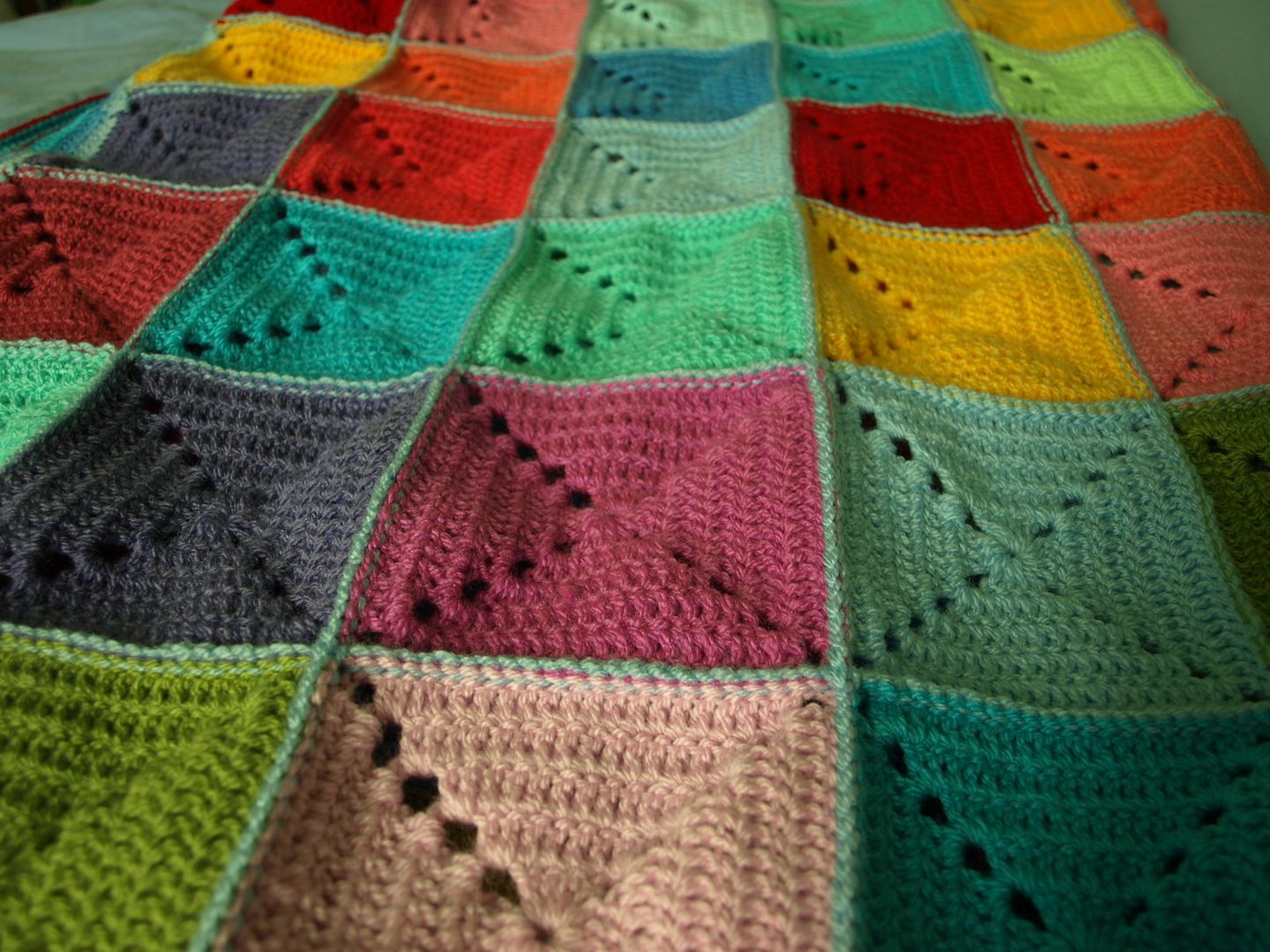 I joined the squares with blue rather than red this time. I know last time a lot of people commented that the joining would look good on the front and I do agree, but I personally prefer the joining to stay on the back.
For the border I did three rounds of trebles in Cloud Blue (the same colour as I joined in), Aster and Turquoise and then I slip stitched around the whole lot in Lipstick. That final round did tighten it up more than I'd hoped but keeping loose stitches meant it worked out ok.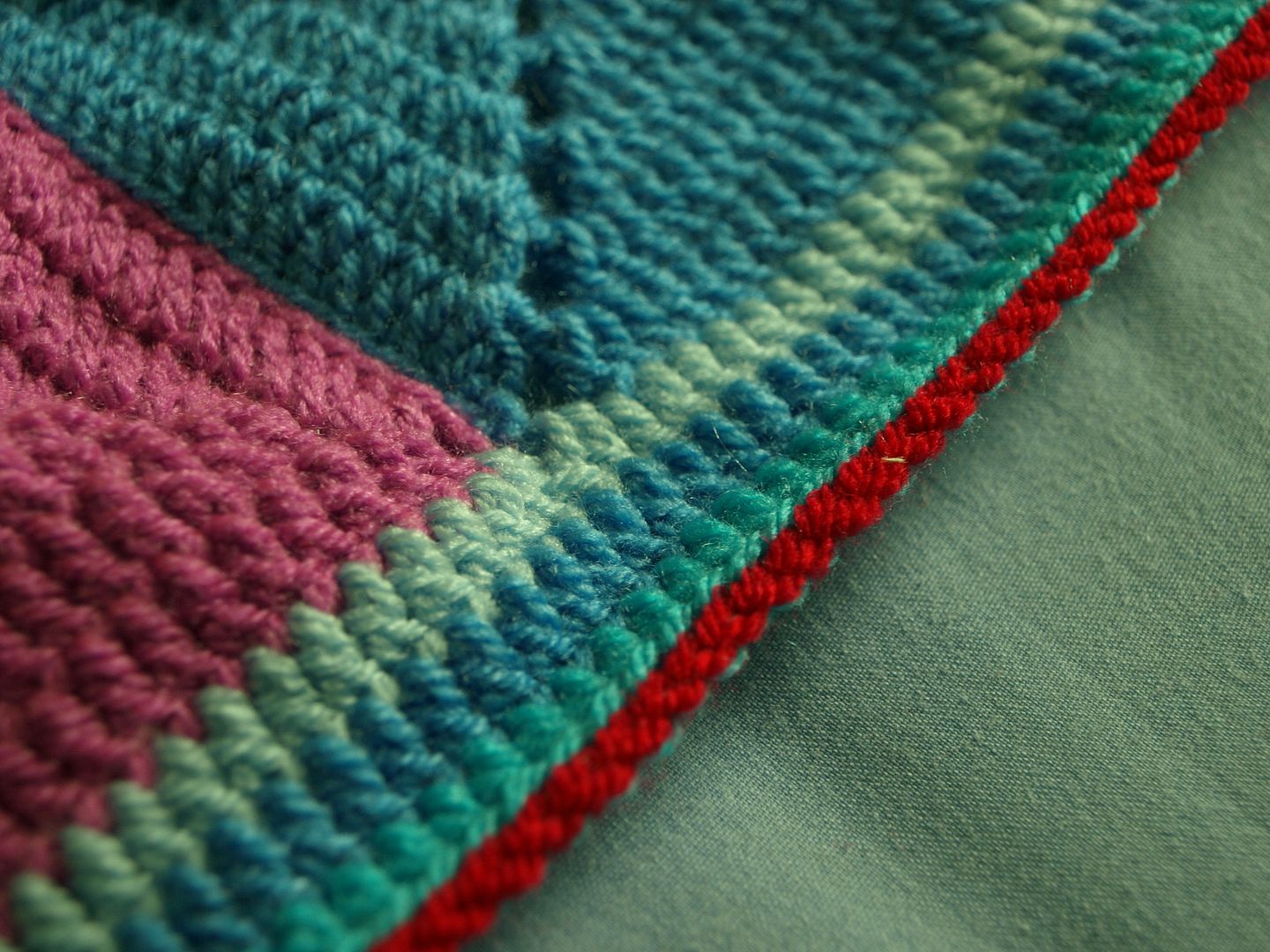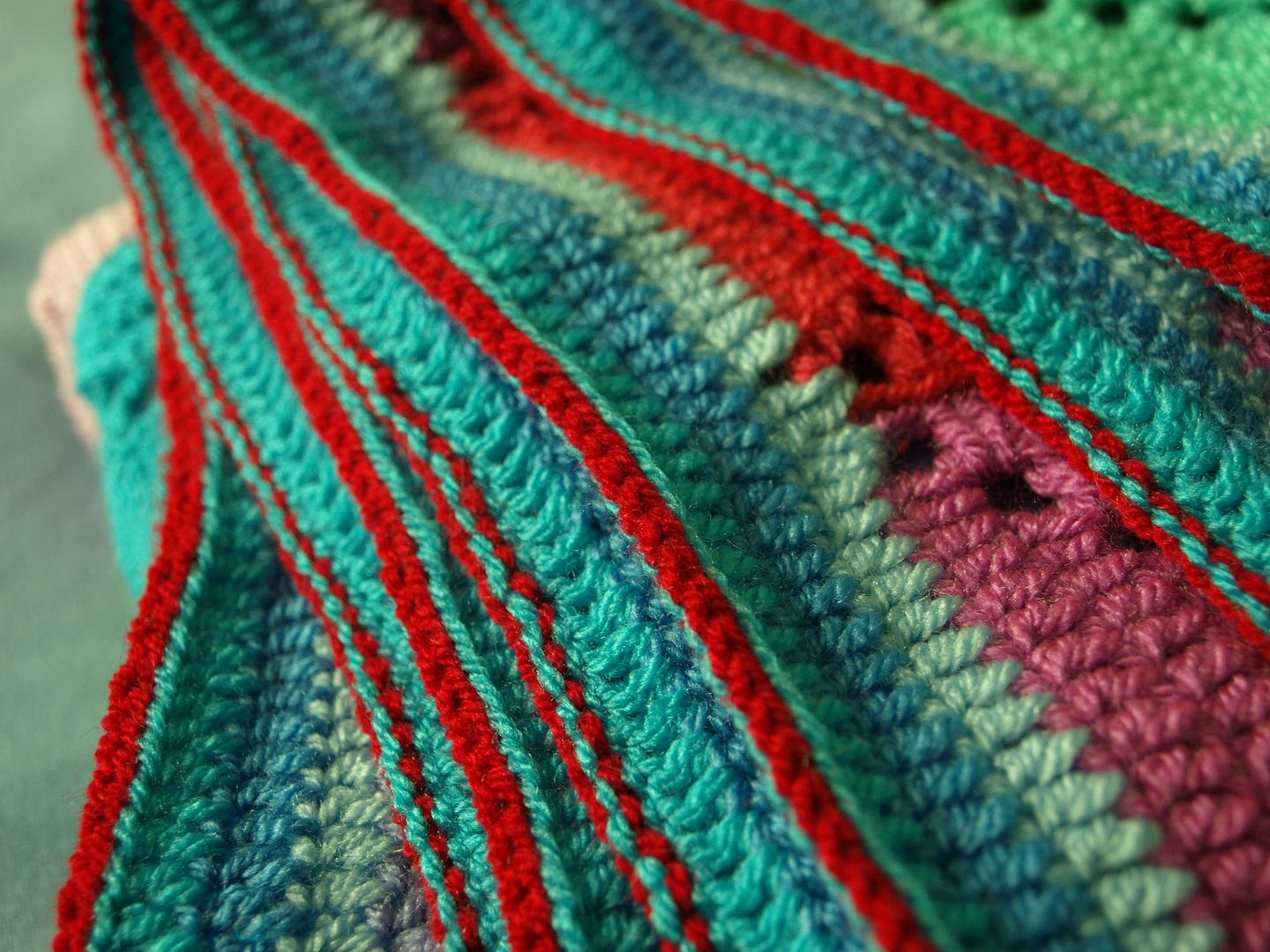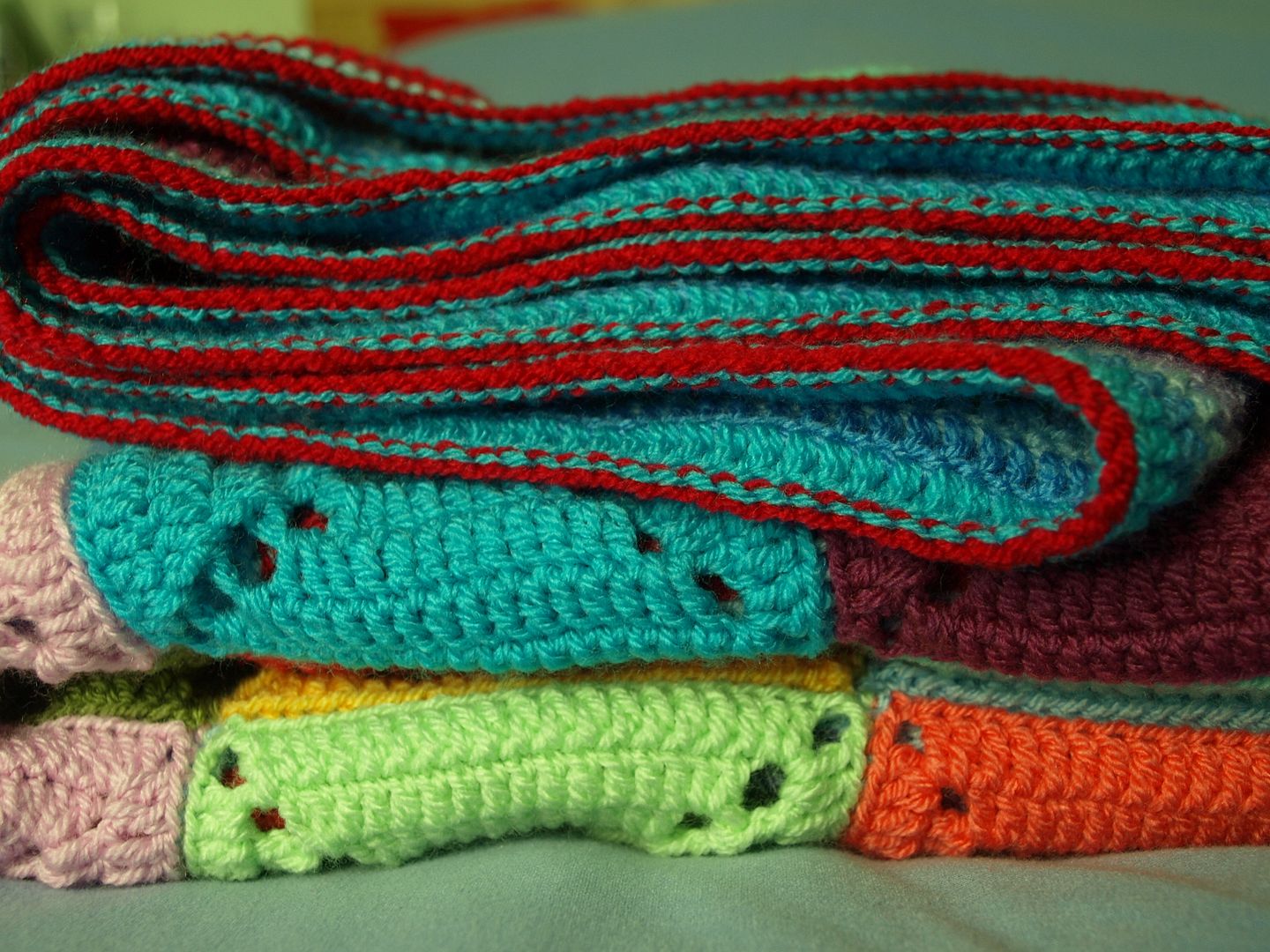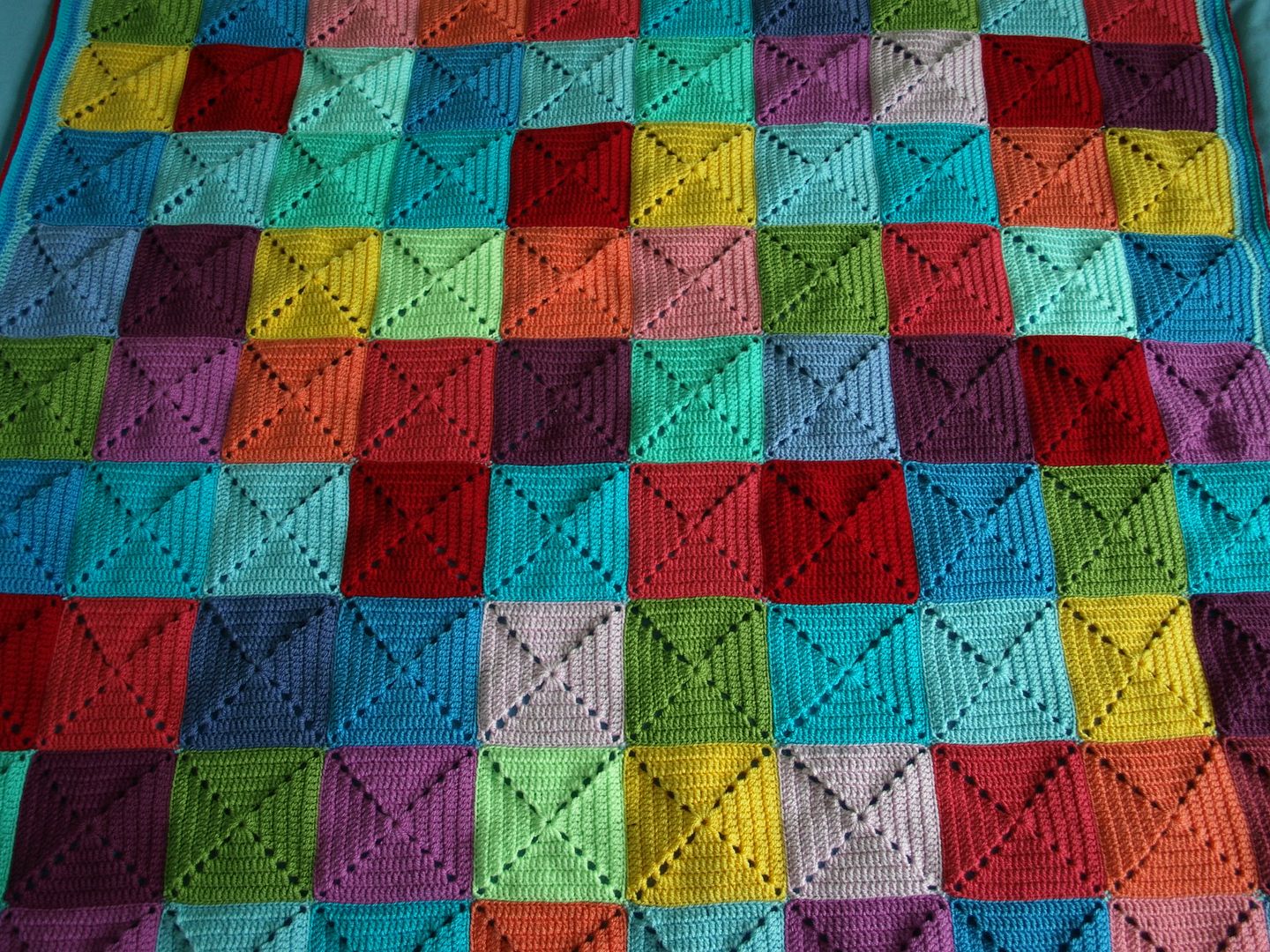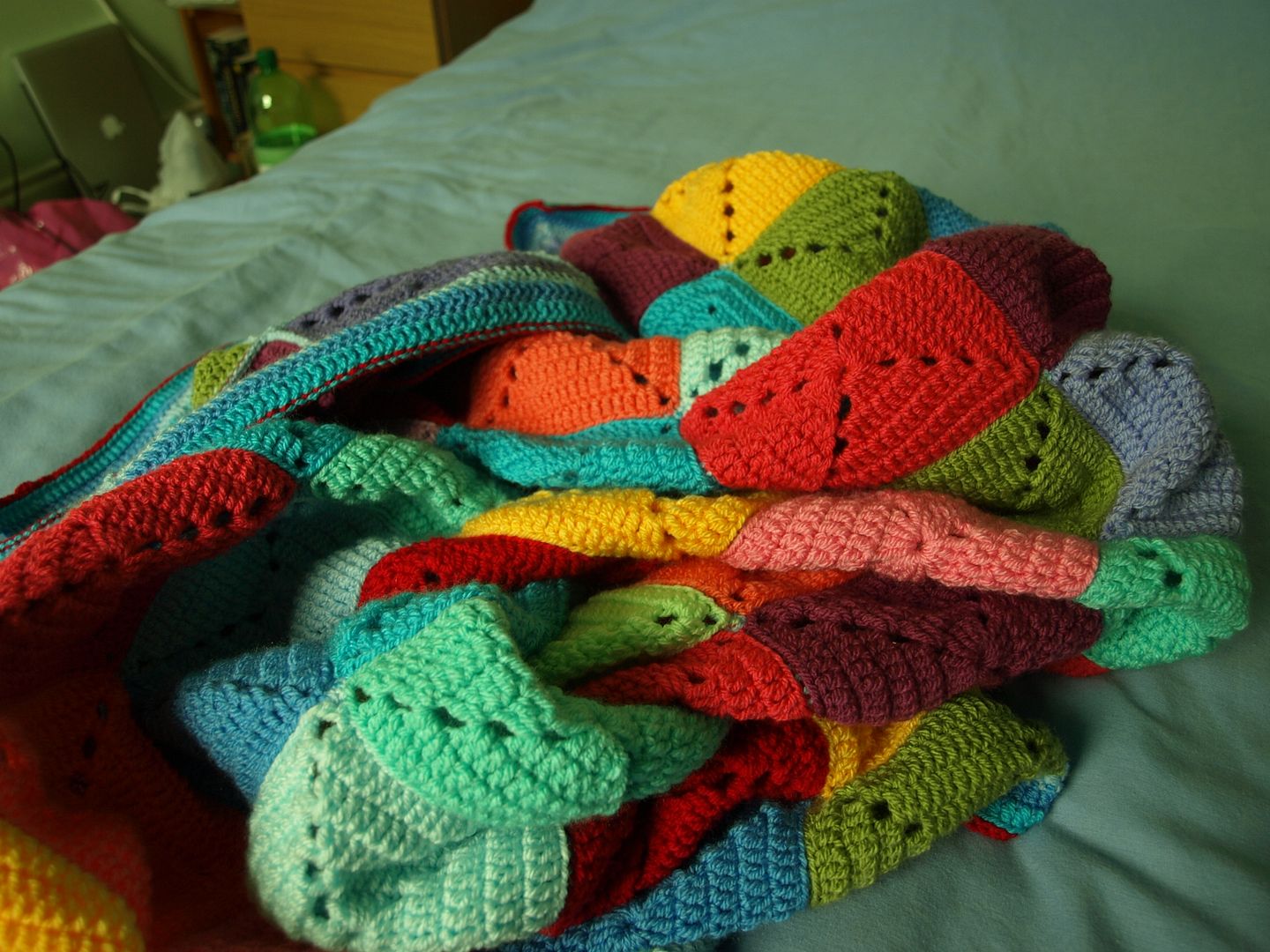 And there we have it … a great many photos of a blanket that I'm really happy with! I can just see our baby laying on this blanket on the bed, or snuggled up as a toddler on the sofa, or us sat on it in the park for a picnic. Versatile and most definitely A Blanket To Be Used.
I hope you love it as much as I do :-)
xxx
P.s I've been trying to post this for three days but photobucket (where I host my photos) wasn't working and I couldn't get any photos in and I think you agree that this post is worthless without photos!