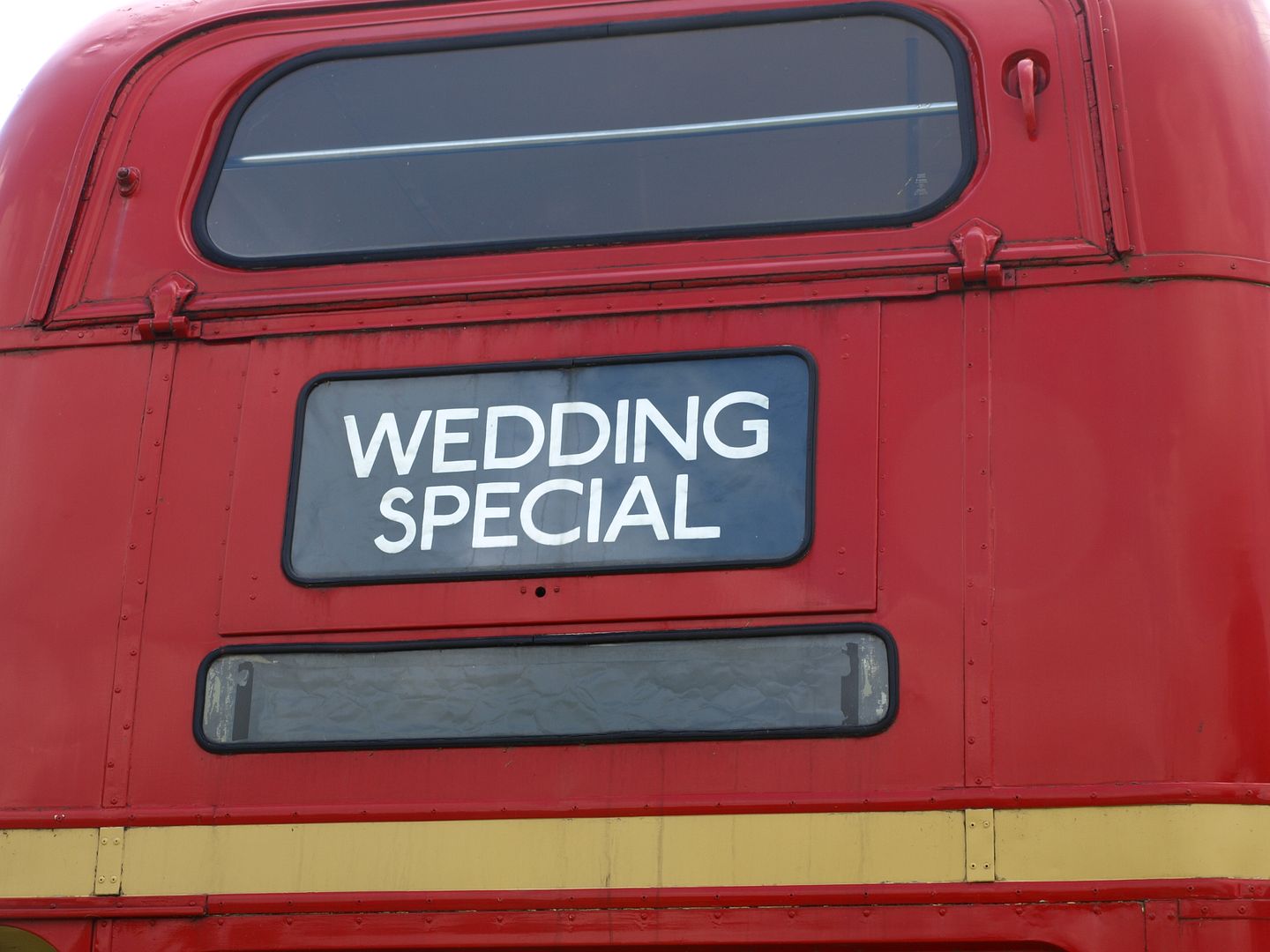 I'm finding it a little bit hard to start writing this blog post. There's so much that I want to tell you, and so many emotions that I'm trying to navigate whilst doing so. Two weeks ago, my cousin Alex (brother of the cousin Katie that I made the baby blanket for) got married, and we went to his wedding. We (that's me and Andy in our car, then my mum, Alice and Rachel in Alice's car) got up at the crack of dawn to travel down the M40 and the M25 before heading even further south to the coast. That's right folks, the wedding was in Pevensey :-)  I know I have blogged about Pevensey before, but to give you the brief background my grandma and my late Auntie Joan used to own a teeny tiny cottage on the seafront at Pevensey Bay. I spent a lot of my childhood and teenage years there (as did my family) before they had to sell it when I was 15. Pevensey is one of the things that makes me me … it's hard to describe but I feel as though it is written through me like a stick of rock. I feel so connected to the place and am terribly sad that I no longer get to go there. It's my favourite place in the whole world and I miss it terribly. Alice summed being there up "as if we'd been put back into one of the photographs of our childhood".
As you can imagine, I was very excited to go to the area again! I can't begin to say how odd it was to be driving down there and seeing road signs for Eastbourne, Polegate etc and then finally, PEVENSEY! So strange. It's like a place that only exists in my past. Anyway. It was lovely driving past The Long Man of Wilmington again though, Andy had never seen it before so that was ace to show him. It's tricky with Andy: he likes the coast, as in where the land meets the sea, but really hates any kind of seaside town or settlement. He appreciates my love of the sea though, but finds it hard to realise how much a part of me these places are. I really want him to love these places too, even though some of them I admit, if I were seeing them for the first time now, or if I removed my "I love my childhood holidays here" glasses, I would agree. I think what I really want is to be able to make him experience the feeling of my childhood holidays and my attachment to the area all in one go so that he will feel it too. But he doesn't and is fairly long suffering of my longing to go back to Pevensey. I was so grateful for his taking me down there that weekend and I tried hard to explain to him just how grateful I was.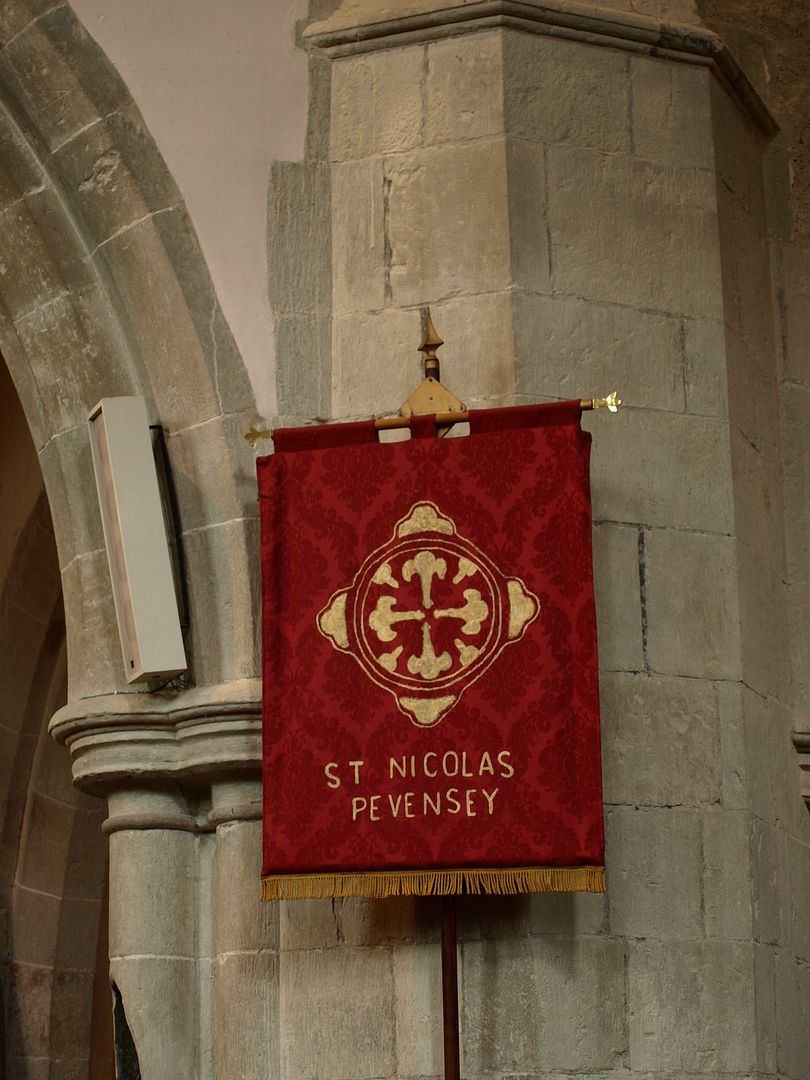 The wedding took place in St Nicolas' Church in Pevensey itself, right next to the Castle. It was a lovely ceremony and I got a bit teary as I remembered my own wedding and what it felt to be right in the moment of getting married. Not yet married, but not not married! In the very process.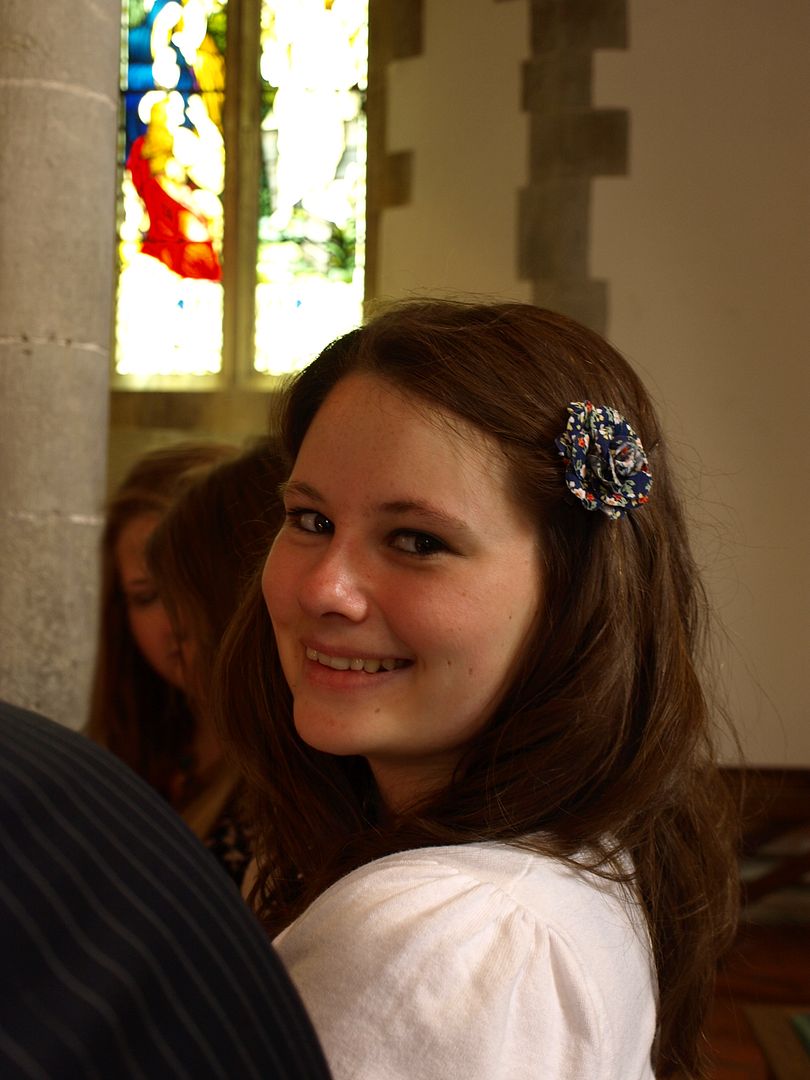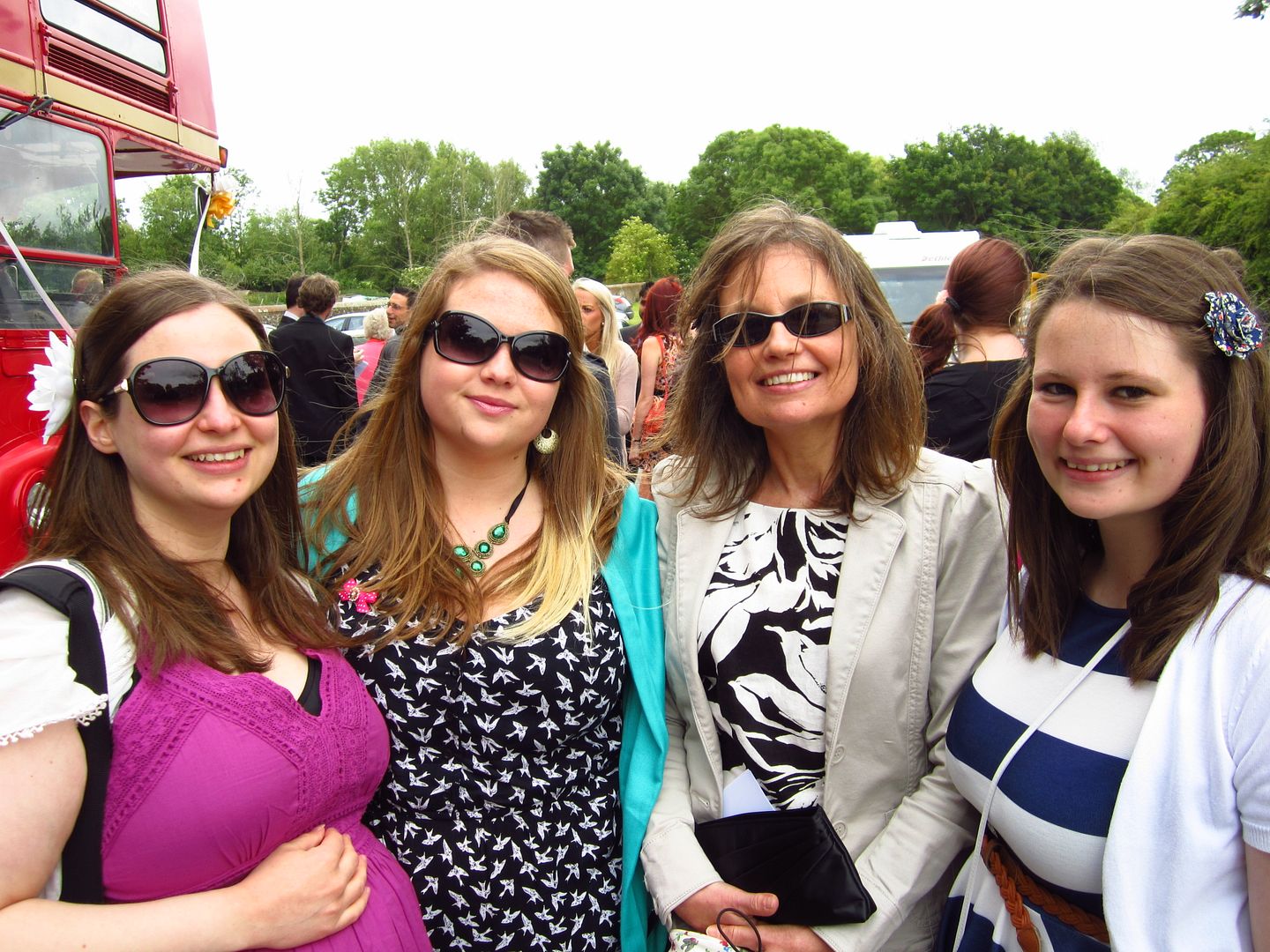 This is the four of us waiting for photos before heading to the reception. I think we turned out looking ok :-) It's pretty hard to dress up while pregnant especially as I don't have a natural aptitude for dressing nicely as it is. As you can see I had a bit of a bra issue going on, our code word for this was "PINEAPPLES!" which Alice and Rachel whispered at me all day long! I don't care, my reasoning was "I am pregnant, you've got me in a dress what more do you want?"
The reception was held at the Cooden Beach Hotel which is right on the beach at Cooden on Sea. Ooooooooooooooooh our first glimpse of the sea! Imagine four very very excited people here (and moderately-exasperated-with-us Andy!) as we legged it down the shingle beach as far as our dresses, flip flops and pregnant sisters would allow us. The feeling was immense! Man I love the sea here. Other sea doesn't seem as real or proper. THIS is the proper sea, the sea along "our" coast at Pevensey Bay. I'm including Cooden in this ;-)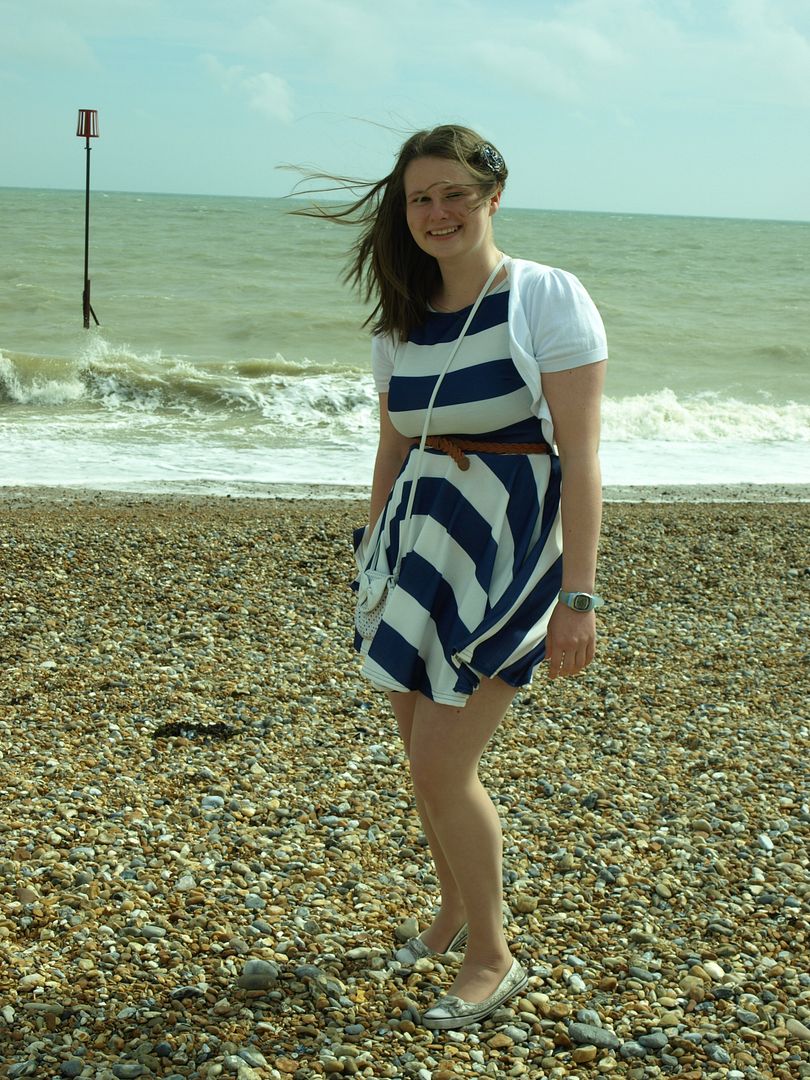 As you can see, it was a windy windy day. But, it stayed dry so that was ok. Yes it blew the curls out of Alice's hair, yes my hair kept getting stuck in that clip on flower but NO we did not mind one tiny bit!
This is me with a grin like the Cheshire Cat because I'm on OUR BEACH! (29 weeks in case you're keeping track.)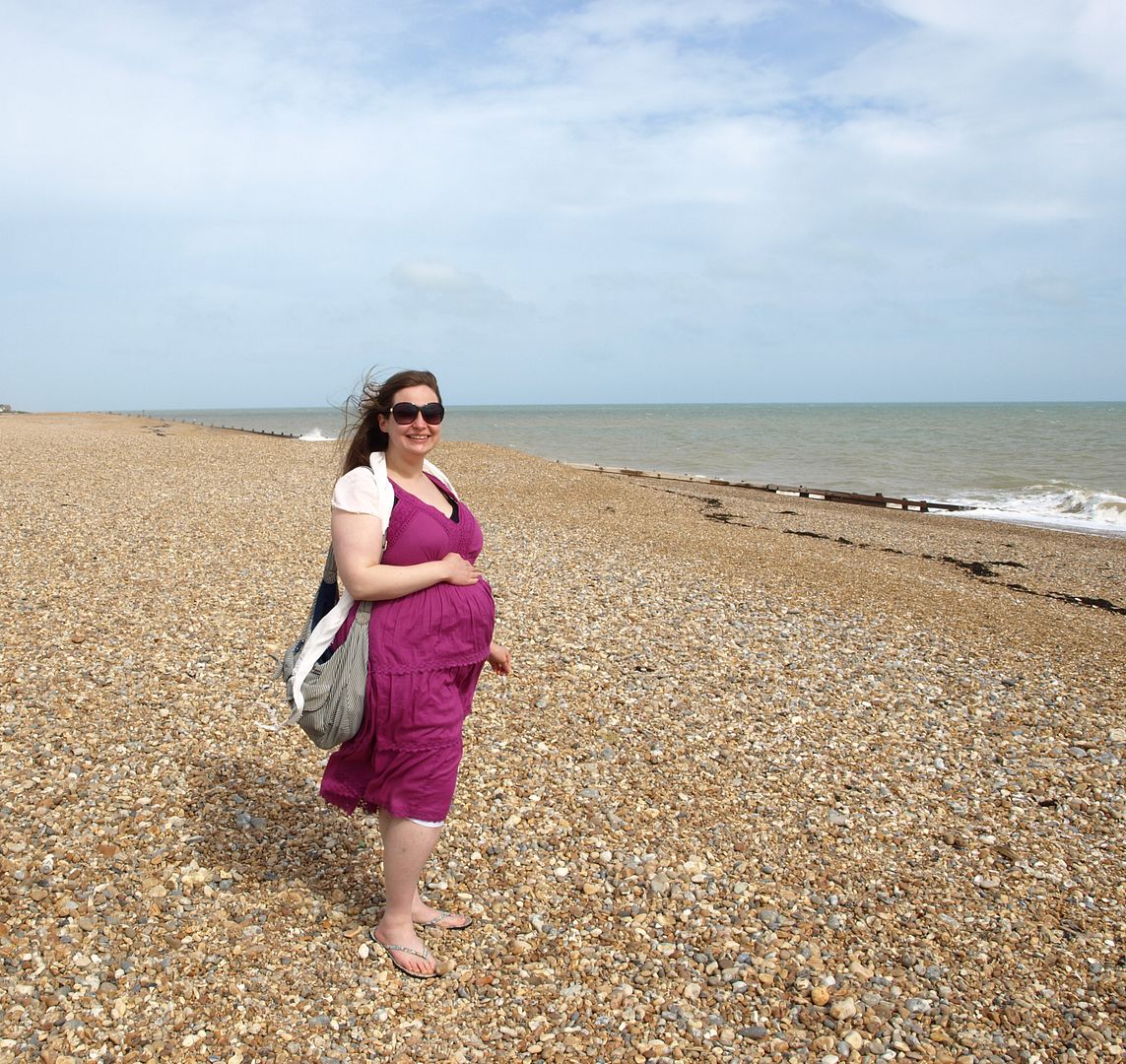 Note the enormous ankles.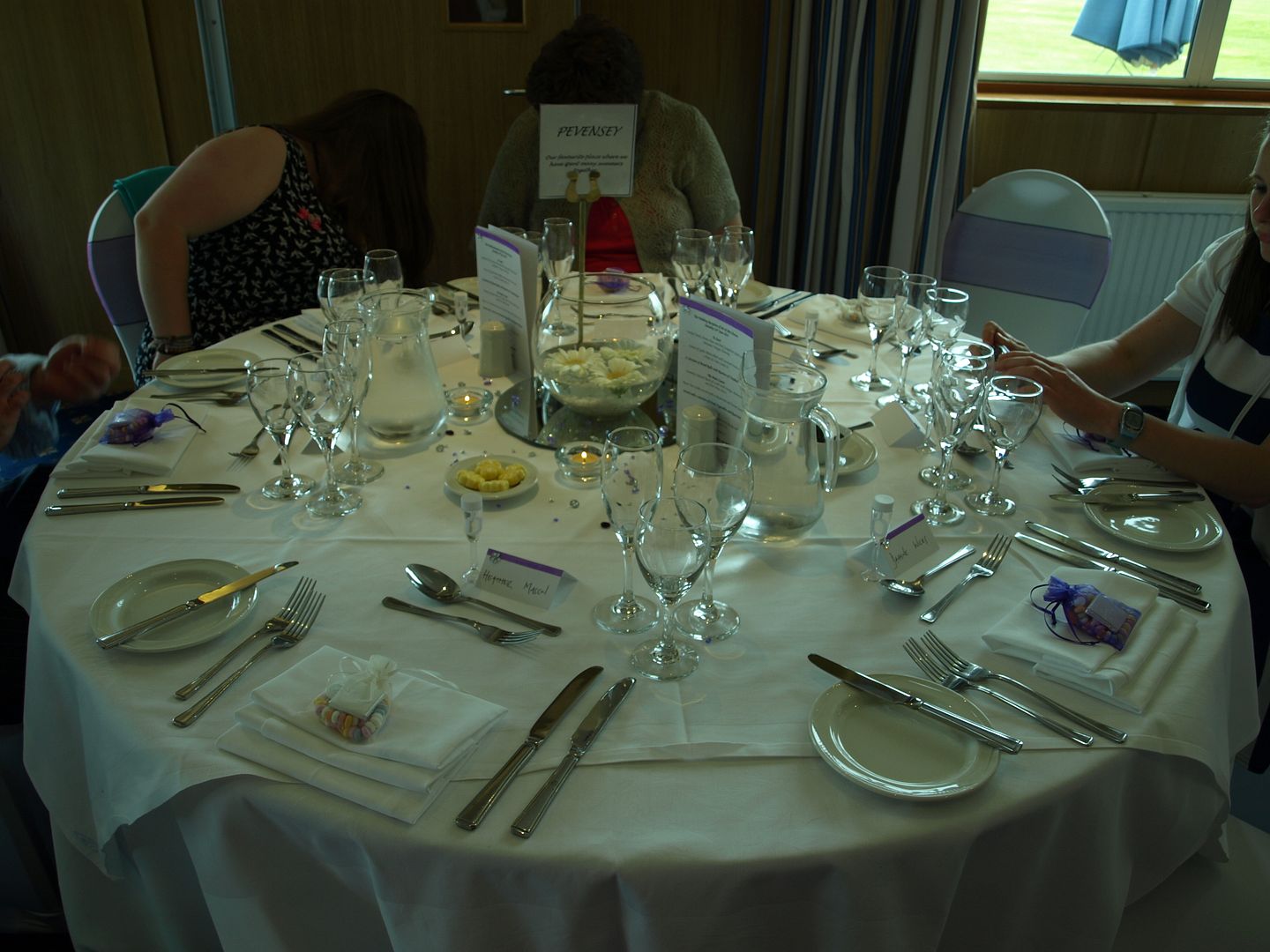 The place setting were so pretty. I loved the gerberas in the bowl idea, it worked so well. We could see the sea from where we sat! There were pots of bubbles on the table; we all blew lots of bubbles and each of us has about a hundred bubble blowing photos on our cameras.
Now, I must tell you about the food. Up until the night before, Grandma had been coming with us however at the last minute she came to the conclusion that she couldn't manage the journey or the day. It was sad and strange that she wasn't with us. But. It was too late to cancel her food. We sat around the table and looked at the menu (in the RSVP we'd been asked to chose between vegetarian and non vegetarian, but didn't know what the food was) and Andy asked hopefully if I'd ordered him the non veggie one (lamb). Erm, no I ordered the veggie one for you and I did ask you what you wanted and you said veggie! Andy didn't like the vegetarian option but it turned out ok because they still brought Grandma's food (non veggie) so he ate that, and we shared Andy's veggie meal between the four of us! Fabulous. It was nut cutlets with the most delicios Dauphinause  (no idea how to spell that) potatoes. Ooooof. Oh and a melon starter with kiwi, strawberries and blueberries in. I ate mine, Andy's, and the berries from Rachel's. I was dead chuffed with that! Bear in mind here, that we had eaten breakfast at 6am, had a biscuit each at noon and this was now quarter to five. Four very hungry normal people and one completely ravenous "if you don't feed me now I WILL have to eat my hand" pregnant Heather. So it's not as greedy as it seems ;-) and it was far better than wasting it. I think the waiters cottoned on to the fact that nobody was sat in the place where they were serving food to, and that we were scoffing it, but they were polite enough not to say anything. I bet they were all having a good laugh out back though.
In between the main and dessert courses it became very hot in the room (yes probably because I'd just stuffed myself, I know, I know) so Alice and I escaped through the sliding doors and across the lawn onto the beach again. It was exhilarating being able to go onto the beach so casually! Oh wow, just amazing.
After all the speeches and what not we all went outside for more photos. It took a while for the photographer to corral everyone out here so we snapped some of our own. There's a hilarious sequence that I took where Alice's dress is trying to escape from her in the wind and everyone tries to stop it but that's probably not one for the blog! Here is a lovely one of Rachel and Alice though. I was doing one of Rachel and Alice just pounced on her from behind and I caught them both smiling. Aww.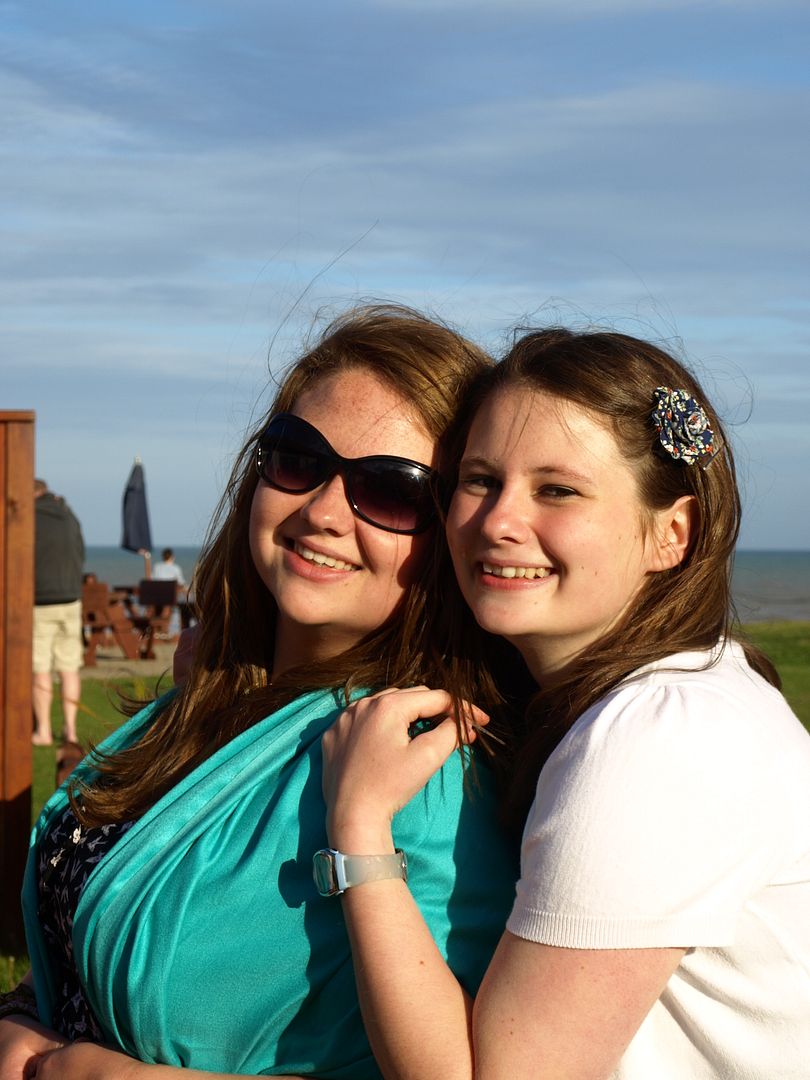 We didn't stay for the evening do as we were all sooo very tired. Instead we piled back into our cars and headed to the Travelodge in Hastings, where we were booked for the night. Our hearts sank when it turned out that there was a fairground in full swing on the field opposite but thankfully it seemed to have a curfew and didn't go on too long. Andy me and Rachel headed out at the mercy of the dodgy sat nav on Andy's phone and after a few false starts we managed to find our way to a ginormous Tesco where we bought water, juice and breakfast things. Back at the hotel we all flopped about in Rachel and Alice's room drinking juice and fizzy water while we looked at my photos from the day on Andy's laptop. That was until we could keep our eyes open no longer and trooped back to our own rooms for the night.
In the morning Andy needed more sleep so me and my mum went to A & R's room for breakfast. I love picnic breakfasts like this because you know you can scoff the whole lot of what you've brought because you bought it specifically for that breakfast and otherwise it's just going to take up room in the car. So in light of that, I had: one nectarine, two cartons of orange juice, two and half croissants and a cup of hot chocolate. Oh yes, most awesome breakfast ever. Yum yum in my tum.
When we packed up and left we drove through the old town of Hastings as this is full of memories for us. The black fisherman's huts, the cliff railways, the fishermans' museum, the sea life centre, the massive anchor where we sat to eat chips… yes, very evocative.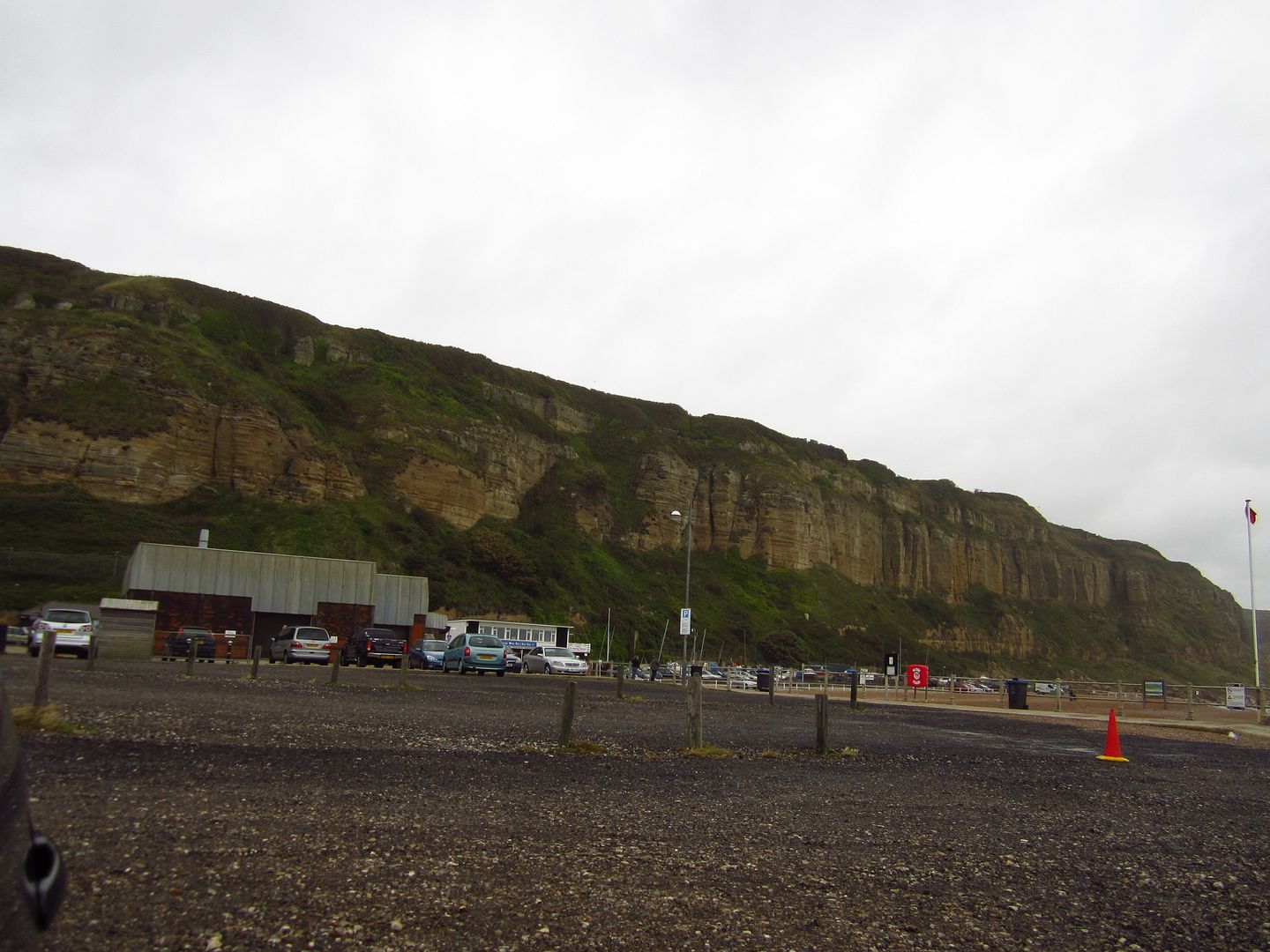 We didn't get out of the car and so I only have this uninspiring photo of the cliffs over the carpark but yes, were really were there that morning.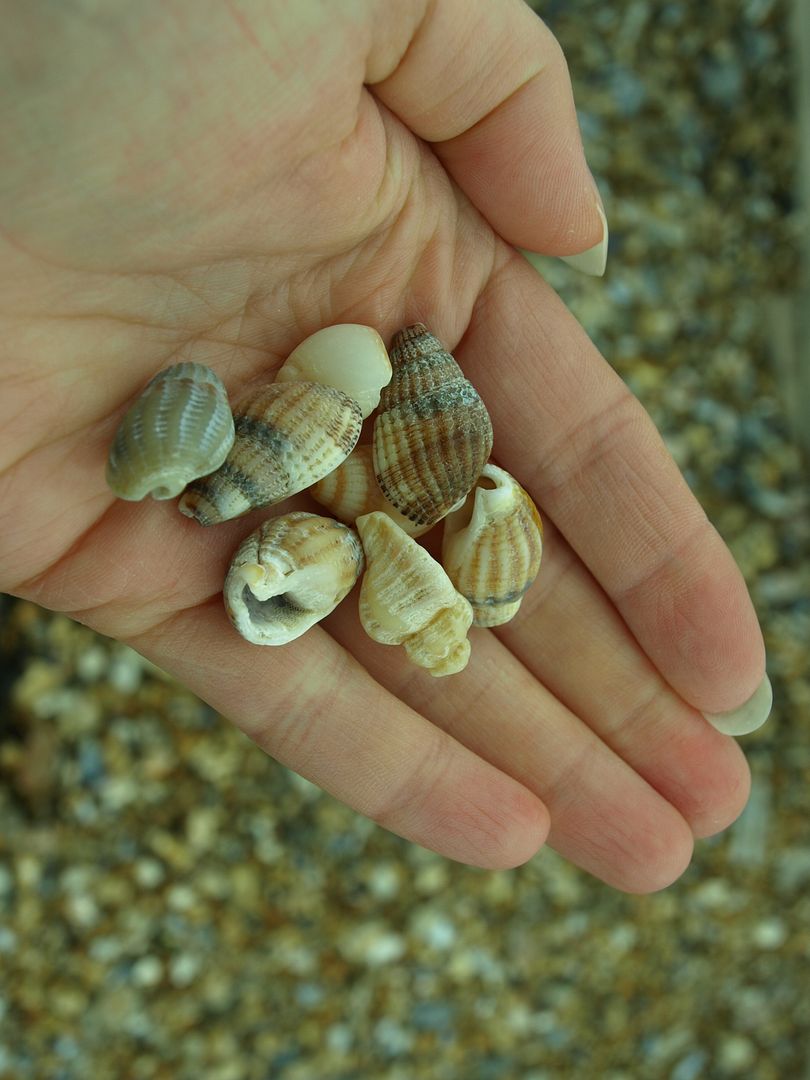 We headed over to Pevensey Bay to find our family and some other wedding goers gently nursing hangovers whilst bbqing. We all ran for the beach in the most polite and gracious way we could. We weren't there for long really. I managed to grab a handful of shells to take with me. I wanted to show you all of the amazing beachcombing things you can find on this beach (it's chocka full of shells, especially after the stormy high tides they've been having), it's the best beach for beachcombing, but alas there wasn't time and I guess not really appropriate when you're at a post wedding bbq.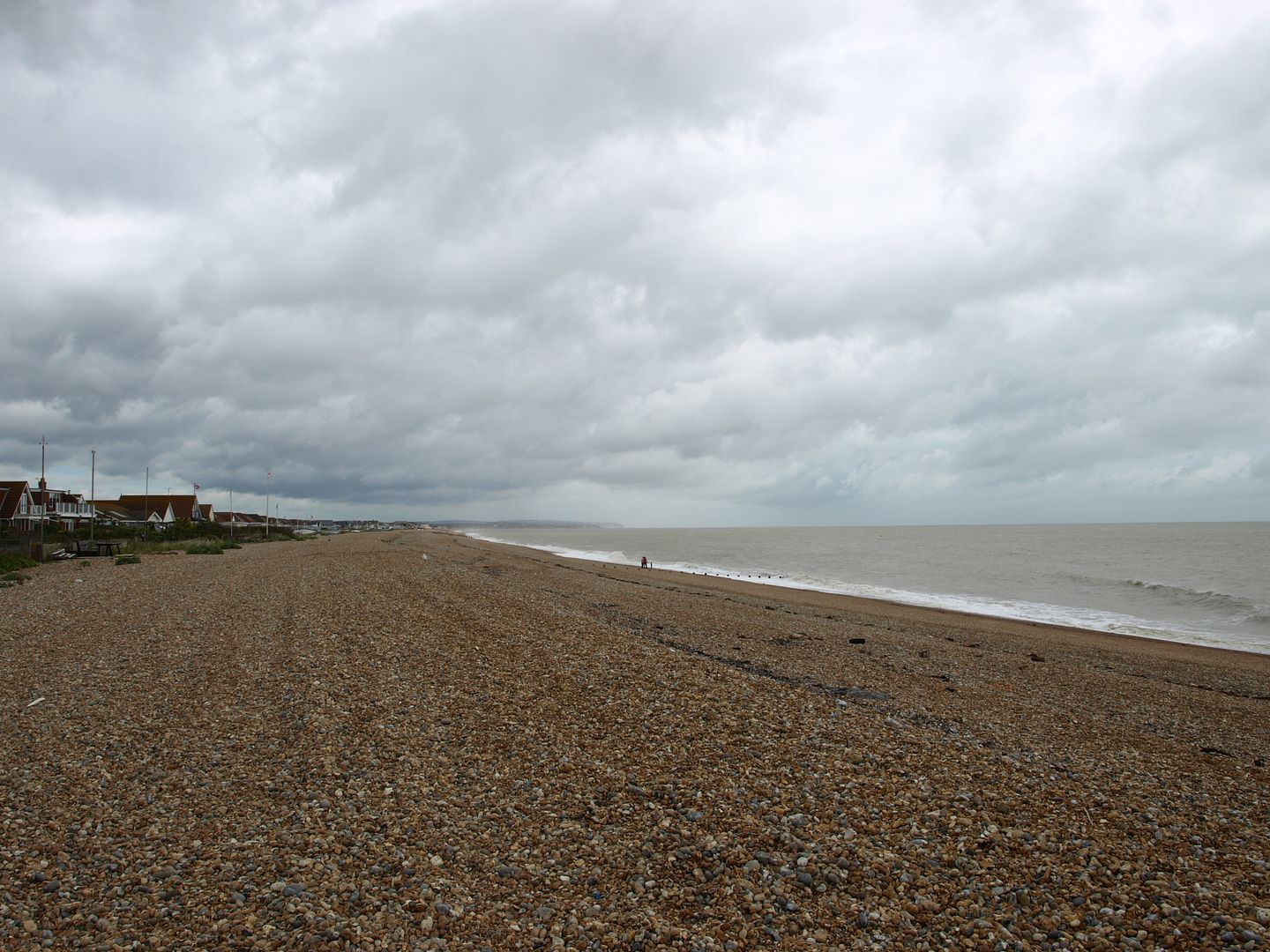 So this is what you do when you stand on the top of the shingle beach. Look to the left and see Hastings. Look to the right and see Eastbourne. At night you look straight ahead and see the Royal Sovereign lighthouse.
Then you breathe deeply and marvel at the fact that you are standing on Your Beach at Pevensey Bay. You are Actually Here. You scurry down to the water's edge and snap a million photos of the waves breaking on the breakwaters. You try to absorb as much of "being there" as you absolutely possibly can.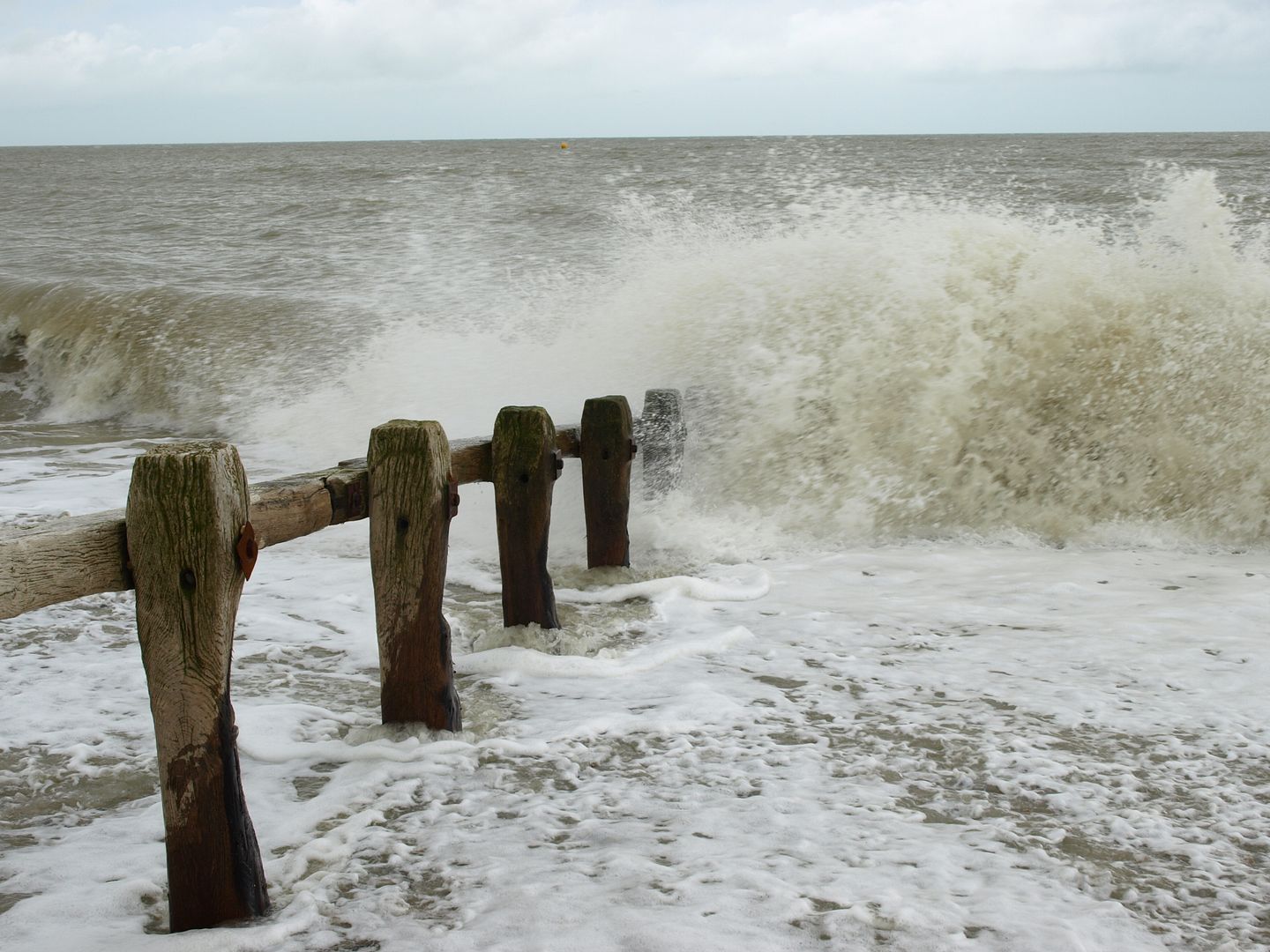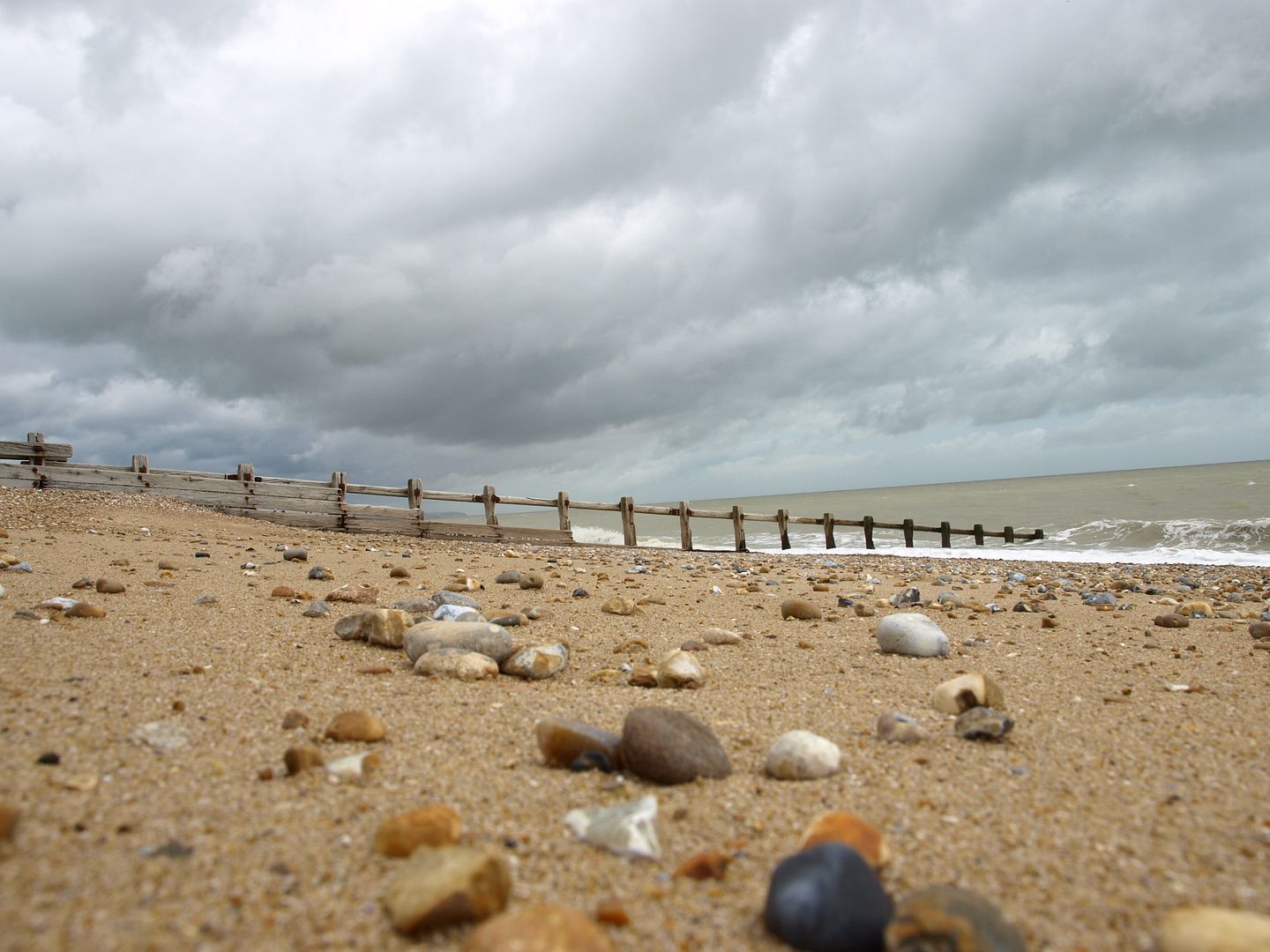 You cry inside at the state of the run down, boarded up little house that used to be yours and wish that you had £575,000 (RIDICULOUS) to buy it and then more to fix it up. You photograph a whelk shell and notice for the first time that they're kind of peachy coloured rather than the cream colour that they appear at first glance. You get called back along the beach as it's time to leave. You slip the whelk shell into your camera bag. You get asked by your husband if it was enough time at the beach. While you are so immensely grateful for any time there at all, you have to answer honestly: No. When you don't know when (if ever) you'll get the chance to go back there again, no time will ever be enough.
And with that, you thank your hosts and hug everyone good bye, say goodbye to your mum and sisters for the first time in over a week and part ways, them to drive home and me and Andy to drive along the coast to Southampton to see his family. It was a fantastic weekend, albeit full of emotions, that I'm so grateful for.
Now, anyone got £575,000 that I can have?
xxxxx