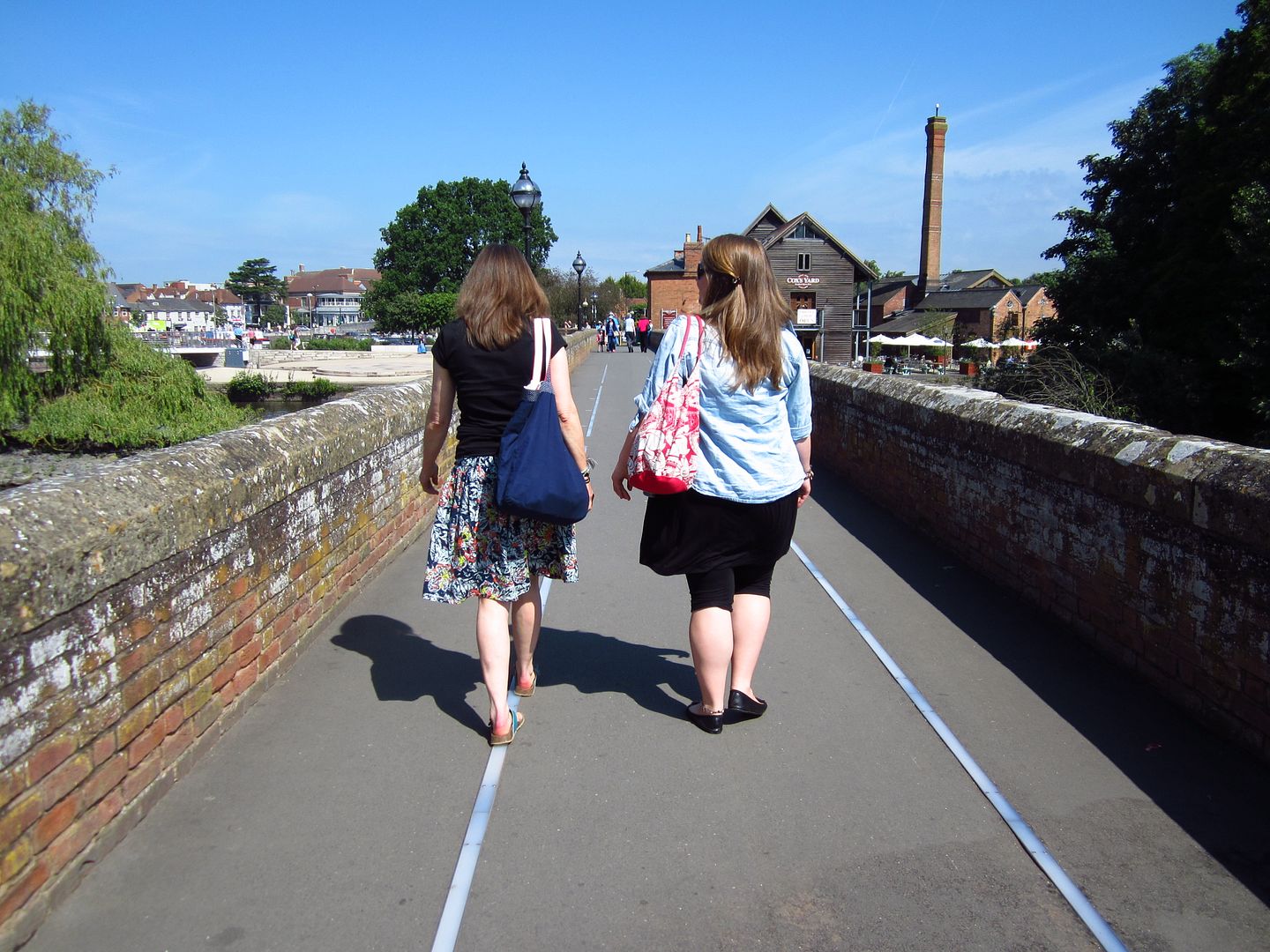 Mine and Rachel's birthdays are just two weeks apart. This year I was lucky enough to be home on her actual birthday, which was lovely as I usually miss it. To celebrate, we had a day out in Stratford-on-Avon with coffee, cake, lunch and shopping. Super!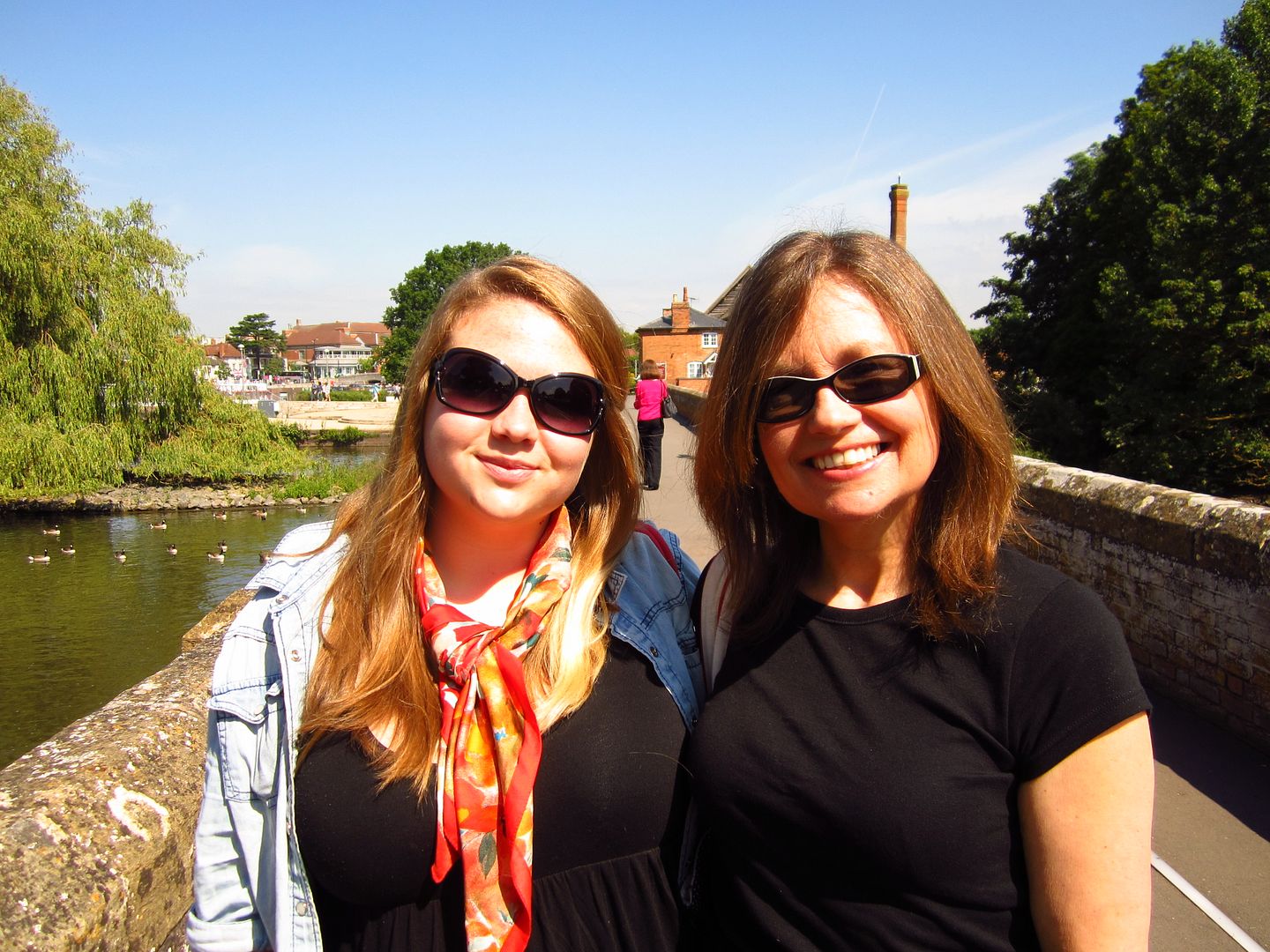 I do enjoy having a little camera to take with me on days like this because as much as I love my SLR it's really heavy to cart around with me and in fact at the moment I can't wear the camera around my neck because it hurts my bump (my bump is very high).
It's a bit of a walk from the carpark into the town centre but you do get to cross the river Avon which is always a bonus. There's loads of water fowl on the river and lots of boats as well. Some of these boats are occupied by people who've hired them for the day/hour/etc and clearly have no idea how to control them and are wearing inappropriate boating clothing. This is always fun to watch from the bridge! We talked about how many times we've paddled though this part of the river. It forms the first part of the Avon Descent, which is an 11 mile canoe/kayak race that we've all taken part in. I haven't done it for several years and I think the last time my mum attempted it they snapped their boat in half shooting the weirs. It's usually in November and freezing cold, you end up covered in mud but it's a great race to do.
As I am huge and pregnant, the first port of call after the car journey was somewhere with a toilet and somewhere to sit down. I tried very hard not to ruin Rachel's birthday trip by being an "I need a wee" diva! I didn't realise until I saw the photo when I got home just HOW big I had become. (This photo is 28 wks 5 days). Ignore my stupid face, I don't know what's happened to it lately but it doesn't look like my face at all at the moment.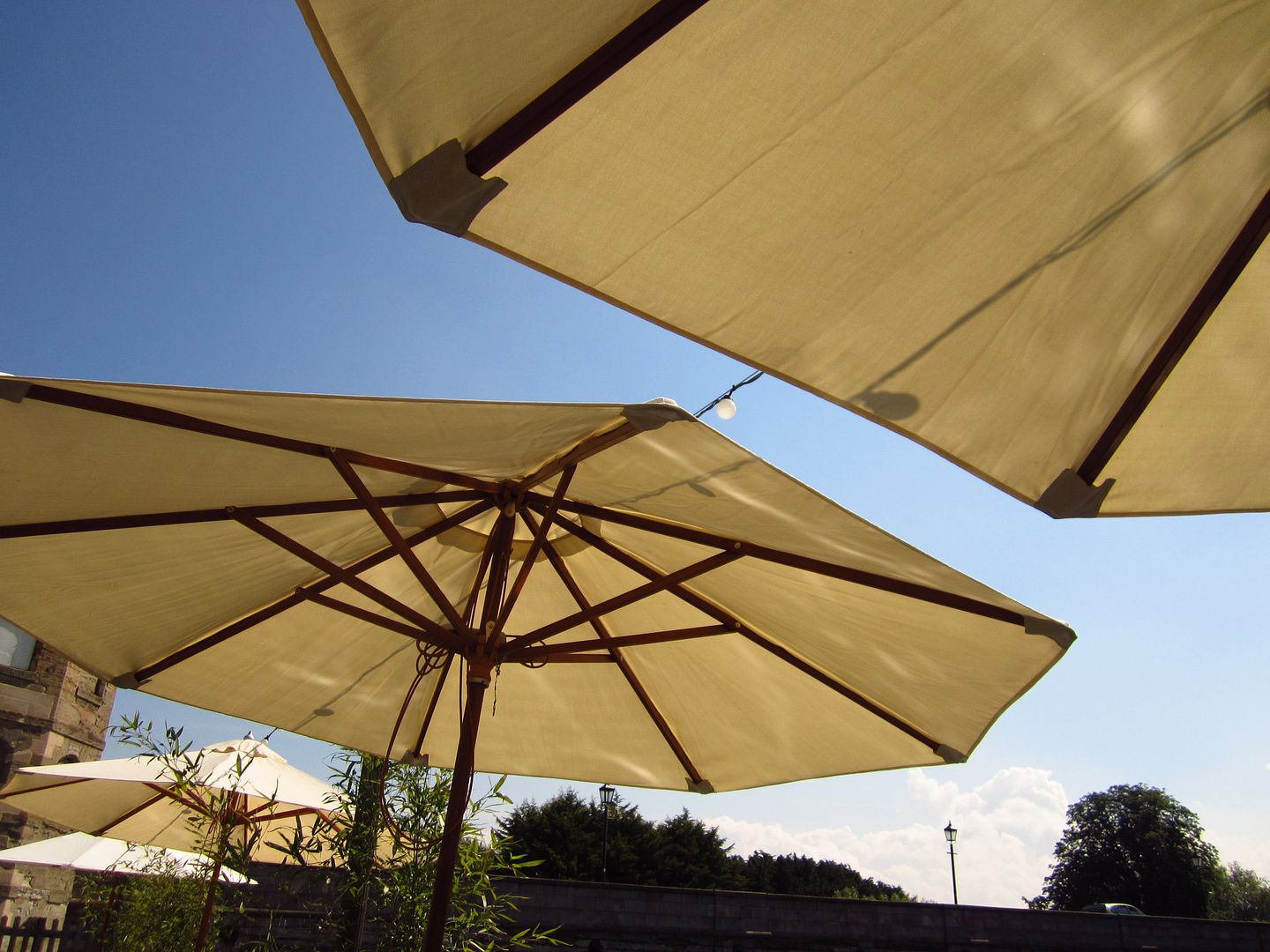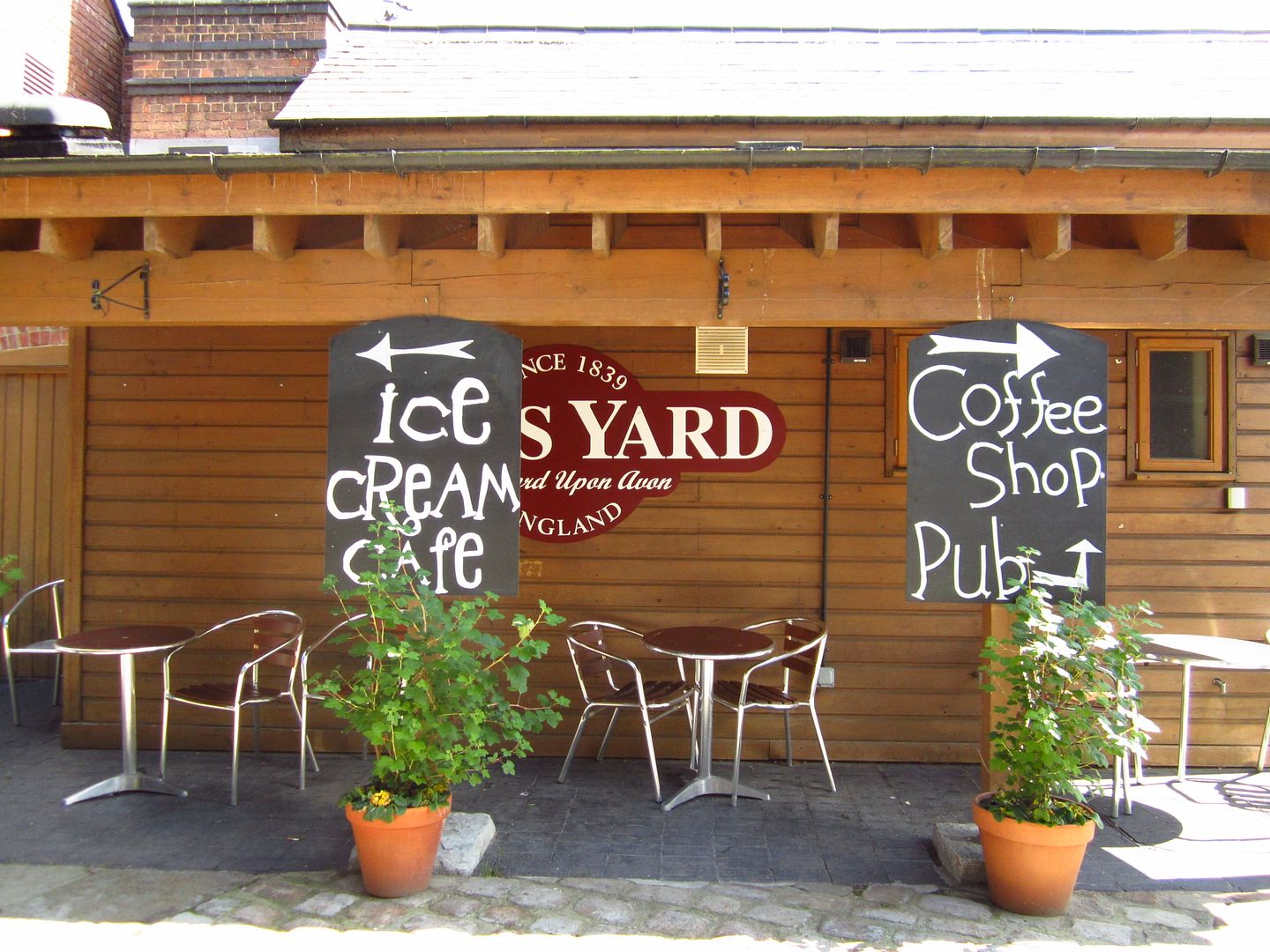 Fortunately there is a cafe called Cox's Yard (I think?) just over the bridge with shady umbrellas right next to the river. We had cakes and drinks and I think I could have just sat there all day. There was a fish in the river, swimming against the flow and then drifting downstream a little and swimming back up again. I don't know if fish have feelings but he looked like he was enjoying himself.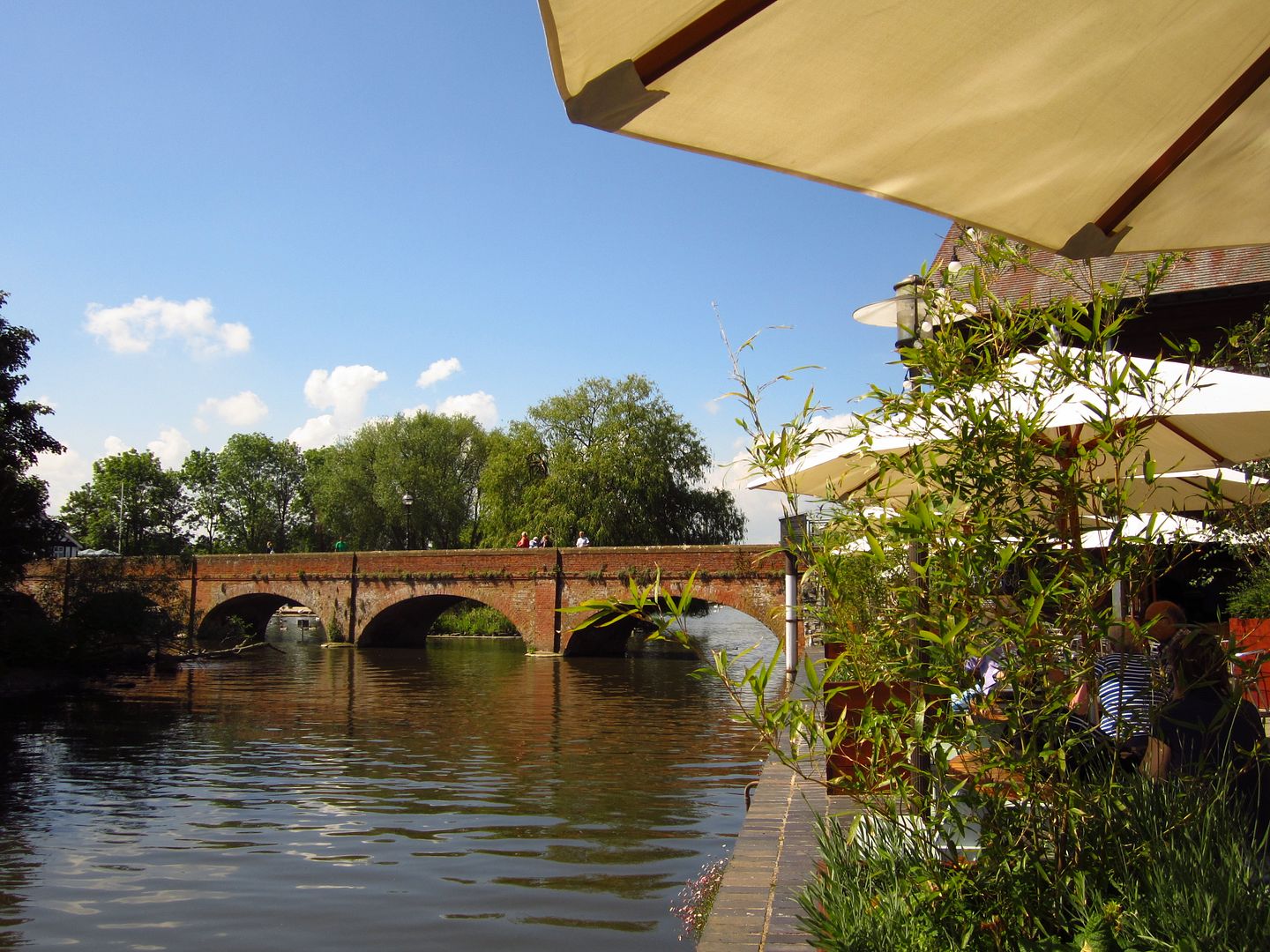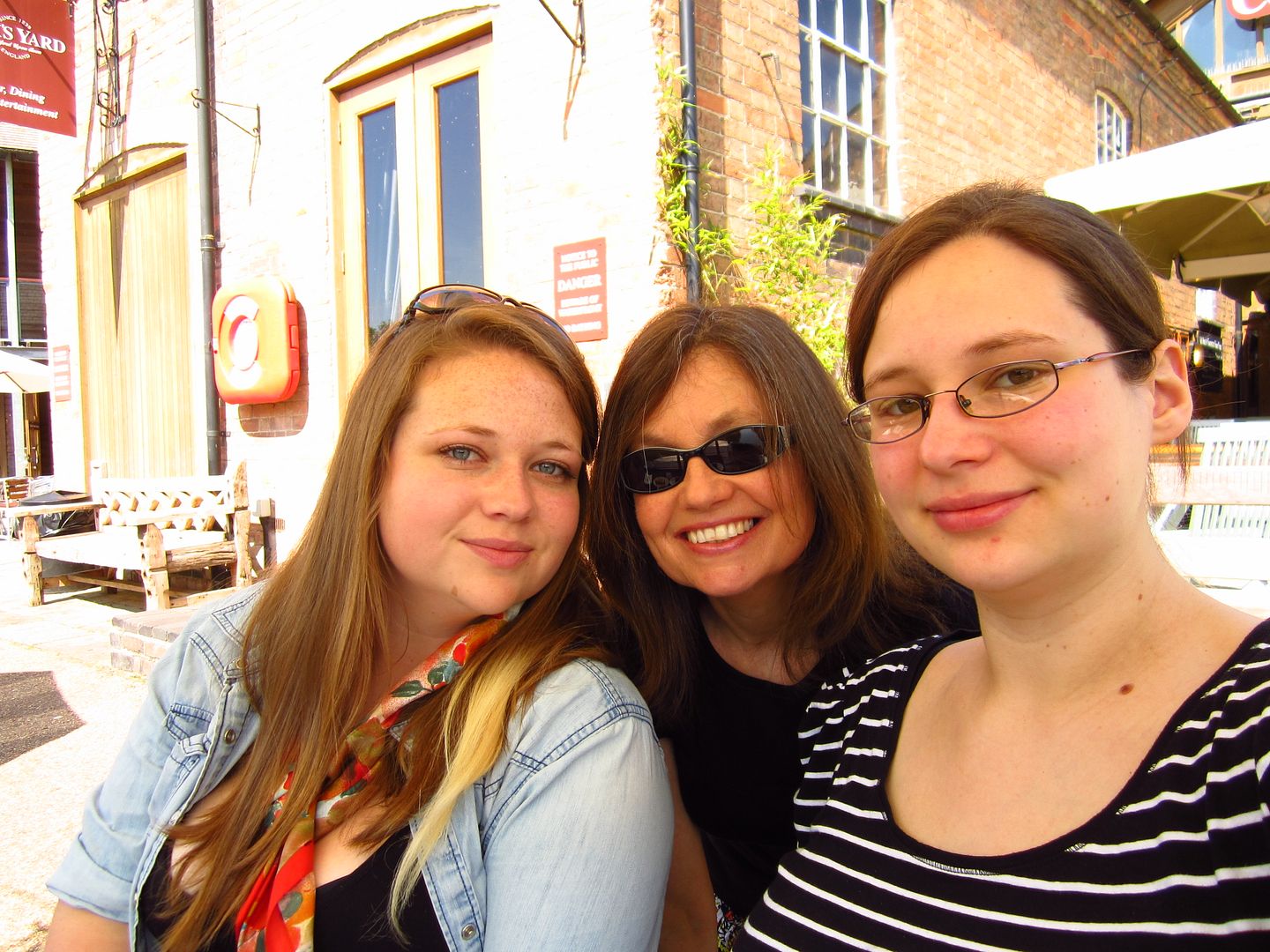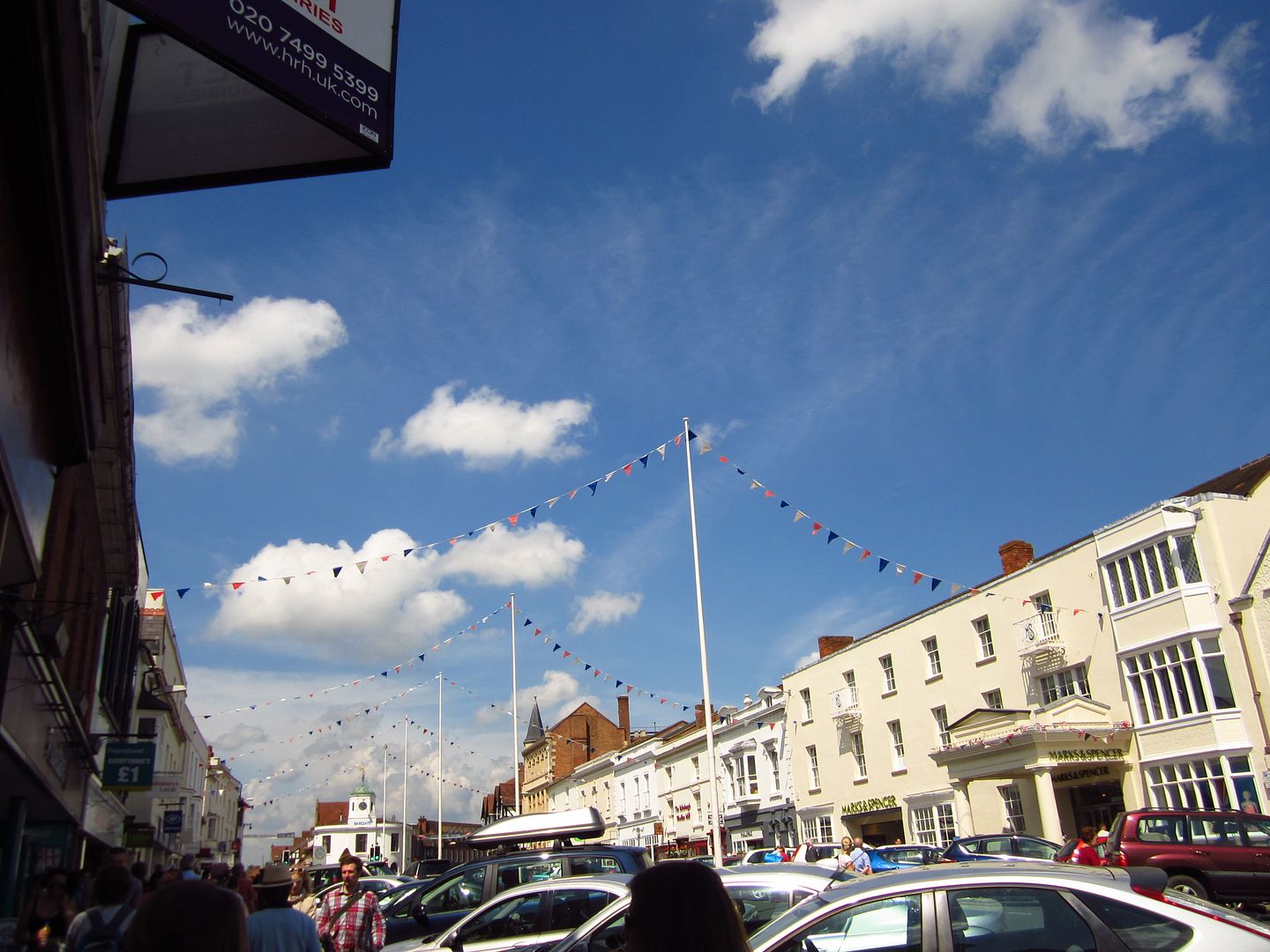 The centre of Stratford was decked out in bunting, as most places in the UK are at the moment. It looks quite nautical with the white buildings, don't you think? Walking up the street we got stuck in a walking tour of American tourists and I got separated from my mum and Rachel while taking a photo. Aargh! Scary. Managed to find them again though, they were at the front near the woman with a clip board in the air.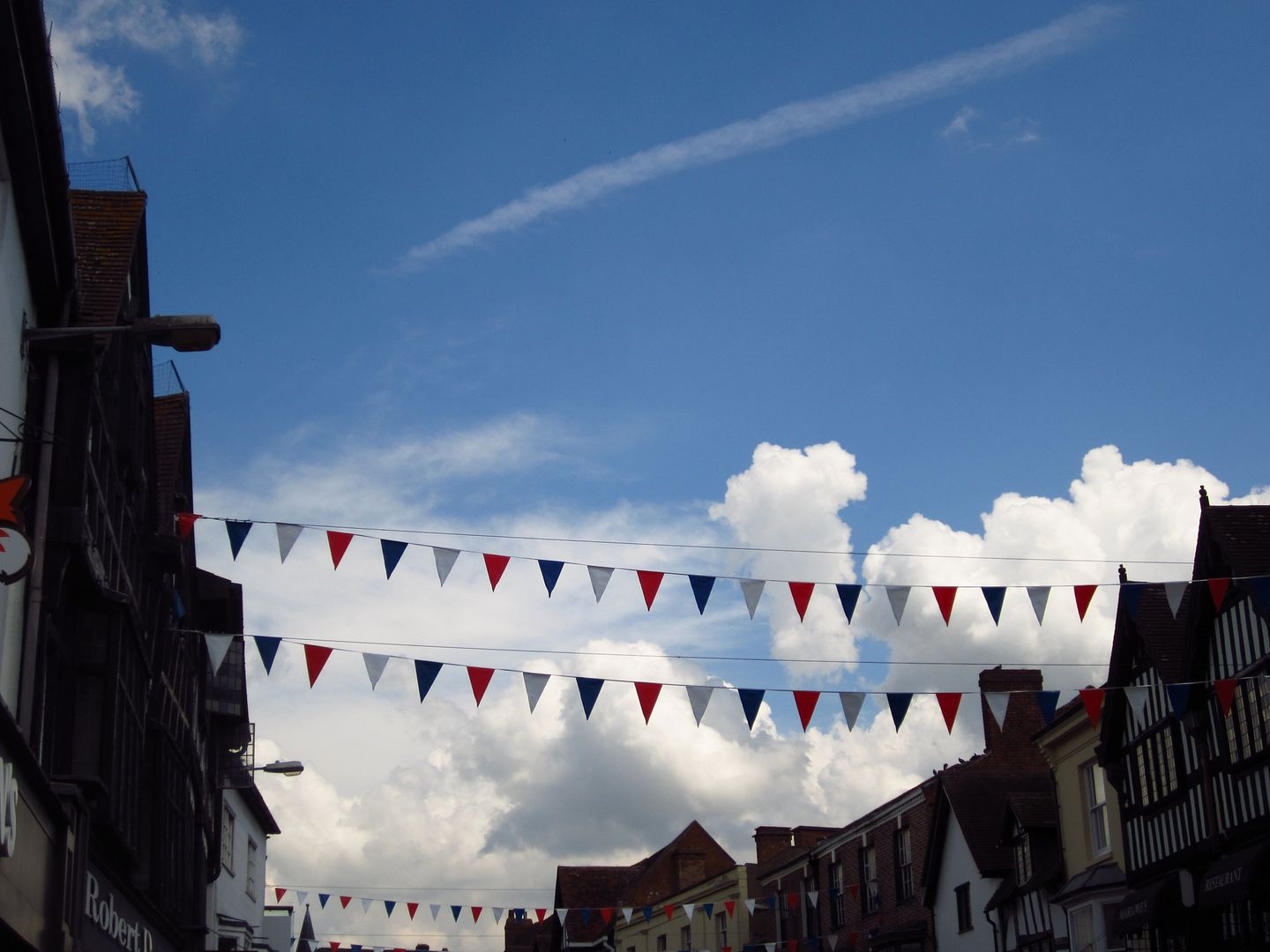 We needed to buy bits and pieces to wear to our cousin's wedding but Accessorize and Debenhams both let us down. Fortunately H&M has cheaply priced accessories and we decked ourselves out with flowers and scarves and bags in no time at all. It should be noted here that I had to take the lift up in H&M and sit down pretending to try on shoes while waiting for the other two. Sometimes you just can't help being a diva and I am so grateful for shops with chairs. The White Stuff even has COMFY ARMCHAIRS! Amazing, spent ages sat there.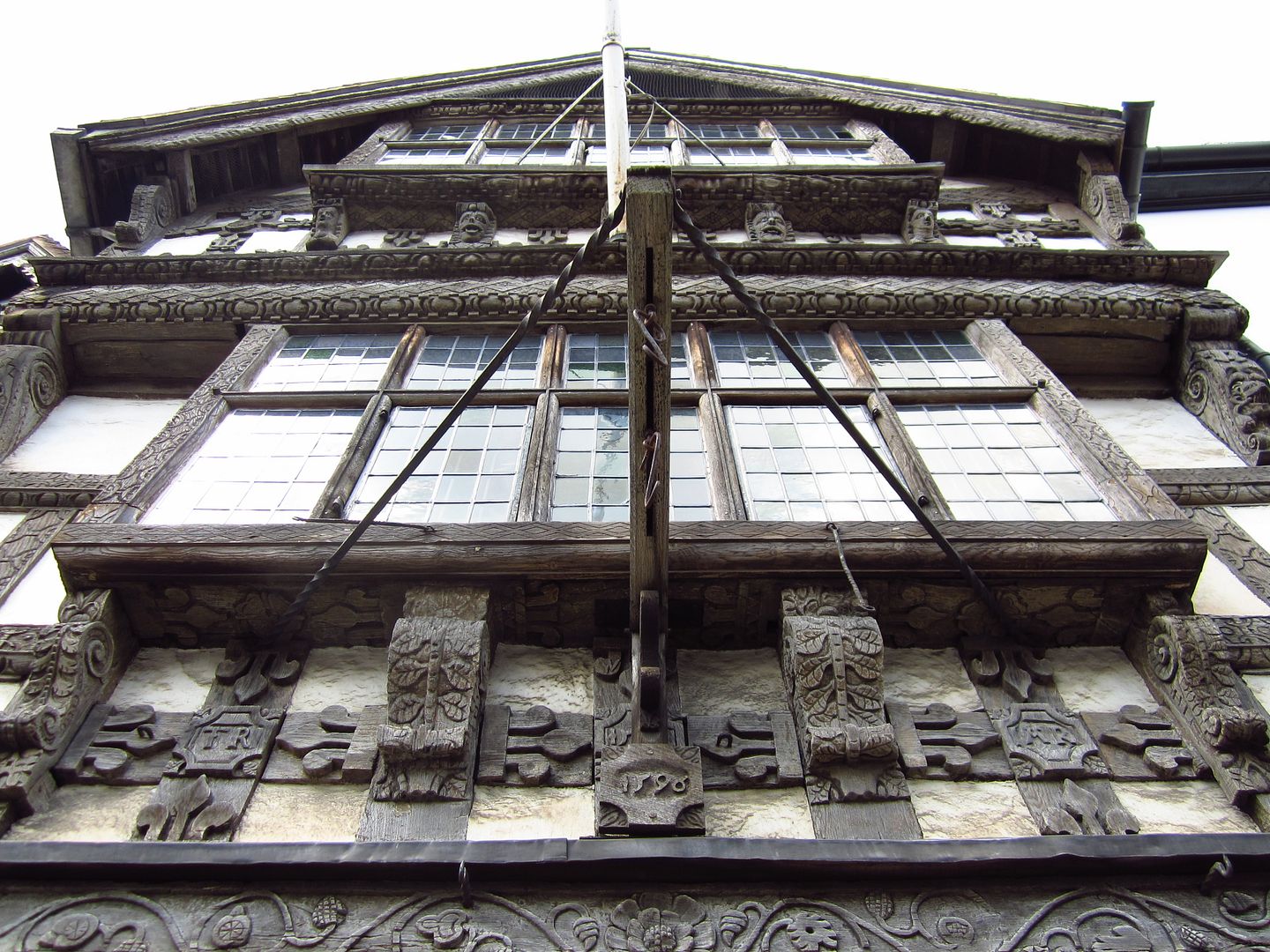 If you've been to Stratford before you'll know that it's full of pretty Tudor buildings. In primary school we had to draw a lot of these buildings when we were learning about Shakespeare. This one had pretty wooden carvings on it, look 1596, that's so old! Older than my house and that's wonky enough, can you imagine trying to maintain an old wattle and daub building? Glad it's not mine!
(Wonkiest photo ever)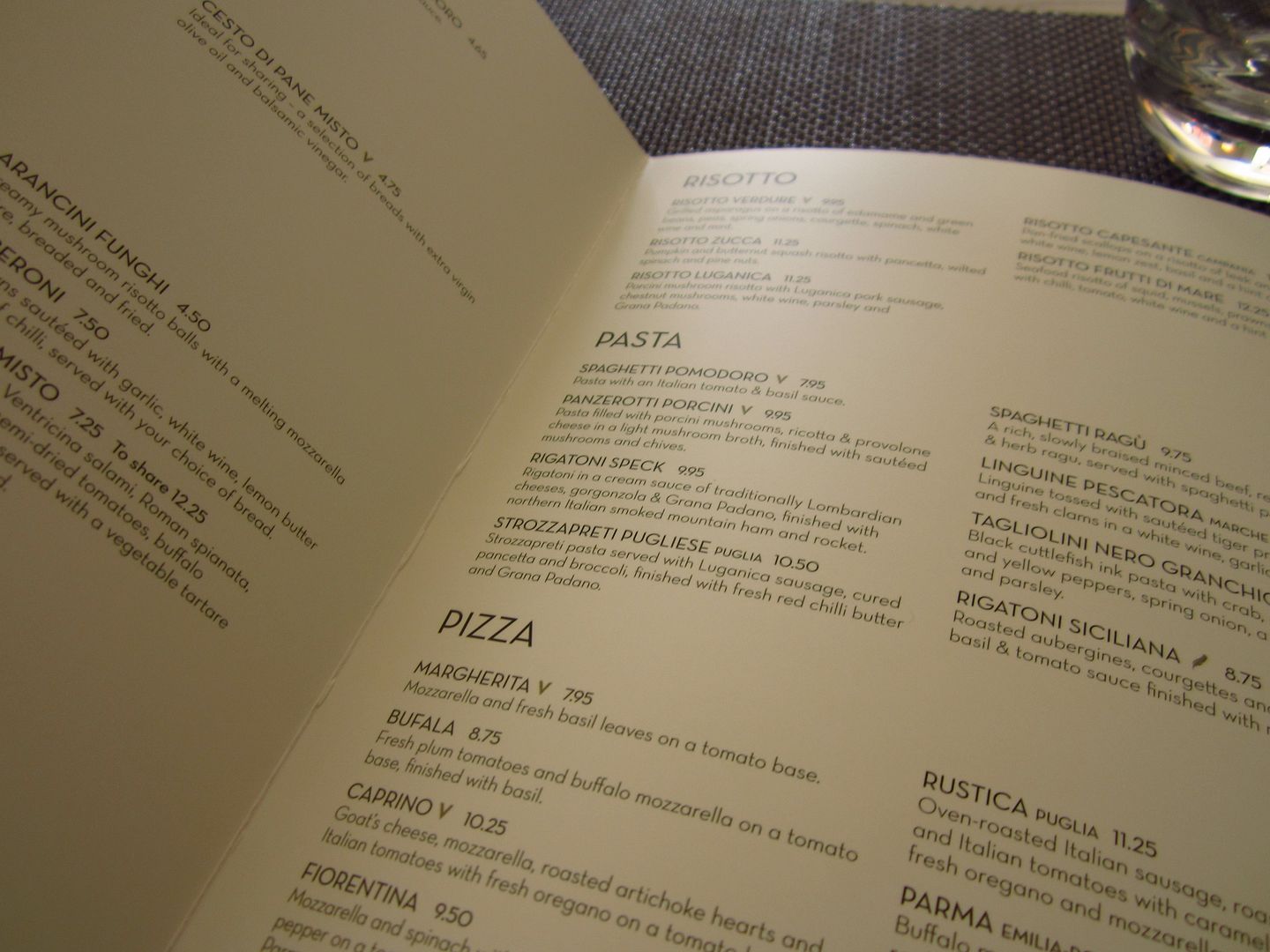 We ate lunch in Strada and enjoyed people watching through the massive windows. After that, we looked around a few more shops and Rachel got a pretty scarf with birds on as part of her birthday present. It was after this that I needed a sit down in The White Stuff before any more walking!
On our way back to the car we stopped at Cox's Yard again for ice cream: mine is caramel with kit kat pieces and Rachel's is pink lemonade sorbet. Yum yum! We made it back to the car on time (parking attendants in Stratford time you to the minute, you do NOT want to be late back to your car!) and then travelled home, via Tesco to get food for a birthday tea, and teeny tiny babygros as I was starting to worry that I didn't have anything for the baby to wear immediately. I know I still have some time to go but when you get the panic, you get the panic! Anyway 6 tiny white babygros later I feel better and it only cost me about £6 so that's ok.
When we got home I had another diva moment when I saw the size of my big fat swollen ankles (don't think they like walking around in the heat) and laid on the sofa with them propped up on pillows for ages while Rachel and my mum put shopping away and made a birthday tea. There was a knock at the door and it was a bouquet of flowers for Rachel from one of her uni friends. Aww!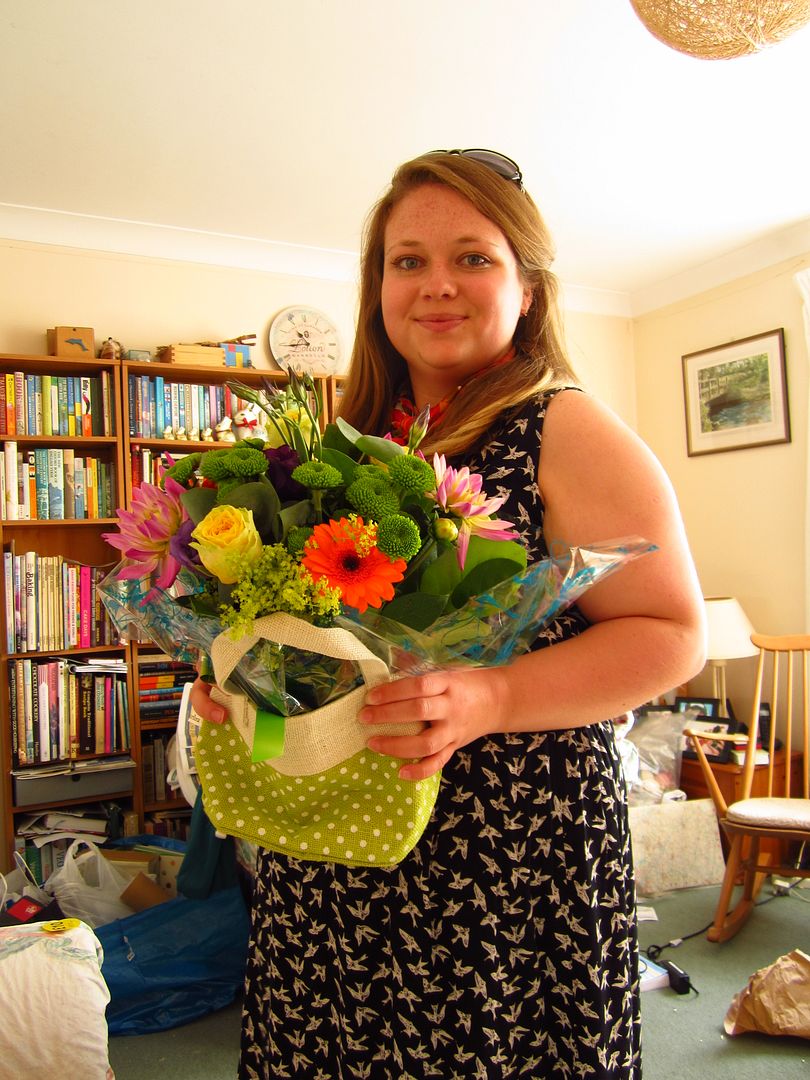 As I was weighted down to the sofa by my enormous feet I made Rachel fetch the camera so I could take her photo. Not bad for a horizontal person! Rachel is always effortlessly glam. I need to step up my game I reckon. I need: new glasses, haircut and some fashion sense.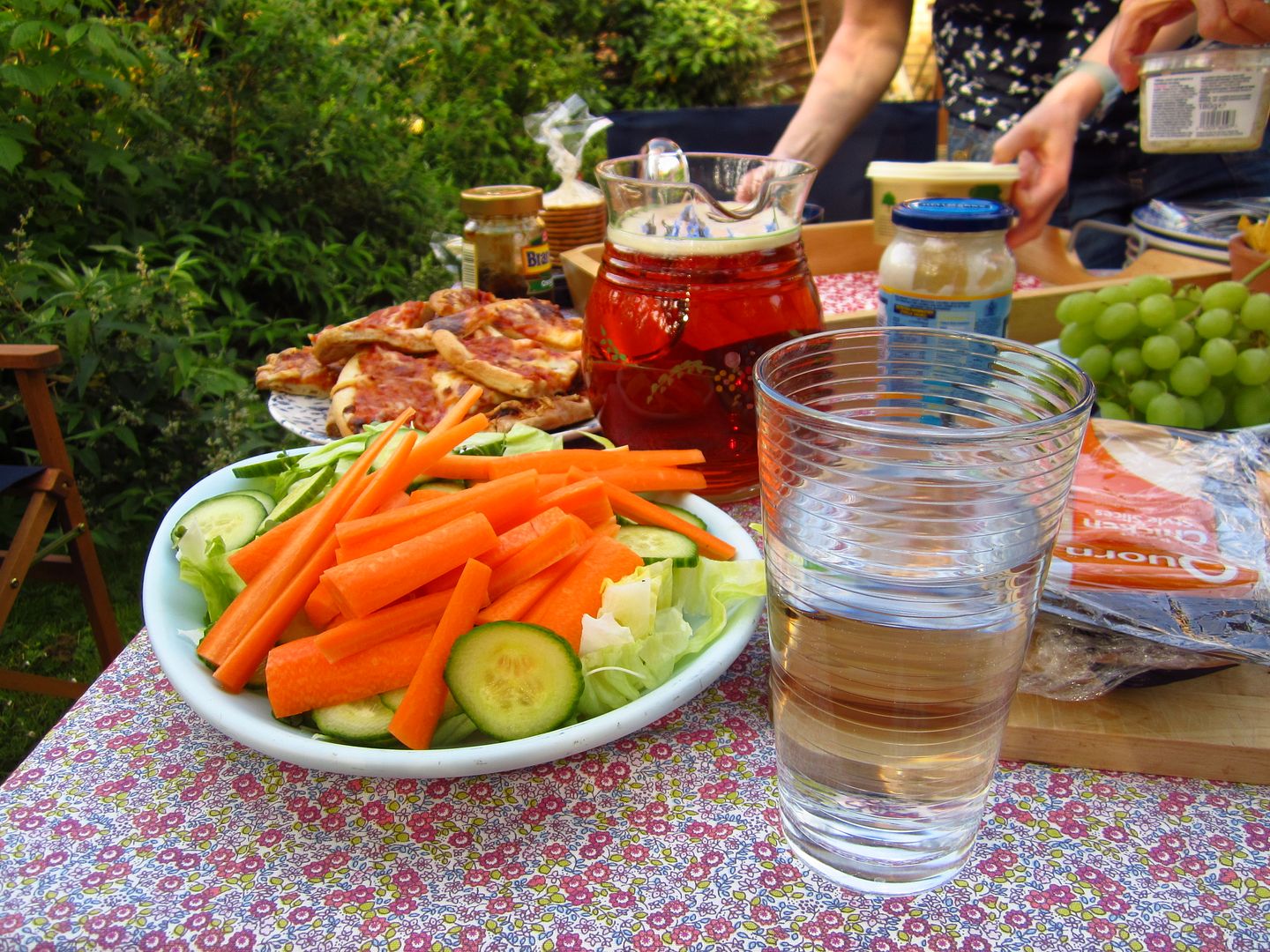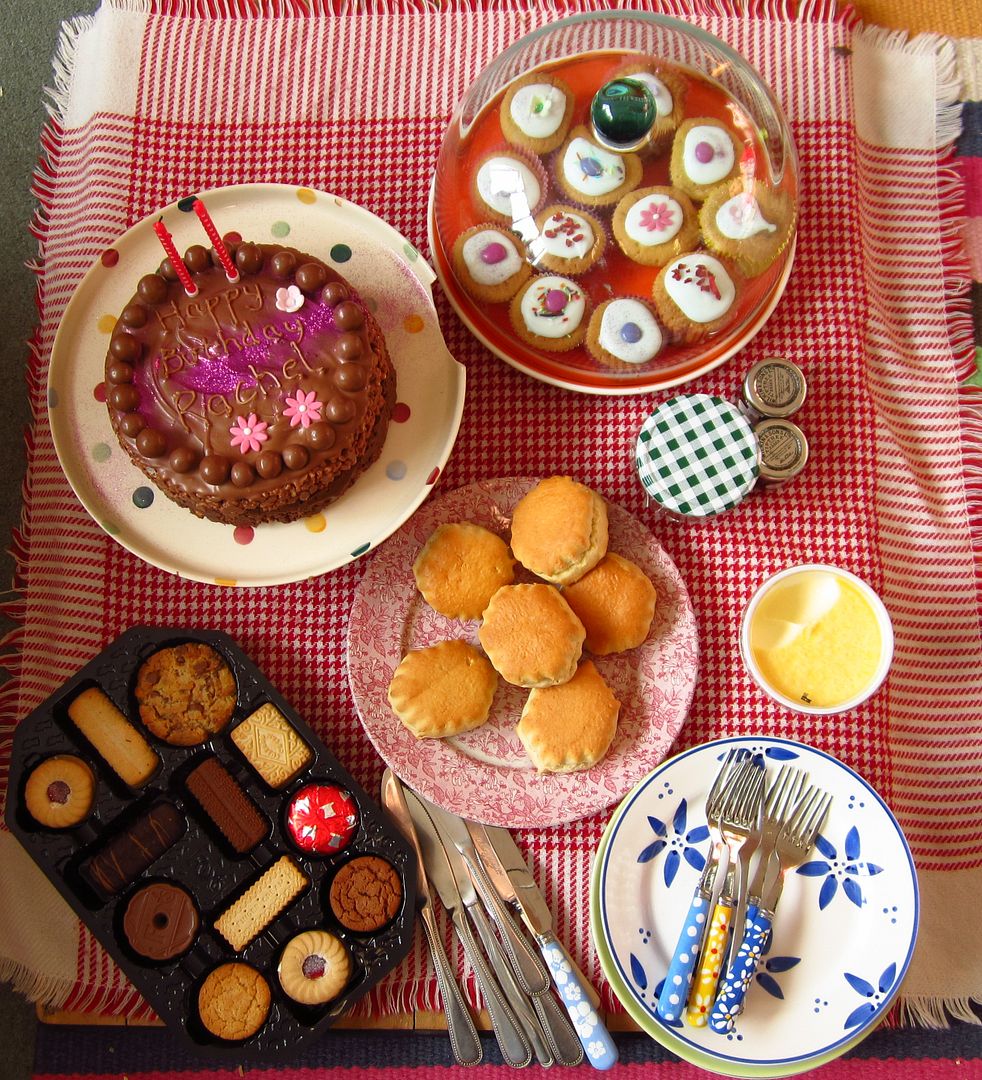 After a chilly tea in the garden we came back inside for pudding. Do you see Rachel's cake? Well I will let you into a secret, it's not really a cake cake. Rachel doesn't like cake you see, so she gets a special non-cake chocolate extravaganza.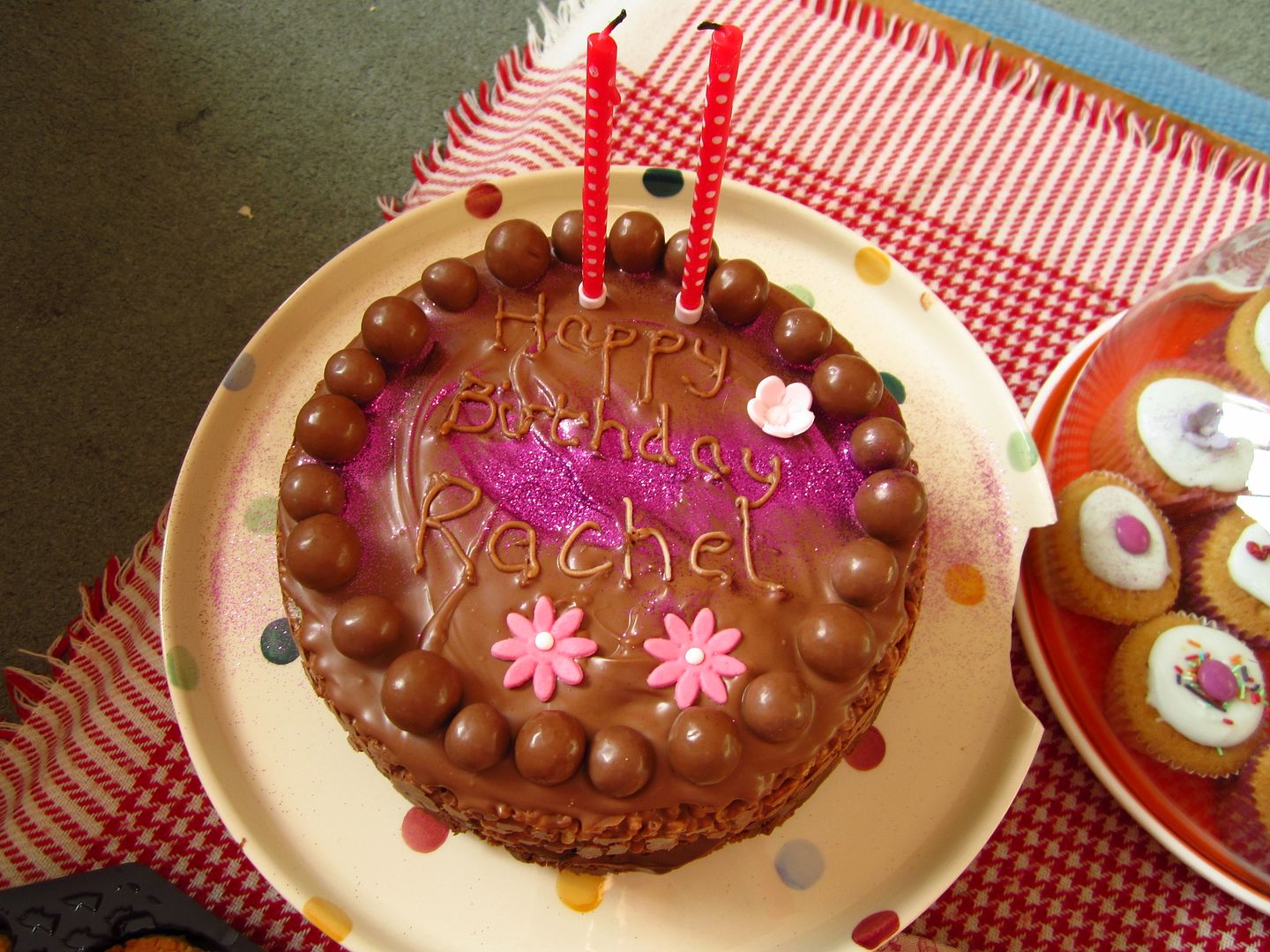 One layer of tiffin and then one layer of chocolate crispy cake sandwiched together with melted chocolate. DIVINE.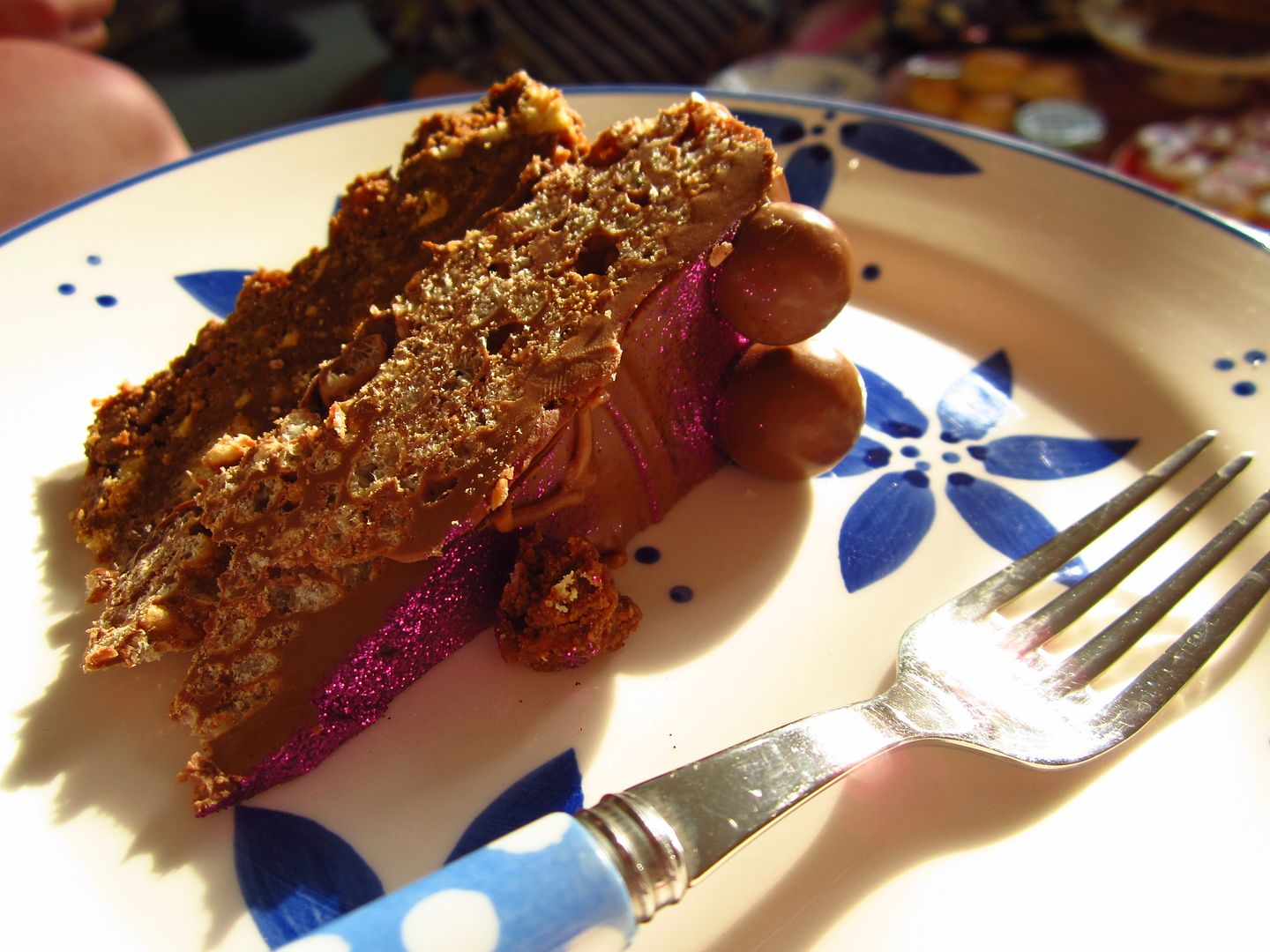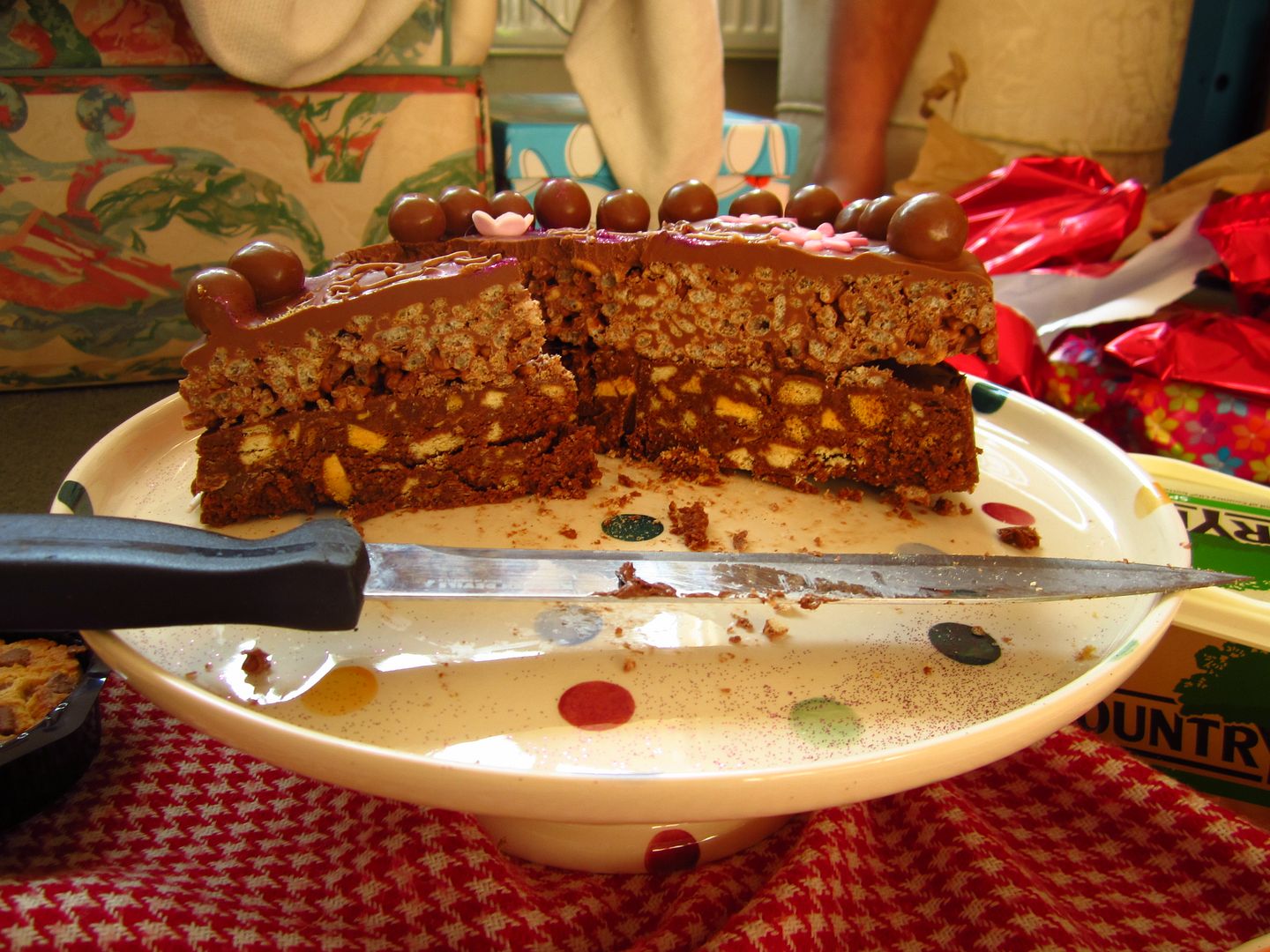 It does not last long around us!
And with that, we all fell into a food coma and didn't move from our chairs for the rest of the evening. What a good day! Lucky with the weather as well (despite aforementioned gigantic feet.)
Happy Birthday Rachel :-) xx