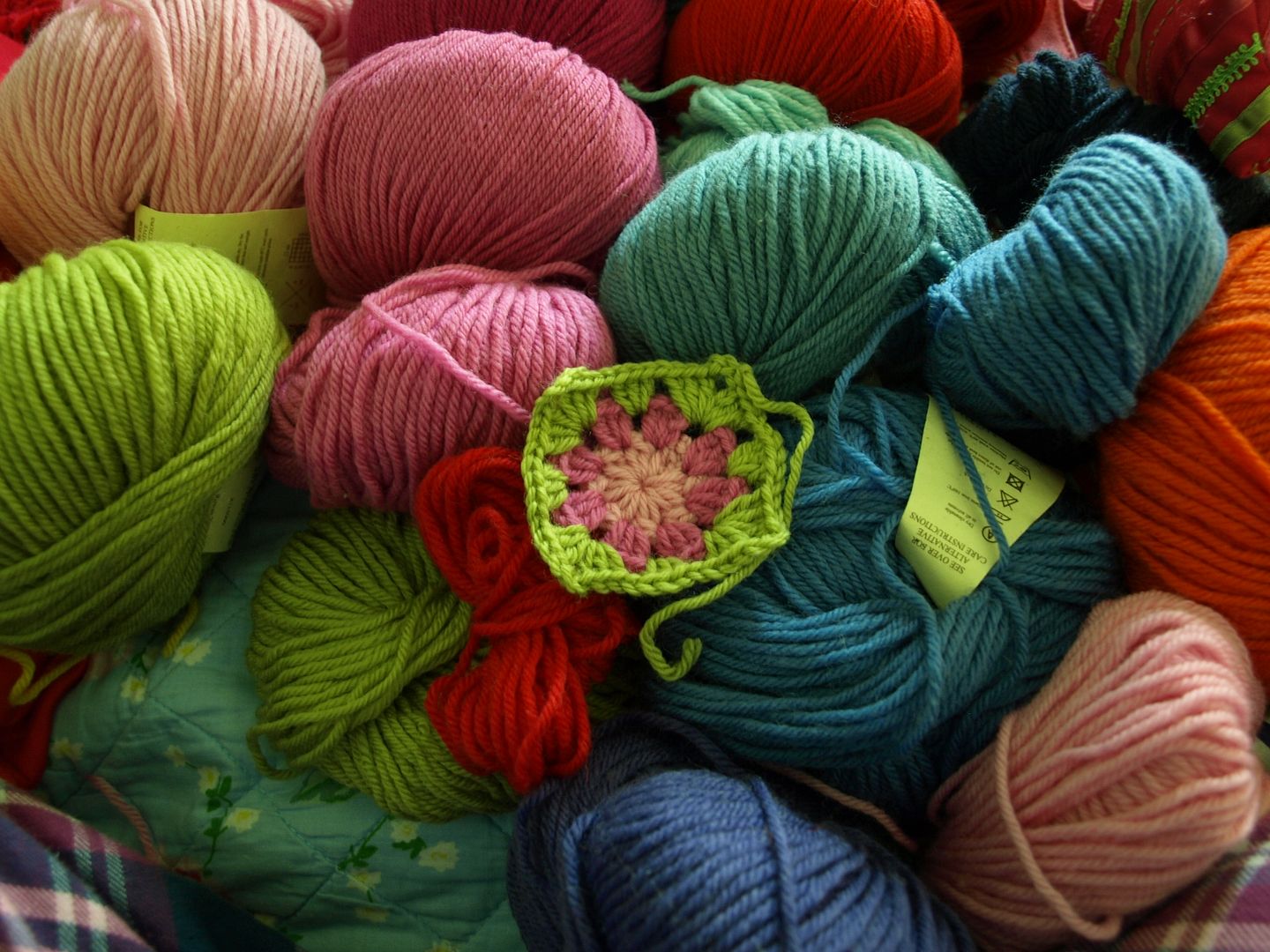 I first started hooking this blanket in March, when my mum and Alice were visiting. It was after we returned from our trip to Ilkley and we were all sleepy and full of food but managed to get all of my yarn out on the bed and lazily start some new projects. That was a lovely day.
I'd been wanting to make another blanket from Rowan Pure Wool dk for a while but the right design hadn't presented itself to me. In the end I combined a few different granny square ideas to make my own. The first three rounds are Lucy's Summer Garden Granny Squares, the fourth round is that of a standard granny square, but with no chain spaces at the sides (only at the corners) and then the final round is a solid granny square such as the Elmer Square. Perhaps I should dub them Hybrid Squares?
Colour choices were another cause of deliberation. I wanted the blanket to have "just the right" kind of feel to it. I wanted it to be as lovely as my other Rowan blankets, but I didn't want it to be just another version of them. I thought about it for a while and decided to leave out the yellow and orange, and to make green/pink/blue and a little red the focus. I was sparing with the "Damson" as it is tonally darker than the other colours and I made sure to put a lot of thought into each colour combination so that the squares all looked good. Another conscious decision that I made was to allow myself duplicates. I've enjoyed the challenge in the past of endeavouring to make all my squares unique but I just thought … if I really like a square, why limit myself to one?
When arranging my squares prior to joining them I started with the square that stood out to me the most as the centre point, and then worked outwards from that. I spent a lot of time rearranging the squares and they spent a few days out on the floor and now and again I'd swap them round – I find that the more you look at something the more you see patterns that you didn't before (squinting at something and viewing it as a photograph also help) and you can suddenly notice the abundance of blue in one area whereas the rest of the blanket is suspiciously short on blue.
When it was time to add a border, I fussed for ages and couldn't make up my mind. That's often the way with me and borders: I can whip up a blanket in no time and then it takes me the same time again to get round to putting a border on! (If you mention my ripple I will have to poke you at this point!) I settled in the end for a few rounds of the cream yarn in TR stitches, and then three rounds of pink in HTR stitches. I used Tea Rose, then Hyacinth and then Dahlia for the border. I was going to do a round of green after that but it suddenly looked enough so I stopped. This may or may not have been because working in half treble stitches is THE most tedious thing ever and I'm not going to put myself through that again!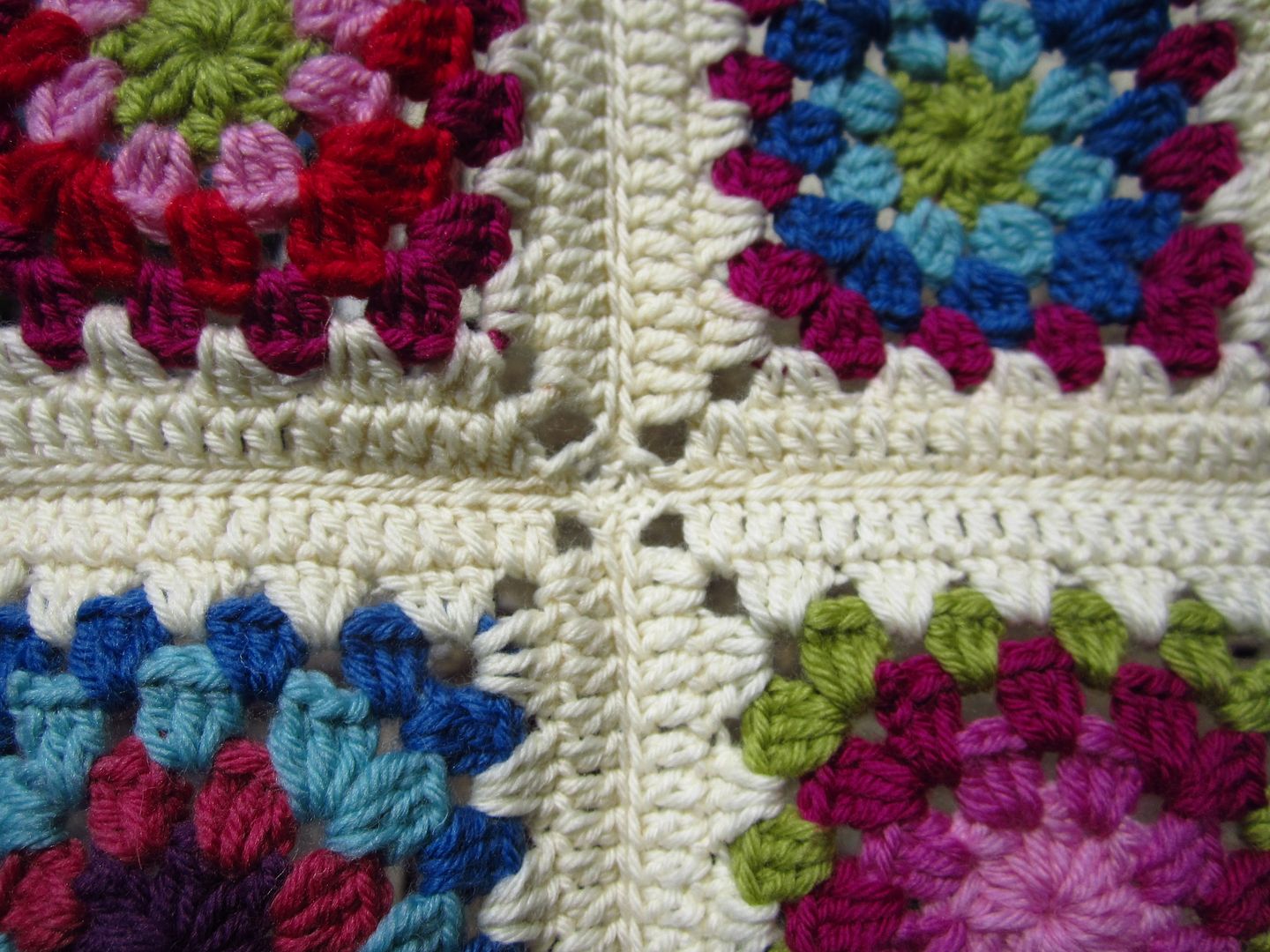 When I make granny squares that I intend to join by crocheting them together, I always chain 3 on the corners on my final round. I just find that it works best for me that way. When chaining 2 I kept ending up with holes at the corners and uneven joining. Three chains works for me. I used  Lucy's tutorial the first time I ever did this kind of joining but now I can almost do it with my eyes closed. Joining granny squares is one of my favourite things to do. I find it very relaxing and love love love the feeling that I am creating a large piece of work in a short space of time. It feels more satisfying to me to make all the squares first and then join them in one go than adding to a piece that gets a little bigger with each square. I can't tell you how excited I am to join all of my current granny squares up, I have made 83 (I need 100): I am going to take a whole day and just sit on my bed and join them together. I can't wait.
One benefit of using Rowan Pure Wool dk is that I feel comfortable blocking it. I think you will agree that this blanket needed it! The squares were puffy and like little mountains. Eventually when I found time/inclination, I leapt upon it with a pot of pins and a spray bottle (not my original spray bottle, Andy, because you borrowed that didn't you? When you were learning how to solder pipes? To spray on the hot pipes to make steam come out the end? That's why it's behind the tumble drier now, isn't it Andy?) and blocked it all out. It was so hot that it didn't even take all day to dry!
And here is the finished article:
I am hopelessly head over heels for this little blanket. It's just how I wanted it to be and it's so satisfyingly small. I would love to make one into a big kingsize bed blanket but I don't have the yarn, money or time. I wanted to make something in this design, and so I did. It's a lap blanket, just for me, just because I wanted it. It didn't take me long to make (it's just taken me a long time to blog about it) and it really hit the spot in terms of inspiration and creation. I must show you the shadow it makes too, with all the little holes: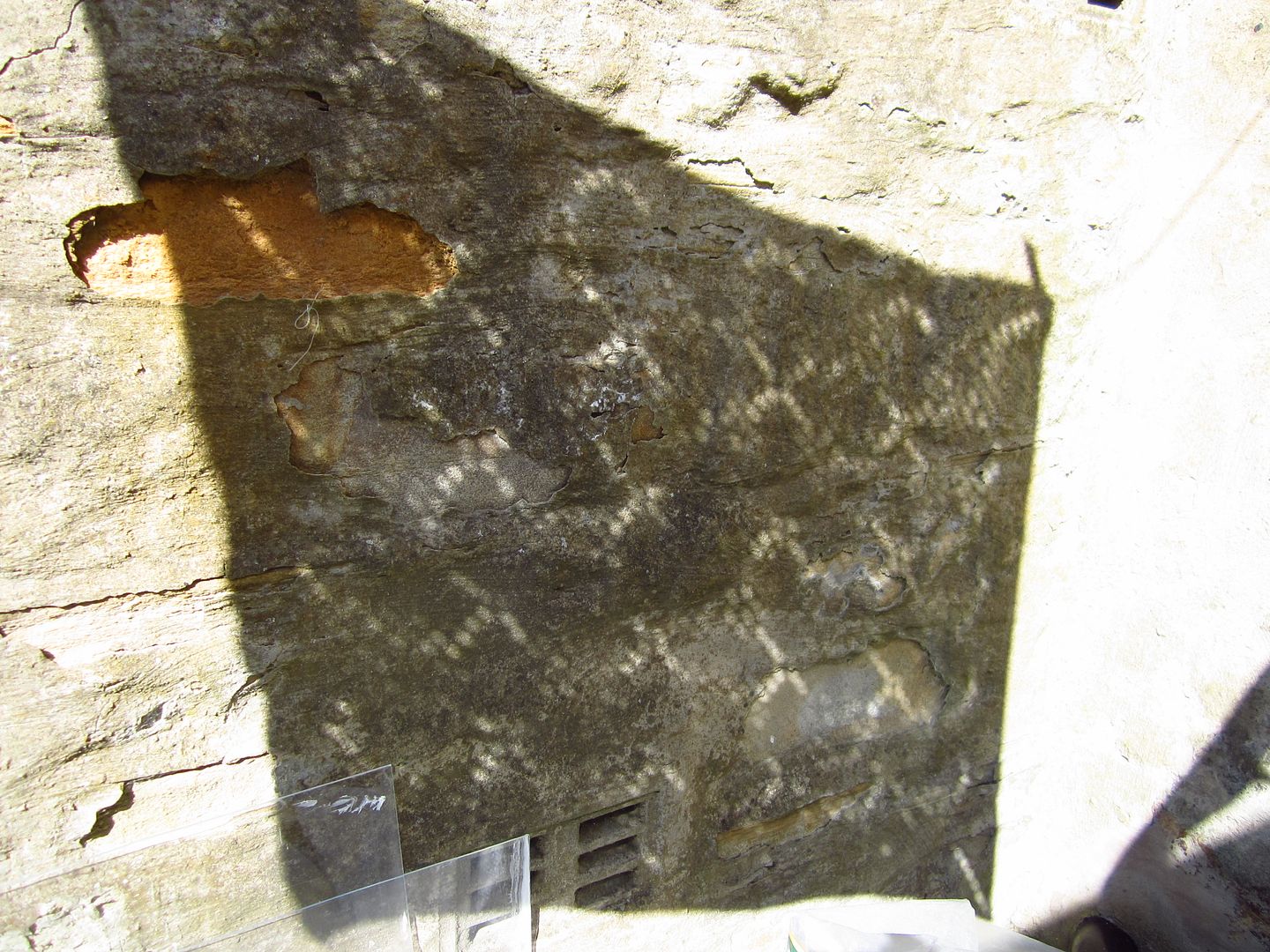 Hehe!
When I make an item, it always has thoughts and feelings and memories hooked into it as well. Most of my blankets have taken me many months to complete and have a sort of "slow build" of memories. This one, being only 25 squares and taking not very long to make, feels very intensely full of memories. I started with with my mum and Alice, I worked hard on it over Easter when Andy and his dad were tiling the bathroom. I started joining the squares when Andy was on that hellish journey home (where all the trains were cancelled and it took him about 3 and a half hours on a bus) and it was pouring, pouring, pouring with rain. I started the border while we were trying to install the new sink (I left it on the bed and sneaked a a few minutes of stitching here and there). I completed the border when my mum and Grandma were visiting and I blocked and photographed it at the end of May on the hottest day we had.
Did I mention just how much I love this blanket?
Yarn Details:
Rowan Pure Wool dk in the following colours:
Cypress
Pier
Marine
Lavender
Tea Rose
Hyacinth
Dahlia
Raspberry
Avocado
Damson
Kiss
Enamel
Worked on a 4mm hook.