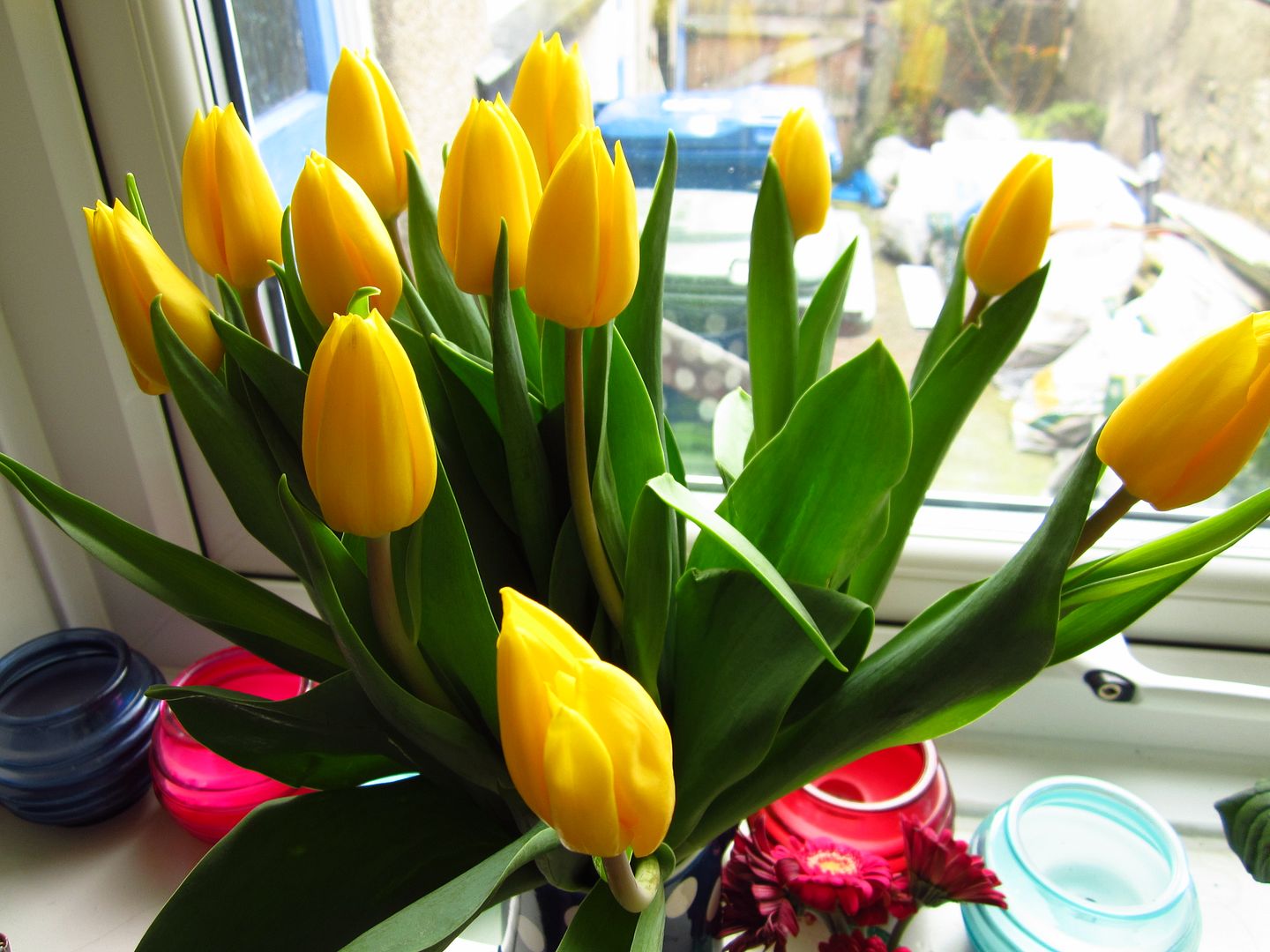 Let's have a bit of a home update shall we? Let's start with the bright yellow tulips Andy brought me the other day. Sometimes on the way home from the train he stops at the shop for coffee/bread/whatever and he always surprises me with a bunch of flowers too :-) He knows what I like: a bunch of one type of flower and not a faffy bunch that turns out to be one rose and some oddly coloured chrysanths. He's great. They're doing pretty well, I've had them 10 days and they're only just going flopsy in the heat.
After a rotten rainy few weeks it's been lovely to have some sunshine. This is what it looks like shining into our dining room when I get home from work. (It illuminates the textured wallpaper a treat, haha.)
I've been trying to get back into the swing of cooking as well. In my early pregnancy I didn't get sick and I didn't have any cravings as such but I did have a major aversion to preparing food which is a bit of a hindrance when you're trying to eat well to grow a baby. I also went off vegetables (which I replaced with fruit instead which I had an increased appetite for) and I am enjoying using more ingredients in my cooking again. This became a vegetable and pasta bake which was scrummy but not really suited for the weather! I did my shopping while it was still raining and just have to go with it.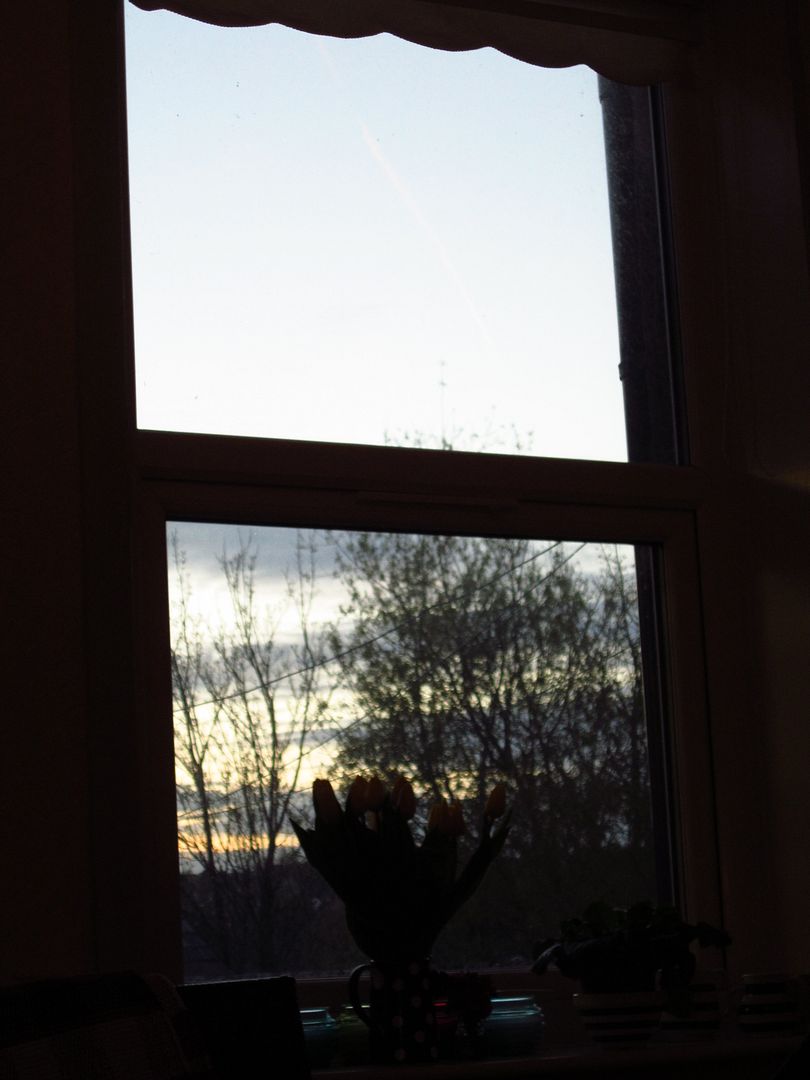 I love the longer lighter evenings now. They're such a relief from the oppressive "dark by 3:30pm" months of winter. I snapped this lazily from my chair because I liked the stripy sky. Rubbish photo but I am pleased to have recorded the moment.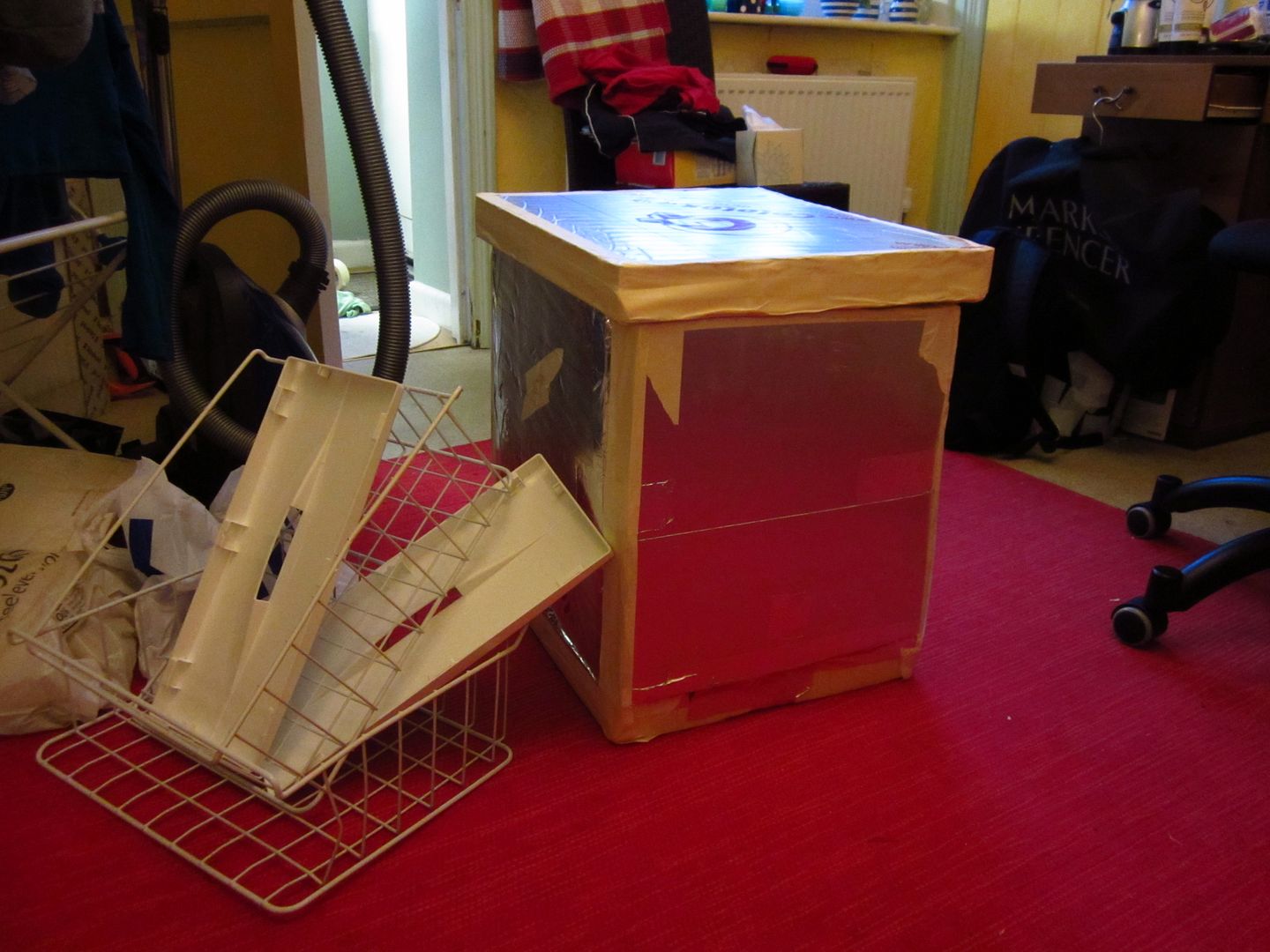 You may be wondering what this silvery box is. I bet you won't guess it. It is a home made cool-box that Andy created from left over Celotex insulation from the living room! Amazing. This was needed because we have had to replace our fridge freezer and needed some way to keep our frozen things frozen for a day and a half. I am SO impressed with Andy's ingenuity here because it worked brilliantly – not even the frozen blueberries started to defrost at all and it was all in the same state as it was in the freezer. Fabulous!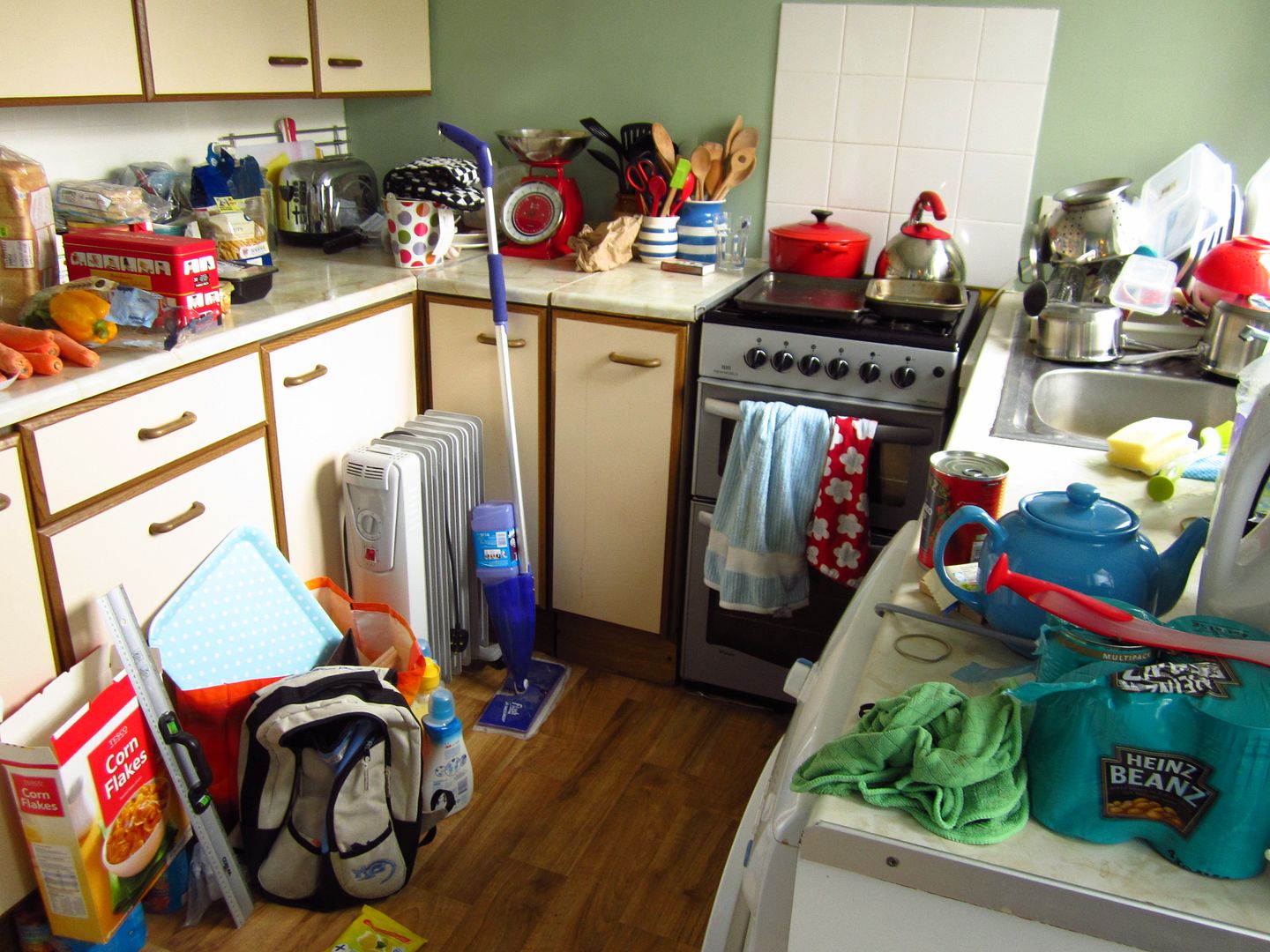 I was surprised just how much gubbins was in/on/around the fridge that we had to move. It never seems to go back either!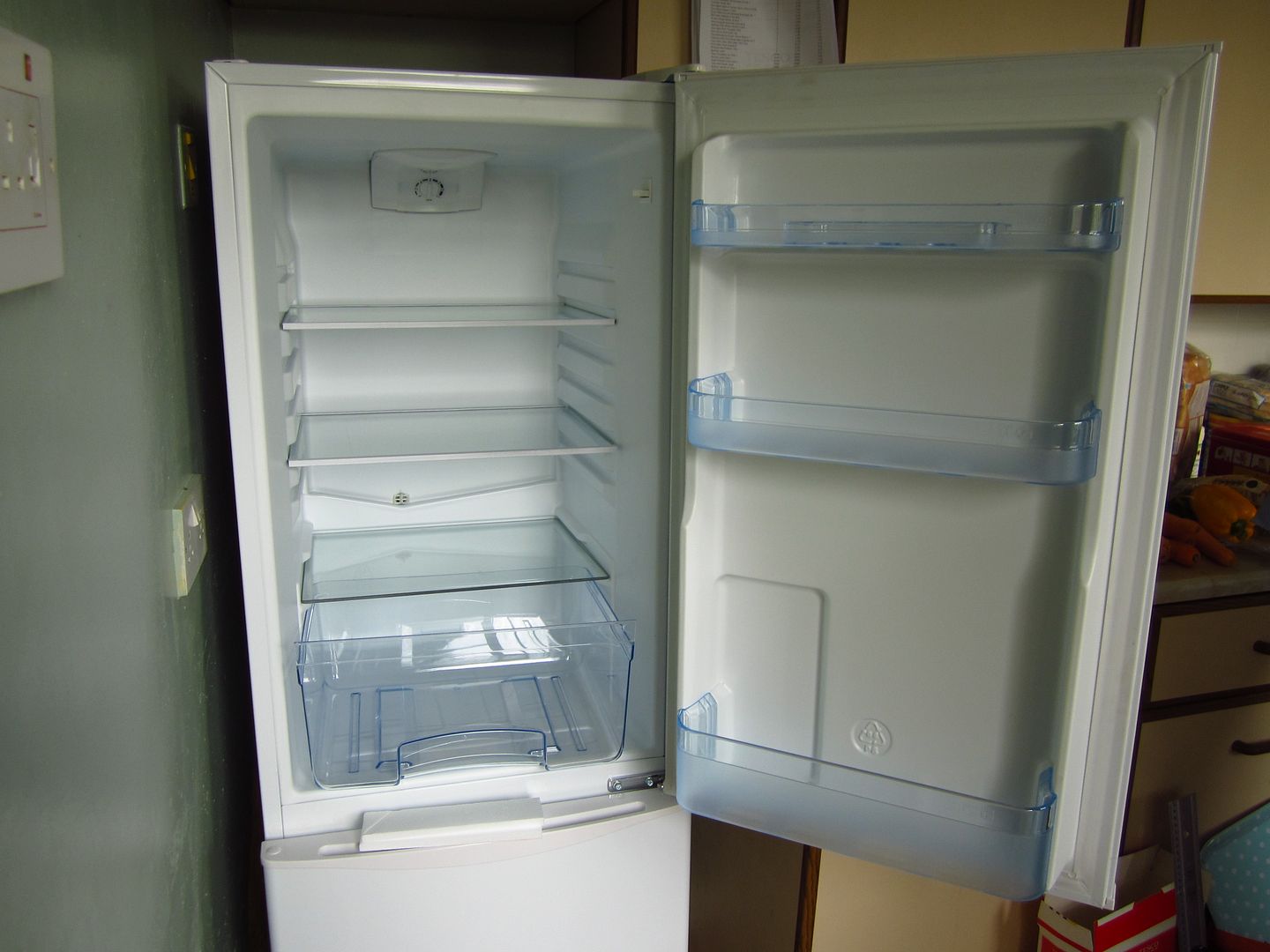 This is the new fridge freezer. Oh what a relief and a joy it is to have a working fridge! No longer having to play food roulette and cram everything into the very bottom bit of the fridge to keep it at an acceptable temperature! I think what happened is that the seal around the freezer door gave up the ghost and it went into overdrive trying to keep the freezer cold (and creating an iceberg down the door) whilst neglecting to keep the fridge cold enough. It was 10 degrees on the top shelf, managed to get 2 degrees where the vegetable crisper was, this was one of the main signs it was buggered as previously anything on the vegetable crisper shelf froze as soon as you shut the door.
It was a bit of a nightmare getting a new one was we only had 50cm of width and not much height. We mooted various possibilities, most of which involved taking out some cupboards until I just said NO, let's just get the cheap Curry's own brand one, the ONLY one that will fit this width and be done with it. £200 later and BOOM, we have a working fridge freezer and it's GREAT. It's a bit smaller than the previous one but we don't really need much space, as long as it can keep the milk cold and has space for my vegetables it's all good.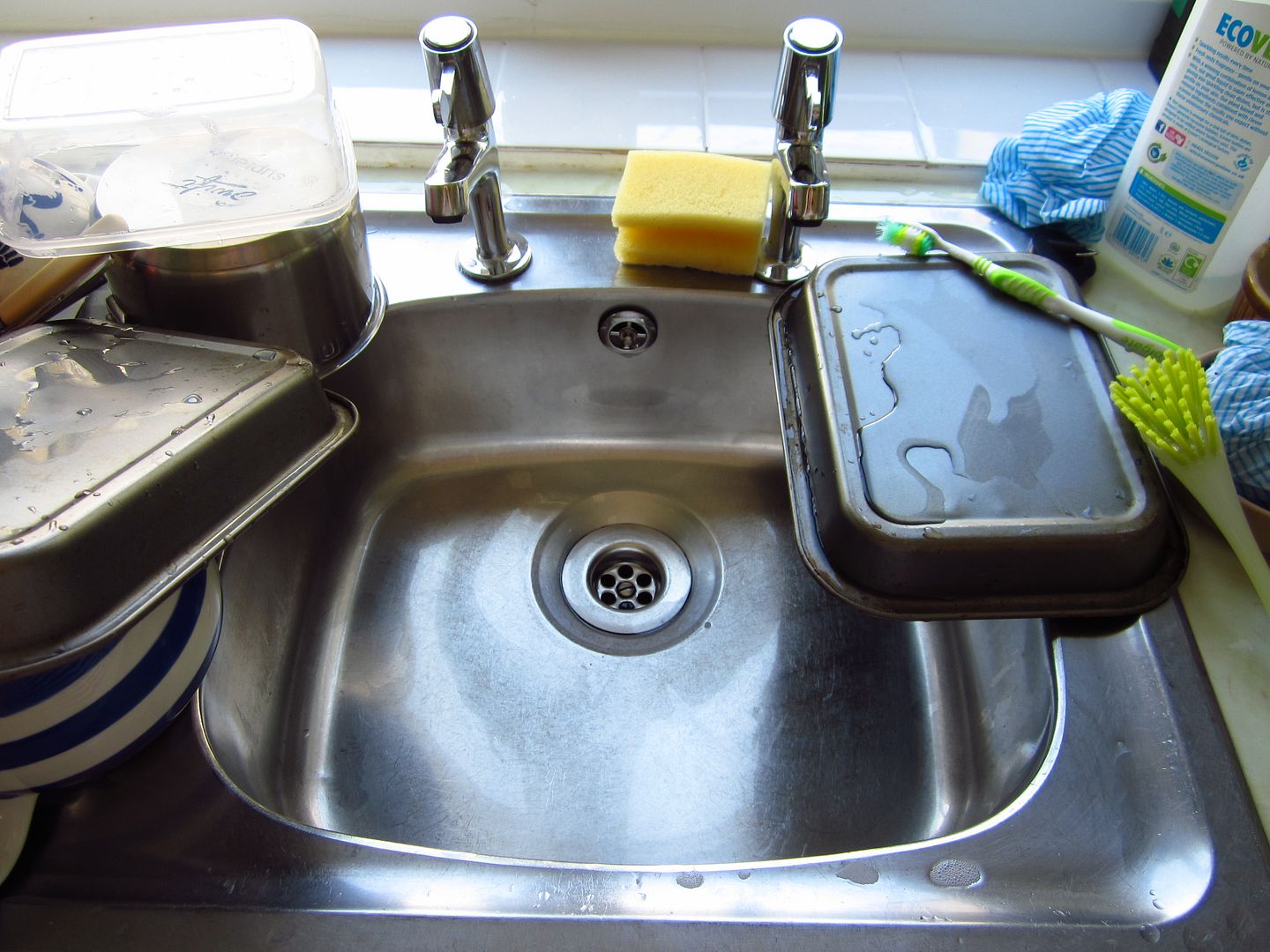 Recently I have been finding happiness and delight in being organised and getting all my jobs done and having the washing up all done and what have you. This weekend though the urge to clean really took a hold. I am not sure whether it's nesting, or whether I am just finally seeing how dirty my house is but I LIKE IT. I am seeing dirt that I didn't know existed and taking steps to eradicate it with a toothbrush and a pot of bicarbonate of soda. I got rid of all the stains on the stainless steel (it totally does stain with tea…) sink and scrubbed around any edge I could find. I cleaned the windowsill and the draining rack, the tea pot and the cooker.
I even got out my e-cloth and a step and cleaned the windows! I had a bit of a "moment" after that where I just felt happy and content and really proud of my cleaning. Looking out of the shiny windows over our lovely view and appreciating the sunny day … perfect. I took a break after that for lunch before moving on to the rather more serious "home front" work: the lounge.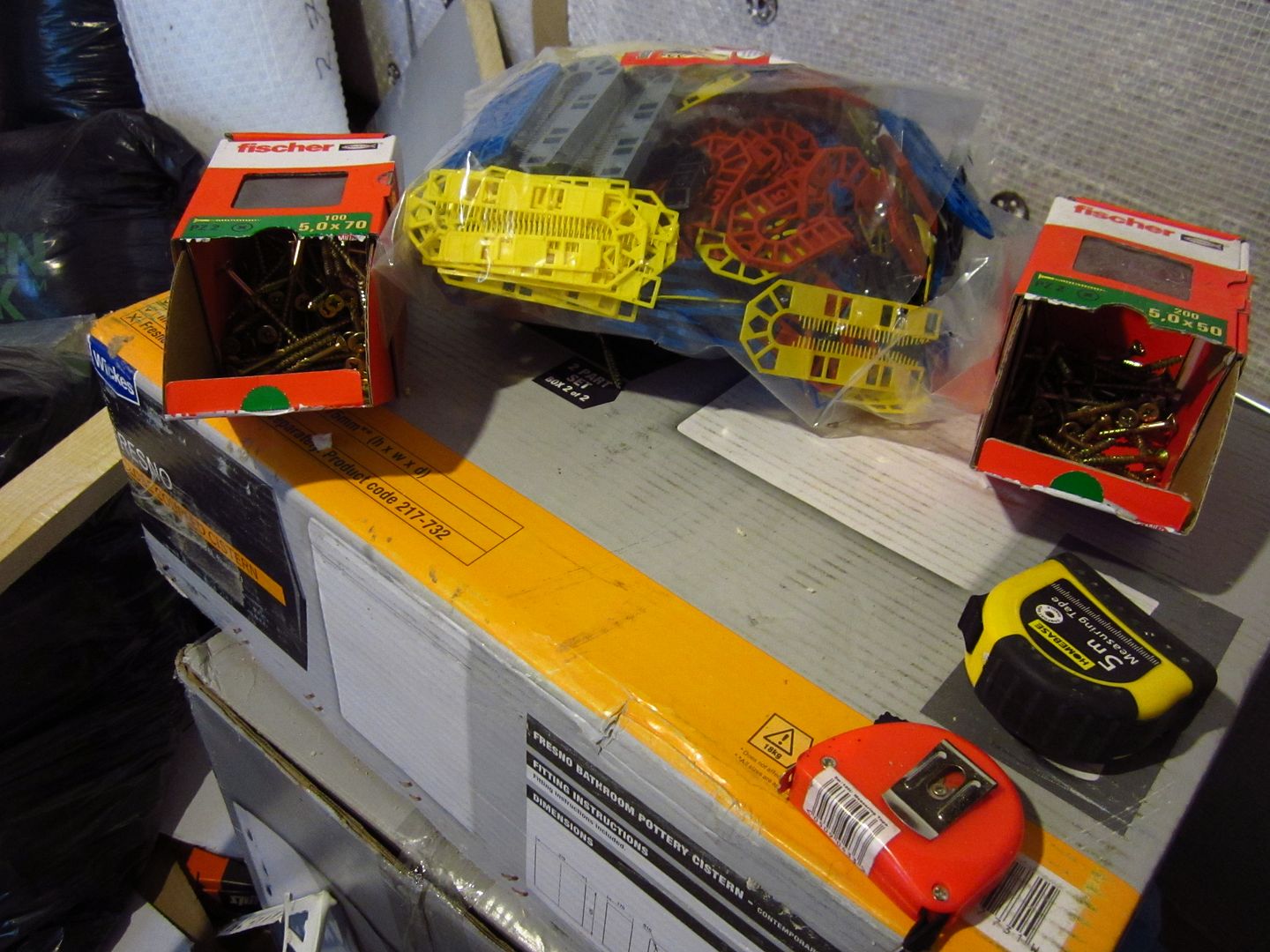 This is Man Haberdashery. L-R: 1 x box of 70mm screws, one bag of 200 assorted shims (these are pieces of plastic that come in 1mm, 3mm, 5mm, 6mm & 10mm widths that you use as spacers behind screws to level things out), 1 x box of 50mm screws and two tape measures.
We are currently battening the ceiling. We are doing this in order to put the plasterboard up and we can't apply it directly to the joists because the joists were made in the 1890s and I don't think they had spirit levels then. They are very unlevel!
The battens go horizontally across the joists at regular intervals. The plasterboard will then be affixed to the battens.
Once we got the battens up, we then had to level them out using the shims. It's a lot faster with me helping; Andy can stay up the ladder and I can pass him screws and shims as needed (and spirit level and screwdriver) and offer a second opinion as to whether they're level. We have 3 more battens to level and then some miscellaneous plumbing and insulating to do in the ceiling gap. Aiming for plaster board installation over the Jubilee weekend.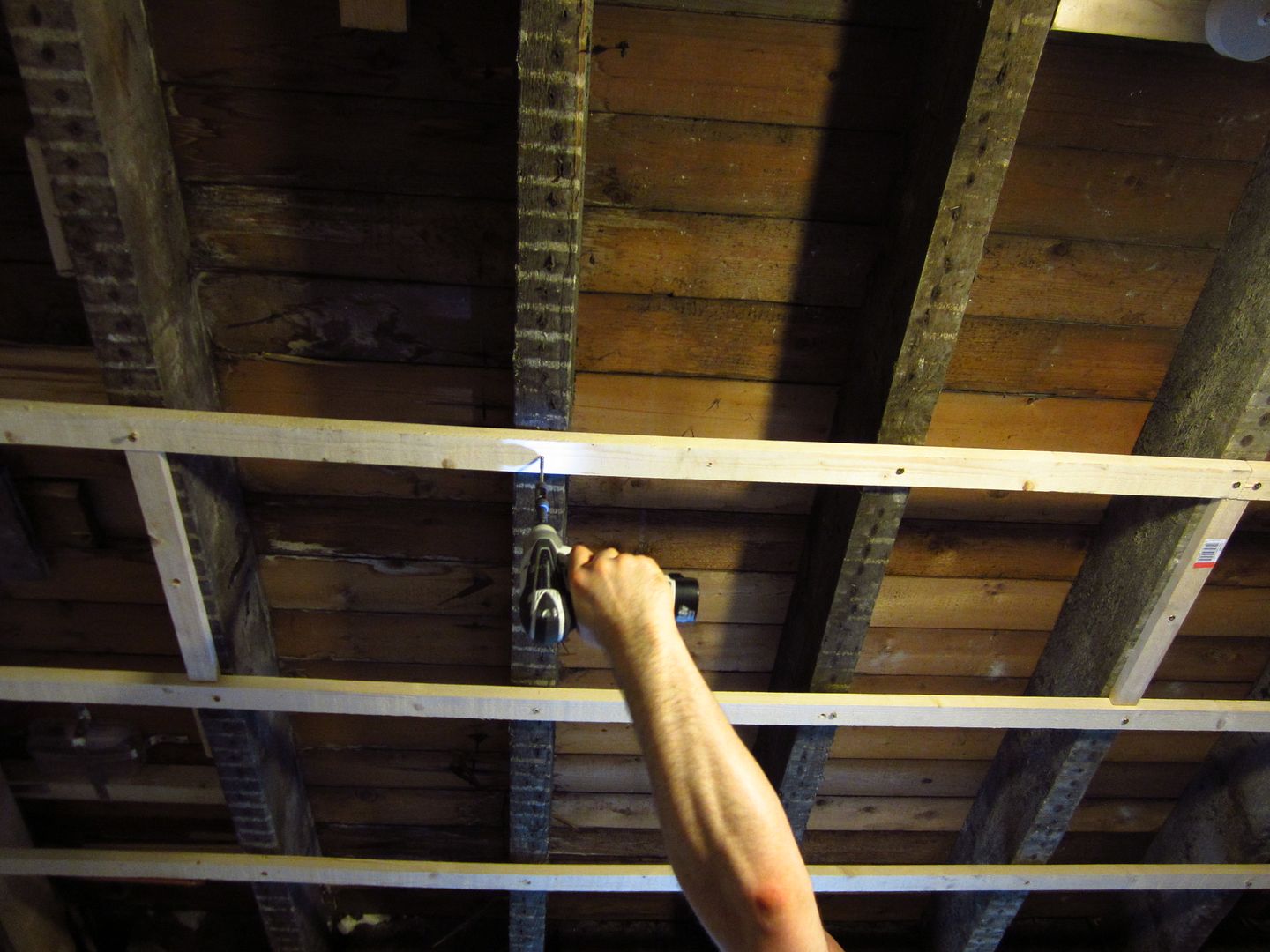 I don't think this will be finished in time for baby so I'm making contingency plans. These mainly involve sorting out a lot of the boxes in the spare room and getting rid of as much as I can. With the exception of the books, if it's been packed for 3 years how much of it can I really need? I can't even remember what's in some of the boxes. Sort, tidy and condense is my plan. Wish me luck!