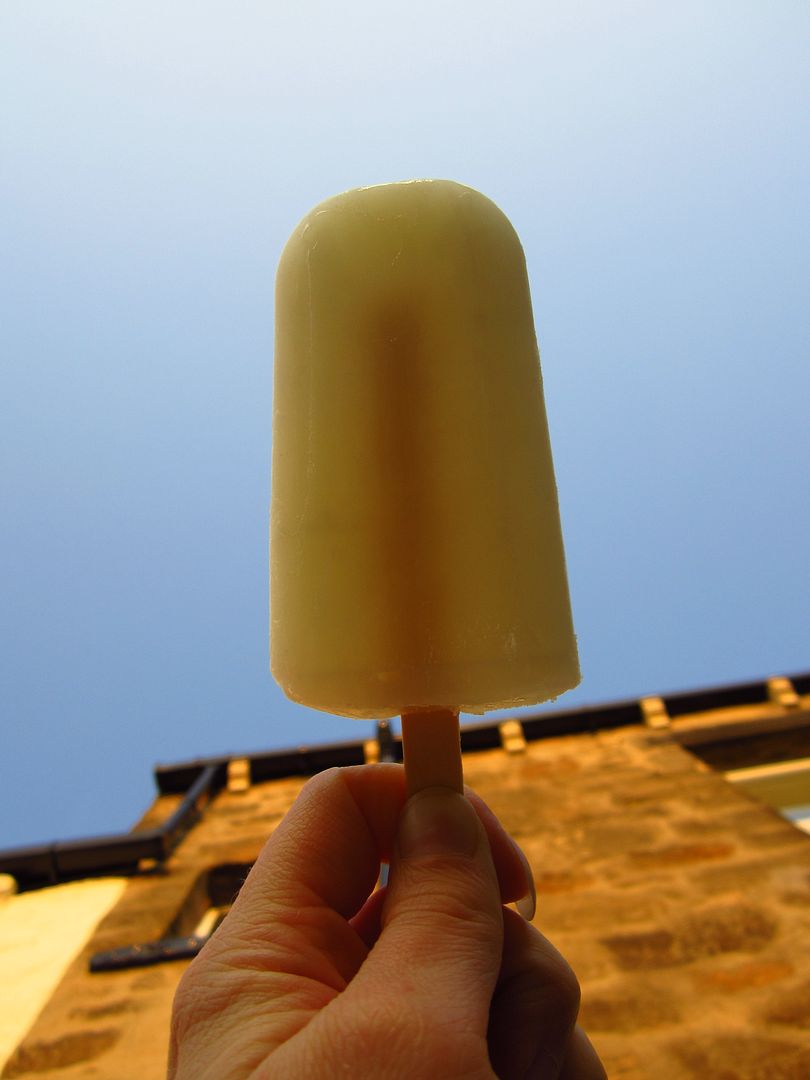 This hot weather is and has been HOT. I'm going going to lie, I have definitely been feeling the heat and have been doing all I can to stay in the shade. I do love the sunny weather, I really do, but my preference has always been to enjoy it from the shade. That way I can see the sunshine and appreciate it whilst not getting too hot and sweaty and not getting burnt. There are challenges when it's hot but they can be overcome. Too hot and sweaty when arriving at work? Take a change of top with me and leave a bit earlier so I can walk slowly up the hill. Can't sleep because it's too hot? Open the window. Can't sleep because now the church clock wakes you up by ding donging every fifteen flipping minutes? Put the fan on the windowsill and that will keep you cool AND drown out the noisy church.
There are lots of things to appreciate about weather like this though, despite having to make small changes like walking down the other side of the high street on the way home so that you can stay in the shade. Everyone is so much happier when the weather is like this. More chilled out, more smiley. Happiness breeds happiness!
We have been enjoying lots of salads for dinner and I have been enjoying how easy it is to prepare dinner when half of it is slicing a lettuce and putting it in a bowl. Less washing up too. Ice lollies for pudding are a definite win … I got 6 cloudy lemonade ice lollies from M&S for £1.30, excellent. They're really nice. I do have an ice lolly maker somewhere but I can't find it. Besides the new freezer is quite small and doesn't really have room to house an ice lolly maker. I am making some ice cubes though! ooh it's lush having a freezer that works.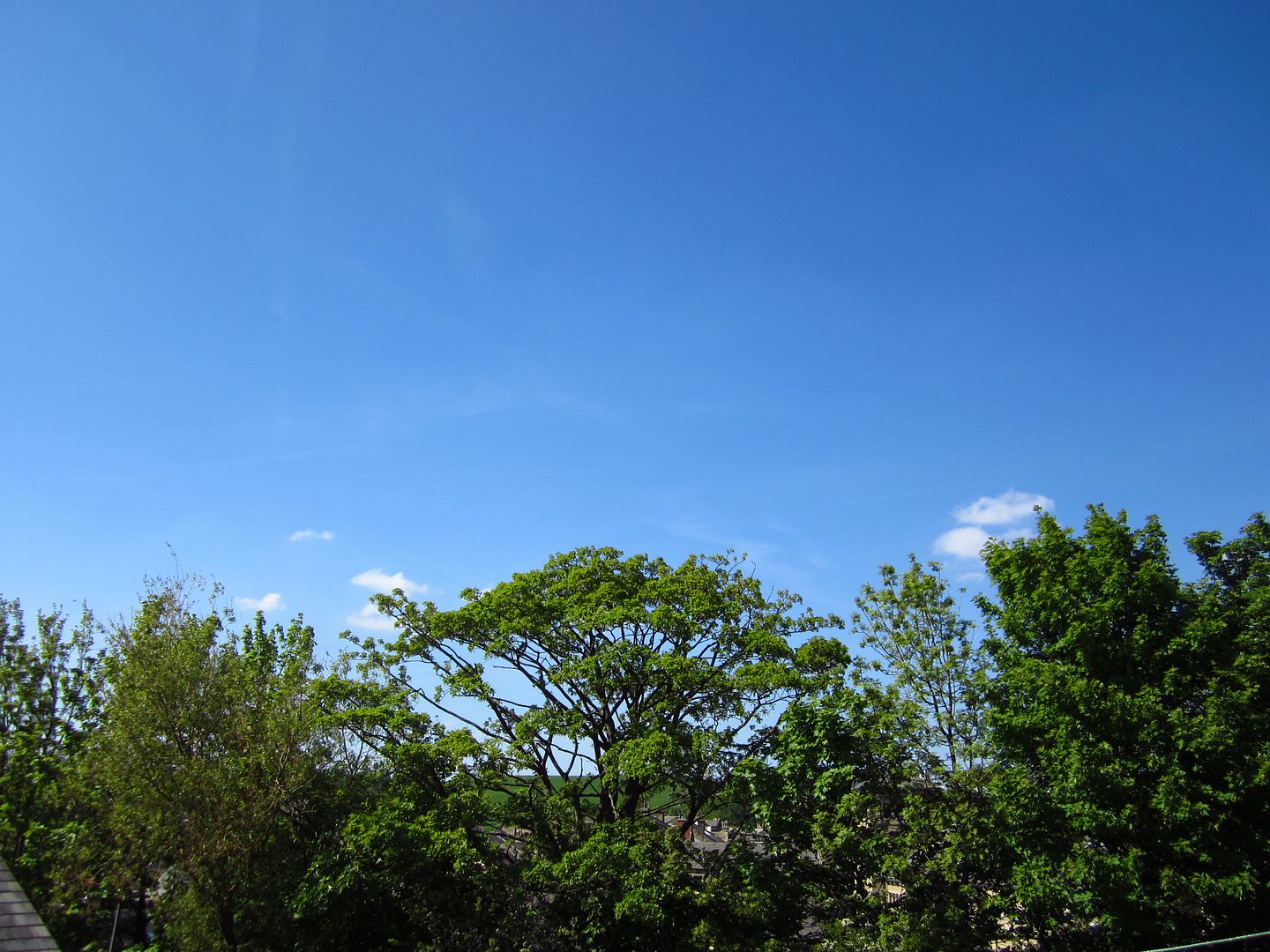 I admit that I have spent a rather large chunk of my time at home during this heat spell just gazing out of the kitchen window, or standing on the kitchen step and gazing at the same view, or standing in the yard and gazing out at slightly less of the view since the yard is lower and I'm short. I never get tired of this and I love seeing the view change as the seasons do. Last week the leaves were just buds, and they all unfurled over the course of a day which was quite a thing to come home to after work. We see less of the hills and the view in the summer but we do get lovely leaves instead.
One can also make the most of the long light evenings by going for an evening stroll. On Sunday night we walked through the woods and sat for a time at the edge of the pool before returning home feeling refreshed and happy. And slightly midge bitten but we'll gloss over that part.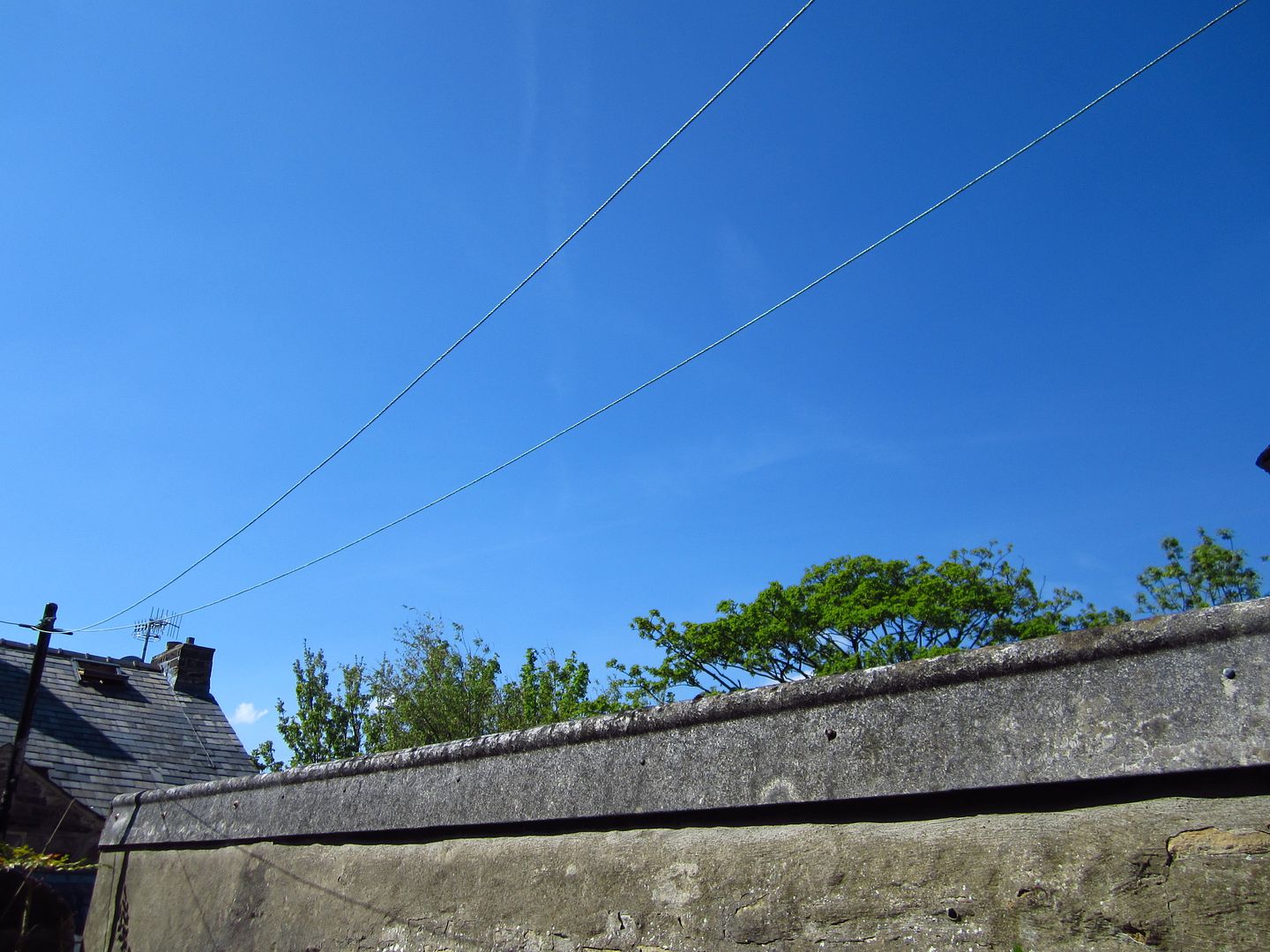 After spending months trying to keep the house warm it's such a novelty to have all the doors and windows flung open during this weather. It's great to spend time in the yard, just standing in it really since it's full of bathroom bits – bags of tiles, wood, the old shower tray and sink. It makes our living space feel so much bigger. I long for the rubble to be gone and to have a small table and chairs out there but for now I eat al fresco by standing on the top step with my bowl of cornflakes. Makes me happy :-)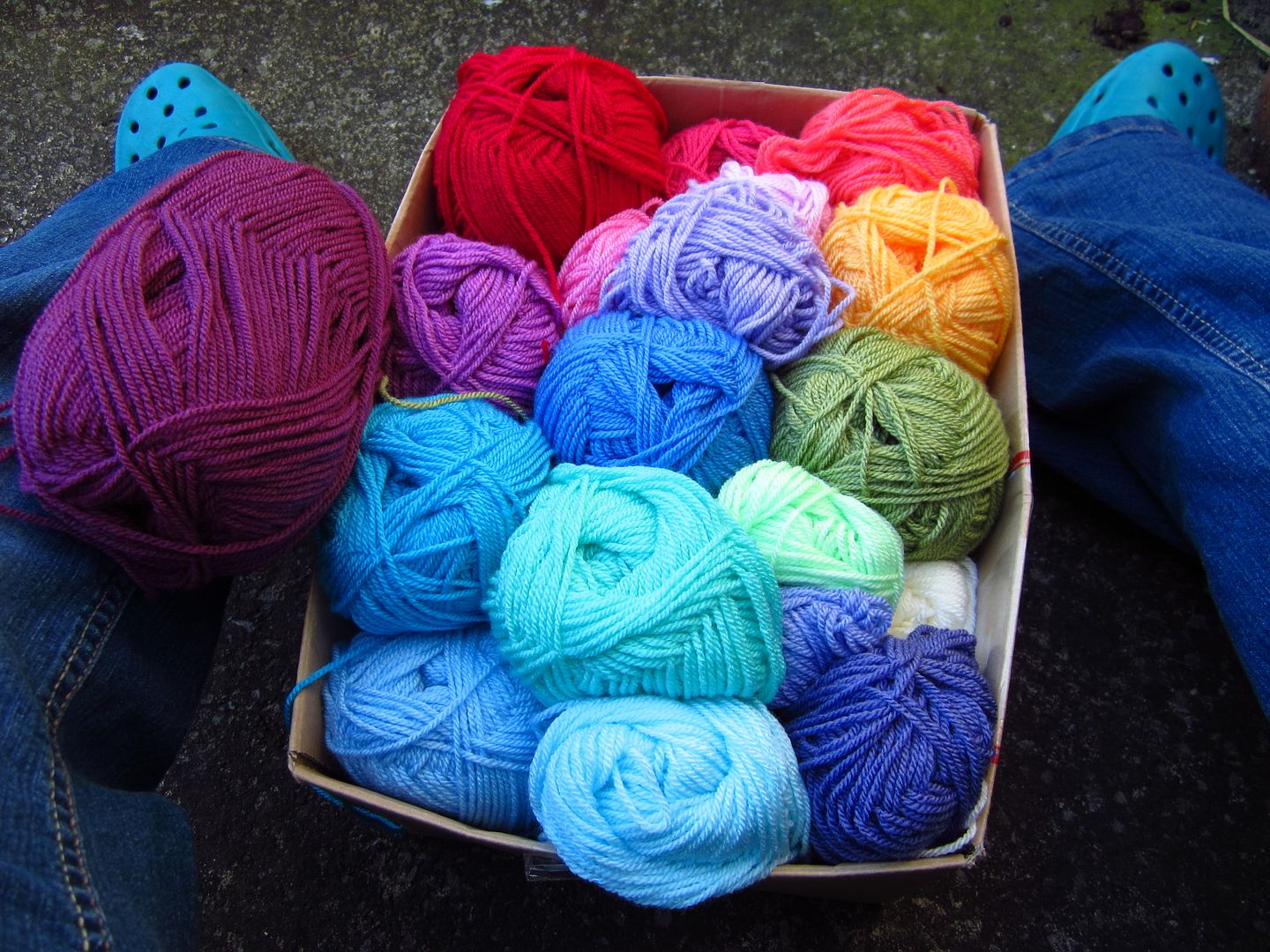 In addition to standing in the yard I have been sitting, not on chairs but on the steps up to the kitchen. I took my yarn and hooks (but not my scissors … "Andeeeeeeeey please can you pass meeeeee my sciiiiiiiiissors???") out on Sunday and enjoyed hooking in the shade for a while.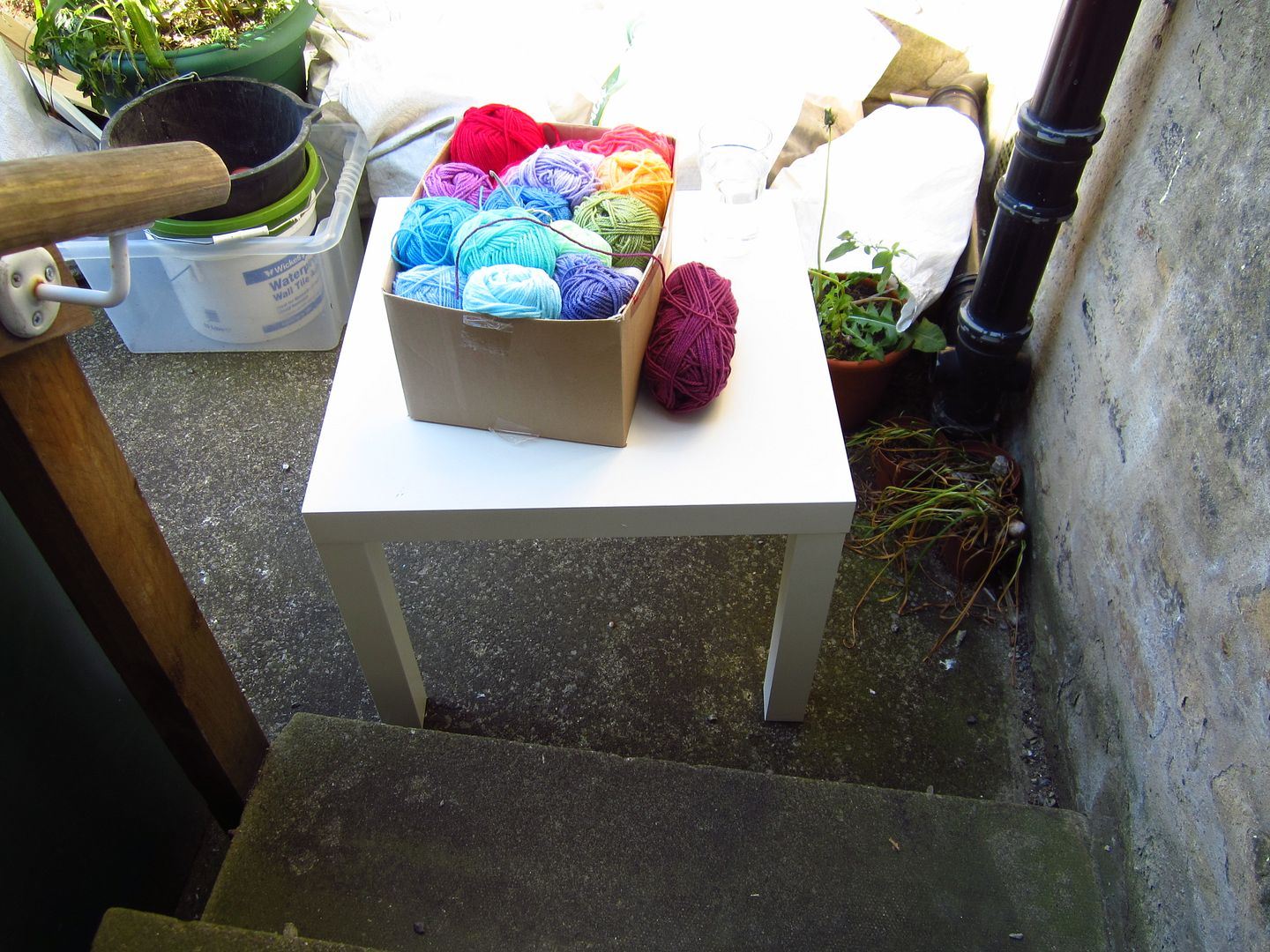 Later on I fetched out an old table so have somewhere a bit cleaner to put my things (do you see what I mean about the stuff?). It was about the right height to sit on the steps and hook at the little table and it was nice because I could just pop out and pick up my hooking in between cooking our dinner.
My sunny view ahead: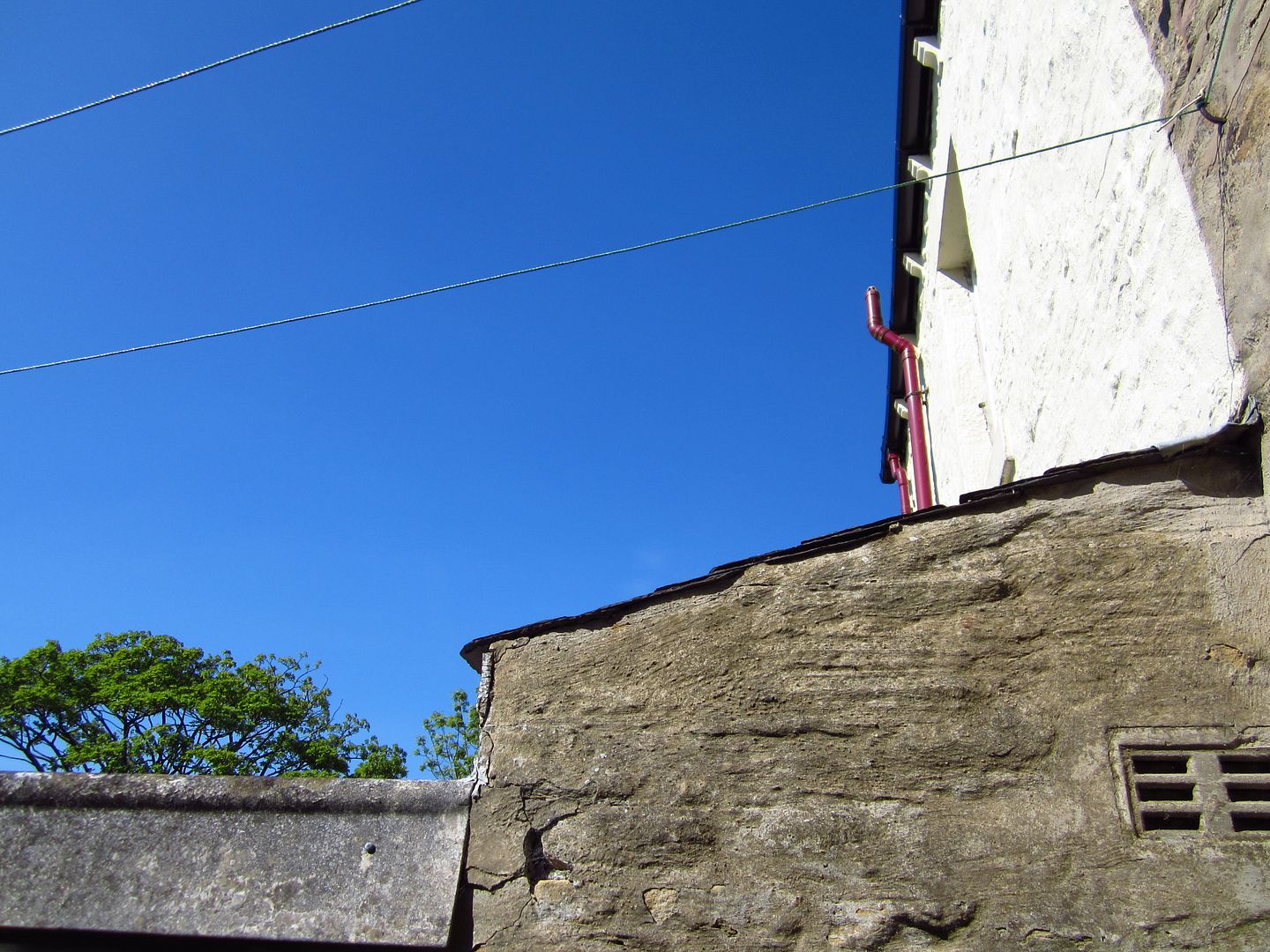 And above: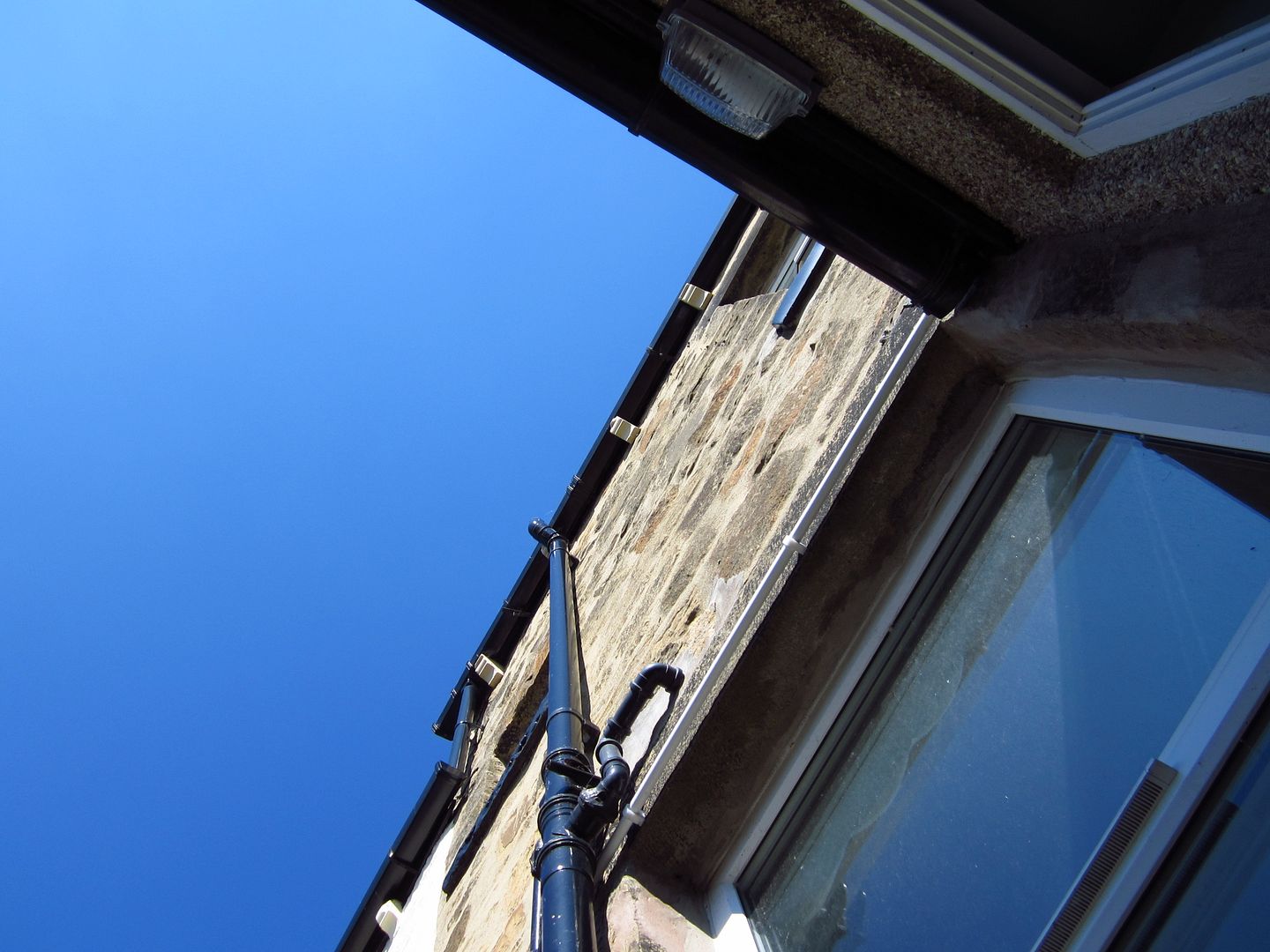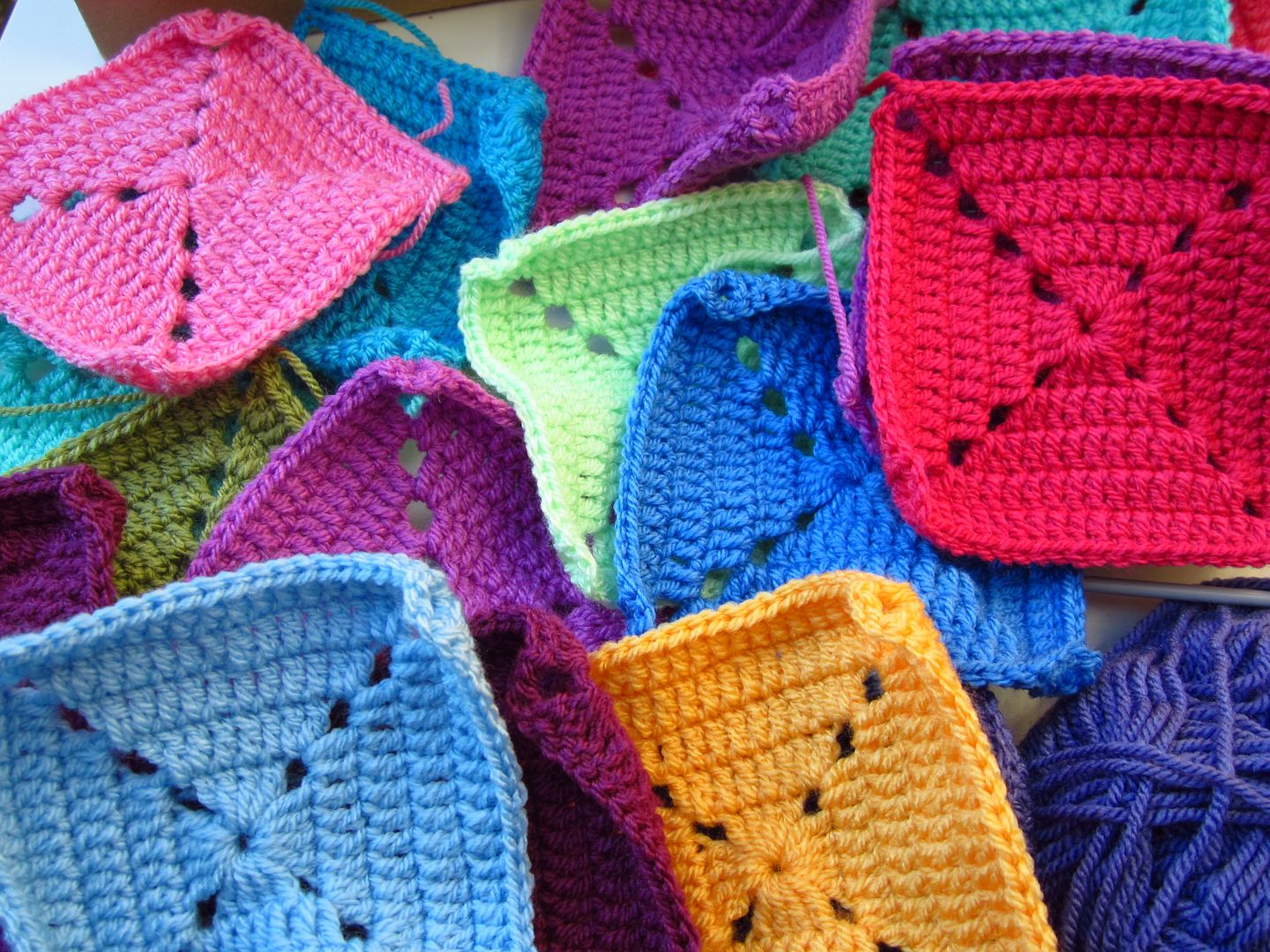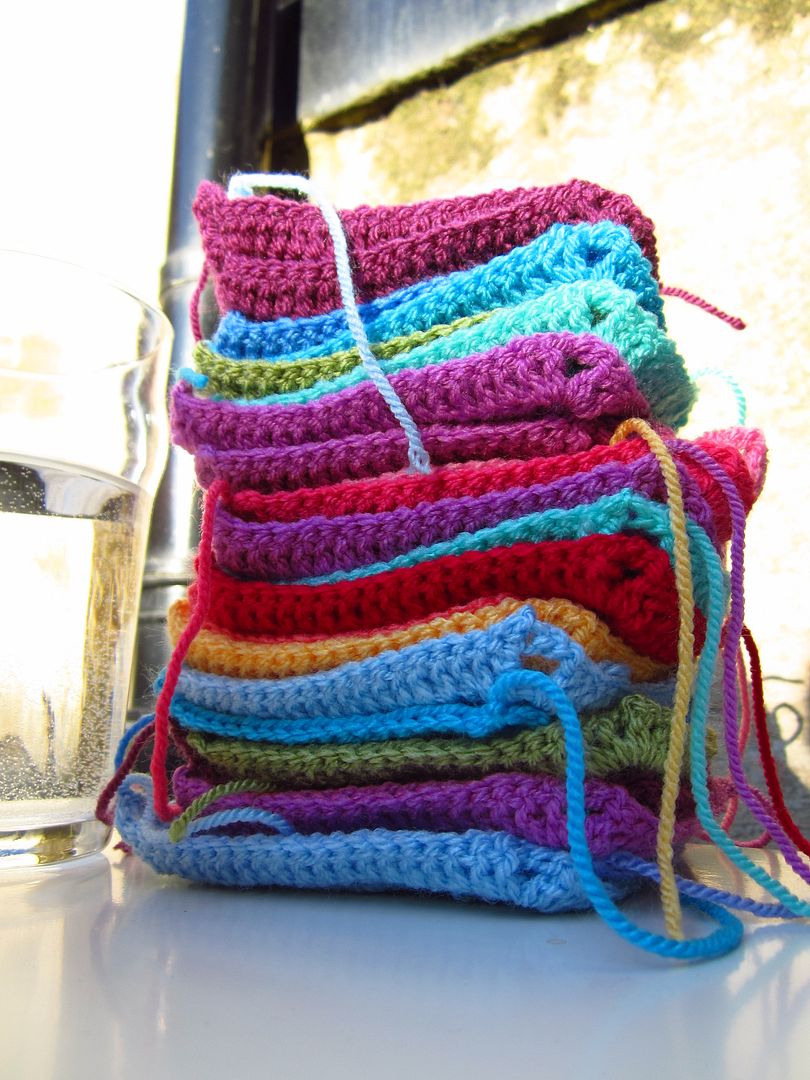 I am making a stack of 5 round Elmer Squares. I have an idea in mind for them but I'm not sure if it will work out so I'll keep it vague for now. The yarn is Stylecraft Special Dk and the photo above makes me think of ice creams. I've never seen ice cream that colour so I don't know quite why it makes me think of that, but it does. I've also failed to diligently sew in my ends as I go along, what a rebel. Its easy to sew them in on this kind of square and of course with no colour changes it's even easier so I don't mind a bit of a session sewing them in.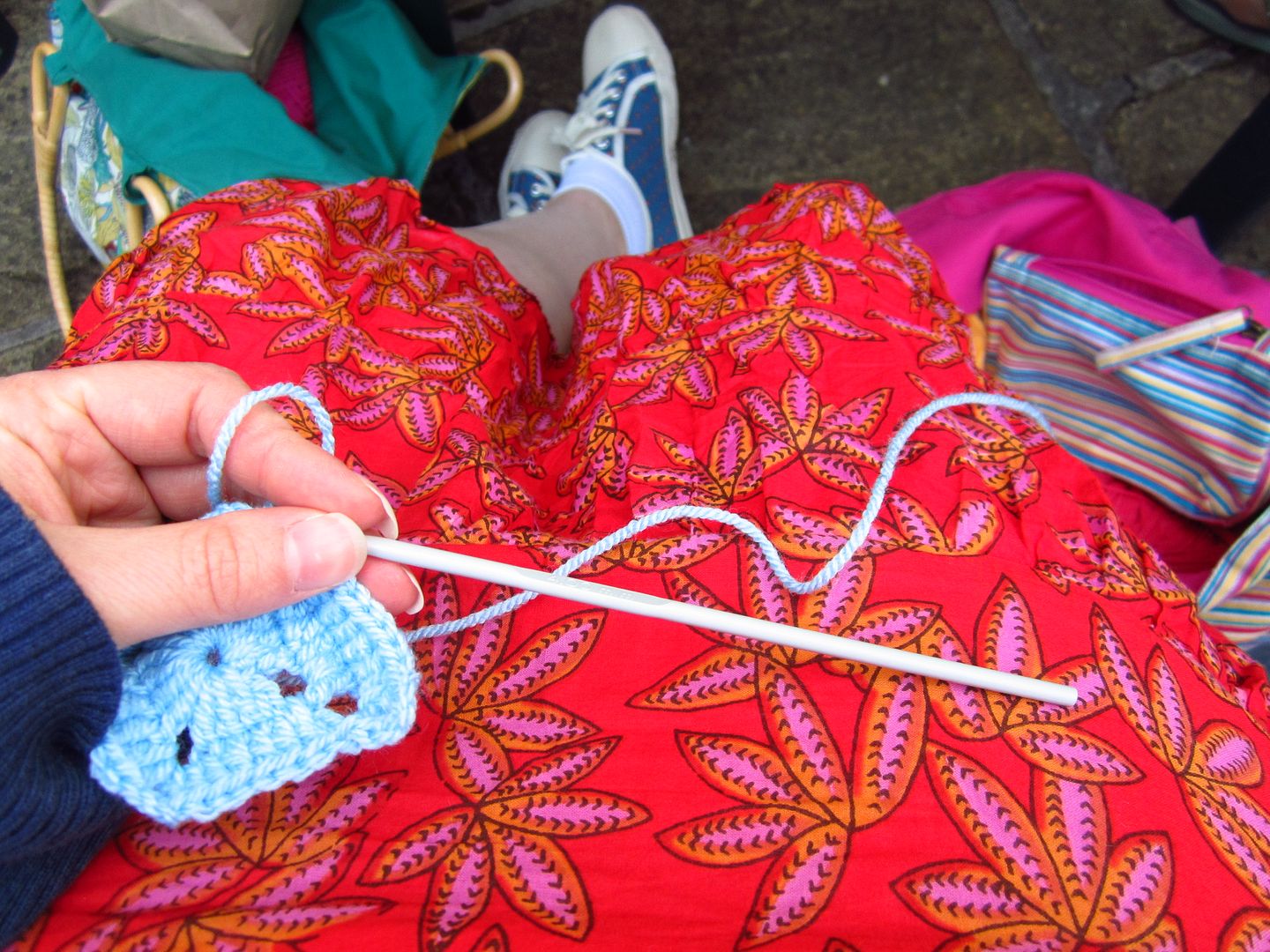 I have been struggling quite a bit with what clothes to wear during pregnancy. I've discovered that the shops that have maternity lines don't stock them in their actual shops, and on the rare occasion that they do stock them it's a choice of 1 top and some odd trousers that appeal to a younger and trendier demographic than myself. I get by at work with a big pair of trousers and some larger sized tops but at home in this heat I have been reduced to an old cotton dress (empire line, shirring elastic on the bust) and a pair of pyjama shorts. I finally bit the bullet on Saturday and ordered 3 tops and a pair of over the bump leggings from New Look. Oh my, they're amazing! And they are smoothing enough to hide the weird (overweight) kink in my bump too, which is great. I wore my new leggings with another old dress (again, lots of lovely shirring elastic going on here!) and actually felt quite nice. I've been feeling MEGA FRUMPY lately. Don't get my wrong, I love being pregnant and I'm so glad that I am, it's just that I always struggle with clothes (I'm both fussy and don't know what looks good, no sense of style) and it's even harder when actually nothing fits and no shops stock anything that might fit. (Yes I have tried ebay but haven't found anything that would do.)
Anyway, I wore my brightly coloured dress to Tracy's house last night for crochet. We've jumped ship from the pub and met in her yard last night for Monday evening crochet. I was so happy to be there! With my increasing amount of things to do and feeling tired, Monday night crochet was just one of the things that I had to put on hold for a couple of months. I don't manage it every week still but I really love it on the days that I can go. Last night was just great.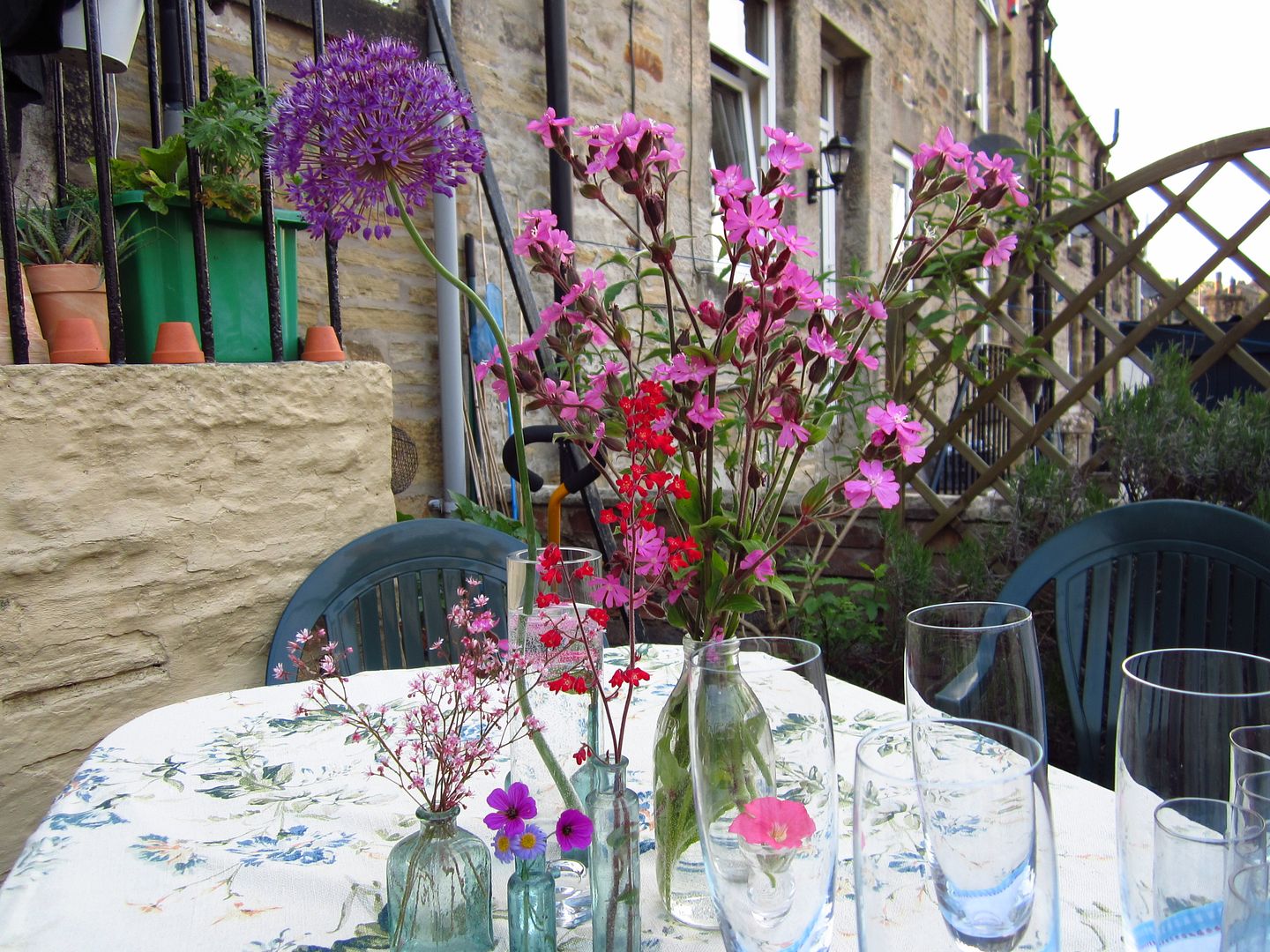 Tracy certainly does have a sense of style.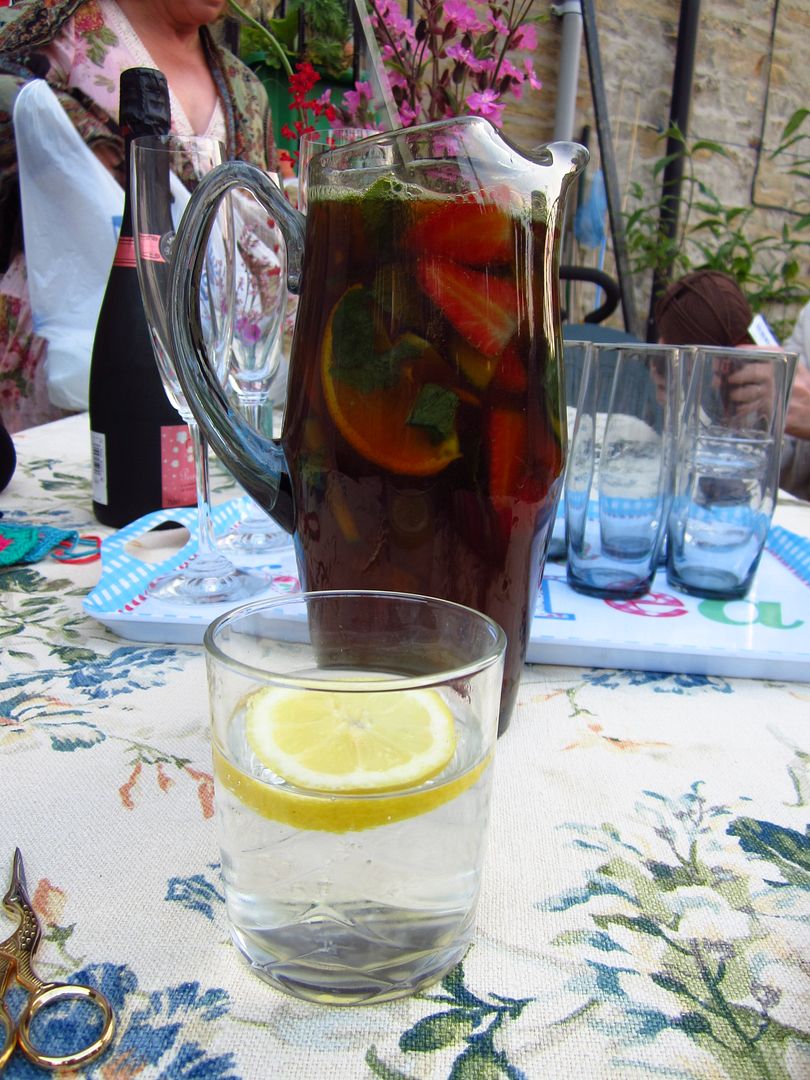 Lots of Pimms was consumed, sadly not by me but my water with lemon was sufficiently fruity and summery ;-)
Such a happy, relaxed evening with lots of laughter and chatter. I'm so lucky to have friends like these, especially living so close by. Andy came and met me afterwards and we walked home together as our evening stroll.
Oh I have to show you this! One friend is knitting a chess set, how cool is that?
We both agreed that the knight on the horse is the coolest thing ever. :-)
Warm weather: pretty good really.
xxx