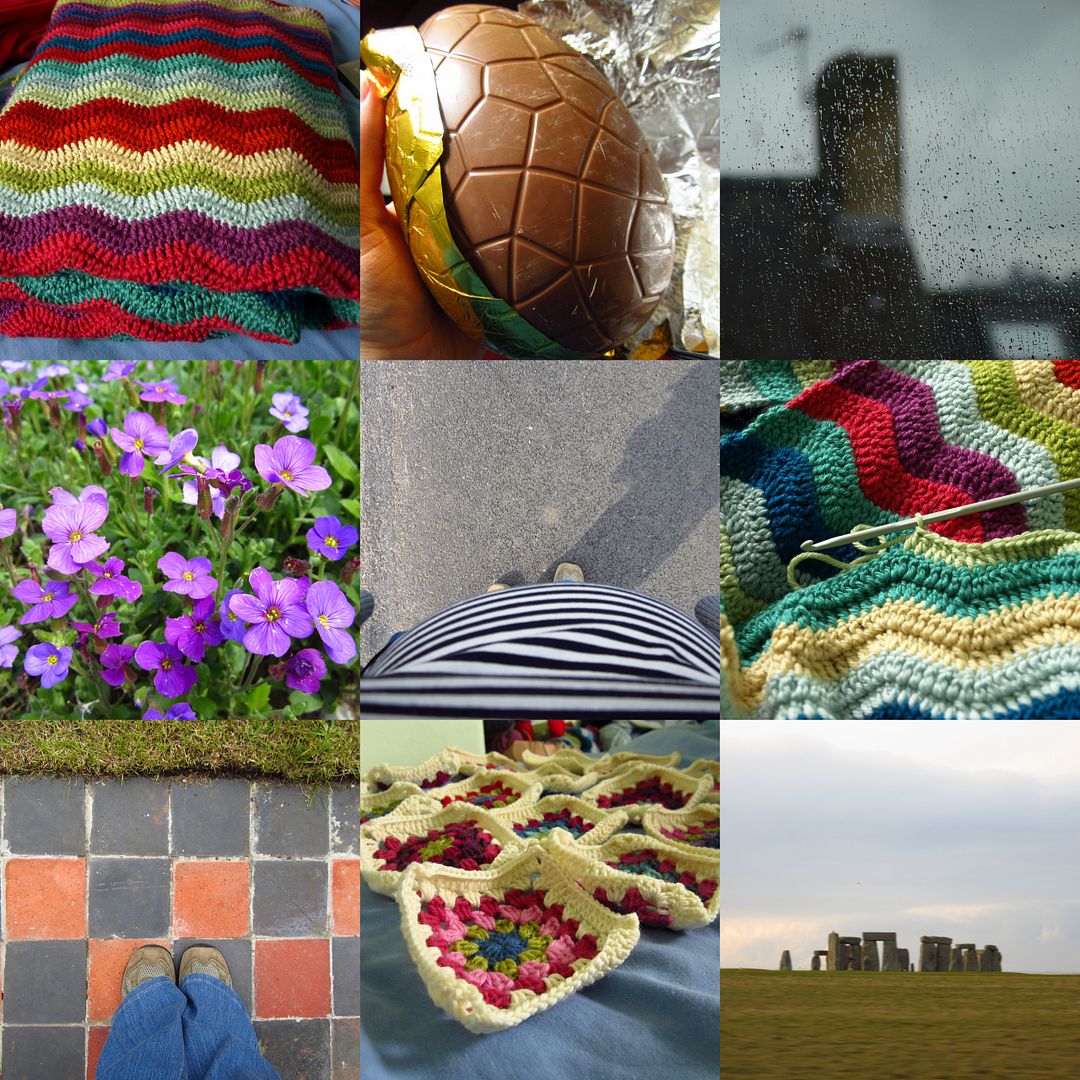 I'm a bit late with these, seeing as it is now the 4th of May! I am posting these now so that it doesn't get any later.
I seemed to cram a surprising amount in to April, happily there was a lot of crochet and a lot of family time. I worked on my ripple again after having a break from it for a couple of months and I tihnk I have finally made it the desired length. Now it's just awaiting a border. We had a flying visit down to family in Dorset, passing Stonehenge as we did so. We had lots of rain (some that made me feel cosy and homey, and some that did not!), and we had Easter where I consumed far too much chocolate (lots more than in previous years, hmm wonder why) and Andy's dad visited to help with the tiling in the bathroom. April was also the month where I had my 20 week scan, and I was finally able to share the news of Tiny Tin Bird with you all :-)
Another rainy photo, saved for posterity because it was so lovely and fresh walking home in the rain like that. I had a cuppa at Lucy's house, the market had baby plum tomatoes back for ONE DAY and I managed to get some, I also snagged a Gerbera for my windowsill which makes me enormously happy. I worked like a demon on some granny squares and LOVE them so much. The sun did shine a few times so I made sure to get evidence. I made lots of vegetable and lentil soup with ginger, which is my current favourite thing. I had lovely visits from Rach, and from Katherine and Phoebe, and most importantly we HAVE A SHOWER AGAIN! and a new sink as well.
Phew! Busy month or what?
Right now, I am Not At Work, hurrah! My mum and grandma are visiting and are staying in a hotel in nearby Ilkley so I am off there in a little bit to spend the day with them. Even better, I have the WHOLE of next week off too and am going back home with them! Hurrah! Andy is staying here and I will miss him lots but at least he will be able to feed the rabbits :-)
I'm not sure if I'll get to blog while I'm away, it does depend on whether I can remember my logins when I get there as I'll be using my mum's laptop (can't cope with lugging mine home again on the train.)
xxx