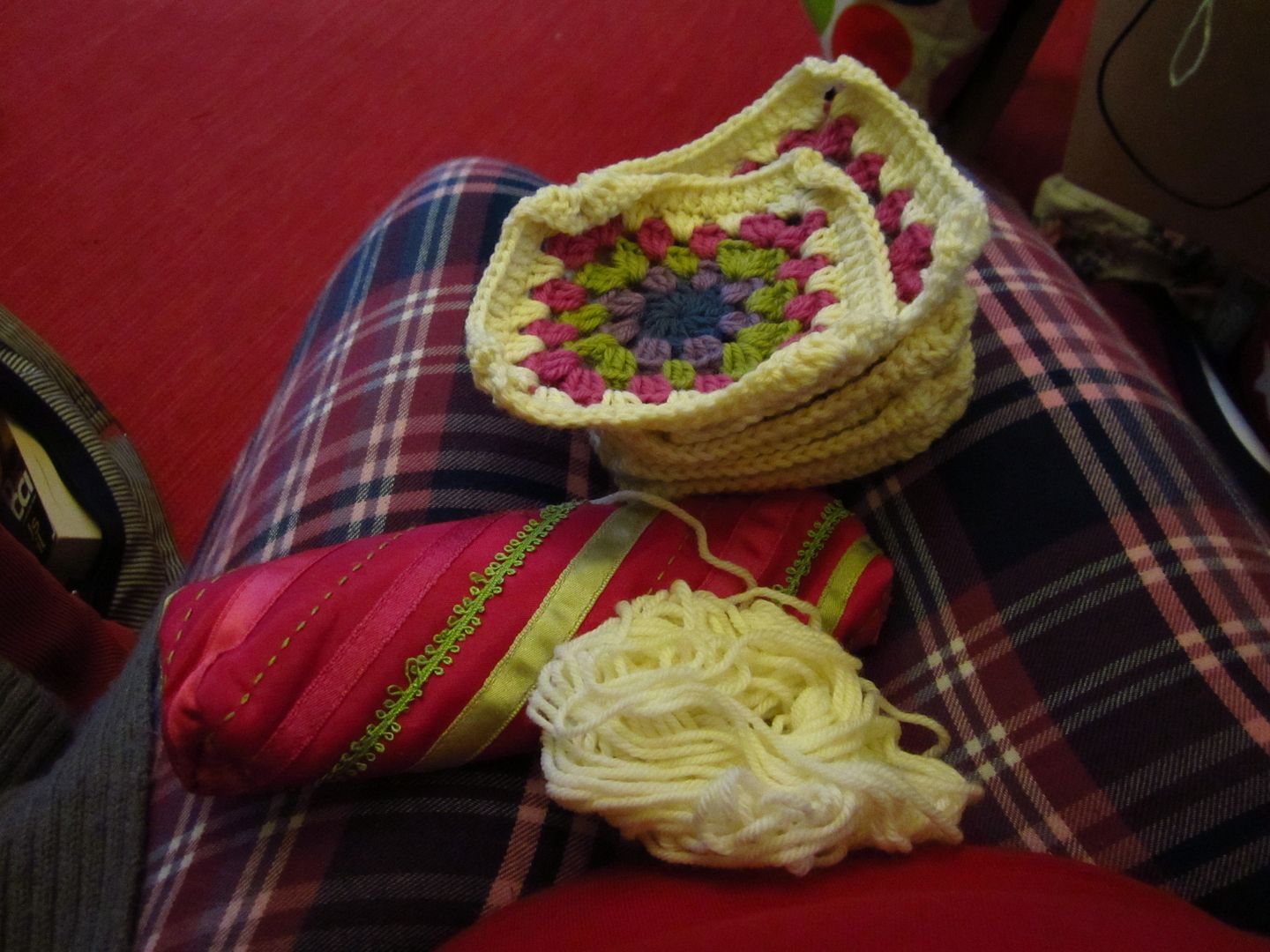 Right Now I Am:
1. Feeling bittersweet at the arrival of Rach's wedding invite. Sad that I can't go, but knowing that it's for a good reason (it's my due date.
2. Hoping that Andy is ok … he arrived at the station to come home to find that all of the trains were cancelled because of flooding, but there was no more information and no replacement bus services. Nothing.
3. Composing a letter of complaint in my head. Ok, flooding is not something that can be helped but the handling of it was dreadful.
4. Putting a beer in the fridge for when Andy gets home :-)
5. Cooking risotto very slowly so that it is ready at this later time!
6. Thinking "forget blocking them first" and joining up my granny squares. I can block them afterwards.
7. Realising how much I love joining granny squares and enjoying how calming and therapeutic it is.
8. Feeling glad that I've phoned my Grandma for a chat (and trying to tell her how to get her new cordless phone off of loudspeaker …)
9. Looking forward to seeing my mum and grandma next week.
10. Enjoying little baby kicks and feeling relieved that I can feel them tonight. Baby apparently had a long sleep today until I fed it a twix in the afternoon. Babies like chocolate – who knew?
11. Plotting baby blankets and wondering if I'll have time. I'm thinking … Stylecraft stripes for the pram blanket, single rows but turning the work each time so all rows are the front. Then perhaps a creamy Rico Baby dk blanket for immediate snuggles and cuddles :-) (Or I could cheat and put a border on that ripple I made a couple of years ago!)
12. Feeling HAPPYHAPPYHAPPY that we now have a shower again! I haven't been "Andy-Authorised" to share pics yet, and it's literally just the shower that is done and the rest of the room still to do, but ooooooooooh YES it's so lovely to wash one's hair in the morning IN THE SHOWER rather than in the sink the night before. A highly underrated pleasure. I am so proud of how hard Andy has worked on this that I could actually burst.
How's your evening? xx
EDIT: Realising that I've joined my squares in the wrong order because I'm following an old photo of them. Pants!