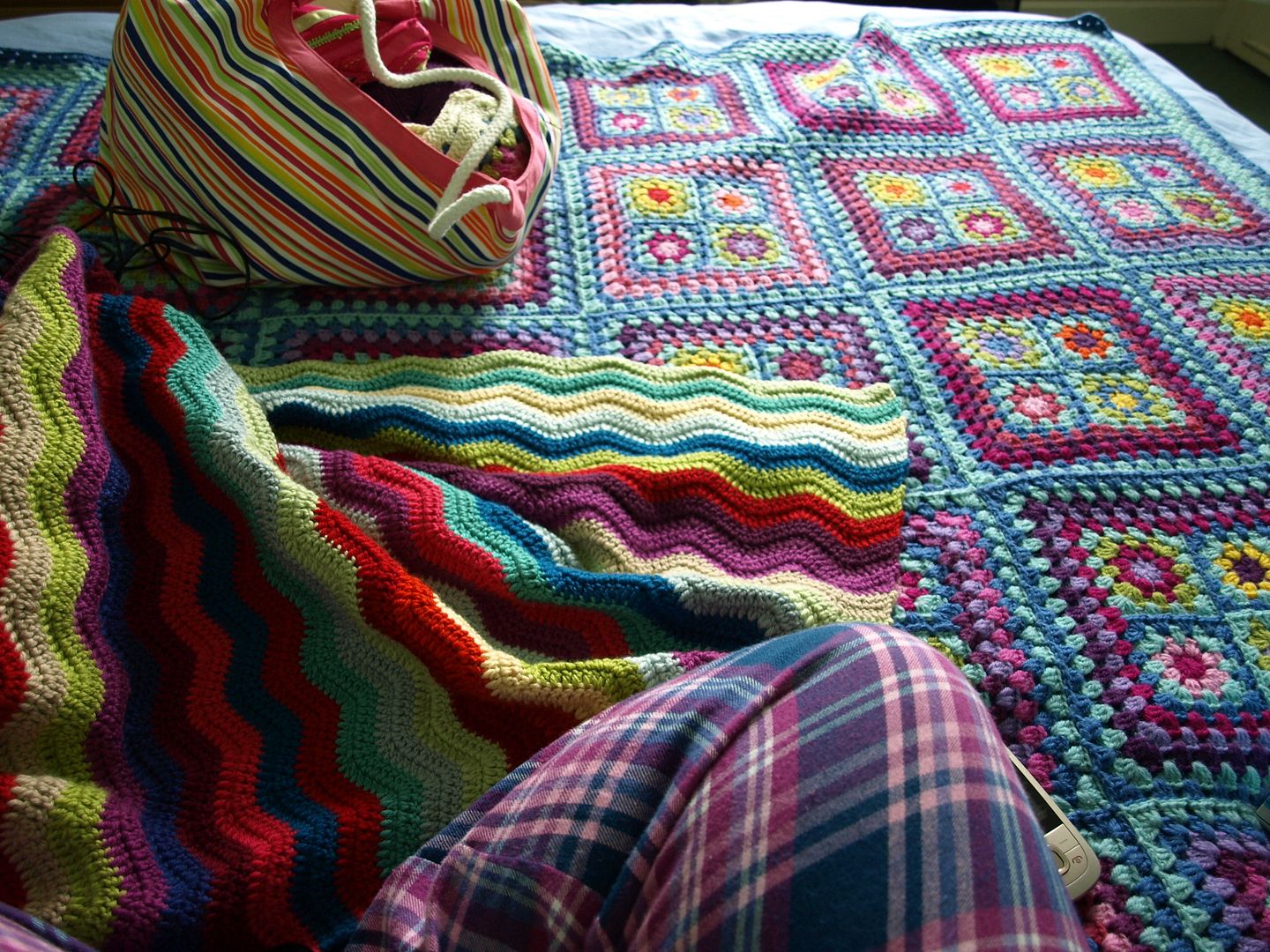 The word "home" has many connotations. Safety, comfort, sanctuary, belonging and warmth are the first five that come into my mind when I think of Home. While we were renting our first flat (and the house that followed that, after our 5 months of living with our own parents again), although it was the place in which we lived and housed our possessions, it never really felt of home. It was fine, we lived there with no major complaints but our thoughts always focussed on what it would be like to own our first Home, to live in Our House and Do Normal Homey Things at the weekends. Sometimes renting felt pointless. Not totally pointless, obviously, because we needed somewhere to live! Perhaps "stagnant" is the right word. It felt a bit season-less, and more just somewhere to exist rather than somewhere to live. We couldn't change anything. We didn't intend to stay there forever anyway so there wasn't any point in making any changes anyway. We weren't sure if we wanted to remain living in the North or whether we wanted to fly back home to the South. We had always been focussed on saving for our own house from the very start of our relationship. We didn't (still don't) take holidays, we lived within our means and as frugally as we can so that we could save. Overtime was welcomed and the earnings stashed away. Our wedding was small and relatively inexpensive – intentionally. We couldn't see the point in spending thousands on one day when we were desperately saving for a mortgage deposit.
When we bought our house in 2010 I was looking forward to making it into our Home. We both knew that there was work to be done on the house – we would never have been able to afford a mortgage on a house this size in the lovely town where we live if it had been in perfect repair. It is worth it, even when sometimes it doesn't feel that way. Neither of us expected that the work would be such a huge undertaking. Things came to light after purchasing the house that were not clear beforehand (yes we did have surveys done) and as you know from the photos and occasional desperate posts that the work is long, hard, expensive and more to the point, still ongoing. (Most recent setback of course is the bathroom needing to be re-done. Can't do any of the dirty lounge work because we have no washing facilities to clean ourselves afterwards!)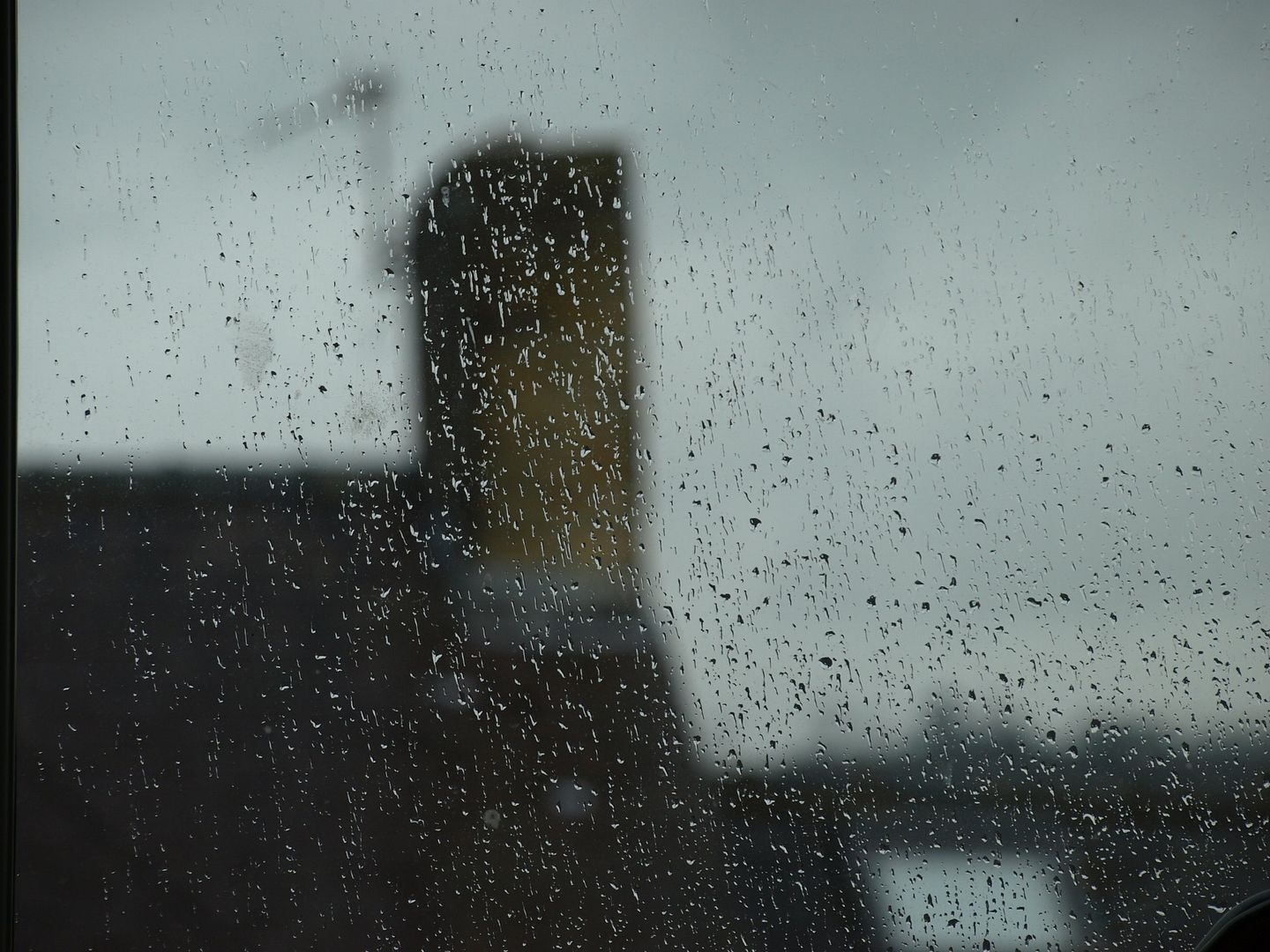 It often feels like hard work to make this house feel like home. Don't get me wrong, there are things that feel so very homelike there. The view from our kitchen window, hearing the bellringing on a Tuesday, sitting in my chair. That sort of thing. What I find difficult is that we are trying to live and renovate in the same spaces. If I look over towards my window now, I have a bunch of bright yellow daffodils in my pretty blue jug with the white dots. There is a little blue jug on there too, currently empty, and I have two beautiful old glass bottles that I intended for the tiny landing window but haven't yet sorted that out. Pretty scene, yes? Ok, well let me tell you what they are sharing the space with: 2 packs of pipe clips (15mm and 22mm), a pipe slice, a large padlock, a pair of goggles, some hooks waiting to go up, a pack of some kind of wiring (or pipes? can't tell), a doofer for doing sealant around a bath, a sealant gun. Leaning against the window is a pipe bender, and underneath the window are Andy's work shoes and various bits and boxes that could possibly be taps but I can't see the label. Over the other side of the room is the clothes airer, behind that is a radiator that needs installing but we can't do that yet, and behind the radiator are various bags of tools and the work-man equivalent of haberdashery (nails, screws, files etc) and a stool with paint tray and rollers on top.
I'm not telling you this to be dramatic, it's just how we live right now. There is no space for anything. The hallway has a stack of 3m lengths of wood down it, and assorted toolboxes. There are a good many days when I feel in a funk because there is not one single area of my house that is pretty/acceptable enough for me to photograph and put on my blog. That may seem like a silly thing to feel miserable about it, but many feelings aren't rational.
It's hard to live with. The dining room (our only "living" room) has hard floors because the previous owner was a wheelchair user. It's that stuff that they put in school classrooms, or perhaps industrial kitchens. Smooth and durable, but oh my, so ugly. I really don't like hard floors at all in a living area. Not laminate flooring, not tiles, not parquet flooring. We have the big red rug which is good and makes it feel more "soft" but it still has hard edges and I hate that. I like living areas to have carpet to the edges so that it feels soft and warm and enclosed. (I know others won't agree, and that's fine, but for my living area I want carpets!)
All of this makes it difficult for me to apply the words I associate with "home" to our house. It's not comforting, it's only warm with the gas fire on, and it's not safe (I never walk round with socks or bare feet, always crocs, because it is a work zone and I worry what I could step on.).
Last weekend, however, felt different. Andy and his dad were doing the tiling in the bathroom. A normal, housey thing to do at the weekend. My presence wasn't required other than for food-providing services. I took myself off to our bedroom and made a crochet nest on my bed. I spread out my woolly blanket that I made in 2009. I brought up my laptop and popped it on a box on the bed. I made a cup of tea. And most importantly, I sat on my bed in my crochet nest watching things on my laptop for a very long time as I added row after row of colour onto my ripple.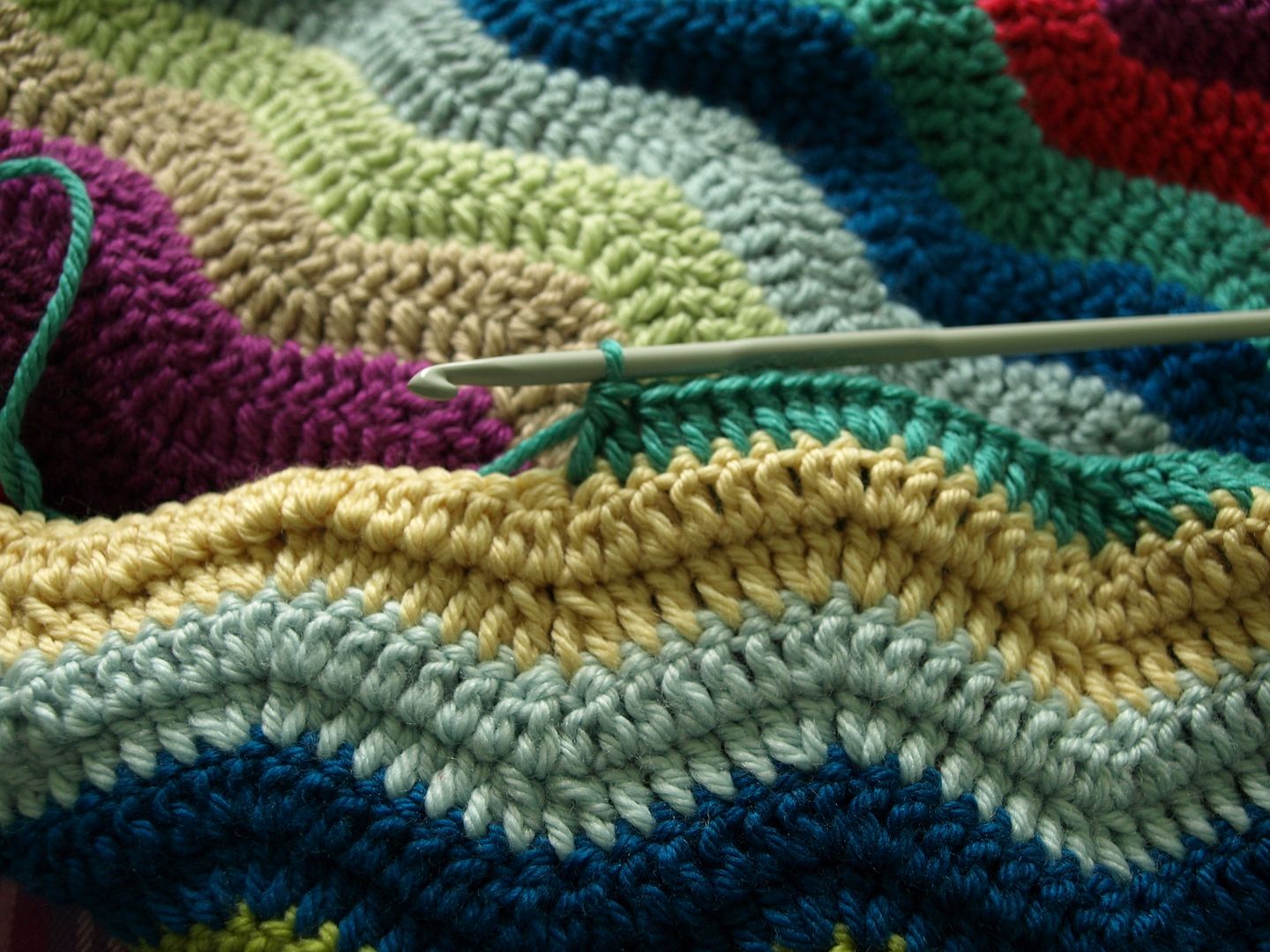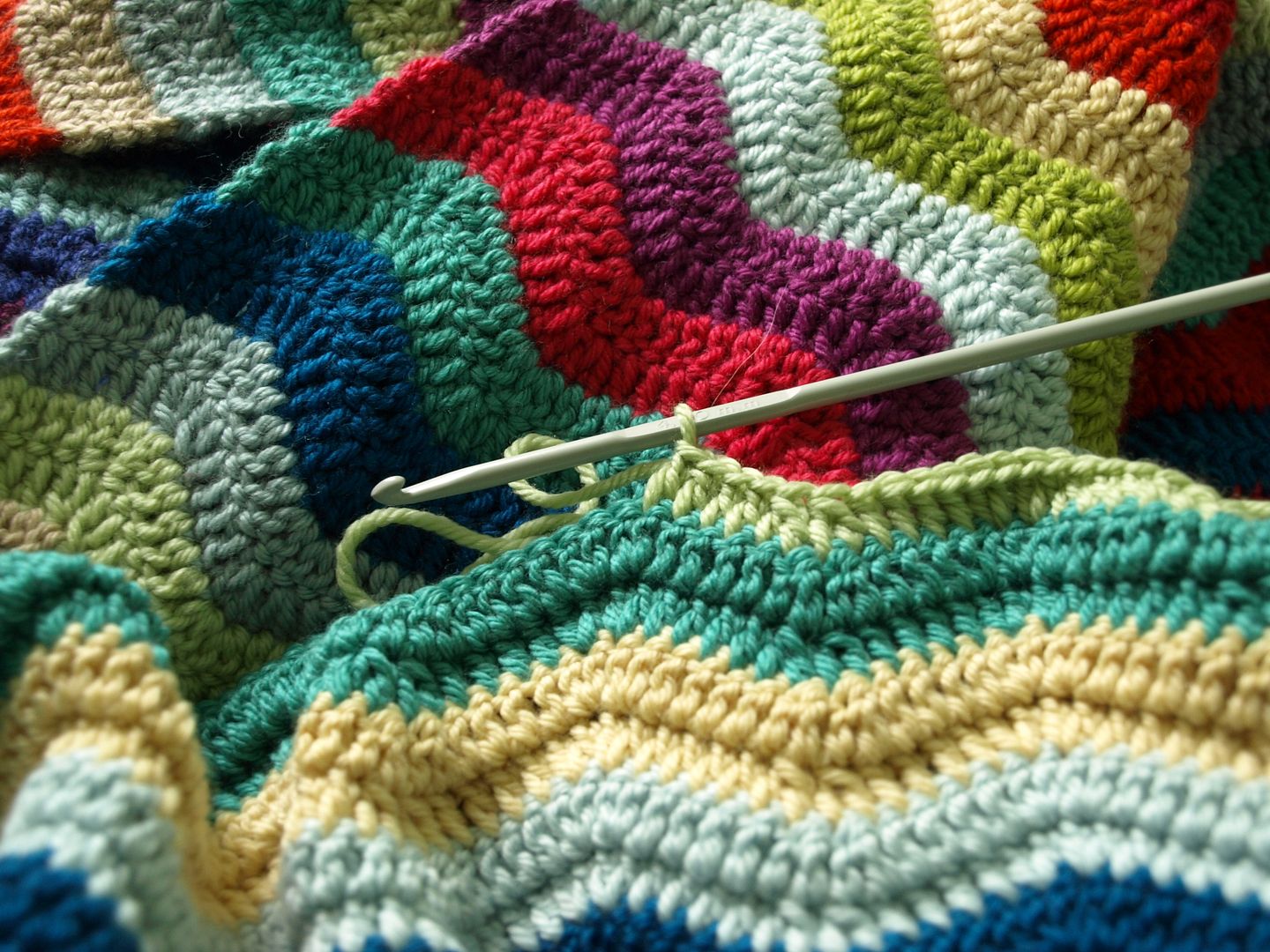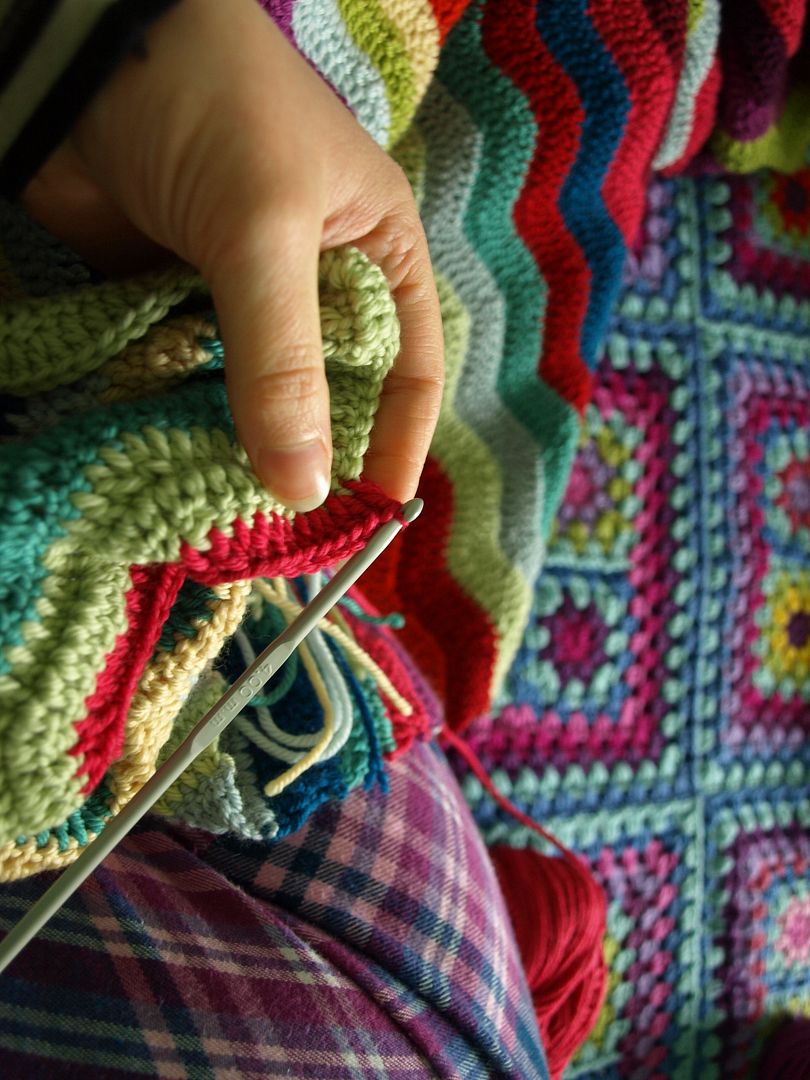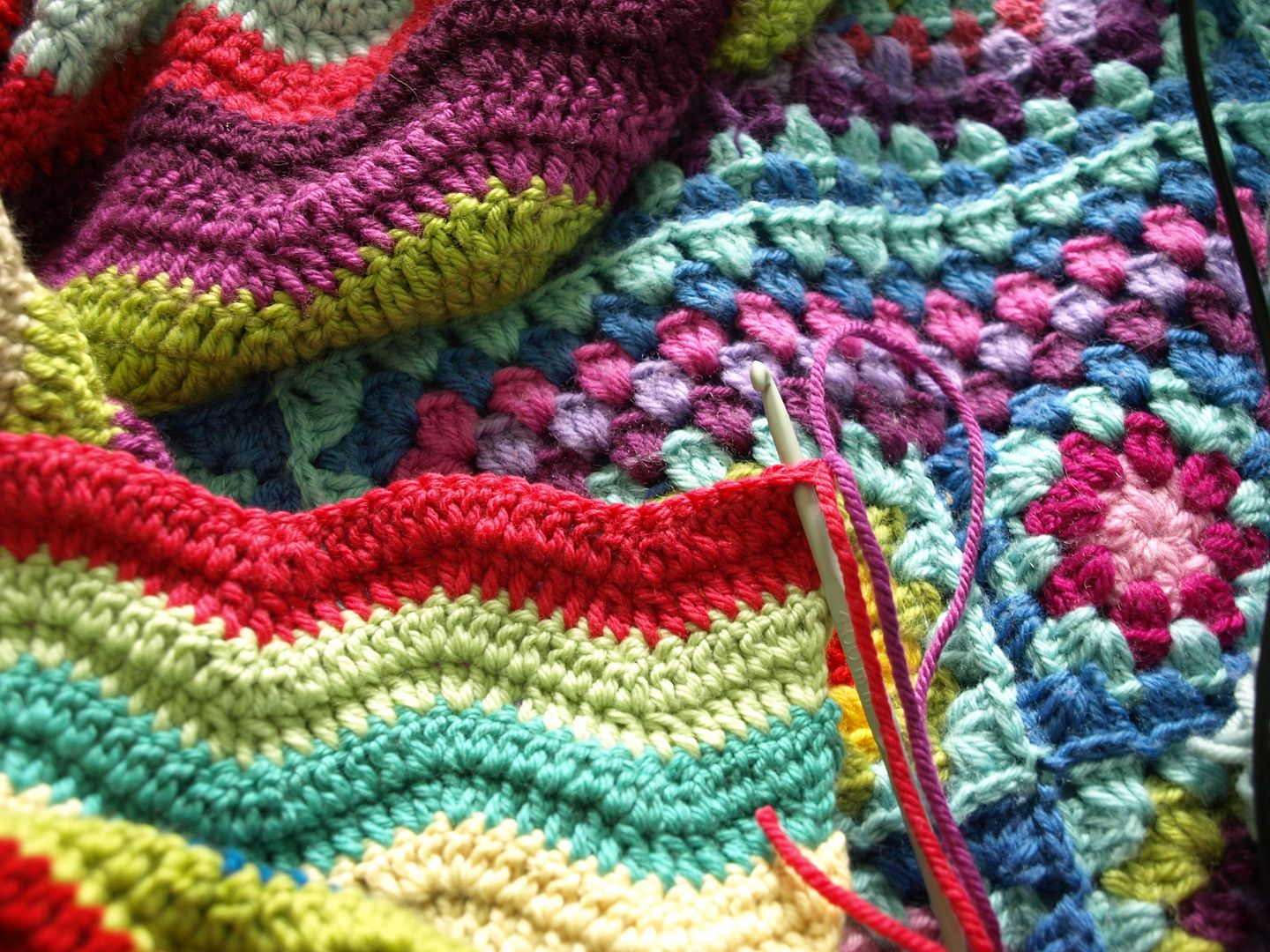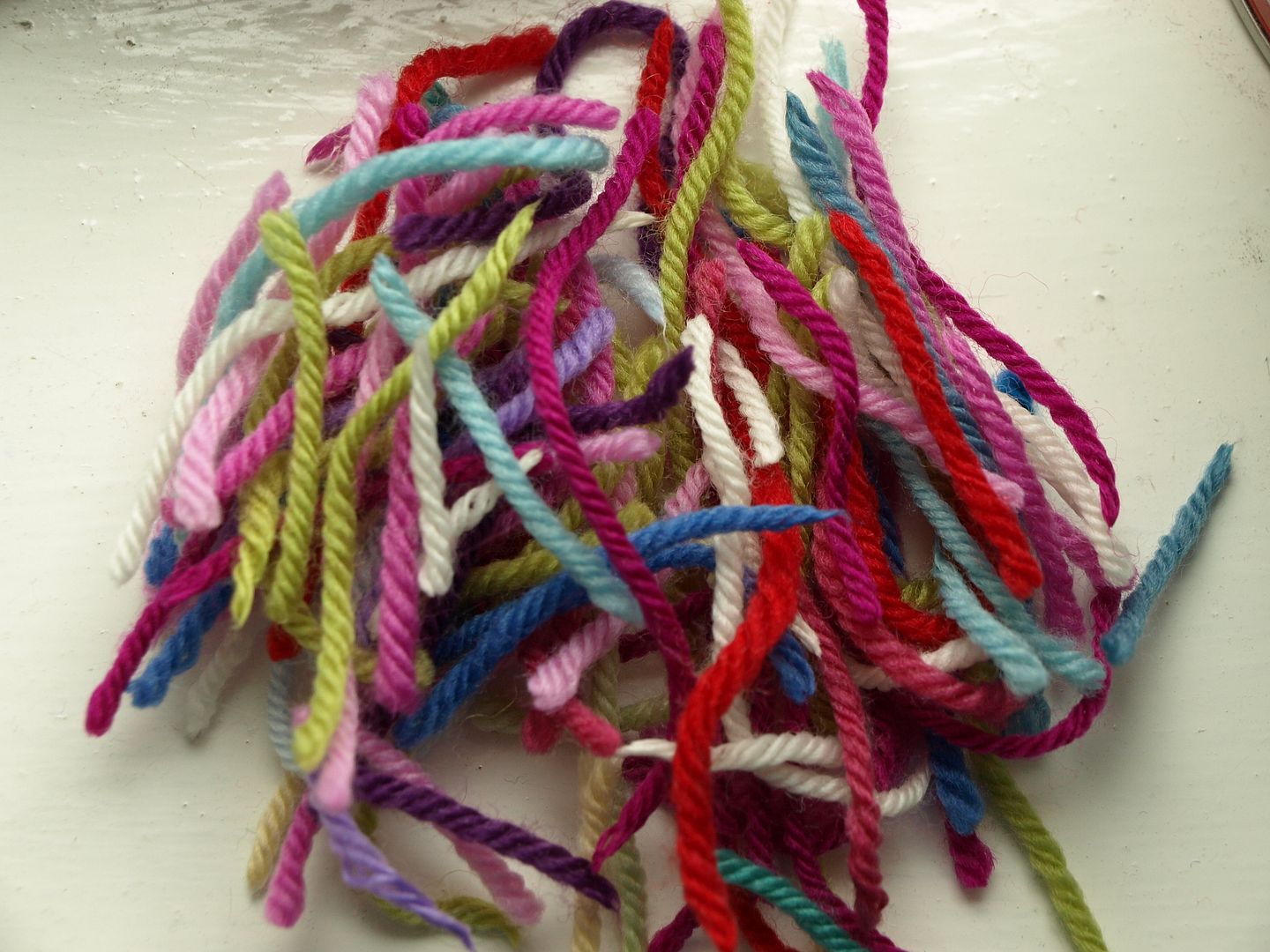 The pile of ends grew and grew into a very satisfactory mountain of yarn-tails. Ripple ripple ripple, back and forth. All the while the rain splattered against the window making me feel (for the first time here really) warm and safe indoors and glad to be where I was. I wasn't having to do housework, I wasn't numbly scrolling through nothing on the internet. I wasn't gloomy in the dining room (not much light in here to be honest). There was rain, but there was still plenty of light with the rain. It's the first time that the rain has accentuated a cosy feeling for me here, rather than causing stress and worry (rain coming through the kitchen roof, having to walk to work in it.) We were fine. No work for another couple of days, we had food, there was no need to go out. Normal housey things being done, progress being made in the bathroom. And on my ripple of course!
I really think that this is the first time that I have felt like we were Just Being At Home. Doing normal things. Not worrying. Feeling warm and safe. Not feeling guilty for having prolonged crochet-time when I should be cleaning or cooking or working or something. It felt so good to be able to associate those words with the place I was in. There is still a longlonglong way to go with the house renovation (and oh boy, believe me we are trying to get a hurry on with it: I desperately need the lounge to be finished so that I can get all of the boxes out of the spare room! It's mostly books but I'm very motivated to have a good sort out of everything. It's been packed for A Long Time. Surely I can't NEED it??) It felt good though, and motivating in a positive way. So often we both feel that things keep going wrong for us with the house, or that they are so much harder than they should be. I don't like to write much about the house work on my blog because it's more Andy's business than mine and it feels unfair to share it all. I am photographing as we go though and will post "finished" photos with his permission when it's done.
I would just like to put a little rant in here though: you know when you read house magazines and the people in them are all, "oh, yes, we did this, and we wanted the bath to look just like that and oh yes then we just did that and wanted it just so, blah blah blah"? Well just for once I would like it if they ACTUALLY said, "I hired people to do ALL THIS WORK and I didn't lift a finger except to browse expensive fabrics, baths and kitchen fittings on expensive websites!". Try learning to do the work yourself, THEN you can say that "I/We did this/that".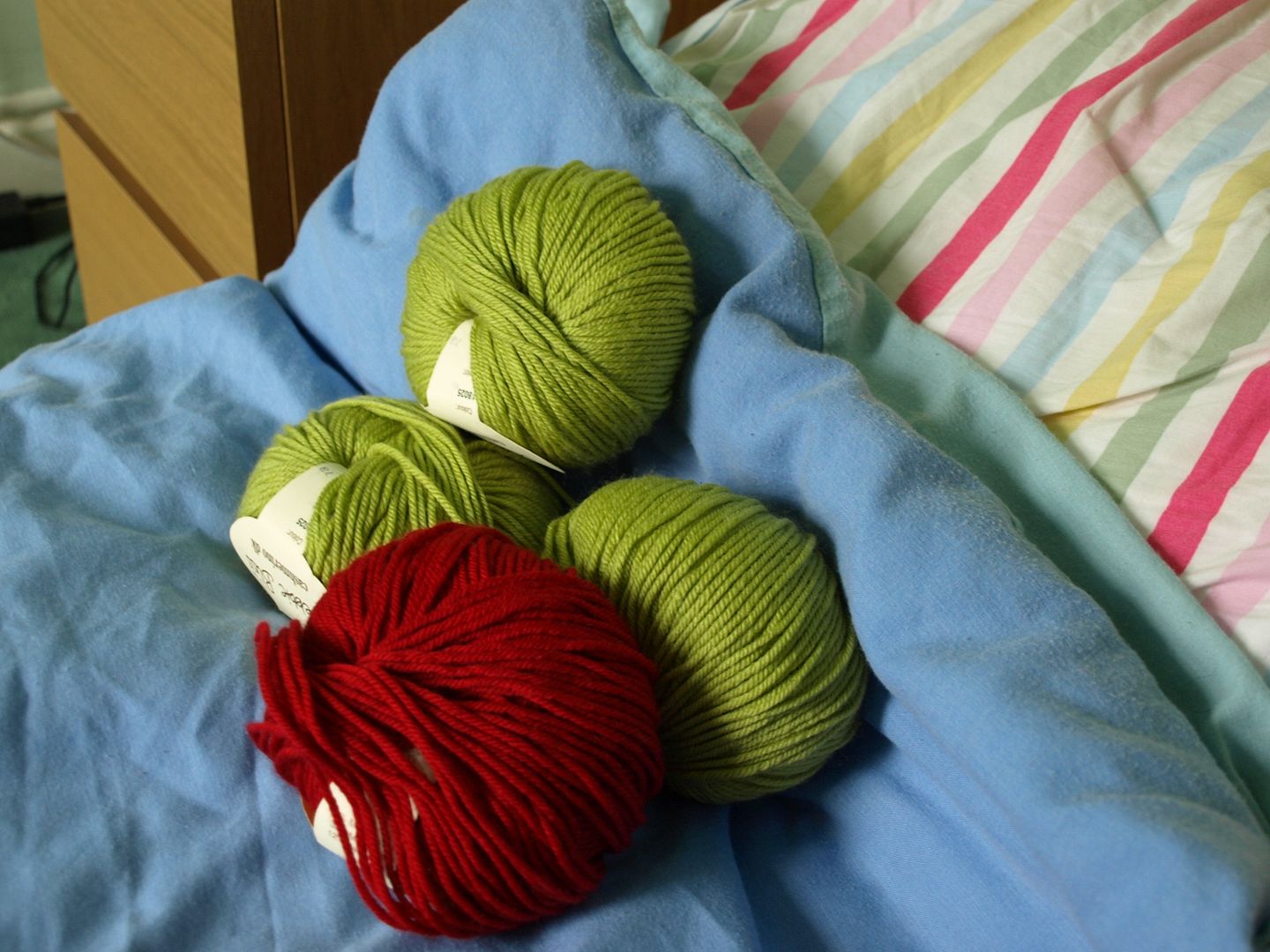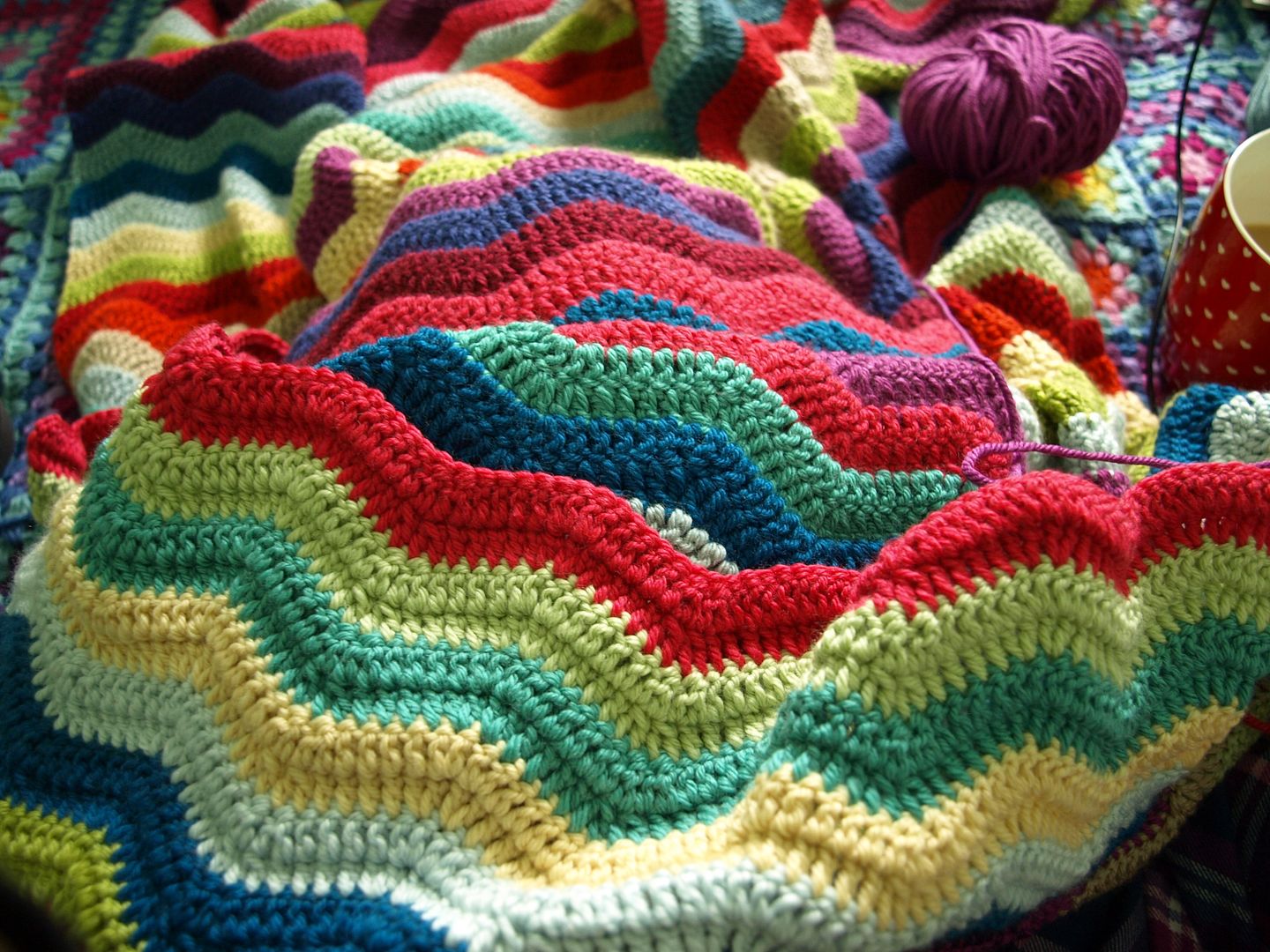 Ahh, my ripple. I'm so into this blanket, you know? Really emotionally attached to it. I want to carry it around with my in a sling and just take it out to admire and stroke it. I have had a bit of a break from working on it and sometimes during the break it feels a bit like a burden but when I start working on it again I can't believe I haven't been joined at the hip to it all the time as I simply adore working on it. I have had such fun working with the colours: I've not used the yarn before and so it took a while (as it always does) to become familiar with the colours and how they work best together. I could work the colours of Rowan pure wool dk or Stylecraft in my sleep and it has been such a joy to work with a new palette. Initially this yarn was meant to be a crocheted squares blanket and I picked up balls of it for cheap and didn't put much thought into it as I stashed as I meant the focus to be the yarn and not so much the colours. I was aiming for a hodge podge patchwork type blanket. Then when I changed my mind and needed my own Ripple, I had to work with some colours that didn't really fit. There are a few that are too dark but I think I've worked them in ok. The bit above is one of my favourite parts though, the pink through to the red. I get all flappy inside my head when I see it. There is such personality in this blanket and so many thoughts, times and memories worked into the stripes. For example, I worked the foundation chain and the first three stripes while watching Calendar Girls on iplayer late one Saturday night when Andy was out seeing the Scaramanga Six in Bradford. I slept with all the yarn on my bed! I worked stripes at home when it was Apple Day. I worked on it at Jenny's house. I worked on it at Rach's house. I worked madly onto it just after new year when I had a massive surge of "I MUST ripple!" feelings. Each colour set reflects how I was feeling at the time. Some are wintry and dark, others are springlike and bright. Sometimes if I've been reading someone's blog the colours I've worked together have a slight feel of that person's colour choosing to them.
This is the first ripple that I've made for myself. It's all mine and I don't have to share. I will share, but I don't have to. It's a blanket for me, made by me. I loved snuggling myself in it last weekend as I worked on it and all the while looking at it and just thinking "YES" and that it was so beautiful. All the way through it I've felt like it already existed and I was just making it solid. It's selfish crochet and I'm all the more glad of it for that. I think this is the first project I've kept in ages. A few cushions and two other blankets is all I have of my work. I'm so glad that this is mine, and I love the fact that it is so steeped in the essence of "the Heather that I am right now at this point in my life."
Soppy? Yes. Bothered? Not one single tiny jot.