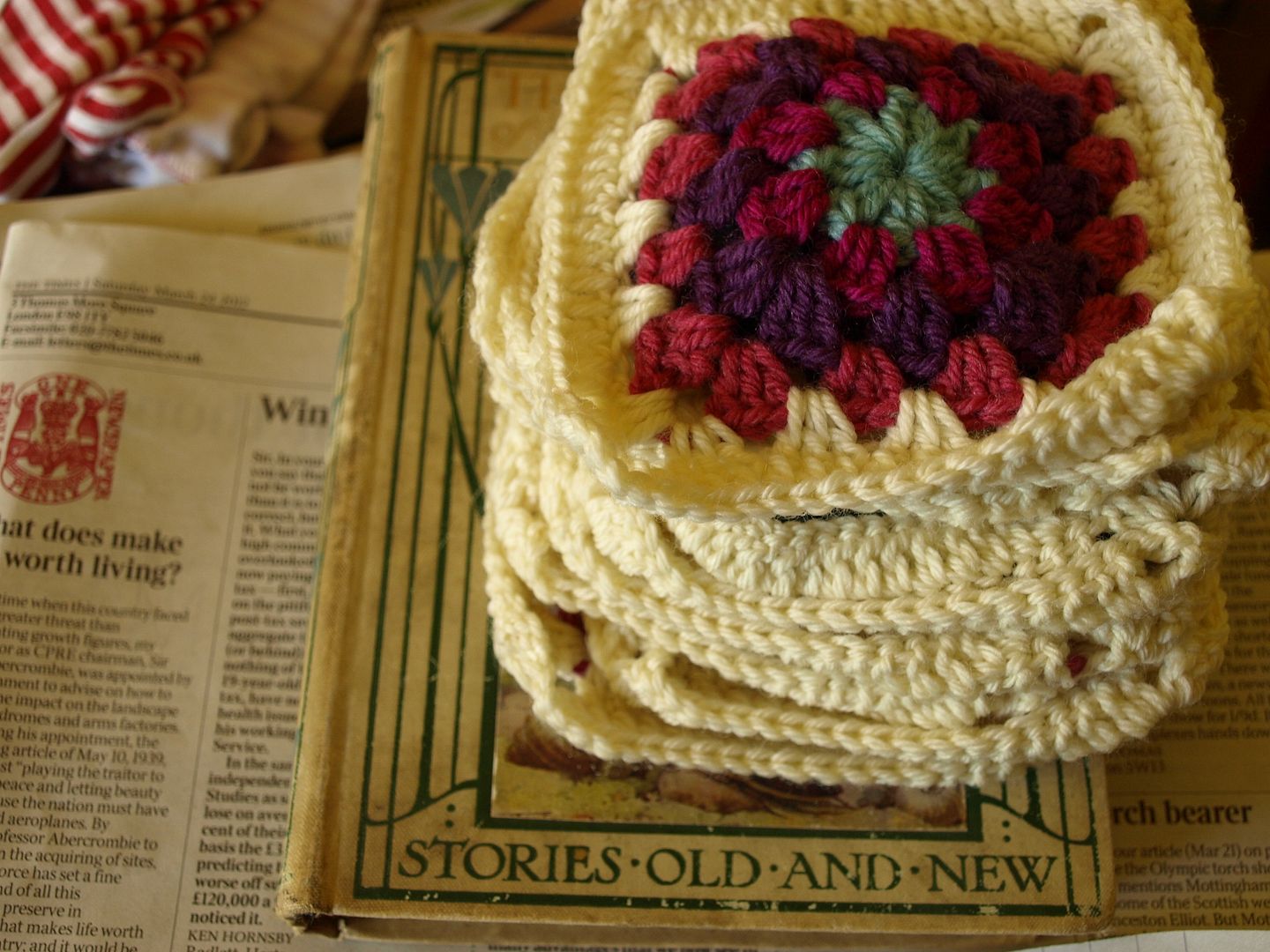 Lately I've been hooking up some granny squares. I've had granny squares on my mind for ages, do you ever get that feeling where you just want to sit and hook granny squares? I think granny square blankets are so lovely and there are so many inspiring pictures of them around the internet. I've only made ten granny squares so far, life keeps getting in the way of hooky at the moment but I'm hoping to make a few more over our four day Easter holiday.
I know that there are hundreds of white bordered granny square blankets out there on the internet so it's not terribly original to make one. I really wanted them to "look square" though, instead of having the large circle that turns to a square near the final round. I also wanted it to look quite dense: I've been thinking about my previous blankets that I've made, and the Big Blue Blanket was made on a 3mm hook (I didn't know any better) and is much more dense and substantial than the 400 squares blanket which sometimes struggles with it's own weight as a result of so many squares joined-as-I-went.
I started off with my favourite way to make granny squares and produced this: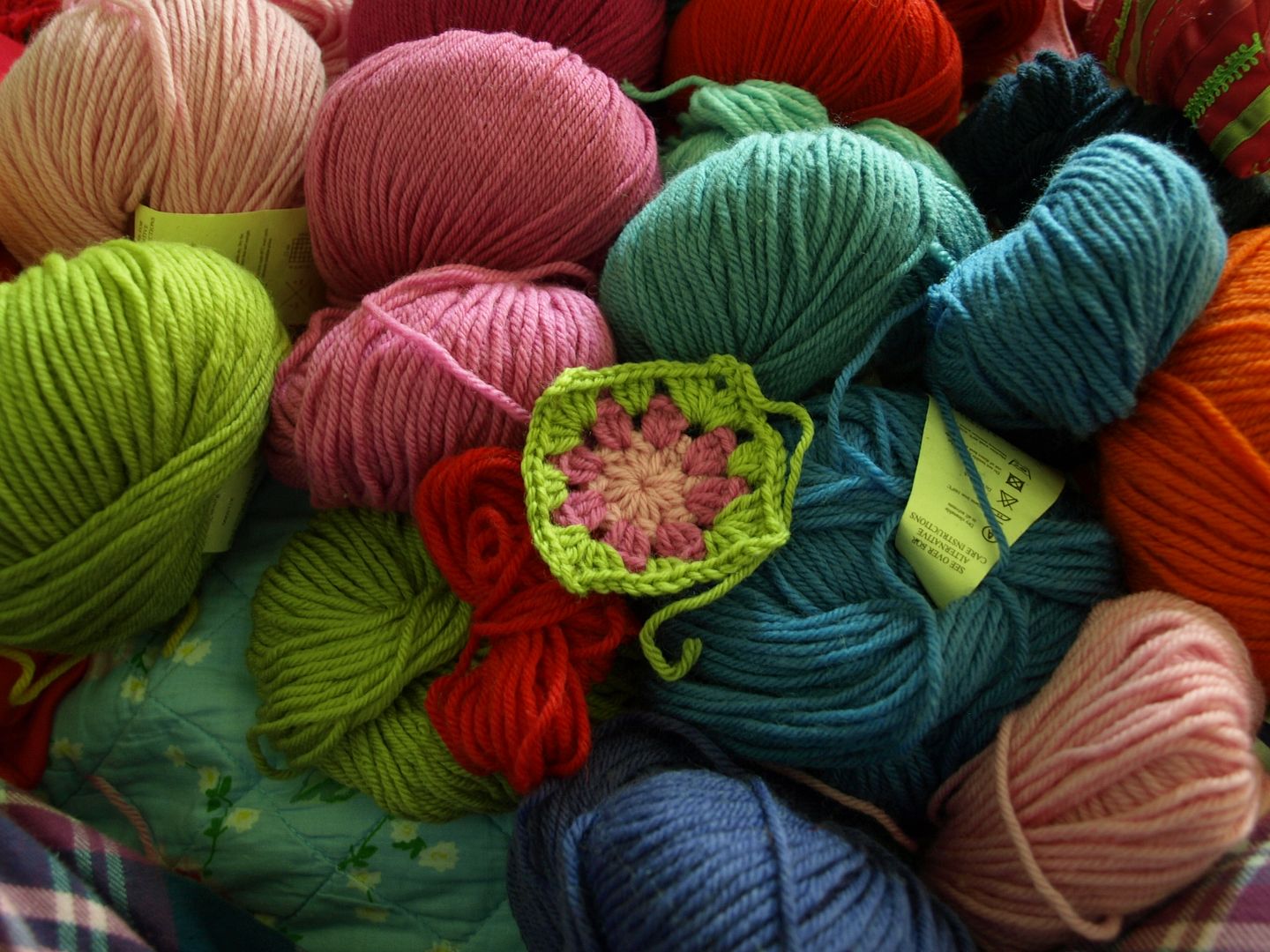 But I wanted more squarey colour rounds to make a bigger square so I added another round:
I tried out something a little different here as well. I have always left chain spaces on my granny squares but reading Jacquie's tutorial made me wonder if there was something in not leaving spaces; Jacquie's squares are always neat and perfect. For the first three rounds (pink, pink, green) I left spaces as per the pattern. When I added the next and subsequent rounds I omitted the side spaces and just did corner spaces and what do you know? It turned out very well and has just the dense, substantial feeling I was after. Excellent!
Often with white bordered blankets I feel that the white looks a bit like teeth around the edge, either that or it gets dominated by the colours. In order to avoid that I did one round of granny clusters (no side spaces) and then one round like the Elmer Squares. I'm so pleased with the effect! It's like a frame around the colour: the colour sits inside the white but neither is dominated by the other, and the blanket will be held together securely as I will crochet the squares together instead of joining-as-I-go.
They will need blocking because they are all curly. I'm using Rowan Pure Wool dk, which is the only yarn I feel confident about blocking really! (I do love this yarn but I still have to whinge about it. Apart from discontinuing loads of fab colours, they have changed the gauge of the yarn so much that my new stuff is all stringy like 4ply and my old stash is fat and fluffy dk like it used to be. They look a bit odd together actually and I'm hoping that blocking will sort it out. Wish Rowan would sort themselves.)
I'm deliberately not using any yellow or orange in these squares, and avoiding really dark colours. I'm trying to push myself a bit with my colour choosing and placement. It's a bit hard to explain as it's more of just a feeling but I want it to look balanced, and mostly green/pink/blue.
I've only made a few so far and I don't know how many I'll make. I sort of fancy it as a lap blanket, so perhaps 25 or 36 squares in total. Just enough to indulge my granny square needs before I feel the need to run with my hook again and make another ripple. (Or finish the one I started in September. Hmm. Yes. Should probably do that!)