This is the Ta-Daaaaah post for my third baby blanket of the year. I like to think of it as Baby Blanket Number 2 (this baby is due before the baby that is receiving the 2nd blanket that I made), I just made them in the wrong order.
This is for my cousin, who is due imminently, and who did not find out whether her baby was a girl or a boy. I love surprises :-) I asked her what sort of colours she would prefer, pastels or brights, and she said brights. I'm very glad! I think this is my most rainbow like blanket so far and I think it will work happily for a girl or for a boy.
It started off small, around about here, and here, straight after I finished my granny stripe blanket.
As you can see, it has been good friends with the granny stripe from the start. I started off with the same colour order with the addition of a magenta stripe between the plum and fondant as I felt that the contrast was too sharp without it. After the yellow and green stripes though, I just did my own thing and chose colours by feel. I didn't want to repeat a pattern as I personally don't like seeing a large repeat in a small blanket. Small intentional repeats of four or so colours looks pleasing to my eye, but I'm not keen on getting so far and repeating or reversing what I've already done.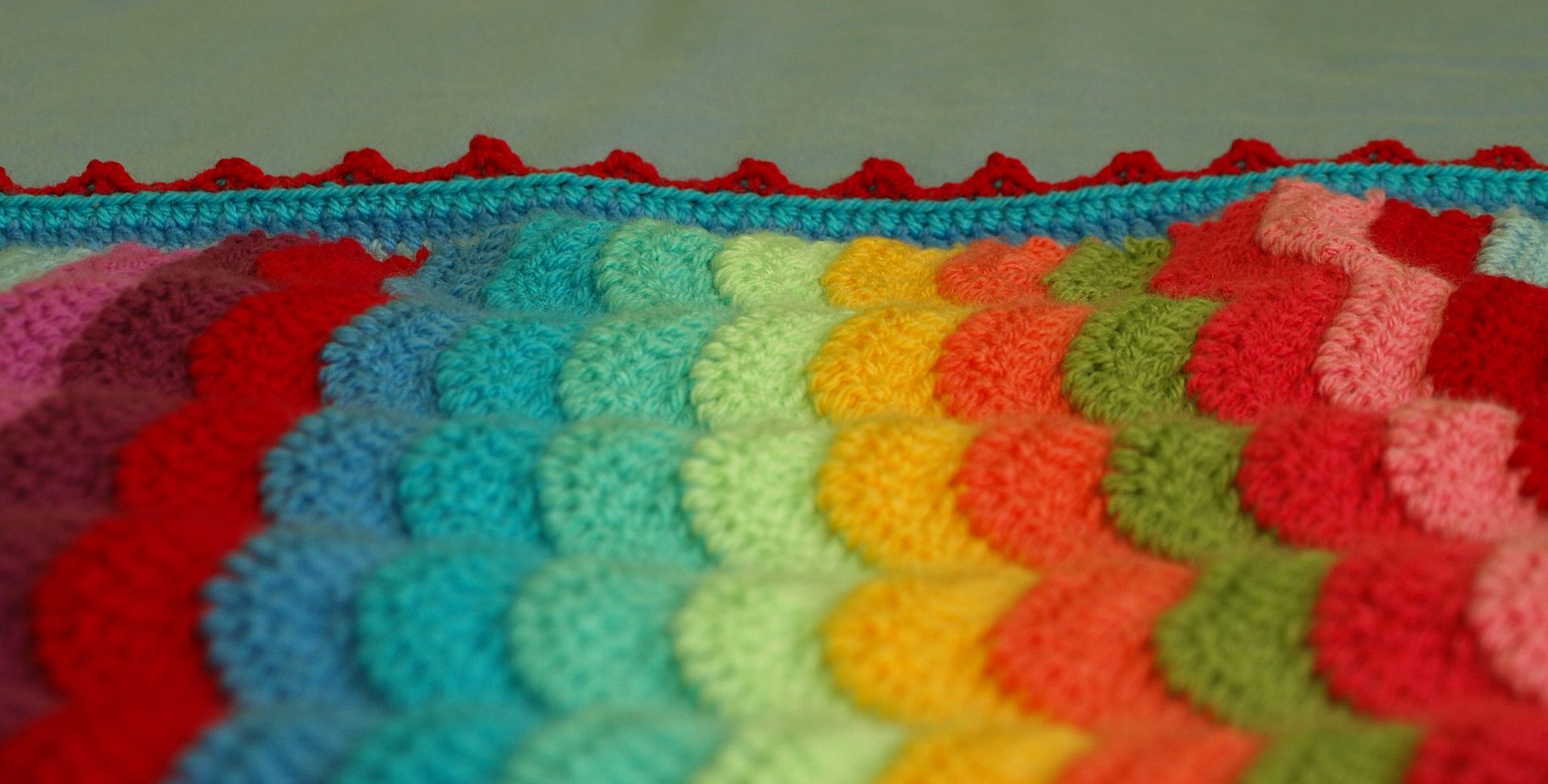 I did enjoy how the blues looked together so I made that a feature and put three sequences (slightly different each time) in, and was careful about how I used the yellow and green combo. I wanted it to look stripy and balanced, and not so that your eye was drawn to one strong colour (usually plum) or one bright (yellow) each time. I think I chose right in the end because I really love this rainbow blanket.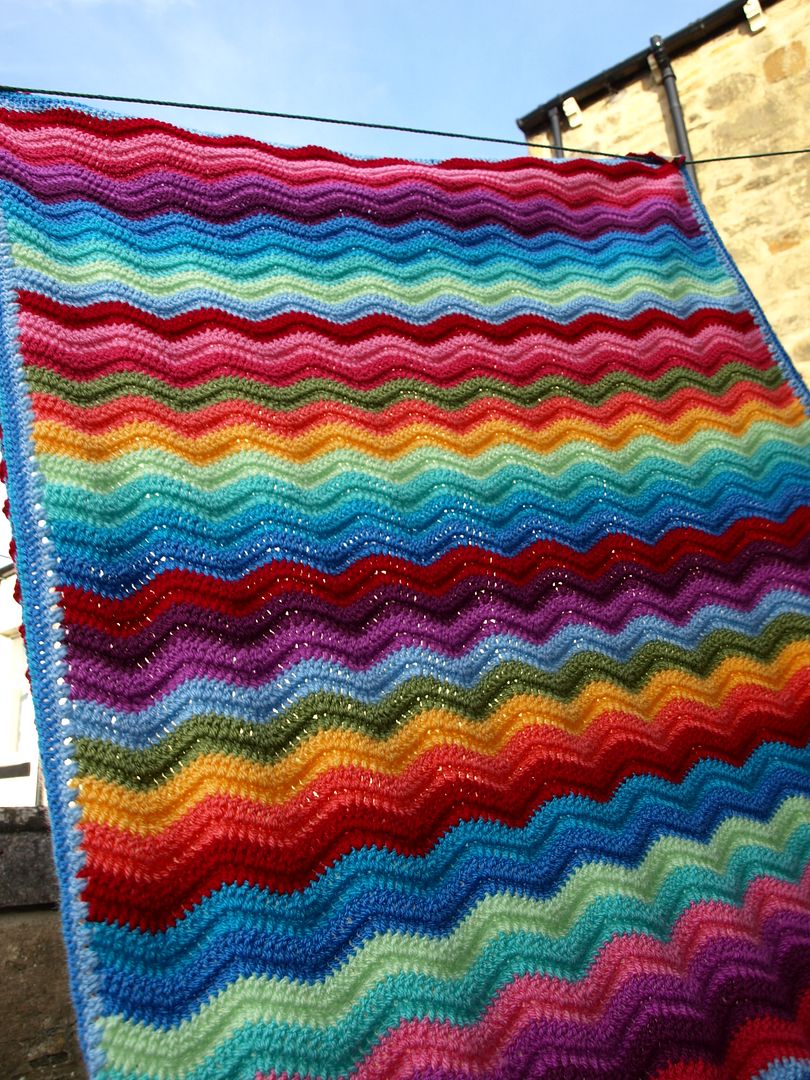 I don't really make blankets to specific measurements and I just stop when they look vaguely in proportion and rectangular (unless of course I am doing square blankets, but I only really make them square when I do granny squares). I haven't measured it either because I don't think I have a tape measure and all our building tape measures are gross and dirty. I like to think that this could be a pram blanket, a cot blanket, a blanket for baby to lay on on the floor, or a snuggly warm blanket if the weather is cold. It is lovely and warm and has a nice drapey feel to it.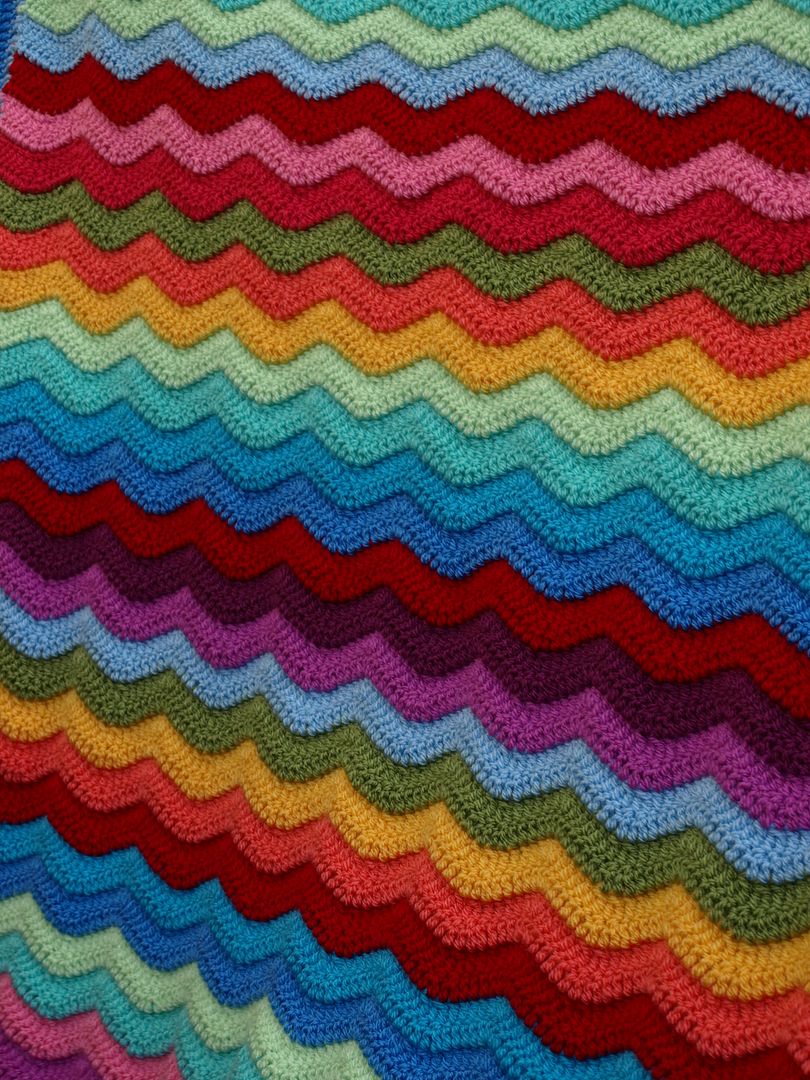 It took me between two and three weeks to make the body of the blanket and then about the same again to motivate myself to do the border. I'm dreadful really because while I love the finished effect of putting a border on, I always think "wahey, blanket is done!" after I've made it the right size.
I am also never ever ever going to write a tutorial on how to make a ripple straight. I do it by feel and intuition! The theory is, make TRs in the tops of your decreases, then work up to the peak by doing HTRs, DCs and then finally slip stitches across the top. That's the best I can do for you, I always wing it and working out of the foundation row is harder than working out of the top row. As usual, I did 2TR in the end of each stitch down each side, and then kind of bodged the corners a bit. Technical!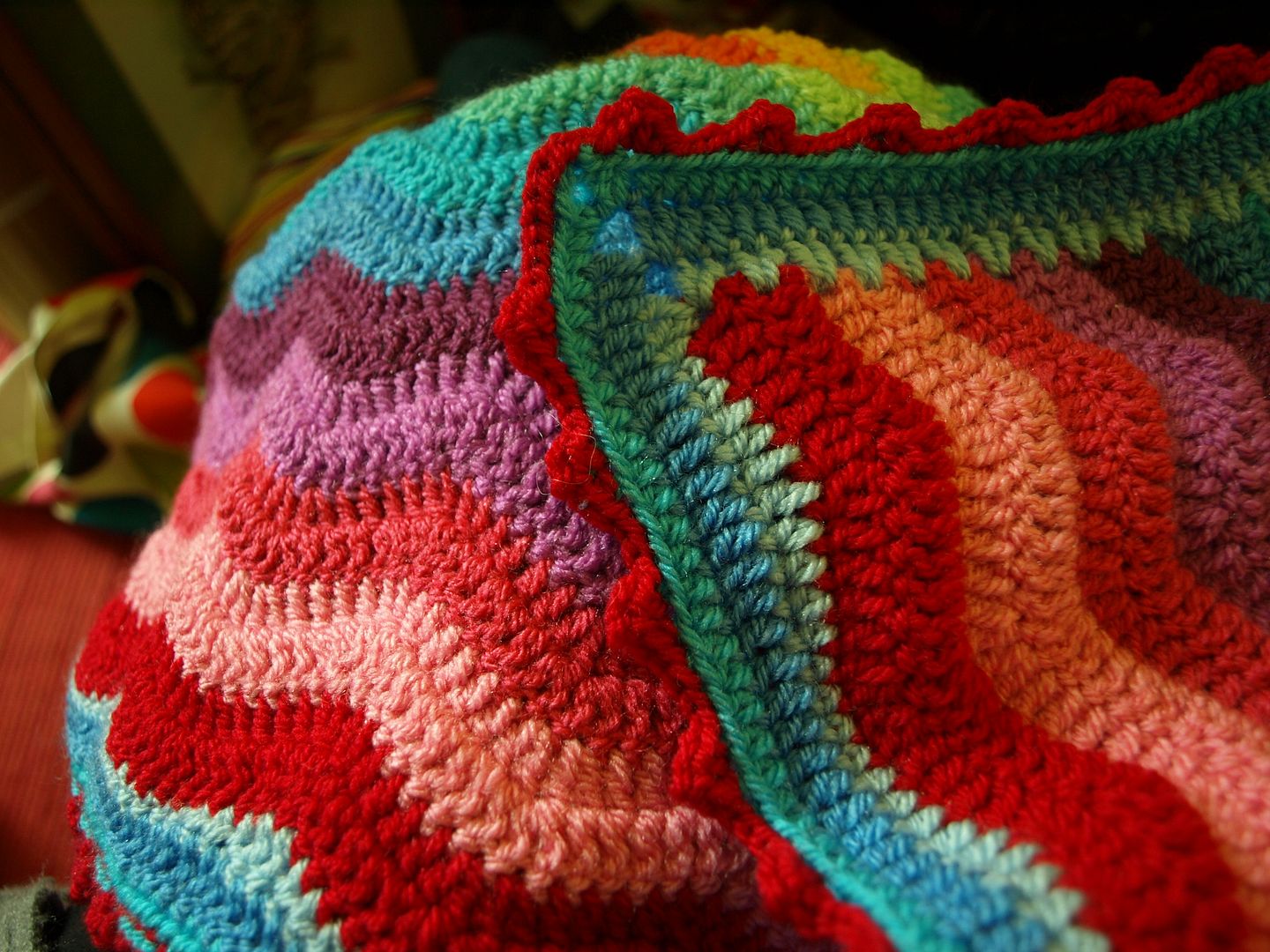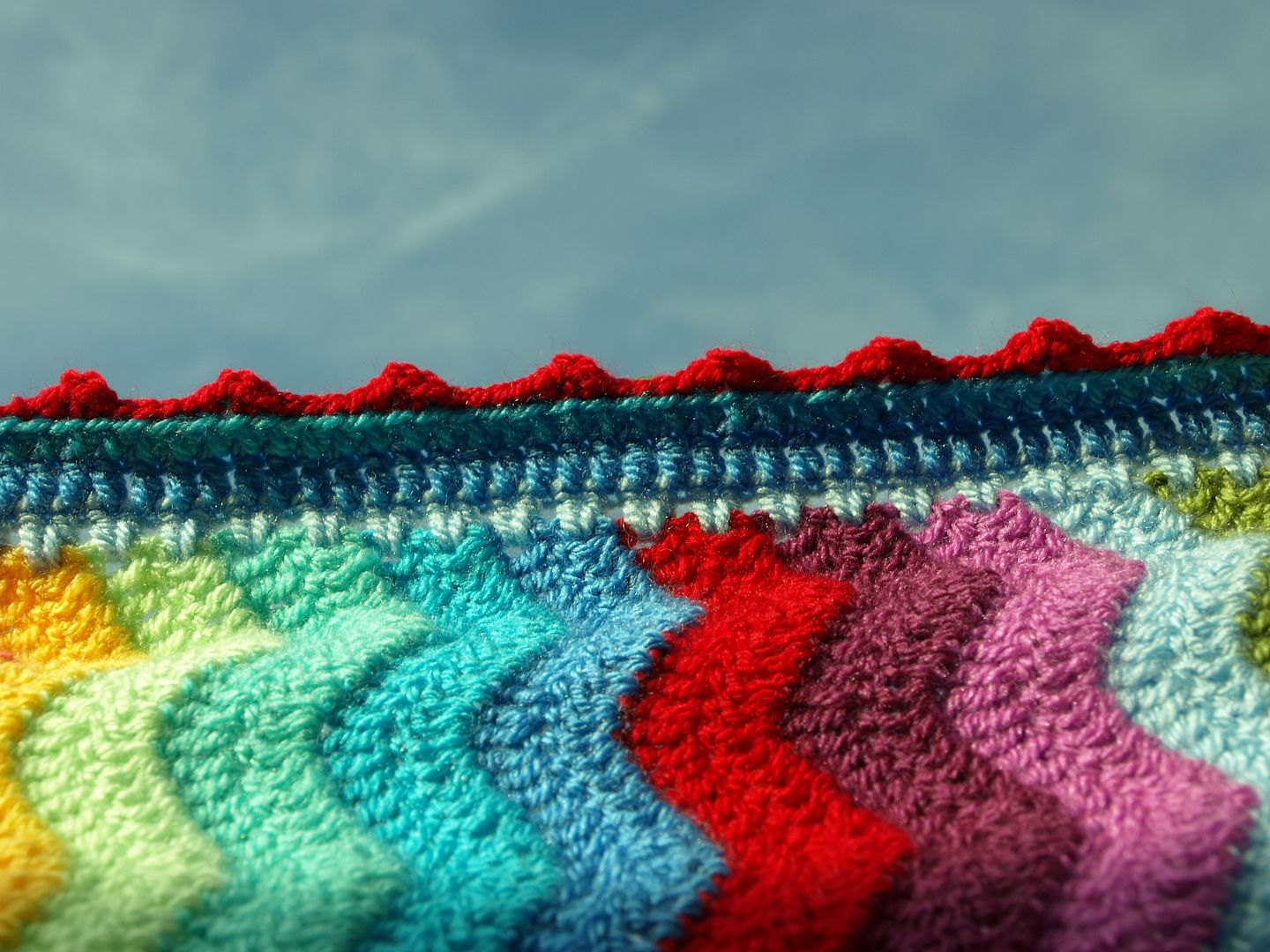 After the round of Cloud Blue, I did a round of TRs in Aster, and then a round of HTRs in Turquoise. After that I added a round of red pointy picot edging. Now, you may have seen in previous blankets that I have done a round of HTR stitches and then the pointy picot after that in the same colour. This time I felt like working just the pointy bits in red without the previous round. I'm very happy with the effect (also reminds me of a stegosaurus, bonus!) although it does look a little different on the back:
I like that it has a definite back and front but looks good on either.
So, here is the ta-daaaah from above: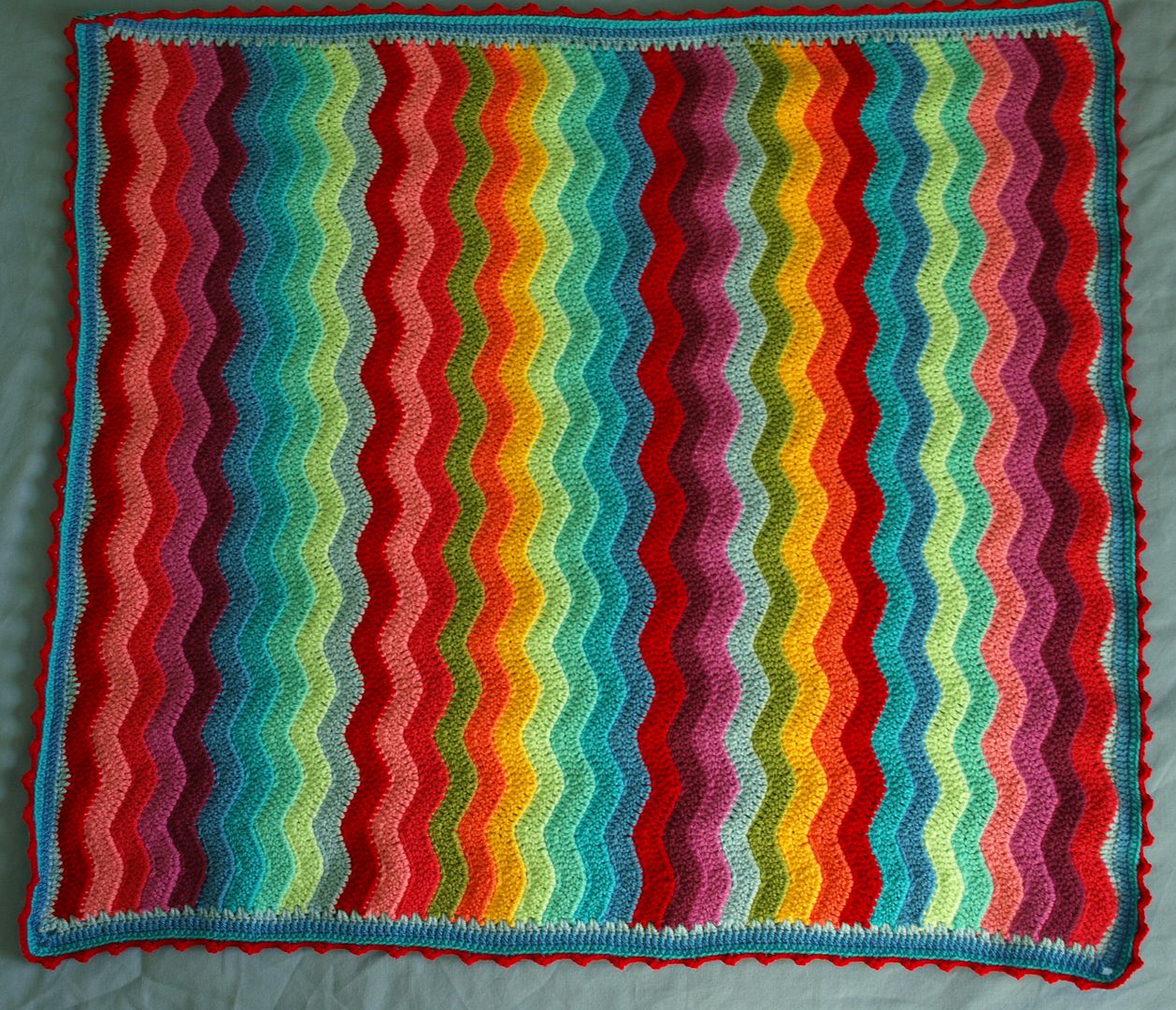 and from the ground: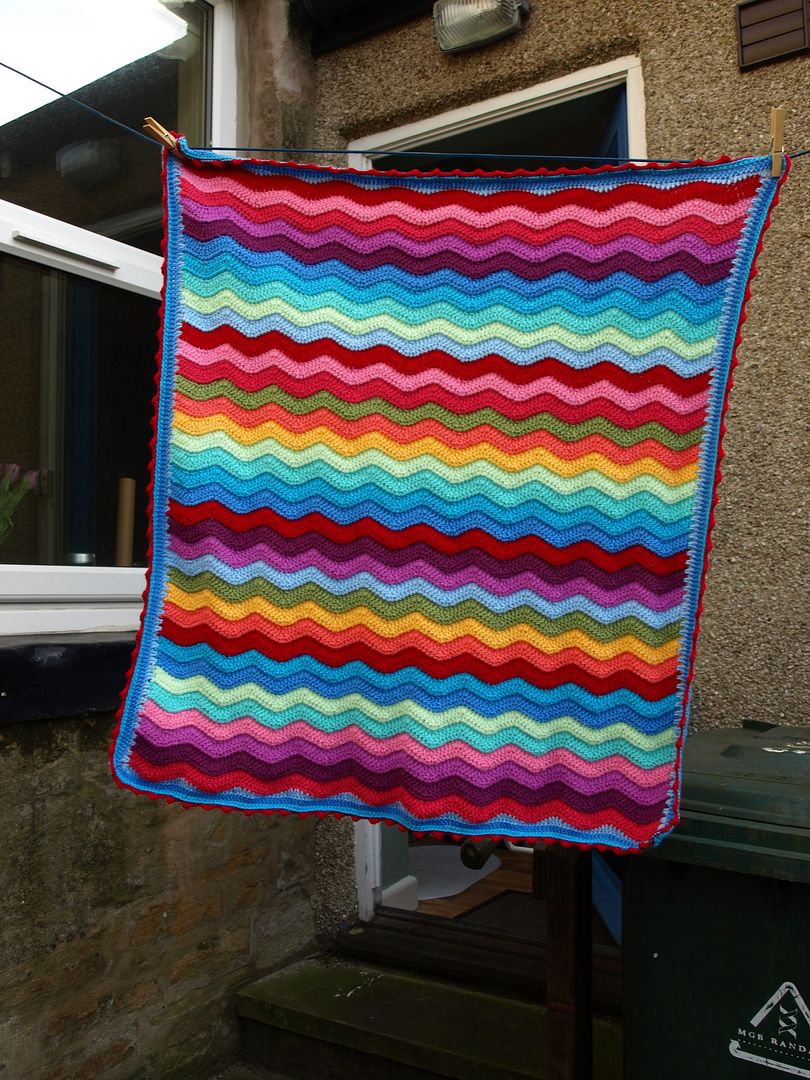 And all curled up:
And curled up with it's Granny Stripe buddy: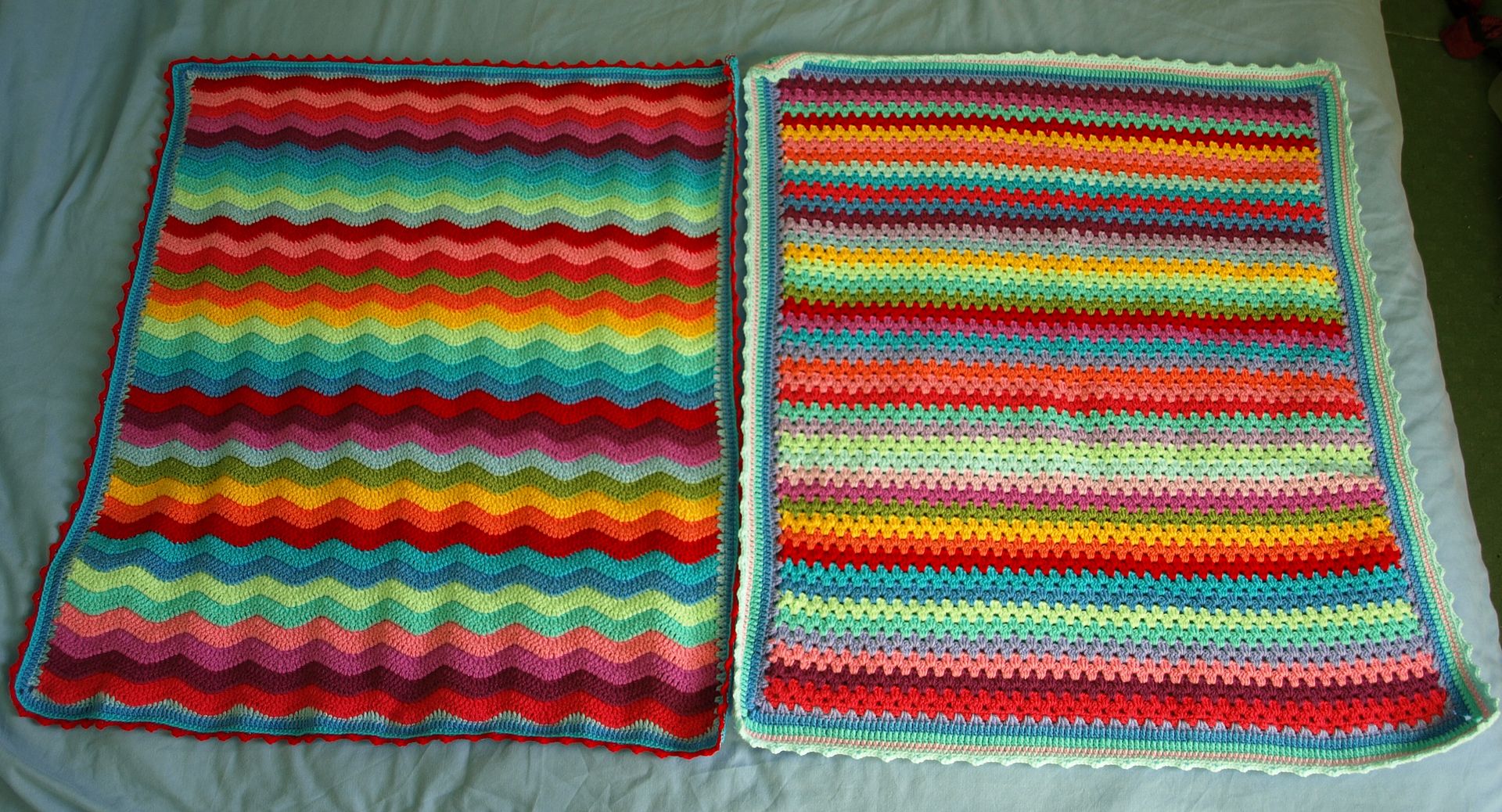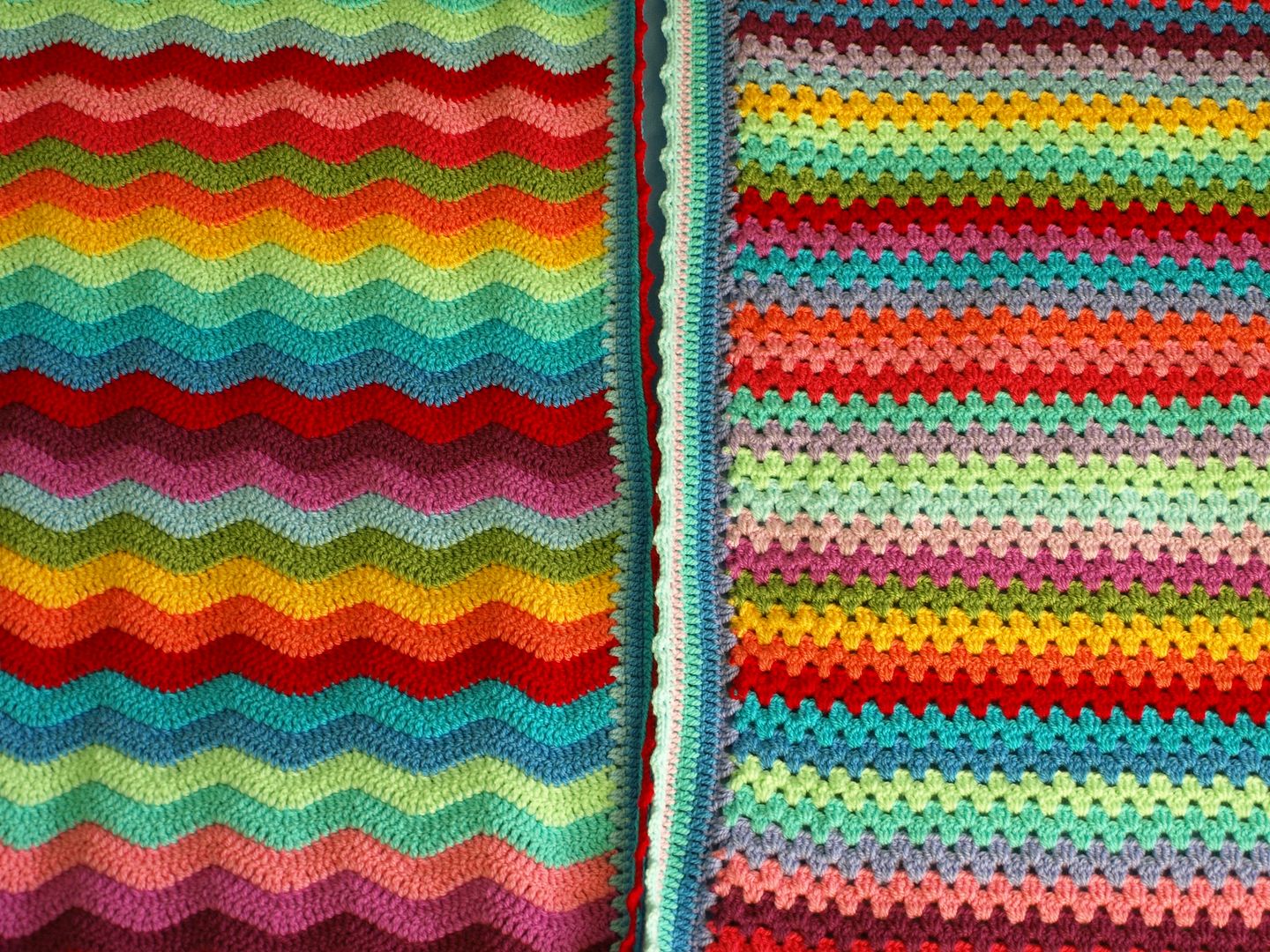 Lovely!
This is the last baby blanket I will be making for other people for a looooong time now, phew. Three blankets in three months must be some kind of record though and I'm pretty sure my fingers are going to fall off soon.
Yarn: Stylecraft Special dk in: Pomegranate, Plum, Magenta, Fondant, Aspen, Spring Green, Aster, Turquoise, Lipstick, Shrimp, Saffron, Meadow and Cloud Blue
Starting chain: 140 + 3
Hook size: 4mm
Pattern: Neat Ripple
Border Pattern: Pointy Picot
Size: no idea, didn't have a tape measure handy
You can buy Stylecraft Special DK at Wool Warehouse (this is my affiliate link).
Now, onto my next project …  :-)
xxx