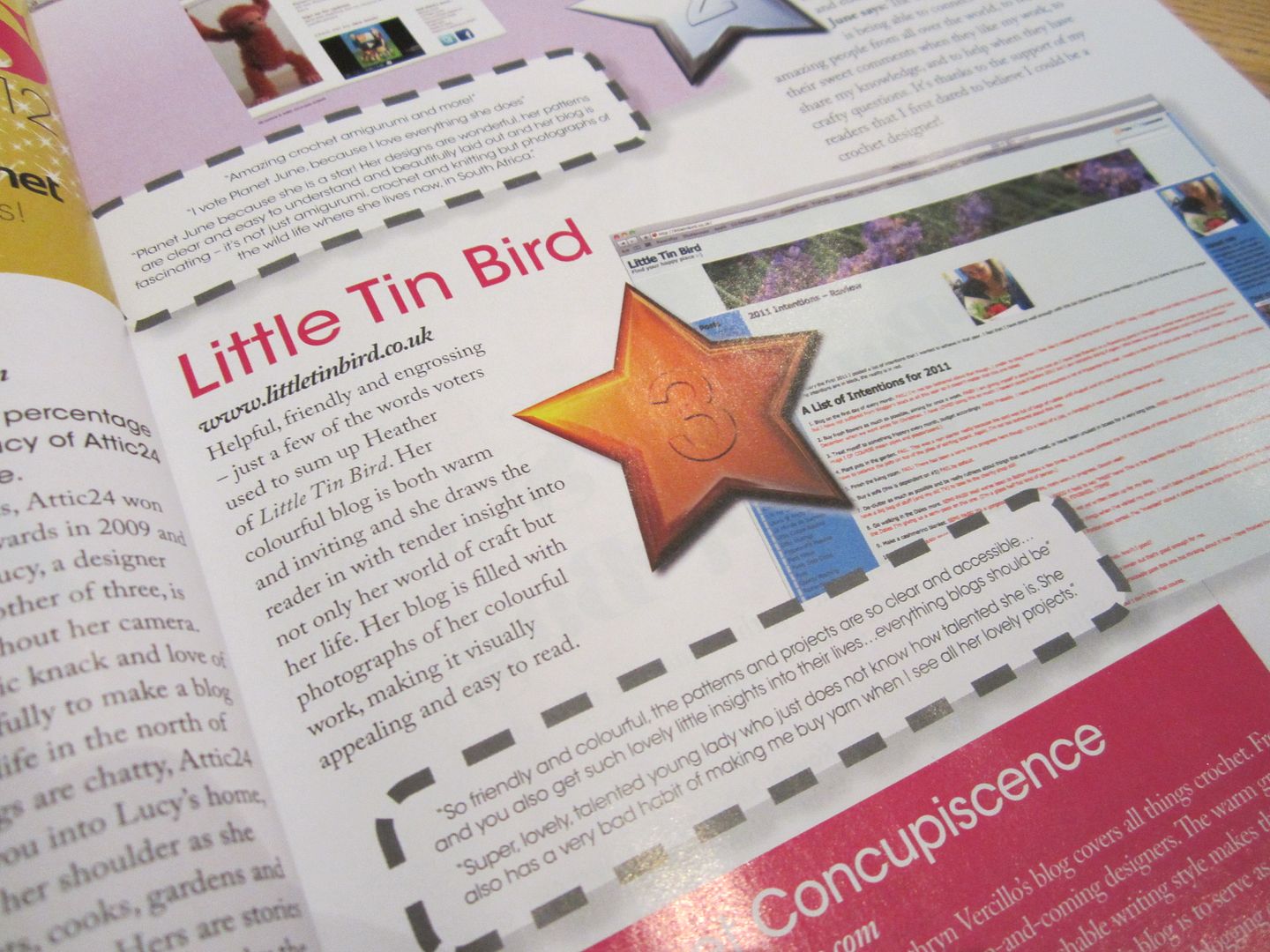 I wonder how many of my blog posts are titled "Saturday"? Sometimes I feel a bit like a child at school tasked with a "What I did at the weekend" writing exercise and worry that you will all get bored. Weekends are the best though aren't they? Two whole days of not being at work, not having to wake up to your alarm, you can go OUT, see actual DAYLIGHT … you know the score. This time of year especially I appreciate the daylight at the weekend. I felt uplifted today when I walked home as it was not quite dark by the time I got in. Spring is a'coming!
So this Saturday I was woken by my alarm at 08:30 and groggily looked at my phone to see a text from Lucy asking me for a quick coffee at 9:15. I tend to run about two to three hours behind the Attic 24 schedule because I don't have any children and thus have the luxury of sleeping in if I want ;-) However I did want a hot chocolate and a catch up and managed to shower, dry my hair, get dressed, have breakfast and put a load of washing on in the space of 45 minutes and was ONLY seven minutes late to the coffee shop. That's pretty good going I think!
So yes, we had a lovely chatty catch up and a bit of a peruse of Inside Crochet magazine (Third place guys! Thank you for voting :-) ) who said lovely things about me (and er, overlooked the fact that I was meant to write that paragraph and never sent it in, sorry Inside Crochet mag.)
After saying goodbye (it was a quick coffee after all!) I went and bought three different types of hand cream to try and combat my lizard skin on my right hand. Seriously. Weird dry skin from a combination of cold weather, and aircon & handdryers at work. (Does this count as TMI?) I bought a Cocoa butter one but having now tried it I can't bear to have it on my hand because the weird chocolatey smell weirds me out. Yuck! Any tips for dry skin? I'm moisturising like crazy and always wear gloves outside but I'm fighting a losing battle.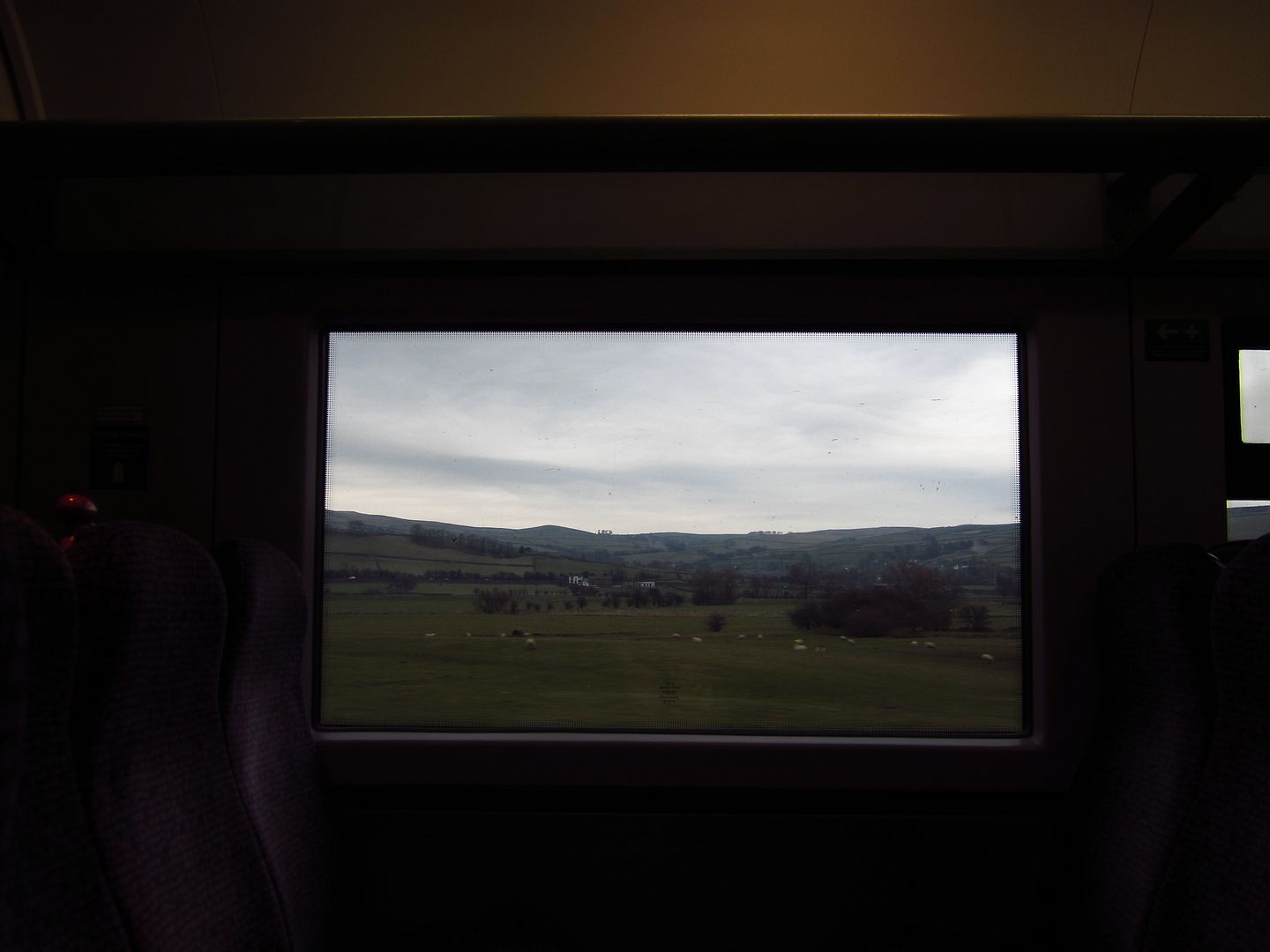 After the hand cream adventures I hopped on a train to Leeds to meet up with Rach for our monthly/6 weekly get together. I like to get the train to Leeds because the countryside is pretty and it gives me a decent chunk of time to spend in Wildhearts worship (that means listening to my Ipod for those not fluent in Geek.)
Oh and do you like my bag? I went shopping for shoes (I hate shoe shopping) a couple of weeks ago and came home with a pretty bag.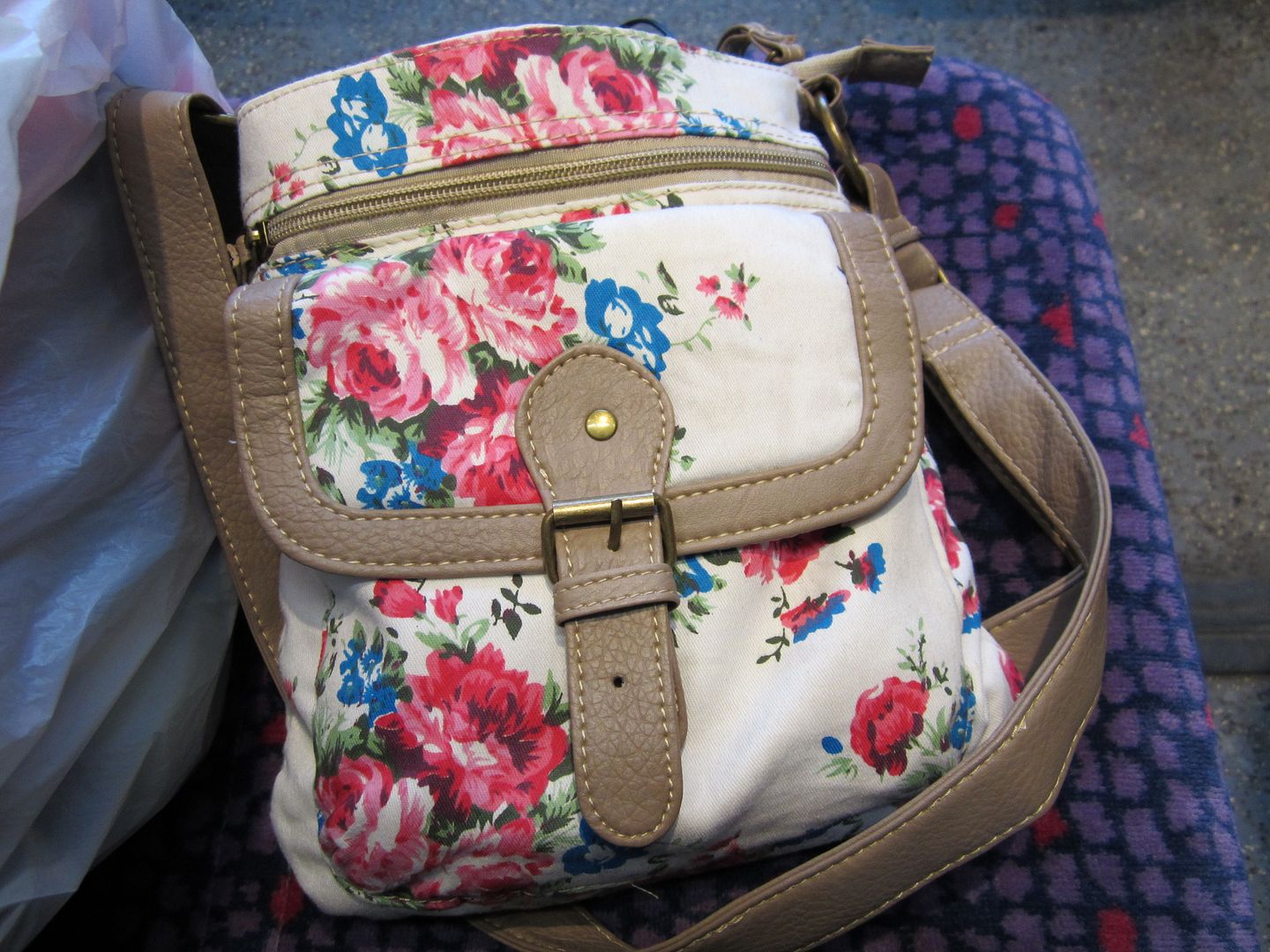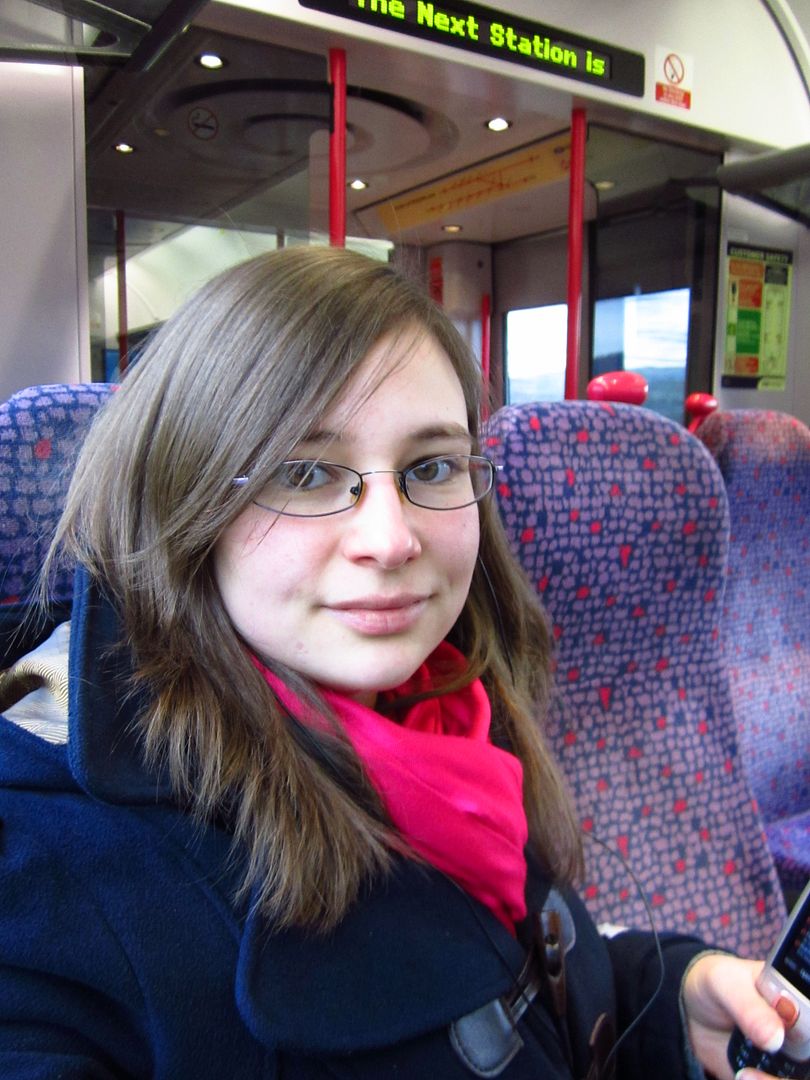 My hair was looking halfway decent, which is nice. All my best photos happen when alone on a train. I know that's a bit odd but it's true: apparently I look my best when on a train. Also weirdly young.
Me and Rach always meet in Neros because it's opposite where we used to work and we both like to reminisce about the years we spent working together :-) Fond times.  We stayed for ages in Neros until I became so hungry that I almost ate my own arm. So I badgered Rach into going to Wagamama (conveniently across the street!) and we took a snowy photo on the way.
When I still have to travel somewhere, snow makes me nervous.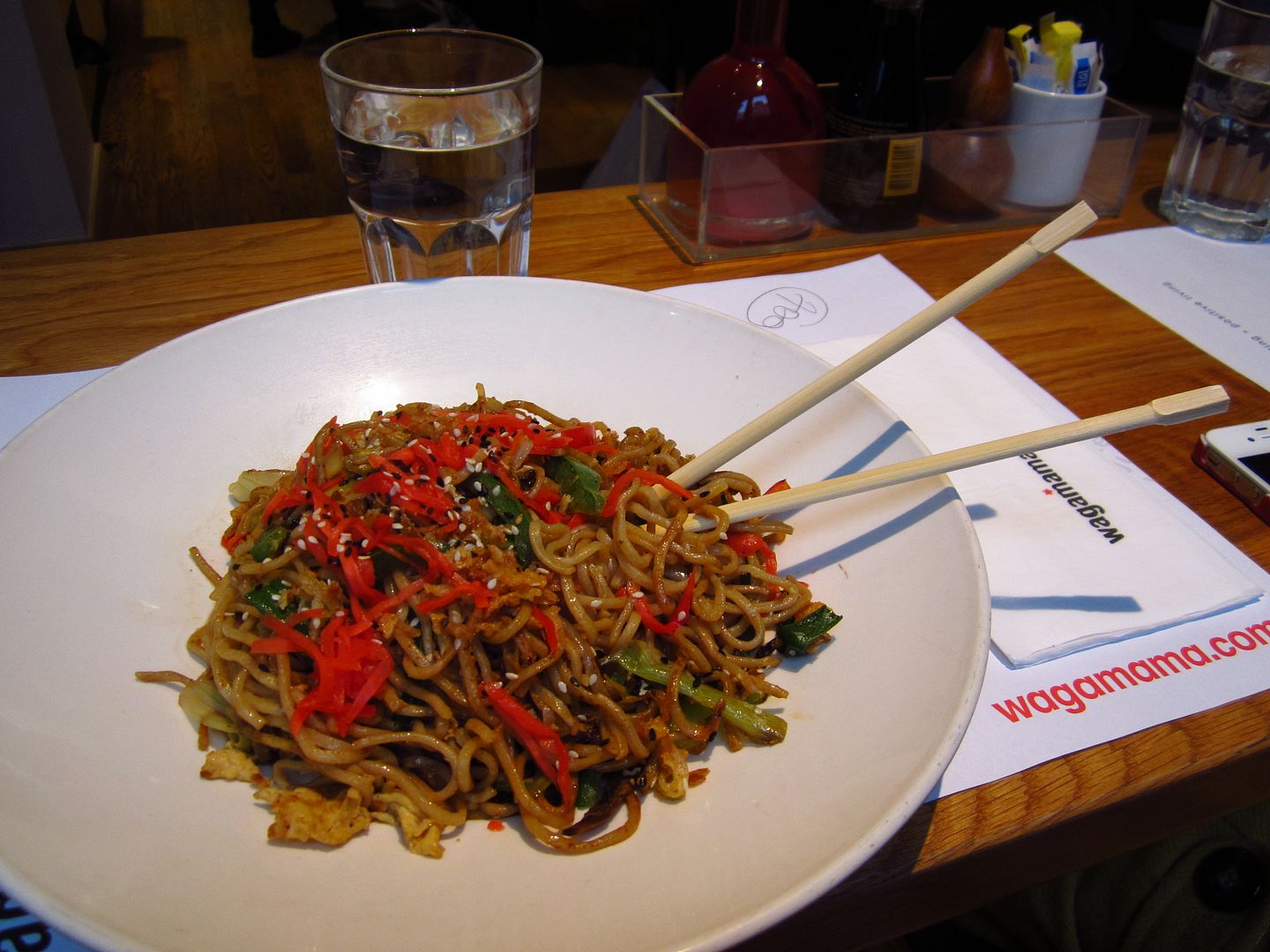 Mmm, Yasai Yaki Soba <3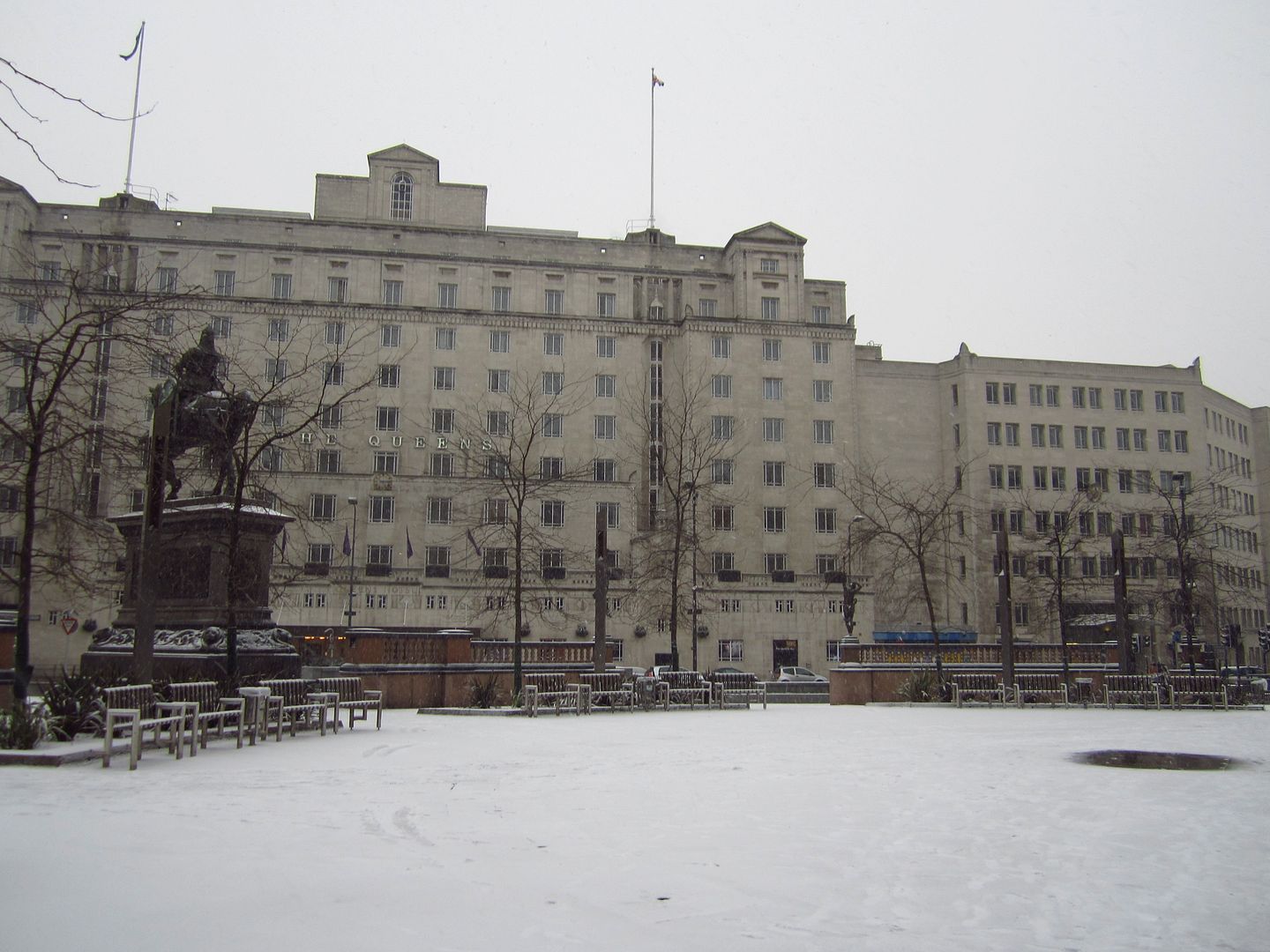 The snow settled really quickly in Leeds, I was quite surprised as this was only an hour or so after it started snowing.
I slipped my way to the station and made my train with three minutes to spare. I like that because I hate waiting for trains but equally I hate running for them.
I wanted to get a cool photos of the ECML (that's East Coast Main Line for those not fluent in Geek) train coming into the station through the snow but I fumbled too much with my camera whilst wearing gloves and just made a wonky mess of it.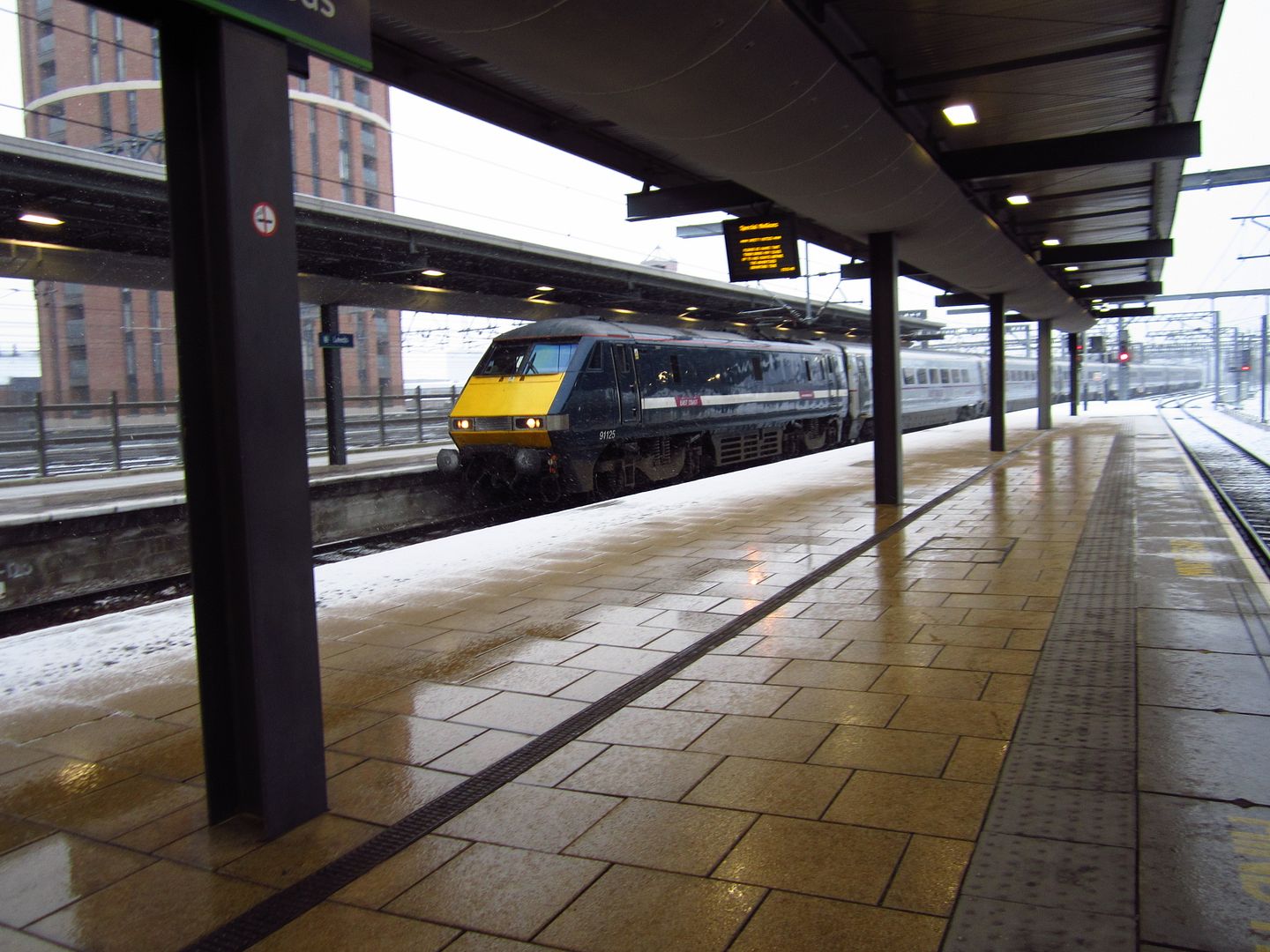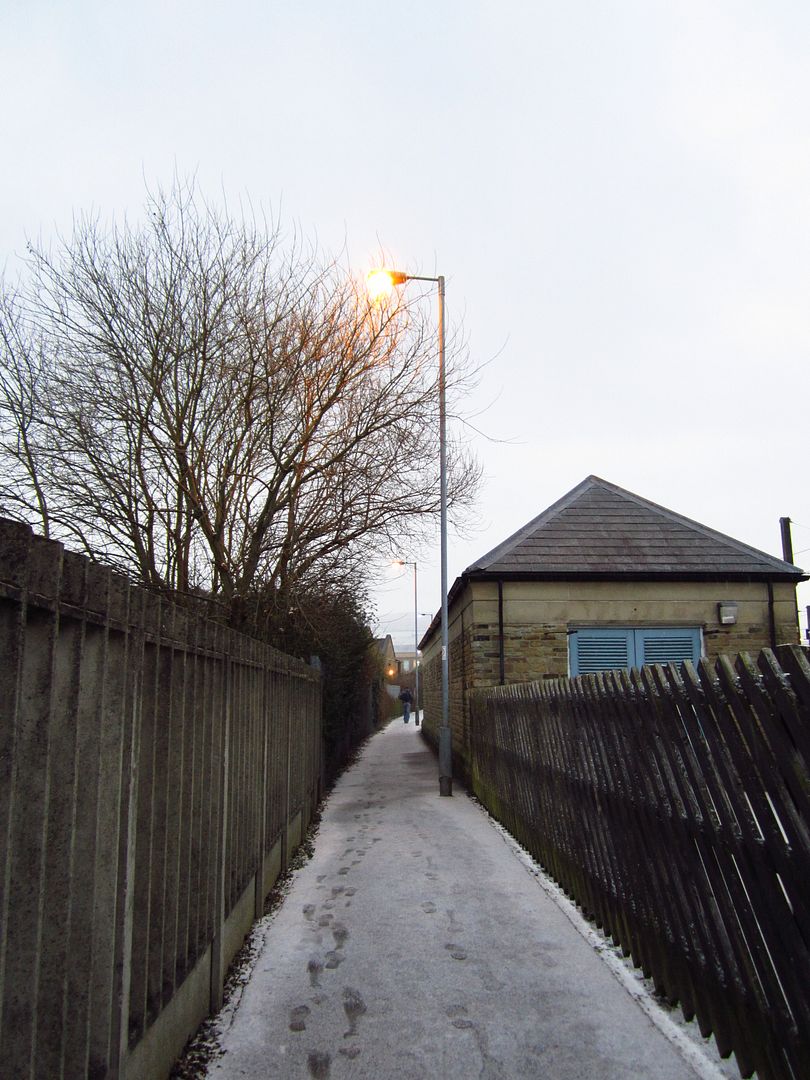 Back at home and although that looks like snow, it was crunchy like weird hail. By the time I arrived at my house though it was proper snow and we enjoyed watching it fall that evening :-)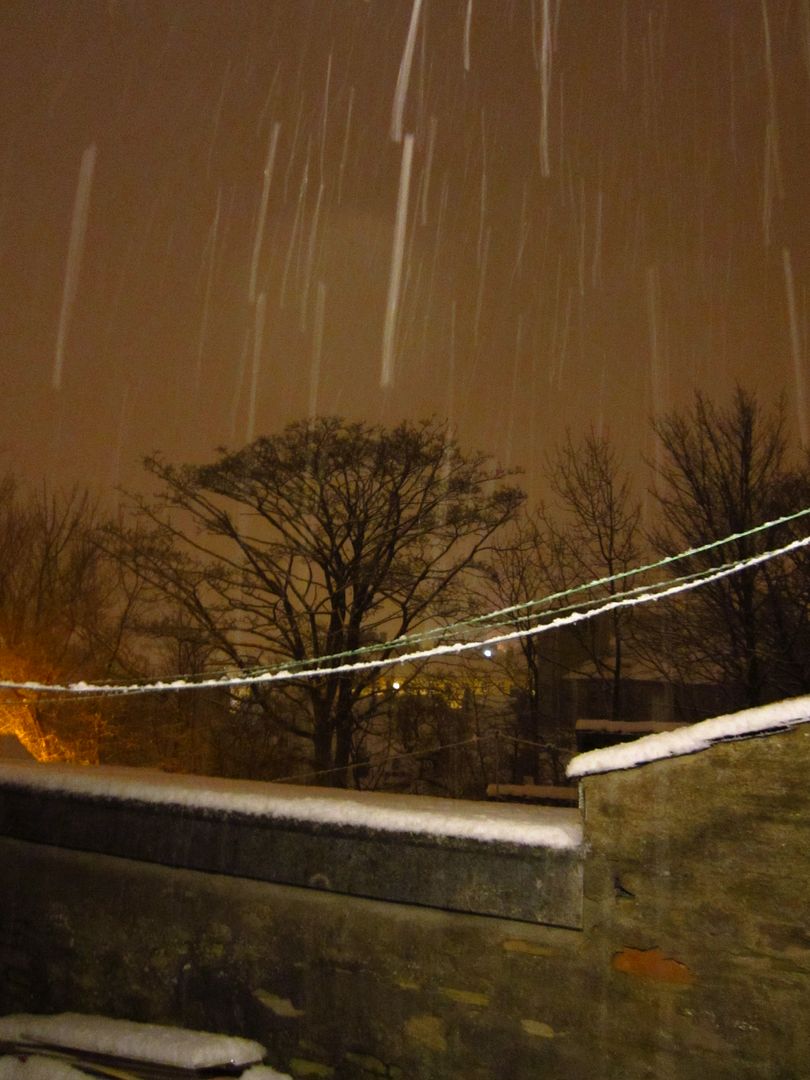 And of course this laid the way for the snowy sledging day on Sunday! (this is why I don't like to post out of sequence!)
There you have it: That's Wot I did at the Weekend.