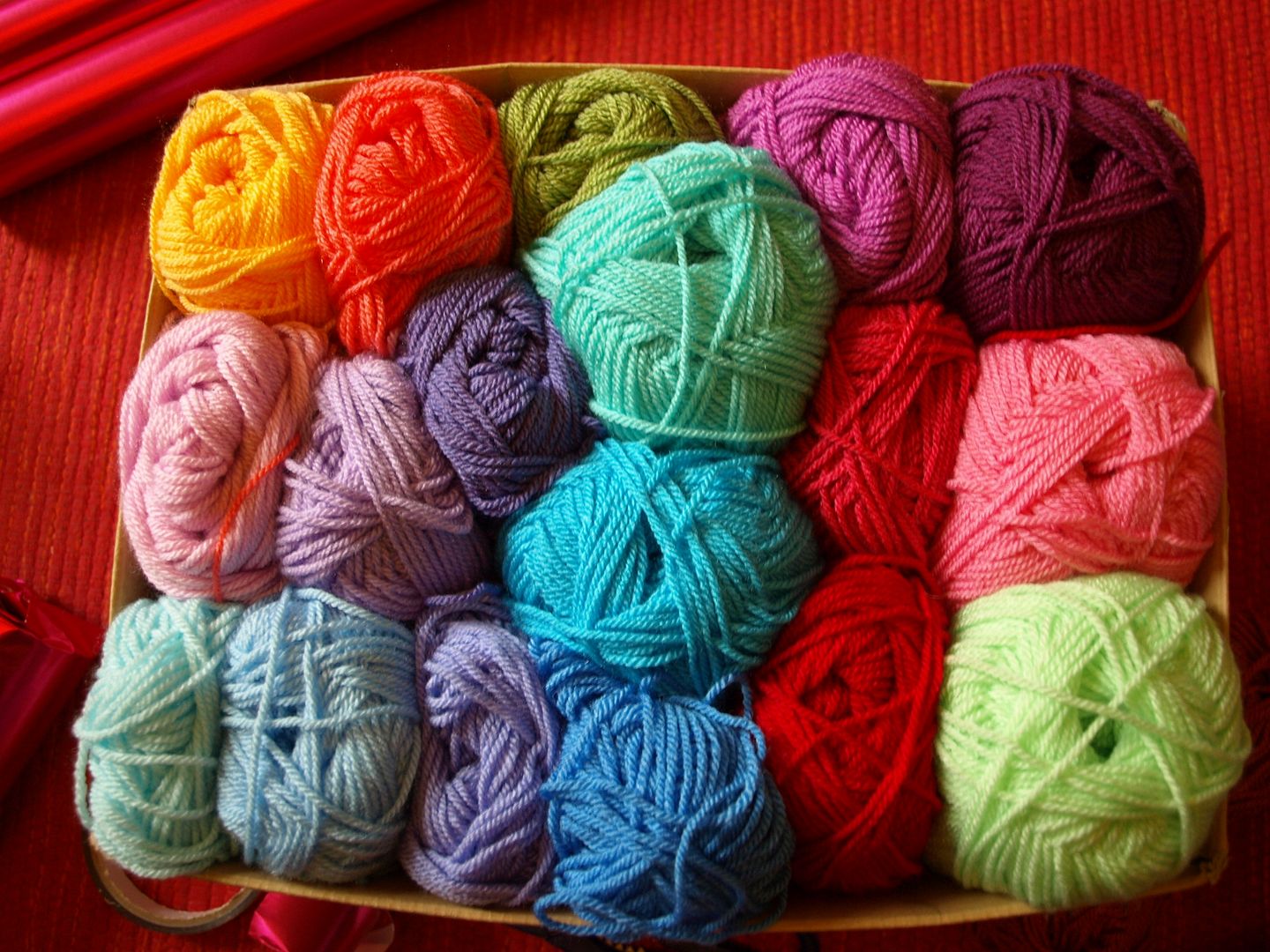 It started with a box of Stylecraft. I had thought that I needed to purchase another batch of Stylecraft for the impending baby blankets that I needed to make but when I had searched every corner of my home, I realised that I only needed to buy three new balls. Money saved! Fabulous. (I should point out that finding yarn in every bag/space/corner of our home is something that I enjoy, but is enjoyed less by Andy.)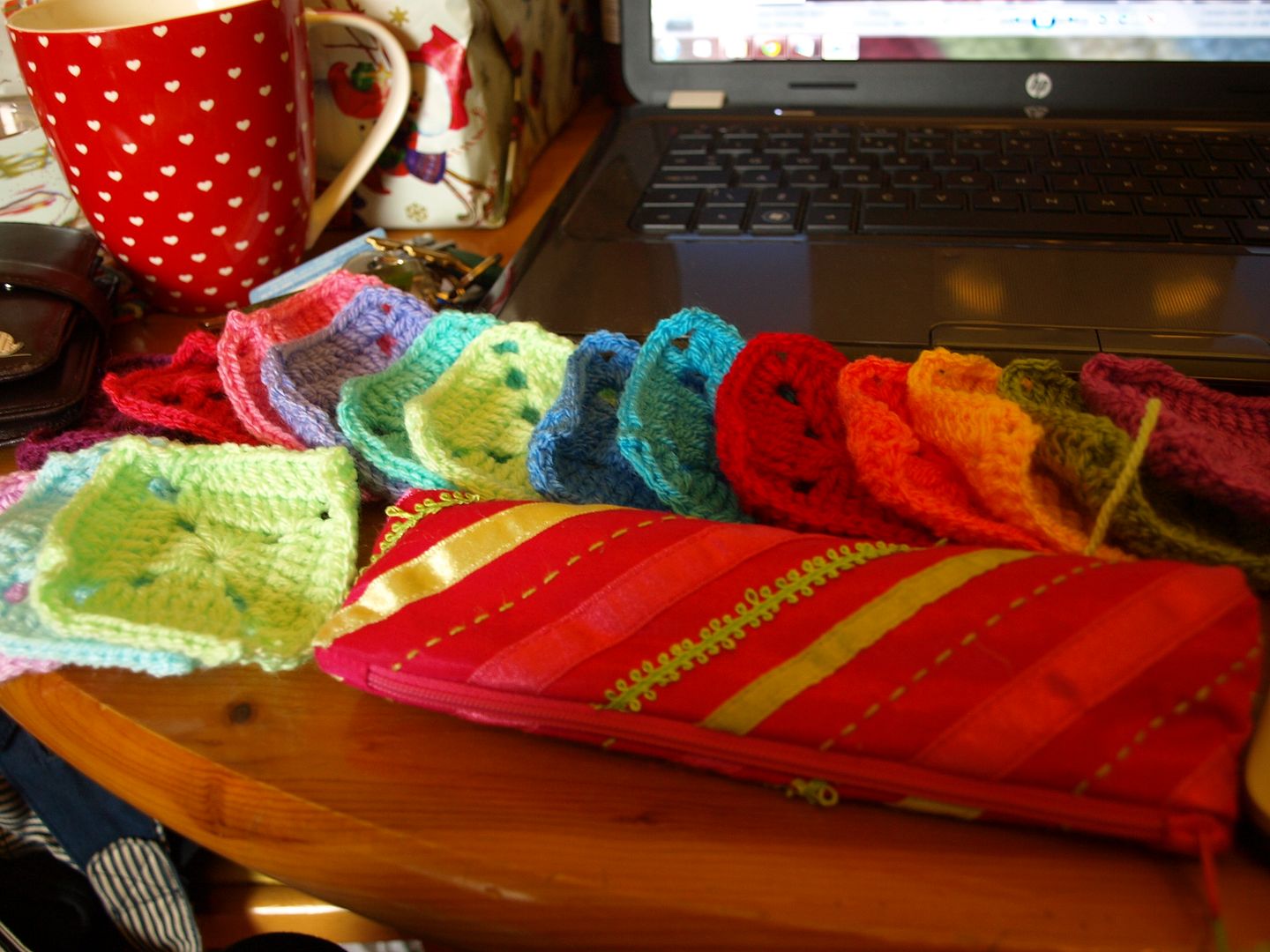 When I got up on the morning of December 17th, I knew exactly how I was going to make Jenny's baby blanket. I had been toying with the idea of making an Elmer blanket for a while, since seeing that she'd bought a little Elmer toy for the nursery. When I'd tried to translate his colours into yarn, however, I discovered that Elmer and his squares were incompatible with any yarn colours and whilst his squares looked good on him, I didn't feel that I could make a blanket out of the same colours and have it look good. With that in mind, I decided to be inspired by Elmer, but do my own thing with the colour choices. So, this is my Elmer-Inspired Baby Blanket.
Solid Squares are very therapeutic to make. I started churning out a few squares (sewing in both ends and trimming as I went) and then chucking them into my yarn bag. I didn't pay any attention to how many of each colour I had, when I got bored with one colour I'd just move on and make some out of another colour. When I had a decent amount of squares I laid them all out on the floor and arranged them a bit until they looked good, and started to sew them together. I LOVE crocheting squares together, it's one of my favourite things to do. Joining-as-you-go is good for instant gratification, but joining together afterwards is FAB. If you are going to use this method, I heavily suggest making all of your squares first and then join them all at once. So, take your first two and join them along one side, and then join the next two to that, and so on, until you have one long line of granny squares joined just along one side. Do this with all of your squares until you end up with five or six lines of "two squares joined together along one edge", and then start joining those together. Then when you have joined all of them (it will be flappy and holey by this point) join them all along the other way. THIS way, you only get a few ends to sew in.
The mistake I made was that I joined all my squares, and then realised that the blanket wasn't big enough and I had to add one short row and two long rows to my blanket.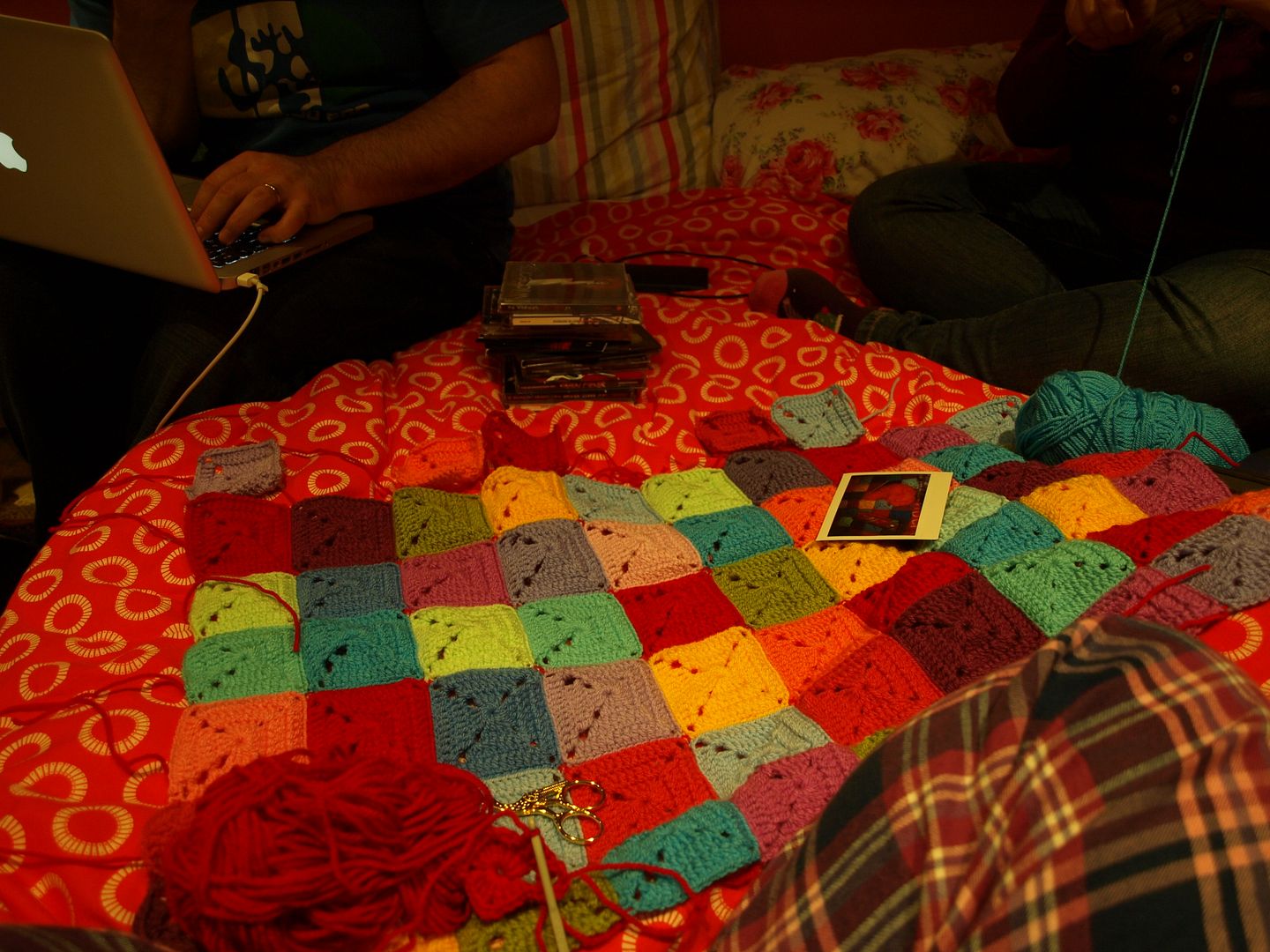 This photo makes me laugh. On Christmas Eve, my dad was visited by the Most Boring Man In The World (this seems to be a yearly thing). Having been trapped for aaaaaaaaages with him in the past, we were wise to this and when he knocked on the door this year, me, Andy and Rachel all scarpered into the bedroom and hid there until he had gone. This took a Long Time. I made lots of squares and tried to teach Rachel to crochet (top right corner.) Ha. He went eventually and we were free again!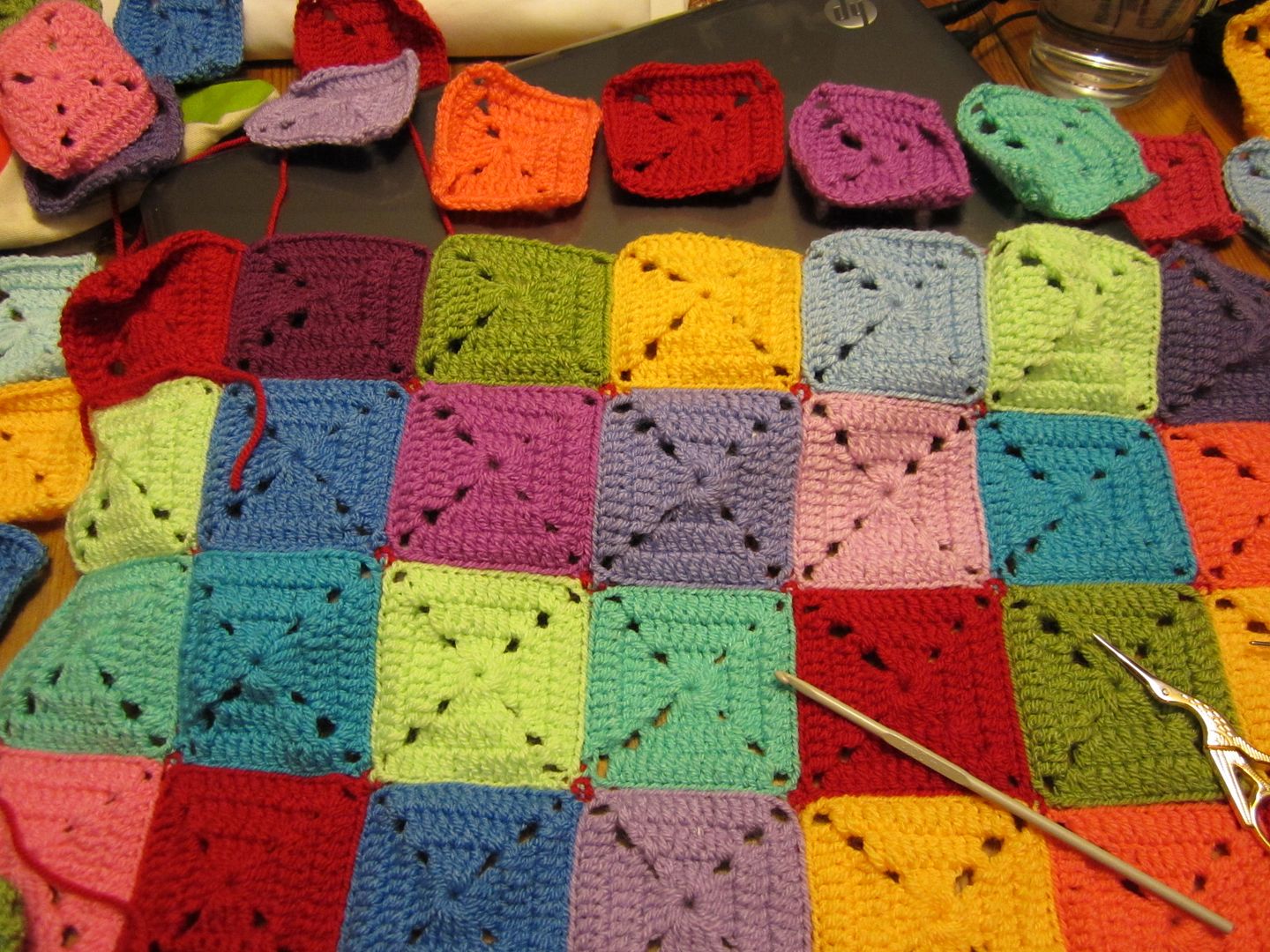 I made more squares on Christmas Day evening, sat in the dining room avoiding watching Doctor Who. (I know many of you will be fans of Doctor Who, but who's idea was it to show it on Christmas Day? It's a very long time to have to sit still and be quiet and NOT INTERRUPT THE TV on a day when you just want to chill out and laugh a lot with your family. Plus, it's really boring.)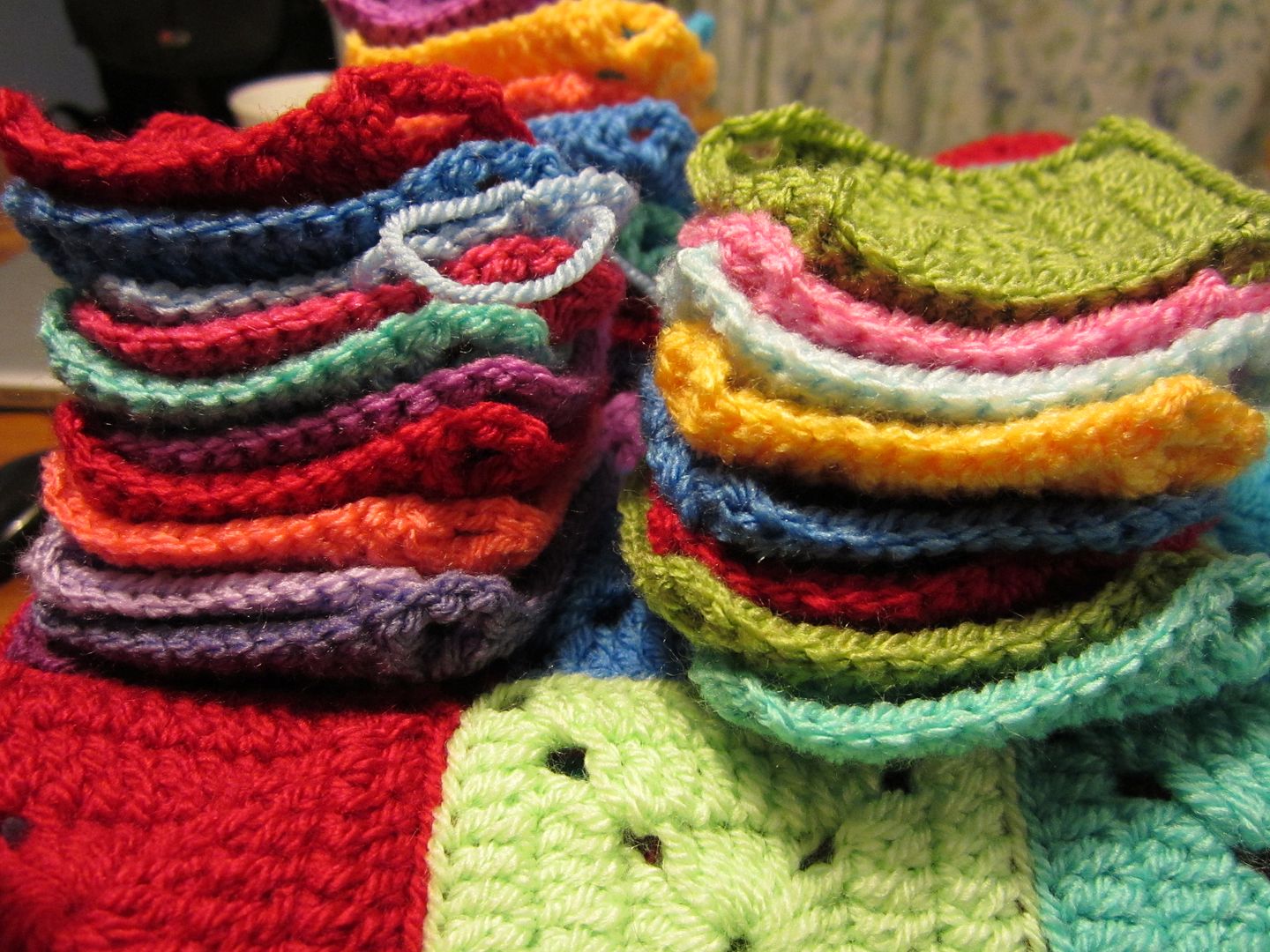 On Boxing Day, I took them to Grandma's house where I finished doing all the joining, with an unfamiliar hook because this was when my good hook was still missing. We found it later in a seldom used kitchen drawer where Andy had tidied it away to. I really have no idea why, and he doesn't remember doing it!
Ahh, all joined. Lovely! It's so blankety now, I love it. It was difficult to give this one away, I can tell you.
Definitely needed a border though, definitely. I'd joined all of the squares with red (Lipstick), and so the back of the blanket looked fab with all the red ridges. I went once around the whole blanket with the same red, using half treble stitches. I had to invent a stitch for this, you see where the two squares meet? Usually if I am working in treble stitches, I do 1TR in the first corner space, and then do a decrease (2TRtog) between the first and second corner spaces, and then another TR in the second corner space. I had to create a 2HTRtog stitch for this one! I don't know if it's a real stitch or not, but it did the job. Now, it's a bit hard to see in these photos but I then went round it with Aspen, and then Turquoise, both in half trebles. when I got to the corners, I didn't want to make it holey so I increased a little on each round to make the border solid. I love the effect.
I'm SO HAPPY with the way this blanket turned out. So happy. When I have a baby, I am going to make one of these for my pram. It's my favourite baby blanket that I've ever made.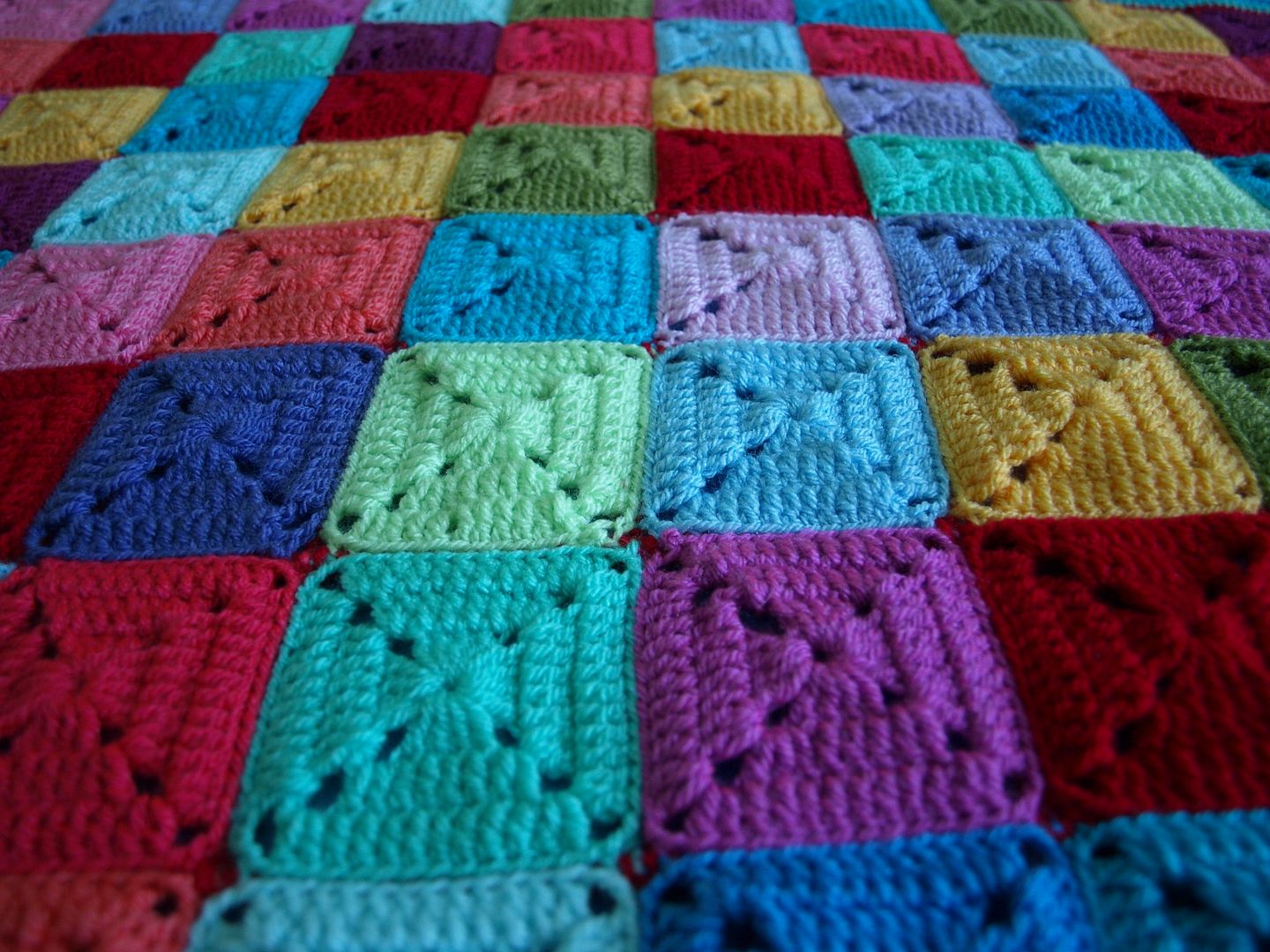 Look at the way the little holes line up! I'm telling you, I have a serious love for solid granny squares and the way their corner spaces line up.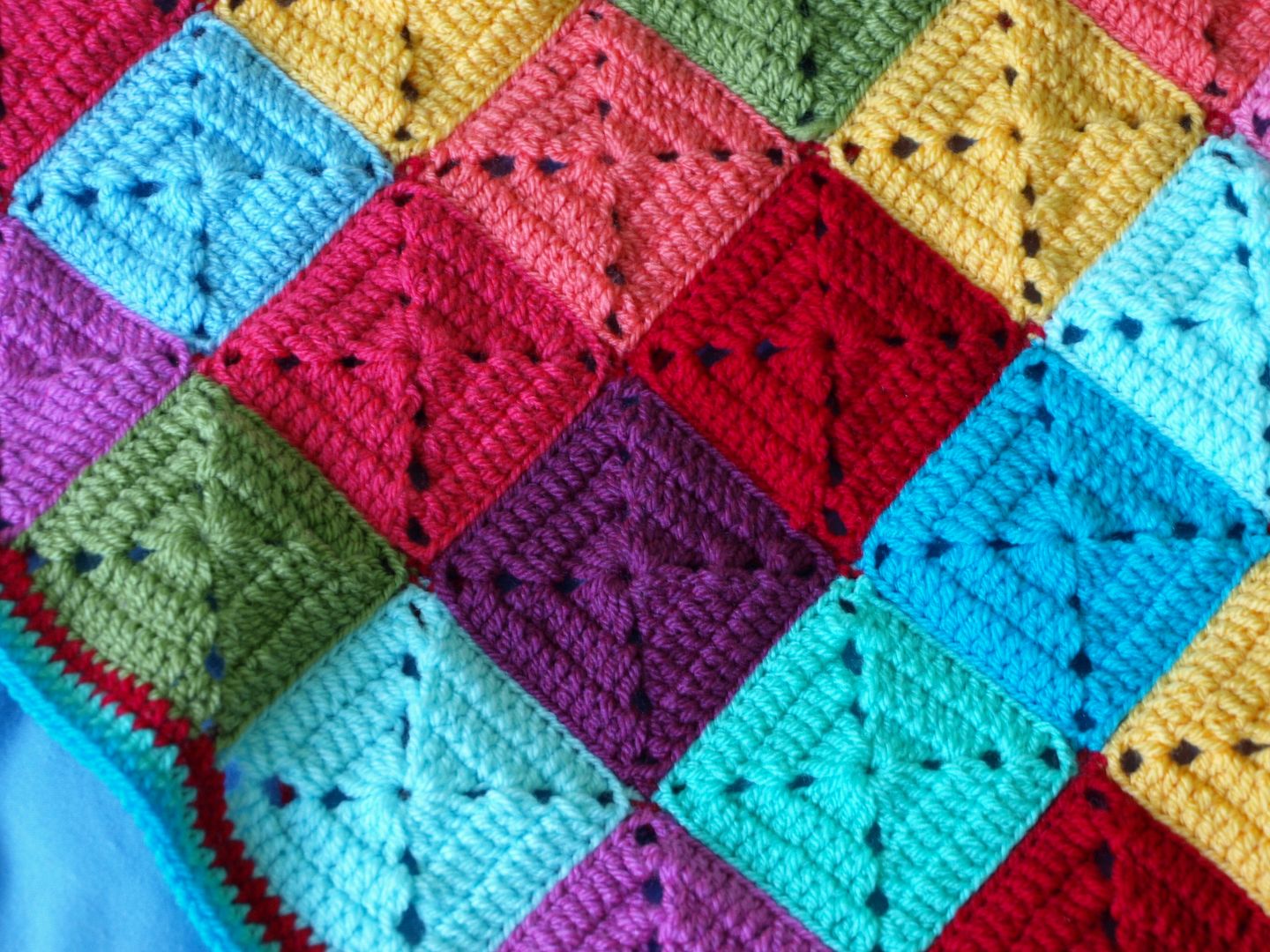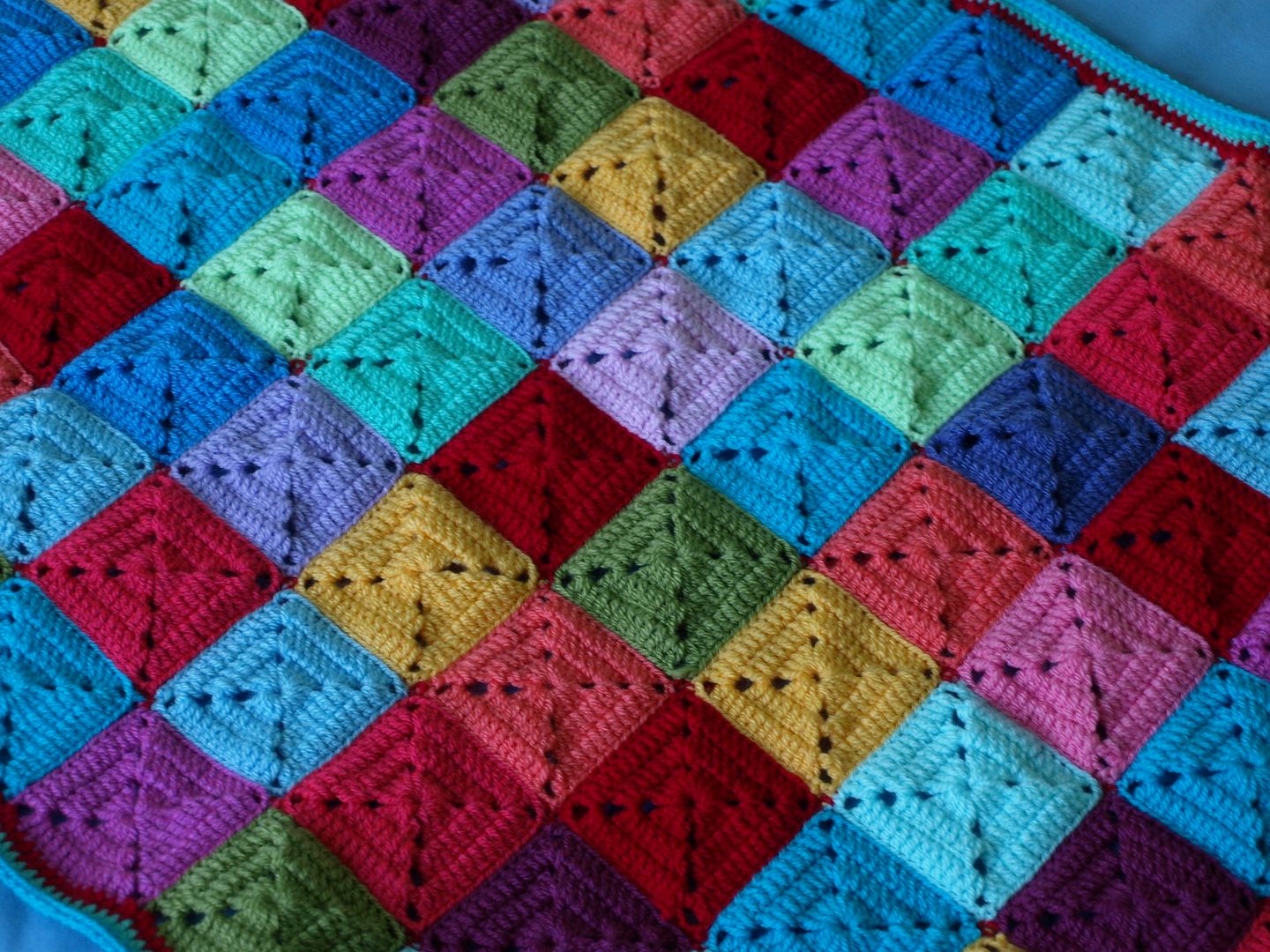 I took it home this week to get some daylight photos of it, as the light here has been unhelpful to say the least. Washing line to the rescue! I only took two photos because it was freezing cold (and I was meant to be packing.). Thinking about it now, (now I've looked at the time stamp on the photos) these were taken four hours before the baby was born. Aww!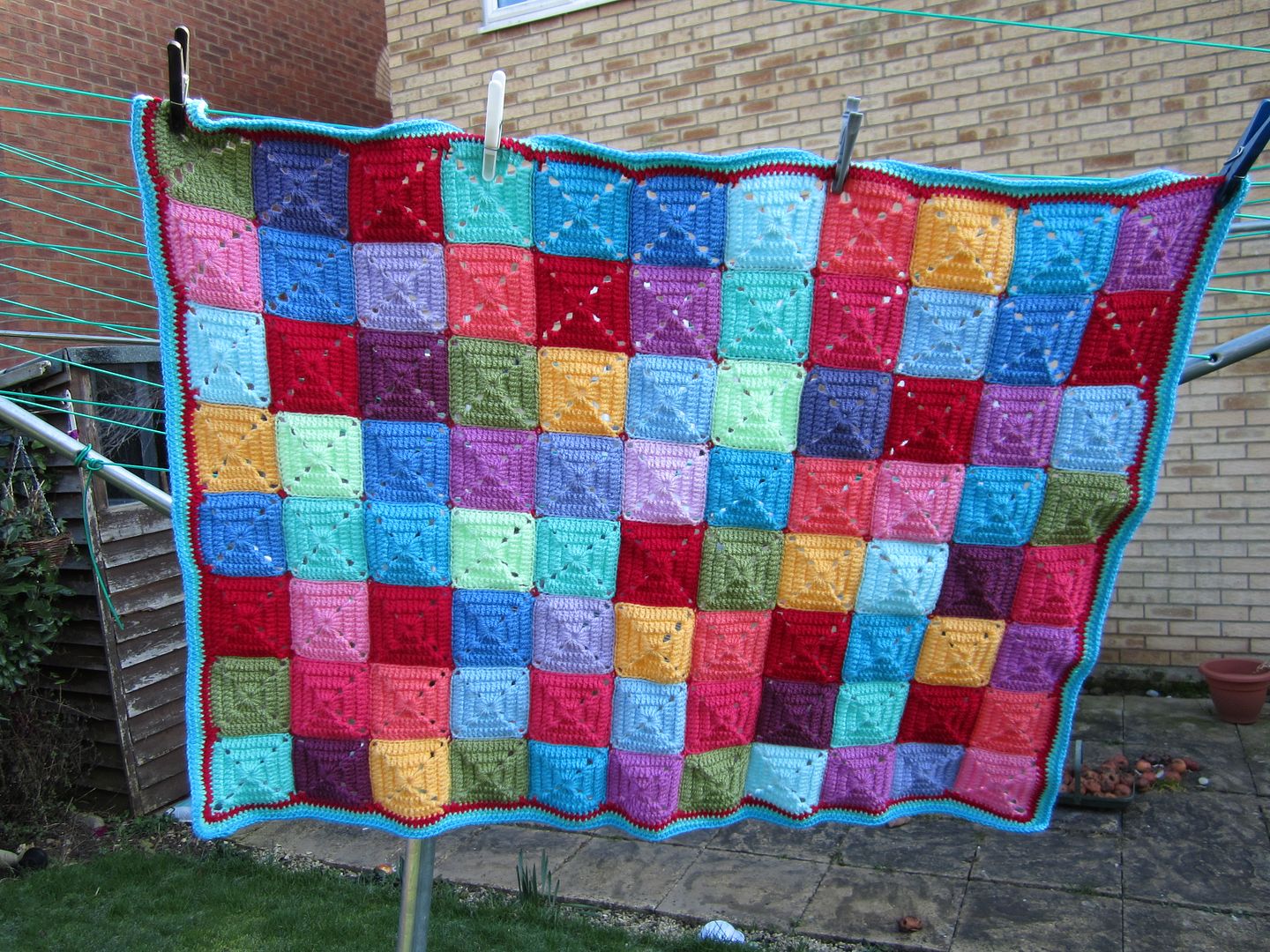 I think the back is just as wonderful as the front and I am taken with the idea that the one blanket has two different looks depending on which side. In future I may even do the joining on the front edge to leave the ridge there. I think that looks pretty.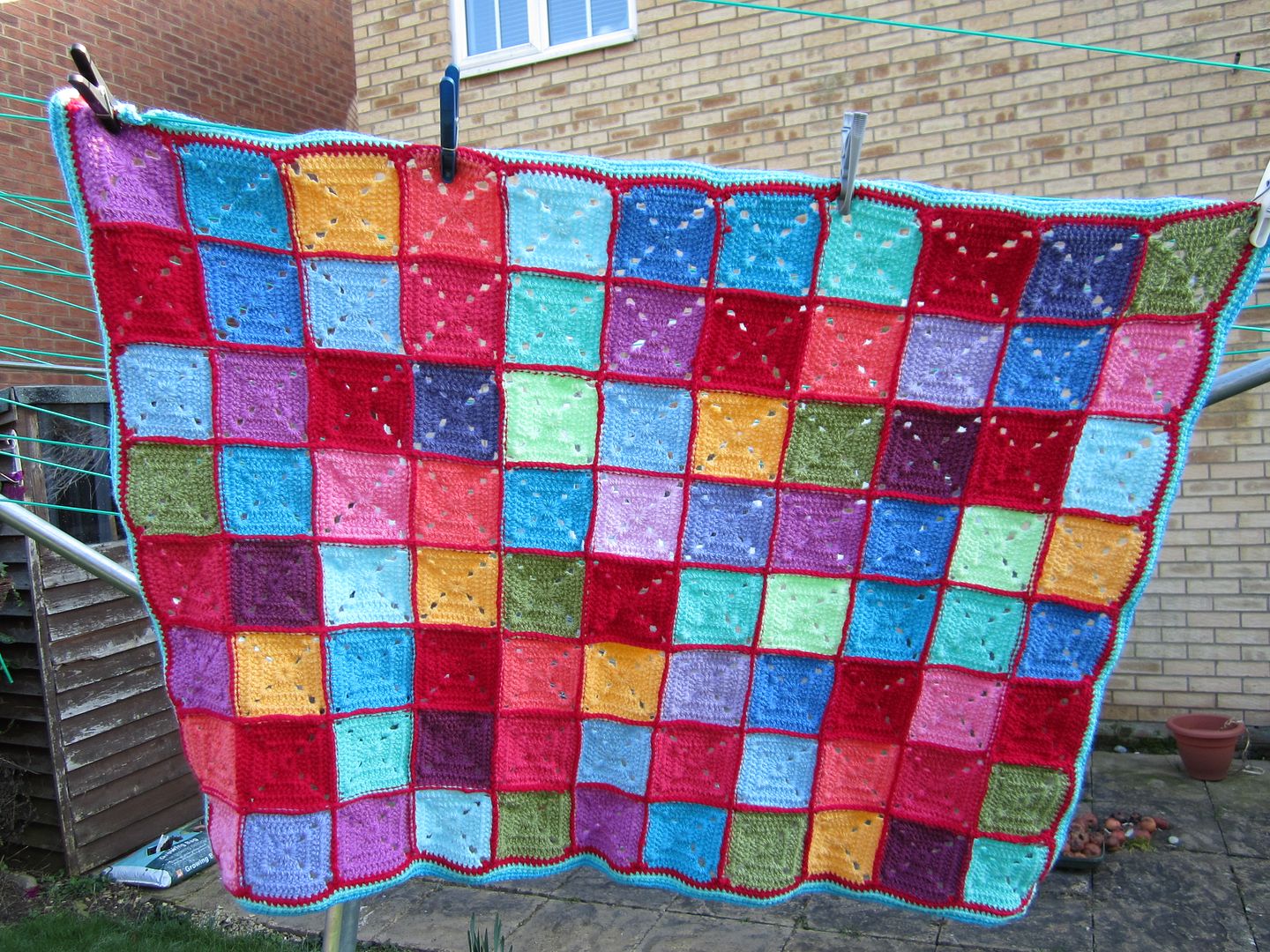 And the photo that makes it all worth while: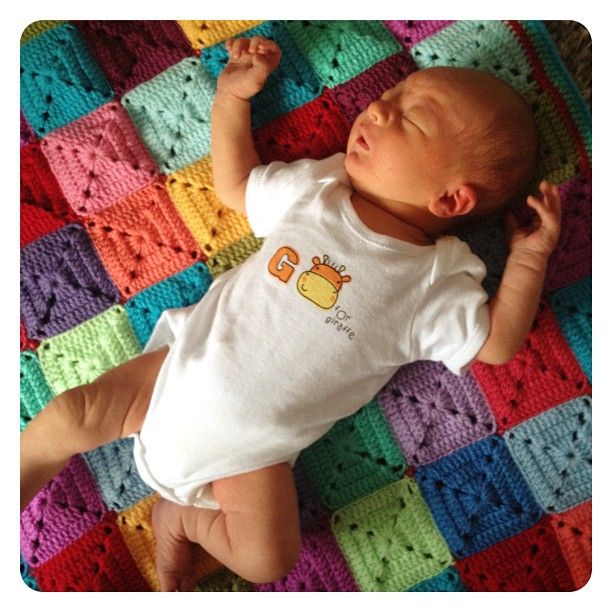 Baby Jack, two days old, chilling on my blanket :-) Congratulations and well done Jenny, he's gorgeous and I'm so proud of and happy for you.
:-)
xxxxxxxxxxxxxx
Blanket details:
I used Stylecraft Special dk in the following colours: Aspen, Aster, Cloud Blue, Sherbet, Spring Green, Meadow, Lipstick, Pomegranate, Clematis, Wisteria, Violet, Plum, Fondant, Shrimp, Lavender, Turquoise and Saffron. You can buy Stylecraft Special DK at Wool Warehouse (this is my affiliate link).
It took about two weeks to make all the squares and join them together, and then another week for me to sew in all the ends that were left over from joining. This would have been less if I hadn't had to add more squares.
The pattern is one that I made up in my head. I can't claim that it's my original idea, because it's a solid granny square and it's hardly a new idea. I did make up the way to make it on my own without reading anyone else's pattern. I still want to do a proper tutorial but I haven't had time to do this lately. If you are familiar with granny square making, the basics are as follows:
Chain 4 and join to make a ring.
Chain 6, and then work 4TR into the ring, chain 3 (this is for your corner), 4TR, chain 3, 4TR, chain three. Then work 3TR and slip stitch into the third chain of your initial chain 6.
For the next and any subsequent rounds, slip stitch or otherwise bring your yarn to the front (in the corner space), and chain 6. Work 2TR into that corner space, and then a TR into the top of each stitch. When you do your corners, work 2TR, chain 3, 2TR into the corner spaces. Once you've worked all the way around, work 1TR next to your chain 6, and then join into the 3rd chain of your initial chain 6.
I find it easier to have chain 3 spaces when it comes to joining granny squares, and they just make the square a bit squarer looking. Always start with a chain 6, this counts as your very last 1TR of your corner, and the chain 3 for the corner space. I find it neater this way.
After reading that, you will see why I need to update my "Solid Granny Square" pattern on the left of my blog! It's out of date and I've changed my method as I've become better at crochet.