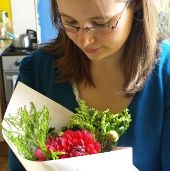 On January the First 2011 I posted a list of intentions that I wanted to achieve in that year. I feel that I have done well enough with this list (thanks to all the easy-hitters I put on it) to come back to it and review it. The intentions are in black, the reality is in red.
A List of Intentions for 2011
1. Blog on the first day of every month. FAIL! I'm not too bothered about that though, I prefer to blog when I feel like it instead of being told when I MUST blog. I thought it would help me blog more consistently but I have not suffered from blogger's block at all this year so it doesn't matter that this one failed.
2. Buy fresh flowers as much as possible, aiming for once a week. PASS! I am giving myself a pass for this one as I have had flowers or a flowering plant in the house almost every single day up until the 22nd December when we went away for Christmas. I have LOVED doing this so much! I haven't done it before 2011 but I am certainly doing it again. Who knew so much happiness could come from flowers?
3. Treat myself to something frippery every month, budget accordingly. PASS! Probably. I have certainly acquired a lot of fripperies this year, mostly in the form of yarn and mugs. (Hi Andy! When I say yarn and mugs I OF COURSE mean pipes and plasterboard.)
4. Plant pots in the garden. FAIL. This was a non starter really because the yard was full of bags of rubble until August and it's now full of skirting board. I'm moving this to my 2012 list even though I will probably have to balance the pots on top of the piles of skirting board. Again, I'm not too bothered about this one.
5. Finish the living room. FAIL! There has been a lorra lorra progress here though. It's a heck of a job, in hindsight it was an unrealistic intention to set.
6. Buy a sofa (this is dependent on #5) FAIL by default.
7. De-clutter as much as possible and be really ruthless about things that we don't need, or have been unused in boxes for a very long time. PASS! I have got rid of at least six big boxes of stuff, although I do have a big bag of stuff (and my old TV) to take to the charity shop still.
8. Go walking in the Dales more. SEMI-PASS! Well we've been to Bolton Abbey a few times, but we have climbed the hill here loads of times and done a lot of local walking so even though we're not technically in the Dales I'm giving us a semi-pass on this one. (I'm a glass half full kind of person.)
9. Make a cashmerino blanket. SEMI-PASS! It's a gorgeous, smooshy, stripy, ripply work in progress. Ooooh yeah.
10. Knit an item. PASS! PASS PASS PASS! OMG PASS! You have no idea how GOOD it feels to say "PASS" here! This is the intention that I thought I would not be able to do but I have successfully made TWO pairs of little mitts! I know they are simple but that does not matter, they are KNITTED, FINISHED, ITEMS!
11. Create a crochet pattern. PASS! I have created two flower patterns but I have not yet written them up for my blog.
12. Bake things! PASS! I have baked cakes, biscuits, tiffin and salt dough and other things when I've visited my mum. I don't bake much really because it's expensive and unhealthy to eat the results.
13. Experiment with cooking (and reduce portion size at the same time…) PASS! Portion sizes sorted. I've "invented" about 4 dishes that we enjoy this year, and am now the person who makes the best potato wedges in the whole world. True story.
14. Get a haircut. PASS! I have had TWO haircuts, go me.
15. Buy new pillowcases. PASS! I loved this intention and actually passed it three times. Aren't I good?
16. Finish my hexagon blanket. PASS! Ok so the ends are sticking out and there is no border but that's good enough for me.
17. Finish all the half made cushions that I have started. PASS! Heh, I didn't even consciously pass this one but thinking about it now I have finished the rainbow stripe one, the round one and the summer garden one as well as making three or four other ones. Gosh I'm getting good at this.
18. Go for a picnic. FAIL. I don't like picnics. We did eat outside a few times but I don't think that counts.
19. Have a bash at thrifting. PASS. I'm not sure what I meant by this one? If I meant "go and buy second hand tat treasures and bring them home then yeah I've passed and I have lots of little glass bottles (this will turn into a 2012 intention, to DO SOMETHING with them!) and child books from my childhood to prove it. Oh and a Cornishware pot :)
20. Get the roof fixed. FAIL. Still leaking. Got a paint tray under the kitchen roof though. Not sure what's up with the main roof so can't comment there.
21. Paint our bedroom (this is dependent on #20) FAIL. Desperate to paint it now though, am fed up of manky green colour.
22. Try to feel more grown up. You'll be 25 this year, Heather. 25. Grow up. PASS! This isn't really measurable except in terms of how I feel but I do feel like I've caught myself up a bit which is good.
23. Go to the dentist. PASS! Got the filling and the direct debit to prove it.
24. Go to the opticians. FAIL! Could not afford it after the dentist. Moved to 2012 list.
25. Get new glasses. FAIL by default of number 24. Have been instructed by younger sister to purchase new glasses though so I had better follow through on this ;-)
26. Take better care of self. PASS!
27. Buy lots of fun socks and throw away all the holey ones. PASS! I don't remember doing this consciously but I don't have any holey socks now so I must have done it.
28. Make pastry from scratch. FAIL. Didn't fit with the "it's unhealthy" thing. Not worried about failing this one.
29. Go and see live music (perhaps Slow Club when they play York.) PASS! This year we have seen Ginger's Acoustic Tour, Jackdaw4, Being 747 and Ginger & Friends Electric Tour. All of which were SUPERB! Definitely putting this on the 2012 list although as Ginger isn't touring in 2012 I'm crossing my fingers that Jackdaw4 are.
30. Visit the seaside. PASS! I have visited Eype. Go me.
31. Read a new book every month. FAIL. I'd rather be crocheting and I can't read and crochet at the same time. Actually thinking about it, I have read a lot of new books this year (mostly John Grishams on my lunch breaks) but I don't think I could stretch that to being a new one every month.
32. Brave the manual setting on my camera at some point. PASS! I did indeed brave the manual settings on my camera at some point. And then changed it back to Auto because I'm lazy. (Ok so that's a bit of a cheating pass. Hey I never said I had to stick with it on manual!)
33. Get guinea pigs :-) <<<<< I'm really looking forward to this one! FAIL! We got rabbits. So that's a PASS really ;-)
34. My BIGGEST crafty intention is to learn to use my sewing machine. I have had it for two years and this is the first time I've had a table for it to go on, hurrah! I can't wait. Haha, FAIL! I did not use it after January. I had far too many things to crochet and there are only so many hours in the day.
I've never made a list of goals before, I am looking forward to seeing how many I can accomplish. Of course the big one that should be in there but isn't is to Lose Weight, nobody else is going to lose it for me are they? Still can't quite pluck up the courage to do so, even though I know I'll feel better for doing it. I suppose this comes under both "grow up" and "take better care of self". But that's not really what this blog is about. I prefer to think of it more as the buying pillowcases and flowers type of blog. PASS! I'm not a skinny minnie I am a skinnIER minny than I was and have certainly made progress here. I have the new pyjamas and dresses to prove it :-) I'm still not going to be blogging about it though, suffice to say that yes, I have lost weight this year.
I make that 12 FAILS and 2 SEMI-PASSES out of a list of 35 items. I think that's pretty good. I am working on my list of 2012 Intentions at the moment and will share that on here when I've finished it. I've enjoyed doing this though, I'm glad that I didn't do it as "resolutions" but "intentions" has been really fun. Especially the ones like buying pillowcases!
What are your 2012 intentions? How did you do with your 2011 list, if you made one?