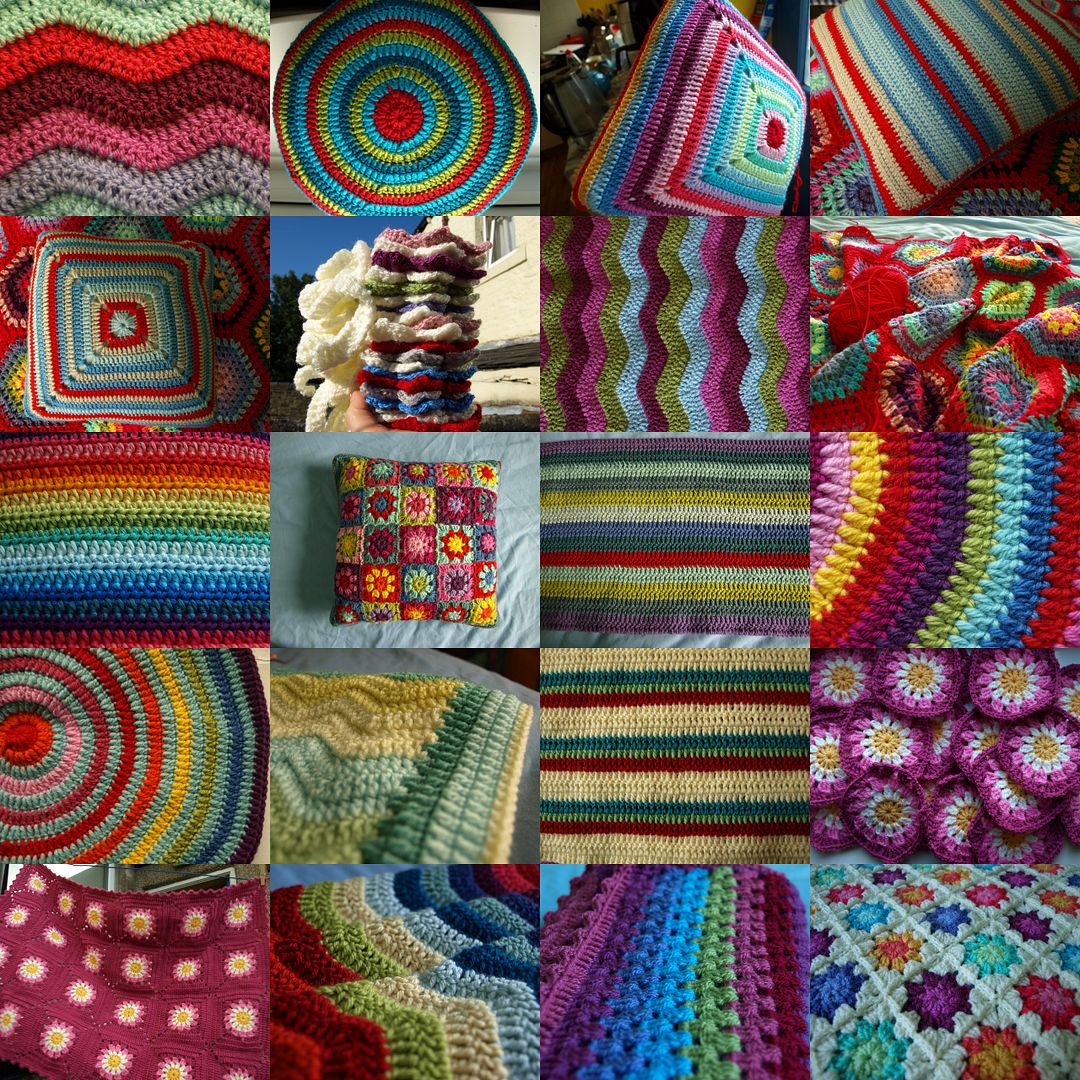 It's been a busy year for crochet! I was looking though my photo albums (I have them sorted by month) and was surprised that I didn't make any finished objects until about March time. I think I wasted a lot of time on the hexagon blanket and I got a lot more done when I put it into hibernation and stopped worrying about it. I don't regret making it (even though it is still technically unfinished) because I gave it to my mum and she love it, which makes me feel good.
I do have another finished object and an almost finished object that I can't share yet as they are gifts for people who read here. I might count them in next year's tally!
So … in the mosaic above we have (L-R and then down):
Rosie Ripple :: First Round Cushion :: Cushion-f0r-a-friend-at-work-who-has-now-left :: Striped Nautical cushion for Rachel's birthday::
Square Nautical cushion for Rachel's birthday :: Flower bunting x 2 (red, blue, white set still available to buy, email if interested) :: Phoebe Ripple :: Hexagon Blanket
Rainbow Cotton Cushion :: Summer Garden Cushion :: Rialto blanket (WIP) :: Round Cushion
Round Cushion again (other side) :: Blanket Story Blanket :: Baby F Blanket :: Pink Daisies Blanket
Pink Daisies Blanket again :: Ripple-along Ripple (WIP) :: Granny Stripe for Auntie Joan :: Rosie's Tea Party Blanket
PHEW!
On the agenda for 2012:
(if I declare it here, I must get them finished)
Ripple-along Ripple MUST get finished
Baby blanket 1 (for Jenny)
Baby blanket 2 (for my cousin, due in April)
Baby blanket 3 (for mine and Andy's friends J&L, due in May)
Andy's Rialto blanket
That is just the minimum I would like to achieve but I don't want to plan it out too much as it takes the fun out of it. I have a lot of yarn to use up though, and a head that is BURSTING with ideas!
xxxxx