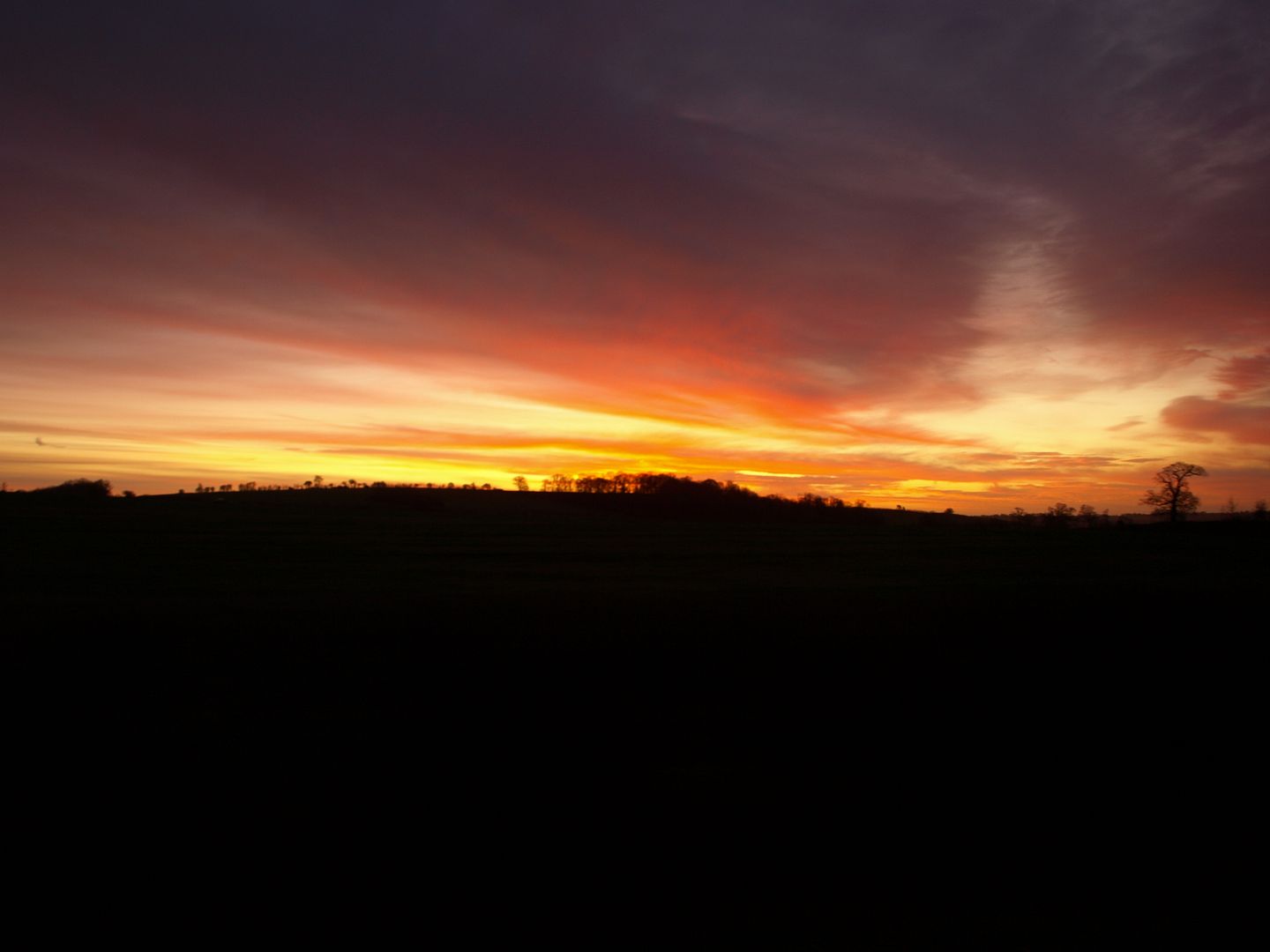 A flaming sunrise on Christmas Eve is not a sight that I had anticipated seeing this year. We (me, my mum and Rachel) raced the sunrise into Banbury for a "New Tradition" of coffee and breakfast, and a bit of a wander around town before coming back home to initiate the ritual of Decorating The Christmas Tree.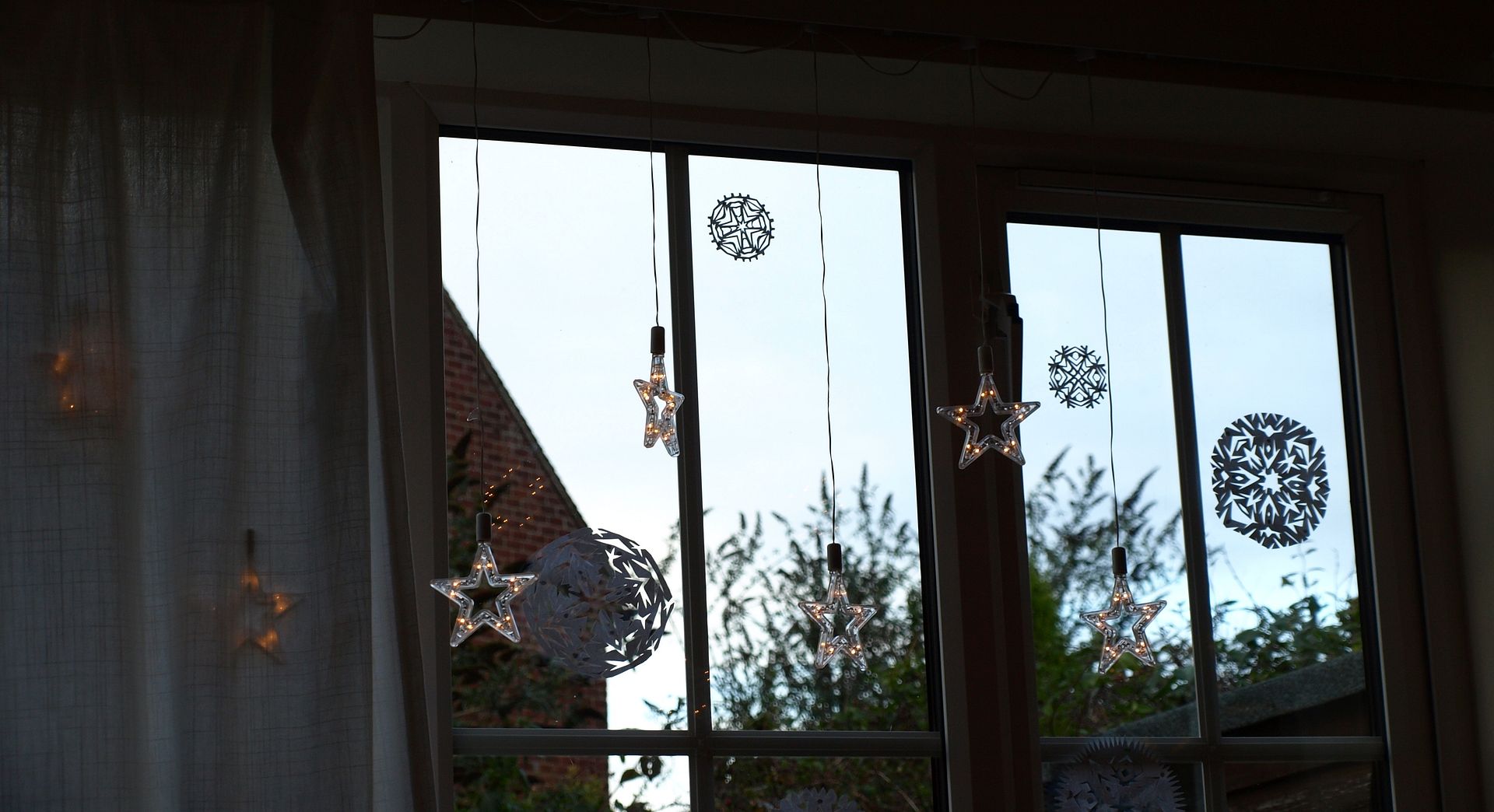 In our family, the tree is always a real one and it is always decorated on Christmas Eve. I remember that we always begged and begged to be allowed to decorate it sooner but our stompy feet and whiny cries were always denied and a Christmas Eve tradition it remained. It has to be said, there is nothing, nothing like the feeling of calm, contemplation and anticipation that you get when you sit in the living room with just the tree lights on, gazing at the tree and knowing right through to your bones that Christmas Day is TOMORROW. One year we did decorate it on the 23rd and it just was not the same. I know I did my tiny little tree here in my house last weekend but its not the same because I don't consider it to be a "real" Christmas Tree and we left to travel home on the 22nd. I hope to continue the Christmas Eve decorating tradition in the future.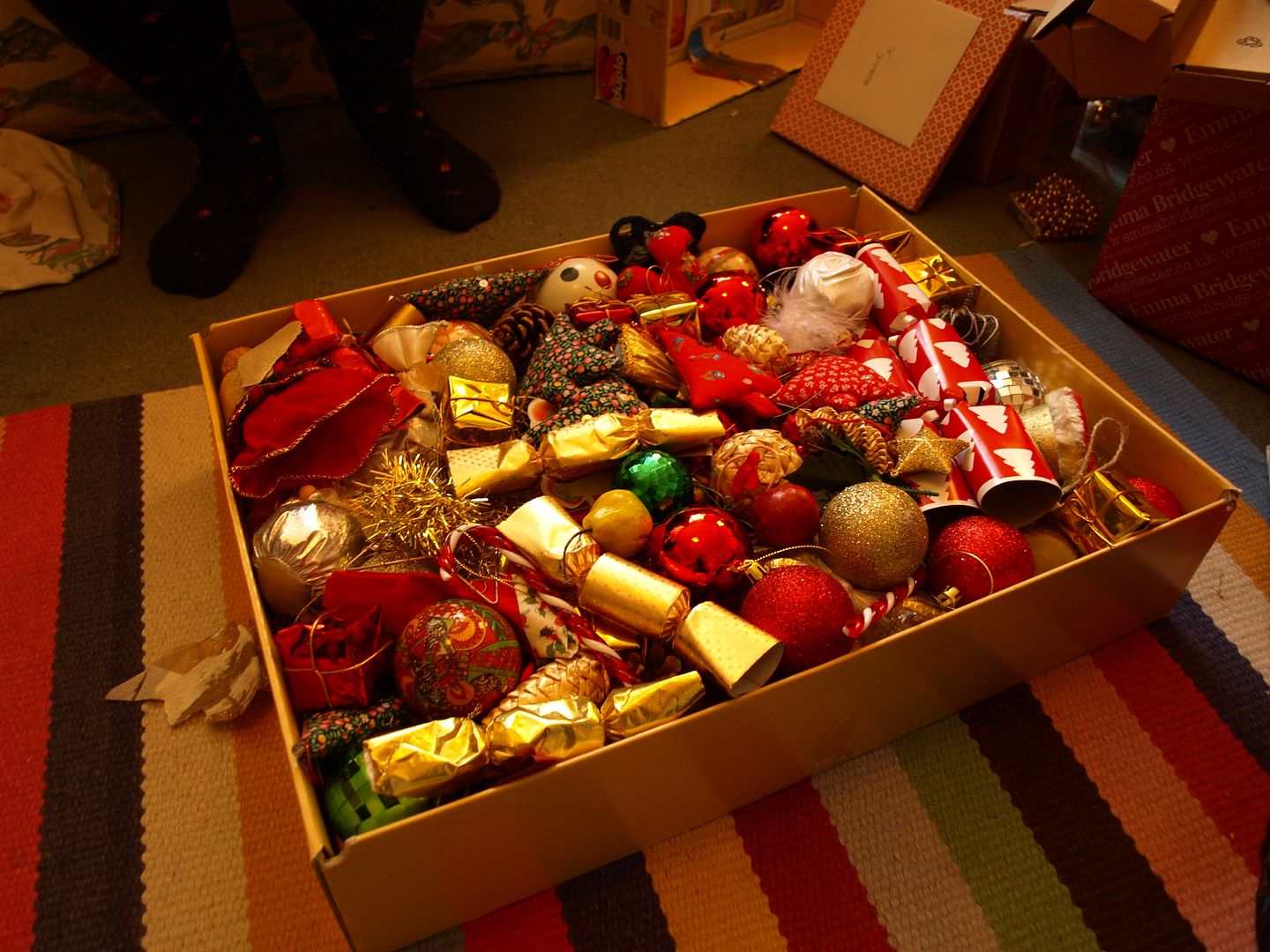 The lights always go on first. We do one set of coloured lights and one set of white; I like the ones with petals on them because they look bigger and brighter on the tree. Next are the decorations; it's always a bit of a free for all at this point although the four of us have become kinder and better behaved over the years ;-) All our tree decorations are stored in this big yellow box. It's the box from the Duplo Zoo that one of us (can't remember who) got given for Christmas when we were tiny. The decorations are Just Right: they all have memories attached to them and barely any of them match. We're all very sentimental about them.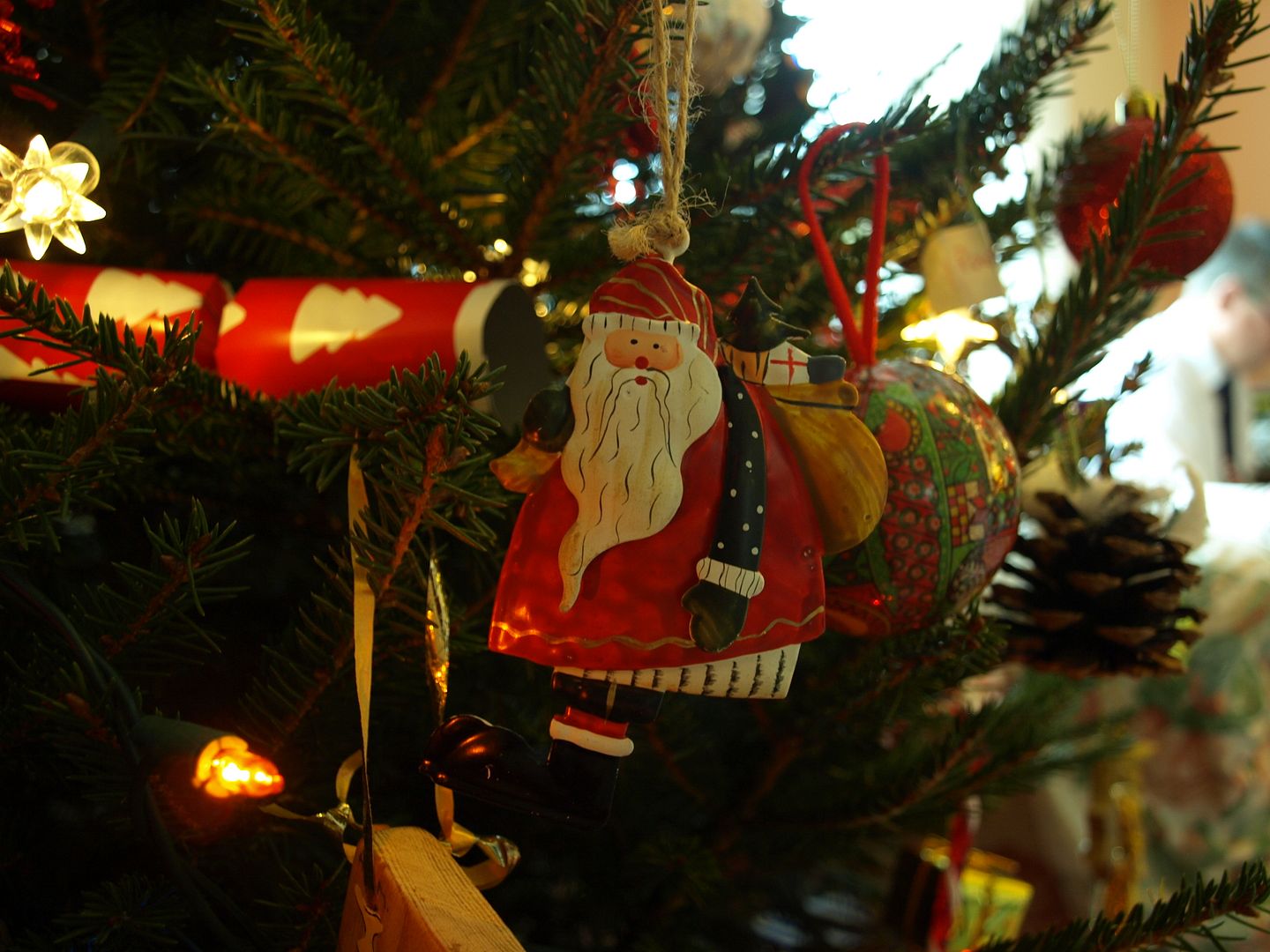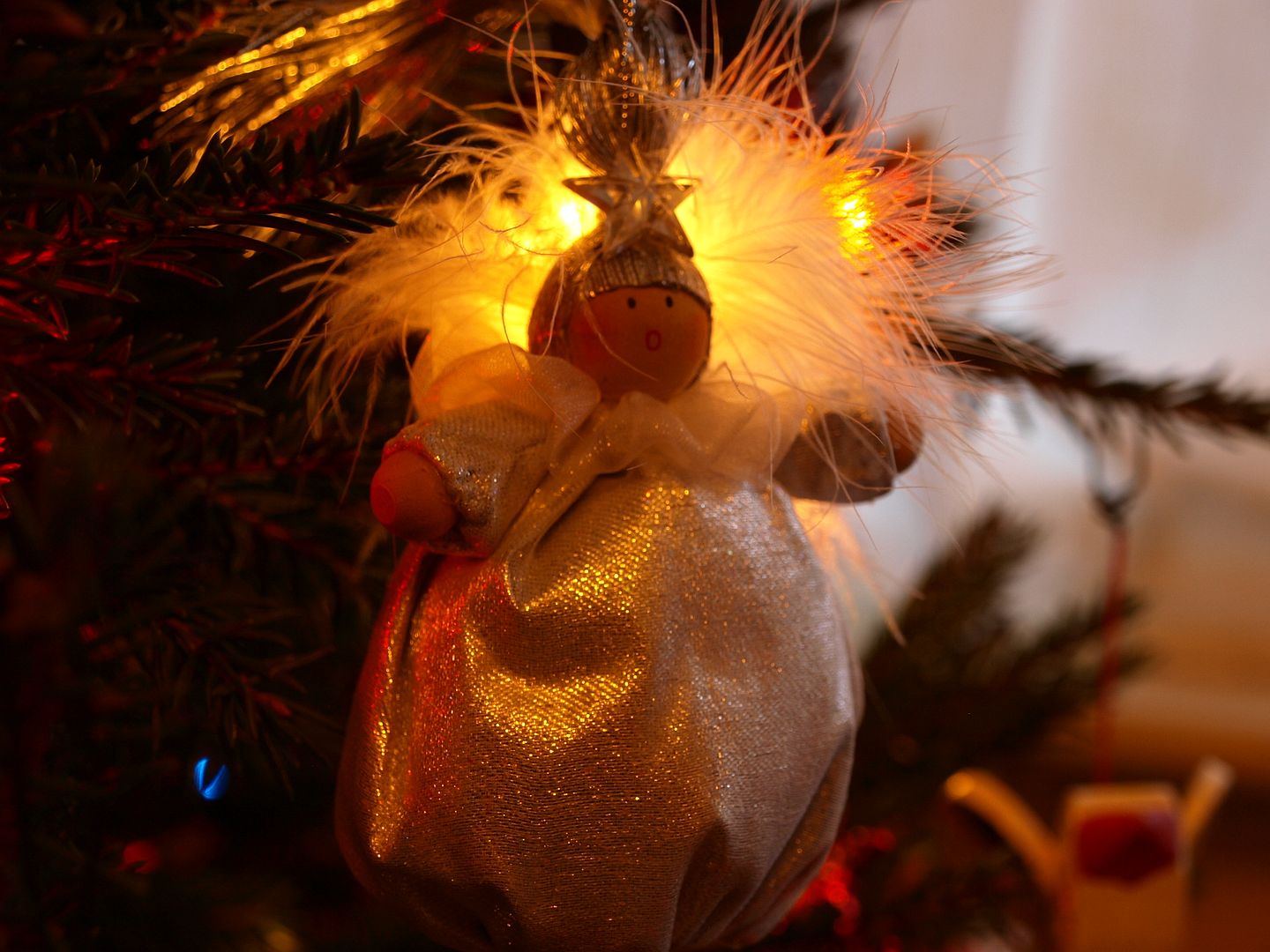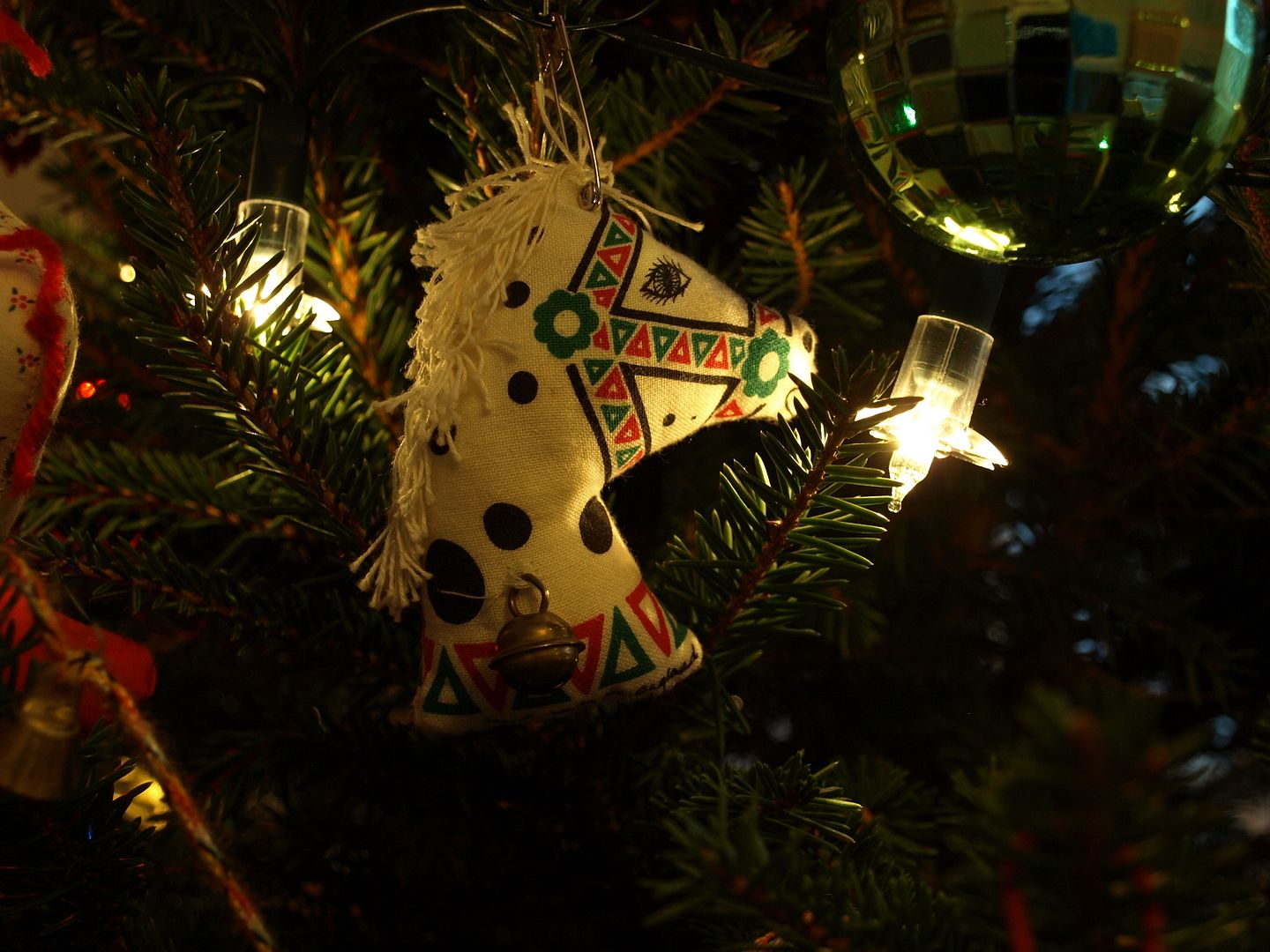 Rachel's favourites are the Fat Angels, and my favourite is Domino the horse. I picked him out at a craft fair when I was about 3 years old; I remember it to this day and he was the only one with a bell on.
Pretty soon the tree is groaning with decorations and we're all pointing out to Andy (who is so not bothered) ones that we made at school and ones that were seemingly stolen from other children at school: one says ALICE on the back but bizarrely there is one the same that says KAYLEIGH. What a thief!
We listened to Nine Lessons in Carols while we decorated the tree, it was all-round lovely. Later that night I took some photos of the tree with just the tree lights on. I played about with the tripod and setting my camera on a long exposure and then twisting the lens to zoom out at the same time. I love it!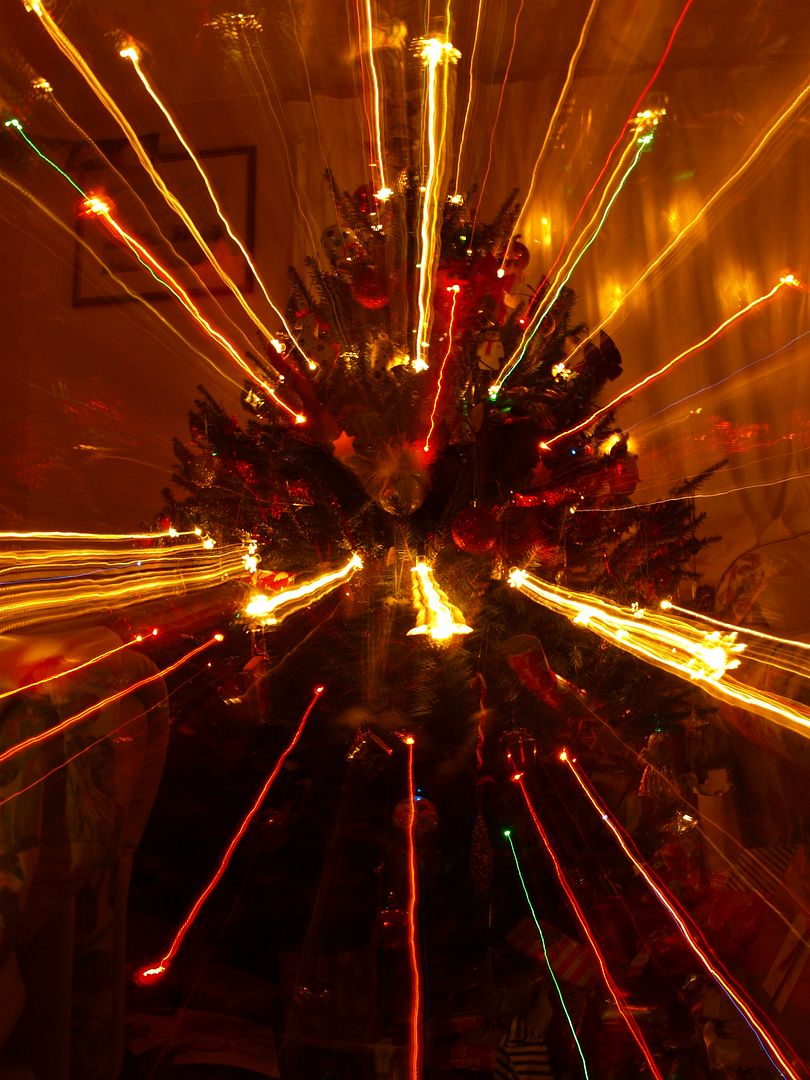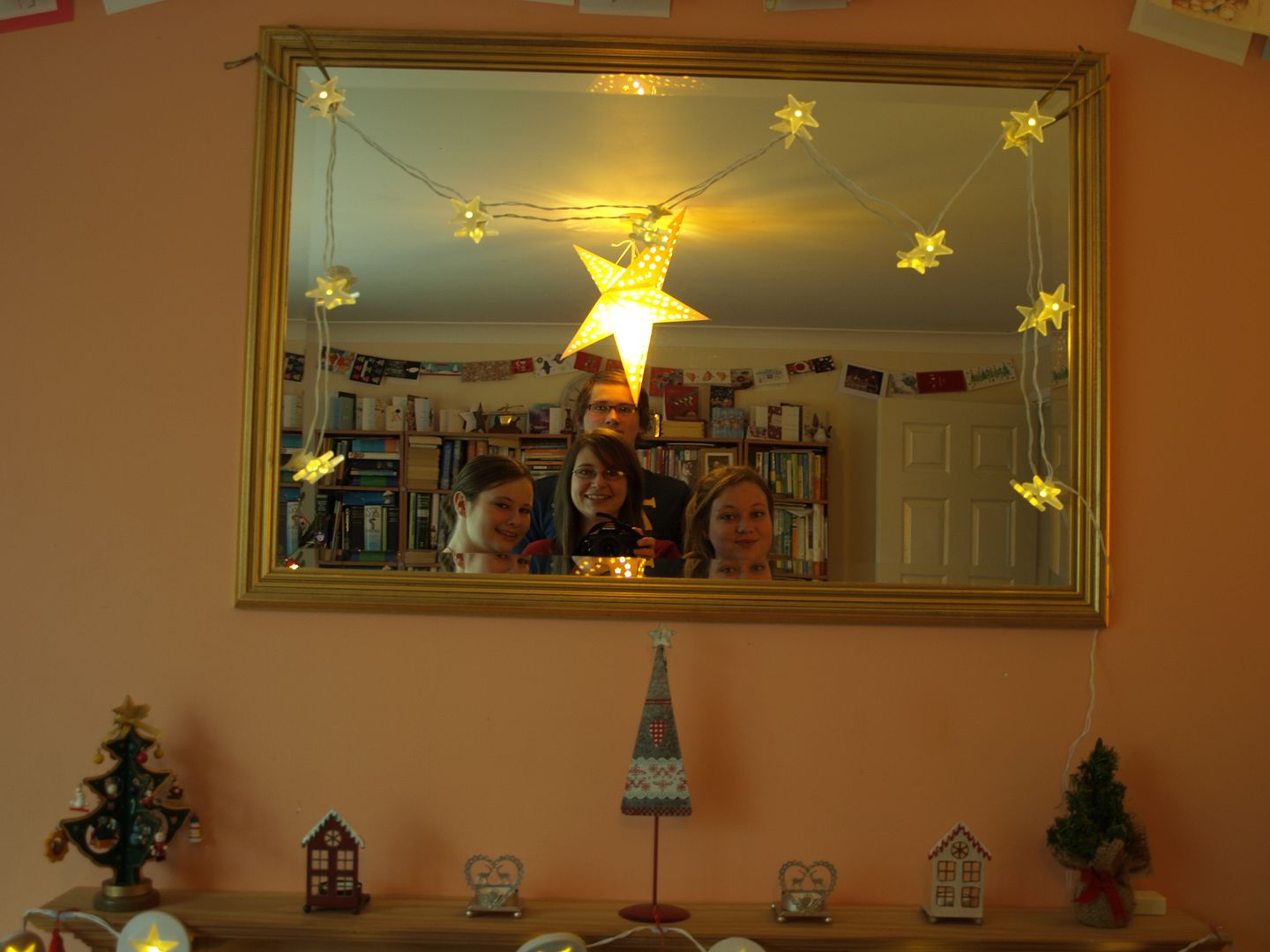 A new mirror in the living room means lots of daft photos :)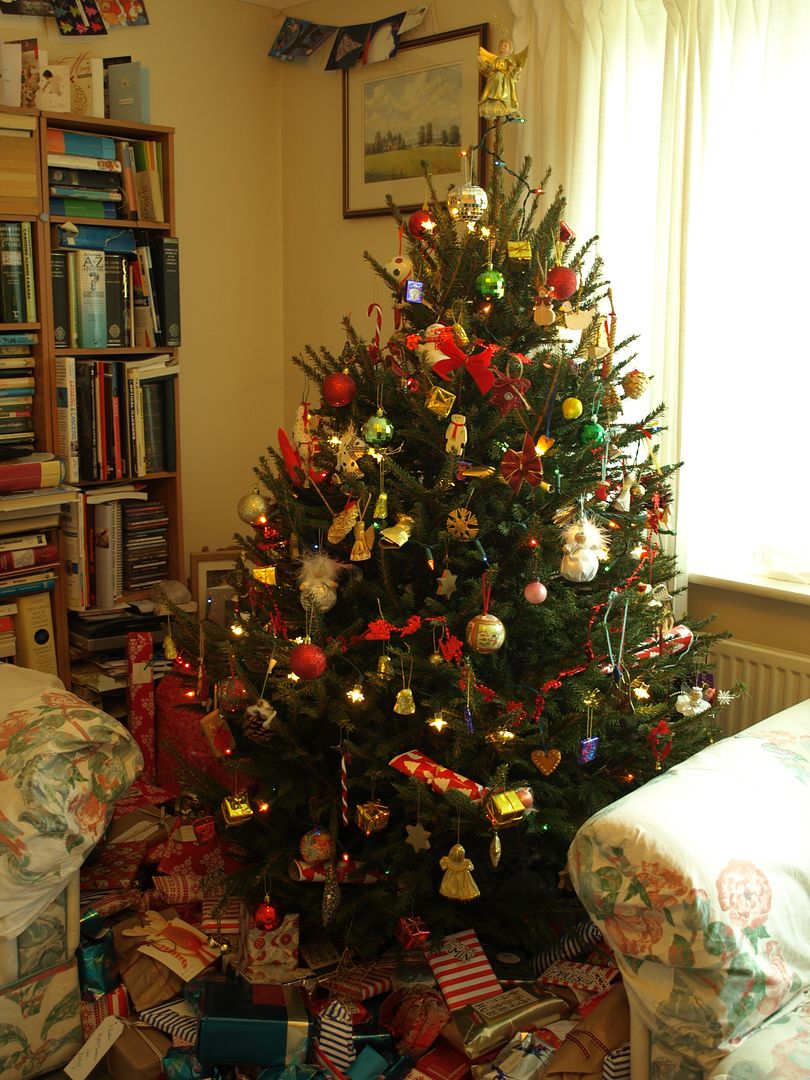 Here is the tree on Christmas morning. Eeeeee there were so many presents this year! We were all very generous to each other. I love to give gifts and am far more likely to spend money on other people than I am on myself.
I find other people's Christmas gift giving traditions interesting. When I was a child it never occurred to me that other people would believe different things about Father Christmas, or would open all their presents in one huge go first thing in the morning. We always had a lovely big stocking full of small gifts: these were from Father Christmas and we could have these as soon as we woke up (they were left, full, outside our bedroom doors) and we were expected to stay upstairs and remain occupied with our stockings until probably about 7am although I'm sure we beat our parents into allowing us downstairs before then sometimes. Typically the first one of us to wake would go and wake our siblings up too and then we'd cram onto one of our beds and compare stockings. Then at a reasonable time (HA!) we'd go and show our parents what Father Christmas had brought us. They were always thrilled, having JUST seen these things a few hours before …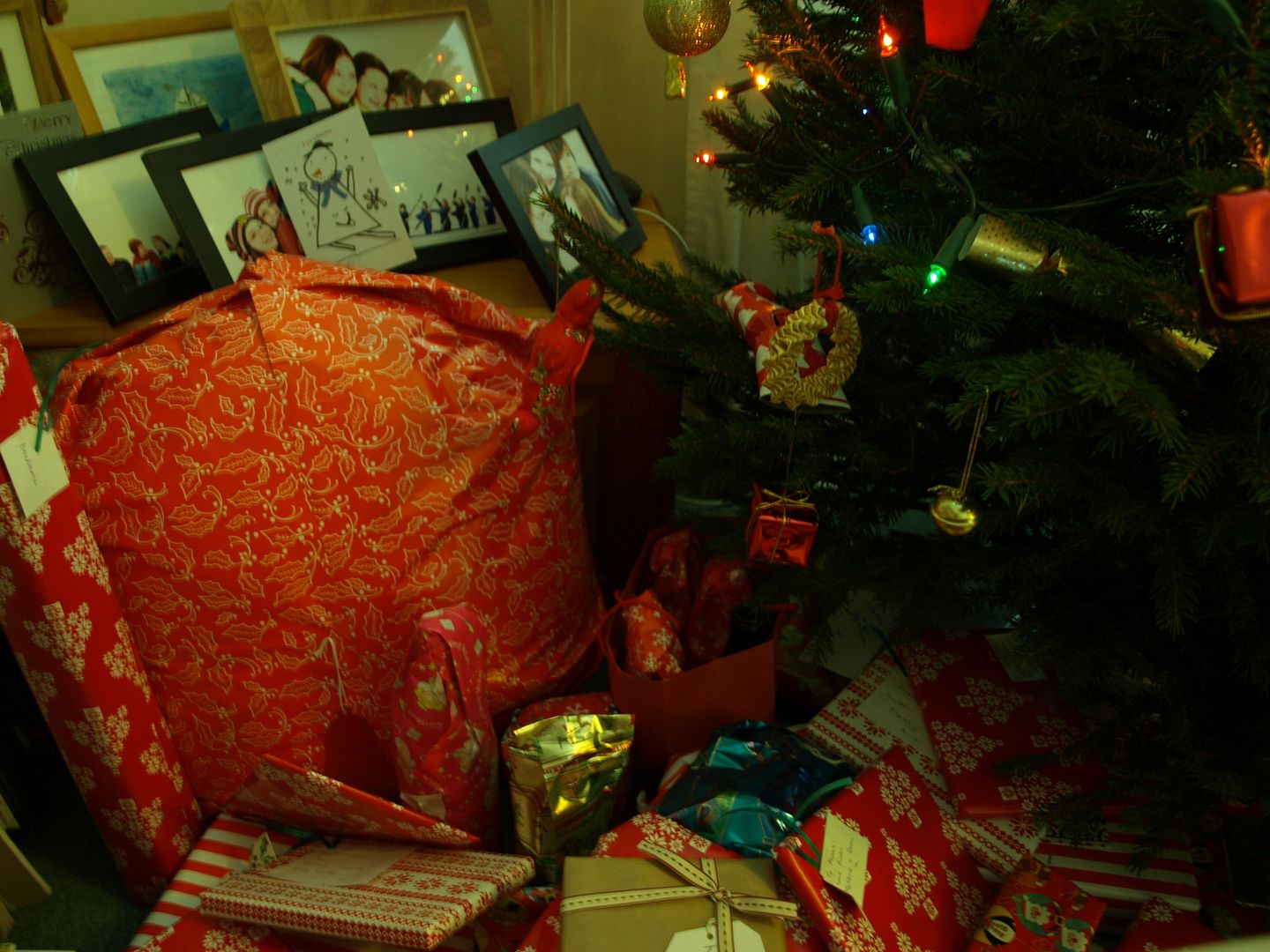 After being allowed downstairs for the first time we'd burst into the living room and exclaim at all the gifts under the tree. Our parents put out the presents after we'd gone to bed on Christmas Eve. These presents were always from parents/family, never from Father Christmas (just the stockings were from Father Christmas.) Then there'd be some rummaging to see who had the biggest present. (This year my mum won the biggest present contest with that big, round, cushion shaped one. One year I won though when I got a chair bed.)
We weren't allowed to open any presents until my dad came downstairs and he seemed to fully enjoy this and take as long as he possibly could to come downstairs. Meanwhile we were all desperate to open presents and my mum used to have to beat us into submission with croissants and a film until we shut up and left her be so that she could cook the lunch. We'd open about three things each in the mornings, and my grandma would arrive about 11 and then we could open lots more.
This year, Alice and Rachel went to collect Grandma and so me and Patch had a sneaky game of 100 pin bowling on the Wii.
It's very mild weather at the moment, so much so that there were four roses blooming in the garden. Patch and my dad were sent outside to fetch these roses. Yes, they are wielding a rake to do so!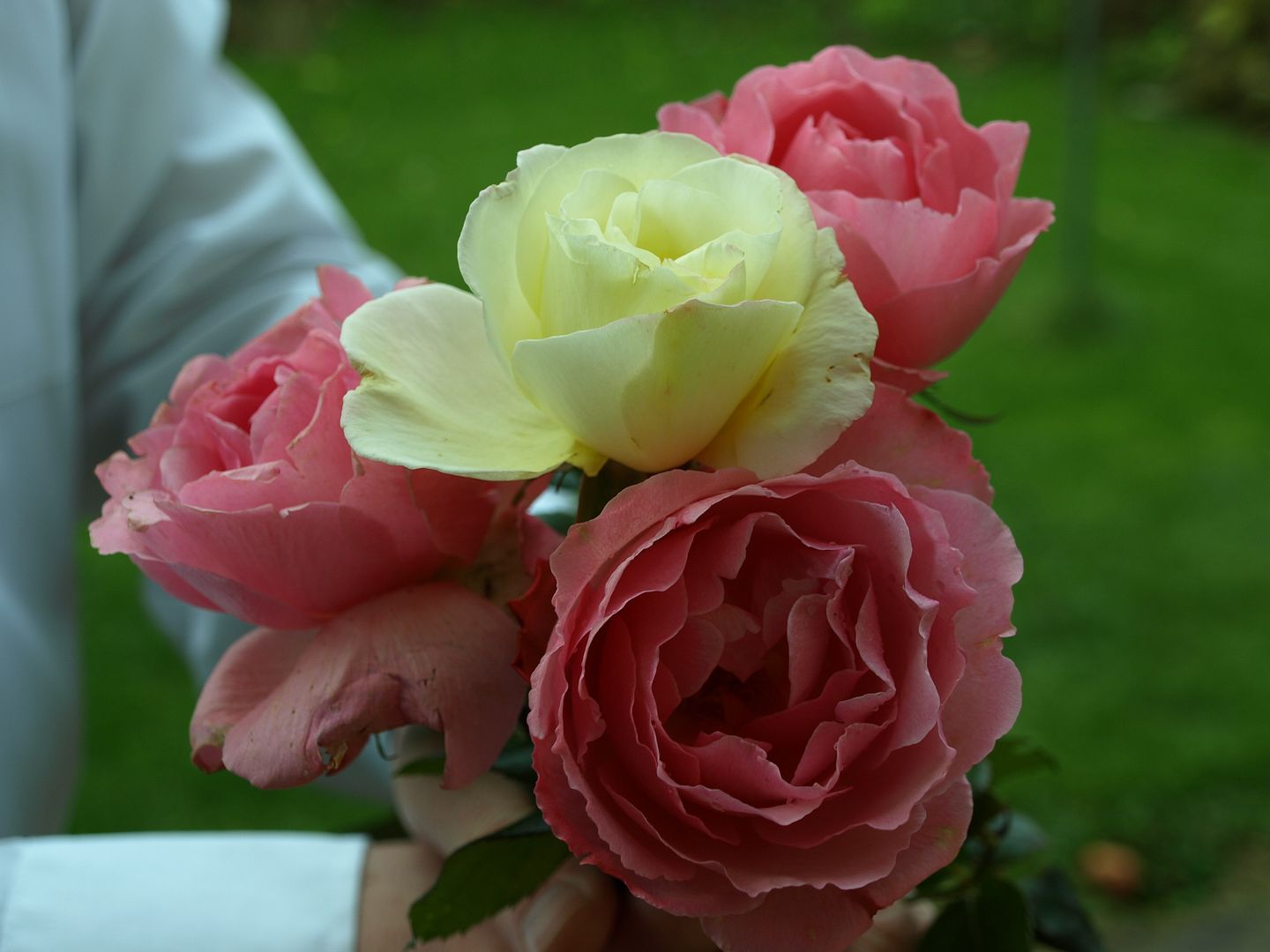 Can you believe it? Roses, picked from the garden, on Christmas Day?
I always get socks in my stocking and I always like to wear them on Christmas Day. This year's socks are a rather fetching snowflake-y fair isle type, lovely.
Alice got a yo-yo and was a bit disappointed when she discovered she was too short for it and it kept hitting the ground. Patch found her a solution though!
To a certain extent now we choose some of our Christmas presents. Grandma gave me some Rialto yarn this year and it was lovely to do some hooking on Christmas day. I did have to buy another hook on Christmas Eve though when I realised that I'd left my 5mm hook by my bed at home. That was not the only hook related drama as Andy, for some reason, tidied my best 4mm hook away into a seldom-opened kitchen drawer and we all spent a whole (frustrating) day looking for it. Found it now though!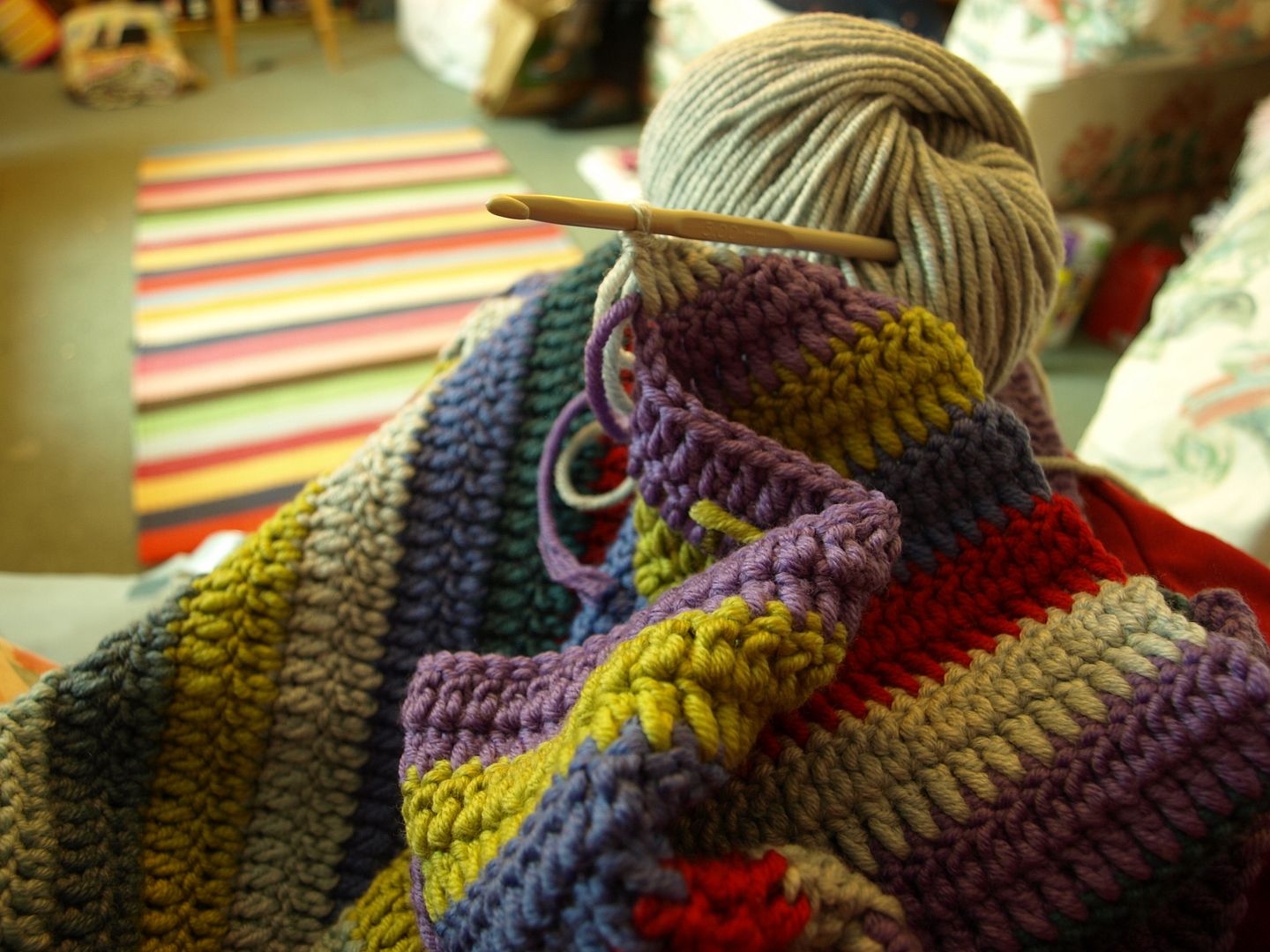 Andy surprised my mum by buying her a bottle of Moet as a present. This made her very happy, and also a little bit tiddly which is always good for a laugh. This time it resulted in gigantic Yorkshire puddings, but that was very ok by all of us!
It was a bit of a Bridgewater Christmas: I gave Rachel a mug, and I got given a mug from my mum (above) and two side plates from her too. Andy gave me a mug as well, and he got given a bowl and a side plate by my Grandma. I am dropping hints about building a dresser into the alcoves in our dining room now!
Speaking of Bridgewater and dressers, Rachel tidied up my mum's dresser and would like me to share it:
It's tricky to photograph but it looks lovely and she's pleased with it.
There were Betty-cuddles on Christmas Day night, she's turning into a right porker but is not as chunky as Treacle is!
On Boxing Day we go to Grandma's house for another lunch and some lounging around time. We took a few instax photos, but not as many as I'd imagined we'd take.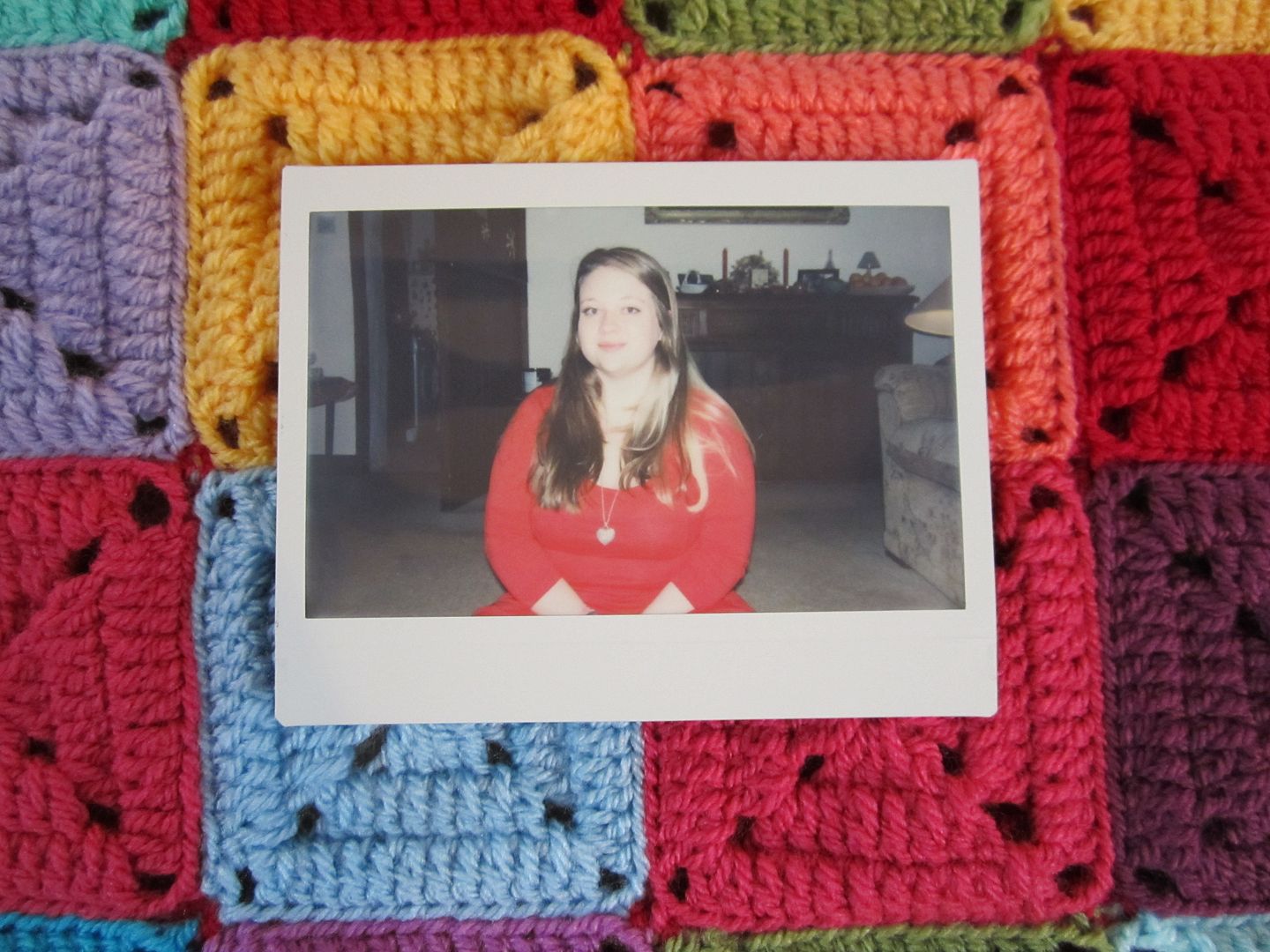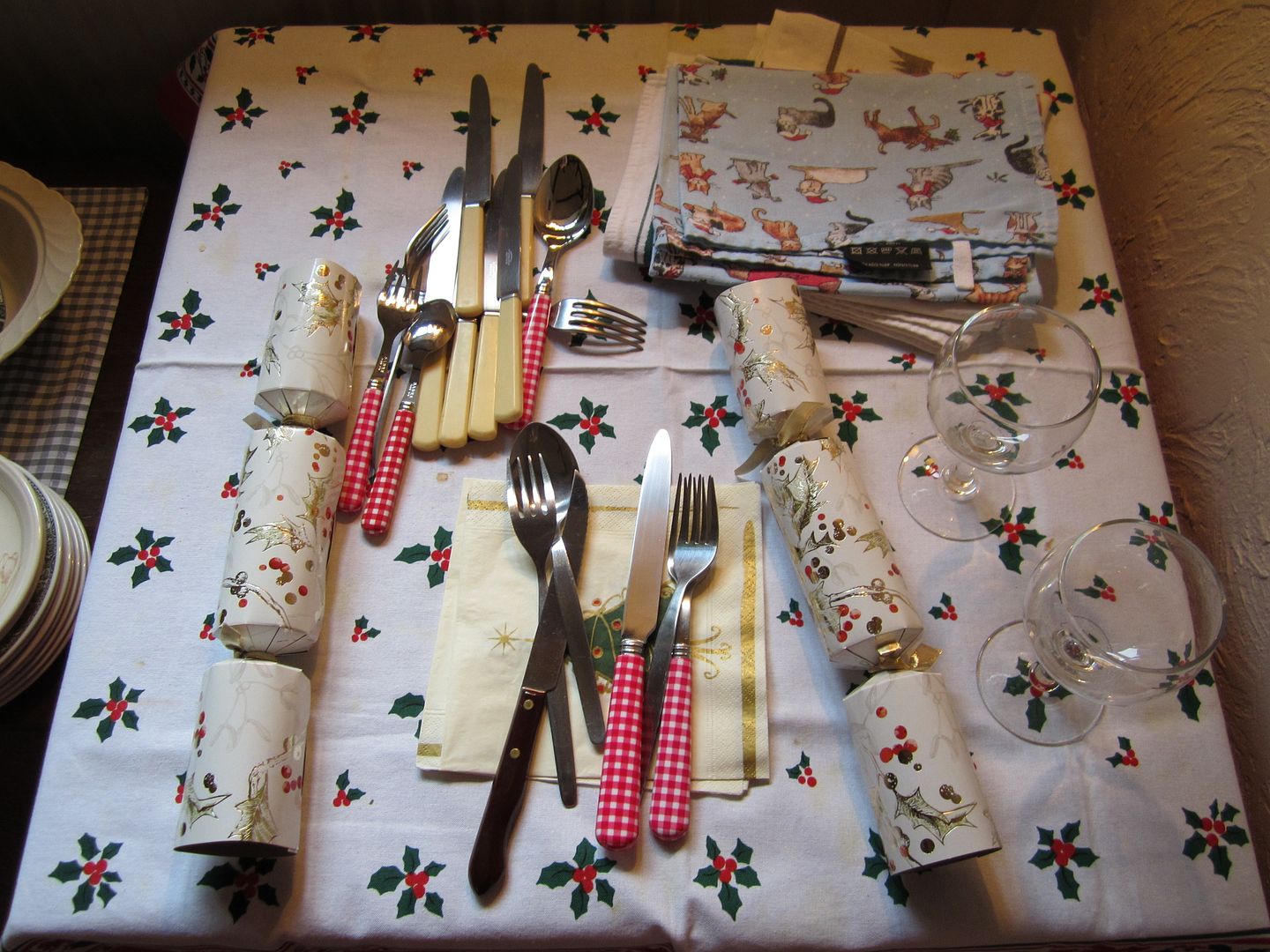 Grandma always buys better crackers than my mum does ;-)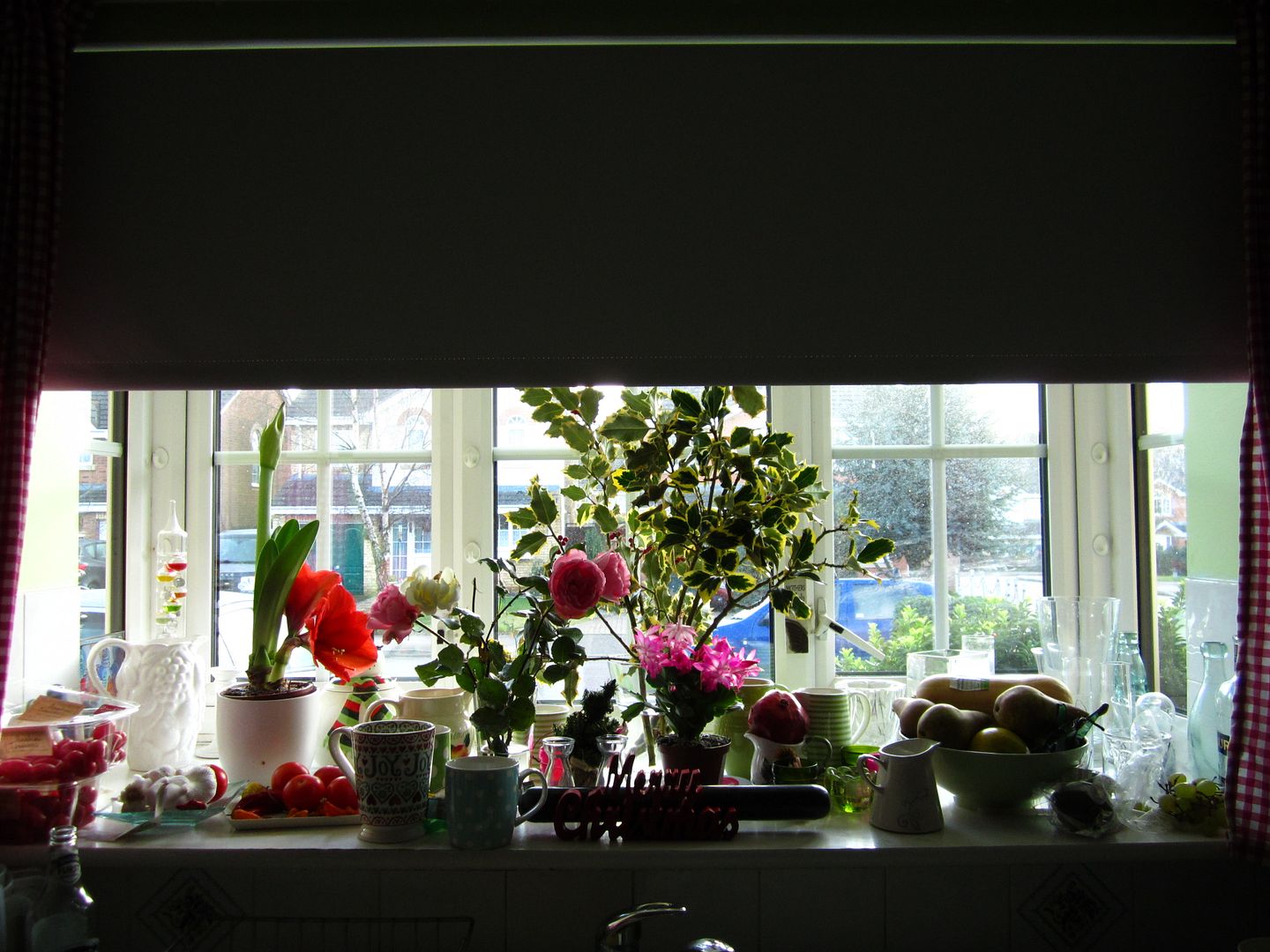 These were taken yesterday morning on my new camera. I am now the proud owner of a little Canon Ixus and am having fun playing with it. I like the setting which forces a fake tilt shift effect on your photos and makes them look like miniatures. I have to show you the amaryllis though. It's gorgeous: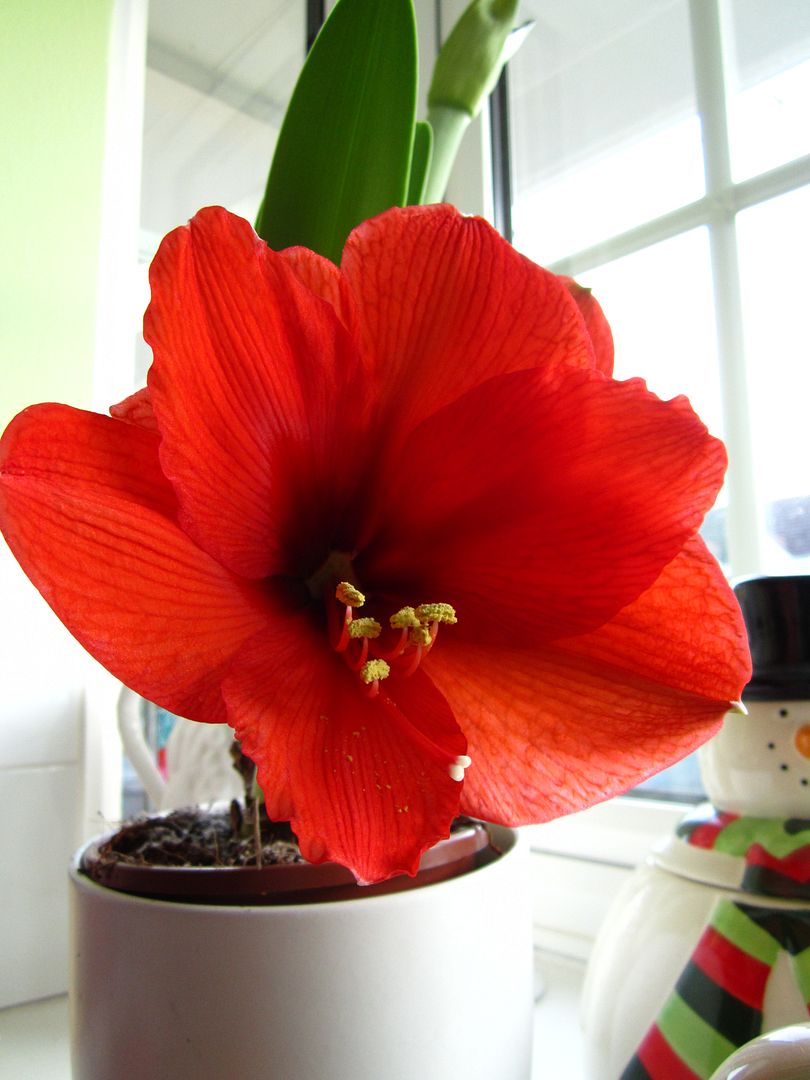 but really stumpy!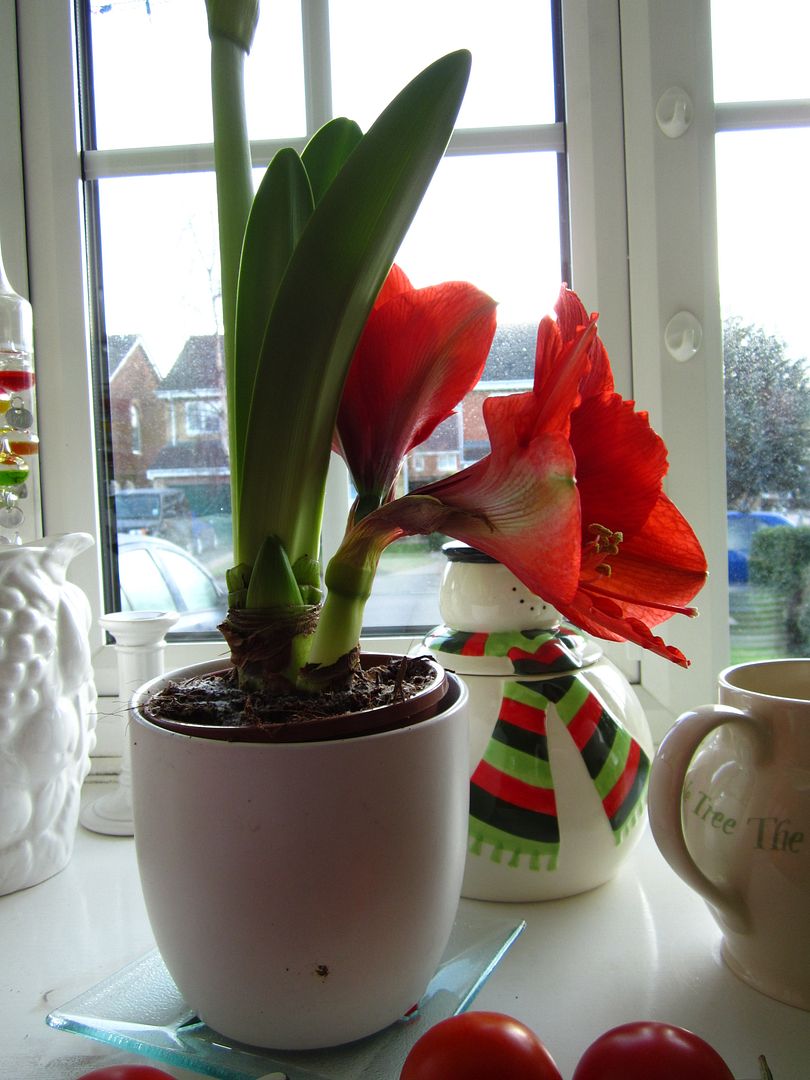 We tried to start another new tradition of having pancakes on the day after Boxing Day. These are pancakes made from waffle batter. We do have a waffle iron but it works better doing them as pancakes and doesn't set the smoke alarm off quite so much!
Then there was time for just one last cup of tea by the Christmas Tree before cramming everything back into the car (whilst admitting to Andy that yes, I had lied on the way down when I said we would not bring back as much stuff as we took…) and travelled home. The M1 was full of things that you do not want to see on a motorway:
but we made it home eventually.
Such a lovely lovely Christmas. It was just how I imagined it to be, except better because there were tonnes of presents! hehe. It's easy to get disappointed at Christmas when you have an idea in your head of how you want it to be, but when all of you have exactly the same idea of how you want it to be, it's great when it turns out like that. I love Christmas traditions because they are so reminiscent of my childhood, and I love the time now that I get to spend in a snuggly warm haze with my family. Christmas is what you make it and we always make it just right :-)
xxxxx
p.s this is possibly the longest blog post I have ever written!