I've really been looking forward to giving you a tour of the cookshop where my mum works. It's like an Aladdin's cave, packed full to bursting of the most lovely cookware. I especially wanted to show you it while it is decked out for Christmas. It's a lovely shop all year round but the building just lends itself so well to Christmas time! I was lucky enough to be allowed to take photos and post them on my blog, I hope you enjoy them.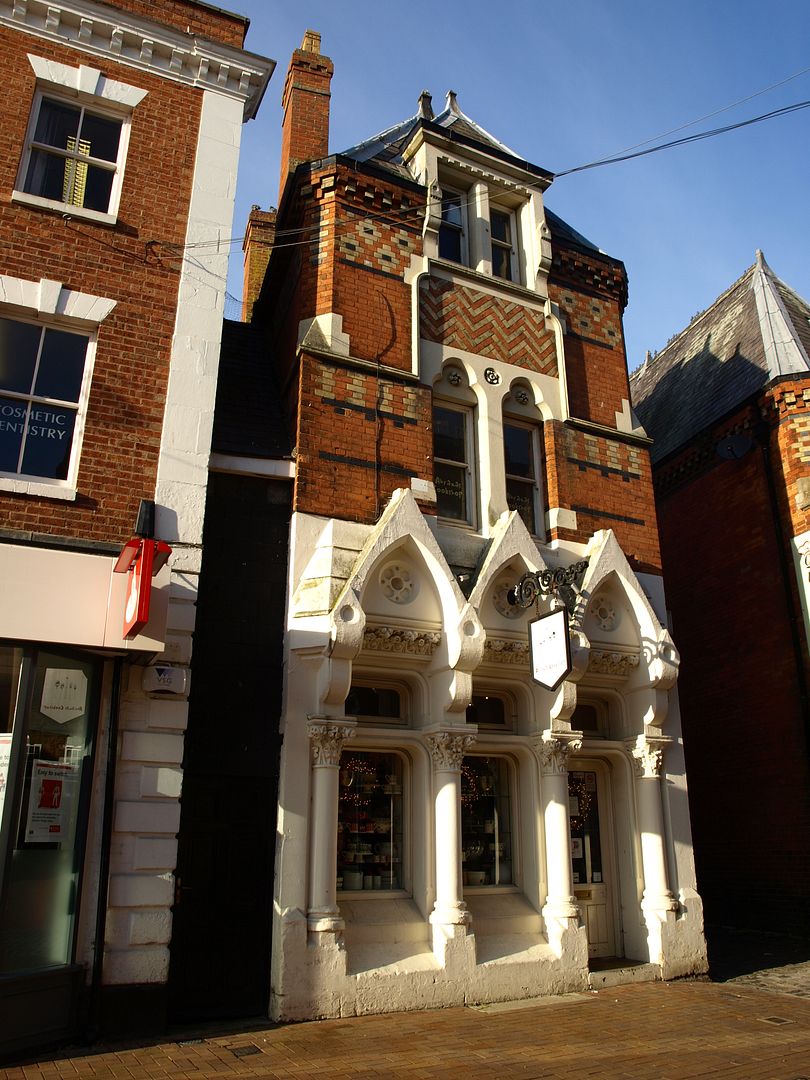 Abraxas Cookshop is a family owned and run business and has a few shops in the Oxfordshire/Northamptonshire/Warwickshire area. The one we are visiting in this post is located in Banbury, Oxfordshire. If you are familiar with the town, you can find it in the top corner of the market square, at the top end of Castle Quay nearby to Parson's Street. There are some beautiful old buildings in Banbury but this one is particularly special. Just look at the brickwork on there! Coming closer, you can see that the window fronting is very ornate.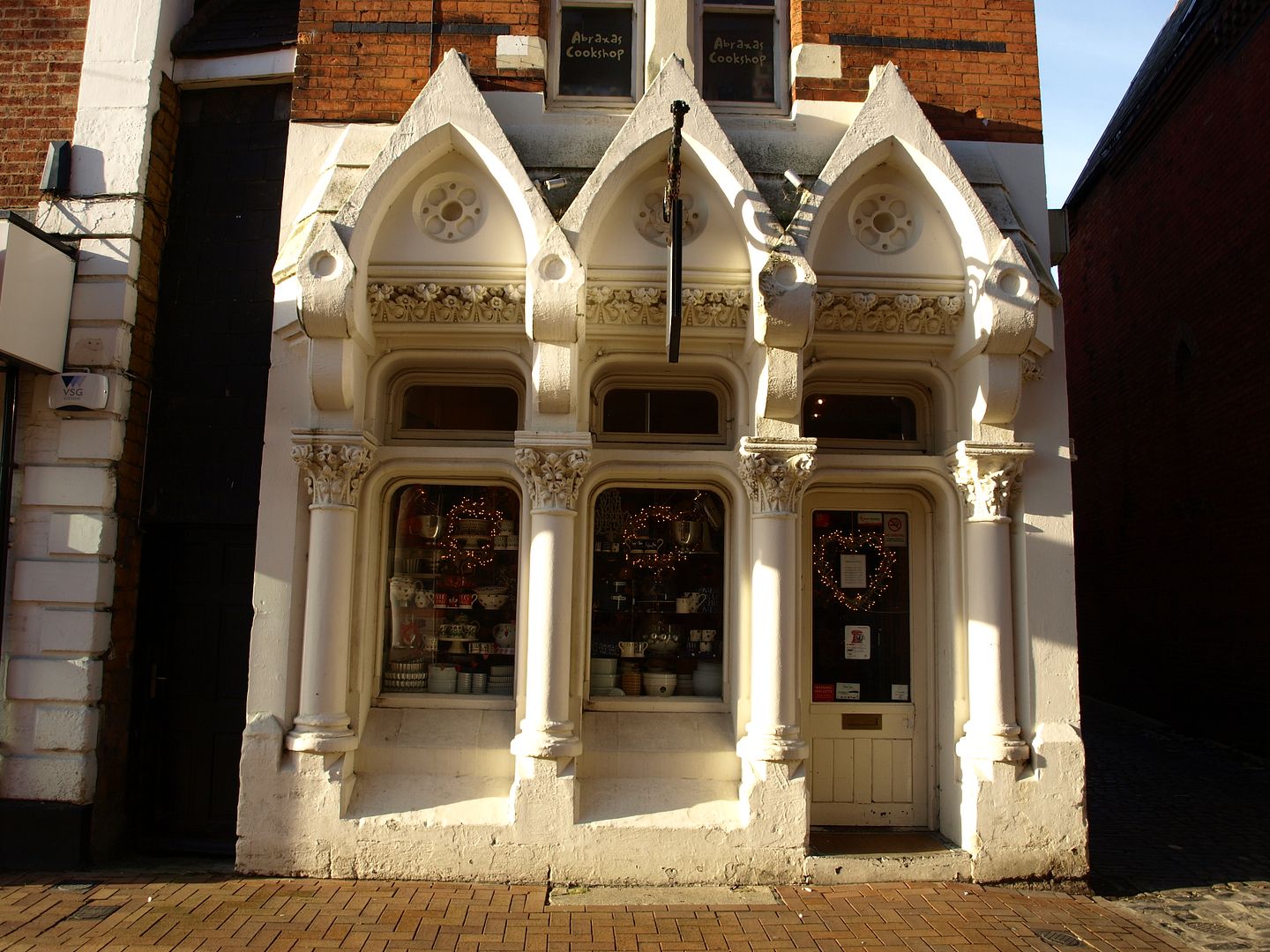 If I were walking past here for the first time, my head would definitely be turned by the window display. (Sometimes my mum gets to do the window displays, I think that may be her favourite bit. Some of my wedding bunting made it into the window once too, I was very proud.)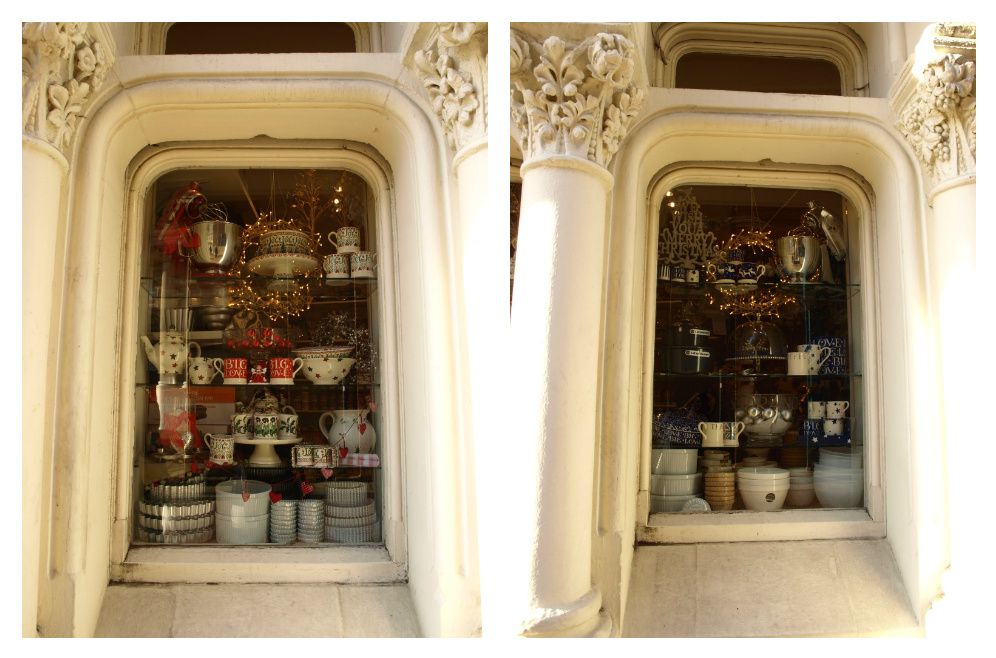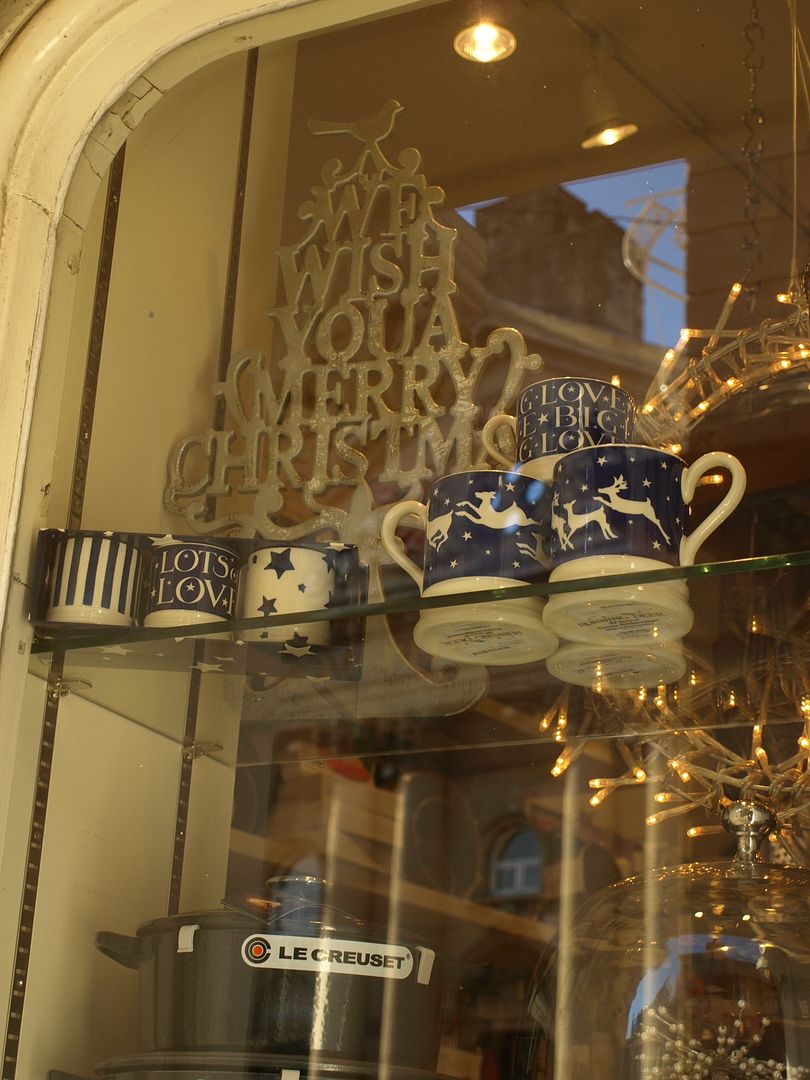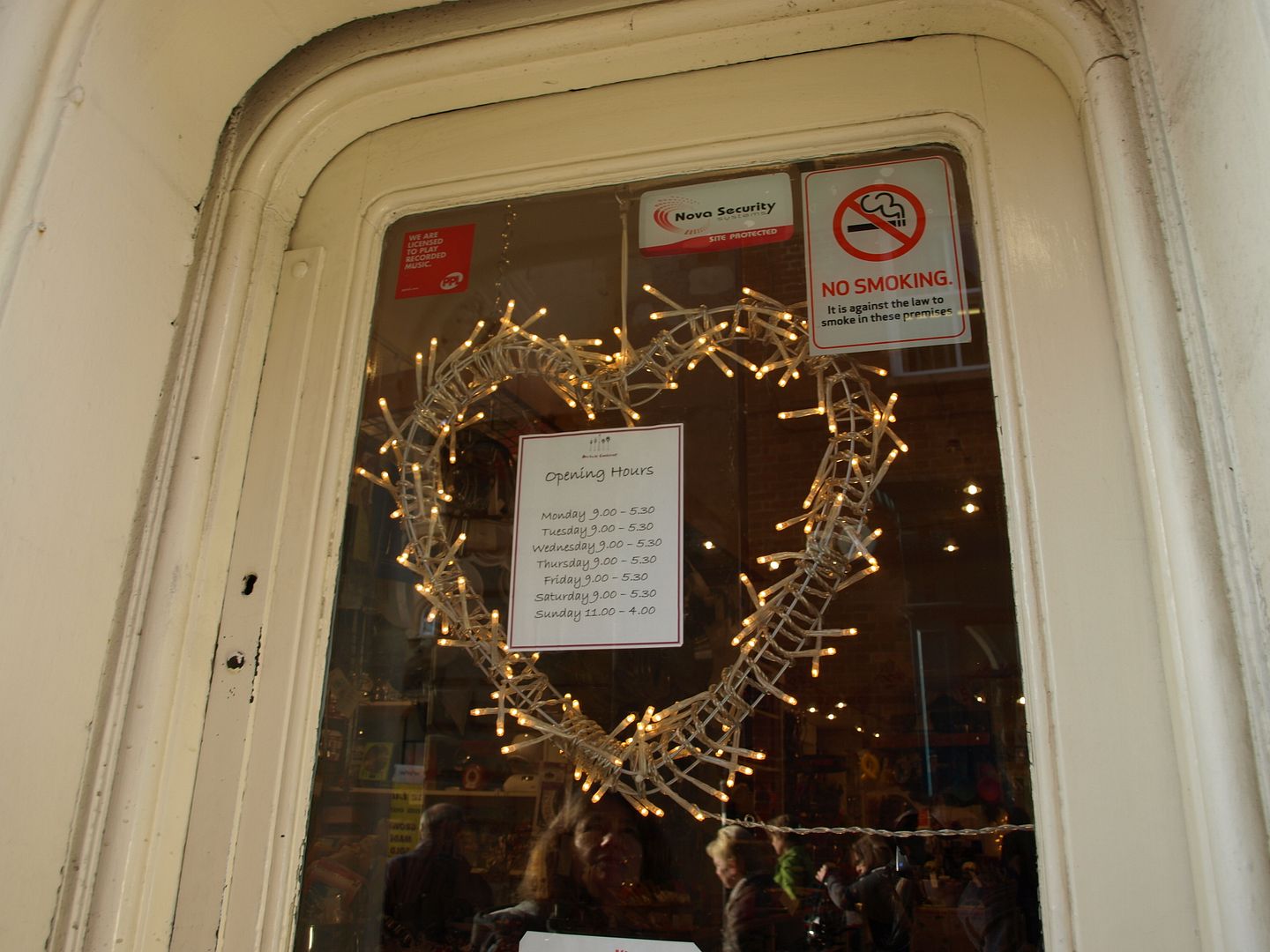 Let's take a look inside …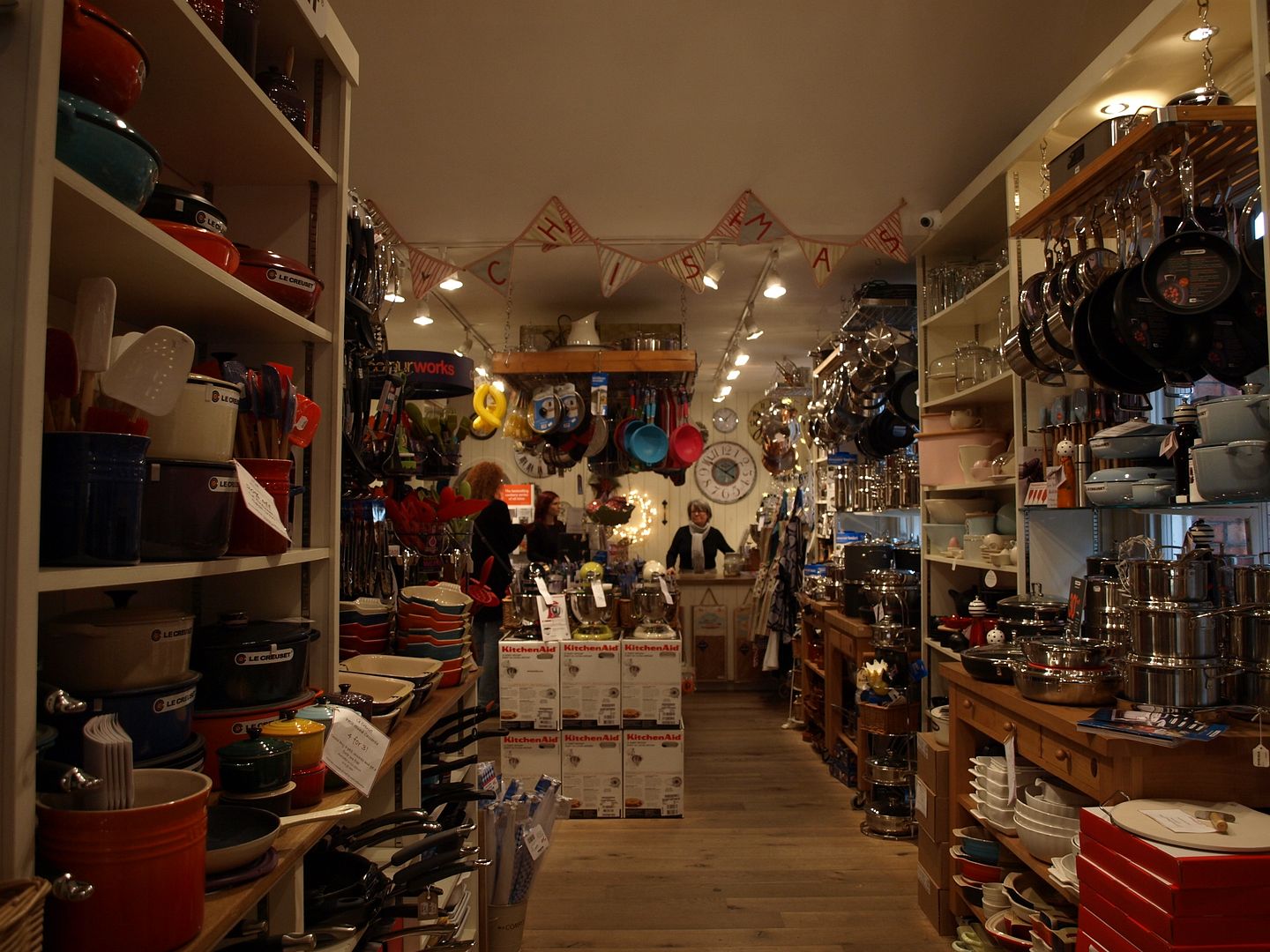 The shop is long and slim with barely an inch of space unused. To my right is a wall covered in biscuit cutters and birthday candles, in front of me is Le Creuset in every colour.
On the table directly to my left is the seasonal display and right now this means Christmas cake decorations! I am sure we had decorations like this when we were children and the little nostalgic jolt is pleasing.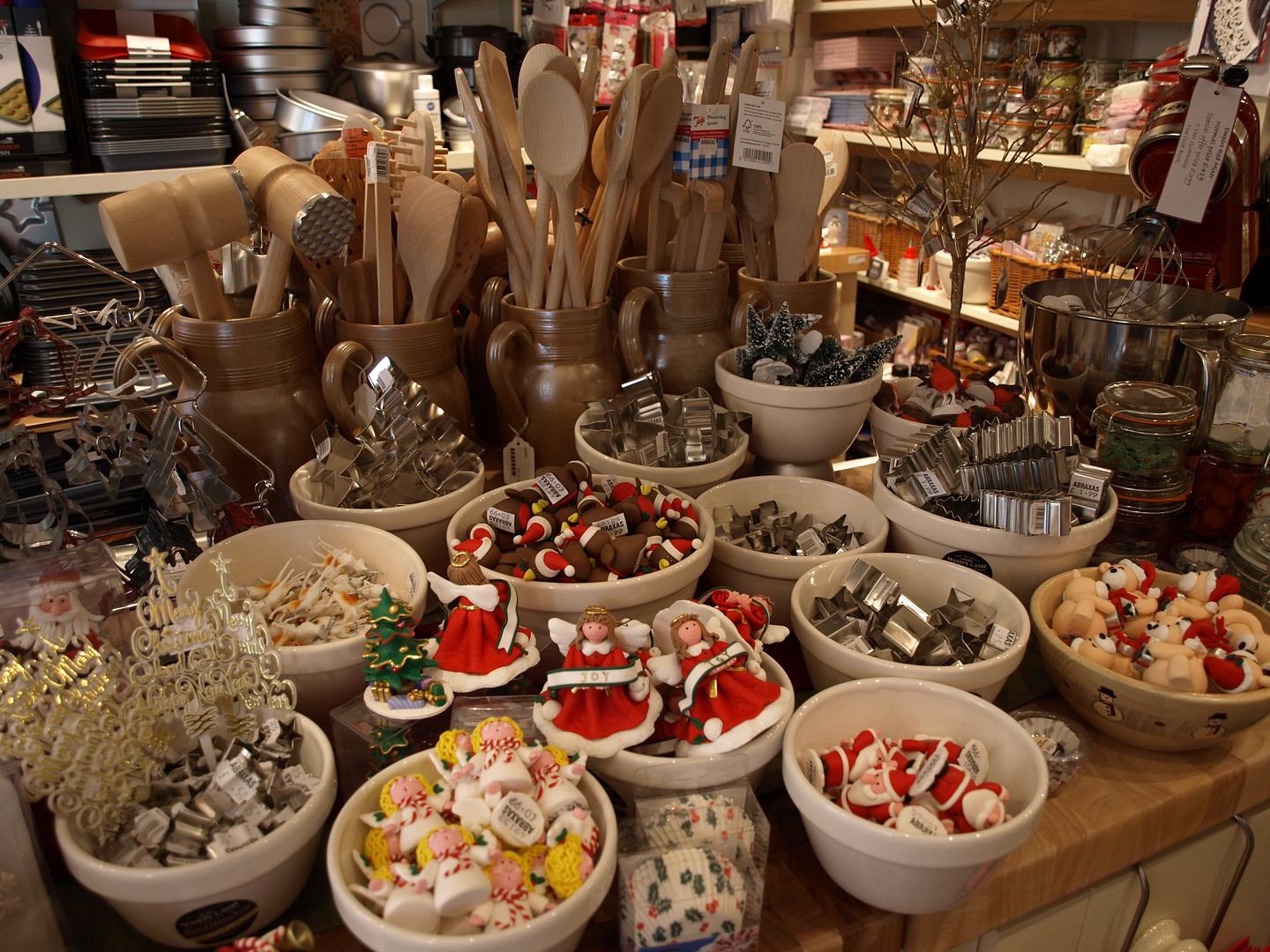 I love the teeny tiny star cutters. I have some of these just for the fact that they are dinky and cute rather than for actually using.
Oh and look up! Ever wondered how many types of sieves you could buy?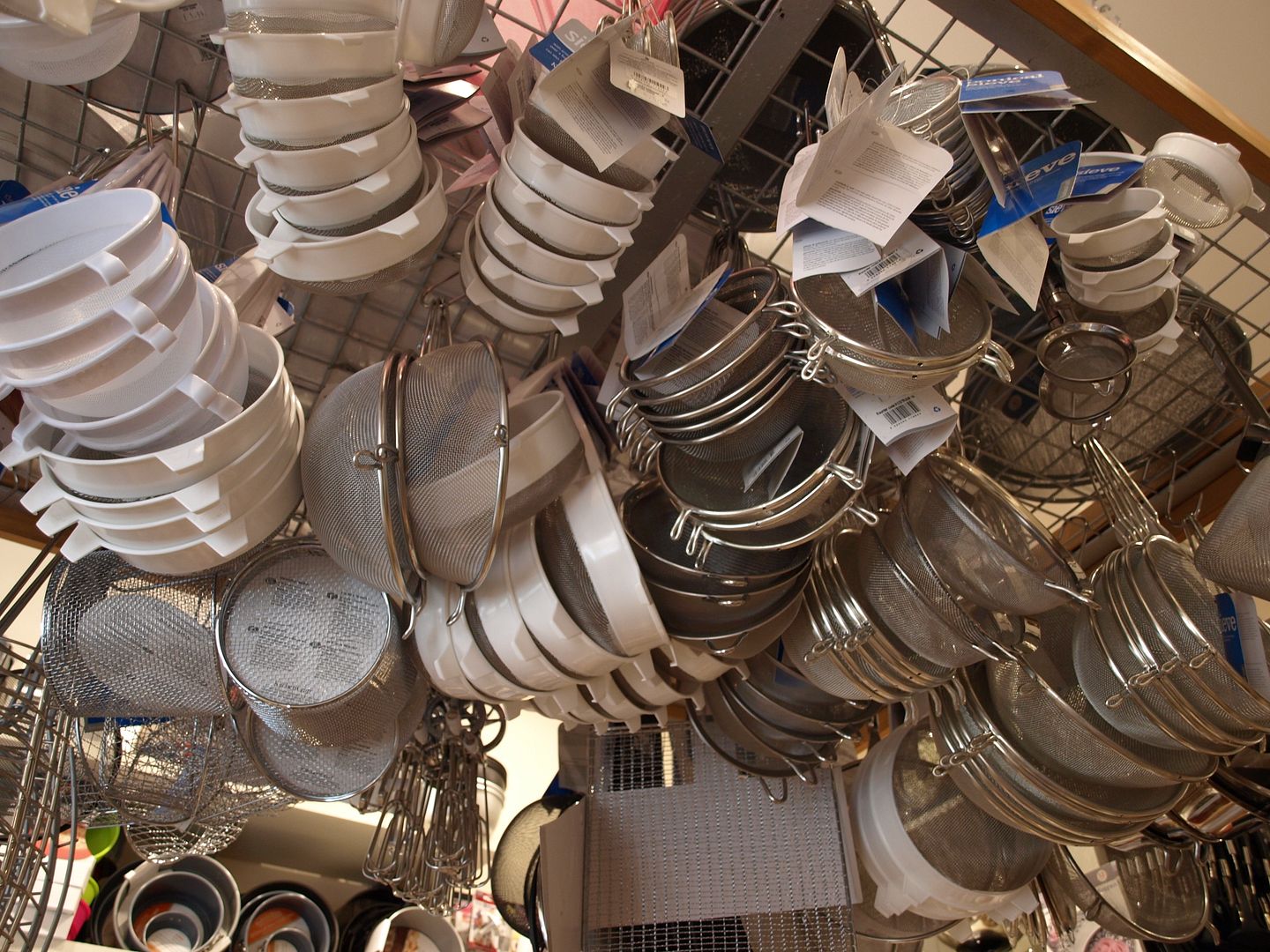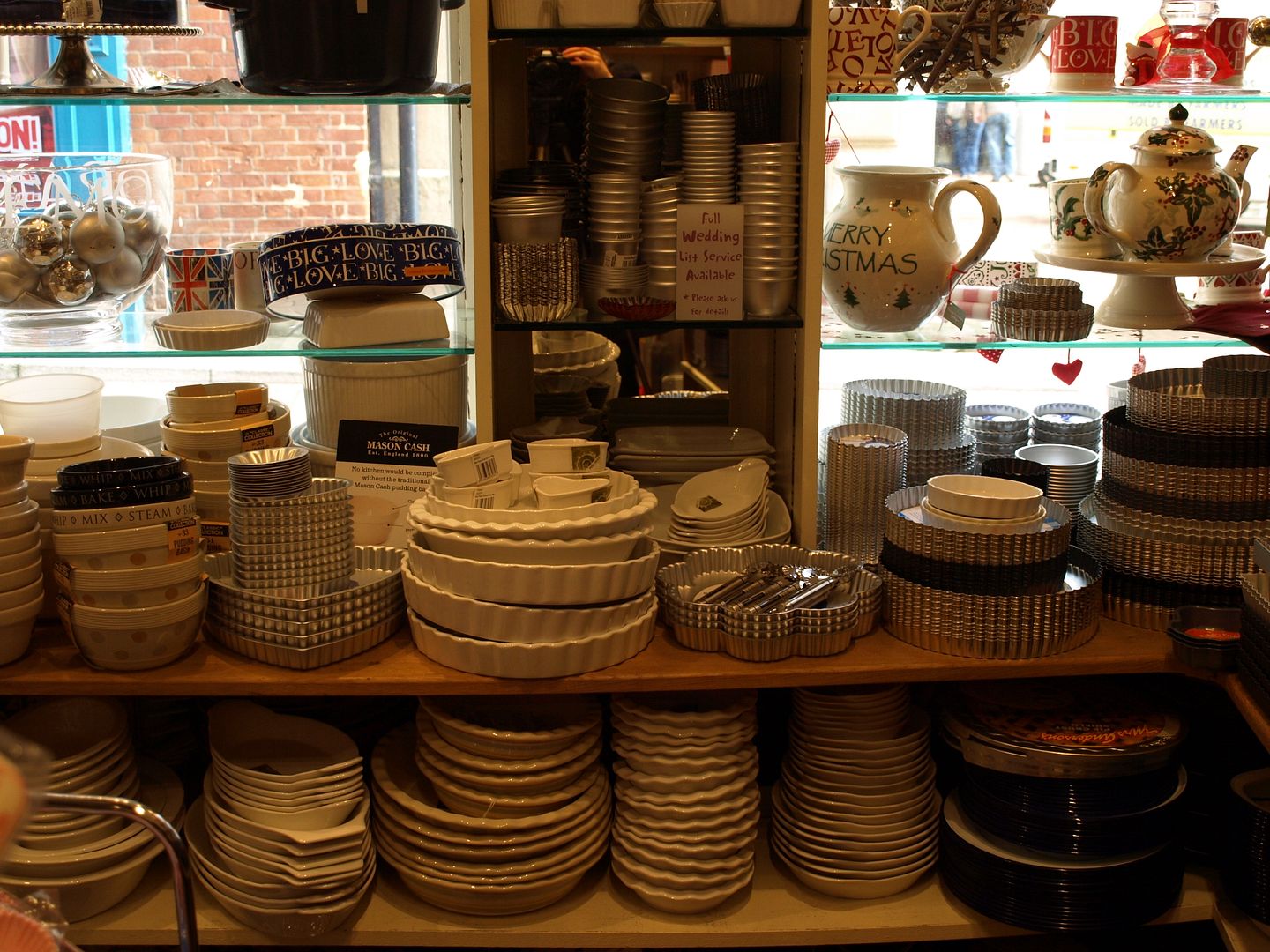 Behind the table of Christmas cake decorations and wooden spoons is a wall of shelving crammed with baking trays and tins, and then the inside of the window and various different pie dishes. It's here that you'll find multi coloured muffin cases, cake cases, petit fours cases, edible glitter, those posh papers that muffins from Costa come in … all sorts.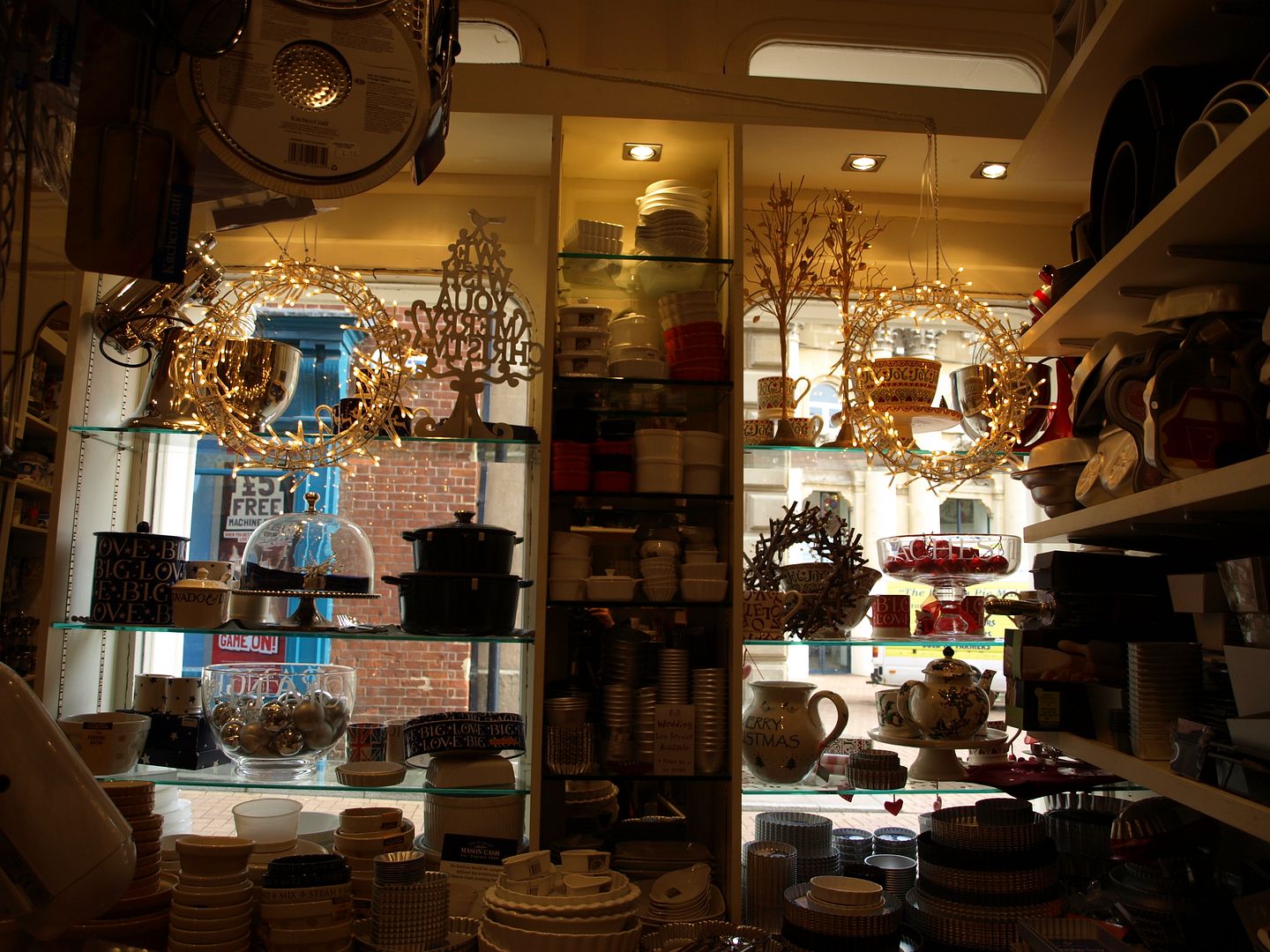 I'm going to take you downstairs now, because once I've finished poking through the wooden spoons (did you ever wonder why I have so many? Addicted, I tell you.), the downstairs room of the shop holds the most appeal for me. At the bottom of the stairs you are greeted by a line up of Kitchen Aid mixers (I reeeeeally want a red one of these, but there is no point as I purposefully don't bake as I find that it is not helpful towards my weightloss efforts ;-) ). The coffee machines and teapots also congregate here. There is a sign offering customers a free espresso whilst they browse :-)
The downstairs of the shop is the same shape as the shop above, only with a beautiful brick arch ceiling spotted with star like lights. Nestled under the stairs is the Susie Watson ceramics (it took all my willpower not to buy the Christmas mugs, by the way. I had to exercise SO much restraint and just think a lot about my "Joy" mug that was waiting for me at home) and the brightly coloured Sabre cutlery. I can never pick my favourite design of Sabre cutlery, I think they look best all together.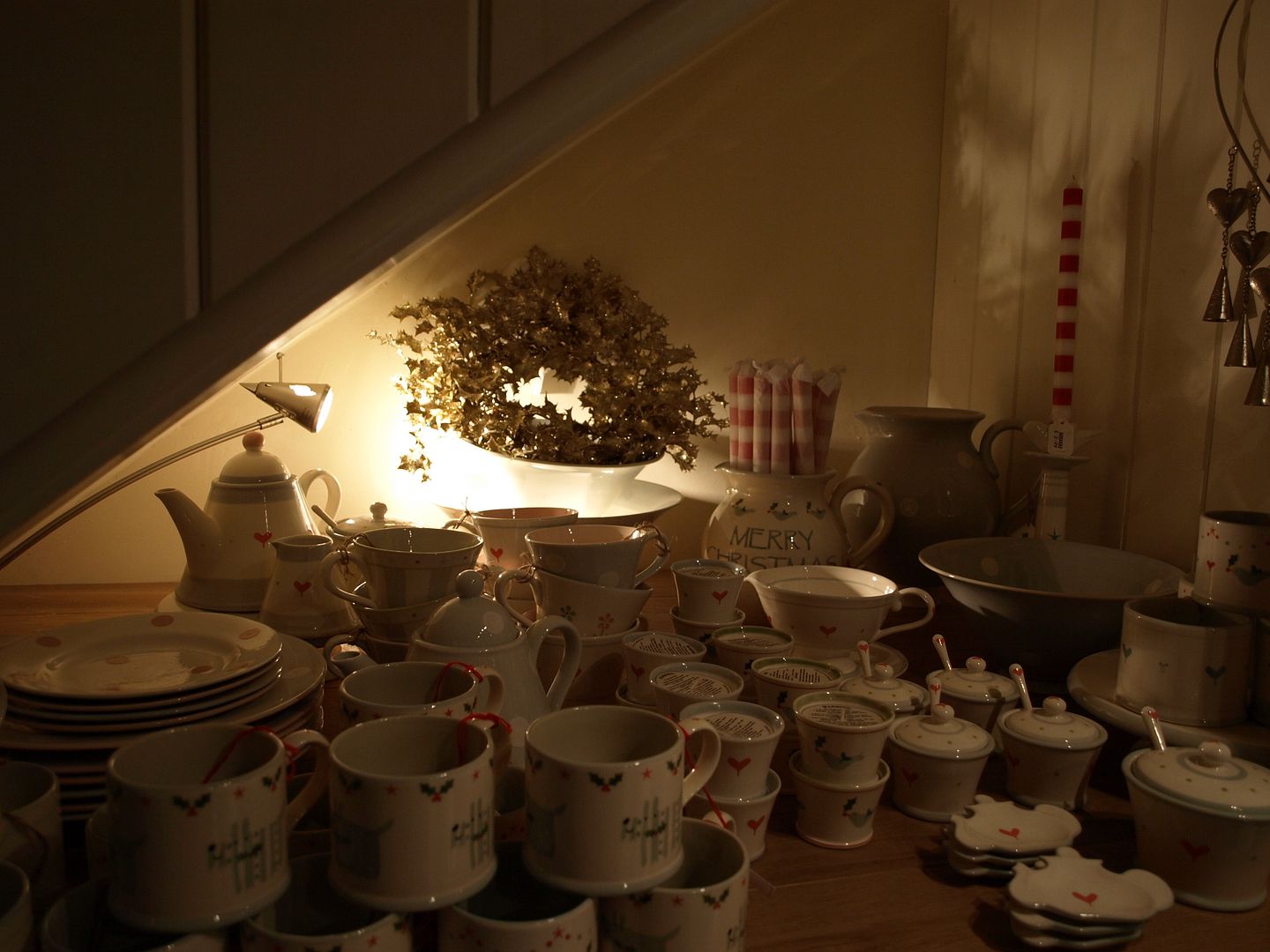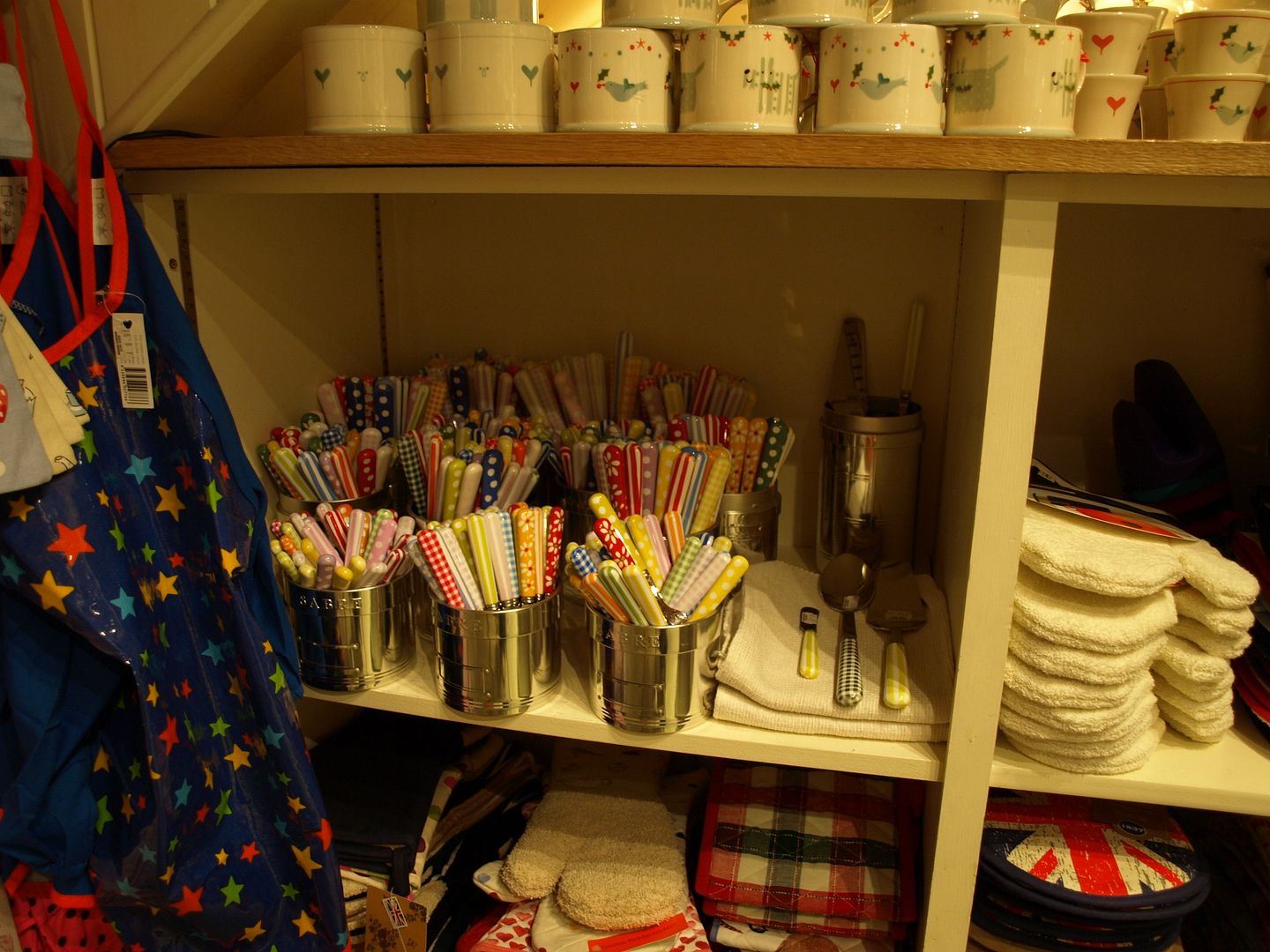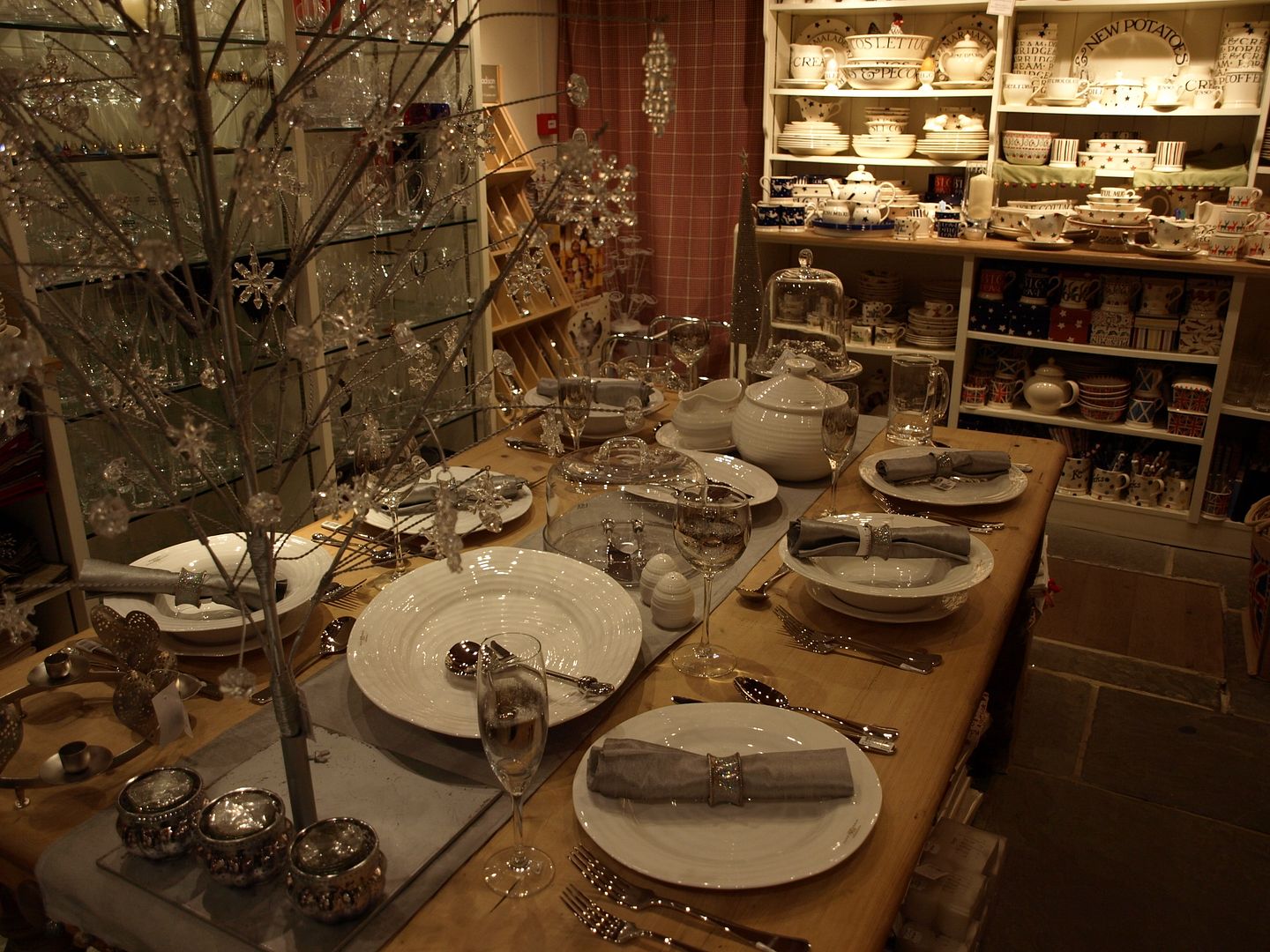 Further down the shop, the table is set for a shiny silver Christmas dinner. If I had a big kitchen, this is the kind of table I would have. Sadly there is barely room in my kitchen for two people to stand back to back so I can't see it happening any time soon!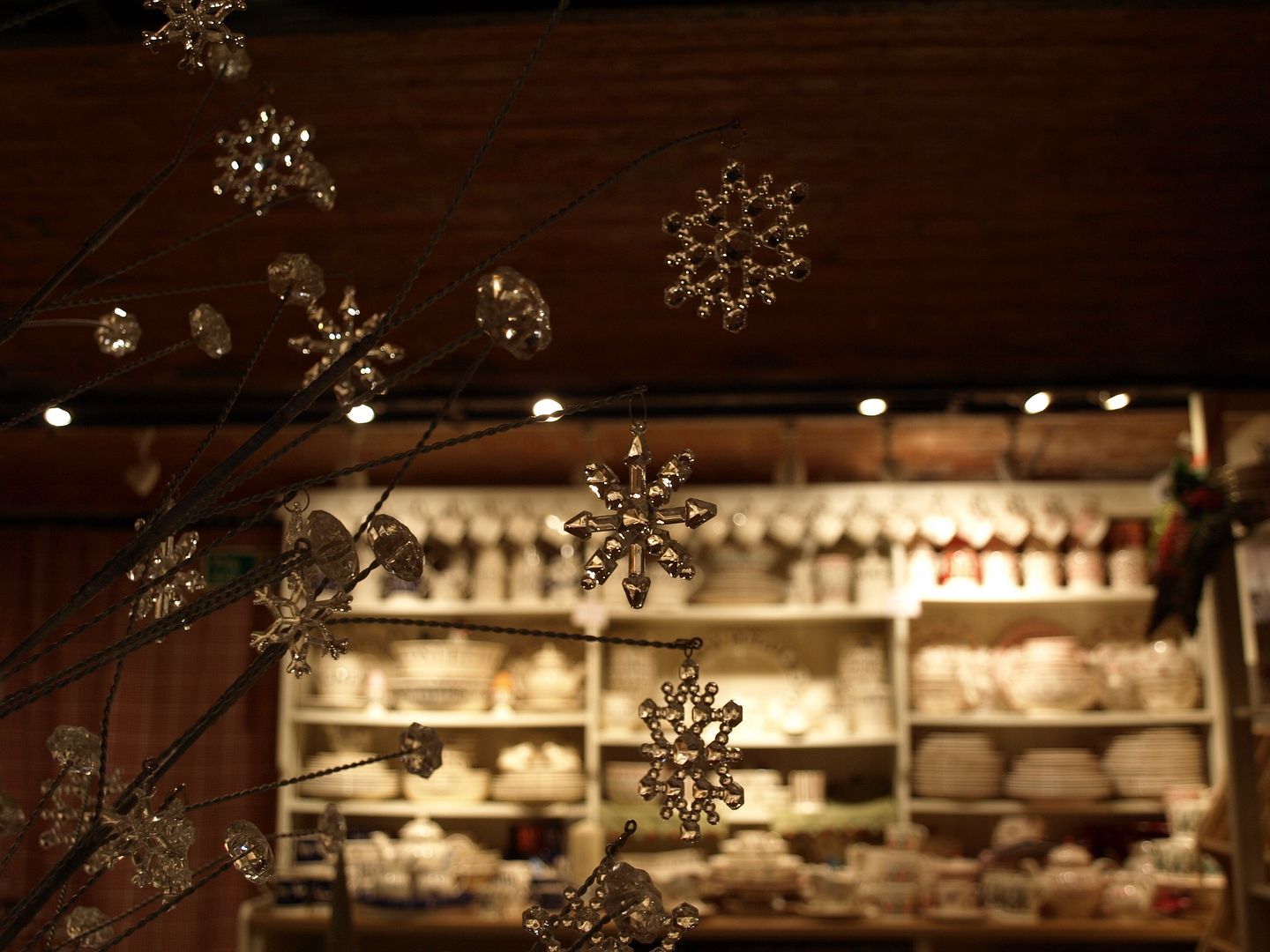 Ok, here is my favourite bit of the shop. I try to keep my Bridgewater love toned down on my blog because let's face it, ultimately it IS just crockery, but I have to say that it's a fun common interest that my mum and sister share (with me). They have a large collection between them and I enjoy looking out for it and discussing it with them. It's not something I buy often and what I have most certainly does get used, I hasten to add. I have porridge every day from my chicken-bowl!
Aaaaaaah pretty pretty!
I think that the reindeer design is my most favourite, and then the red/green Christmas ones come a close second.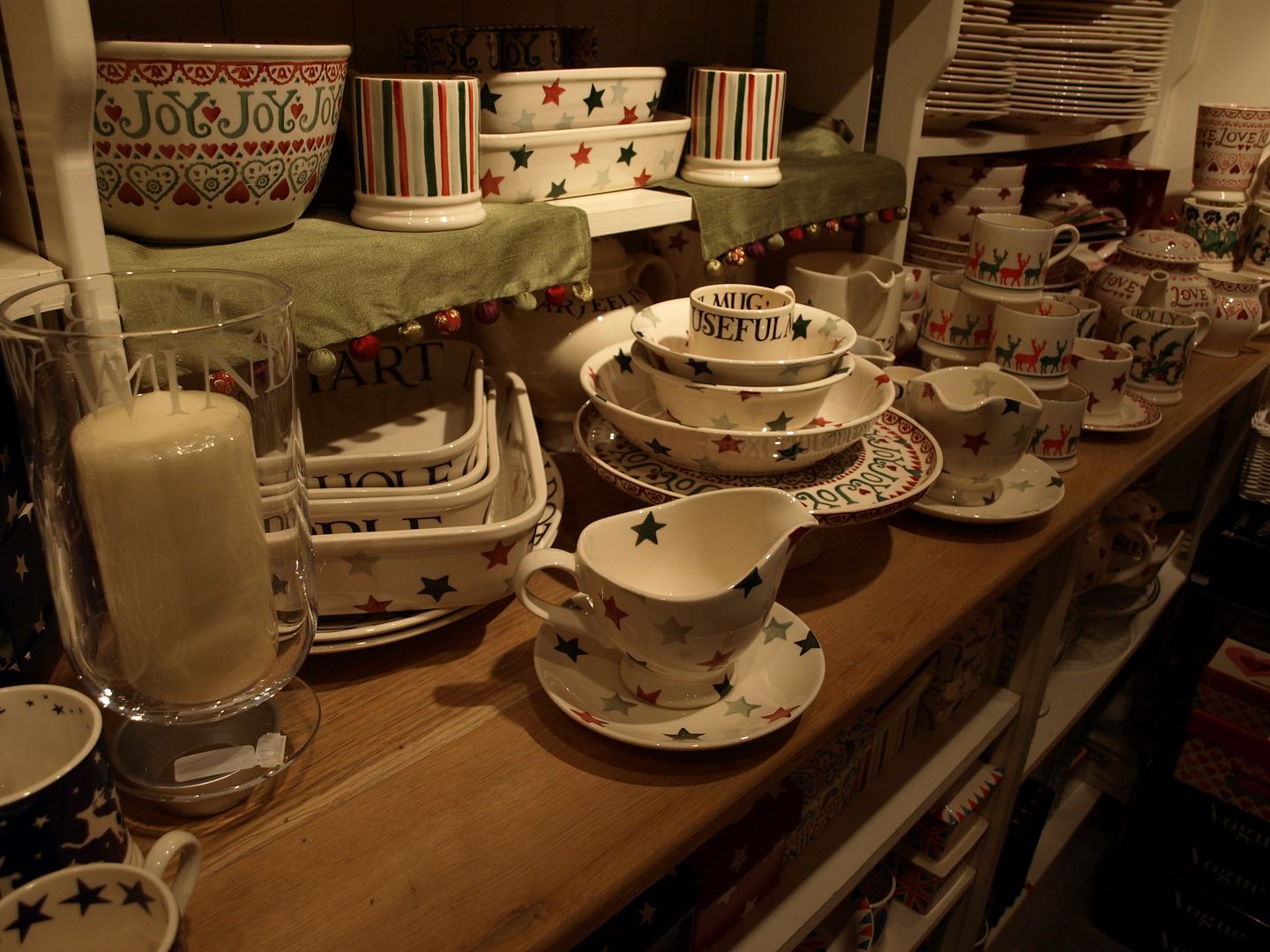 I have started a little Christmas mug collection, like Victoria has, (I have, er, three so far) as I like the thought of "special" Christmas mugs that just come out for December time. I am quite taken with the idea of starting our own traditions at the moment and I really like this one.
I spent ages taking photographs downstairs but looking through them again now they are just the same photos of the Bridgewater but from different angles (whoops) so let's head back upstairs now. (By this point my mum had had enough of holding my bags while I faffed about with a tripod being in the shop on her day off. We went for coffee afterwards though so that was all right.)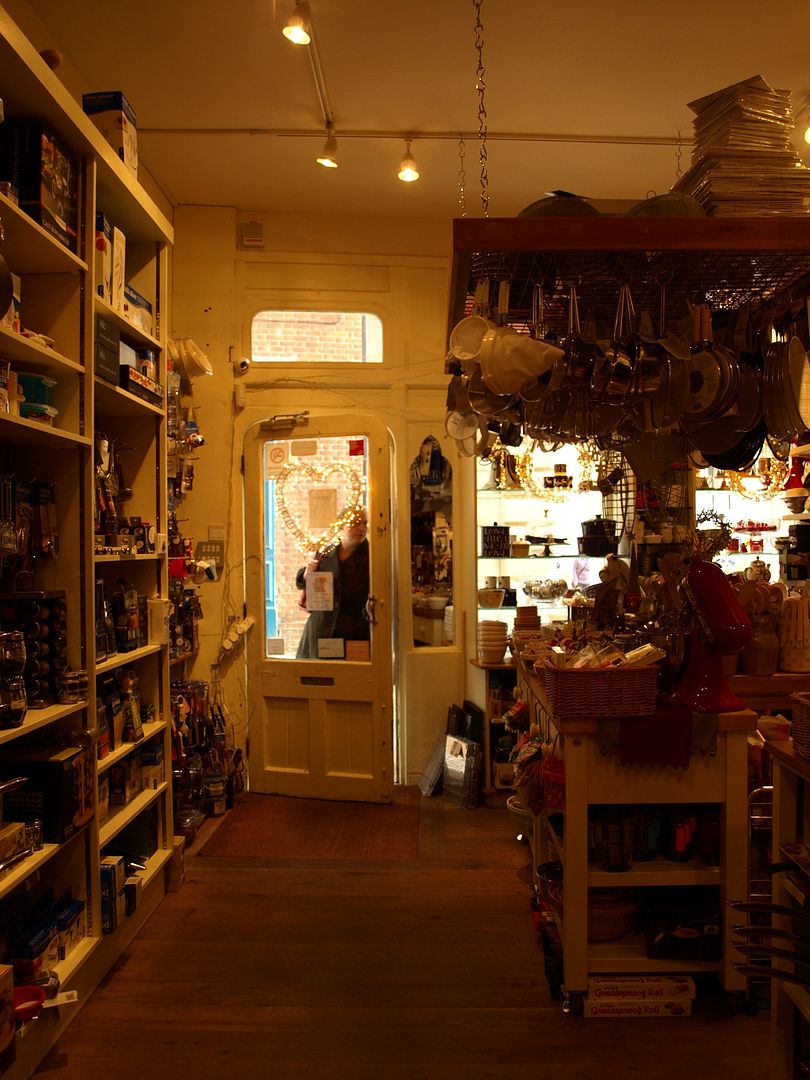 Time to go now. It's funny, I didn't notice this mirror by the door until I was taking photos.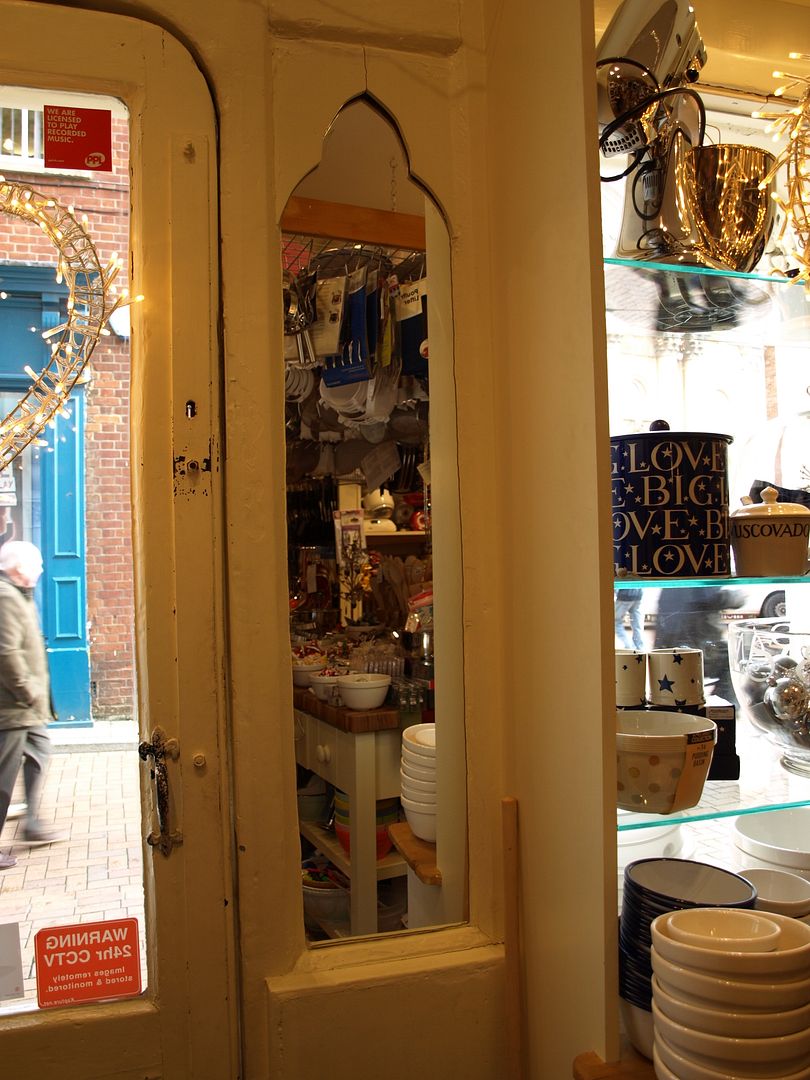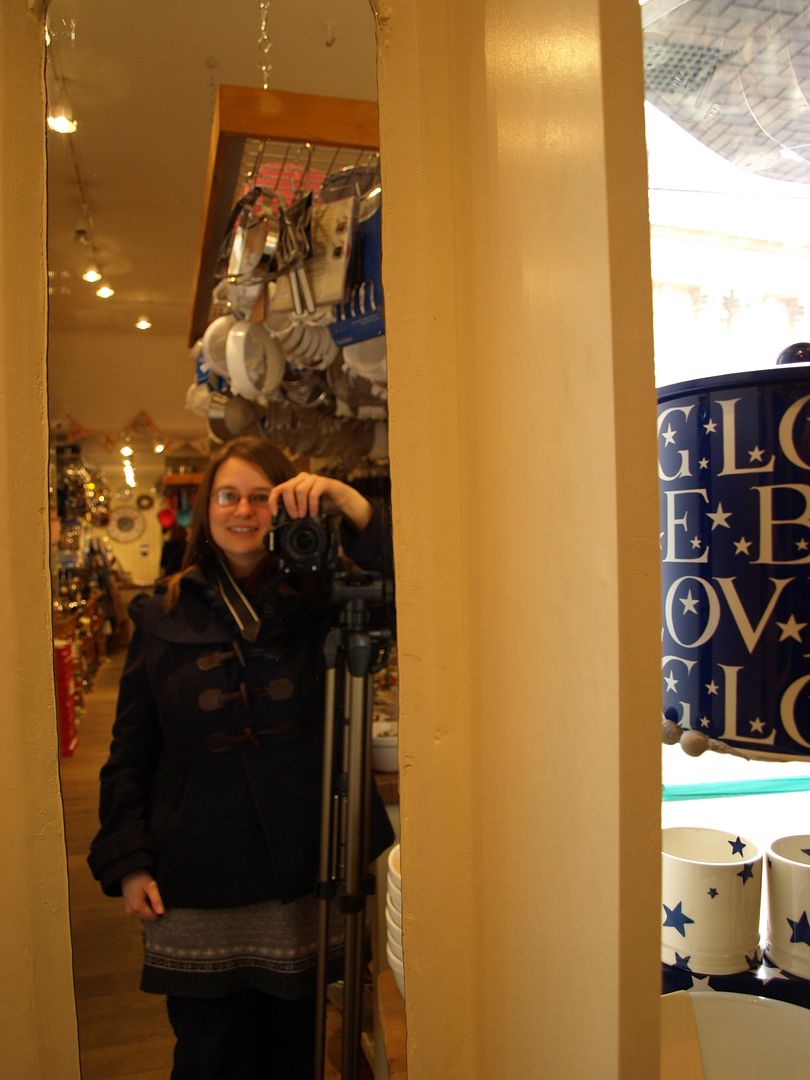 Hiya!
If you feel like visiting Abraxas in Banbury, be sure to tell them that you saw it on my blog!
Photos taken with permission of the manager, please do not copy them.