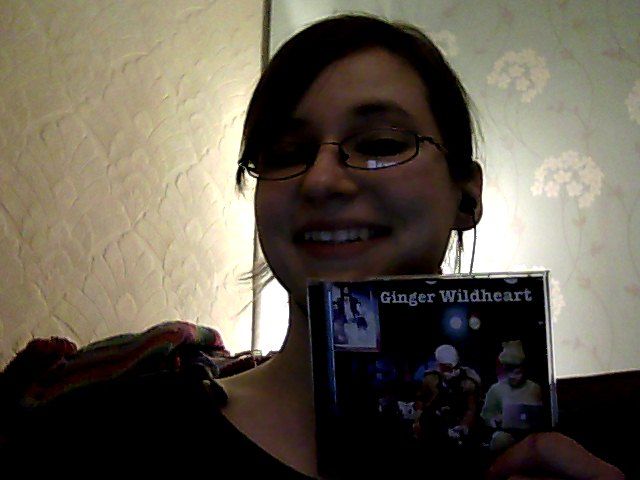 Let me tell you about  Saturday night. I'll warn you now, that there was very little yarn, crochet or photo taking involved in Saturday night so if you want to leave and come back for a typical Heather-post, feel free to join me tomorrow/the next day :-)
This is really for my own purposes, I don't ever want to forget this night and I just have to write it down because it's going round and round in my head at the moment and I can't concentrate on anything.
You may remember, if you've been reading my blog for all 400 posts, that Andy and me have a bit of a love for the Wildhearts. It was Andy who introduced me to the band, and he took me to see them for the first time in September 2009, just after we were married. We saw them at Leeds Cockpit and I really enjoyed it, despite not being familiar with much of their music. After that, I put some more of their music on my playlist and their Chutzpah! album accompanied me on many bus journeys into work. Then we saw them at Christmas in 2009 and oh my, it was so much better knowing some of the words to the songs! That was a great evening. (I forgot to take earplugs though and the whole thing was so incredibly loud – Andy tells me that it should ALWAYS be this loud – and couldn't hear for a week afterwards. I was scared that I'd gone deaf but Andy was quite proud of me. He once put his head in a speaker though so I don't really trust him on this.)
After we moved back to Leeds last year, I had an Ipod that was big enough to fit aaaaaaall of the back-catalogue on and from then on the Wildhearts have accompanied me on virtually every bus or train journey that I've made. That's almost two years of practice and learning the songs. I feel like I was in training for Saturday night! (Small point here: the gig was Ginger & Friends performing Wildhearts songs, not the Wildhearts themselves, but as the Wildhearts is Ginger's band it's the same thing … ah you know what I mean!)
So, Saturday night, Leeds Cockpit: I was READY. Ginger has been tweeting that he's probably not going to tour any more after this, so oh yes I was certainly out to enjoy this one.
It was amazing. The atmosphere was electric and the audience was as on. Time and time again I turned to Andy with thrill and disbelief as the band played another and another and another of my favourite songs. Songs that they rarely, if ever, play live. Inglorious, The Hard Way, Suckerpunch, Vanilla Radio, Mazel Tov Cocktail, Slaughtered Authors … oh that one was INCREDIBLE! Seriously. (Oh I've just found a youtube video of it! Oh my. The sound is off because it's off someone's phone but the getting on the floor bit is around 5mins11 in) Ok, so it's a brilliant song anyway and I always just want to sing it at the top of my voice. It's really heavy but there is a quietish bit in the middle and the whole audience just gradually sunk lower and lower until we were right down onto the floor and then RIGHT when the song picks up again we all jumped back up (like one being, I'm telling you) and continued jumping and dancing and throwing ourselves and round and singing at the tops of our voices. It was so good and I was just so damned happy that I bought us tickets.
I think you get the idea that I enjoyed myself? I don't ever want to forget that night. I sang at the top of my voice  just how I want to every single time I listen to their music. I never get to sing along to it because people don't appreciate it when you do it on a train and Andy forbids me from singing in the car. It's not that I'm a bad singer … ok well it is, I'm dreadful. But being at a gig where it's loud and nobody can hear you and everyone else is singing at the tops of their lungs anyway? Oh yes, I love it! And you know what? I know ALL THE WORDS and all the music and it's just amazing and I felt on top of the world being able to join in and sing and mosh about and what have you. I'm sad that they're probably not going to tour again, but I feel totally ok that THIS was the gig to end it on.
The best part was that I was doing an amazing fun thing and Andy was there too. So many times this year I've gone off gallivanting about the country on the train, seeing friends and doing Stuff and have come back home afterwards to Andy, who has diligently been mending our house and hasn't really had the opportunity to do much fun stuff this year. So to have him there too, enjoying it just as much as I was? Brilliant.
In April, Ginger did an acoustic tour (Jackdaw4 supported which is where we "discovered" them) and one of the shows was recorded for CD. Well as soon as I got there it was like, point me at the merch stand! I snapped that up straight away and we listened to most of it on the way home. We were tempted to just drive around the Dales a bit until it finished but it was after midnight by this point so we went home. We didn't get to sleep until 2am because we just lay there reliving the gig and saying how brilliant it was and how chuffed we were to hear Inner City Overture and Vernix live. Bloody Vernix! I chuffing love that song and actually squealed when they played it.
Not forgetting the part where we all sang "Don't Worry About Me" in order to get them to do an encore, that was funny.
I'm going to go and watch all of the videos of the gig that have popped up on Youtube now and re-live it for a bit longer. Normal blog service will be resumed soon, promise ;-)
Oh and Ginger, if you ever find this: THANK YOU, it was wonderful.