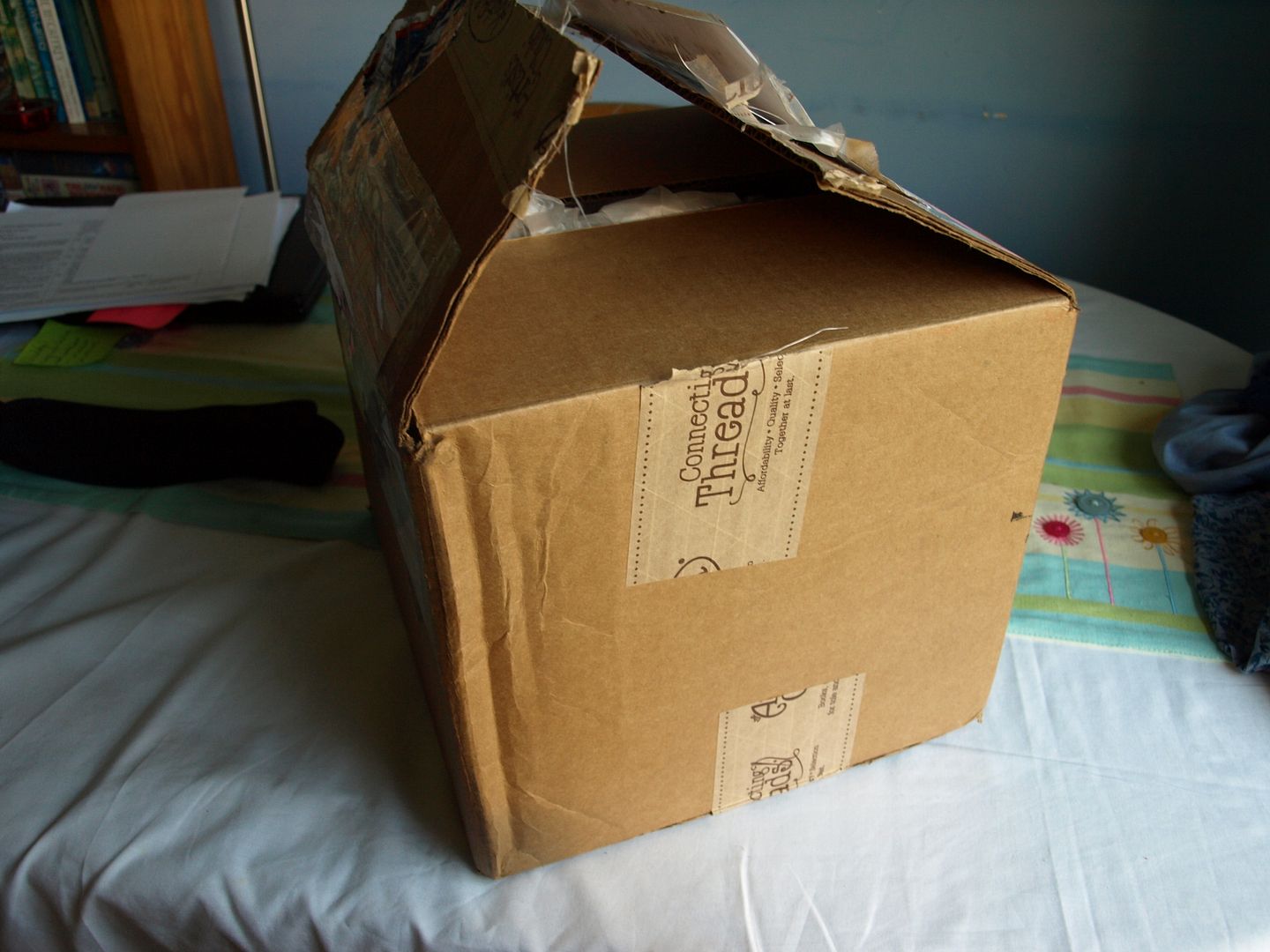 I know it was a bit of a tease to only show you the box, but come on, it's ME, it's going to be YARN isn't it?!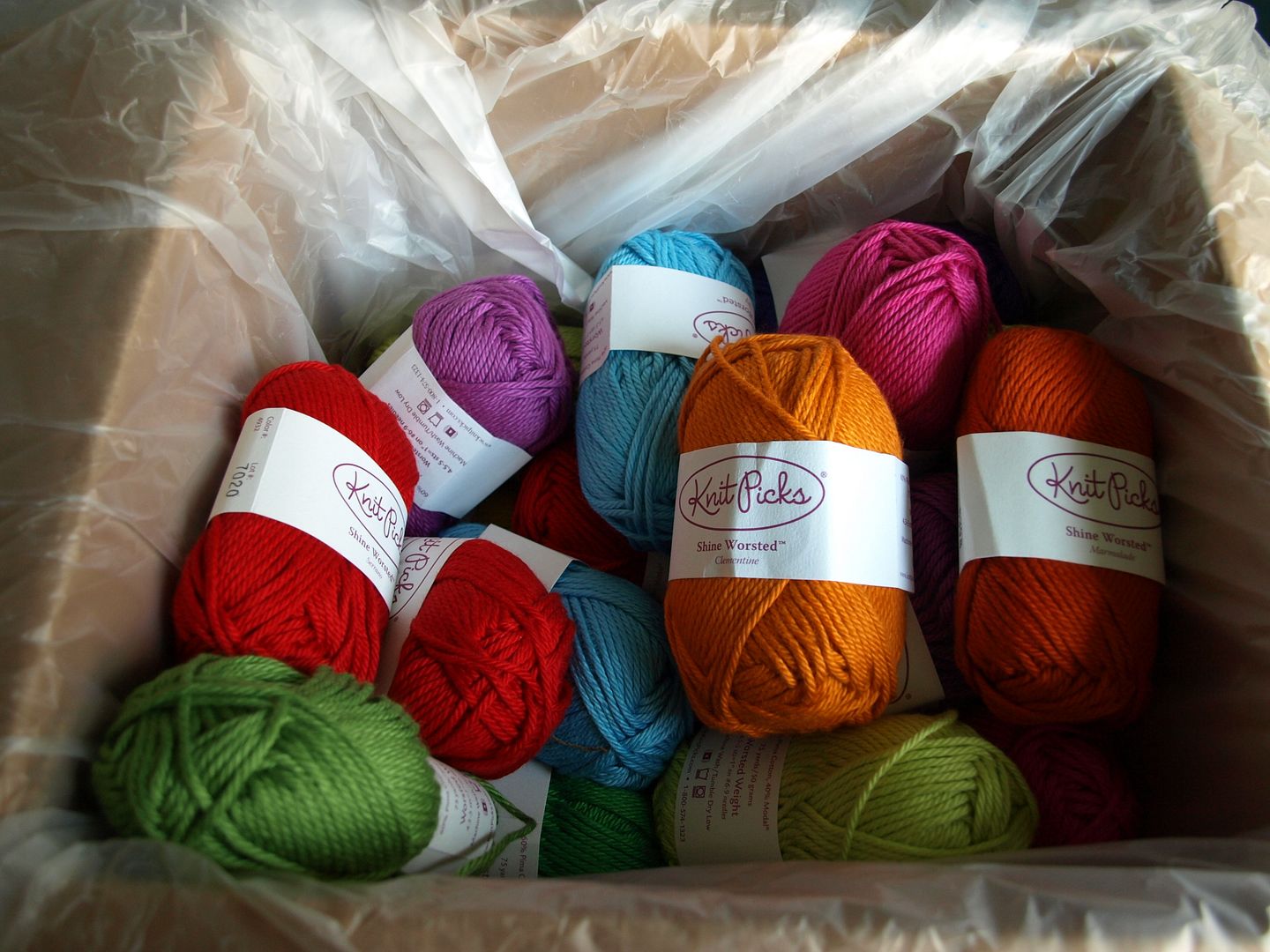 Yep that looks like yarn to me!
It is Knit Picks Shine Worsted weight and has come all the way from America. I bought a few balls of it last year from Great British Yarns as (ironically) they are the only place in the UK that stocks a few colours of it. I really wish that Knit Picks themselves would ship internationally though because they seem to have a lovely range of yarns that I'd like to try and aren't available here. The yarn is $2.49 a ball on Knit Picks and with the exchange rate to £ sterling it worked out at about £1.50 for lush yarn. It's cotton & modal (a beech wood fibre I think) and officially the only yarn that is acceptable for my wool/acrylic hating husband.
My mum's friend was going to visit her sister in Florida and kindly agreed to bring it back for me and I was very excited about it. Hugely so. I ordered it the night before she flew so that it would get there in time. The despatch email came, all good. And then … three days later my mum told me that there had been a hitch and her friend hadn't been able to go after all. ARGH! My big box of yarn was sat at her sister's house with no way to get back. My mum was a star though and arranged for it to be posted to England. (I feel a little guilty about that because it's made the price of the yarn much higher than if it had been brought back in someone's suitcase, but I suppose I wasn't to know when I ordered it.)
ANYWAY, after the thought that I might not get it at all, it was very excited to collect it on Friday last week. Can you imagine that? Collecting a much-anticipated box of yarn, hoping that the colour choices you've made online have been ok. Fortunately they are GORGEOUS and I'm so happy with them. I wish that I had ordered some more of the one called "Peapod" and the two oranges (Marmalade and Clementine) but I am glad I ordered so much red.
I couldn't get many photos as the light was bad but I carried that box round from room to room at home, just smiling at it and stroking it a bit. It's so soft. I have BIG plans for this yarn and I hope I can pull it off: I want to knit a blanket in it. That's right, knit one. Ambitious. I am intending to do plain squares of either garter or stocking stitch and sew them together. I anticipate this taking a while. I've had to leave it at home (so not possible to bring back on the train) but will get it next time we drive down.
I should tell you though (as I am wont to change my mind) that when I lay them out next to each other in colour order I want to make stripes justlikethat.
ahem…It's my blog and I'll fill it with gratuitous yarn photos if I want to!
You can see the yarn names on the labels (I wish all yarn companies did this) but the colours are:
Green row L-R: Macaw, Peapod, Citrine
Blue row L-R: Reef, Sky, French Blue, Aquamarine
Yellow row L-R: Dandelion, Clementine, Marmalade, Serrano
Pink row L-R: Cosmopolitan, Crocus, Iris, Serenade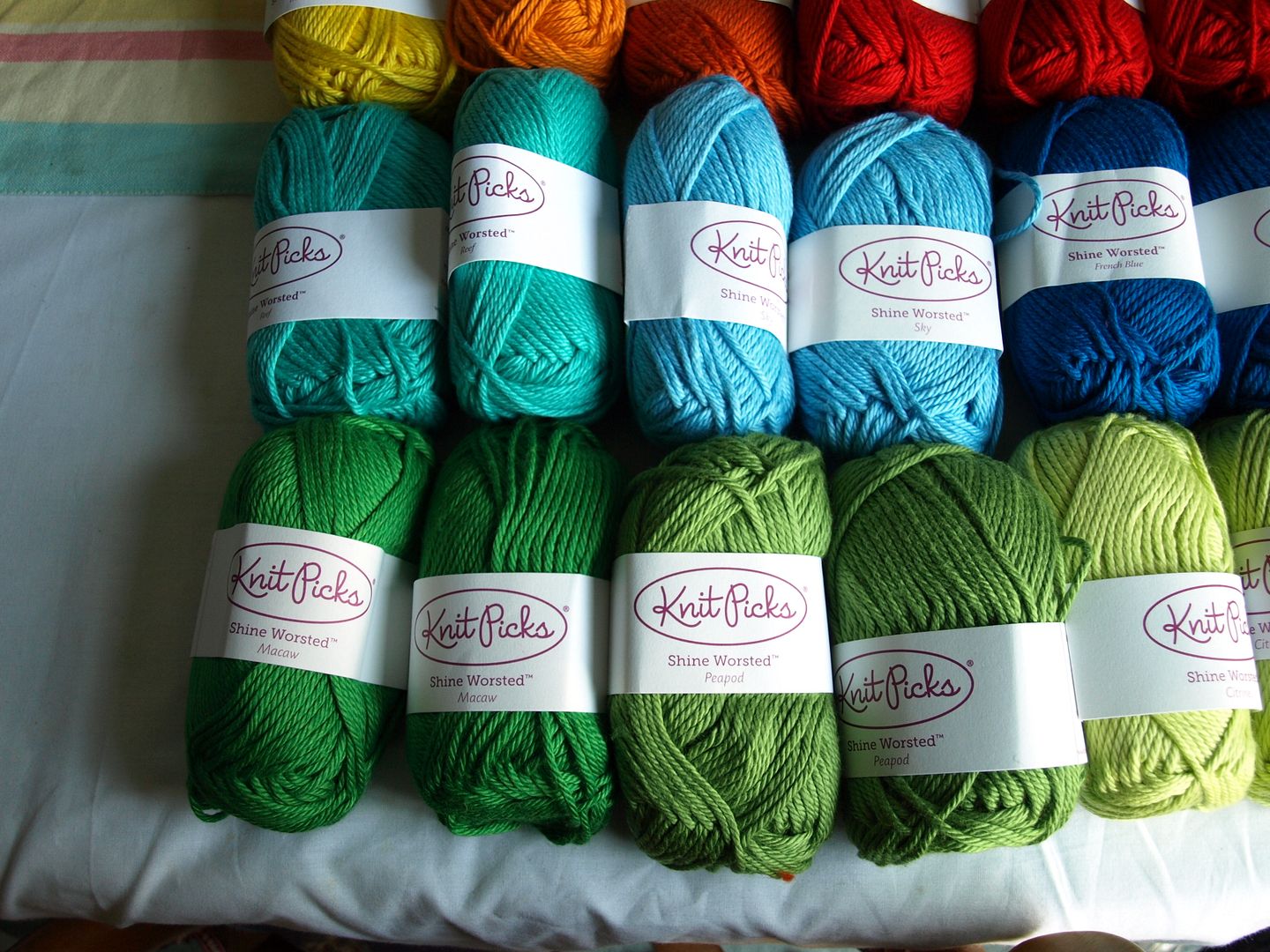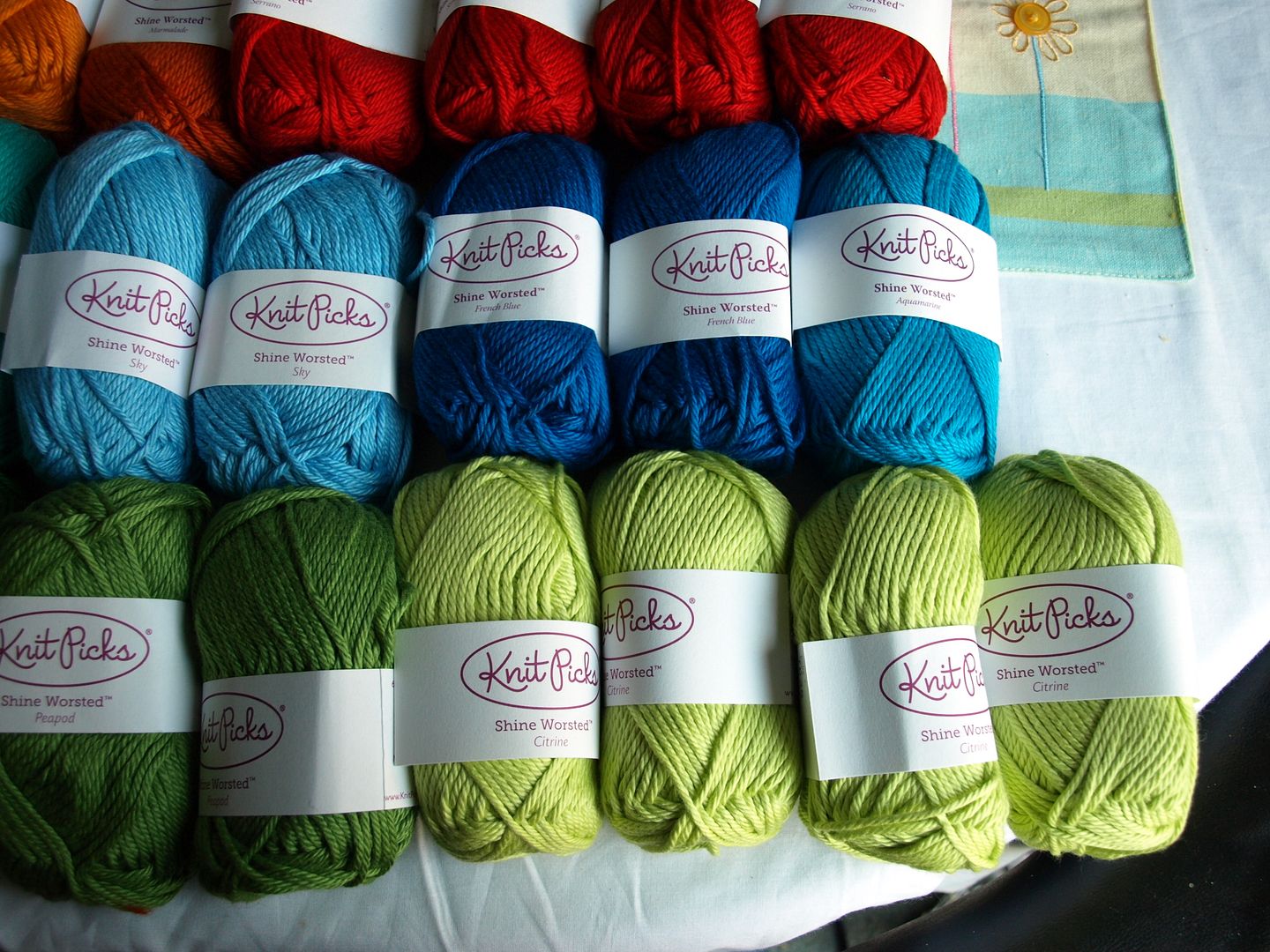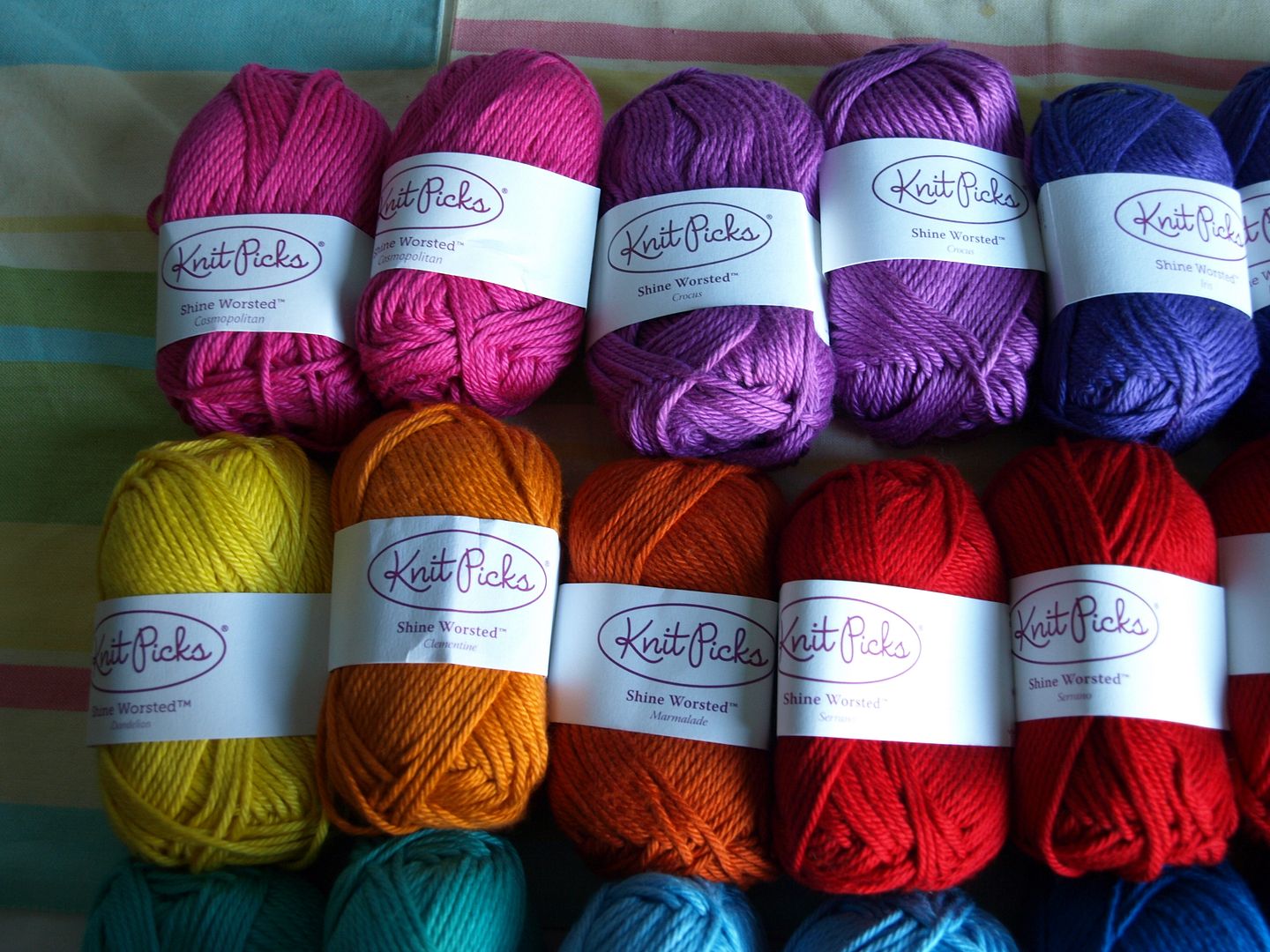 So yes. That's what's in the box. I can't WAIT to get my hands back on that box!
xxx