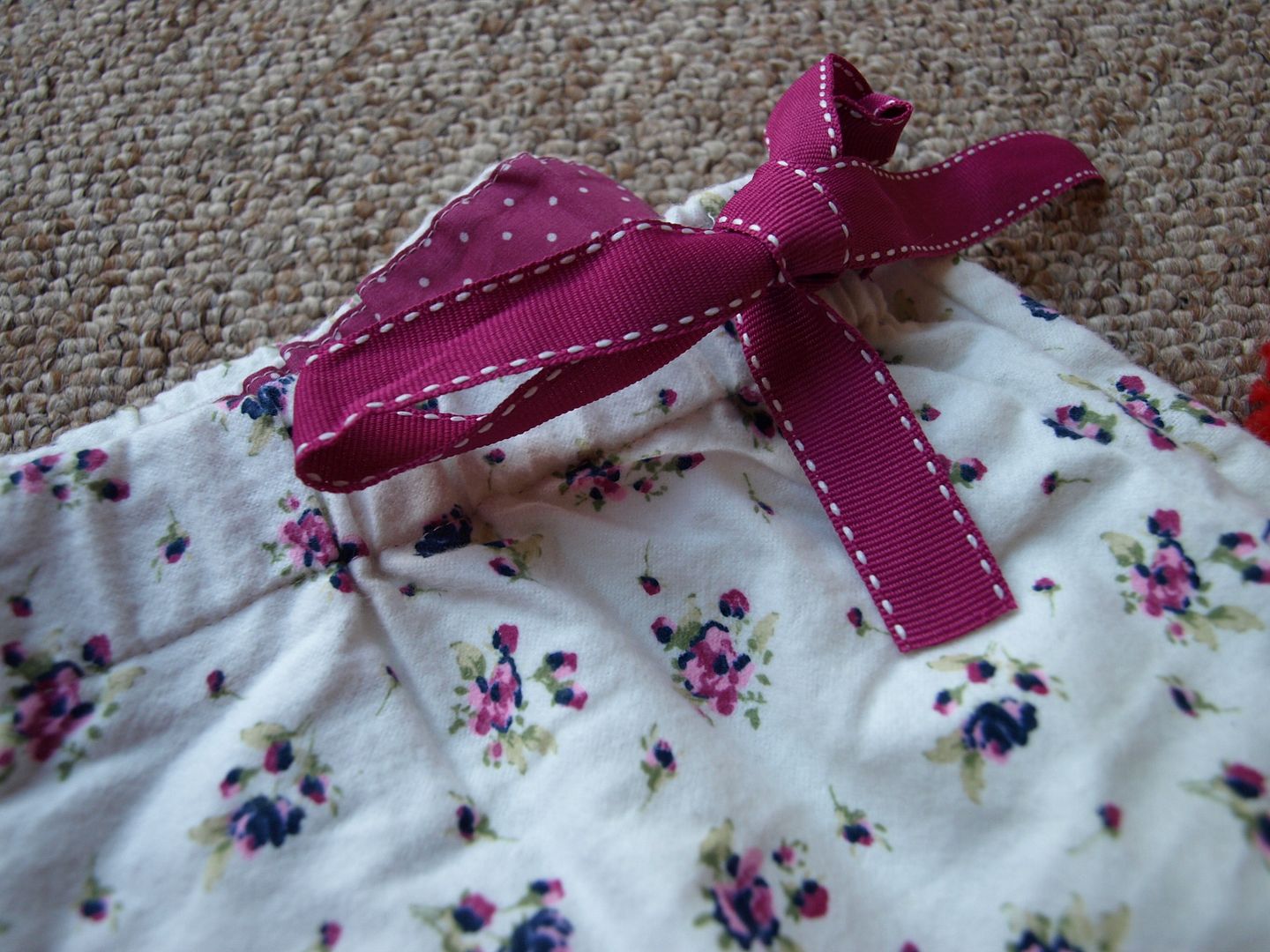 Booking time to spend with Rach in the run up to Christmas is nigh on impossible. That girl is the busiest girl ever! I swear she books her weekends out a year in advance. With a little bit of planning in advance (September!) we booked last weekend as a Christmassy Day In. Christmas films, jaffa cakes, crochet, knitting and of course pyjamas were the order of the day. I have to show off my new pyjamas partly because they are beautiful, partly because they are oh-so-soft and just perfect in my cold house and partly because I saved a whole £2 on them by using an online discount code and having them sent to the shop. Which is on my high street and where I was going to buy them from anyway. Makes me feel good!
I always travel light when I visit Rach.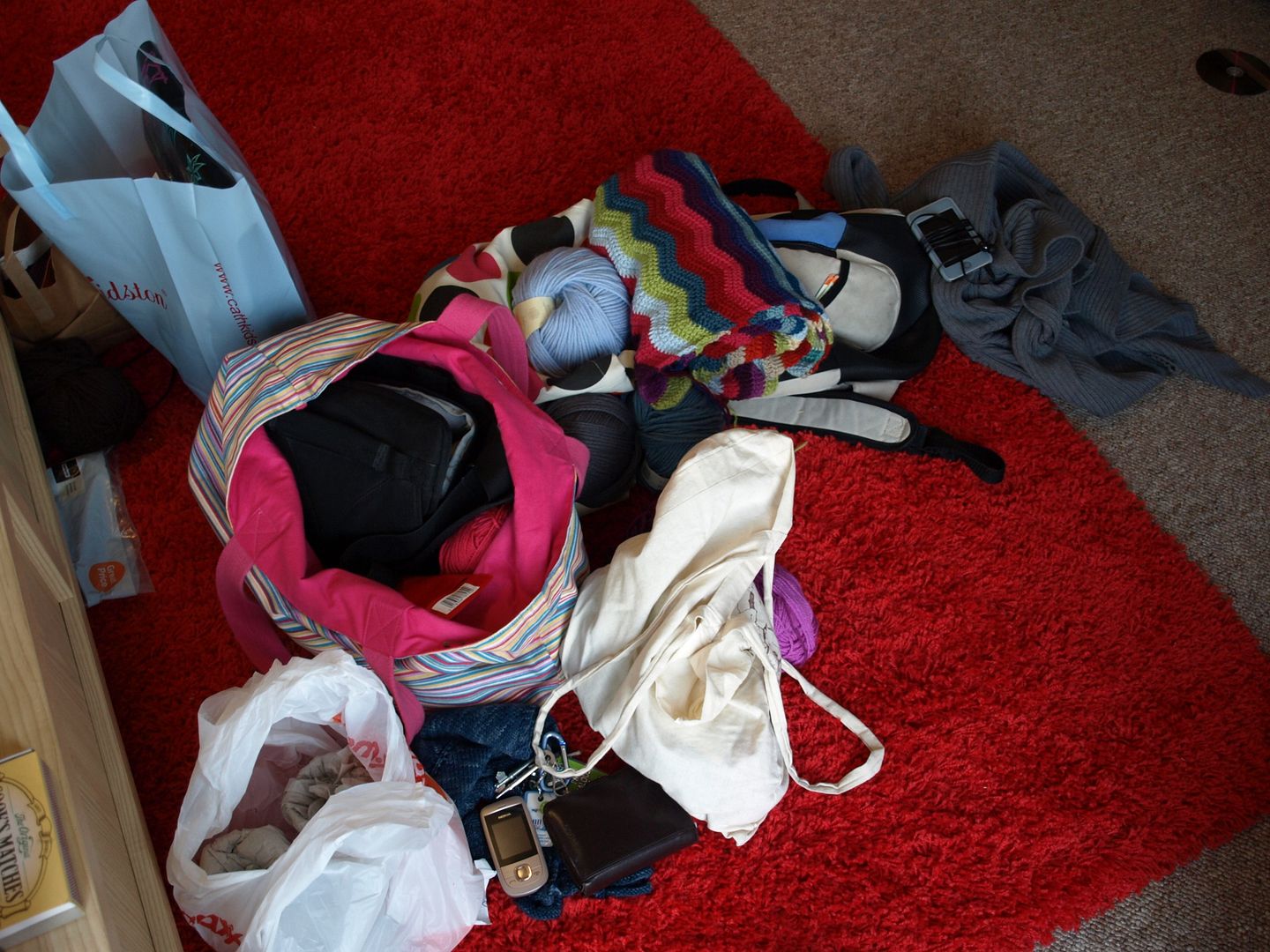 Honest.
Well I tried but failed. I don't get to go to Leeds much and I needed to get some Christmas and birthday presents while I was there, and I was also desperate for a rummage around in T K Maxx, for soap-in-a-tin (didn't find any.) What I found was so much better and made me smile from ear to ear. Last year I didn't have any money to spend on myself and Emma Bridgewater released the pretties mugs with reindeer on them. I had the wanties for those badly but never managed to get any. Then a couple of weeks ago I tried to bid on one on ebay but it got away. Soooooo (this story is getting longer, sorry) I went into T K Maxx and couldn't find any soap-in-a-tin. I had a browse of the homewares on the off-chance that they had any of the Cath Kidston boaty pillowcases (they didn't) and then OH MY GOODNESS there was one of the baby reindeer mugs on the shelf! I waddled over there laden with all my crochet bags and stuff and grabbed it before anyone else could. Aahaaaaha! So pleased. Then, I went into the next aisle and there was another one! Wooooooo!
Totally bargain price as well, being as they were from T K Maxx.
Anyway yes, that was a very long way of telling you that I bought two mugs that I really wanted and I love them and they are pretty.
Since I am on an andy-enforced "mug diet" I am not really allowed to bring any more mugs home unless there is a purpose for them. Now as these are "baby mugs" they are too small for a nice cuppa so I have decided that these are now our Mulled Wine Mugs and will be brought out around the festive season for the purposes of Mulled Wine Consumption. Genius!
(Just for the record, any mugs that are given to me as a gift are totally allowed into my house. It would be rude to turn down a gift. This also goes for: pillowcases and other bedding, towels, cushions and yarn.)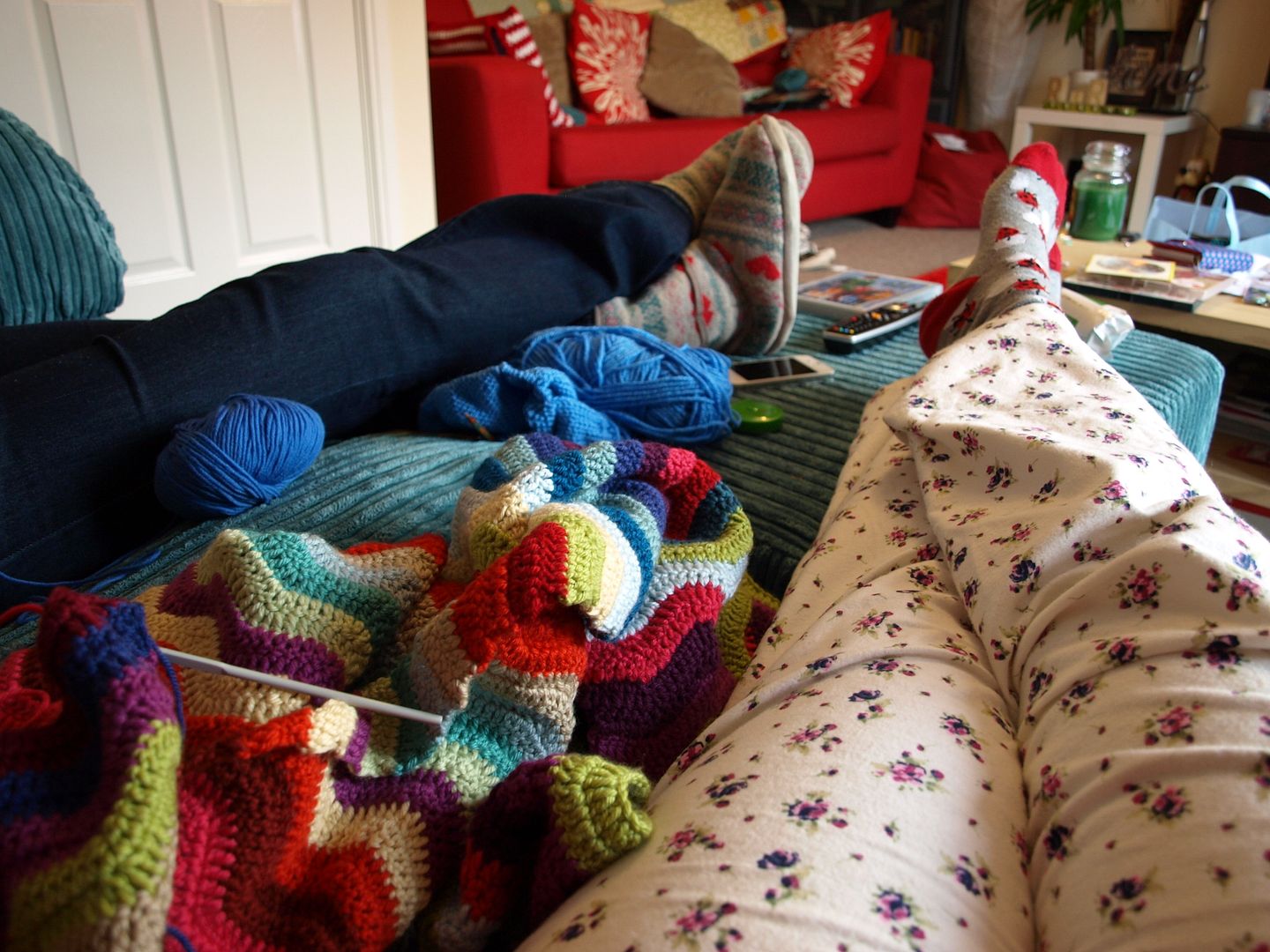 Within ooh, twenty minutes of me arriving at Rach's, I'd whipped my jeans off and it was on with the pyjamas. Yes I wear pyjamas in other people's houses, what are you going to do. Then we sat on the sofa like this ….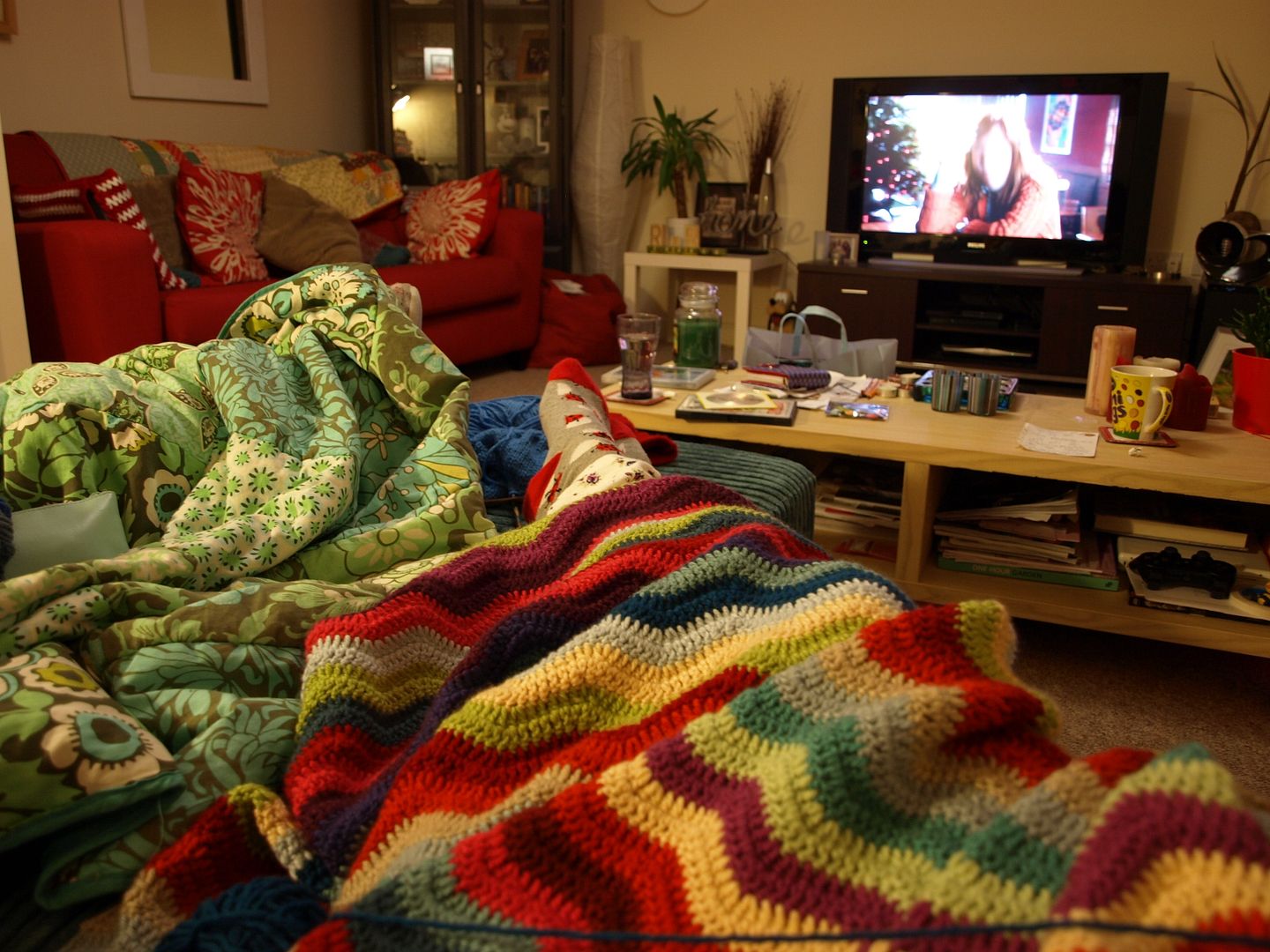 … and this …
for the rest of the day while we watched this: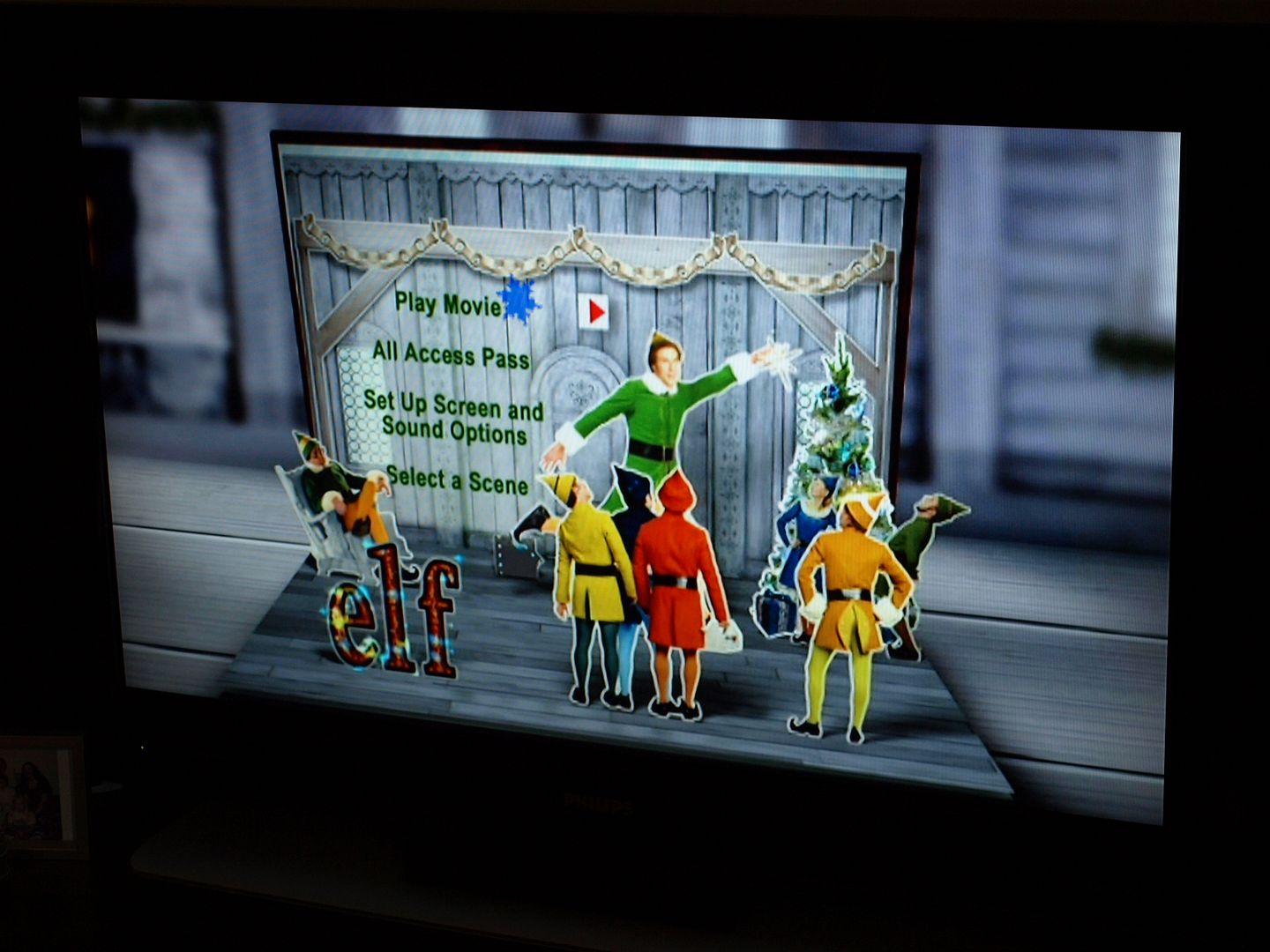 and played with Rach's iphone (I don't have one, and so poor Rach has to put up with me grabbing it every ten minutes, taking a photo and going "Put my ripple on instagram!!!!!" and then … "has it got any comments off your friends yet????")
This is out of date now so it is even FEWER sleeps to go!
In addition to Elf, we also watched Eve's Christmas, Jingle All The Way (good old Arnie!), Christmas With The Kranks and then finally with our eyes barely open we ended with the Muppets Christmas Carol.
I moved off the sofa enough to put my ripple away and get out some knitting needles and Rach taught me how to make stripes with 1×1 rib. Oooh, I like this.
I took another photo of my pyjamas (with knitting) because they're so pretty and my knees look like they've lost weight here.
What a lovely way to spend a Saturday :-) I really enjoyed myself and am tempted to book myself in again for this time next year! Hear that Rach? Pencil me into your diary please!
It's days like these that make me happy and I know that I've had lots and lots of brilliant days like this. It's other days that I find a lot harder, days when you've got all the floorboards up on the landing and the pipes you are trying to fit just won't work, and the old house is so broken that nothing works with it, and it's 9pm already and you've not made any dinner. When you realise that this is the only chance you have of a heated house and you can't do it yourself, and you can't afford to pay someone to do it and you know that if you don't get it done you can't go home for Christmas because leaving the house may cause the pipes to freeze. When you know that you do have it better than a lot of other people but that doesn't make it seem any less bleak. When you can't think how to make things any better. Those are the days that I struggle with and I thank you for your kind comments on my previous entry. It makes me feel far less isolated and alone to know that there are people out there who think of me, even though we don't really know each other. It's an odd thing, blogging relationships. They're sort of so new in society that nobody has really defined them yet. (I'm so grateful that you're all on the end of the internet.)
Love H xxxx