Tonight, I am excited to bring you a very special "Finally Finished" post.
That's right folks…this is a Finally Finished KNITTING project! I know, I'm as surprised as you are.
Knitting and me didn't get off to the best of starts but I've stuck with it in my own way: have yarn and needles near my bed and then if the mood takes me I can have a go before I go to sleep or when I get up. I imagine that if I put as much time and effort into learning to knit as I did/do to crochet I'd be well away but I just have too many things that I need Want MUST crochet and so knitting never really gets the time it deserves.
I decided that it was high time to Make a Knitted Something though and I thought that if you can crochet a rectangle and sew it up leaving a gap for the thumb then surely I could knit one? Yes? Just in garter stitch as that way I don't need to faff about with purling or blocking it afterwards.
After a bit of trial and error I cast on 36 stitches (my original guesstimate of 60 being slighty gargantuan for my weeny hands!) with Rowan Cashsoft dk and I was off. I knitted an inch in one go and really enjoyed it. After that I carted it to work with me and sneaked a bit at lunch time – knitting in my bag so that nobody can see!
I finished the first one and my mum cast it off for me when she visited. Hurrah! I carried it around with me all proud and stroked it a lot and showed anyone who would look (not many people). Then I realised that hmm, I have two hands don't I, so I cast on the second one and did most of it on the train on the way back from Jenny's house a few weeks ago.
I hit a snag after that as I didn't know how to count rows or anything so I did another bit of guesstimating which fortunately was just less than the first one. My friend at Knit and Knatter counted it up for me and then kindly showed me how to sew them up. Exciting! (Thank you T).
Want to see? I'm so ridiculously proud of these, you can't even begin to imagine. Well ok, you probably can as I'm not shy with the old hyperbole am I now.
Now I promise you that they are exactly the same size! They just look a bit squiff here. The one on the left is the one where my friend did most of the sewing and the one on the right is the one I did on my own in an impatient huff to get it finished. They're soooooooooo warm and soft!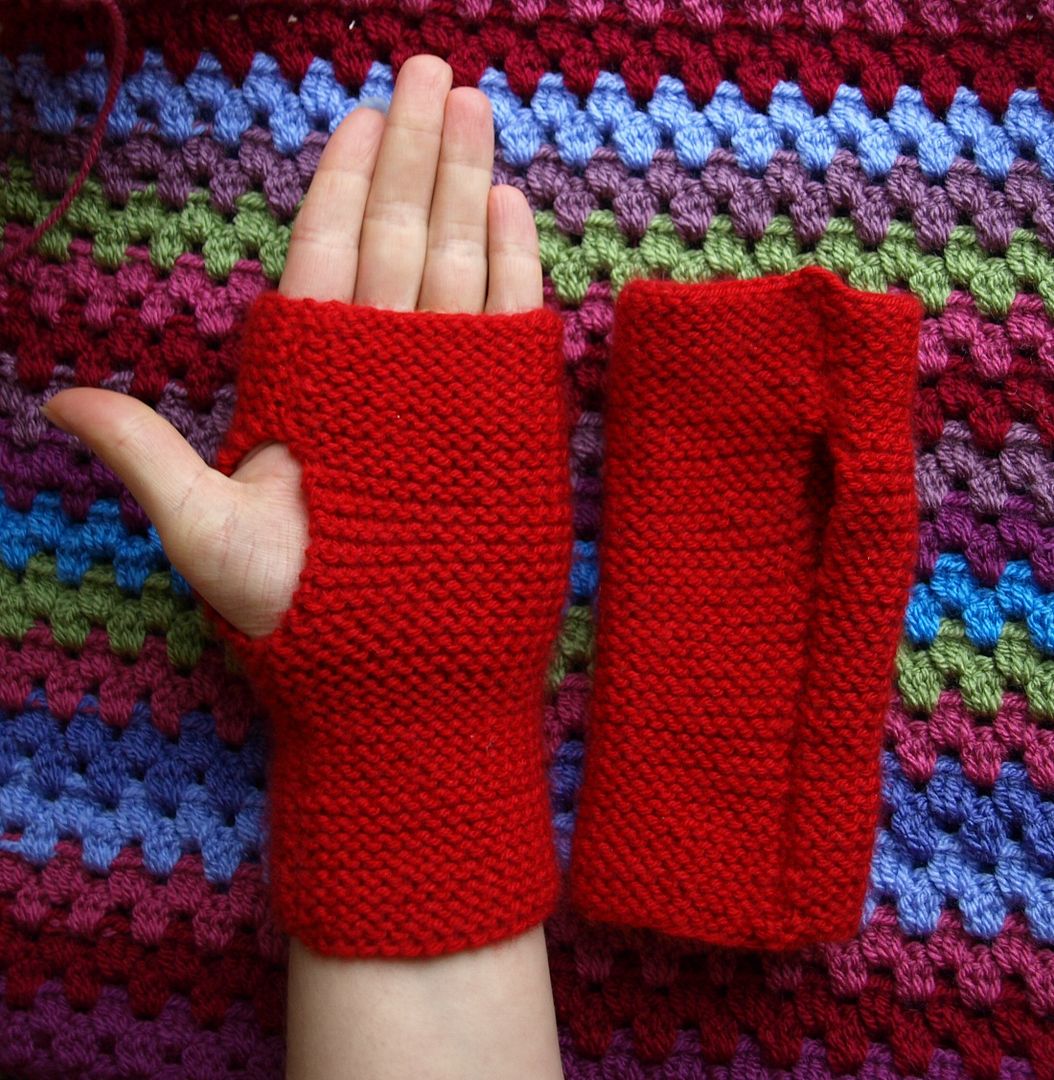 It's hard to photograph hand items so Lucy helped me out last weekend. We staged it and made a cuppa especially for this purpose!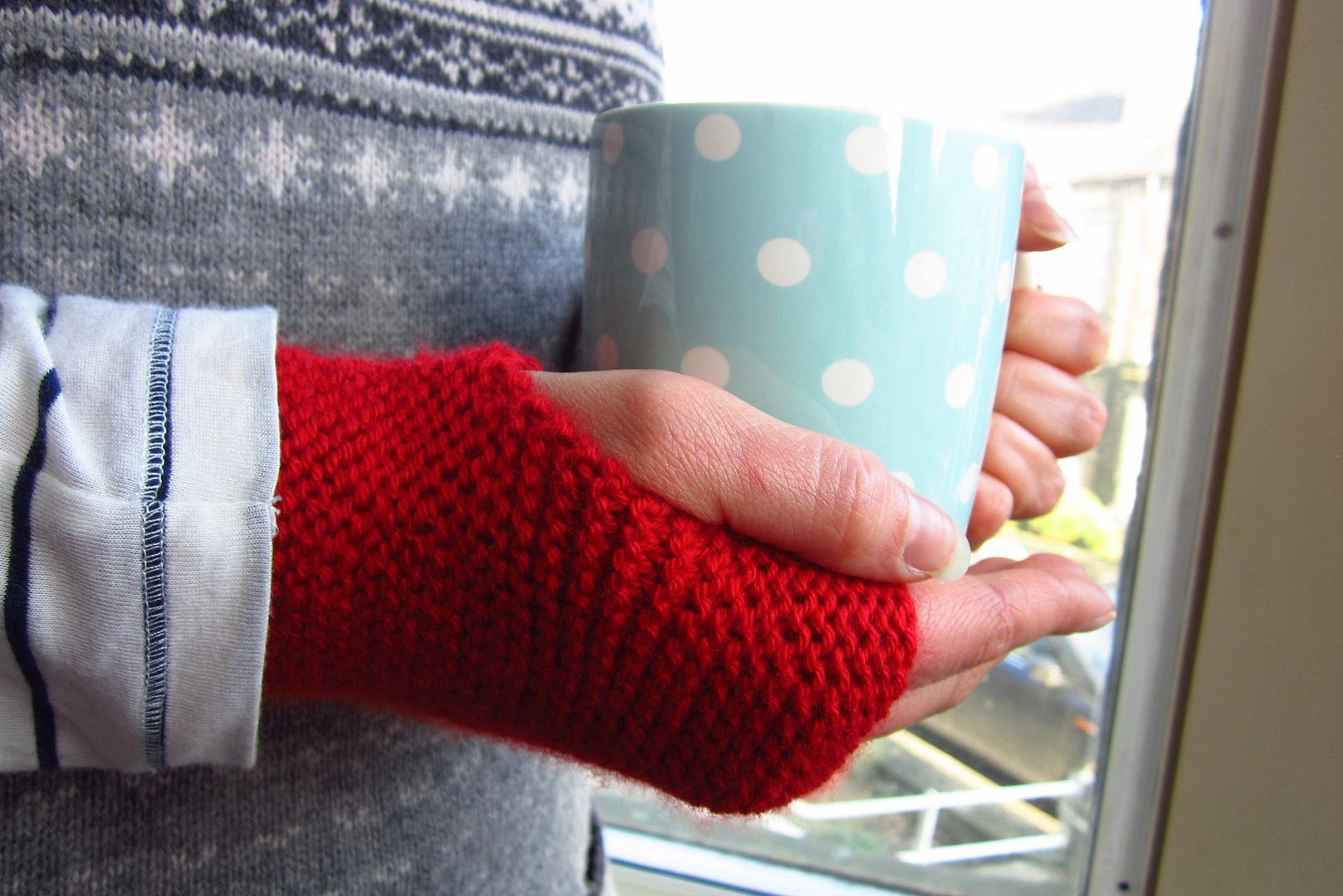 The next day though I had a bit of a "Don't try this at home moment" and put my camera strap around my neck, held my camera under my chin whilst winding the strap in a figure of eight around my forehead and then letting go with my chin and using it on the 2 second self timer. Phew! It was a bit strangling but worked out pretty well I think and it's a method I will bear in mind for the future hehe.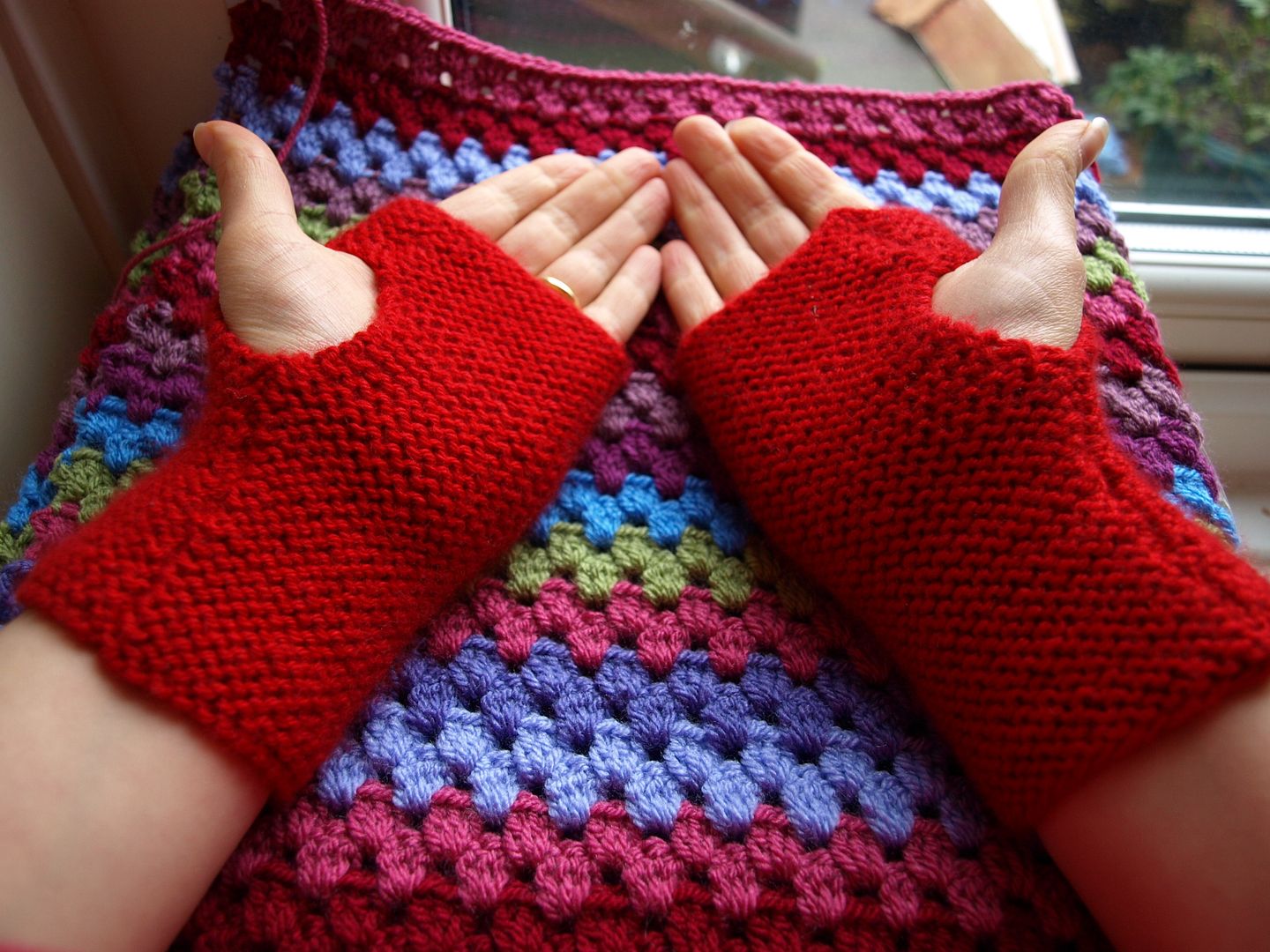 I love them because I've knitted them and because they're wearable and I've used them a lot already. I love them because they're RED and look lush with my navy coat, and I love them because they're Rowan Cashsoft which is beeeeyoootiful.
But I do have a bit of a soft spot for the fact that they look like little balaclavas for my hands.
xxx