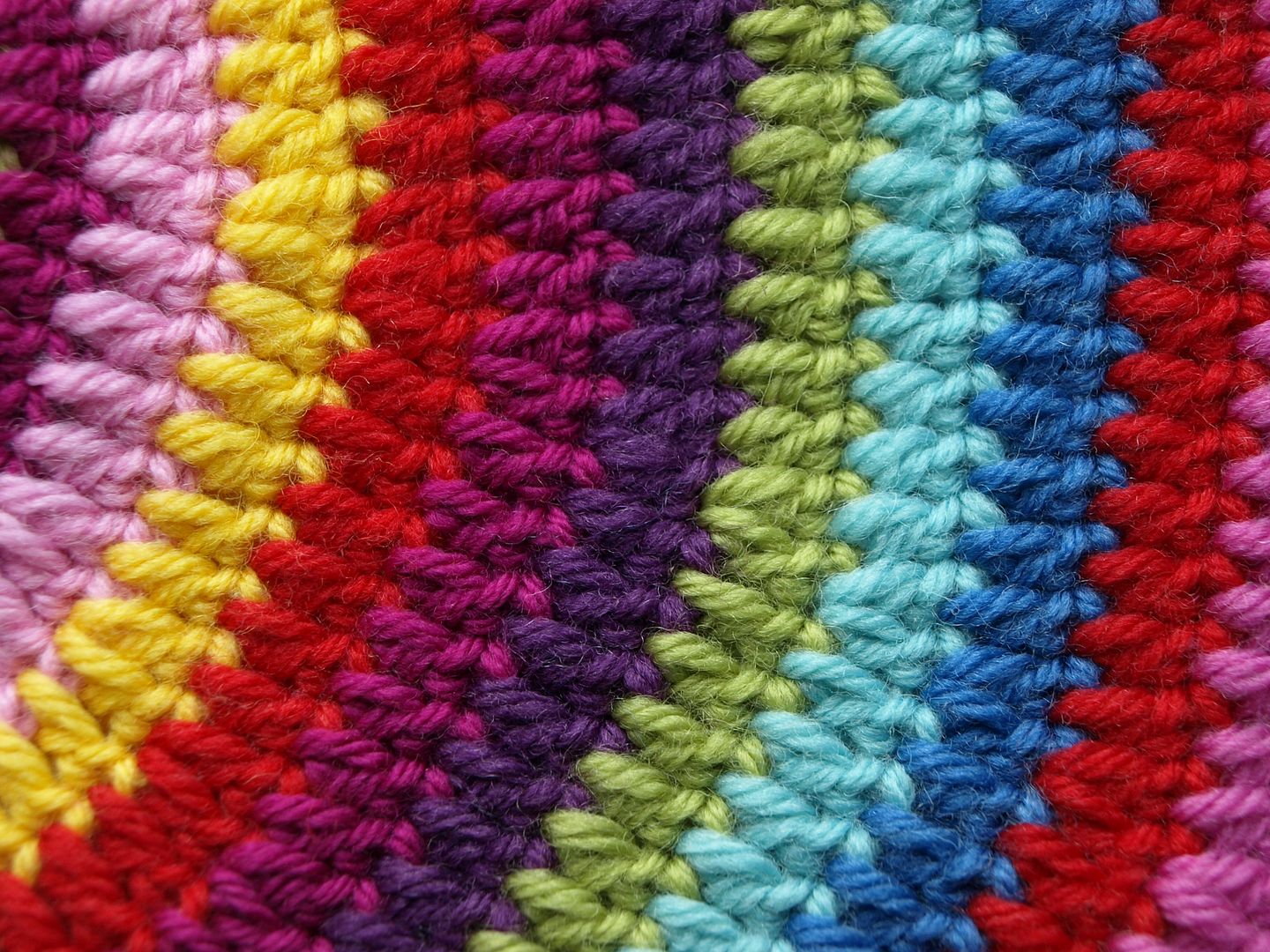 Doooooo you remember back in August I showed you this photo, proclaiming it to be the most beautifully coloured piece of crochet that I have ever made? (Also the most colour-accurate photo I've taken of crochet too.) I said:
"Was hoping to do a ta-dah post tomorrow but I was 13 stitches away from completing it and it all went wrong. This is because I was five stitches away from completing it on the other side. NIGHTMARE. So instead of a finished object, I now have to pull back six rounds and re-work them with new yarn as the yarn that is on there is too short – this is because I missed an increase on round 12. Very Annoyed."
The title "Finally Finished" is pretty accurate here because after getting oh-so-close to finishing and then finding out that I'd missed an increase, I was a bit too annoyed with it to rectify said mistake and so it sat on top of my yarn bucked for a couple of months before travelling upstairs to be beside my bed … I think in the vague hope that I'd get it finished if I could work on it in bed? But no, it sat there for another month until I frogged all of the mistake laden bit in a frenzy one evening. I rolled the yarn into little balls and sat them on the bed frame by my pillow where they tried to escape under the mattress each time I changed the bed.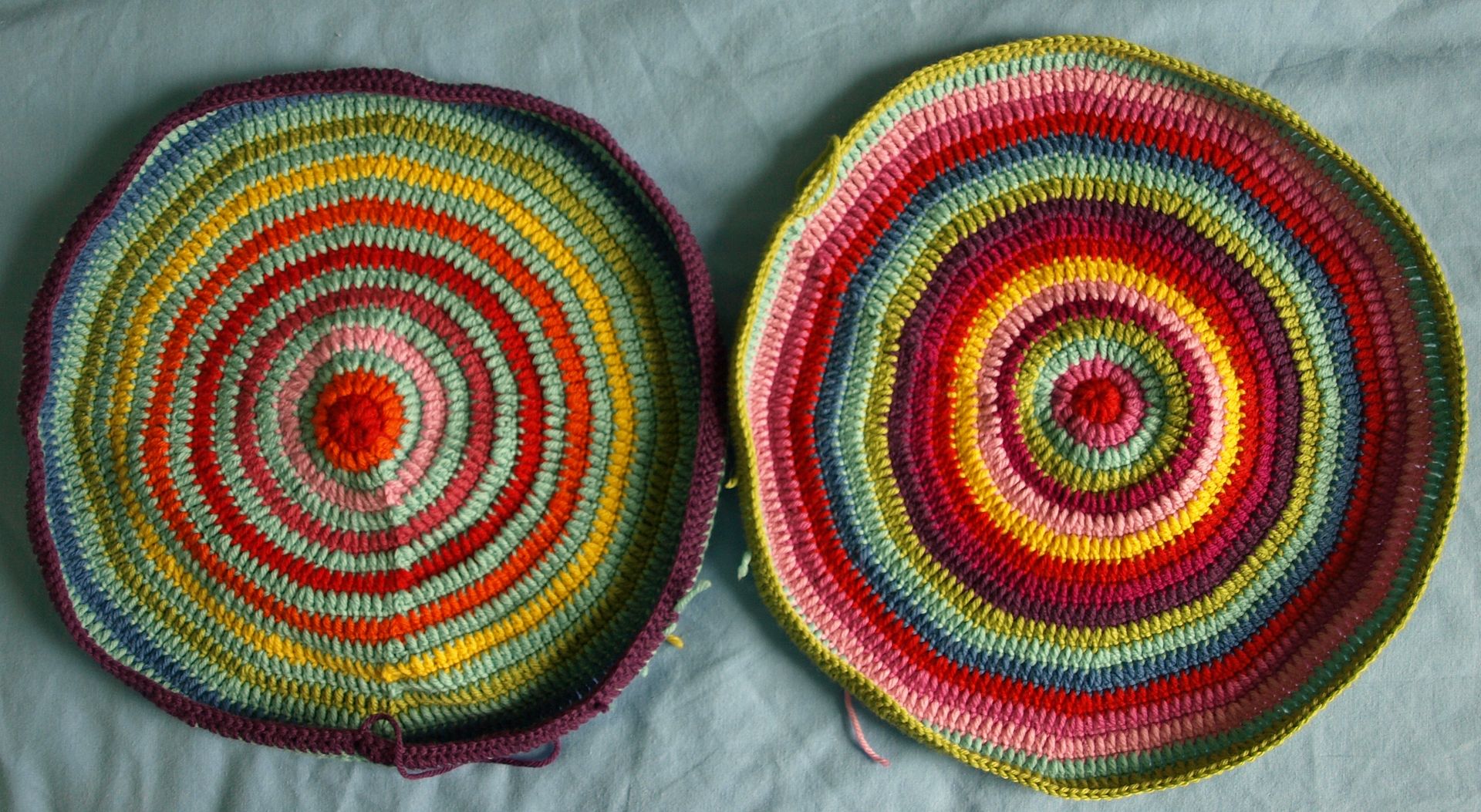 I remember at the time of taking this photo that I could not work out why one side was so much more cuppy at the edges than the other!
Anyway, two weeks ago I started sloooowly and grudgingly re-working the frogged side and this weekend I FINALLY FINISHED IT!
Hurrah!
(I like to think of this as the Moment of Truth when in fact this is a "Moment of Truth" reconstruction moment the following day on my windowsill, which is the only place in the house that has enough light in November for photos. Grr. Actual Moment of Truth occurred at night time which was a bit inconvenient.)
I reached the Moment of Truth and YESSS indeed I now had the correct number of stitches! Hurrah. I am not sure what I would have done with it had they not matched up.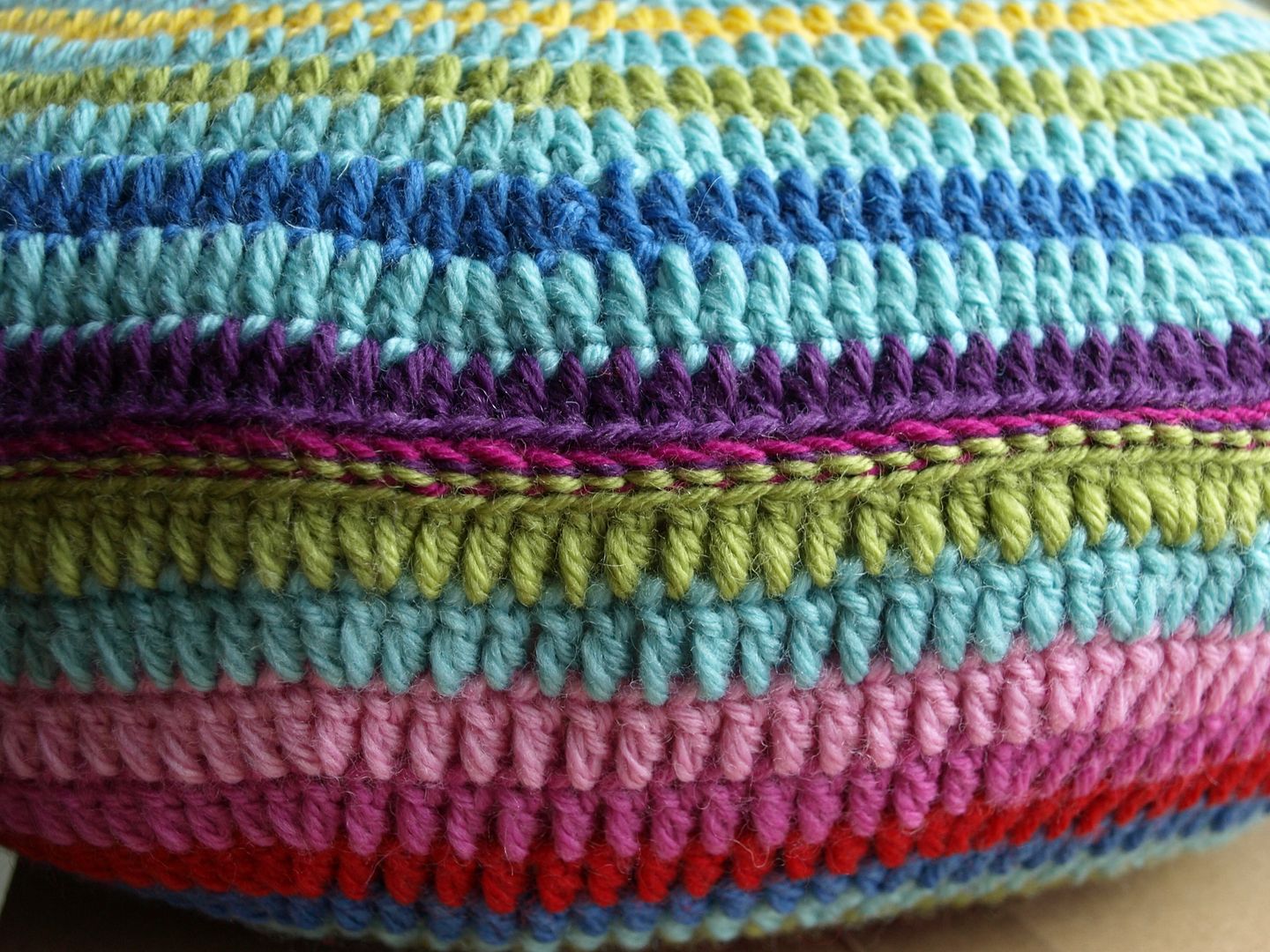 As usual I joined using a bright, contrasting colour, which I love.
You may recognise one side of the cushion. You'd be right, because I totally stole it. Sometimes when it's raining or whatever I like to go back through people's blogs and sometimes I just think, " You know what, I like that so much that I'm going to steal it. So there." So I did. I had the yarn, I made the round circle and it was good. That took me a few weeks to do, it was slow. Then I stuffed it in my yarn bag and forgot about it. Then one evening, I looked at it and was very inspired and whipped up the other side in that same evening. When you get the urge, you just have to go with it!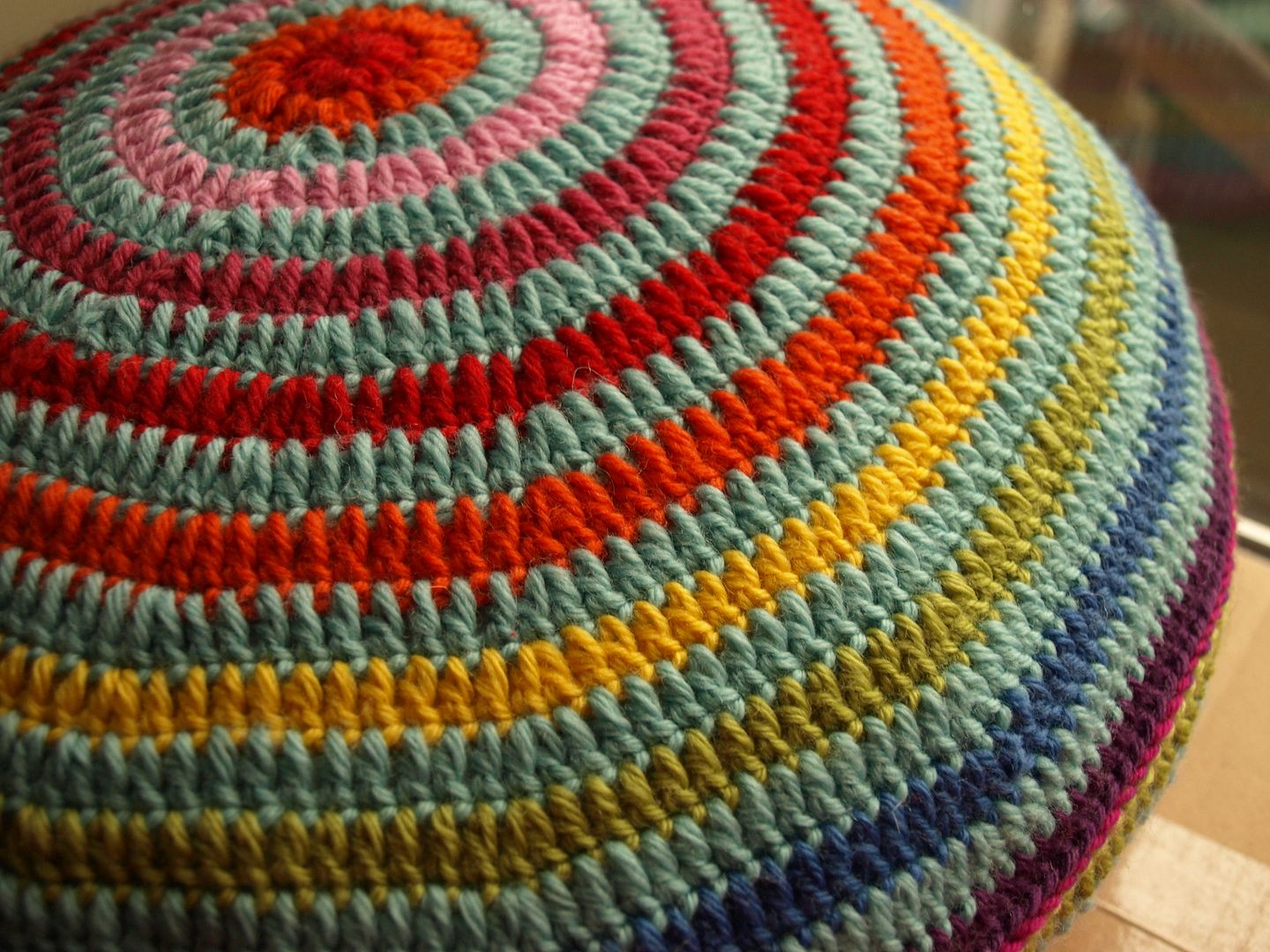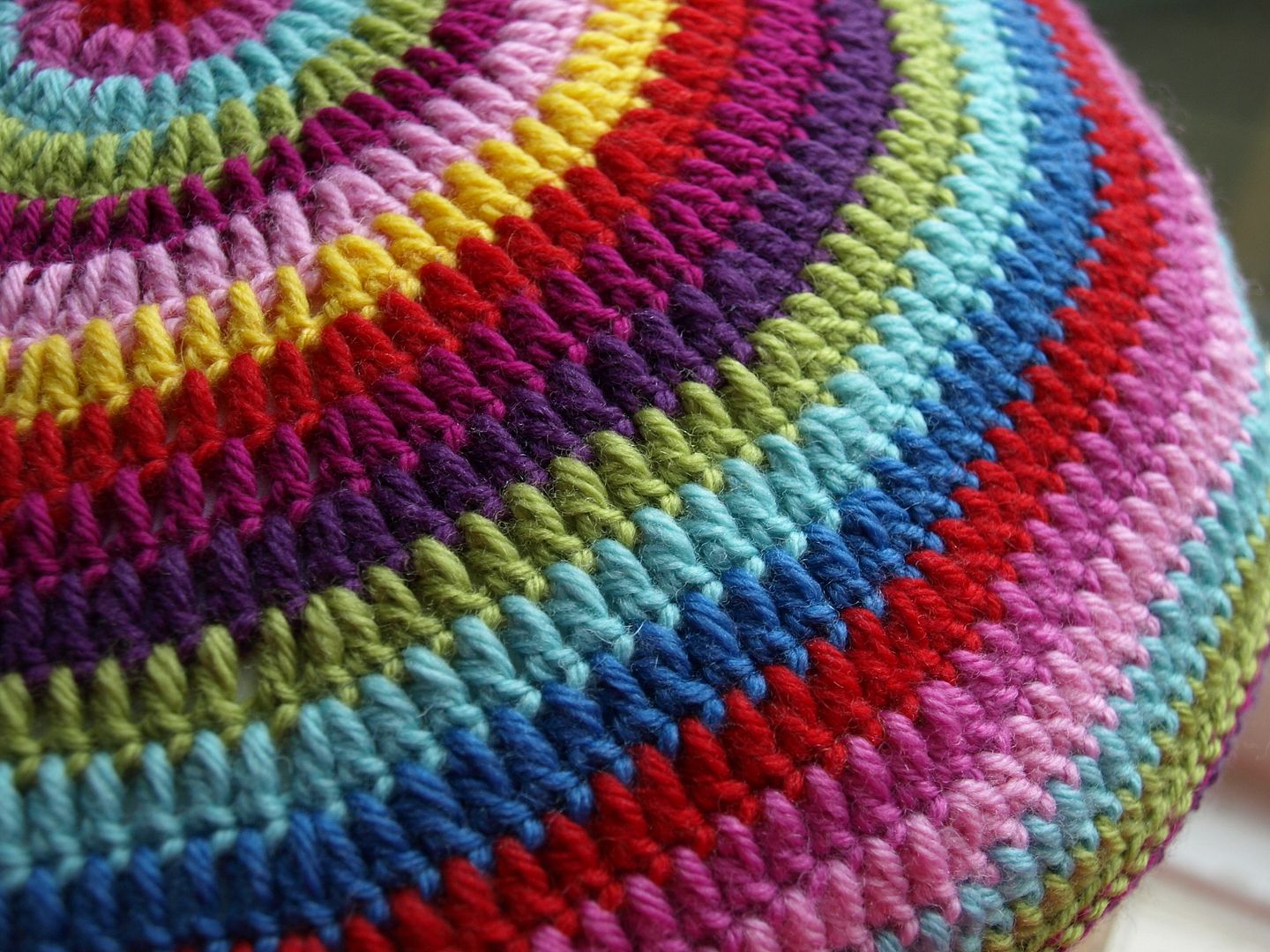 I LOVE this cushion. While I love the first side, the one I stole from Lucy, I REALLY love the second side because I chose the colours All By Myself and they look ace and I'm always a bit chuffed when I feel that I've Got It Right.
I tried to work in groups of 3 colours that I felt worked together. The "blue blue red" set and the "Red pink pink blue" set stand out to me, and the four in the centre are the exact same colours as my tiffin box, now that I think about it.
So let's stand back and have a look now … here is the first side, with the blue rings:
The final purple stripe is hidden here.
And then the second side …
Ooof, yum! (apologies for the blur, November light is not my friend.)
Here it is on my bed, with it's good friend Mr Squares Cushion: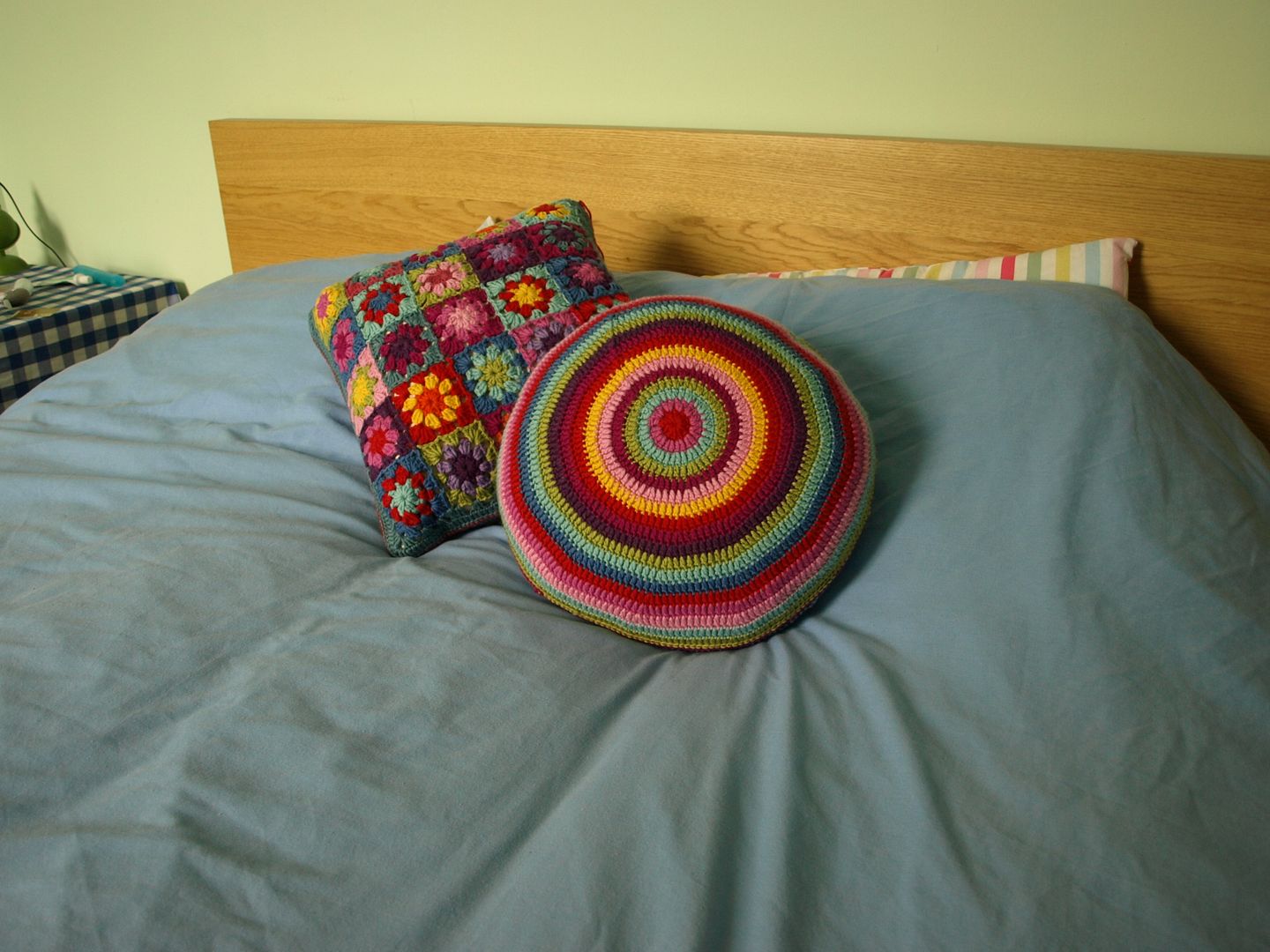 and a bit closer to the window, which required Substantial Propping with Miscellaneous Objects:
I've squirrelled them both away now to bring out when we have sofas.
One more thing completed from the "WIP List" – excellent!
Oh I should have said: It's Rowan Pure Wool dk in: Avocado, Tangerine (d), Gilt (also d – Rowan why are you discontinuing all the good colours AGAIN???), Dahlia, Tea Rose, Marine, Pier, Damson, Kiss, and Hyacinth.
————————————————————————————————————–
Now, I want to say a MASSIVE (and slightly humble and embarrassed) THANK YOU to all of you who nominated me on the Inside Crochet blog awards, aeeeggggghhh you are totally excellent and I actually got through. I found out this evening (after an impromptu post-work trip to B&Q for … I want to say sealant … and eeeh eck it made my evening. So, blushingly, please accept my sincere thanks :-) Love you guys.
xxxxx
Edit: I forgot to give you the link! It's here if you fancy voting for me :-D