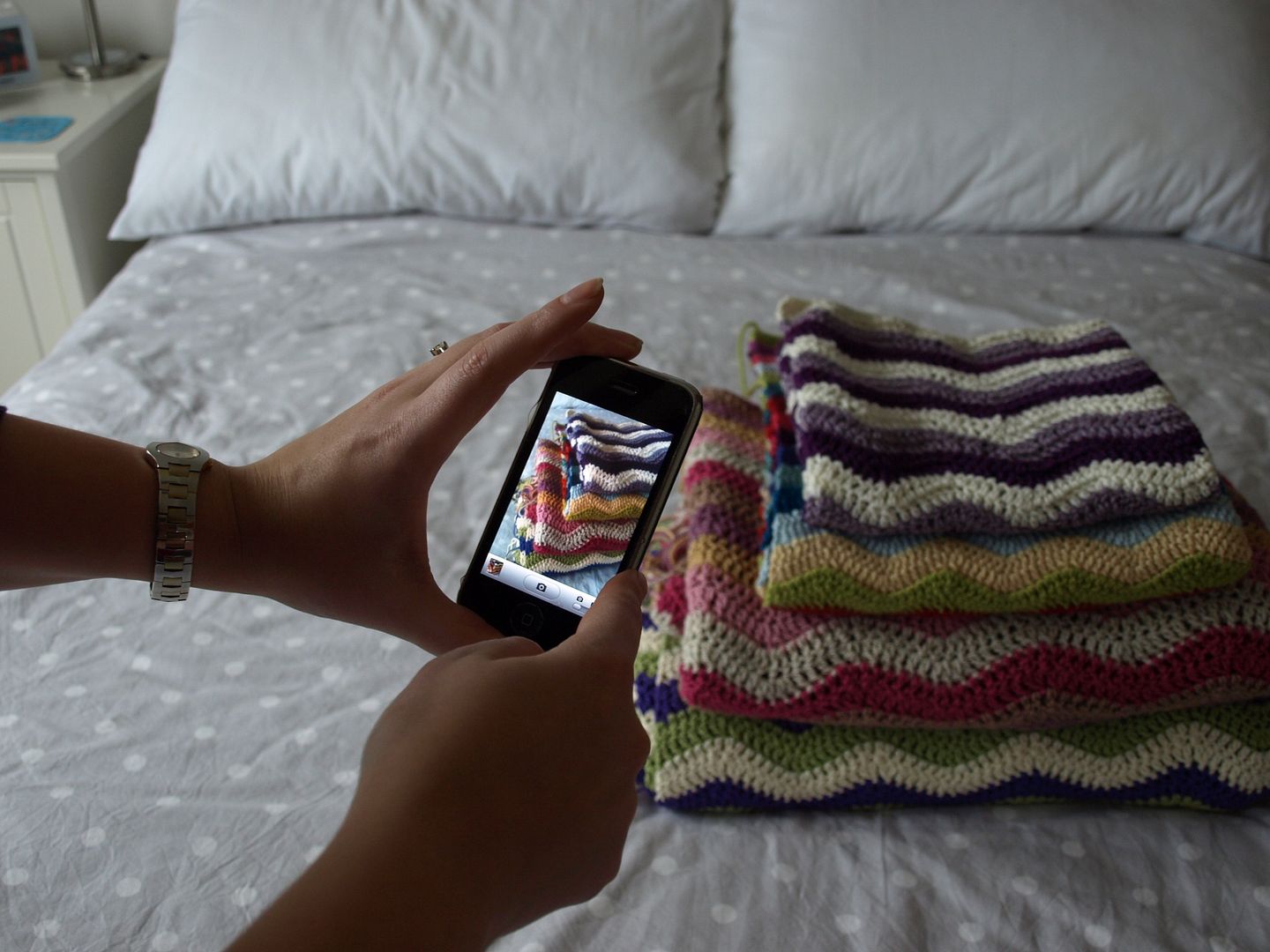 What does this photo say to you?
Does it say … Heather you are among friends who also blog?
It says that to me. It also says … this is the day that you went to Preston with Rach to see Jenny and Emma and Claire, and you were all working on ripples (Official Ripple-along meeting, yep.) and all ate cake, admired Jenny's beautiful house and had a ripple-along photofest on Jenny's bed, which has stylish Cath Kidston bedding that is subtle and dotty.
That all happened last Saturday and it already feels like a long time ago. The trainride there was beautiful, through parts of North Yorkshire that I'd never been through before, and through Lancashire where I have also never been before. Before last Saturday I didn't realise that Lancaster has a big river flowing through it, and I didn't realise that Preston was so close to the coast. I learnt that it takes 1 hr 45 minutes to get to Preston via train from my local station, but that on the way back when there is no equivalent train it will take you three hours, going via Leeds. I also learned (and this makes me smile and blush a bit) that when it's pouring down with rain at 9pm when you get off the train, Andy will come and collect me in the car as a surprise so that I don't have to walk 15 minutes in the rain (he was worried that my yarn would get wet. How sweet is that?).
Let's back track slightly, I am writing about the ends of the day without the middle bit and you know how I feel about doing things chronologically.
As I blogged just before I left for my train, I met Jenny, Emma and Claire back in March and Rach's house and we had a good time with our crochet and our knitting and it was a good "first time meeting" for us all. Well, first time for "Heather and Rach" to meet "Jenny Emma and Claire" if you see what I mean.
This time, I didn't have any First Meet kind of feelings, we were officially Friends which was good. I think I was chattier this time. Last time we met, Emma and Claire and Rach were all knitters and we had a bit of a joke going on Twitter that it was time that they manned up and crocheted blankets. And they have! There was a lot of rippling going on: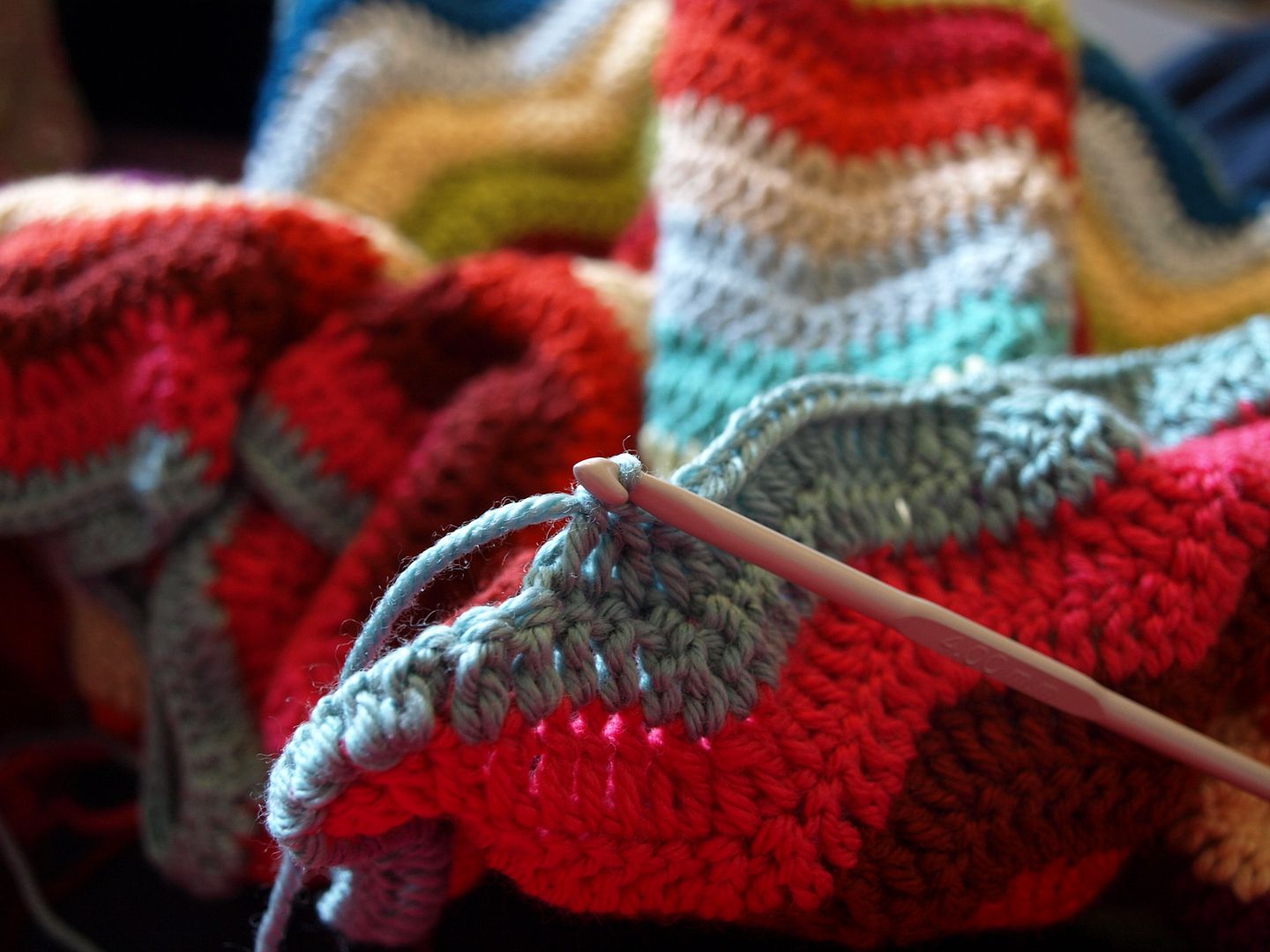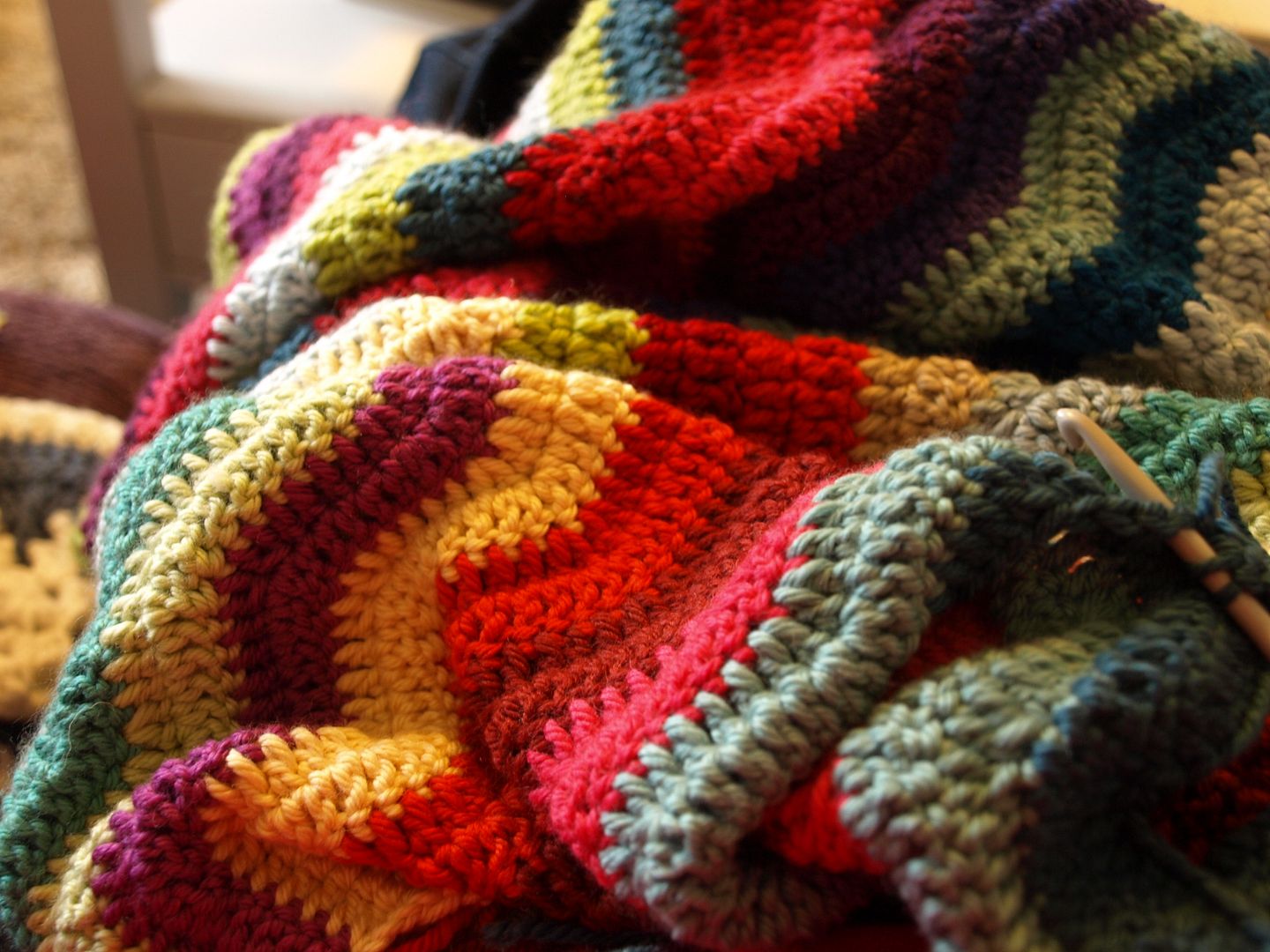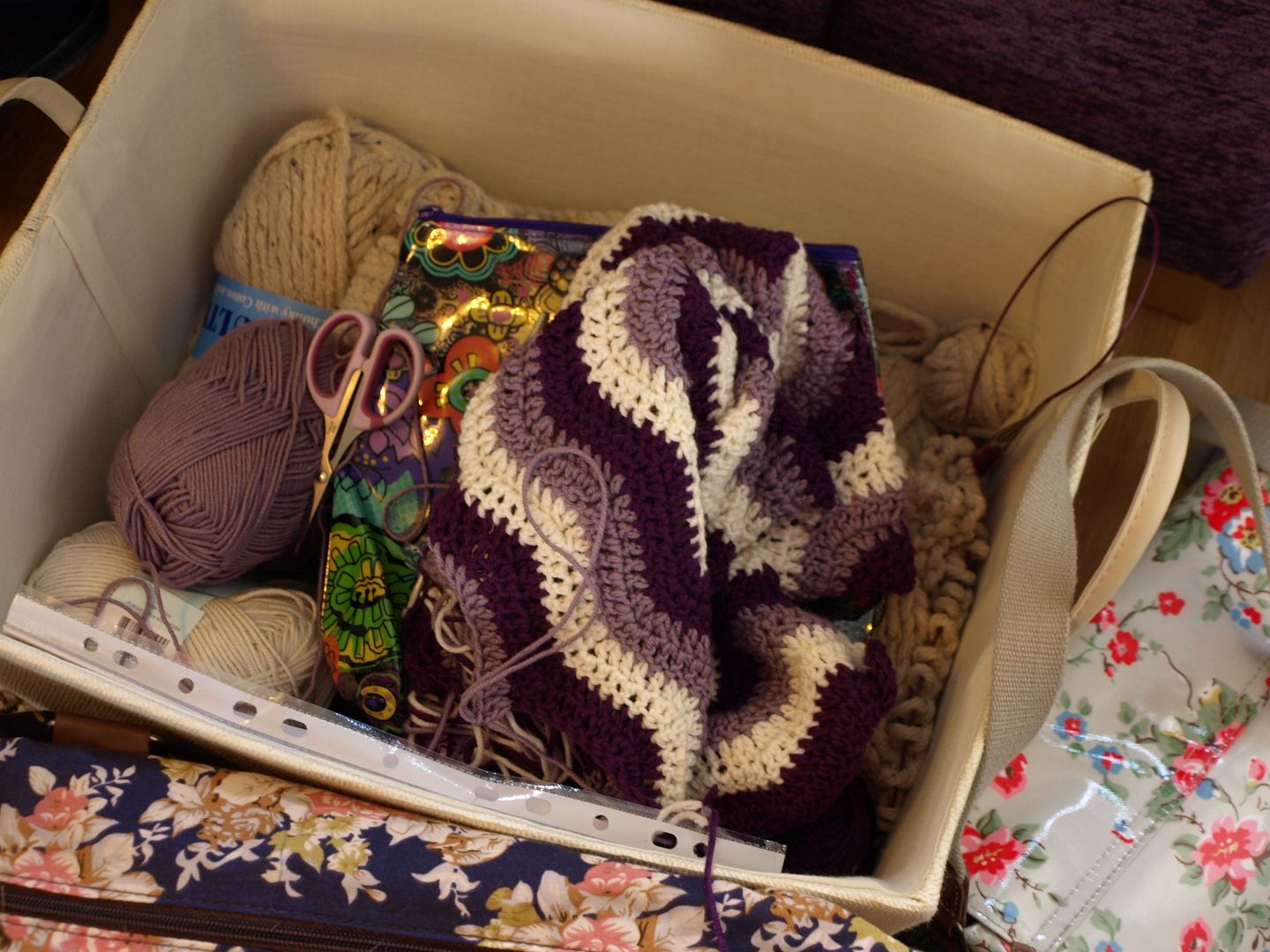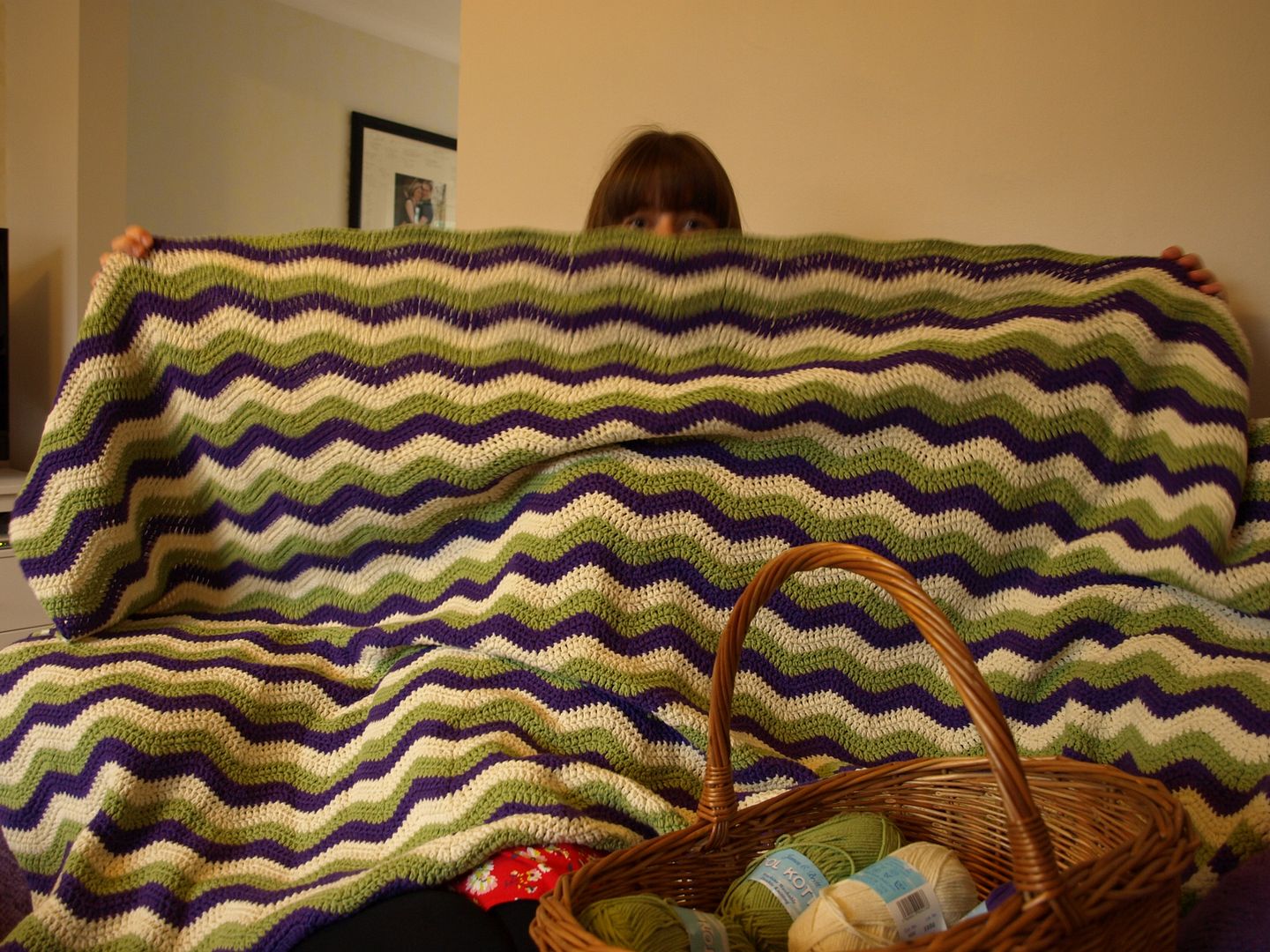 So of course, the only reasonable course of action to take was to put them all together and take a photo!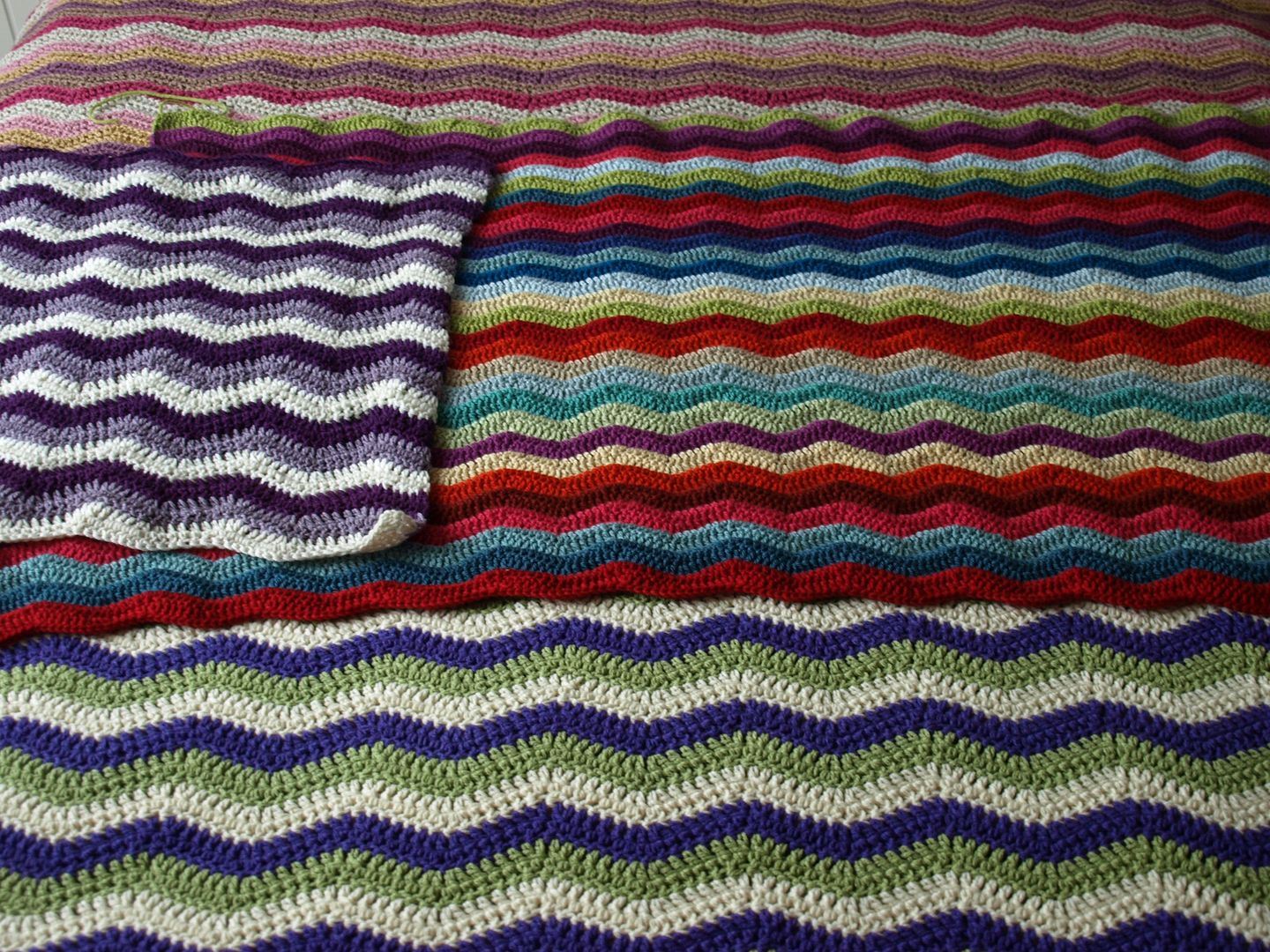 When Emma took a photo on her iPhone, I made her stop and do it again so that I could do this: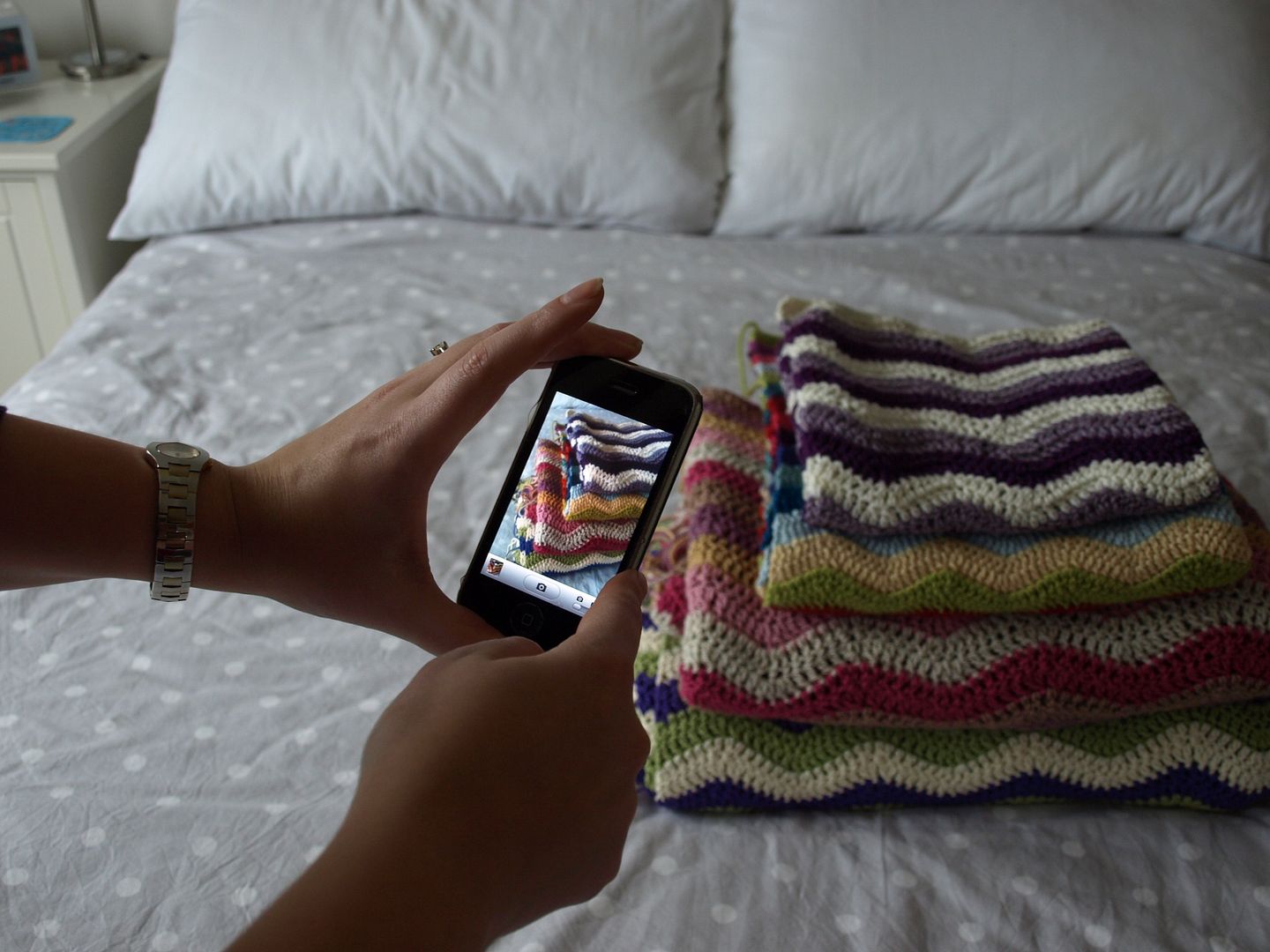 Rach was very taken with Jenny's cats. It was tough getting her to let them stay at Jenny's house!
The light was really good in Jenny's craft room so I made Rach stand still and I took her photo. I'm posting it here cos she's pretty :-) and I am pleased with the photo.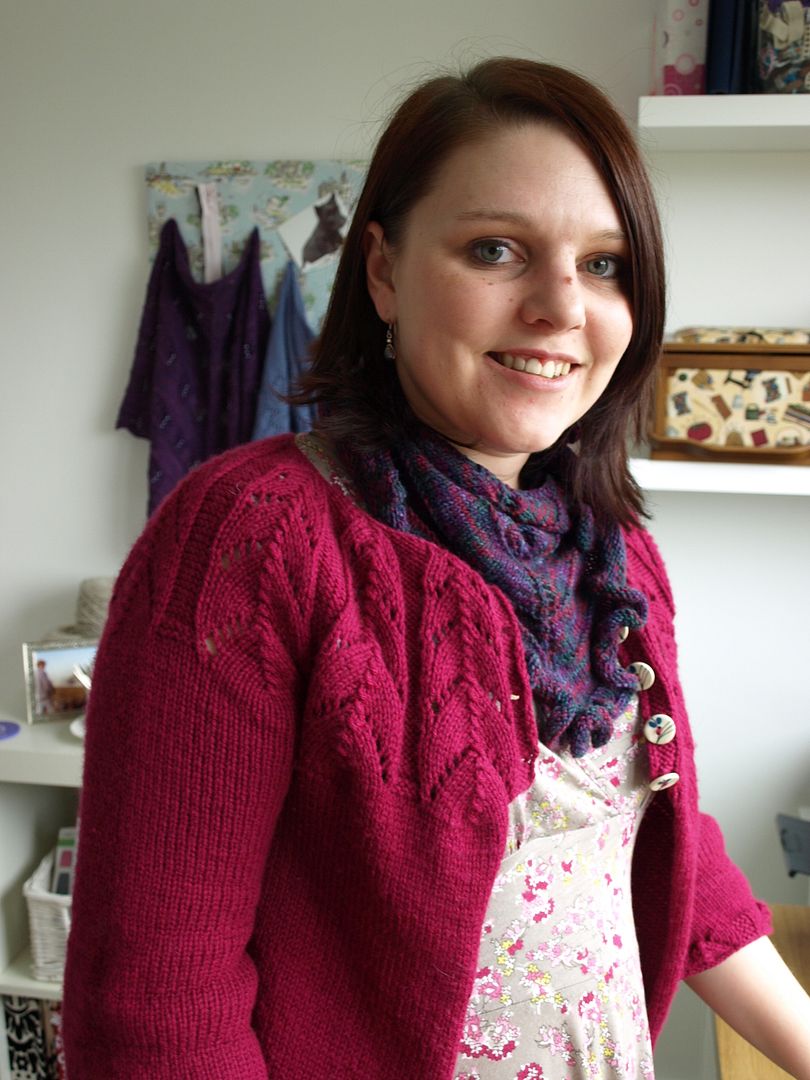 I wish that we all lived closer, really. Still, you can't have everything and we do keep up on twitter all the time which is fun. Only thing is, we need Leanne to come and join us next time as she is also in our "twitter gang" but she lives far away in Surrey (funny thing is that she works in the town where I was born!) Move up North, Leanne!
Jenny is having a baby in February and you know what that means … I have another WIP! Love making things for friends. Can't wait for February so that I can blog what I am making meet Jenny's baby :-)
Thank you ladies for a lovely day, I look forward to the next time.
xxxx