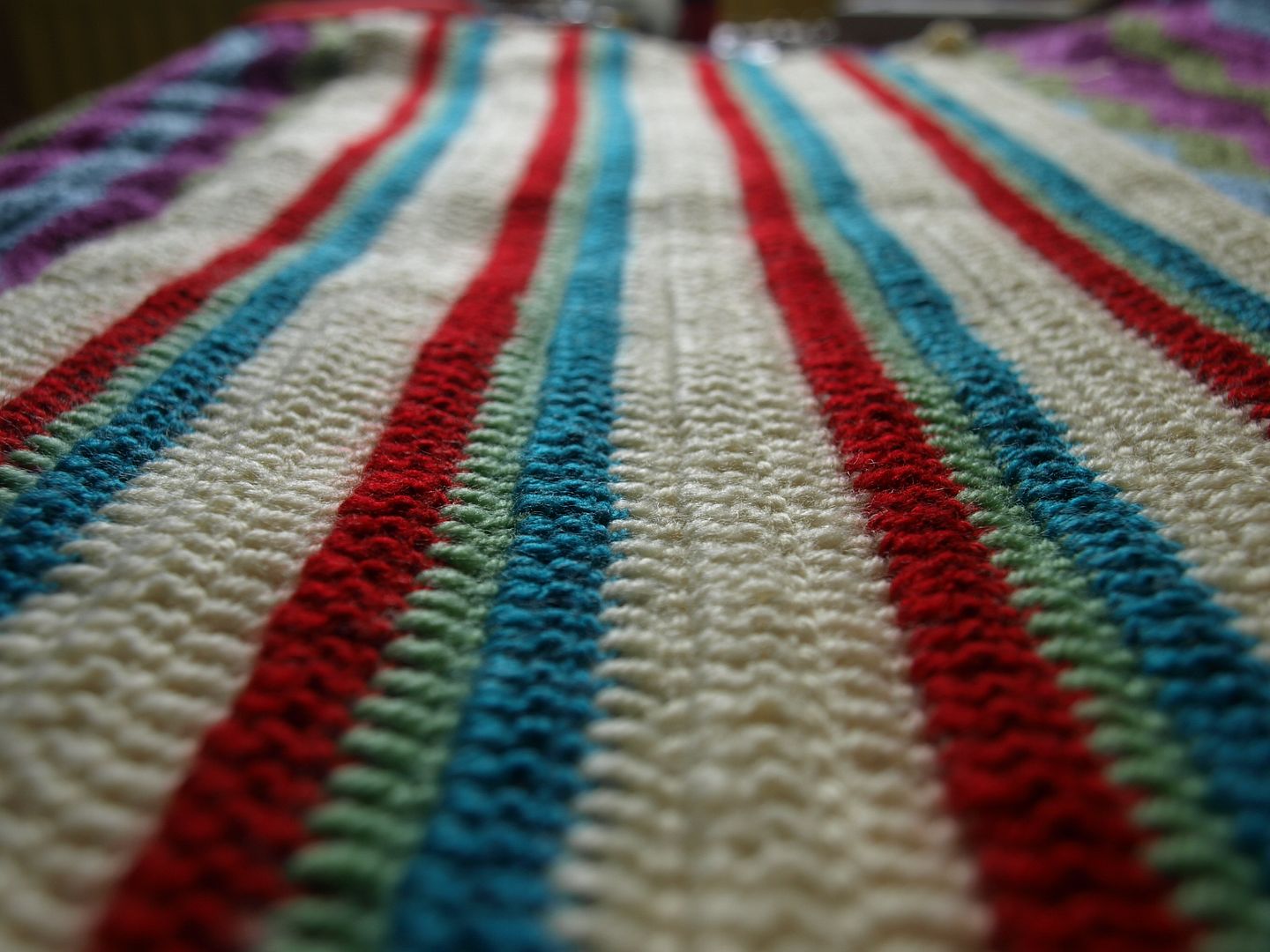 Ripples or straight? That was the question I asked you a couple of months ago. I often start blankets for the babies of friends and family and I think, Oh I'll just whip up a blanket, won't take long. Usually they don't take too long (such as the Pinketty Pink Daisies blanket which took about 11 days) and so I don't give them much fanfare at the beginning on my blog. It did feature in my Blanket Fest though :-) This stripy blanket took a little longer than I imagined but I can't really fault the blanket for that. It did get usurped along the way by said Pink Daisies blanket, along with my Ripple-along, the need to get Phoebe's ripple finished and the start of my Top Secret birthday pressie for Rach.
This blanket is a blanket for Andy's brand new shiny baby cousin, who is now two months old. Aww! Baby F. He didn't have a name when I began the blanket, and The Girl commented that it looked like a College scarf and so I dubbed it the College Stripe Blanket. Now it is the "Baby F Blanket" for sure.
So, this is made from my favourite baby yarn: Rico Baby Classic dk. I've used it many times before with a 4mm hook but this time I used a 3.5mm hook as all Rico yarns seem to be a half size smaller than the suggested weight. The 3.5mm hook worked a lot better and made a tighter stitch, as you'd imagine. It doesn't make for a fast blanket though!
I used four colours and I think they are Cream, Red, Petrol and Green. There are several shades of green with this yarn (including Hellsgruen or something) but this one is simply "green". I did not quite use a full ball of the red, blue and green and I used two and a half balls of the cream. That makes it about £10 of yarn although it all came from my stash which made me feel thrifty but also a bit guilty for having a stash. But also happy, for using some stash!
I just worked this in straight stripes which is easy peasy and requires no counting (hurrah!). It's interesting that the blanket is distinctly different on each side because on one side it is the front of the green stitches that shows and they look a lot smaller than the red and the blue stitches, of which it is the back of the stitches that shows.
(The light was gloomy, it's not as yellowy as this photo suggests)
I stopped once the blanket was about squarish and put a border around it. I really like it and I like that it is "boy" colours, but there is enough cream that it isn't overwhelmingly bright, and they're quite stylish. I've only met Andy's aunt (baby F's mum) once, at my wedding, but she is a stylish lady.
I made the border in the same way I do for a ripple: a cluster of 2 TR stitches into the side of each stitch and then just go around it with a treble in each stitch. Simple. I didn't do any picot edging because I really don't think that frilly bits go well on a boy blanket.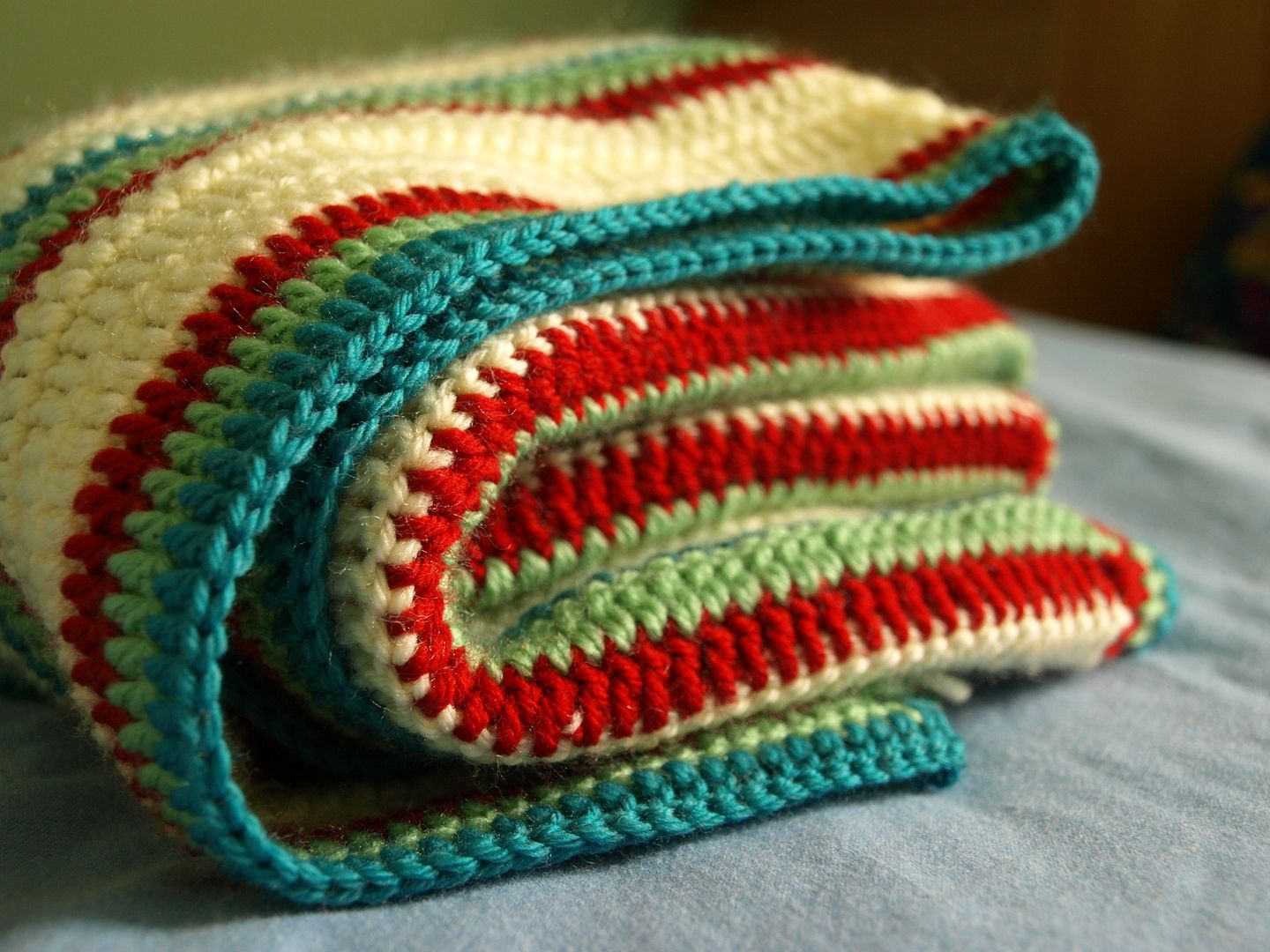 I love how Christmassy the red and the green look together. It makes me happy that the colours work well and I always feel a little bit chuffed when I choose colours that work and that I am happy with.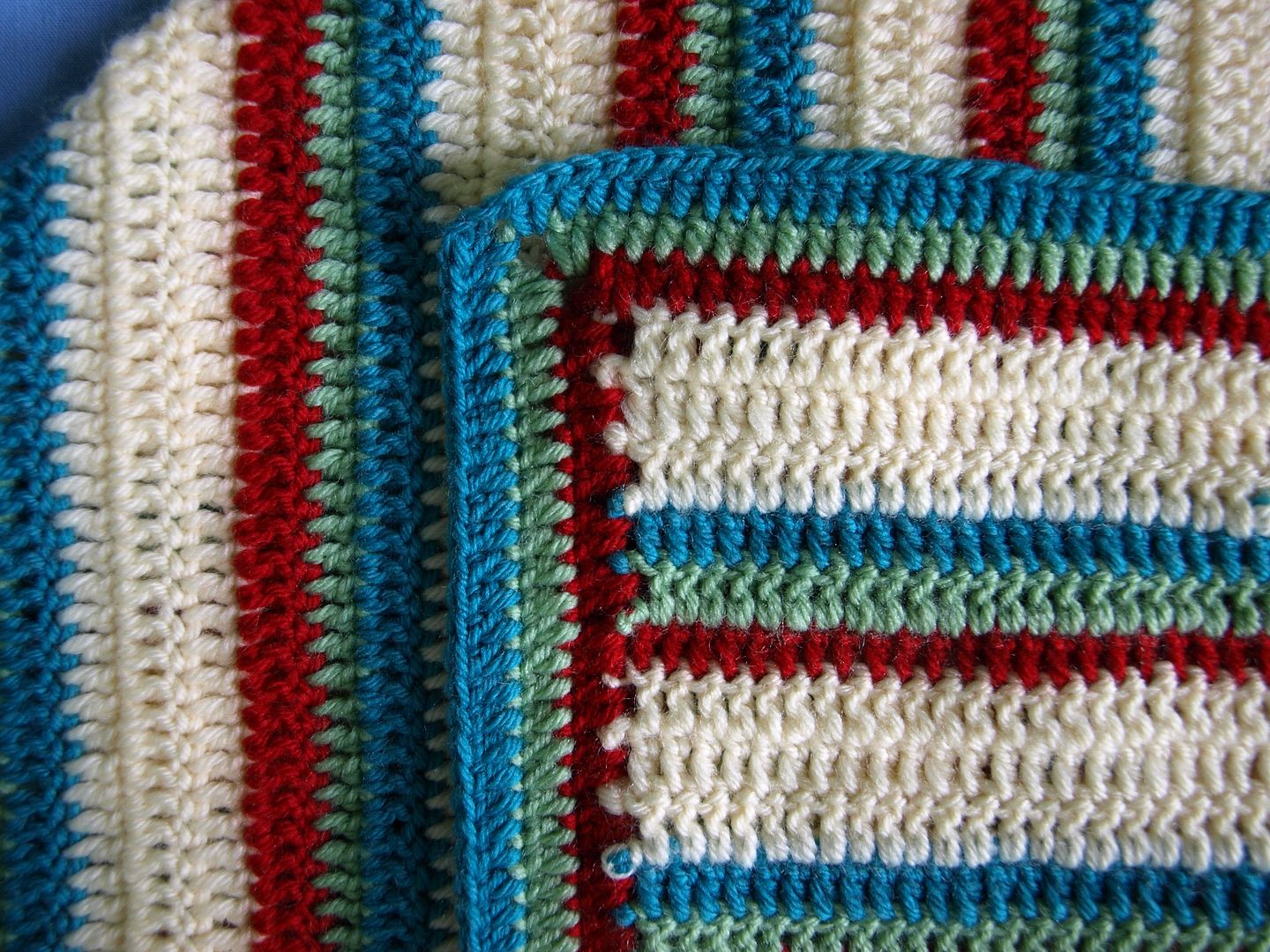 I haven't sent this yet (job for the weekend) but it's veeeerry hard to part with it. I'm a bit taken with the colour combo. About halfway through I contemplated making it into a scarf and keeping it for myself. I was strong though.
Well, mostly strong.
Quite weak actually.
I decided that I DO want a scarf like this …
…
… aaaand now I have a ball of blue Cashmerino Aran (from the sale bin at Create) and a ball of green Cashmerino Aran (the green one was genuinely stash yarn) and they are just waiting waiting waiting until payday when I will lickety spit place and order online as SOON as I get paid so that a Red and a couple of creams can join the party and make a stripy smooshy scarf to go with my coat. Yesss! A little bit of Selfish Crochet in amongst all the makes-for-other-people is ok in my book ;-)