Hello and Happy Tuesday to you all – one day nearer to the weekend :-)
This is quite an exciting blog post to write today as it is the long awaited TA DAAAA moment for my Phoebe Ripple! I started this blanket for my friend Katherine's daughter Phoebe way back in June time and gave you many sneaky peeks at the progress. I took it up and down the country with me and I think I have rippled on this in a fair few counties including Cumbria, West Yorkshire, North Yorkshire, Oxfordshire, Northamptonshire and Dorset. I hooked in my mum's garden on the hottest day of the year and I hooked on the bus to Woolfest. I hooked in my garden with the rabbits and I have hooked it on at least three trains.
I finished the blanket on the 20th September at my friend's house during Monday Knit and Natter (no longer called Pub Hooky as we have relocated from the pub). See, cheesy post-completion grin and everything.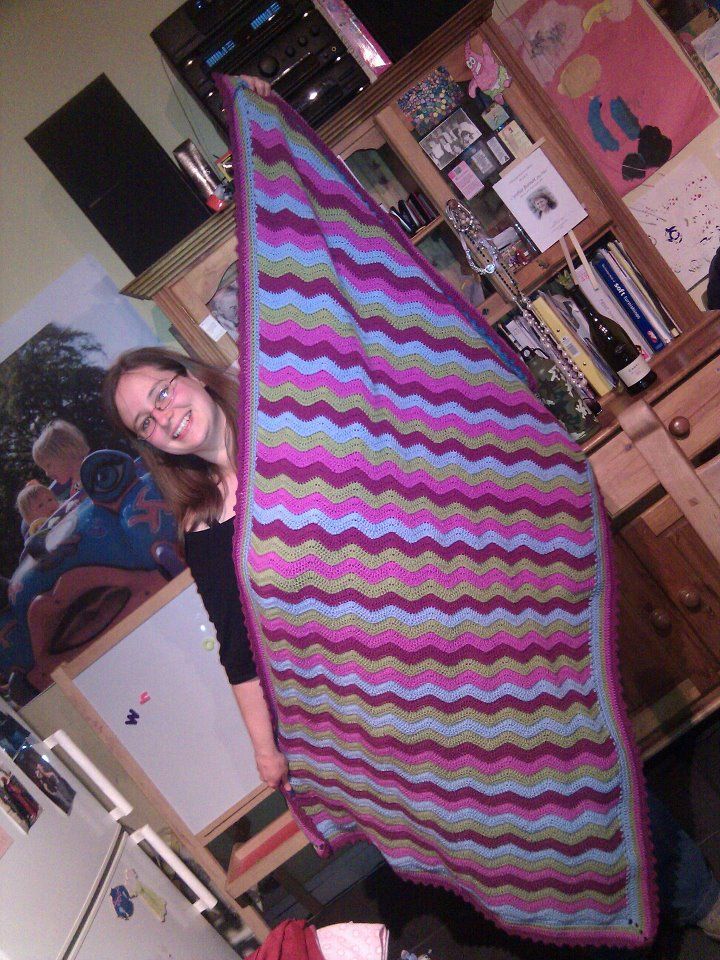 So,  let's let the ripple out of the bag and have a look :-)
Here it comes …
Oooooh, pretty! I used four colours of Stylecraft Special dk (my go to yarn at the moment.) I used Meadow, Cloud Blue, Magenta and Plum and I think it's a lovely combination. I did a round of "two TR clusters in the sides of each stitch" in Cloud Blue, and then a round of each colour with just one TR in each stitch, and then a round of "purple pointy picot" bits to complete it.
I also missed two stitches at some point on the border and I am just waiting until I get a text from Katherine to say that she has found them. I'm trying not to mind too much about them because when I discovered them it was really far too late to go and fix them.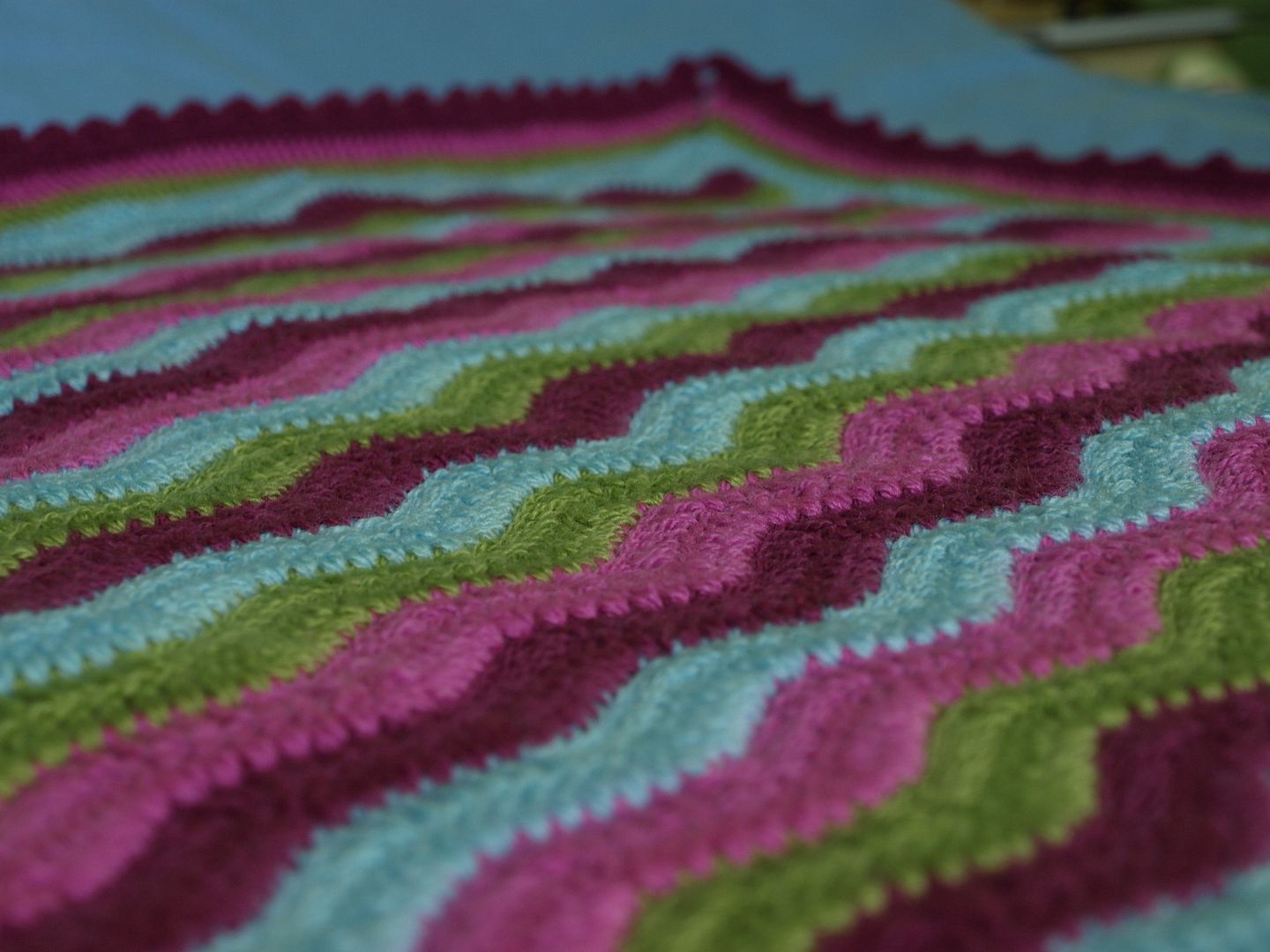 I had planned to make this unpatterned (which is like the mathematically correct way of saying "random", right Victoria?) but as got to about 9 stripes I realised that every 4th stripe was purple, and that I quite liked it like that. From then on, I kept every fourth stripe as purple and altered the order of the colours in between. Mostly I used one of each colour but sometimes I mixed it up a bit and had two green and one blue …
… or two green and one pink, like here:
(Please ignore messy room. In my defence, all the stuff by my bed is yarn or WIP crochet projects.)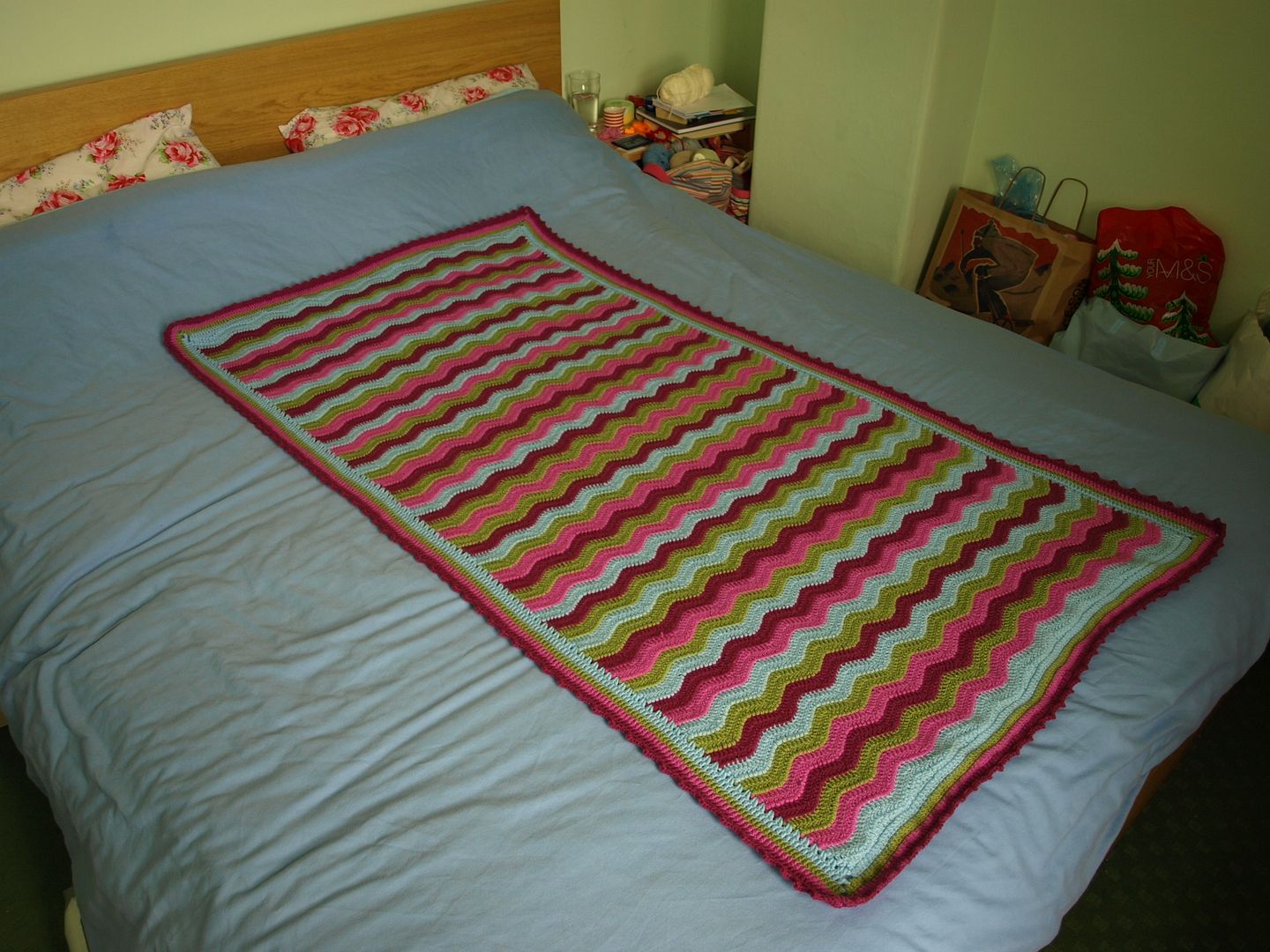 It is designed to be sort of single bed sized in that it will sit on top of a single bed but not hang over, and will stop below the pillow line. Phoebe is only little and she won't outgrow this for years.
It was intended to be a first birthday present for her (beginning of July) just like I made a first birthday blanket for Rosie back in March. Time made a fool of me though, and now it is a (very) early Christmas present instead. I FINALLY presented her with the finished blanket on Sunday and she stroked it a lot and then later lay down on it so I'm taking it as a good sign. I have to say, I LOVE the long photo above. I pinned it on Pinterest and it was the longest photo on my board and everything else nestled around it.  It's the daft small things that make me smile.
Anyway, very happy with this blanket. I absolutely LOVE making things to give away to people! People who appreciate them, that is ;-)
You can buy Stylecraft Special DK at Wool Warehouse (this is my affiliate link).
P.S Katherine is a super duper maker of things and she is going to be doing a craft fair soon. Leave her a comment for details :-)
P.P.S We took Phoebe to Tropical World in Leeds on Sunday and she held my hand and I felt all broody like a big hen and all chuffed that she held my hand!