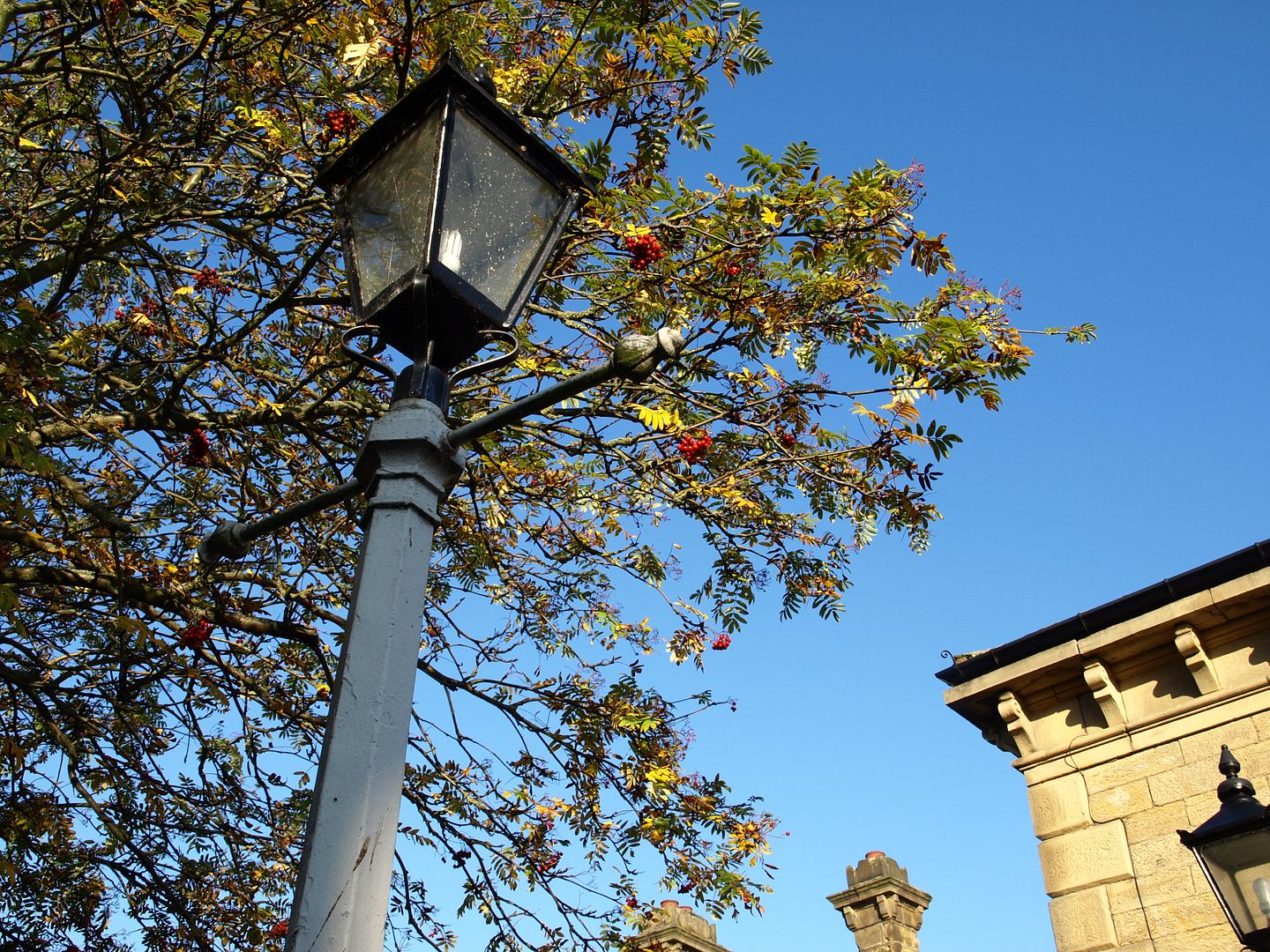 When I look forward to something happening in the near future, my mind is always buzzing with the phrase "this time next week" or "this time TOMORROW!". Often when my mum is involved in these future events, we text each other and share the excitement. Its fun, it's what we do and it's what we've always done. The only downside of this is that you can't help but play the "This time LAST week" game as well. It comes from that part of your brain that is practical and slightly pessimistic. This time LAST Saturday, me and my mum were stepping off a bus in Ilkley, where we were planning to spend the morning. When we arranged her trip up here, I didn't want to cram it full of plans because that's a bit stressful if they don't all fit in and it doesn't leave any room for spontaneity.
One of the ideas that we left as a possibility if the weather was right/we were in the right mood was to go to Ilkley. Its not far from here and we can get the bus easily. The weather during the week had been swinging between naff and downright horrible (another soaked to the skin walk to work for me on the Wednesday) but Saturday surprised and delighted us by being crisp and clear with beautiful blue sky. Well it would have been rude not to take advantage of this! So go to Ilkley we did. I thought that we could climb the moor and appreciate the view for a bit and we decided to do this straight away when we got off the bus because you know what it's like … physical exertion can often be smothered by tea & cake & yarn & shopping so it's best to do it straight away.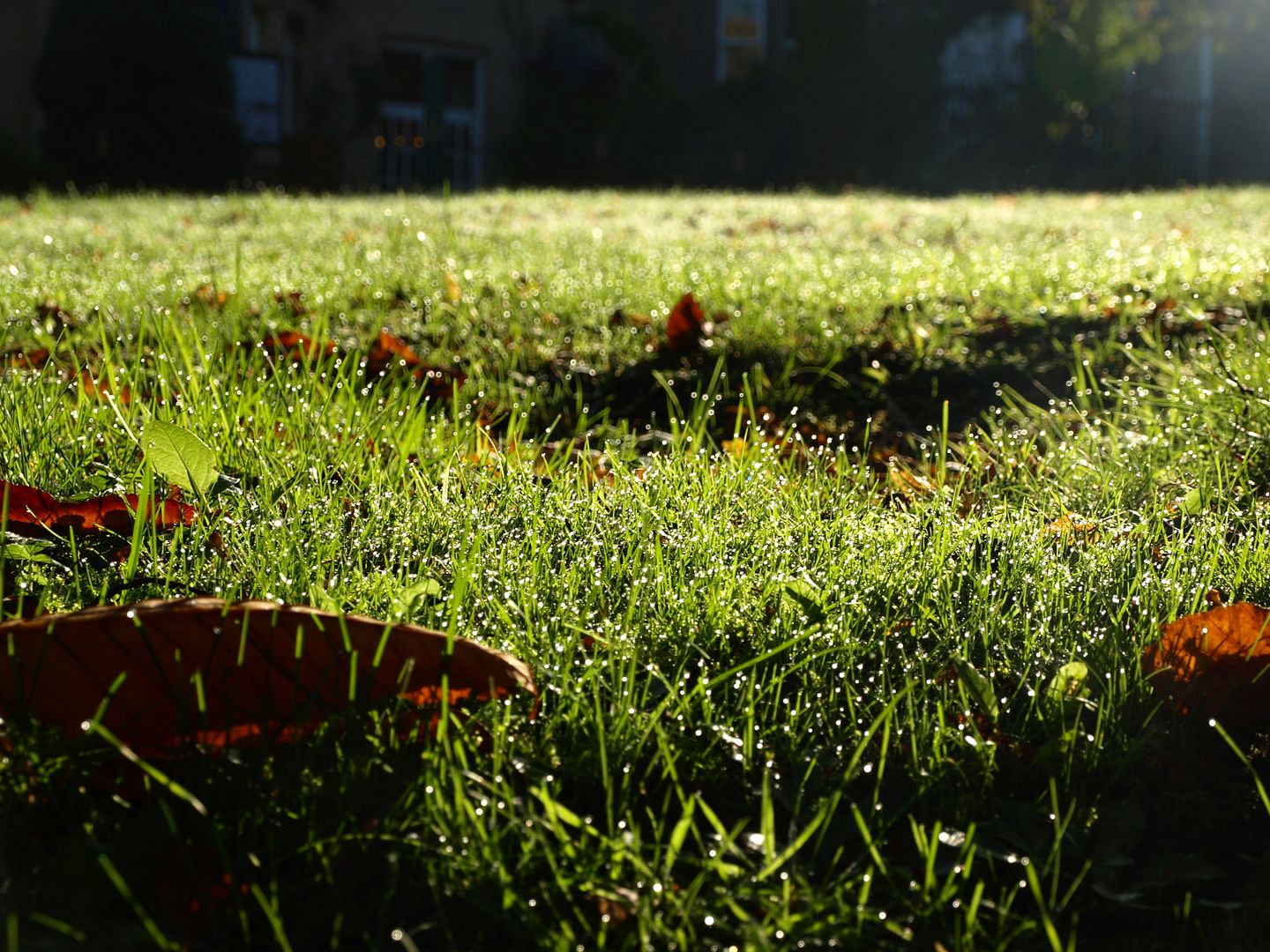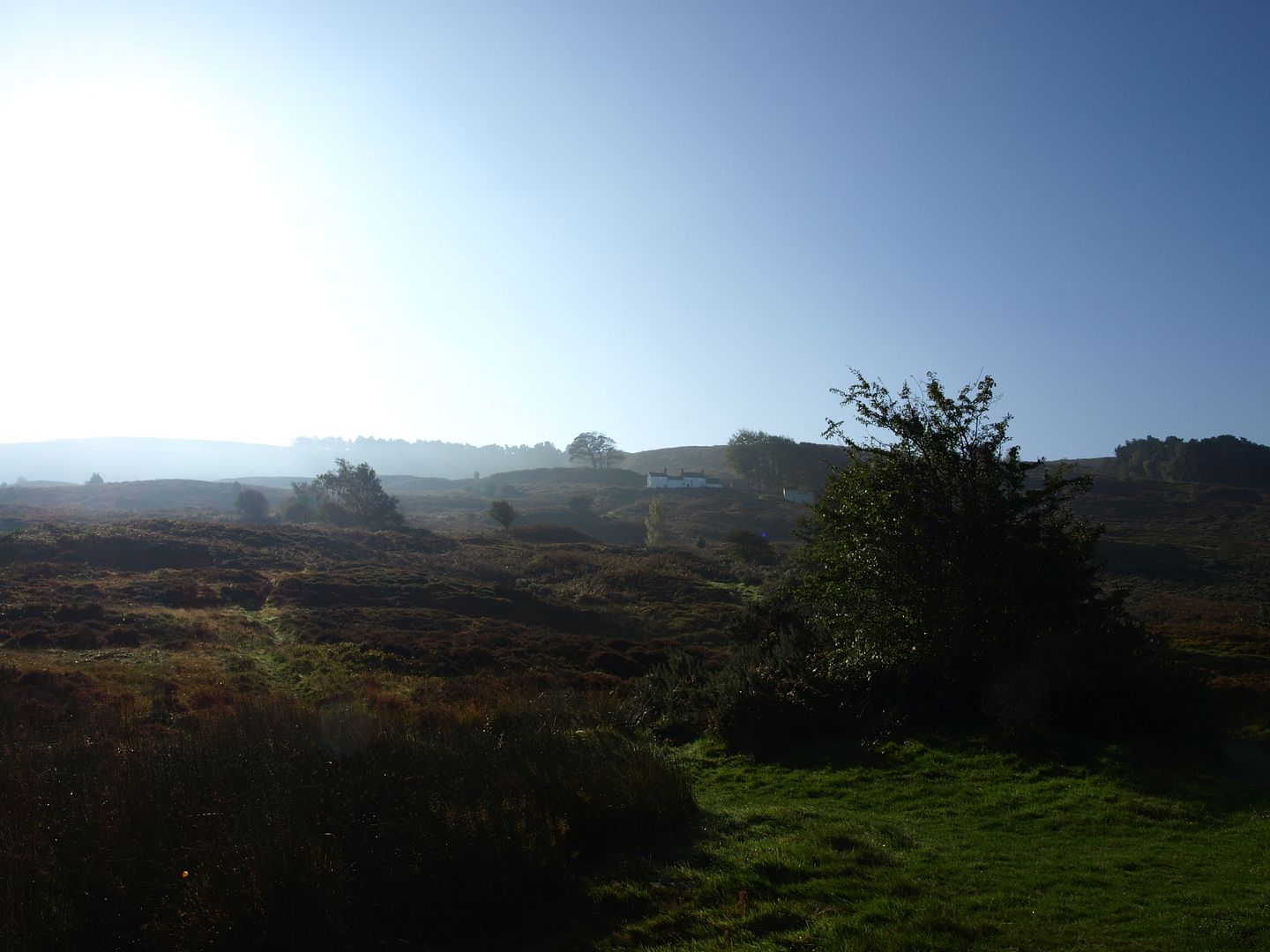 The air when we stepped off the bus was more like Winter than Autumn and it took us quite by surprise. The sun was hot but boy was it cold when you stood in the shade! It was only ten fifteen am but the sun was only really just starting to wake up and it hadn't managed to climb fully over the moor yet. There was low lying mist as well and it made for the most beautiful conditions. We walked briskly up the hill to the moor. That is, briskly in between stopping to take photos. I couldn't believe how beautiful it was and exclaimed as such several times. It was one of those SO BEAUTIFUL moments that you can't believe you are seeing it with your own eyes and that you are SO grateful that you have made the effort to come out and be here. Overwhelmingly lovely and I really was so grateful and happy that morning. Taking photographs is my absolute favourite thing to do. I think I like it even more than crocheting. Not by much, but yes, I like it more than crocheting. I am always brimful-of-happy when I come home from being out somewhere with a camera full of photos, it's free and almost like material goods I suppose. I really love it.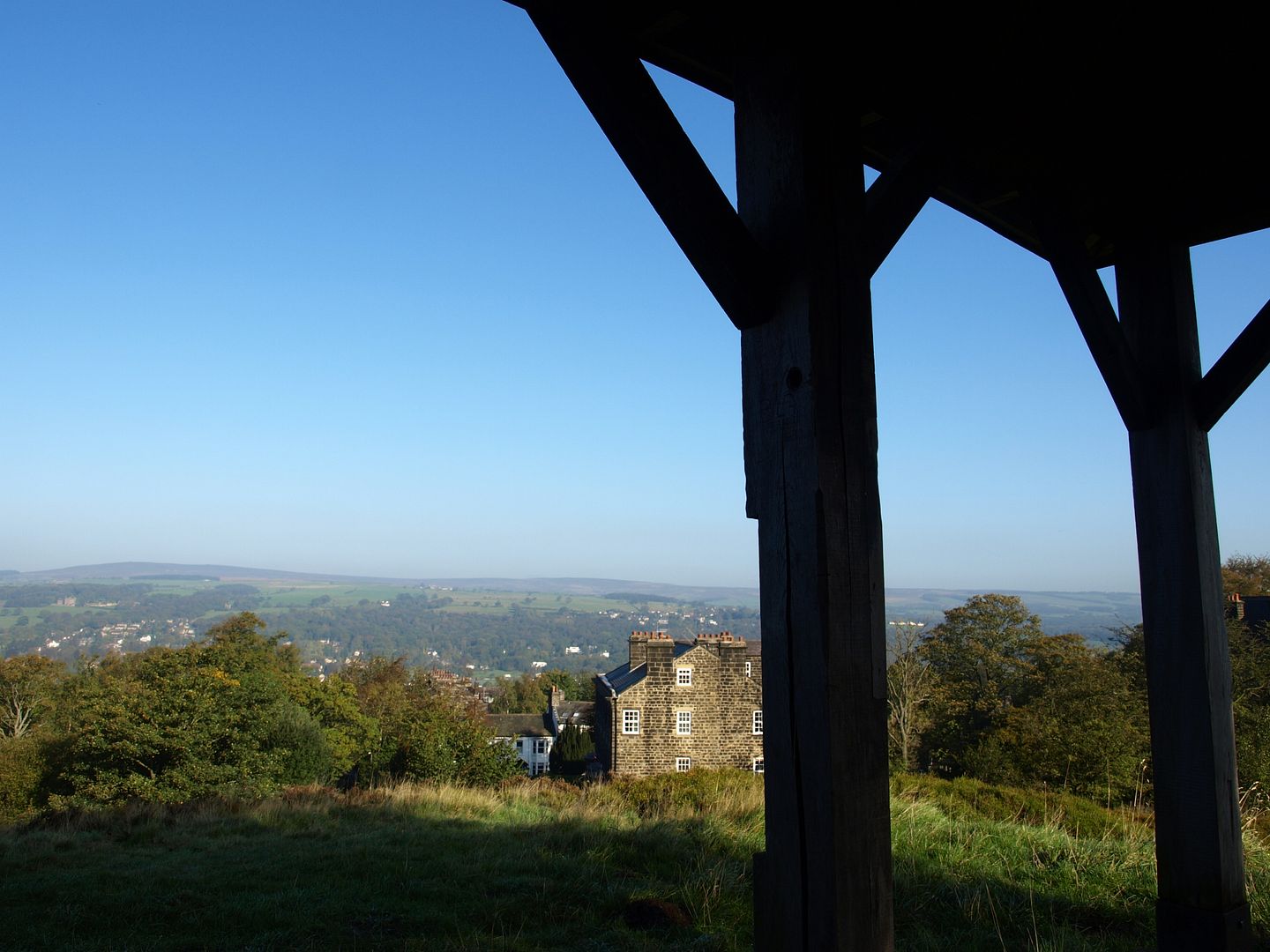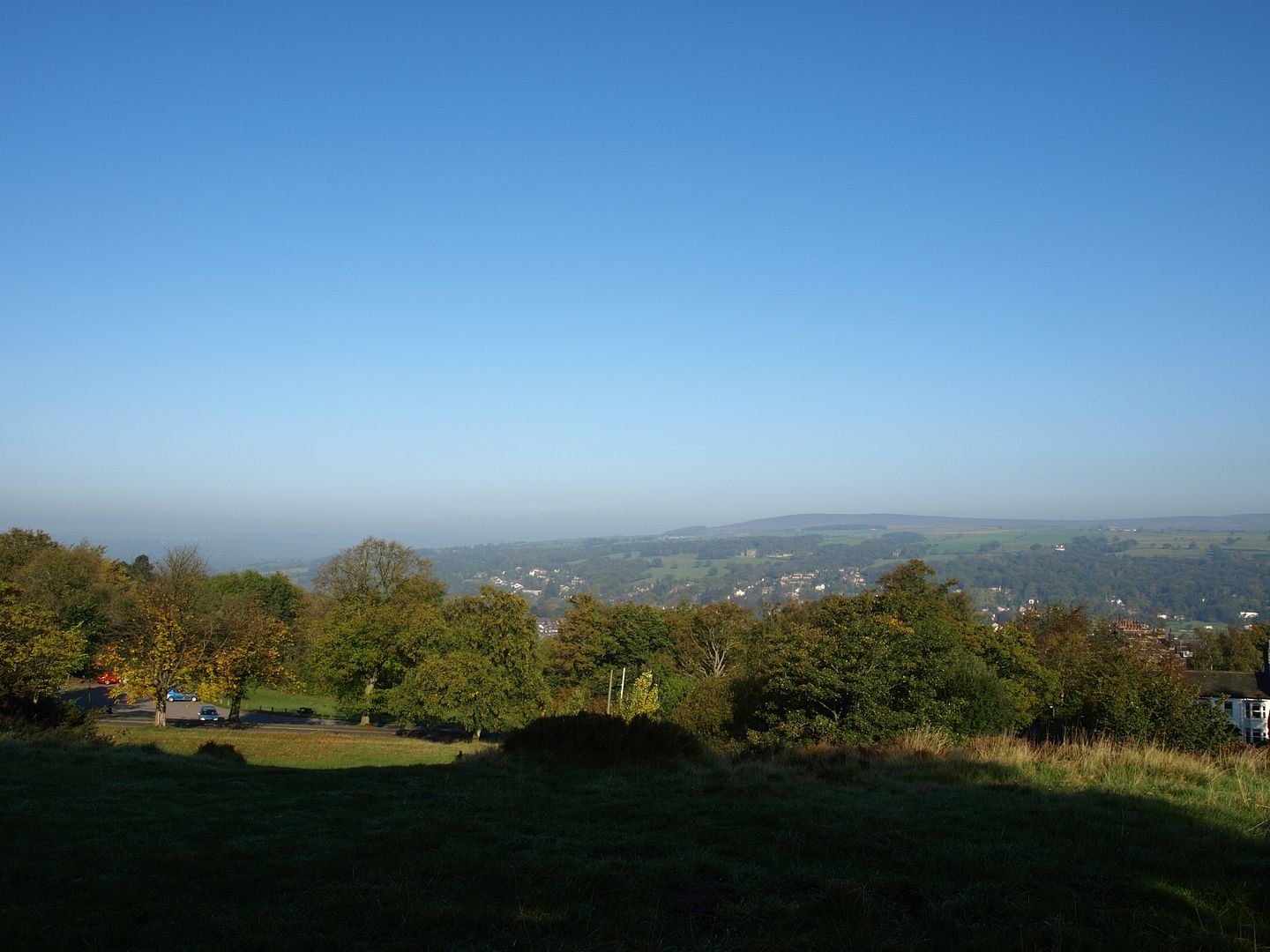 Anyway we proceeded up the moor a little, past that oddly shaped pond thing and the cattle grid. We didn't climb far at all, really. There is a strategically placed wooden hut with some benches quite low down on the moor but on a high enough elevation to give splendid views over Ilkley and to the hills beyond. We sat up there for some time (until we got chilly) and enjoyed lots of chatter. I was struggling to describe what it felt like until I realised that yes, there is in fact a word for it but because everything now seems to be about hyperbole sometimes words used for their original purpose don't seem to have as much power. It was serene sitting there. It doesn't need any more description than that.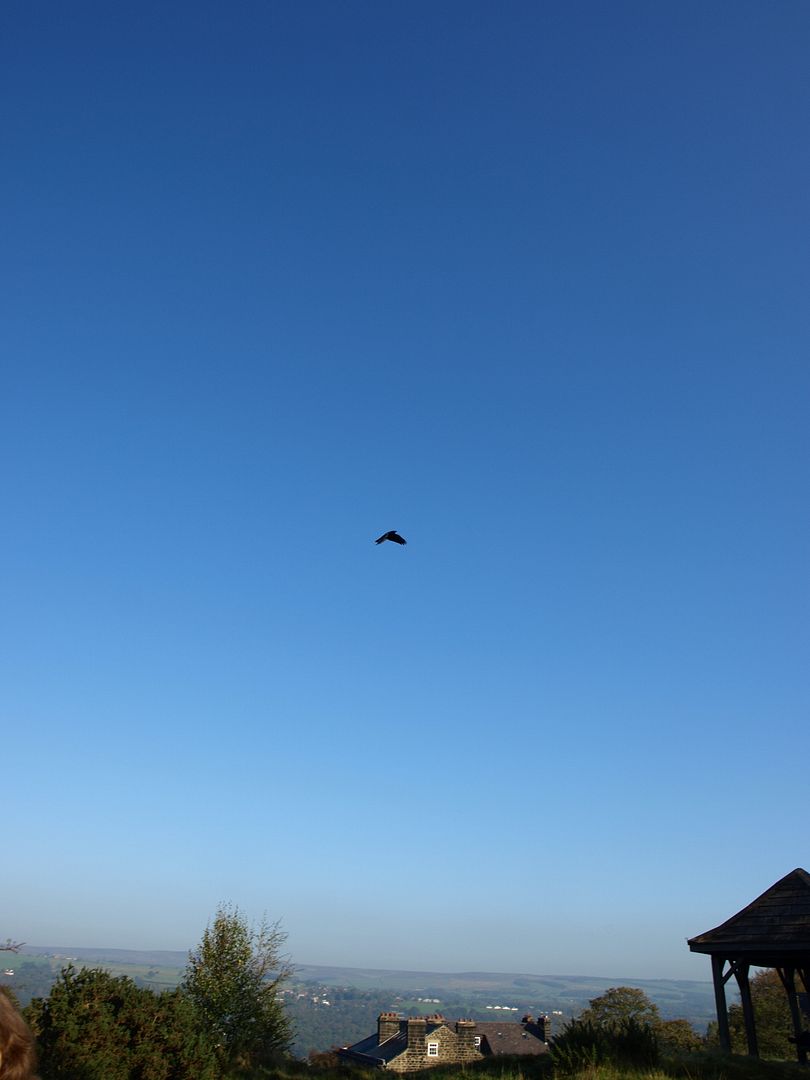 Two magpies flapped past us. Then a Jay. I remarked that I've never seen a Jay anywhere except in Surrey when visiting family. They look like embarrassed magpies. There were a lot of small birds flitting about between the trees and bushes and they looked joyful flying around in the first sun-warmth for a few days. Much to our surprise (we both gasped and realised at the same time!) a beautiful crimson pair of Bullfinches flew right past us only a few yards away. They were so bright against the sky. It was quite incredible, you hardly ever see Bullfinches.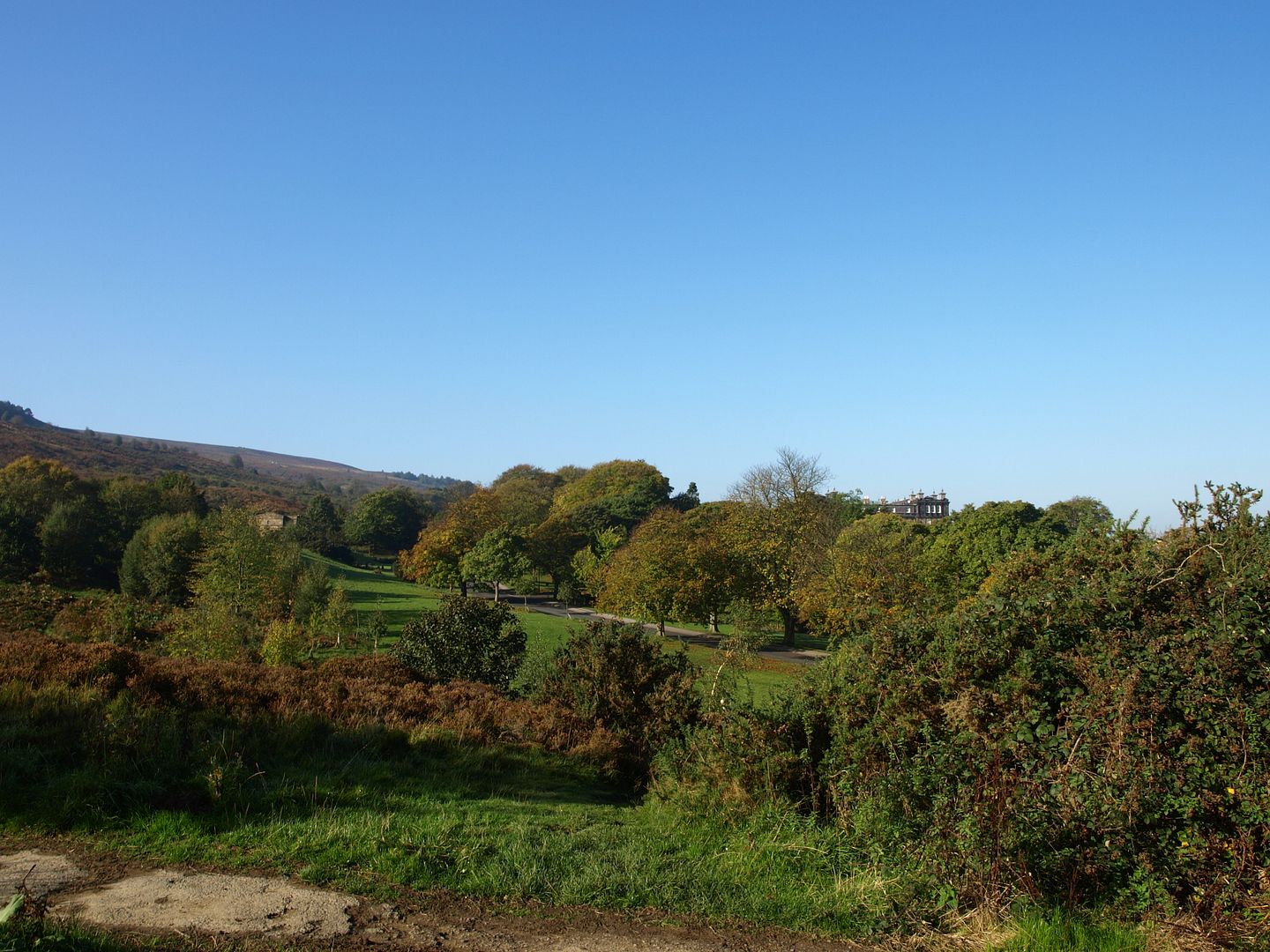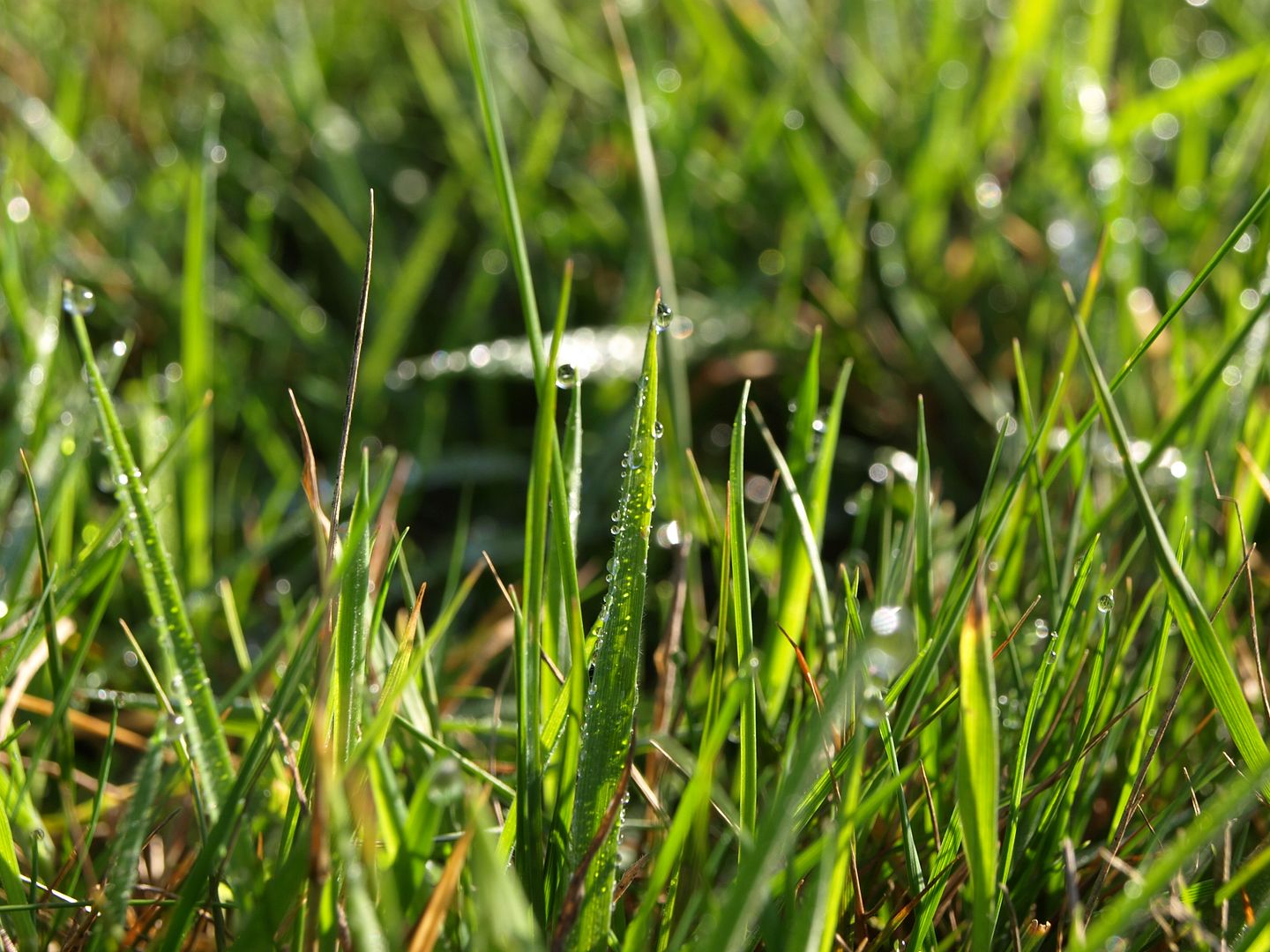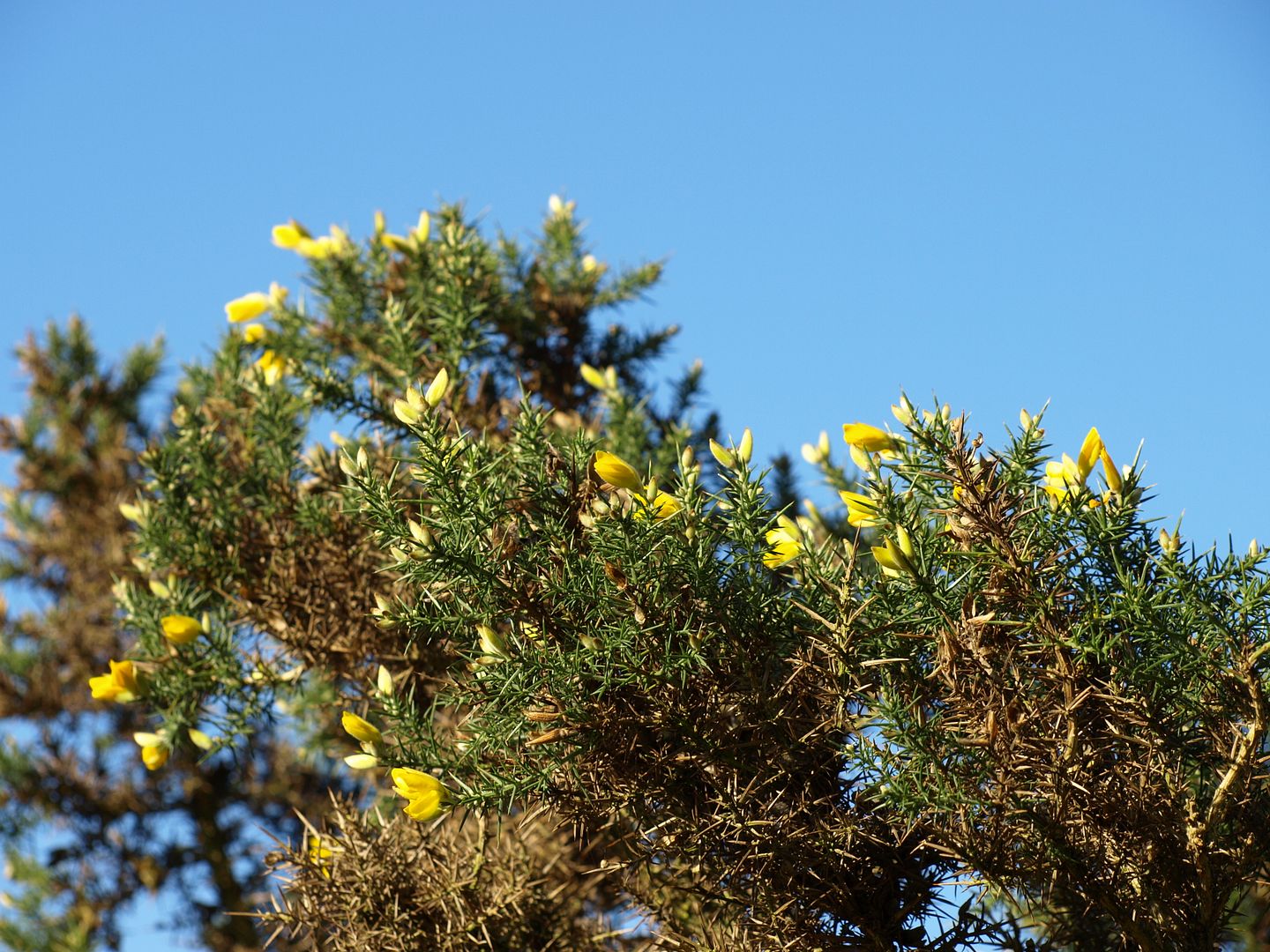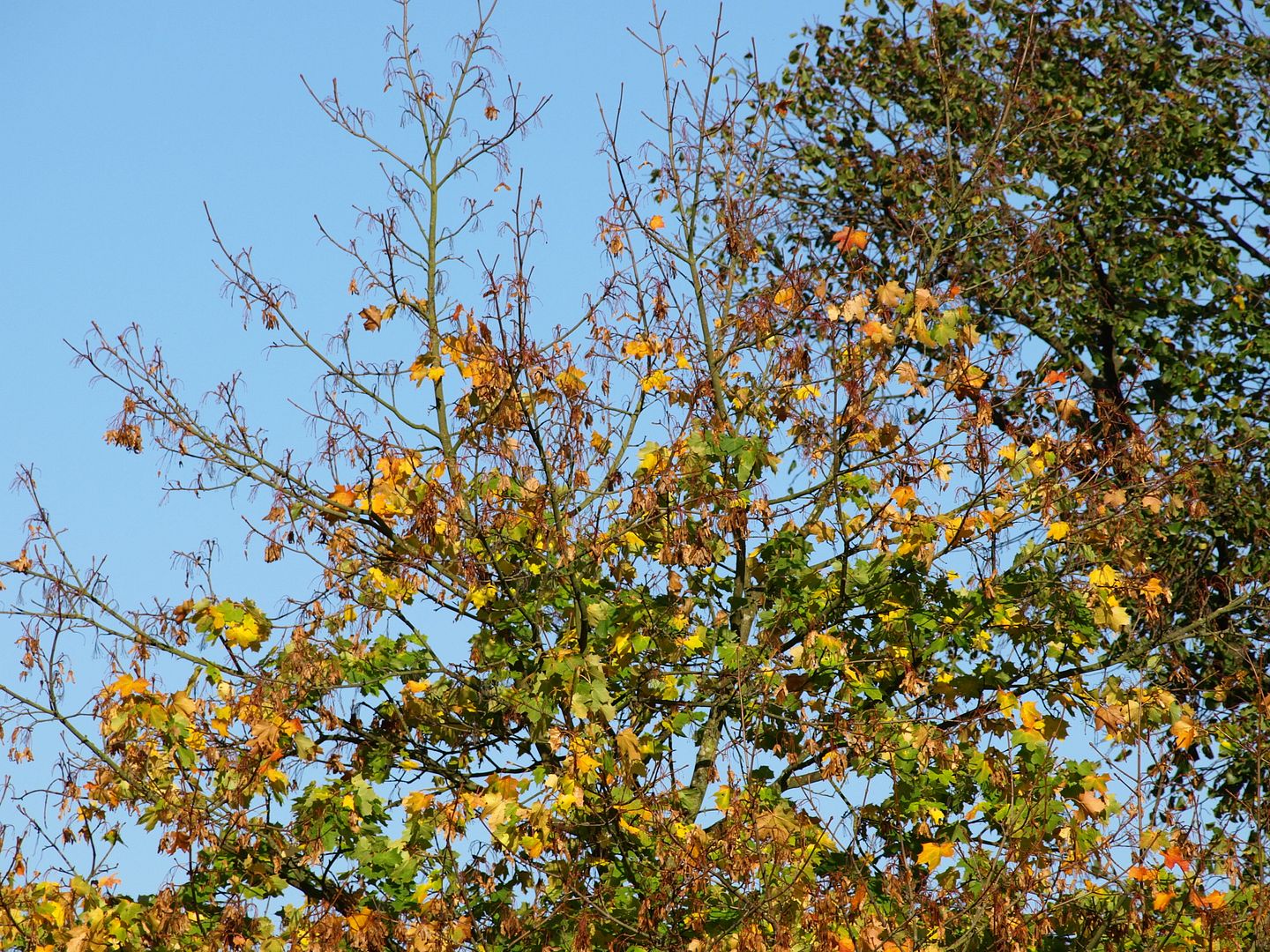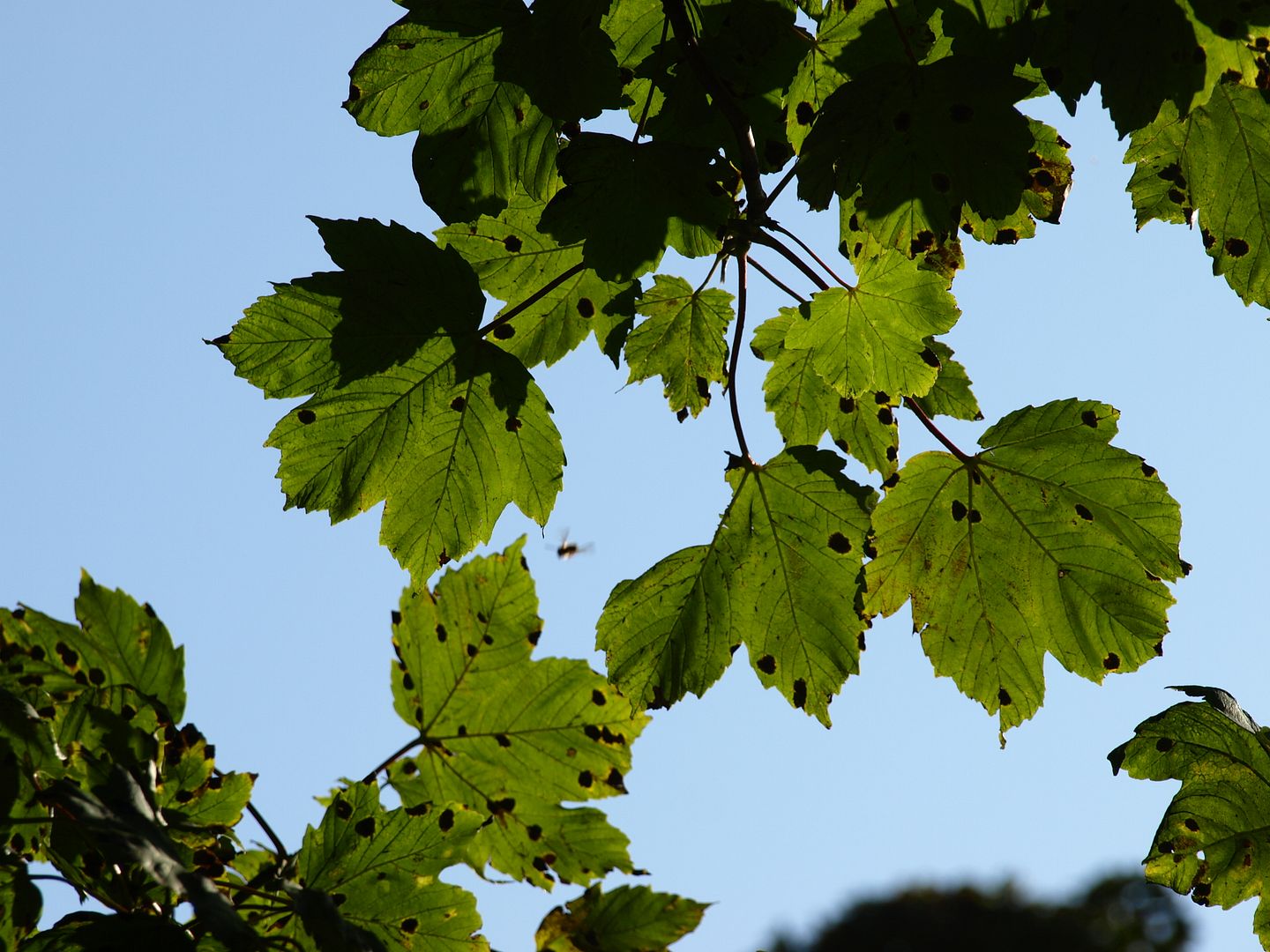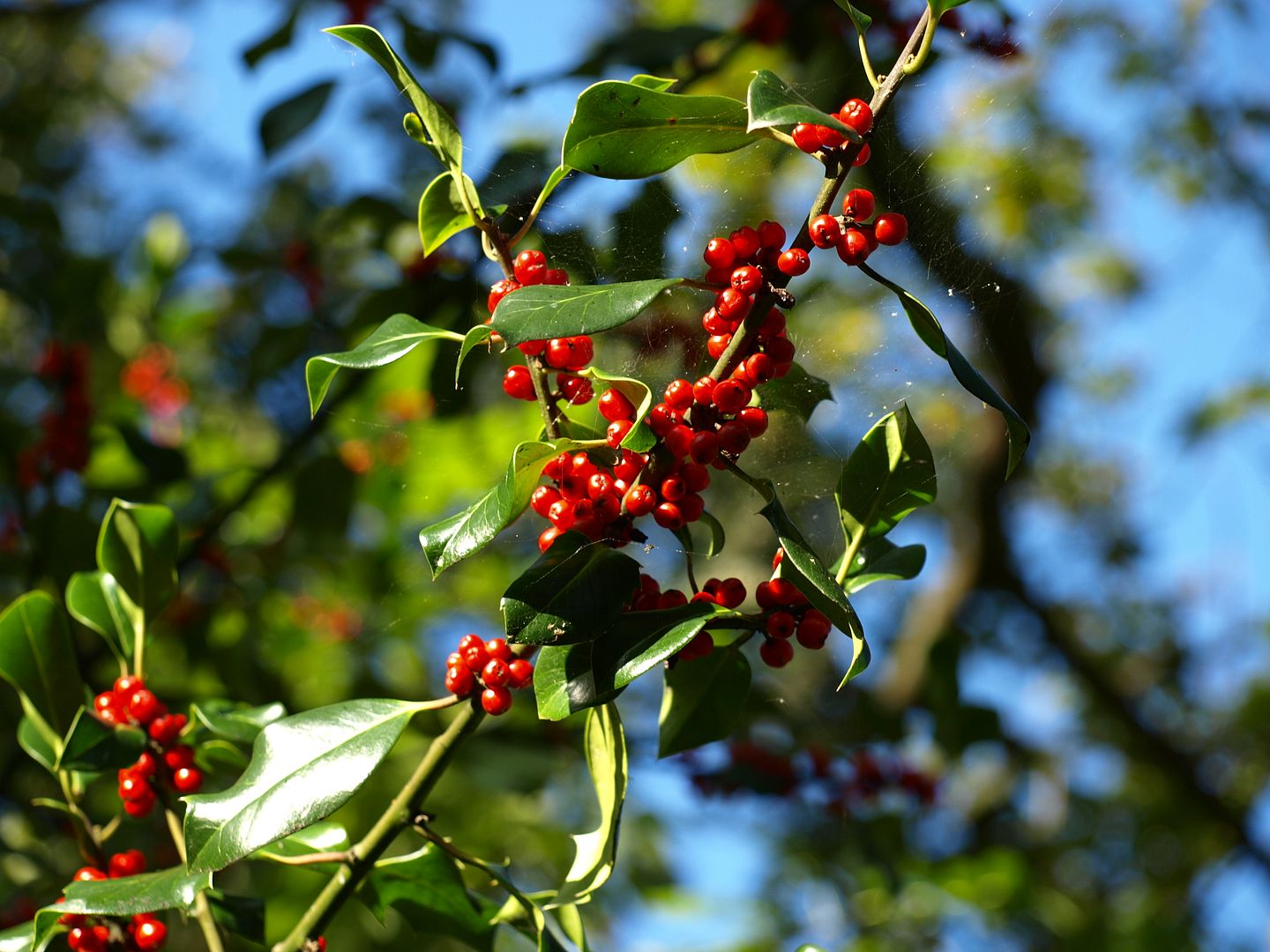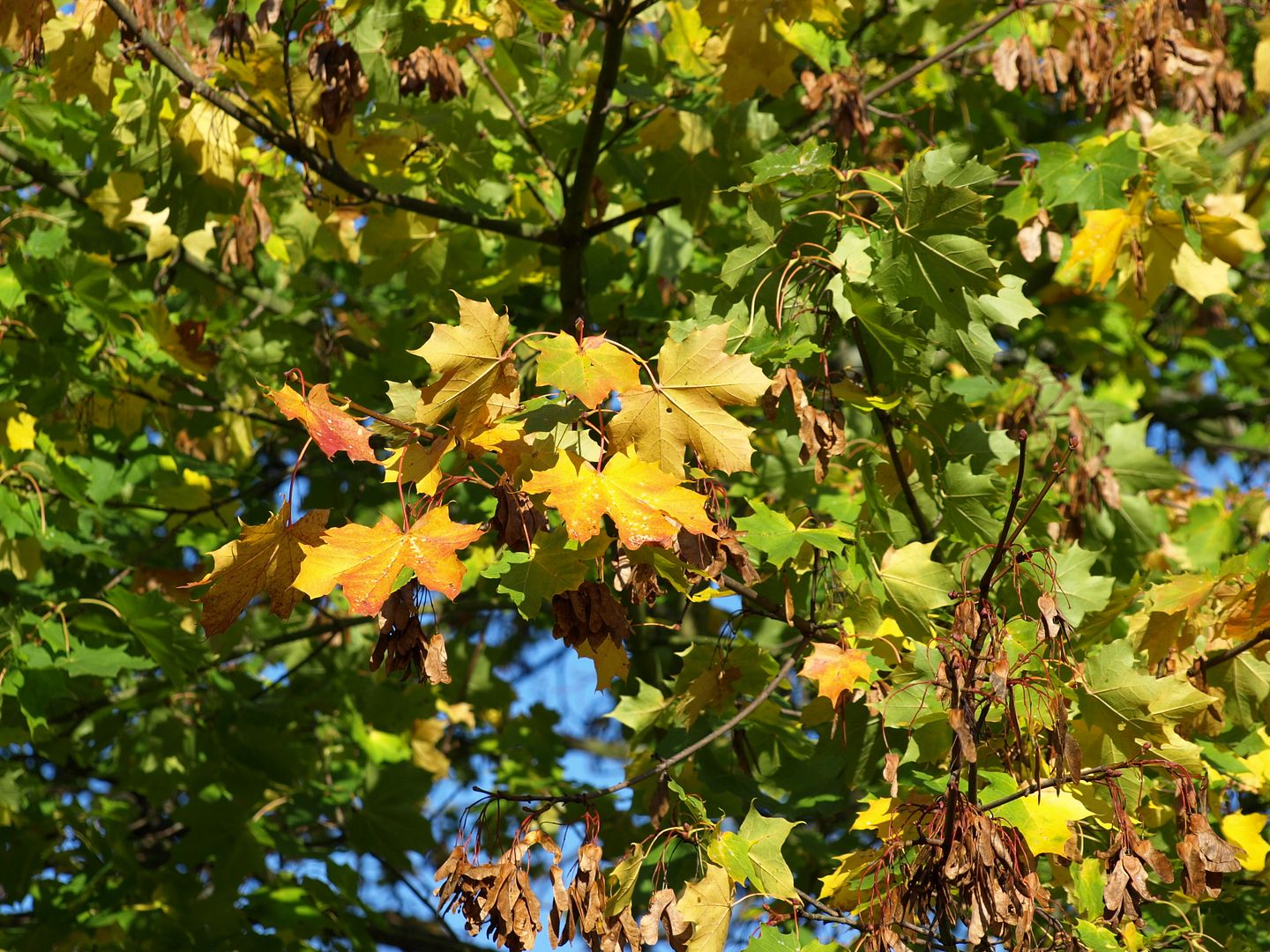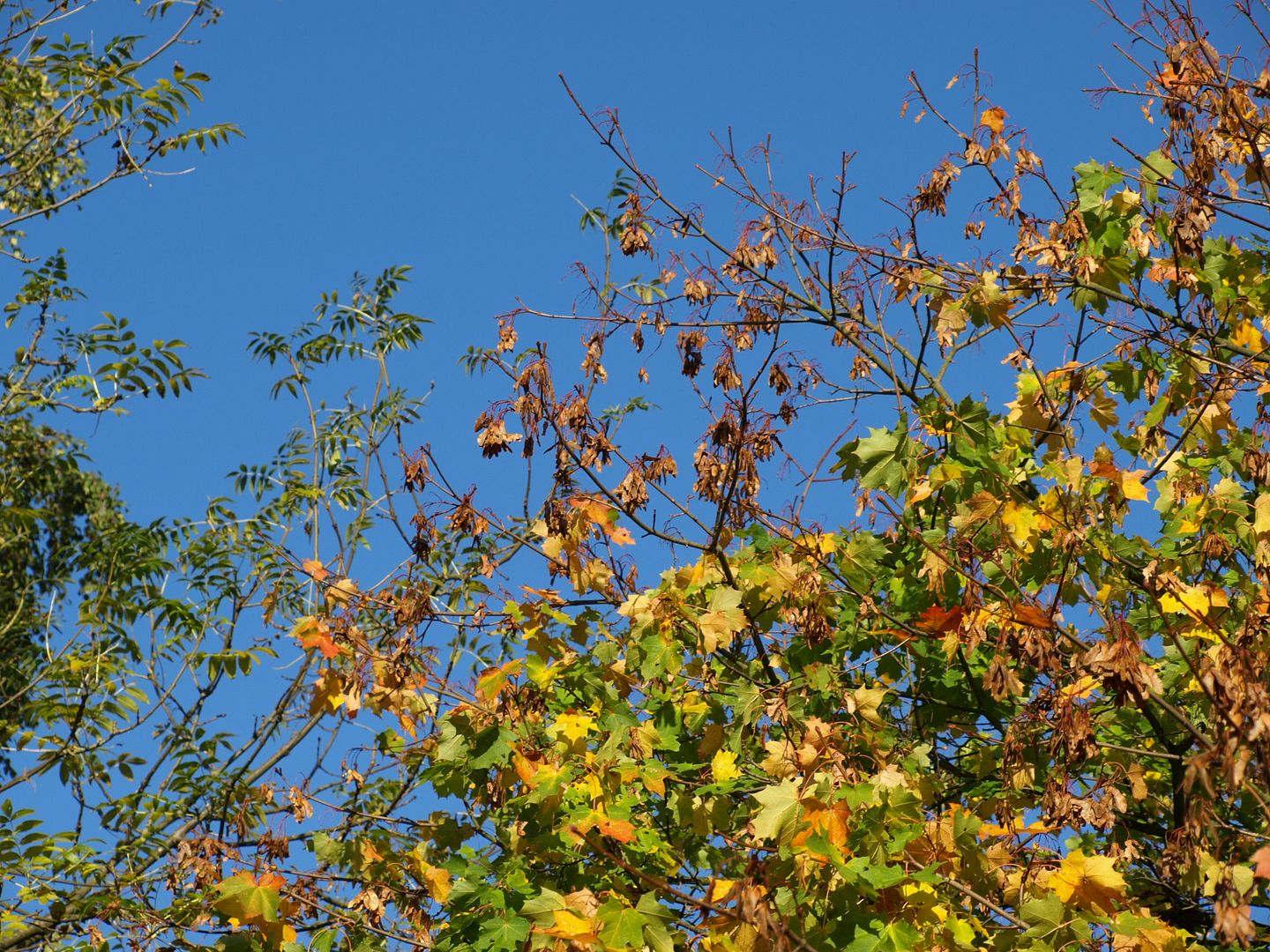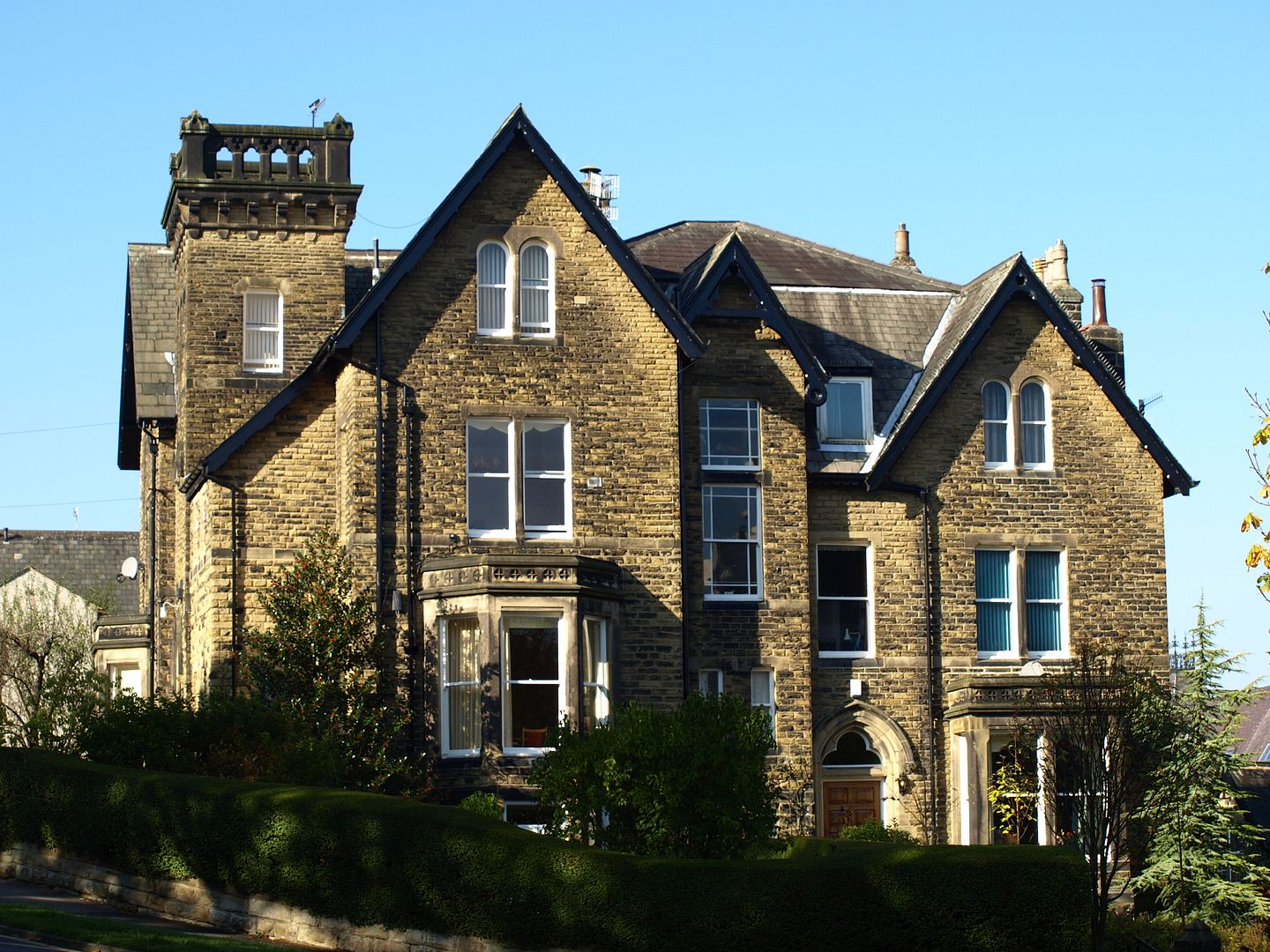 We climbed down again when we became chilly, taking some photos of the moor in the strange misty light. As we walked back down the hill into Ilkley we admired all the houses. There are some HUGE houses here! In the middle of the street is a little woodland park type thing between Wells Walk and Wells Promenade. We followed the brook through the park, our feet crunching on the carpet of dried leaves.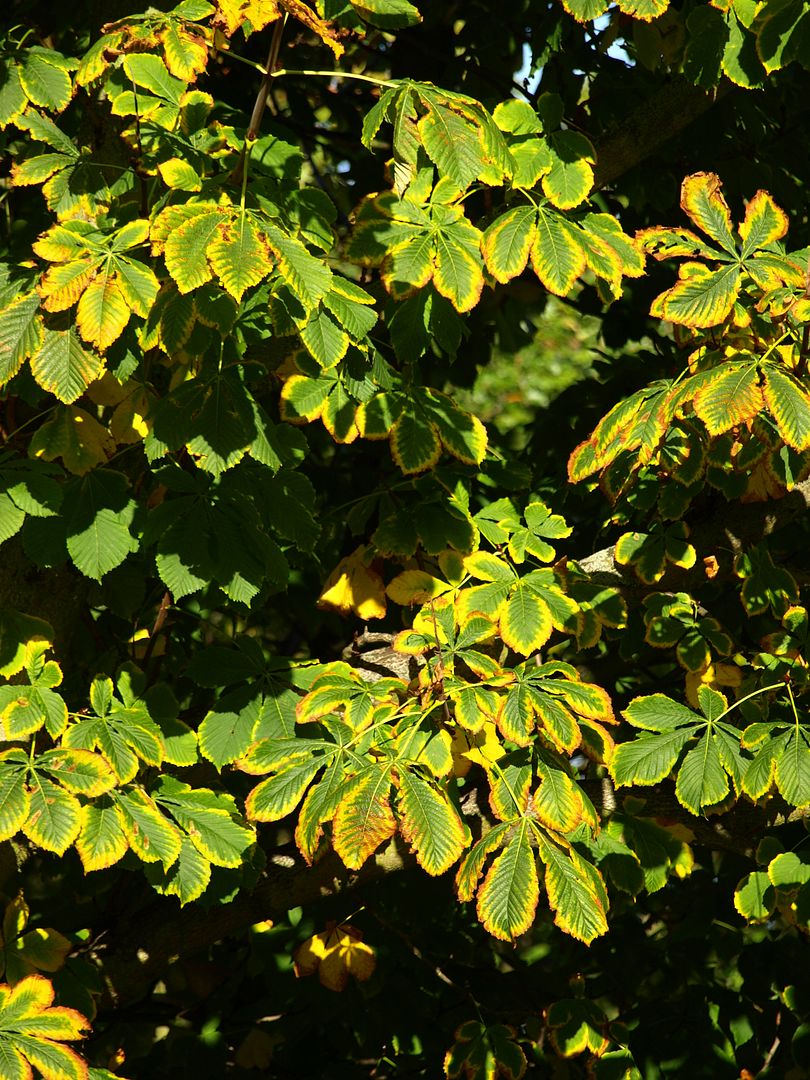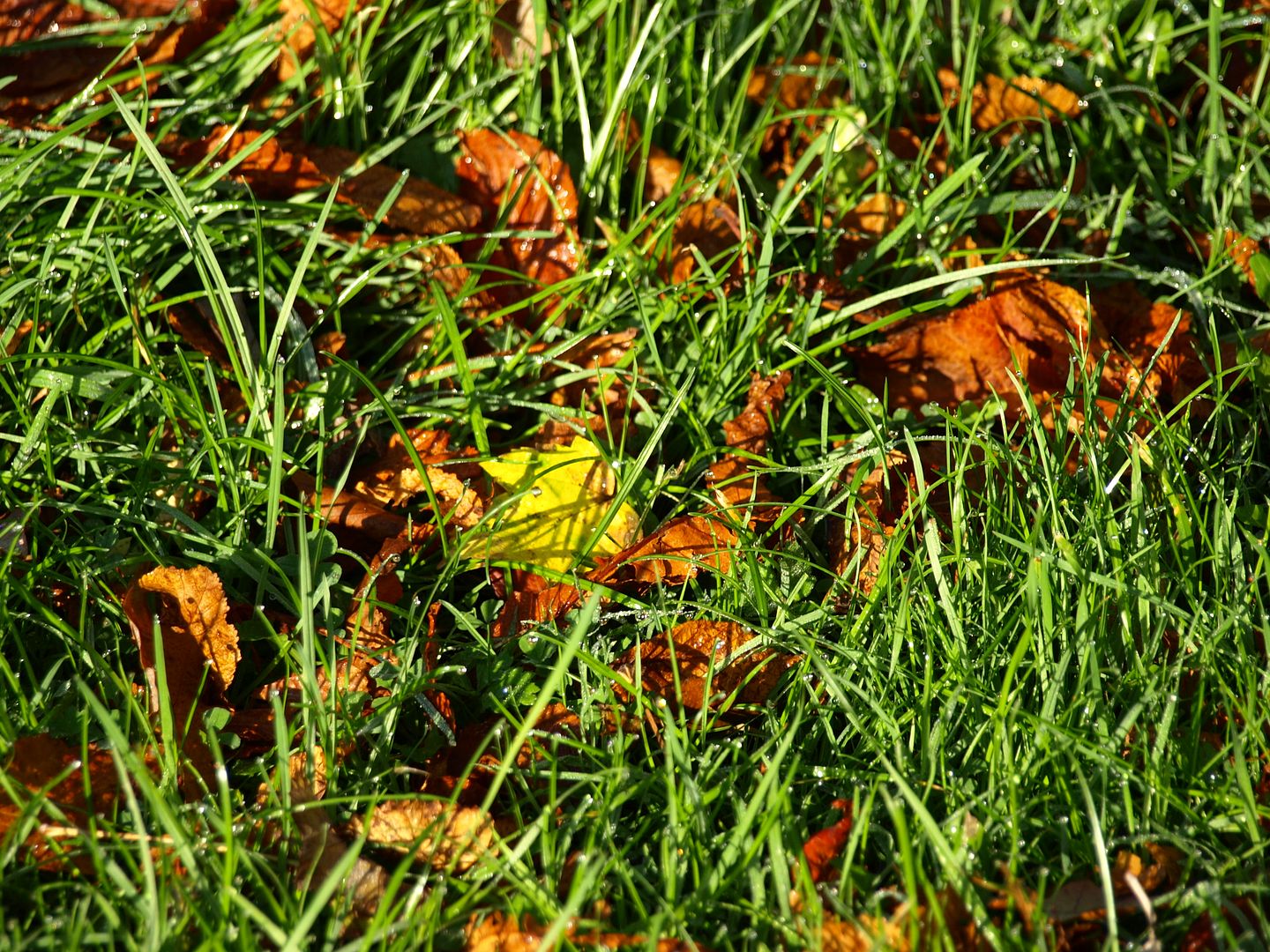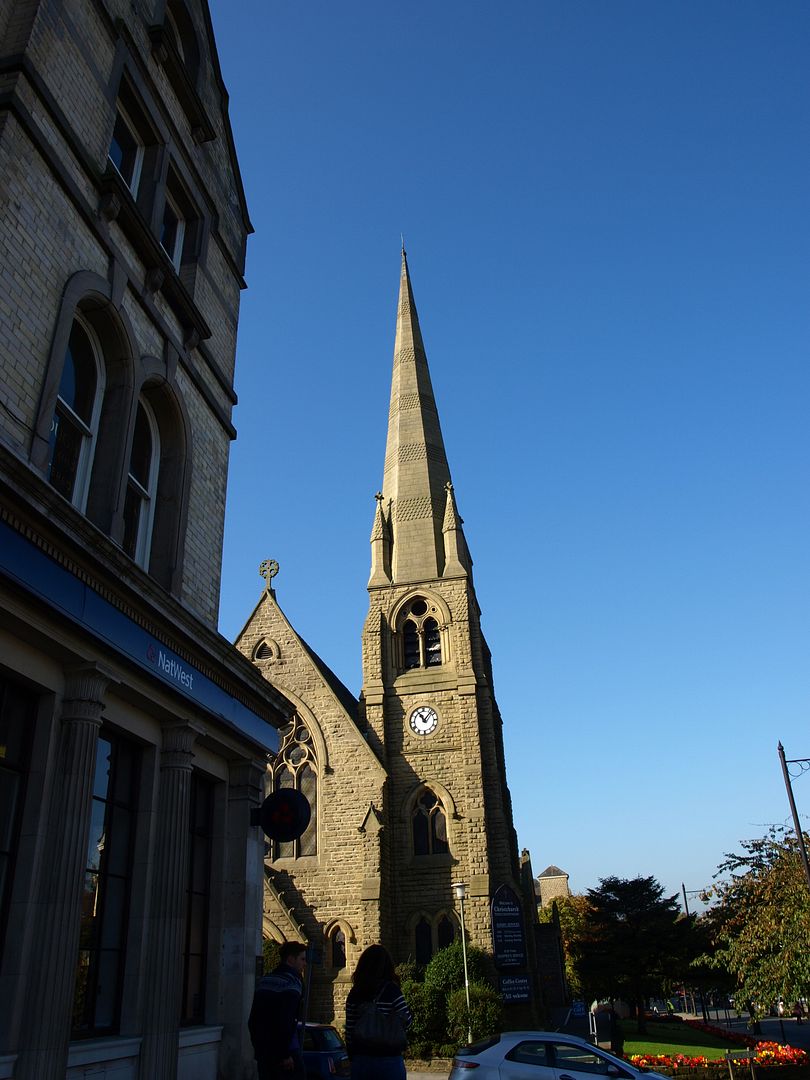 The town was busier now and people were bustling about being busy. We visited some pretty shops and then went for a cup of tea and a (small!) plate of something tasty. Neither of us have been to Betty's before but we thought we'd go as a treat. It was lovely. I had pikelets with butter (naughty) and my mum had a chocolate brownie with a marzipan owl on top. I honestly don't know how people afford to have more than that in Betty's but you pay for the name and the service really and it did feel like a treat. I love the window displays too – I always appreciate imaginative, seasonal things. This one was Hallowe'en, as you can see.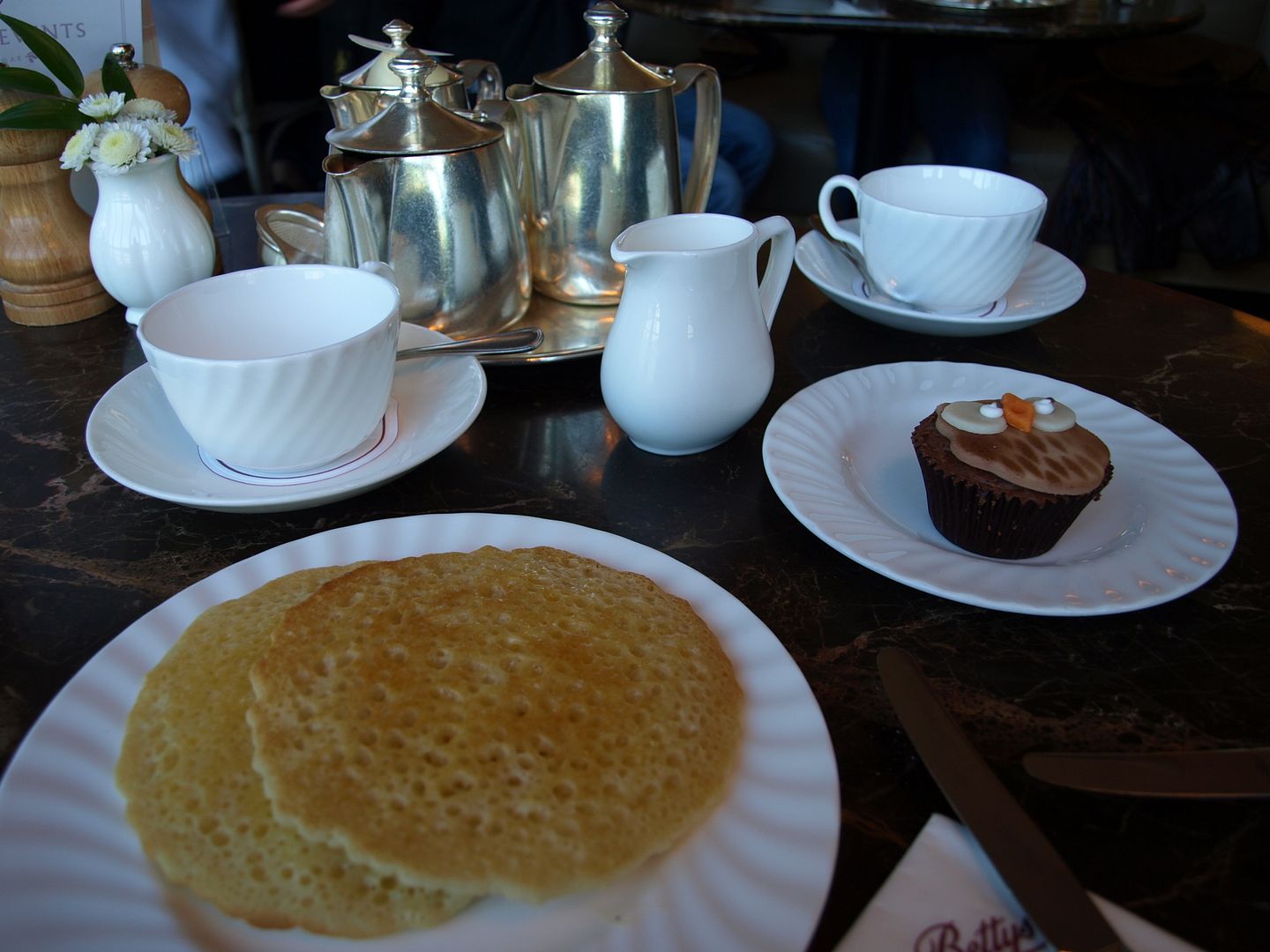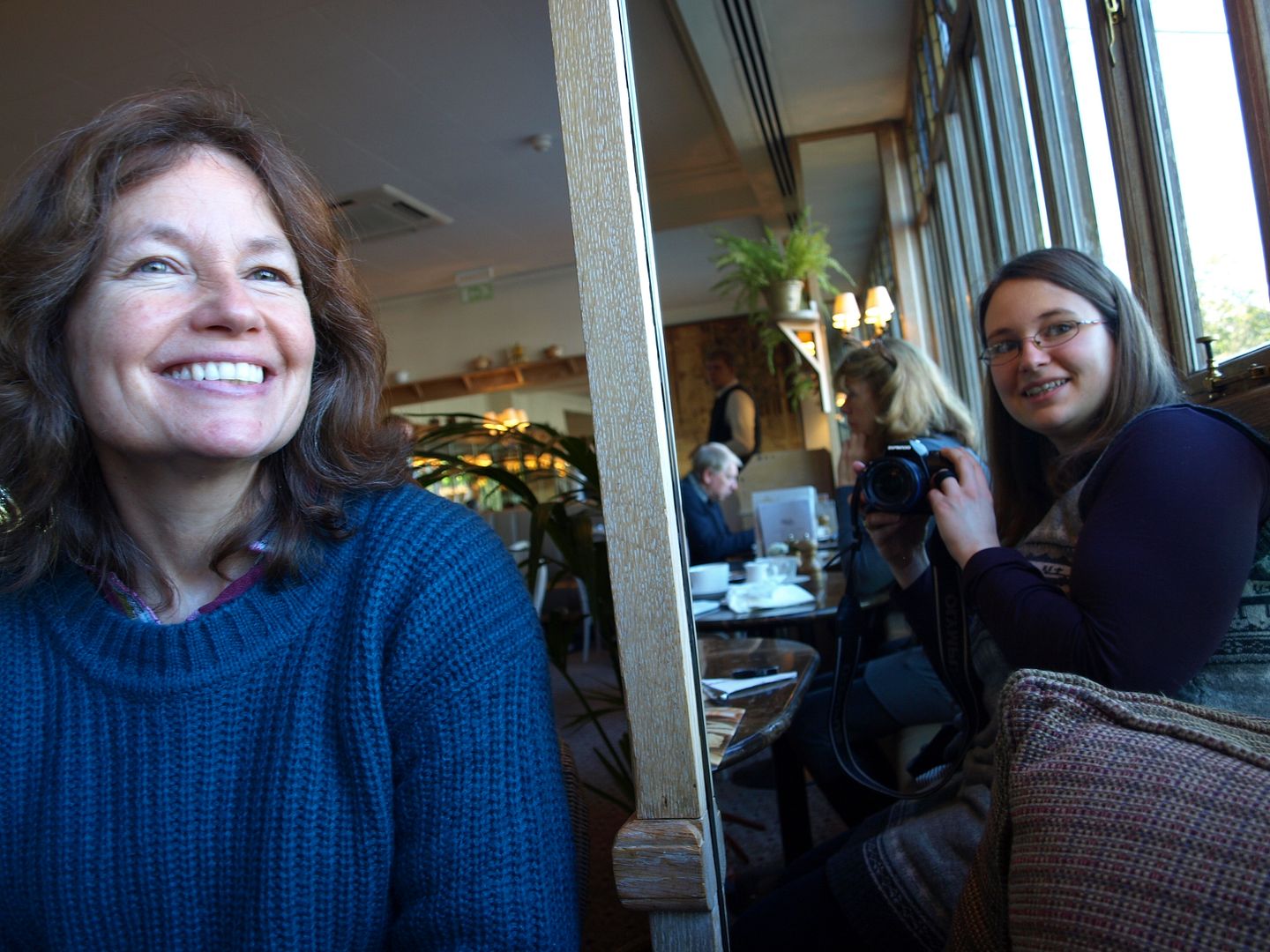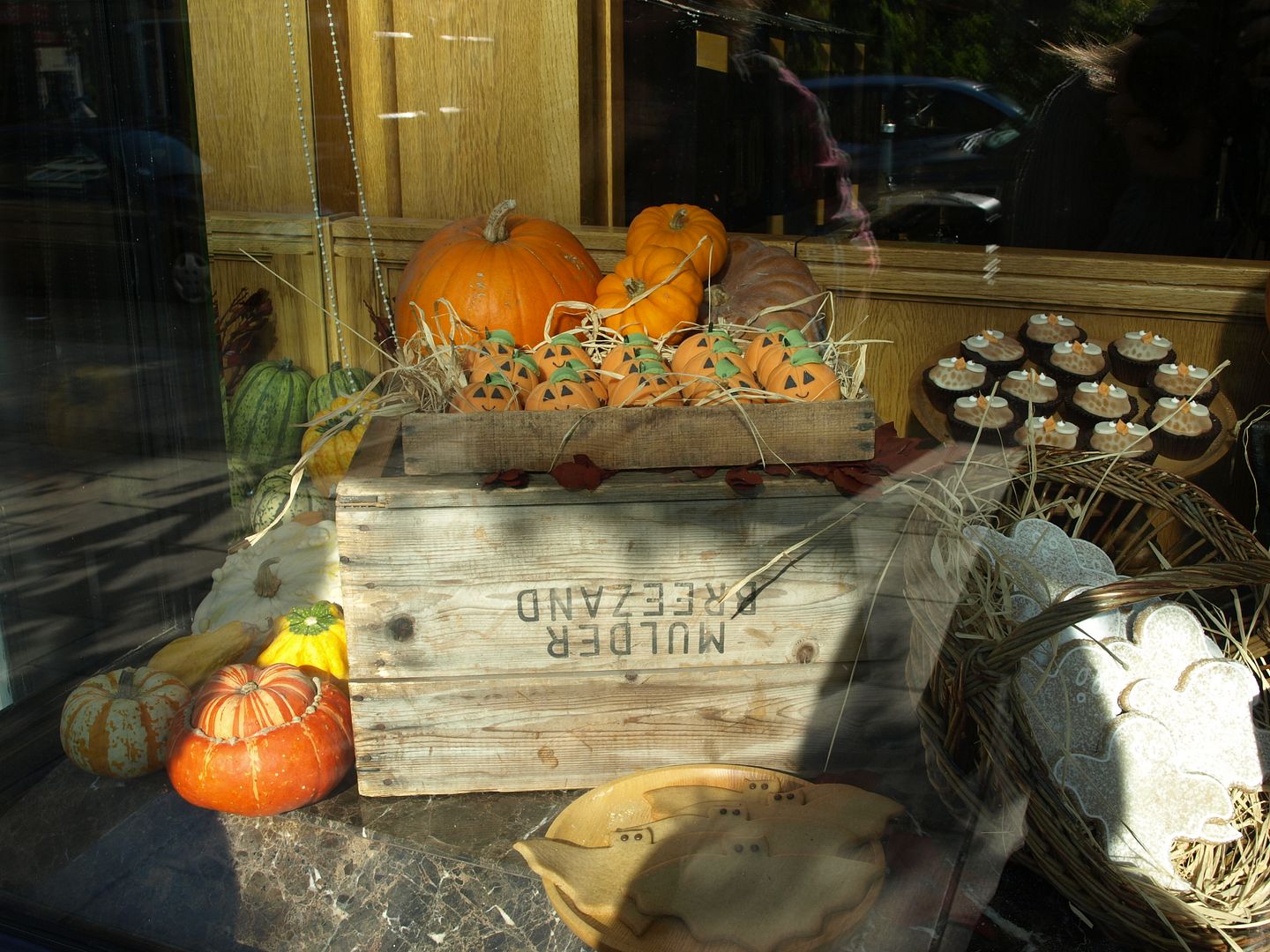 I was hoping that the greengrocers would have pumpkins outside (just so that I could snap a photo) but it must have been too early for them. We bobbed into Create and admired the yarn and then after realising that we wouldn't make the next bus, we did the sensible thing and went to the pub. By this time it was 1pm so we had beer/sparkling water and chips. More like potato wedges actually but they were very good.
After sweltering in the direct sunlight in a very hot glass bus shelter for twenty minutes waiting for the (late) bus we were very relieved when it turned up. I was wearing my woolly reindeer top as well! When we got back home for much needed cups of tea we both agreed how glad we were for days like this.
P.S I started this blog post on Saturday morning but was required for damp proofing tasks in the living room before I could finish it. It really WAS "this time last week" when I started it but sadly not when I finished it. Doh!