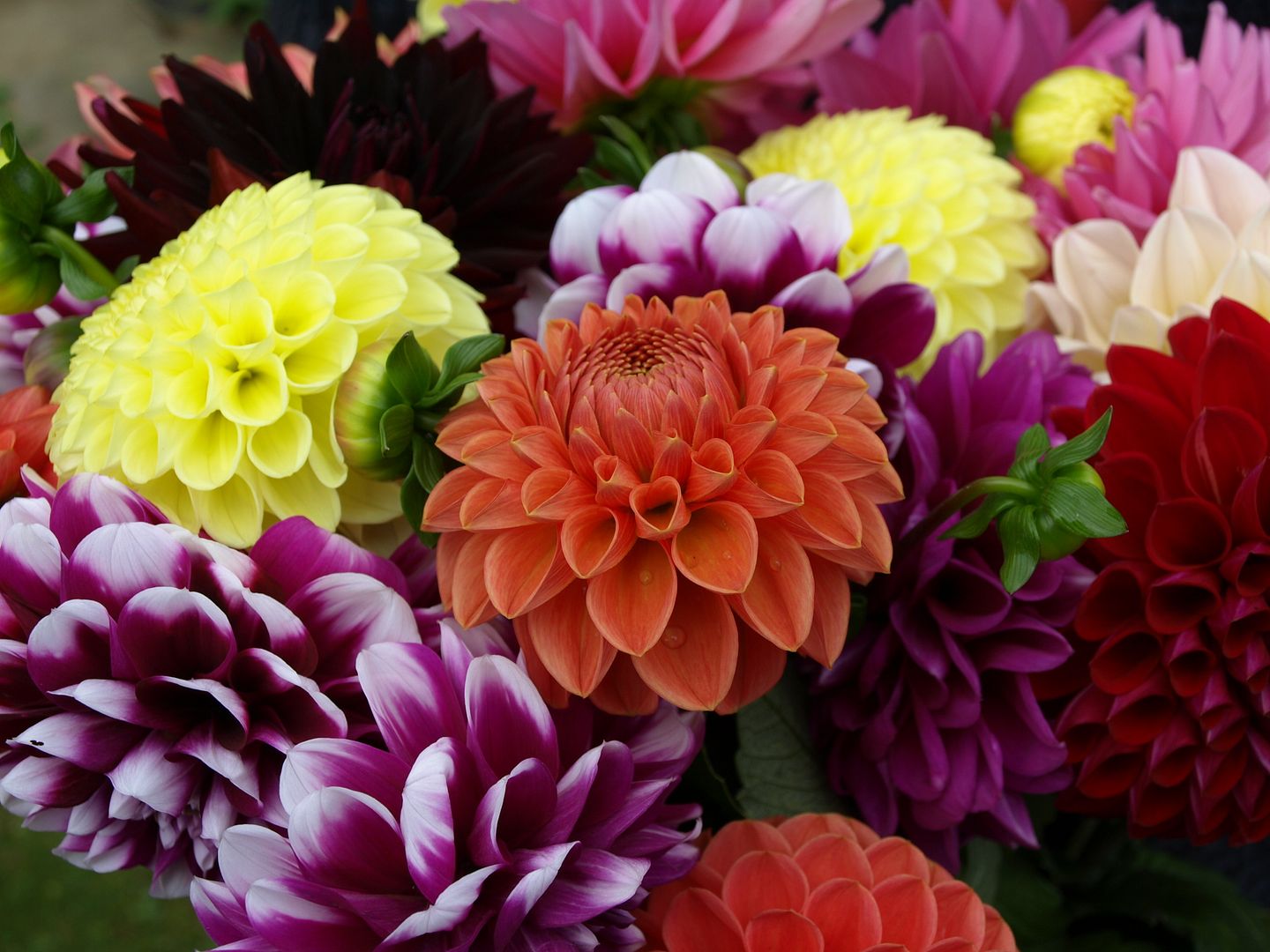 In the village next to my mum's (where my Grandma lives) there is a house that for as long as I can remember grown their entire garden FULL of Dahlias each year. They sell them each day, in a bucket on a trestle table and a sign asking you to put the money through the letterbox. It's a stunning display and they are truly dedicated to growing these beautiful Dahlias each year.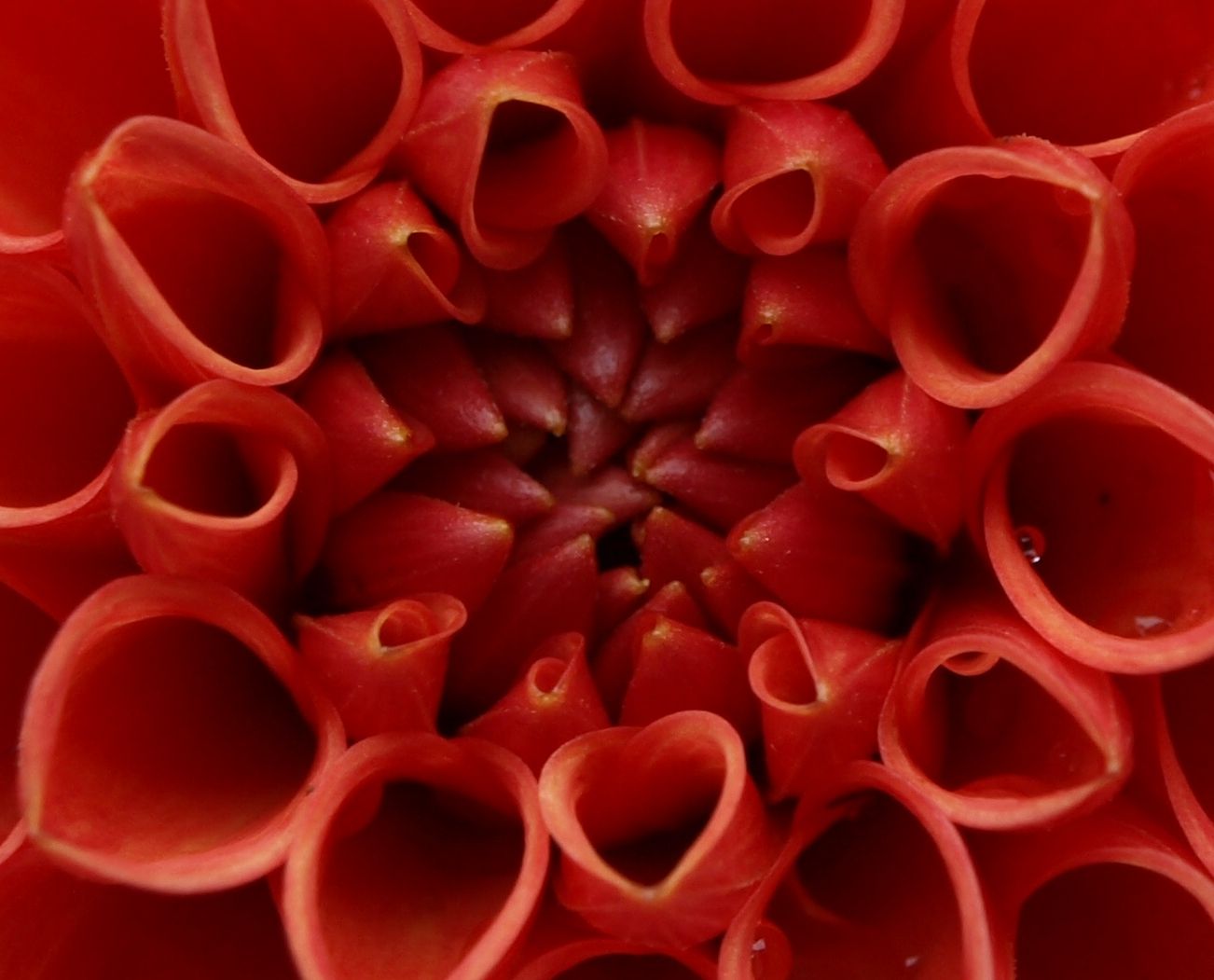 Last weekend, me and my mum drove past it as we have done thousands of times before. This time though, I asked if we could stop and buy some. She pulled over and we scraped through our bags and the glove box and found £6 and bought two bunches of Dahlias. Oh my goodness, I am so glad that we did. They're the most beautiful, fresh, vibrant Dahlias I've ever seen. The ones I buy on the market here have always been great and I love them but they're not a patch on these ones. For one thing, the market ones are in bunches of the same type of flower. These two bunches were like mystery bunches and it was exciting looking through and seeing all the different ones.
I've never seen ones like this before – it's like a flame, or a lion! The dark one is velvety smooth and just LOOK at the one with white tips, and how that pink one is yellow at the base of the petals. I don't think I've ever been so excited about flowers as we were these.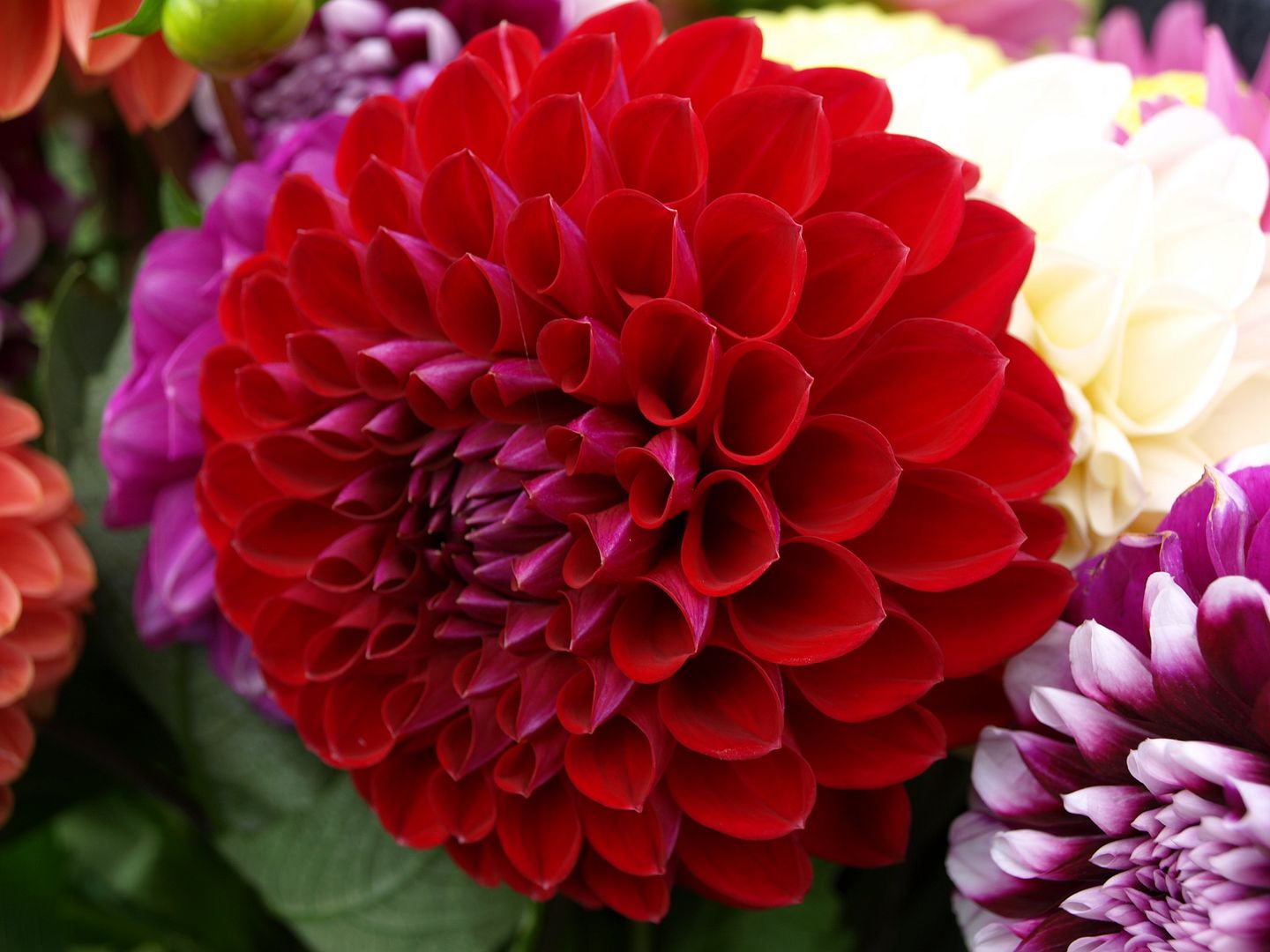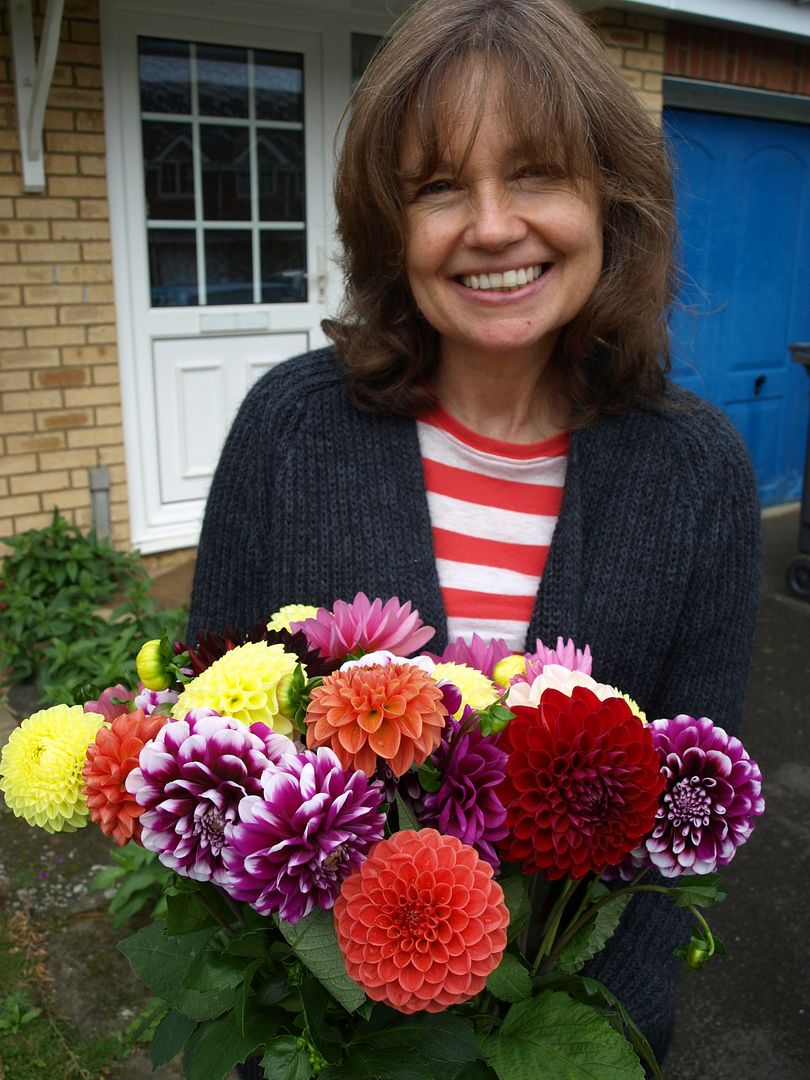 Have you ever seen a bloom as perfect as this one: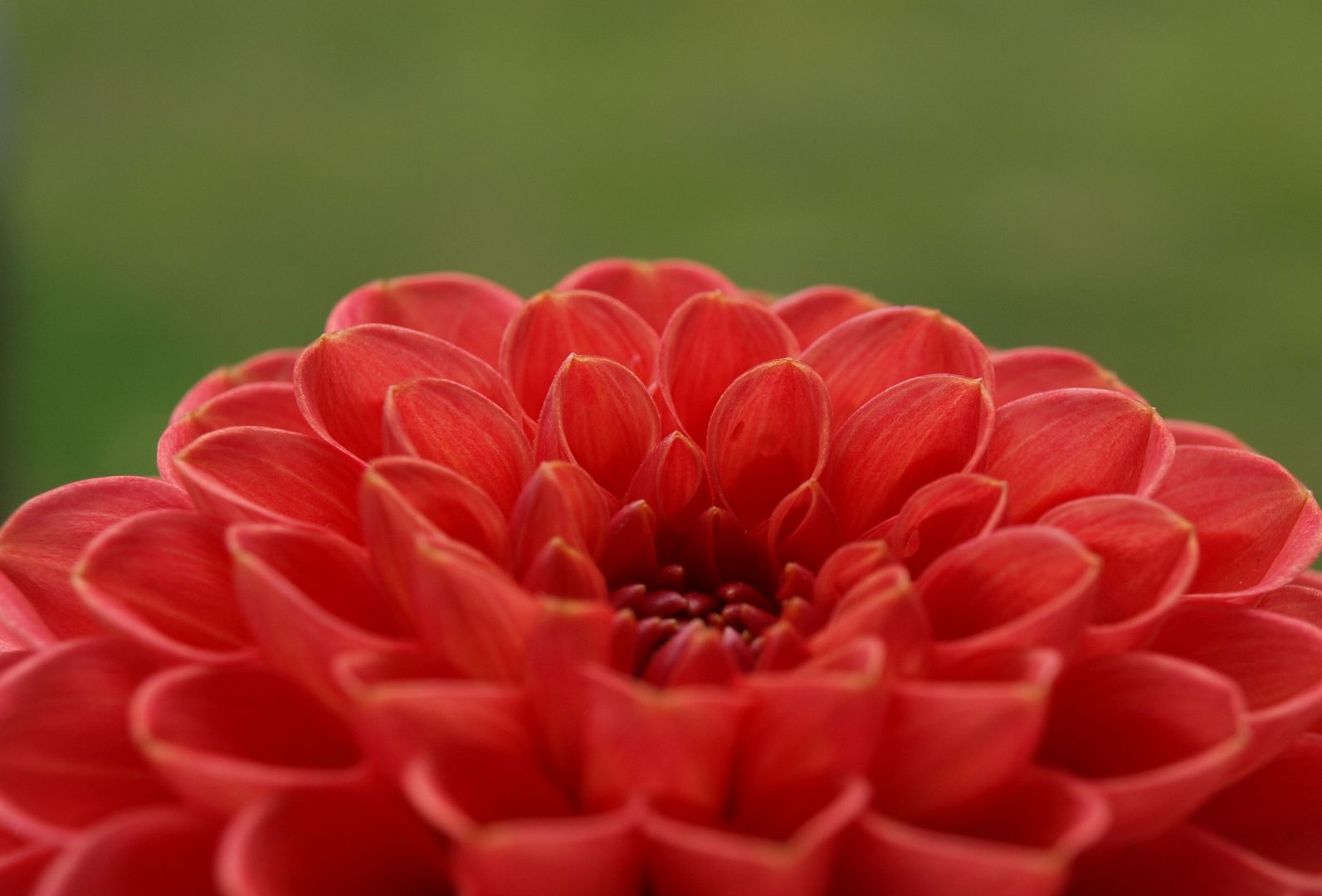 And look, it is covered in petals all around, like a puffball!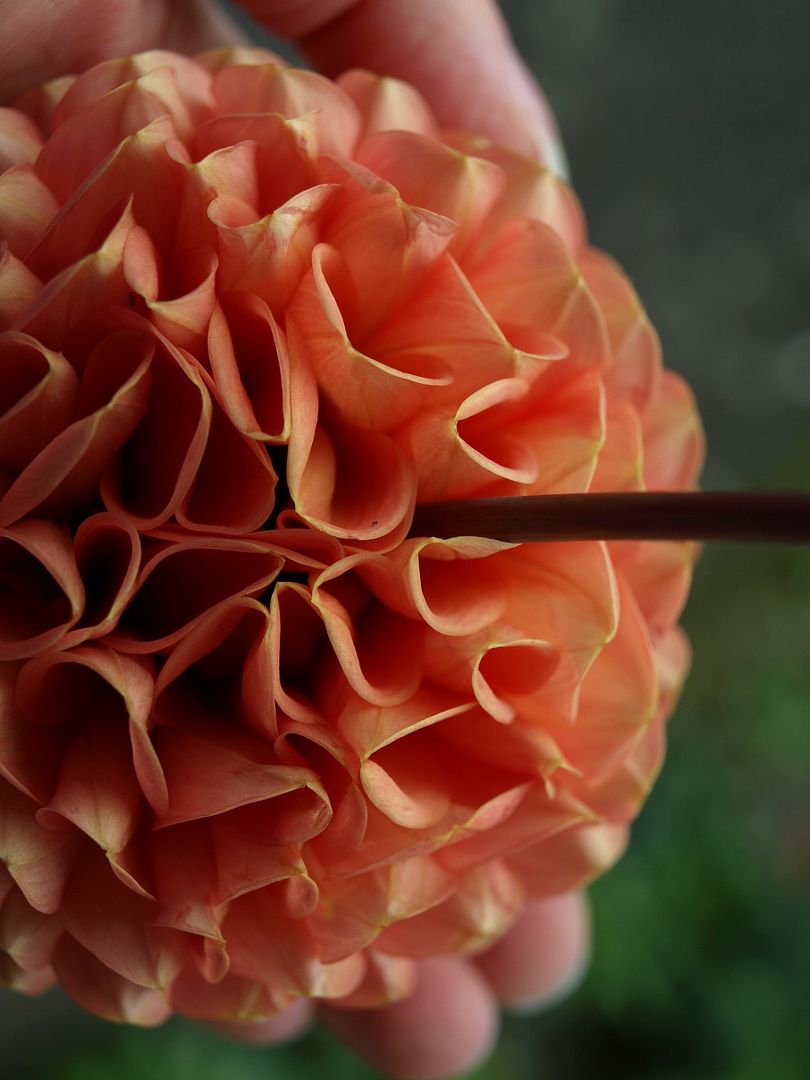 There were so many of them that they didn't look right all in a vase together so we decided to split them up. They were so individually stunning that we chose our three favourites and gave them a slim single vase each on the kitchen windowsill. The pink one is bigger than my hand stretched out to the fullest!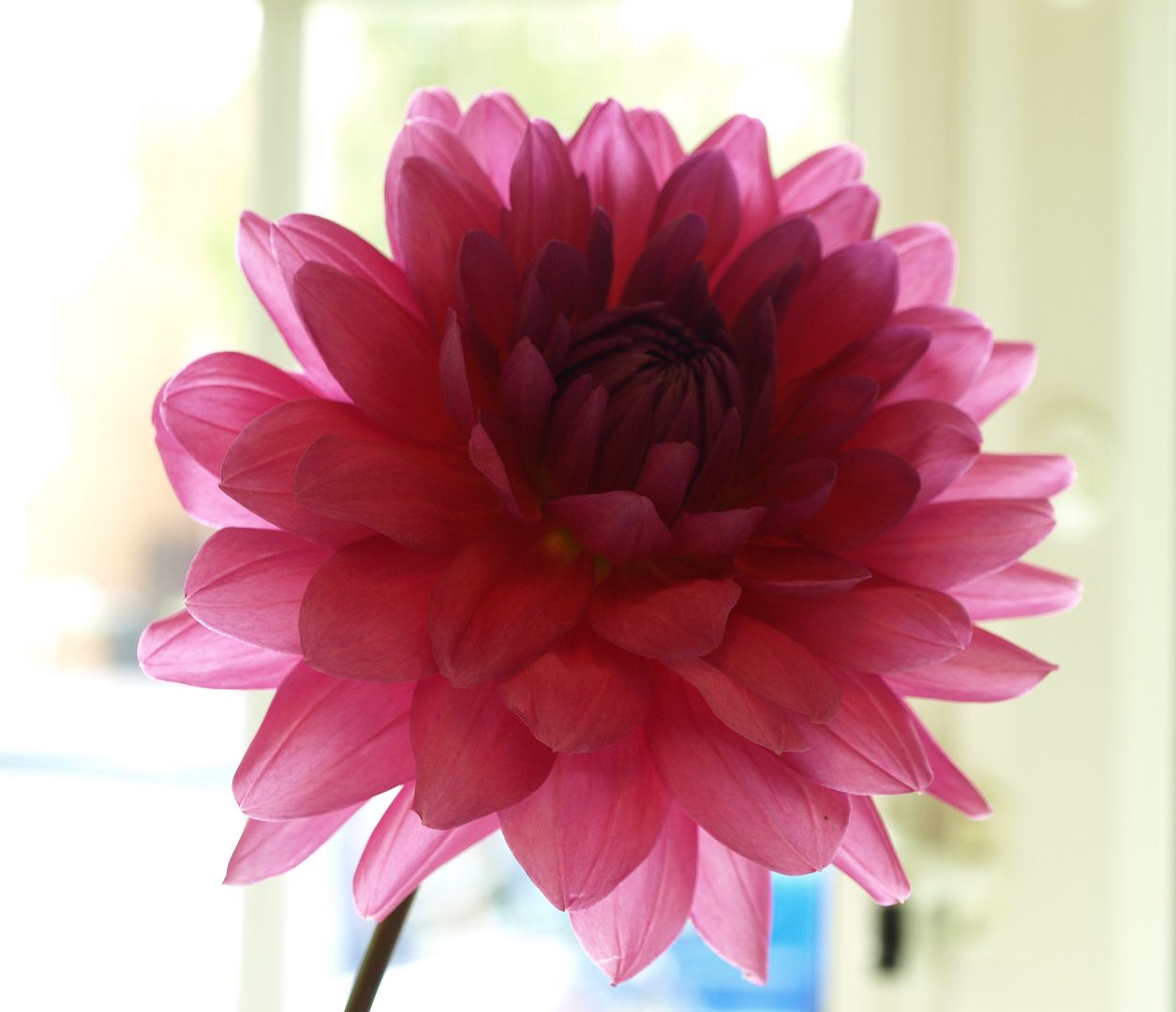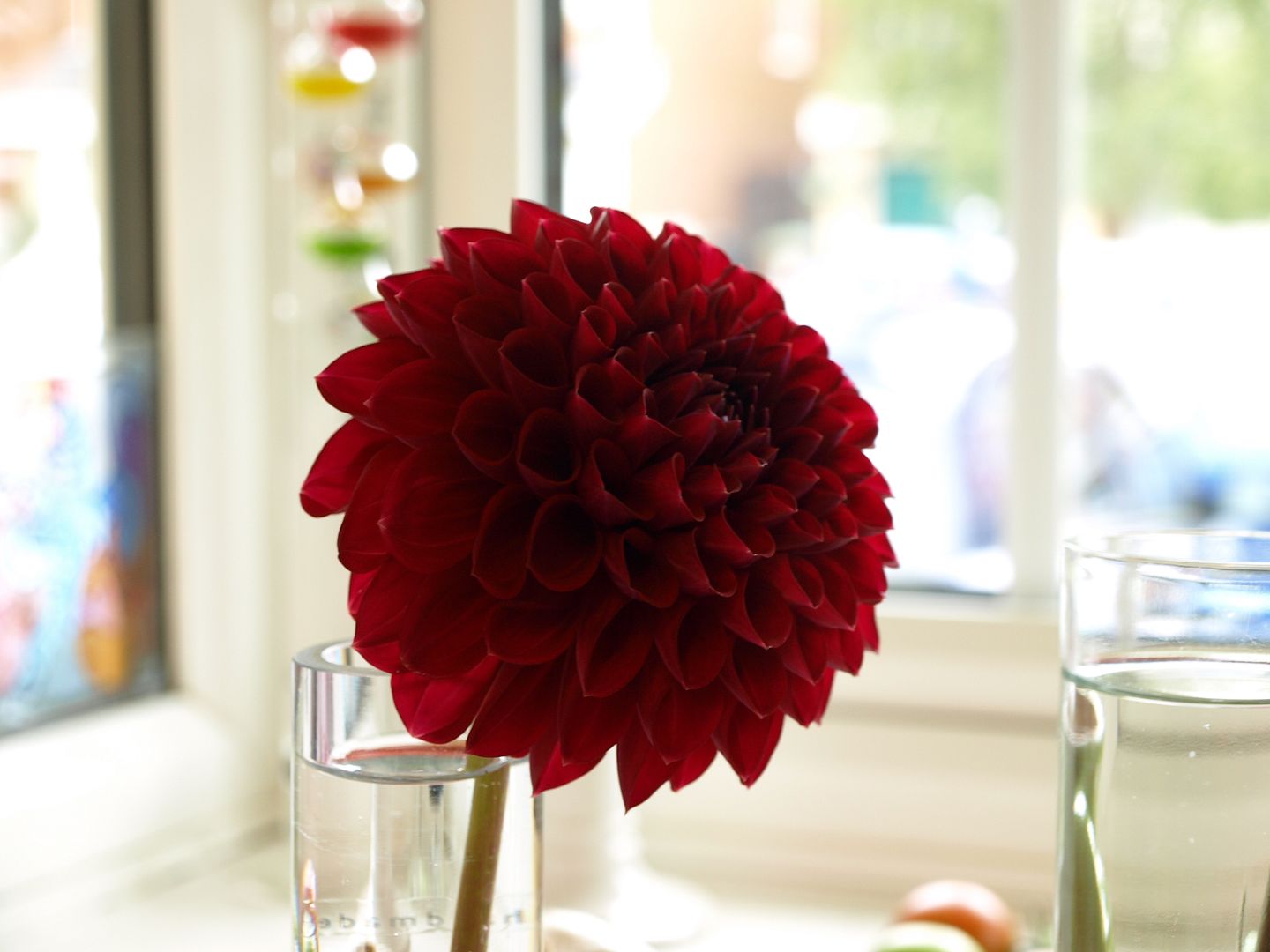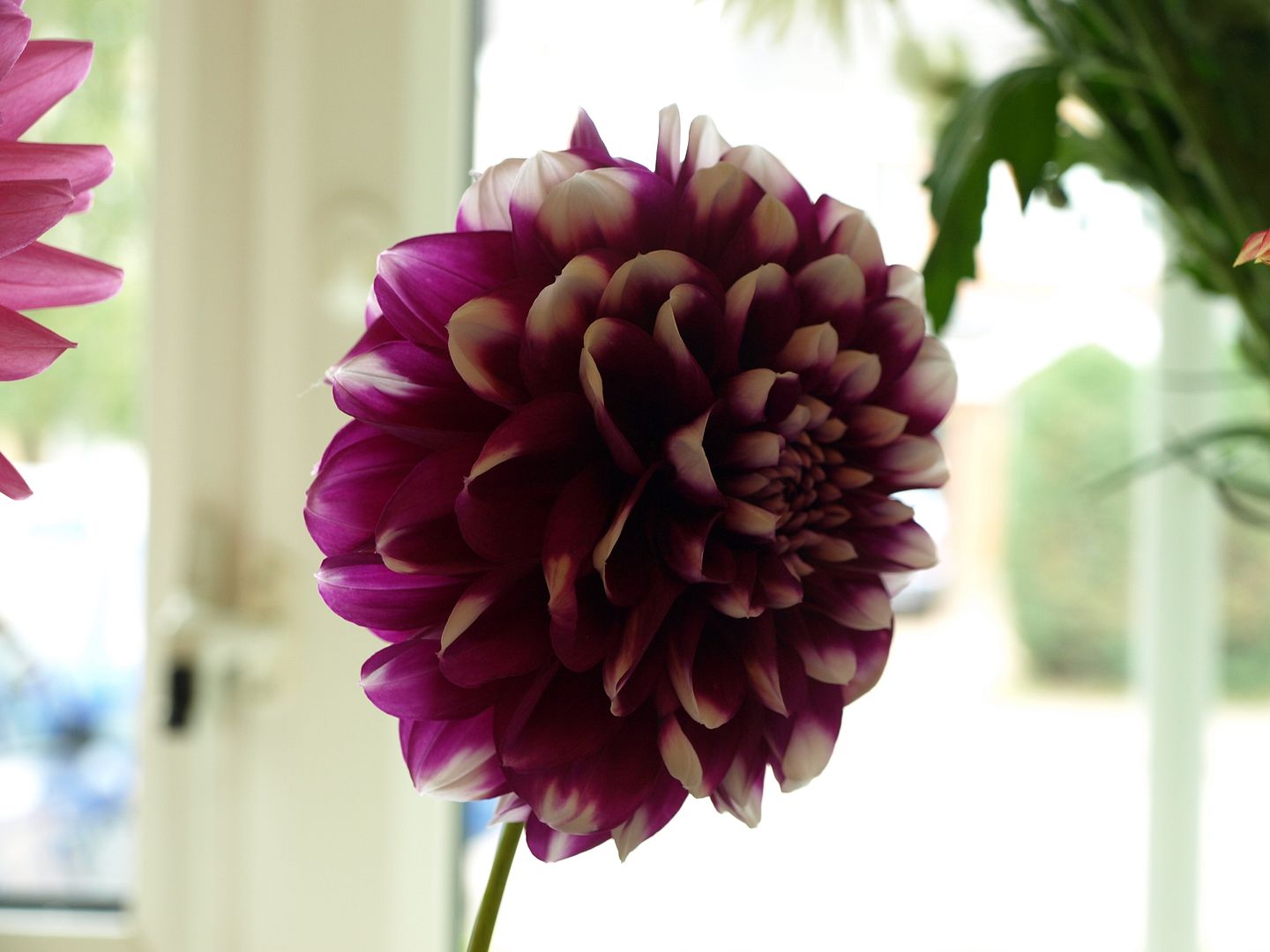 Then a small vase full on the windowsill including the sweet creamy coloured one that I think looks very bridal and would look pretty in a bouquet:
Then the rest of them we put in one big happy vase on the living room windowsill. Walking into either of these rooms just put the biggest smile on my face for the whole weekend, it was lovely.
Of course I couldn't resist taking lots of photos of them. Thank you for putting up with them all! ;-)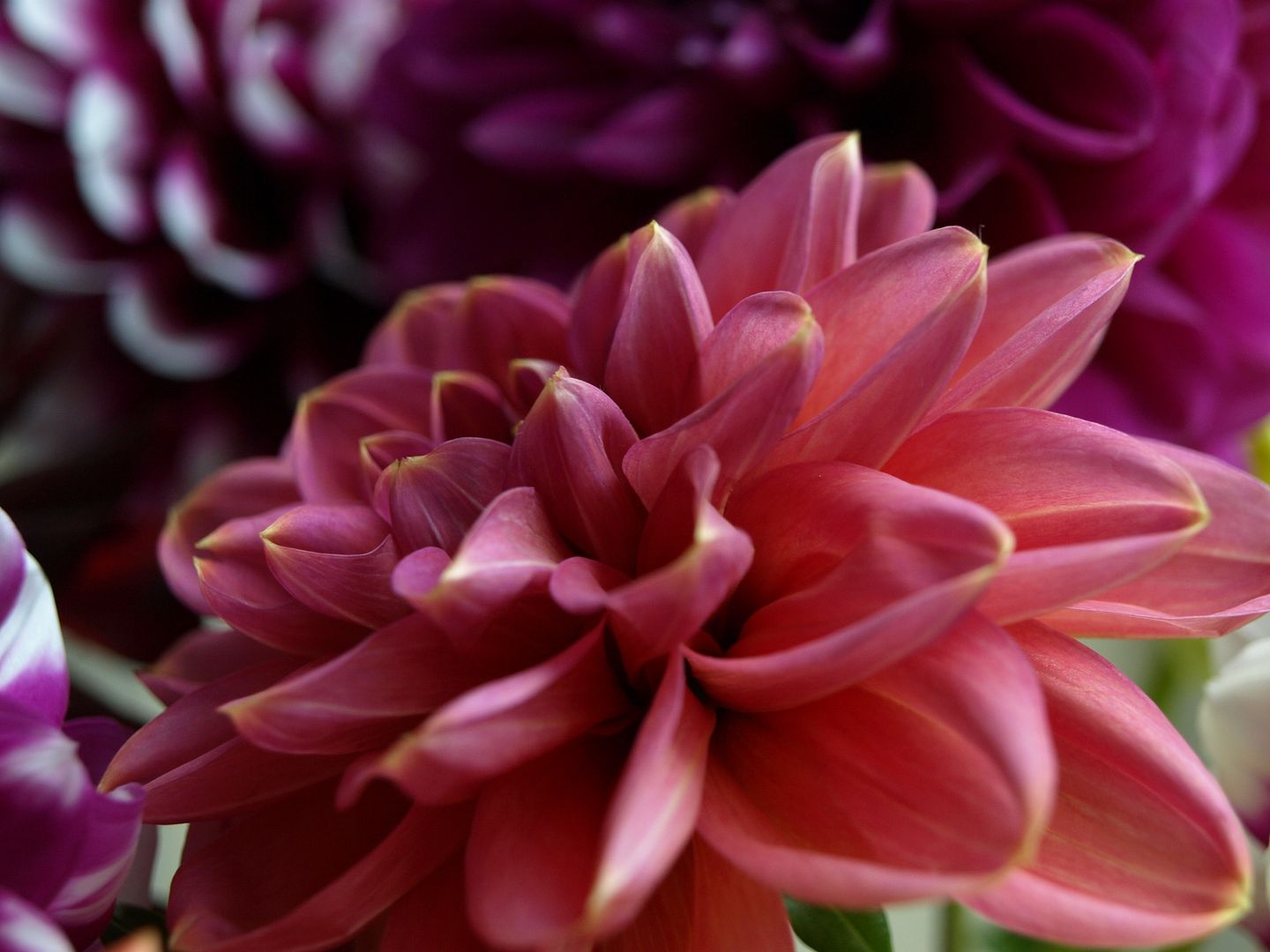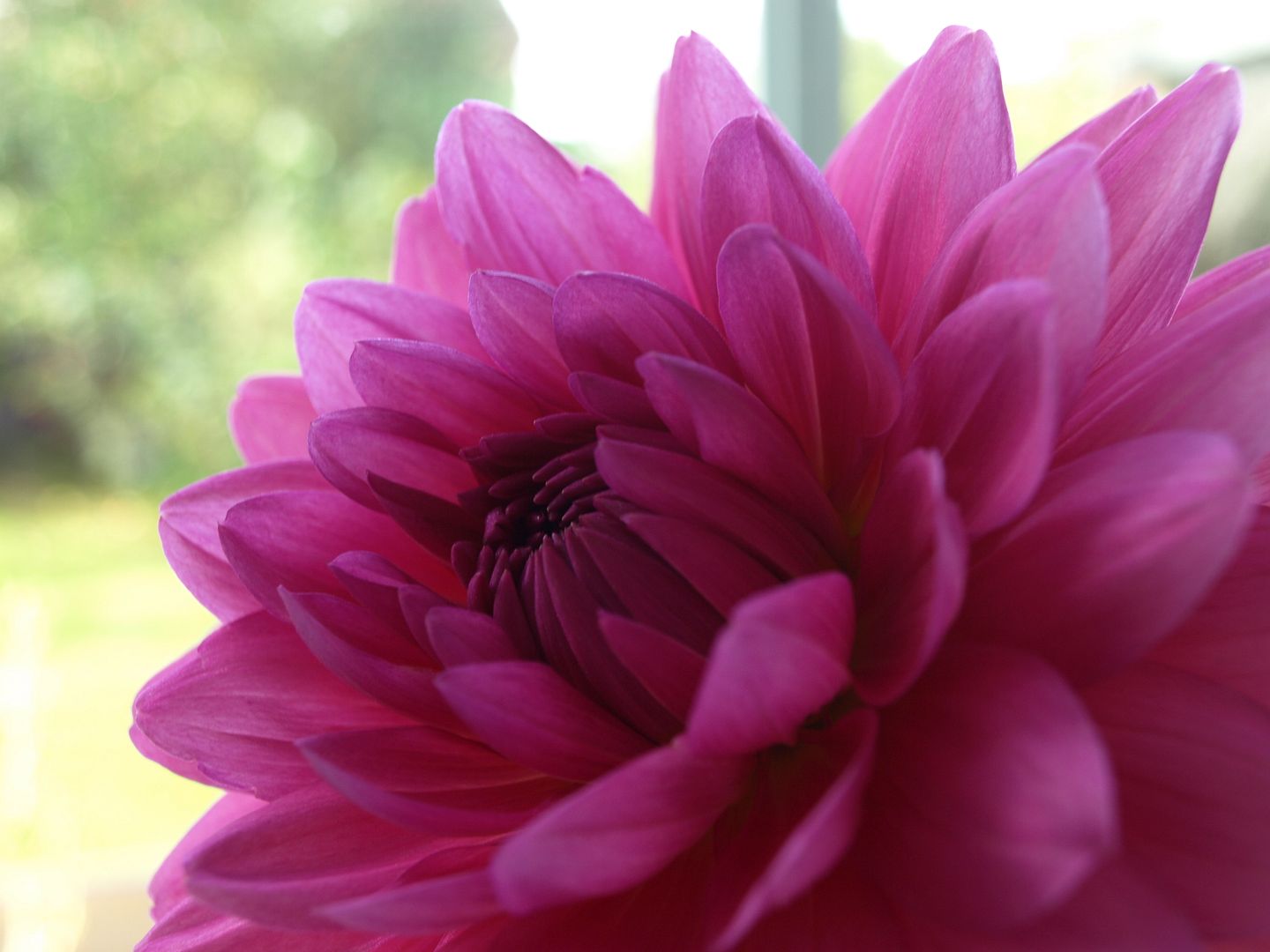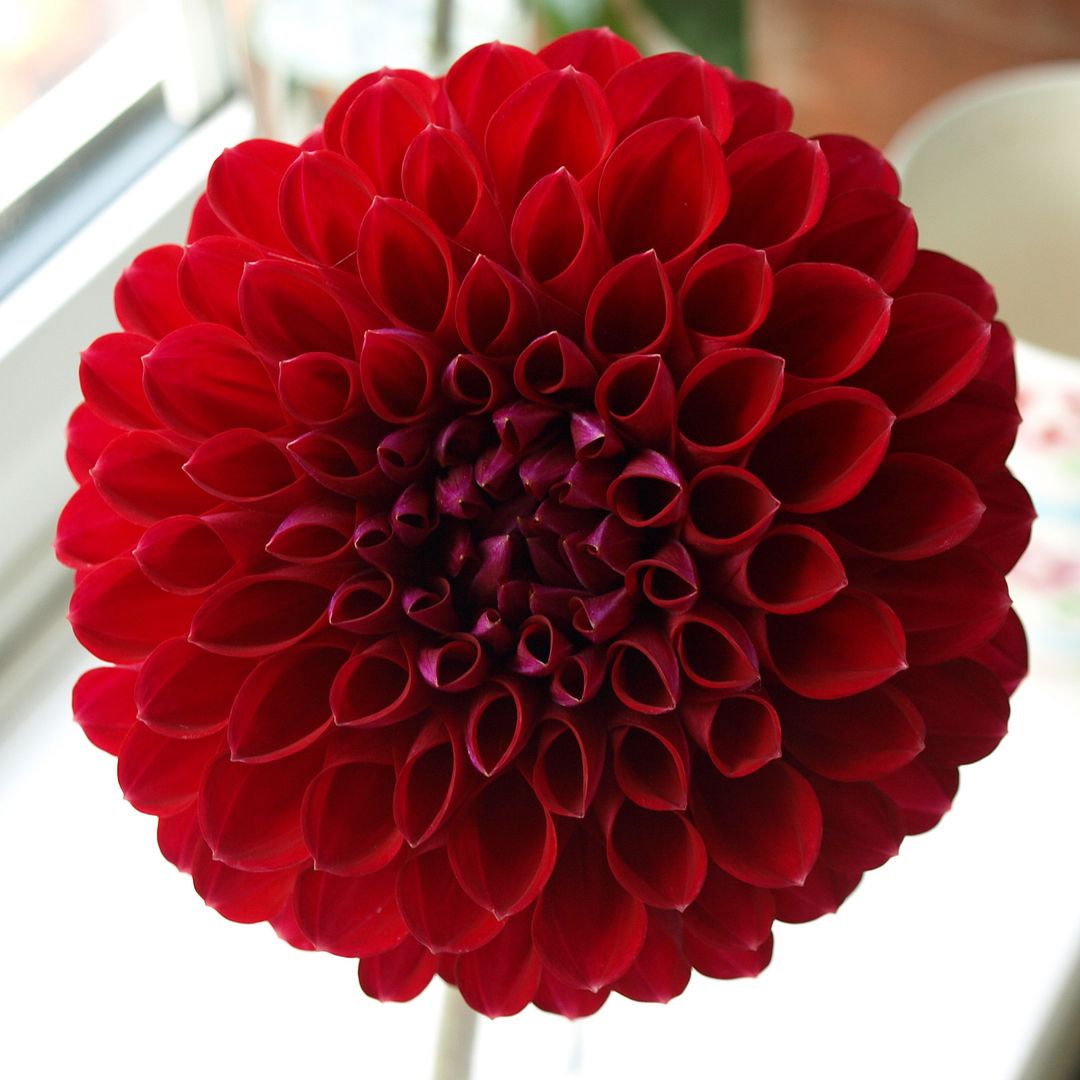 Ahhhhhhhh.
As for the new tradition bit, well, we can't think of a good reason NOT to make this into a tradition! It made us both so happy, it only cost us £3 each and they make beautiful photos. I usually make a visit home in October, when the Dahlias are in their prime, so why not? This is only the first year so I don't think it can be called a tradition yet but I would like to make it so. Even if it doesn't work out, I'll have the photos and memories of "that day we actually bought the Dahlias from that garden!" and that makes me happy enough as it is.
xxxxx