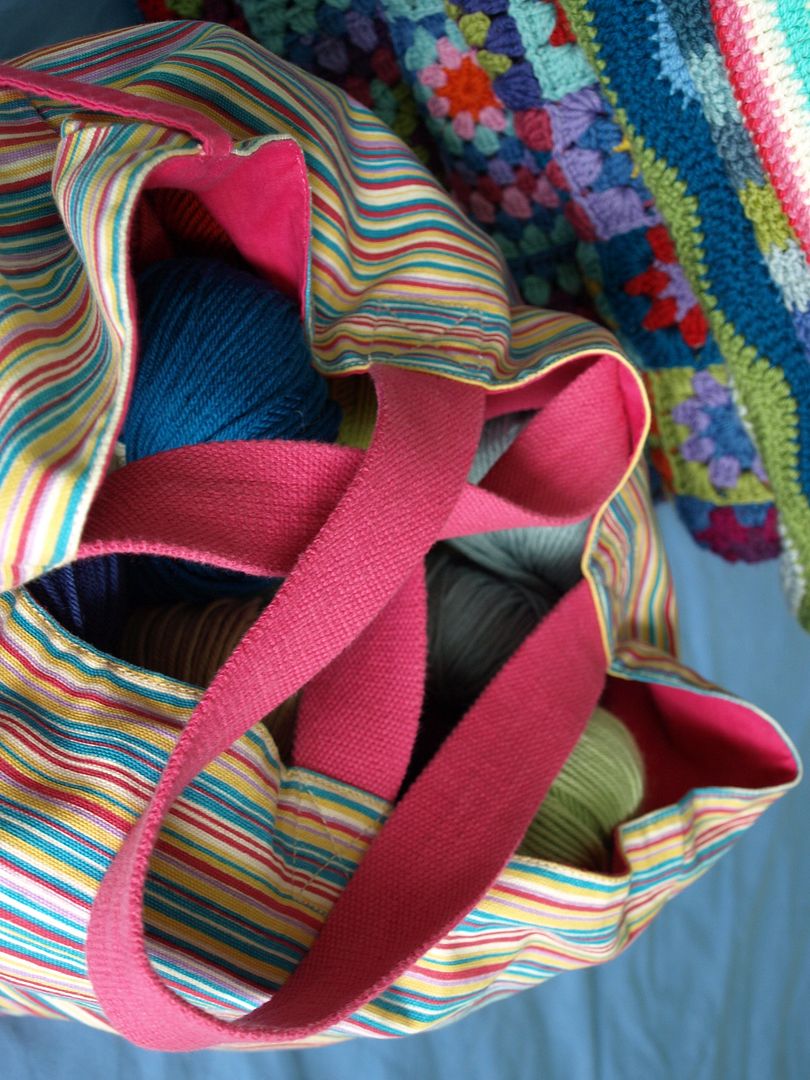 It's time to let the yarn out of the bag! You will notice that I have been sitting on these photos for over a week and I'm most excited to share them. I've been putting my thoughts in my head in order because I want to chat a bit about the colours. I think I've said before that I've been stashing this yarn for over a year. I think I started buying Cashmerino dk in July last year with the intention of it being a "slow stash" and then making it into a patchwork blanket of solid squares. It was for this reason that I didn't mind too much about the colours: I bought most of the yarn online without putting much thought into the colours. It was to be the yarn itself that was the focus rather than the colours.
Then I changed my mind, like I do often, because I realised that I really did want to make a ripple. The thing is, Cashmerino just ripples up SO beautifully and the feel of the fabric you make is gorgeous. I think that it loses a bit of quality the more you twist it into shapes like squares. Cashmerino Ripple it was then!
I continued to work on my stash and received both yarn and vouchers for Christmas and my birthday. I've also bought a ball when I've been on trips to places: I bought one in London, for example, so I like that it will be like crocheting a bit of my trip to London into my blanket.
I've held off for so long making this blanket because I wanted it to be a sofa blanket in our new house. Well we are still a way off having sofas and a living room that is useable so I've decided to just Go With It. It has also taken a while to make sense of the colours I bought. I've spent some time lately taking them out of the bag and lining them up in different combinations and orders, making notes of which colour numbers I have, deciding which to buy two of and which to take out. I removed a dark forest green and a silver grey. The green didn't go, and there are quite a lot of bluey-grey tones already and this one was more of a hinder than an enhancer.
I'm happy with my colours now: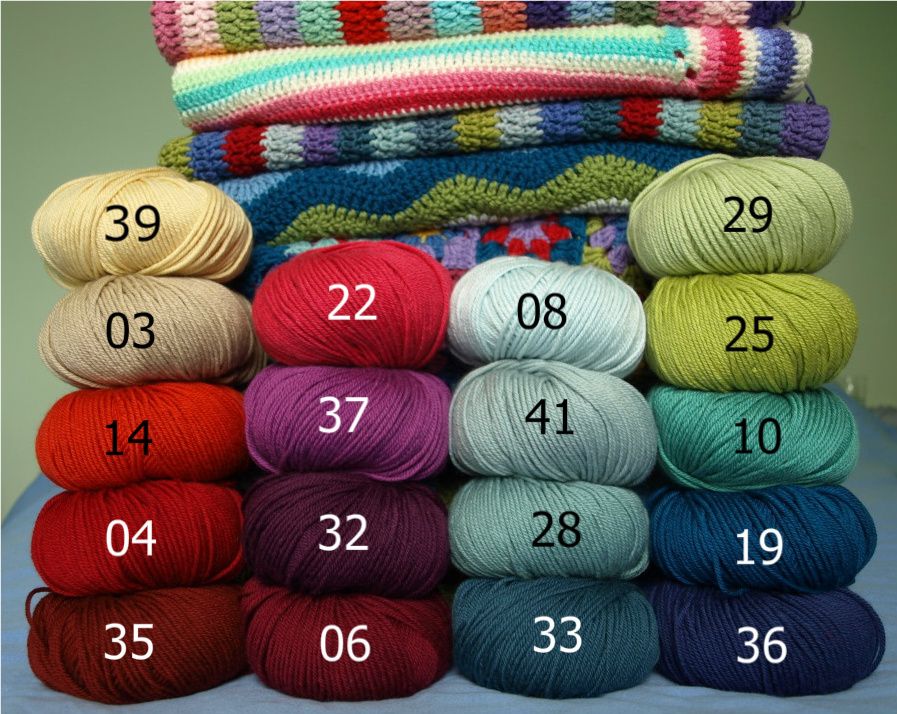 All Debbie Bliss Cashmerino dk. Some shades are discontinued now (off the top of my head they are: 25, 10, 06, 03 but there may be more.) Thanks to some google searching and the help of First4Yarns, Tangled Yarns and Woodland Yarns I was able to buy more of the discontinued ones that I needed.
I was a little dubious about number 03, the beige camel one. My mum sent me this colour as she bought it in the John Lewis sale. I don't usually use brown colours but the more I put it into groups with other colours, the more I realised that it was quite a fab colour. An enhancing colour, if you see what I mean?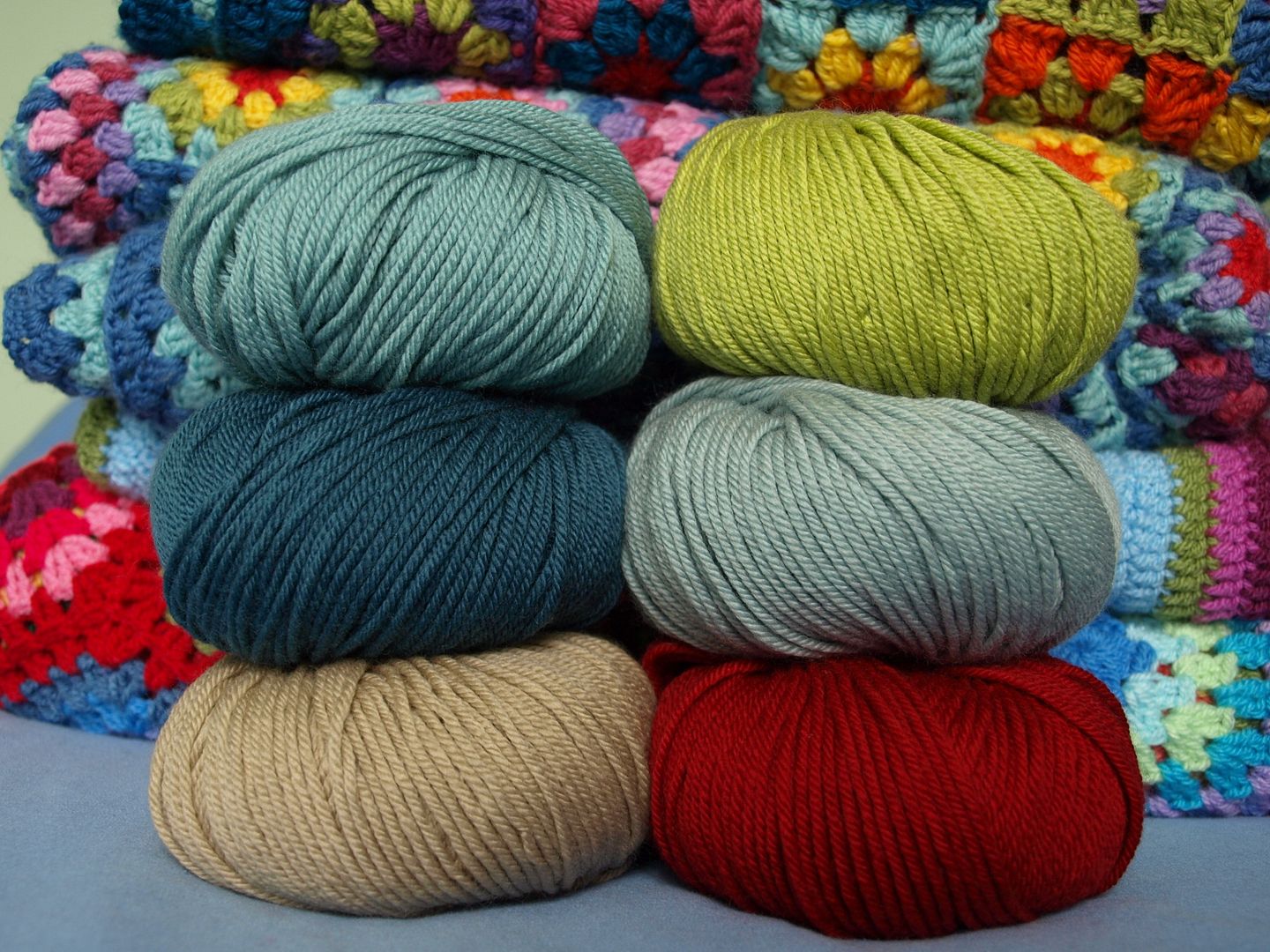 I feel that one of the most important things I've learnt about colours is that it's not just how that colour looks on its own, but how it looks with other colours as the ones all around it can really change the personality of that colour. The colour number 33 looks a great deal greener when it is next to number 25, but next to number 36 or 28 it looks more blue/dark grey.
I've put a lot of colour thought into this blanket. It's only this year that I've started to think properly in colours, it has definitely taken me a long time to get my eye in with colours. With my first three blankets (Big Blue Blanket, Granny Alice, 400 squares) I copied Lucy's colour palette exactly and I really liked it. This year I've been really pleased with my colours for my Phoebe Ripple and Rosie Ripple and the more blankets and cushions I make, the more confident I become.
Because Cashmerino is so expensive (the reason why it's taken me over a year to stash all of this!) I didn't want to end up with a blanket that I didn't like (like the hexagon fiasco. Incidentally I'm sending that into hexile to live with my mum for a bit) or where the colours didn't work. What I have done is tried to place the yarn in groups of three or so where they all look lovely together, but to make sure that they overlap with the next group of three. Hopefully, you'll be able to pick out a chunk of three or four stripes in the blanket and the colours will look reasonably good together.
The middle photo really does it for me here. I LOVE this combination: you may have noticed that it is quite similar to the little striped blanket I'm working on at the moment. The last photo is Autumnal and also makes me think of a piece of Candy Corn. The first photo … well, can't go wrong with pinks and purples can you?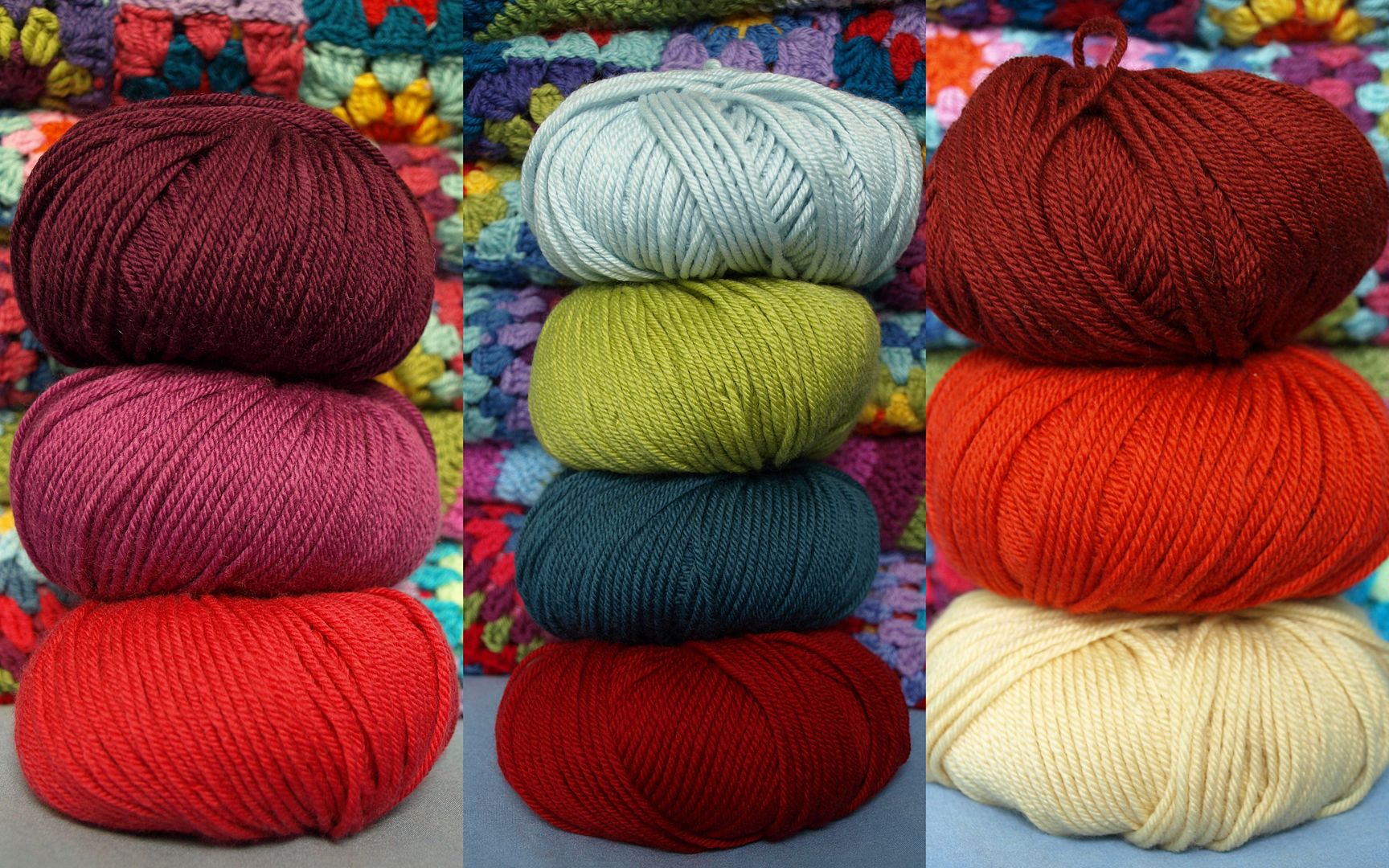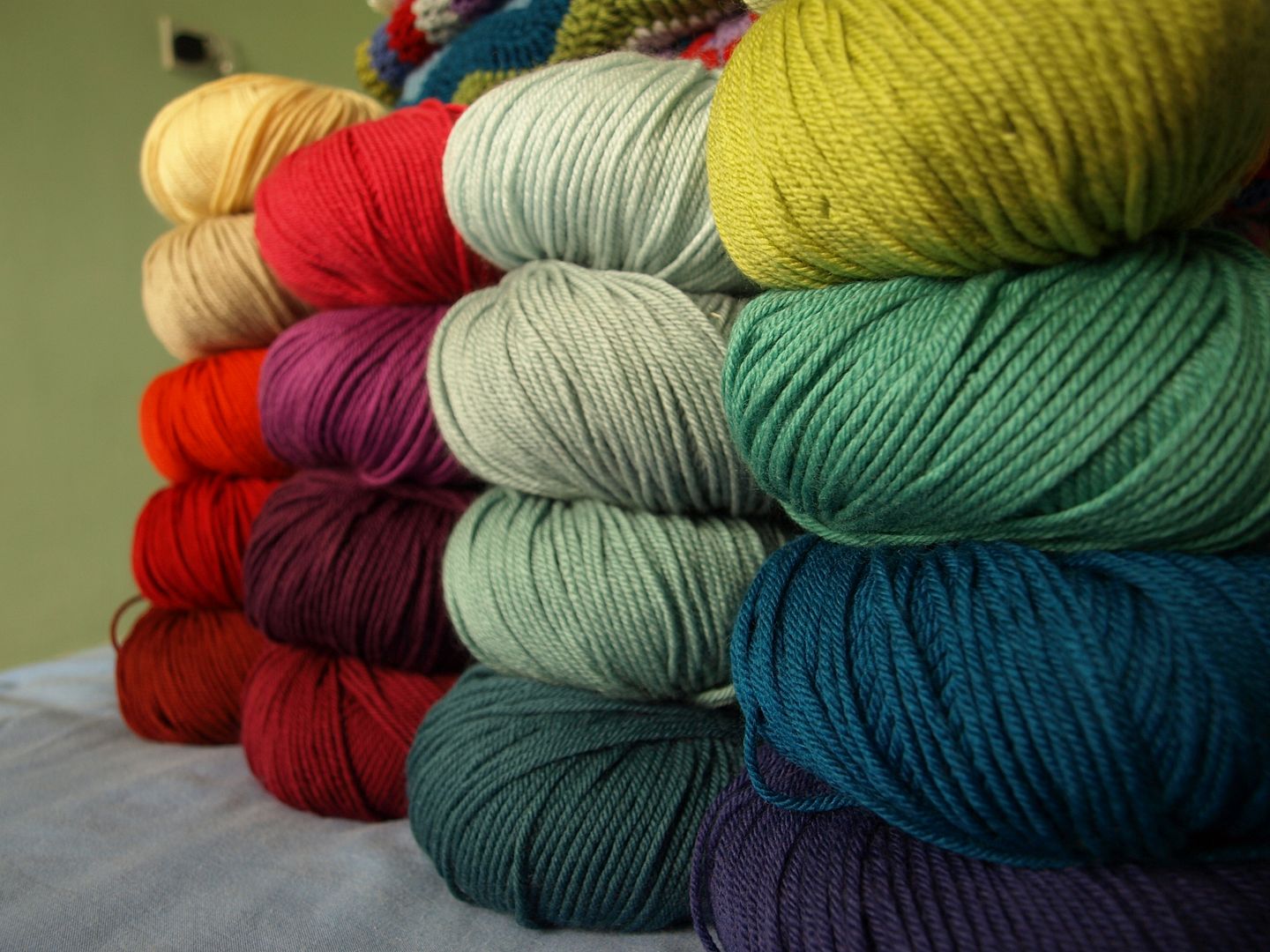 I also stacked them into colour "families" and then gave them all colour names, like seaglass, banana and peacock. It's easier to remember than numbers!
The next exciting part of this is that a couple of months ago, Lucy and I decided that we would like to do this as a Ripple-Along. Yarn & ripple love is even better when you can share the yarny excitement with someone. (Or a LOT of people if you look at all the comments on this post!) I'd been speculating and fantasising about my ripple blanket in the pub during Pub Hooky for ages and Lucy wanted in on this Cashmerino action too. I said that I would wait a bit longer until Lucy had acquired her stash and some time to crochet in (after school summer holidays) and now the time is here. Oooooh yes.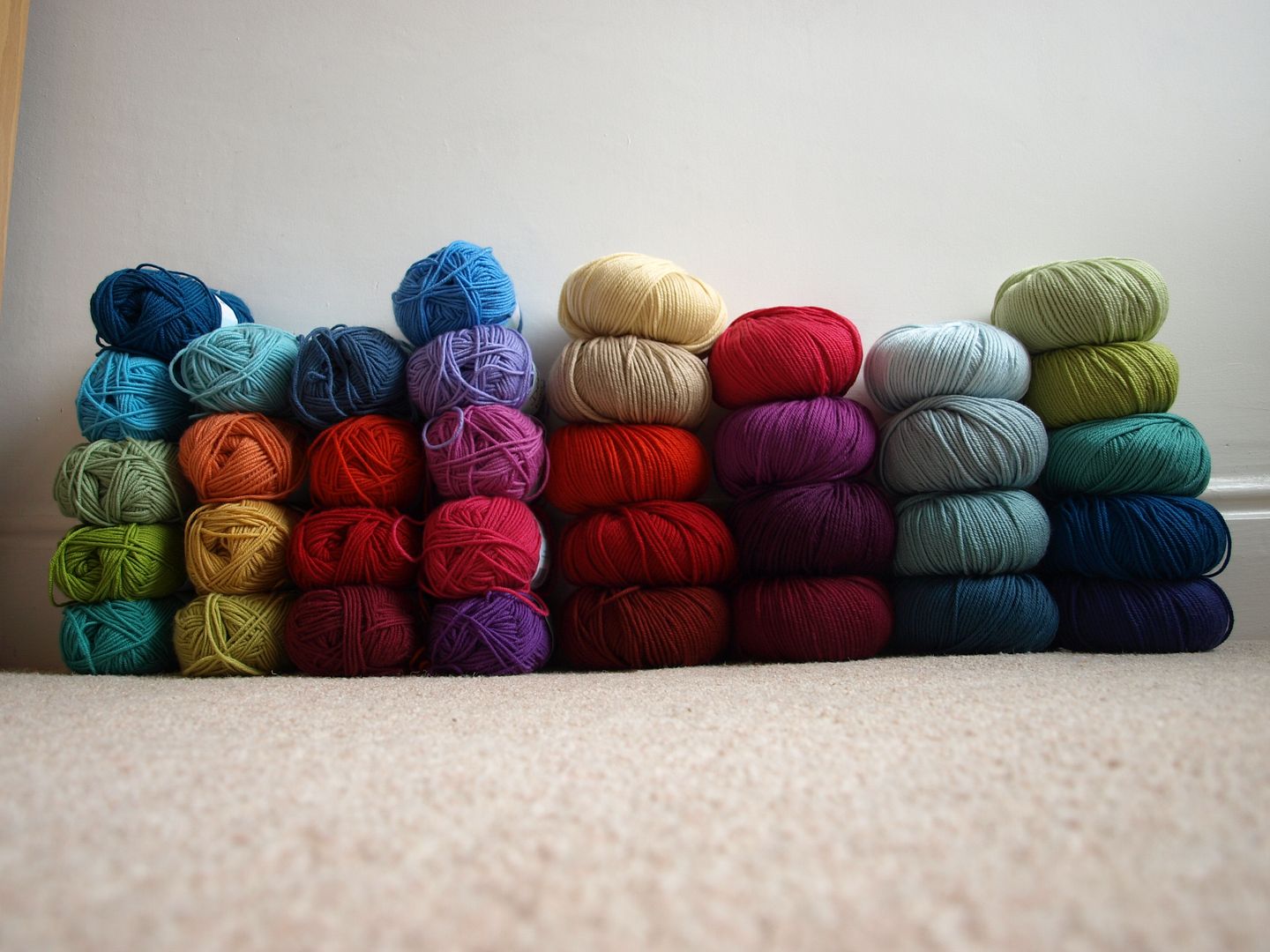 Two weeks ago we had a bit of a yarn fest photo shoot and lined up all our yarn together and tried to think of names to describe that green one on the bottom (second in from the left on the bottom.) Bogey green anyone?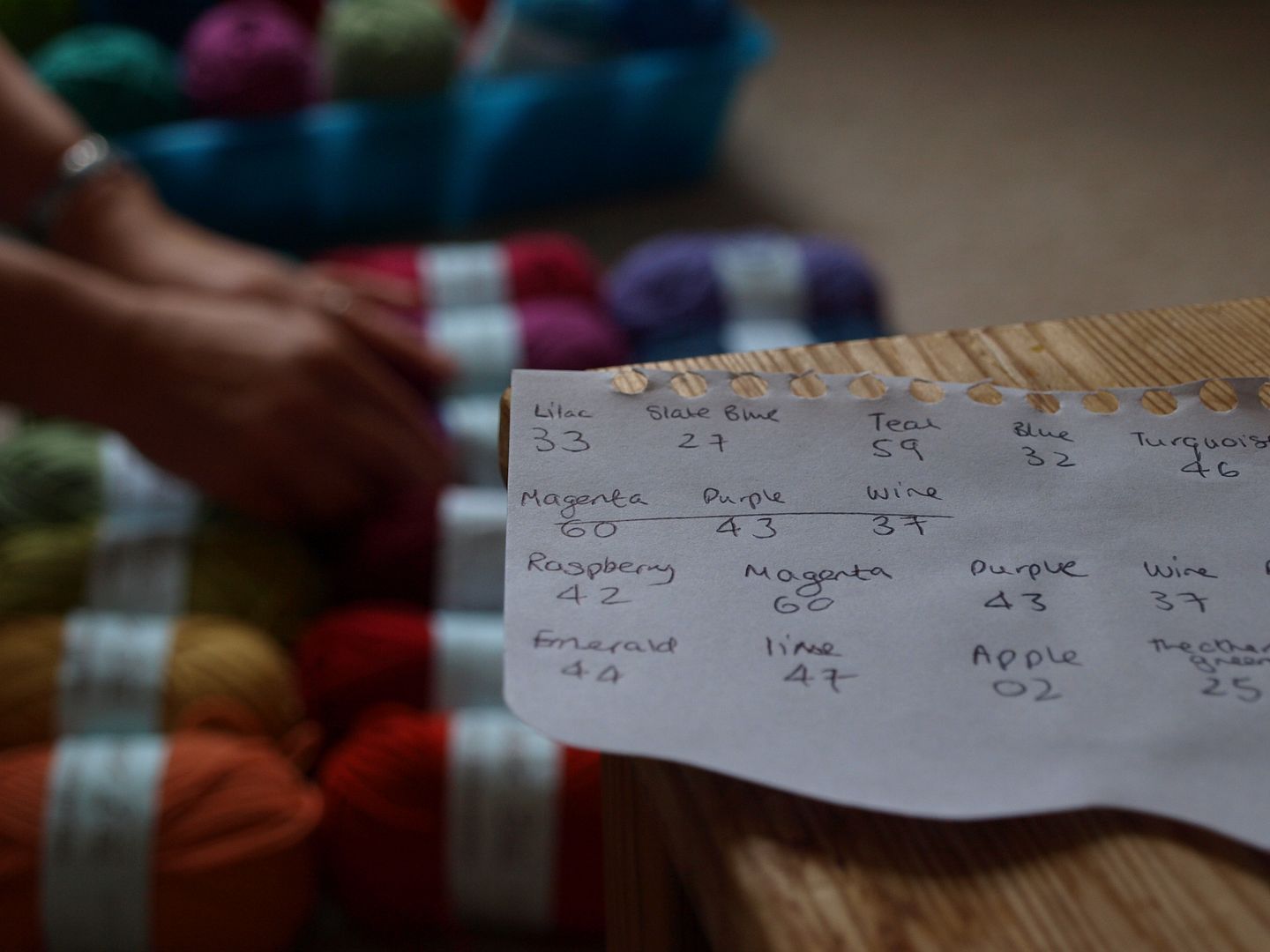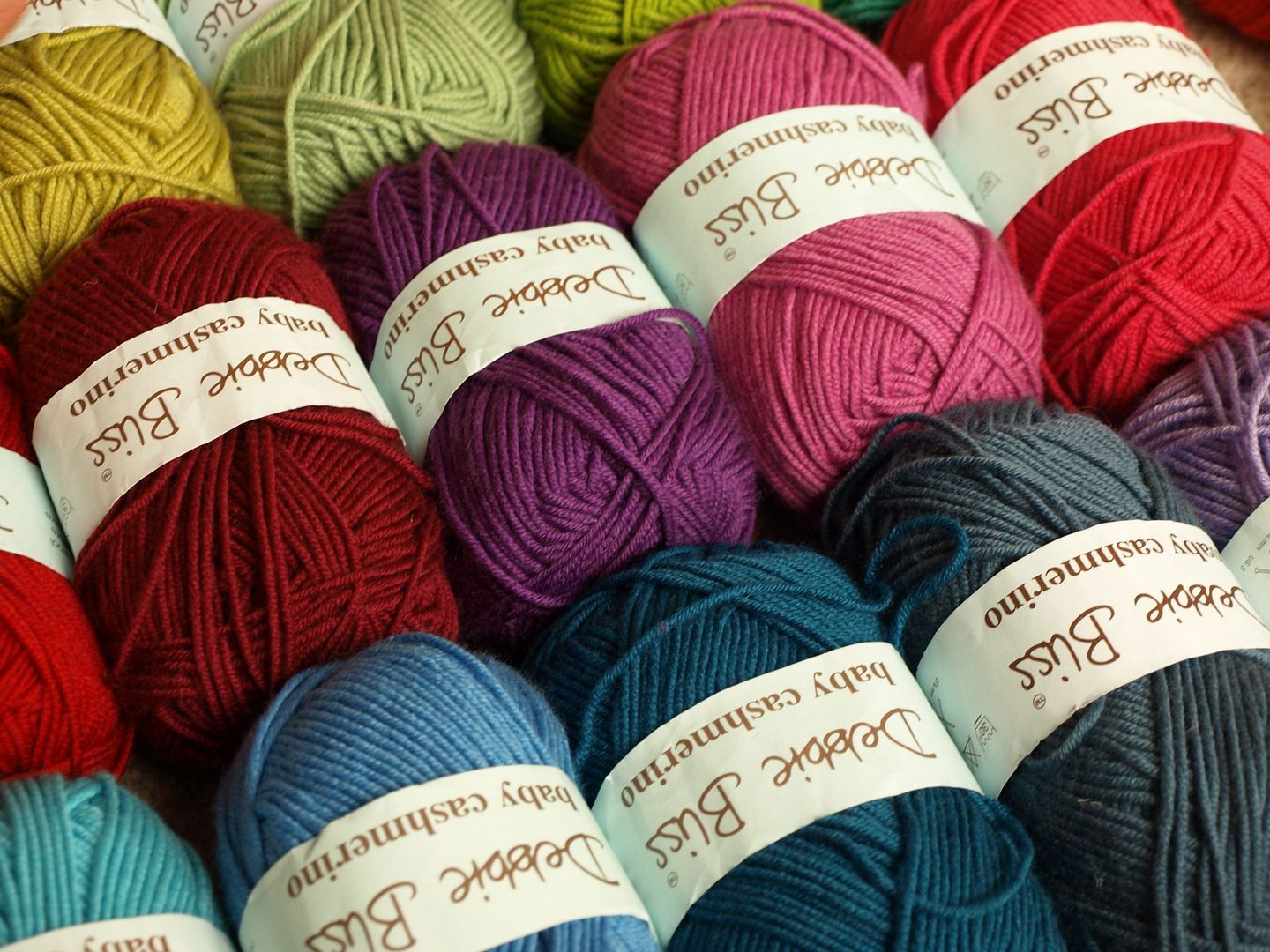 Lucy's colours are more like a rainbow than mine despite us having a number of balls that are the same colour. I think it's because I don't have a bright yellow and orange, or a lilac colour. Lucy's palette also has another green, and less dark colours than mine.
This is partly because Baby Cashmerino has a MUCH better colour range than the Cashmerino dk, and partly because Lucy is better than me at picking a balanced rainbow-type palette.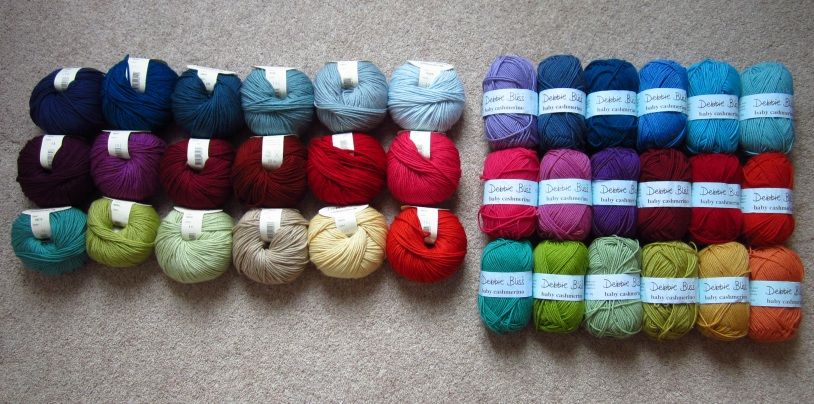 I think you can tell who's is who's!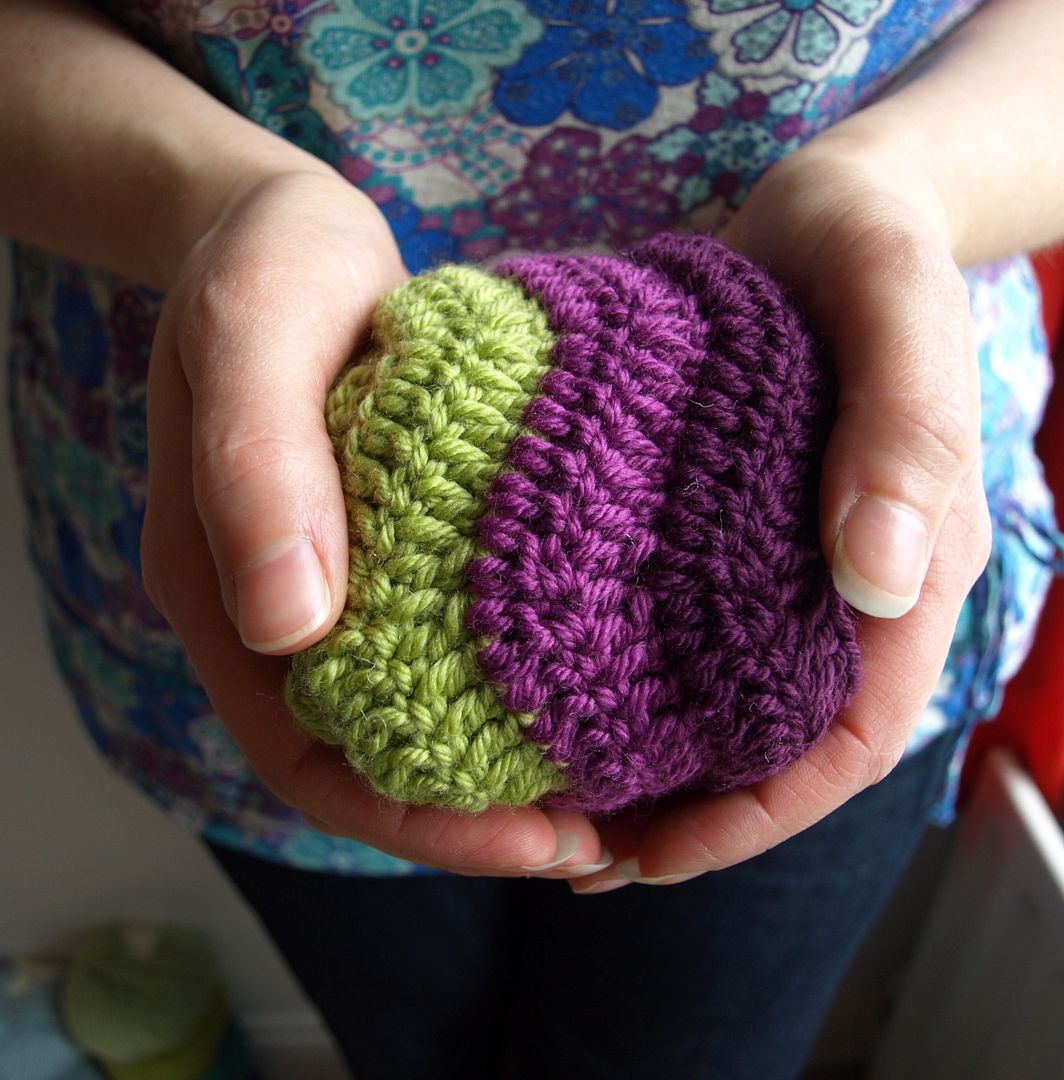 I really wish that I both my thumbnails were the same length here. I've been obsessing about that since this photo was taken.
I get a little "ooooh" when I add each new colour :-D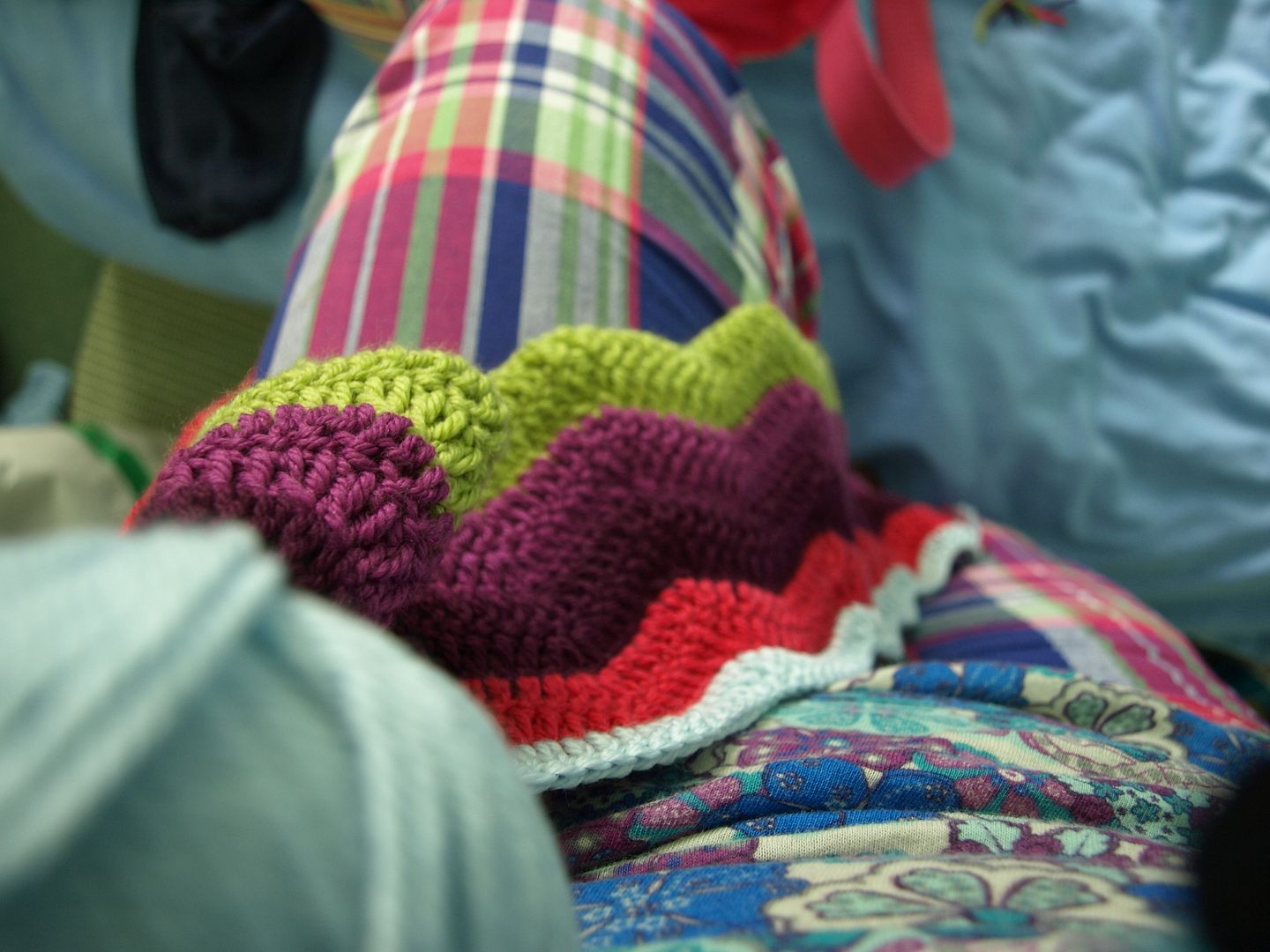 I started my ripple with a 210 +3 foundation chain and this way I should be able to get 2 stripes (4 rows) out of one ball of yarn. In the interests of keeping the blanket balanced, I've divided my yarn into two bags and have the same number of each colours for the first half as I do the second half. I don't want this to be a random blanket: this is meticulously colour-planned and ordered!
I'm doing two rows to a stripe because really love the solid stripe effect you get when you have one row of back facing stitches and one row of front facing stitches in the same colour. I know it's the same as all the other ripples I have done, but I really like it and this really is the first one I've made for myself. At the moment, I can't quite put into words just HOW much I love it already. But it's a lot :-)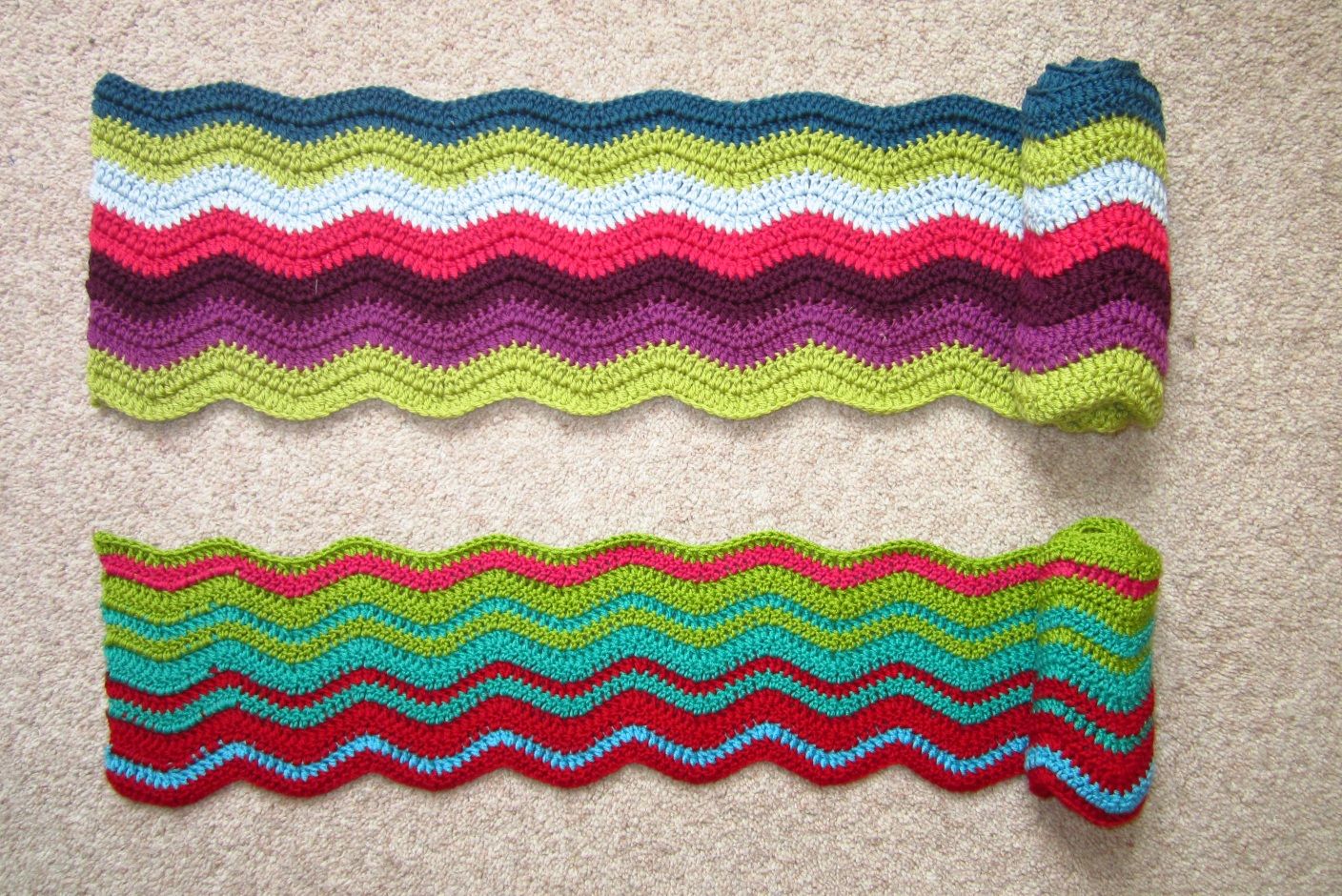 If you head on over to Lucy's blog you can read about her yarn and blanket choices too. Or more likely: hello and welcome if you have popped over to my blog from Lucy's!
If anyone wants to join in with our Ripple-along, leave a comment :-)
Some images kindly provided by Lucy.