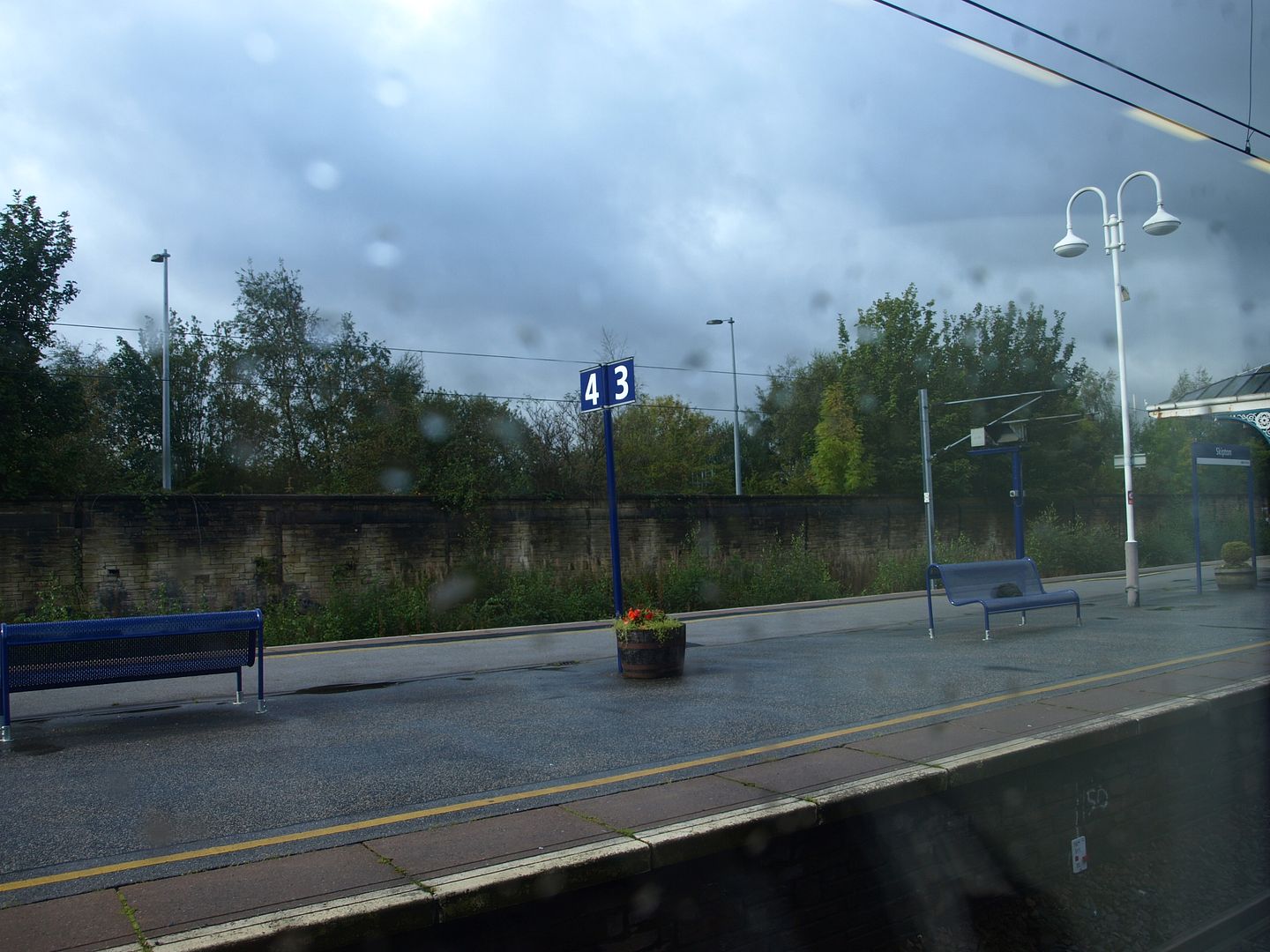 I think that the weather gods were smiling on me on Saturday.  It's possible that this was an apology for the thorough head to toe soaking I receive walking home through a rainstorm the day before. On Saturday morning I was due to leave the house at 9:15 am and at 8:45 am the heavens opened and I could barely see the trees at the end of the street for rain. Just before I set off, it stopped! Yeaaah! I got to my train early and managed to do the target square rounds on one square before we even left the station. As the train pulled away it poured with rain again.
I was quite smug that I had not been rained on.
Everywhere I go now involves a change at Leeds Station. I would hate to count up the number of hours I've spent at Leeds Station. I quite like it actually – it's pretty good as stations go. I like to stand on the top deck and look West, although the view is spoiled now by the new developments. Really makes you feel hemmed in rather than the "I can see for miles" feeling previously. I especially liked watching the GNER (as they were then) trains coming in because they were so long and dark blue you could see them coming from miles away. As for the new Granary Wharf developments … well I just can't help but think of those floods in 2007 where that part of Leeds flooded knee deep within an hour. That was an interesting day.
I used to get the train from Leeds to York (to uni) and Andy used to get the train to work in Huddersfield. I hated those Monday mornings (second year, before I officially lived with him) where I'd stand on Platform 15b and he on 16b and then would get trains in opposite directions and wouldn't see each other again until Friday.
Platform 17b for me on Saturday though, heading towards the South Yorkshire town of Barnsley to see Katherine and Phoebe. Barnsley gets a bad rep and in some parts it's as justified as any other bad reps that towns get but you know what, it's not half bad and I think if you go there expecting it to be awful it will be. It's just a town centre with some ugly buildings, but when you look it has some really lovely Georgian ones and then as you go outwards it has BIG Victorian gothic style houses, just like Bradford does.
It also has Top Wools (that trades online as Twisted Stitches) which is located in the arcade. Top Wools is FAB – it stocks loads of yarn that you don't see in other places (at least, I don't) – Rico, Katia etc. Really worth a visit if you're in the area.
Phoebe is old hat at yarn shopping and is very patient with us as we browse.
We went into Barnsley Markets to the button & haberdashery stall. Phoebe is MOST KEEN on tubes of buttons and has a surprising reach for a small person restrained in a papoose. Barnsley Markets also has this random little yarn … cavern is probably the best word here. It's at the end at the top (I think) and is just piles and piles of yarn all a bit discounted. Stuffed to the ceiling and seems to be owned by two old Barnsley ladies. I got 3 balls of Stylecraft for £1.20 and then was embarrassed when I couldn't do 5 x £1.20 in my head (I bought K's 2 balls too). Old lady = not impressed with my lack of maths skills.
The weather gods were smiling on us again as it had been brilliant blue sky when we were shopping, followed by an ominous charcoal grey sky on the way back to the car (council car parks are free on Saturdays in Barnsley btw) and then the rain started just as we drove off. Again, smug.
Back to Katherine's house where we unsuccessfully tried to convince Phoebe that she really did want a nap, we got on with the important business of crochet and talking. I was on FIRE that day and almost finished all of my target square rounds, and joined a fair bit of it too.
Now, I know it's a little unfair of me to blog about other people's achievements when they do in fact have their own blogs, but I can't help it. See those yarn cakes? Katherine dyed those herself with Kool Aid. I know! I am mega jealous and determined to source some Kool Aid and then have a go too.
Secondly, Katherine designed this greetings card which is available to buy in shops. Actual shops. Real ones that sell cards. How cool is she? She hand stitched it from felt and then it was photographed and printed.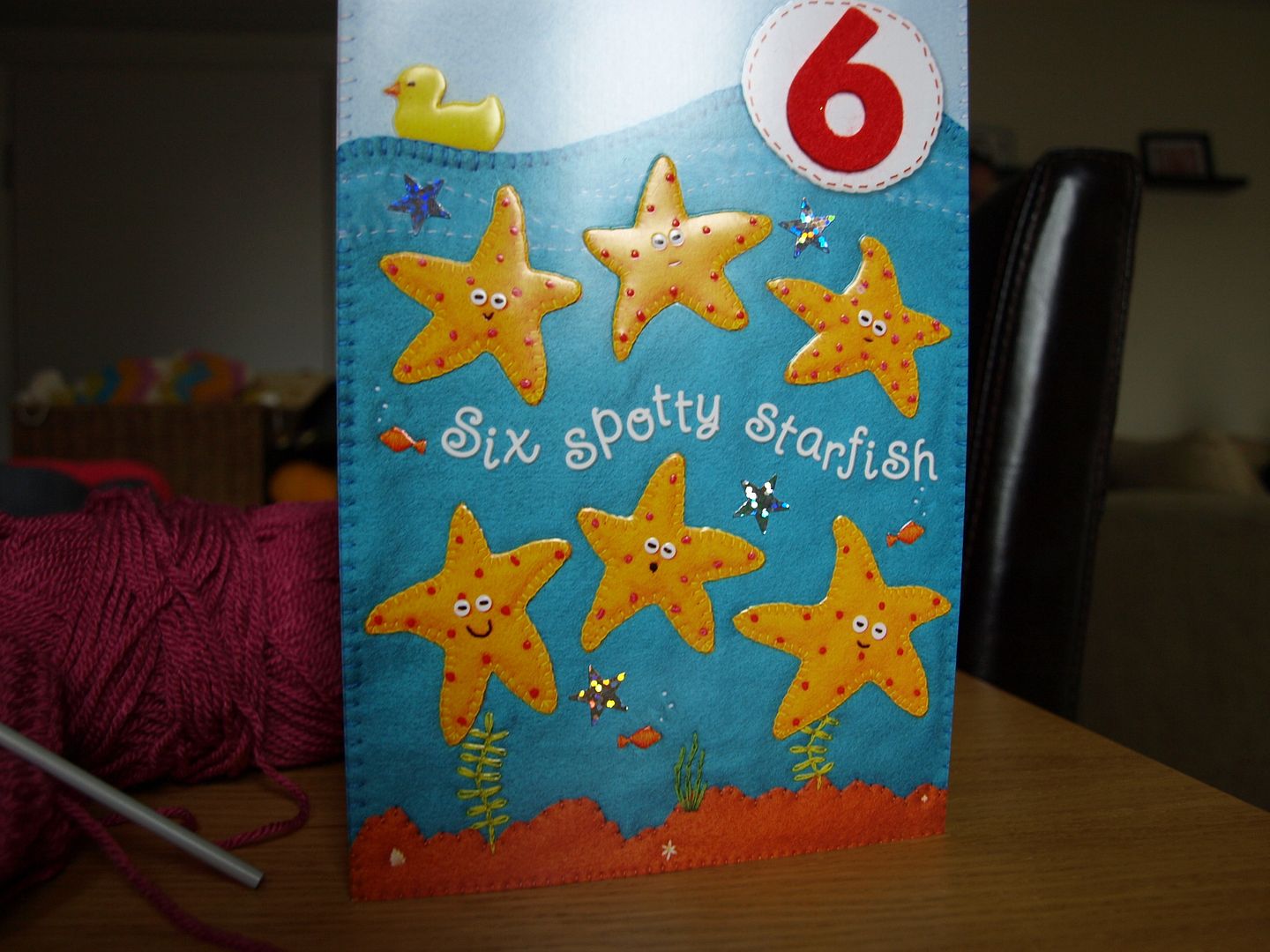 This is the yarn I bought from Top Wools: It's Katia Merino Baby, which is a 4ply yarn. Katherine gave me a pink and a purple one for my birthday and I've been longing to go back to Top Wools and choose some to accompany the pink and purple. These worked well together and I love how soft they are. I don't have a plan for these yet but we'll see how many of my friends have babies in the coming year. You can tumble dry this yarn too! The Rico Baby was in the discount bin and I like to have it on hand in my stash and can't resist bargain bins.
This is progress, look at that! I spent a good ten minutes admiring my work. I'm so modest. It's pretty lush though isn't it? This is probably the best representation of the colours – I particularly like the way that the Raspberry yarn tones down the "it makes my teeth hurt for my head" Fondant colour. I also LOVE the way the texture works through having the yarn in circles and then a granny square, and then two rounds of target square. Super pleased with that.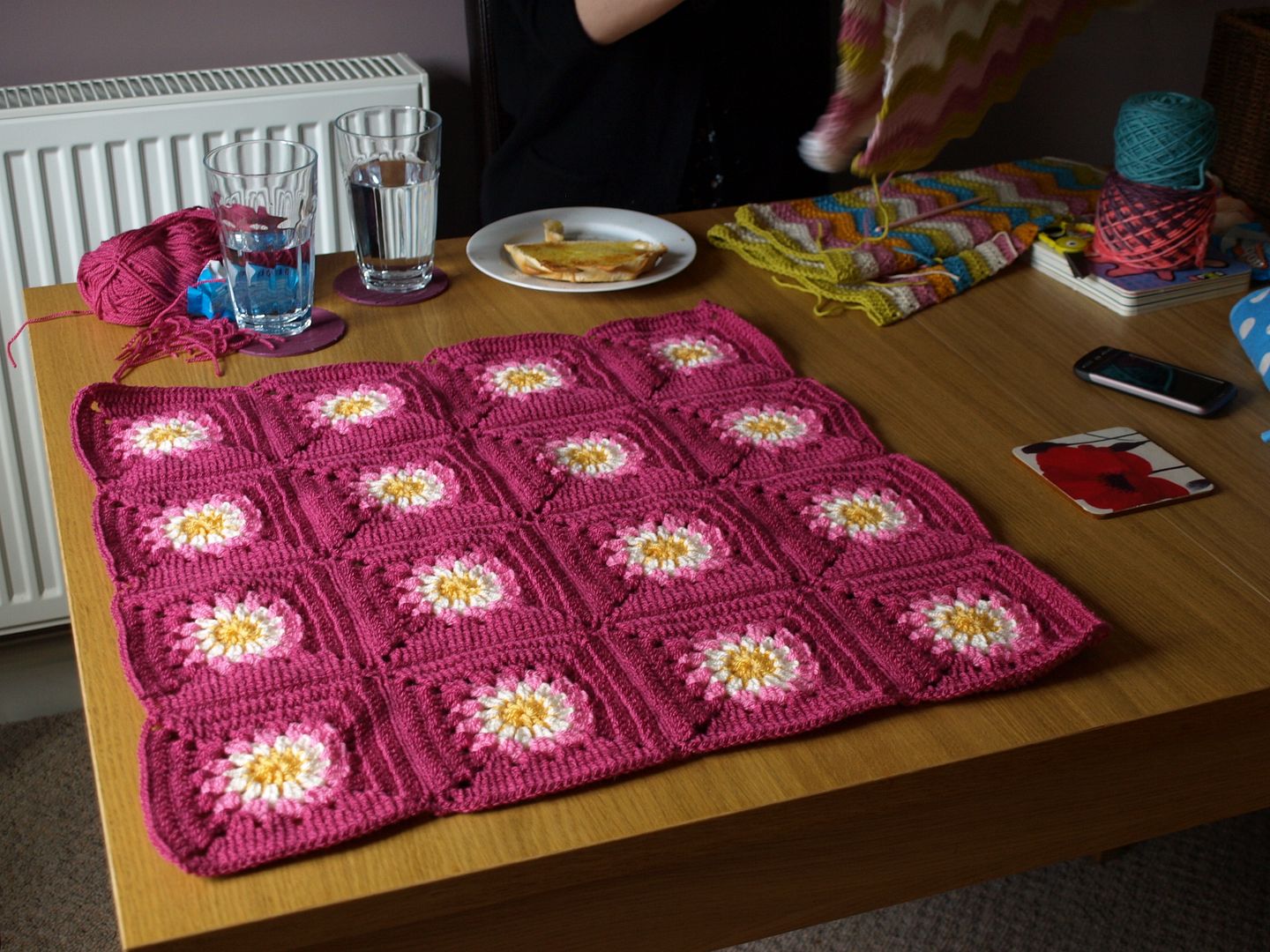 Katherine is making two baby blankets so we had a mini "not finished but we're going to fold them anyway" photoshoot. I love piles of blankets, it makes me happy all the way through from the hair on my head to the tips of my toes.
Spending the day with Katherine and Phoebe is always ace. I like it when we do trips out (York, Scarborough) but I really enjoy our chat and crochet days, they're really good. I always come away feeling really happy and grateful for her friendship and looking forward to the next time. We are planning a trip to Tropical World soon which will also be the handover of my Phoebe Ripple which I FINISHED last night!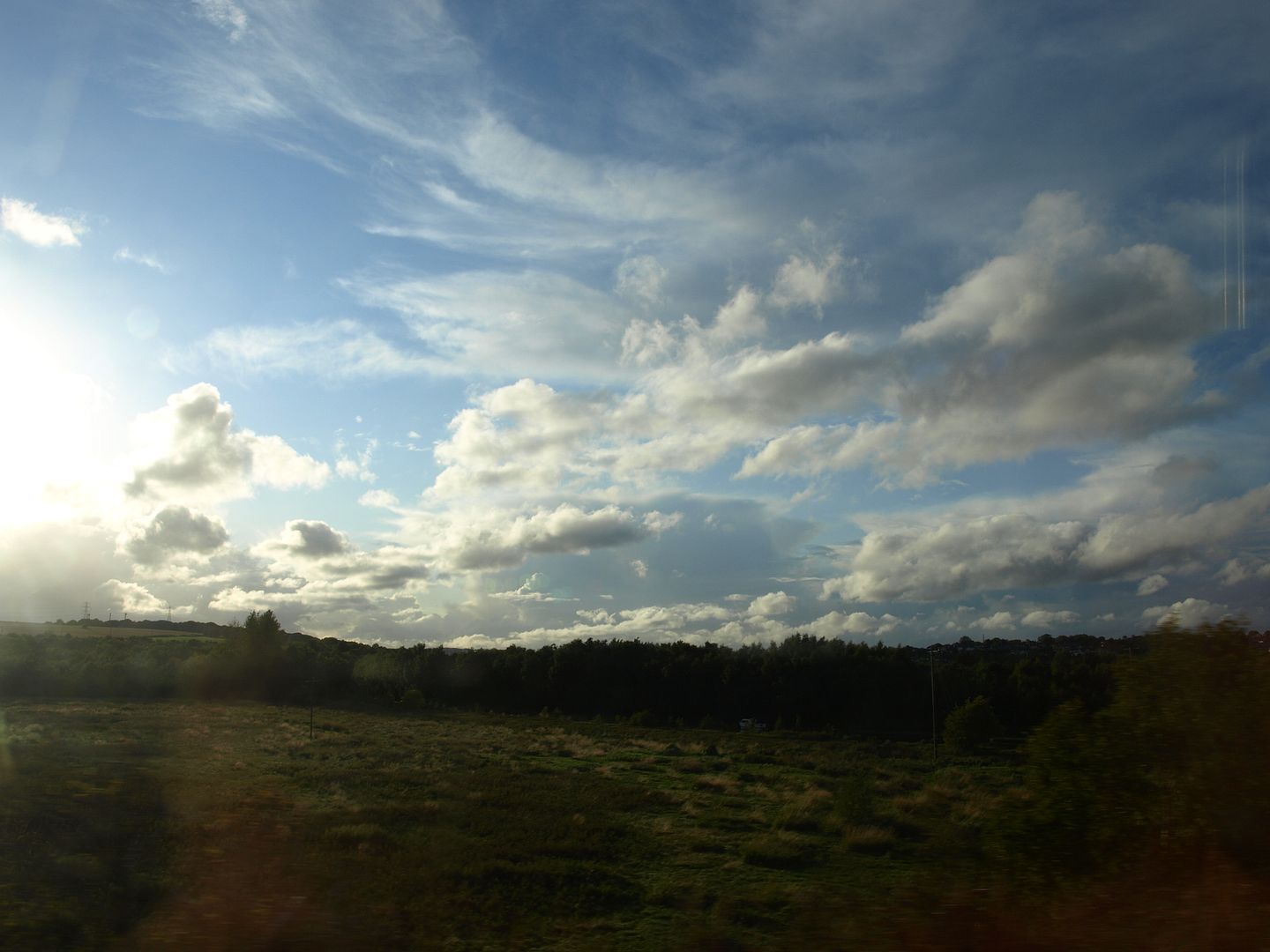 All too soon though it is time to go and get the train and admire the beautiful cloudscapes of South Yorkshire. Change at Leeds and arrive home about sevenish where there are leftovers for dinner (no cooking!) and Andy has spent the afternoon loading music onto my new laptop for me. We spend a happy evening listening to Jackdaw4 and I get all but 4 squares done on my blanket. My hands ache but it's turning out to be the fastest most satisfying crochet blanket ever.
What a lovely day. I'm truly blessed, aren't I? :-)
xxxxxxx