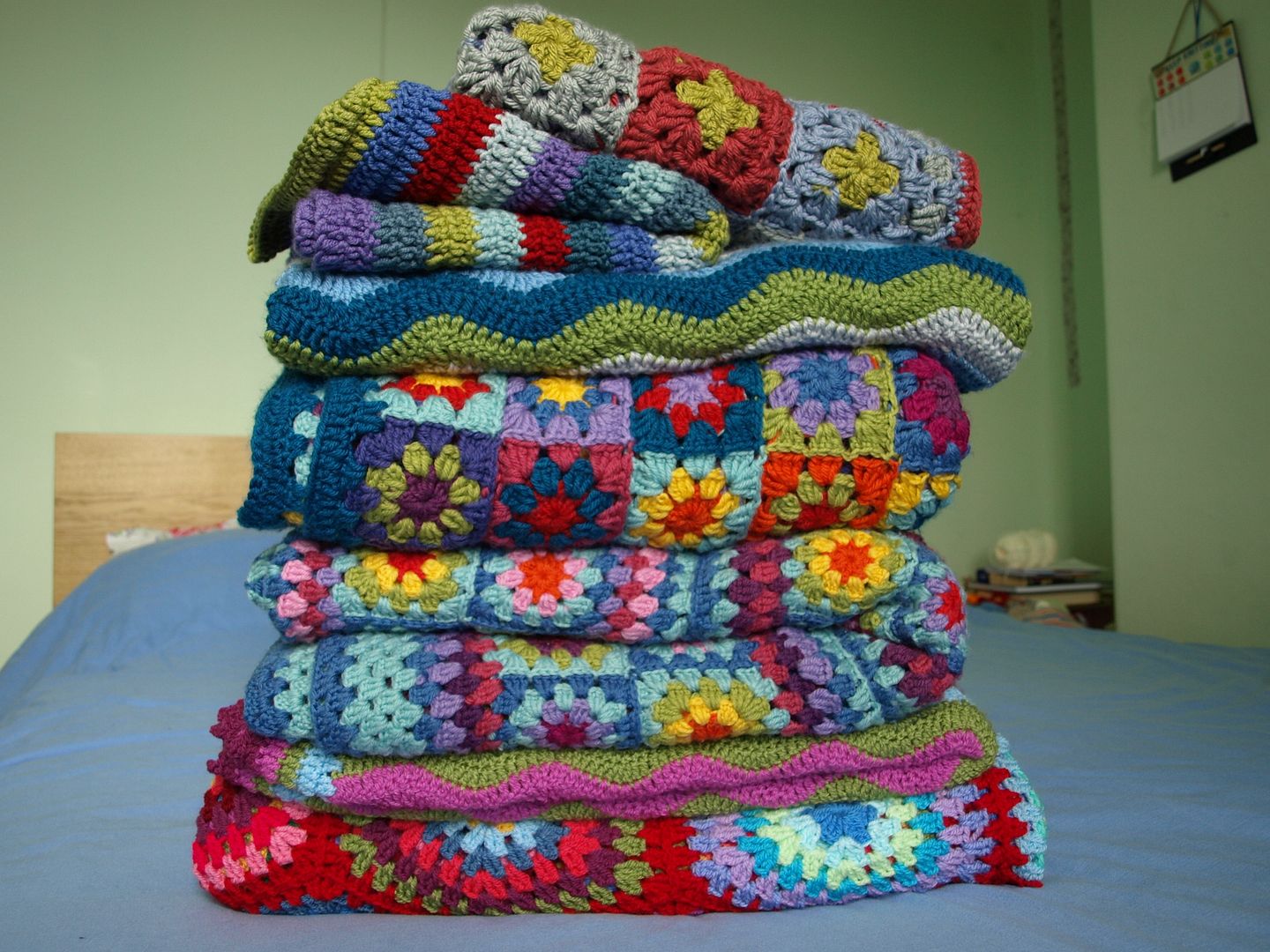 Yesterday I was taking photos of my finished Phoebe Ripple and my Stashmerino Cashmerino yarn (♥) and I thought … you know, I think I could actually stack up my blankets and take a photo. Remember how I was saying a while ago that I wanted to do that? I gathered them all up …  and folded and stacked in a very satisfying way. Veeeerry satisfying.
Then I thought … you know what, I think I have more than this. So I went on a bit of a rummage and search through the spare bedroom, and nipped downstairs to grab my Pink Daisies and gathered all of my blankets, completed and works in progress, and piled them up too.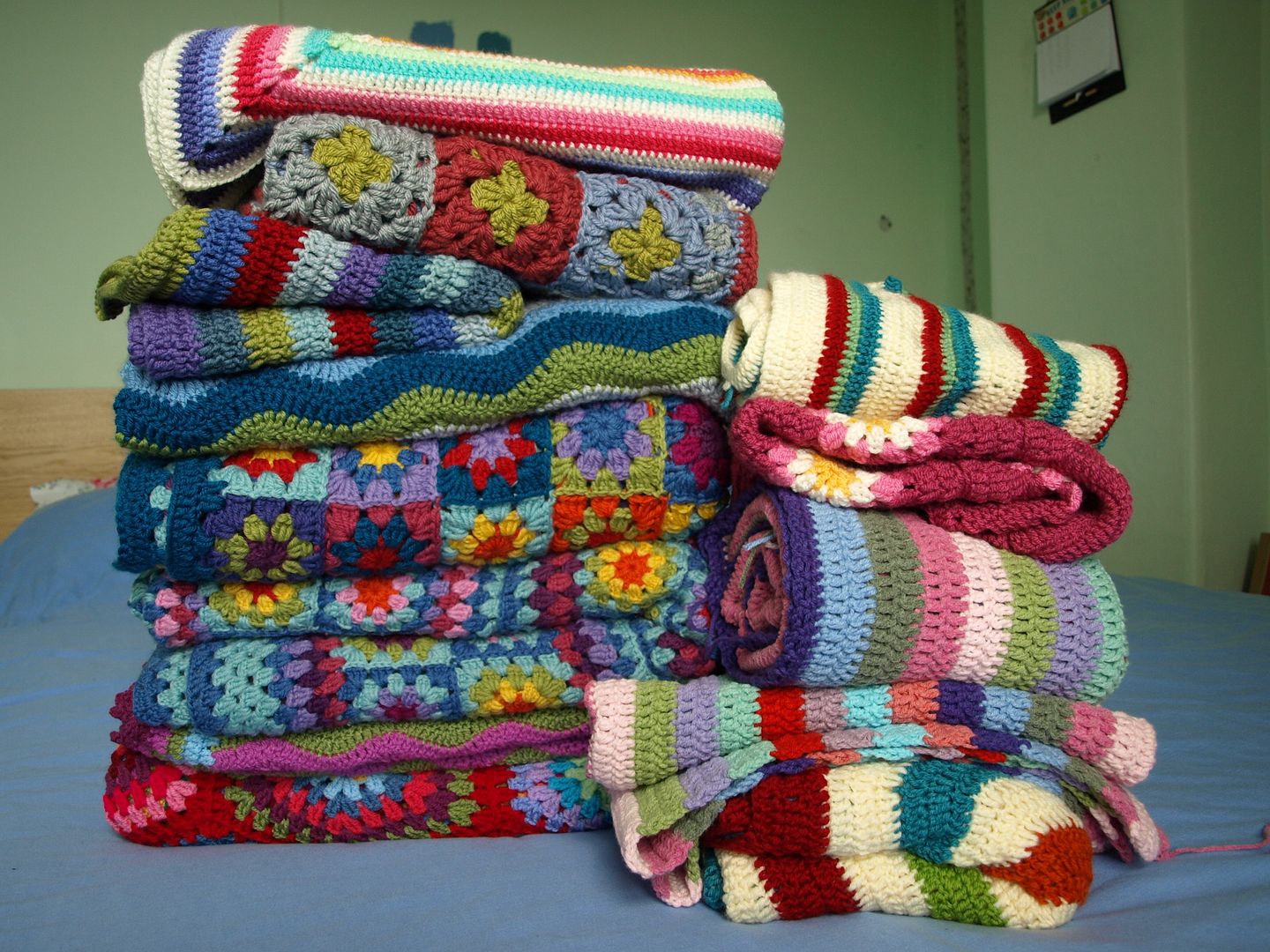 I turned it into two neat stacks …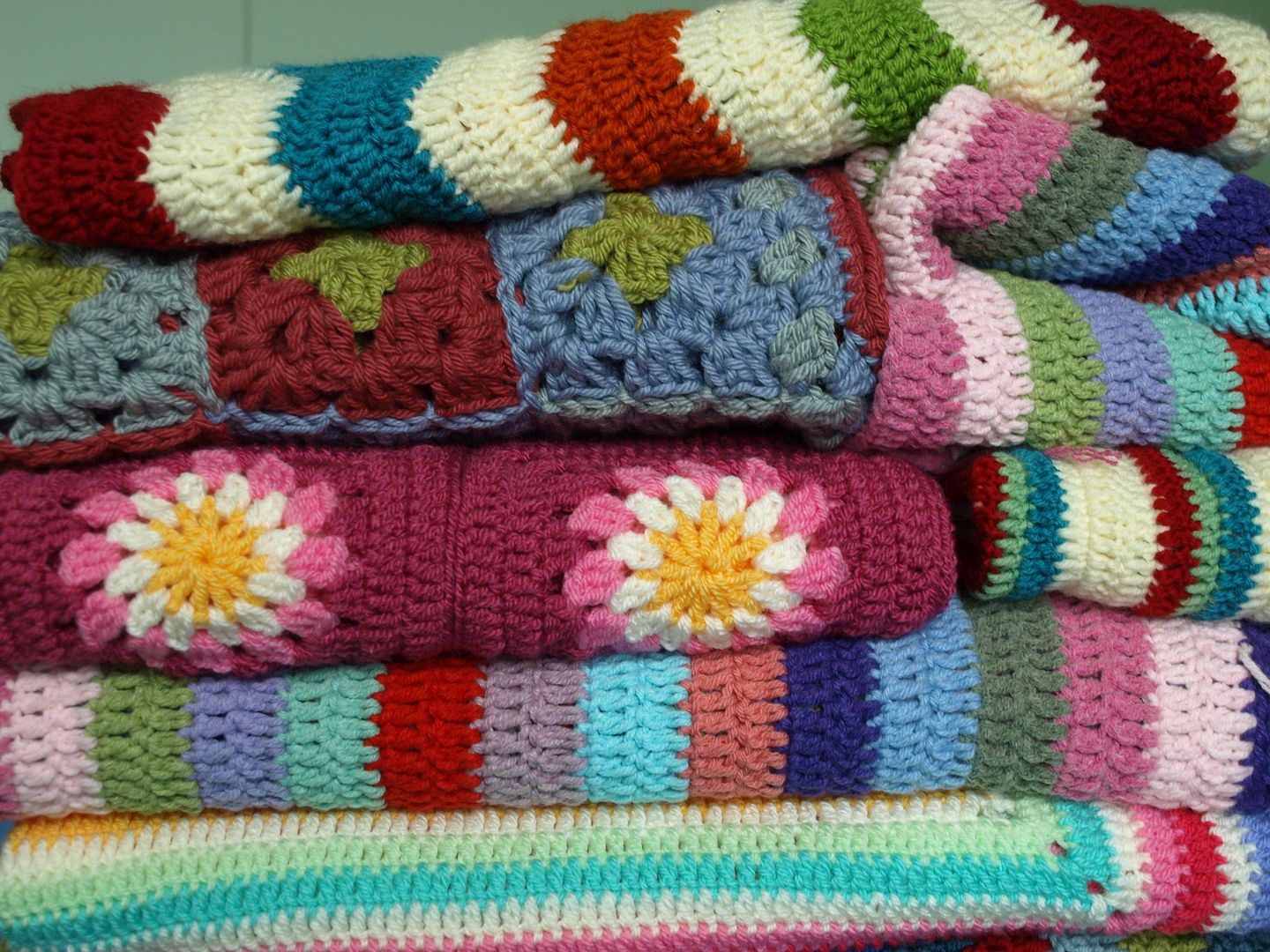 Still not quite right though, I wanted One Big Stack of blankets, no matter how precarious. Here we go then, easy does it … balance it well …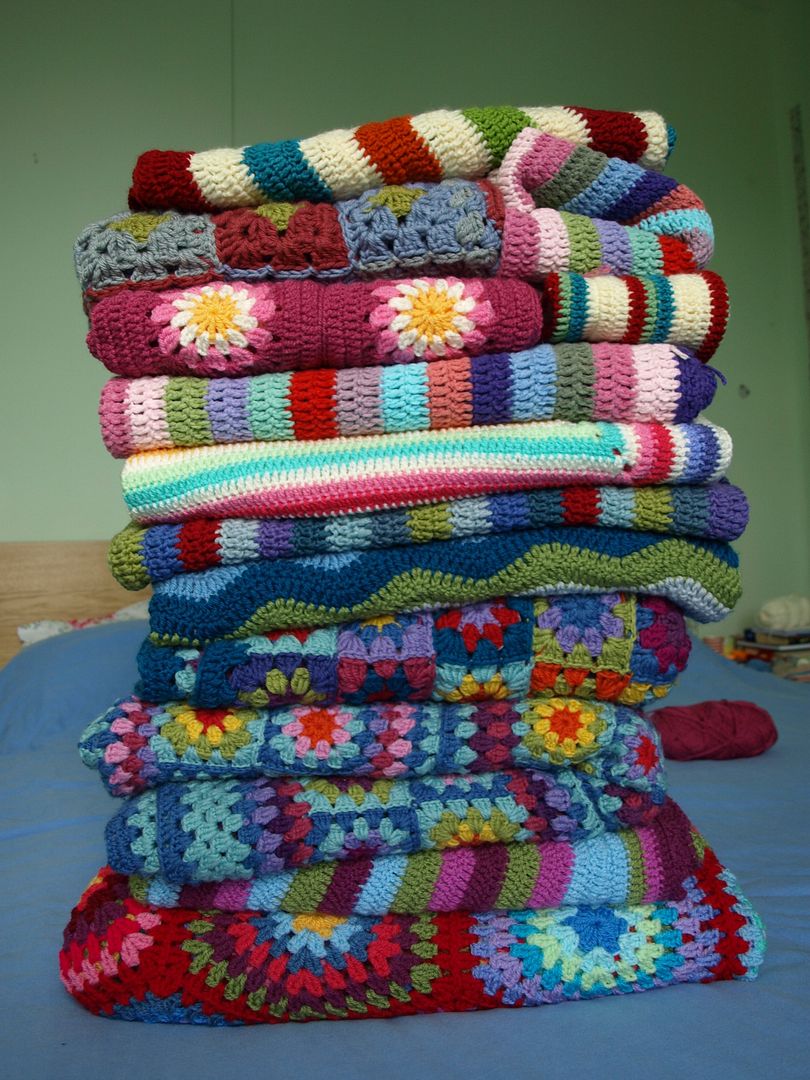 Oh yeah. That's the stuff.
Suddenly I don't feel so unproductive as I thought I did! Let's see what we've got: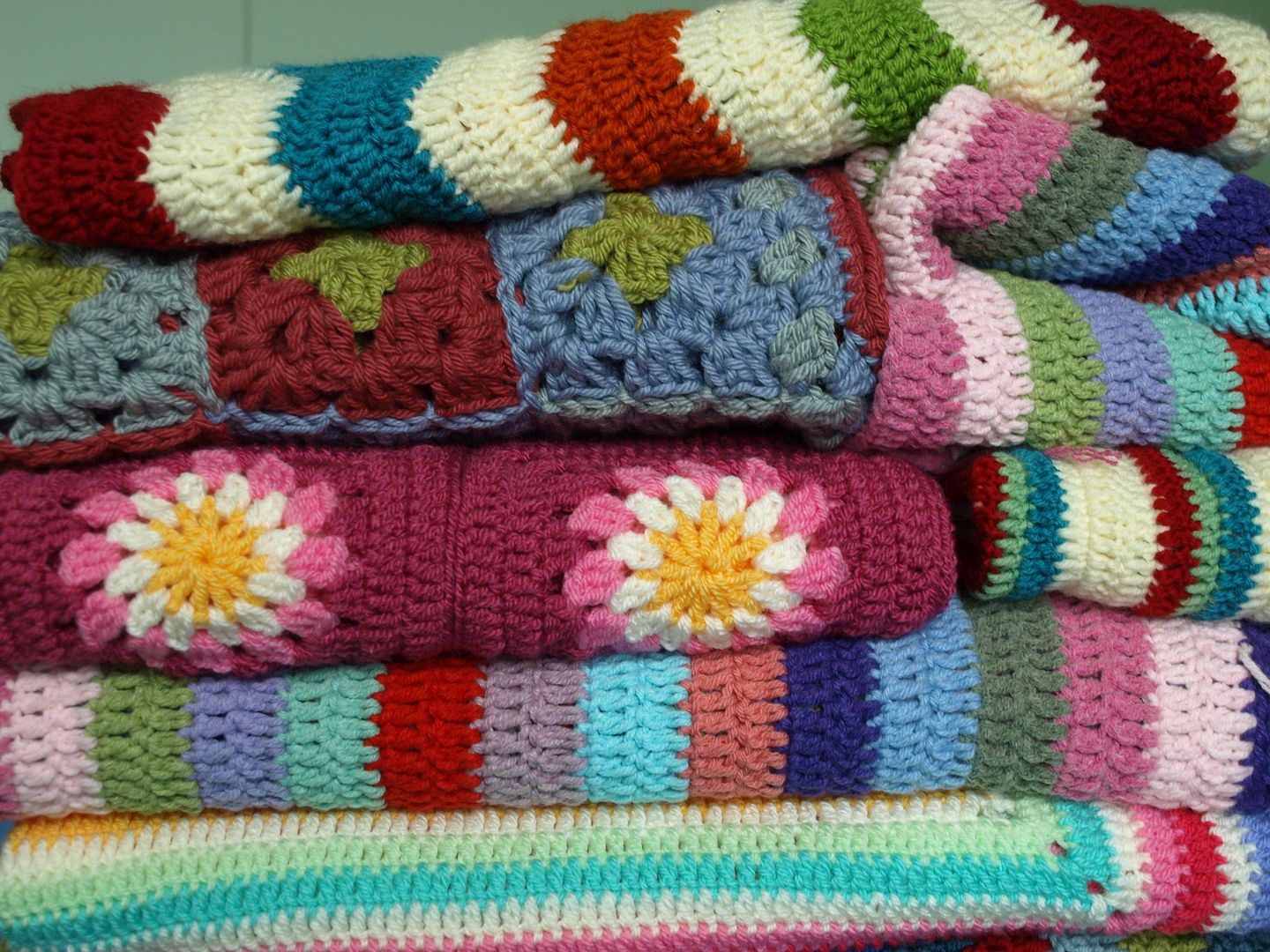 Here we have: Circus Ripple, Aran Squares, Kool Kotton Straight Ripple (small), Pink Daisies, College Stripe Baby Blanket, Kool Kotton Straight Ripple (larger) and the Sneaky Secret Crochet Project.
Then we have: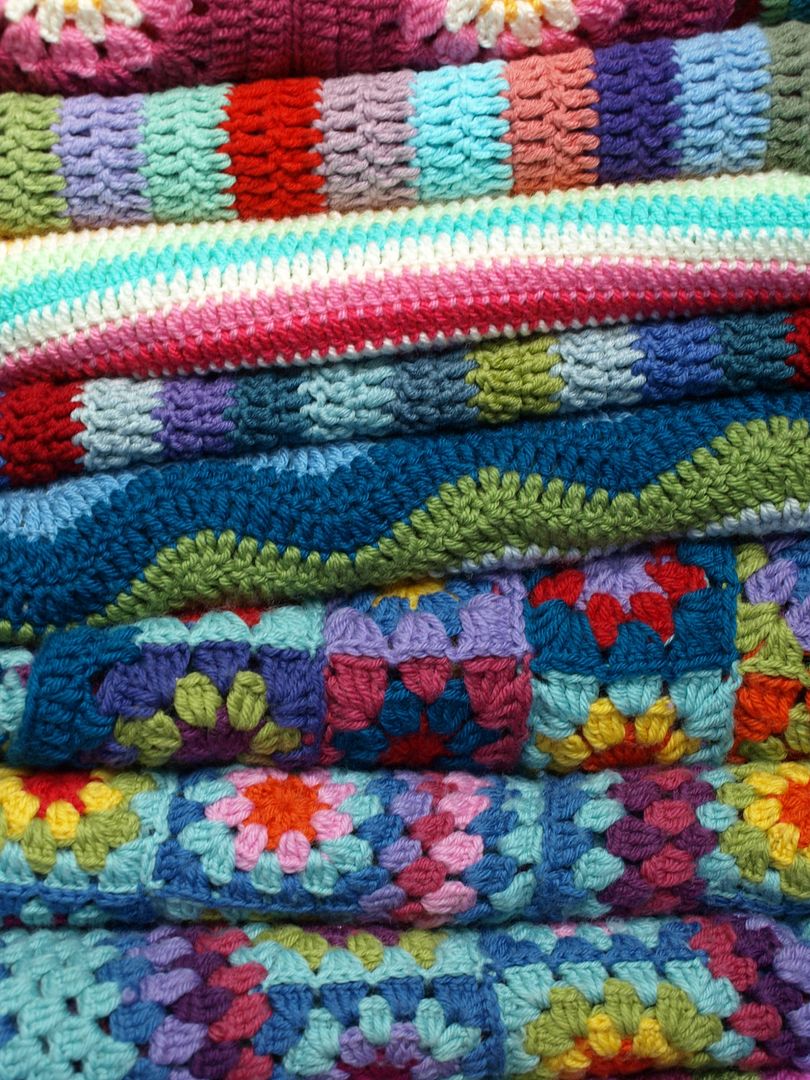 Rialto Stripe, Sea Blue Ripple, 400 Squares Blanket, Big Blue Blanket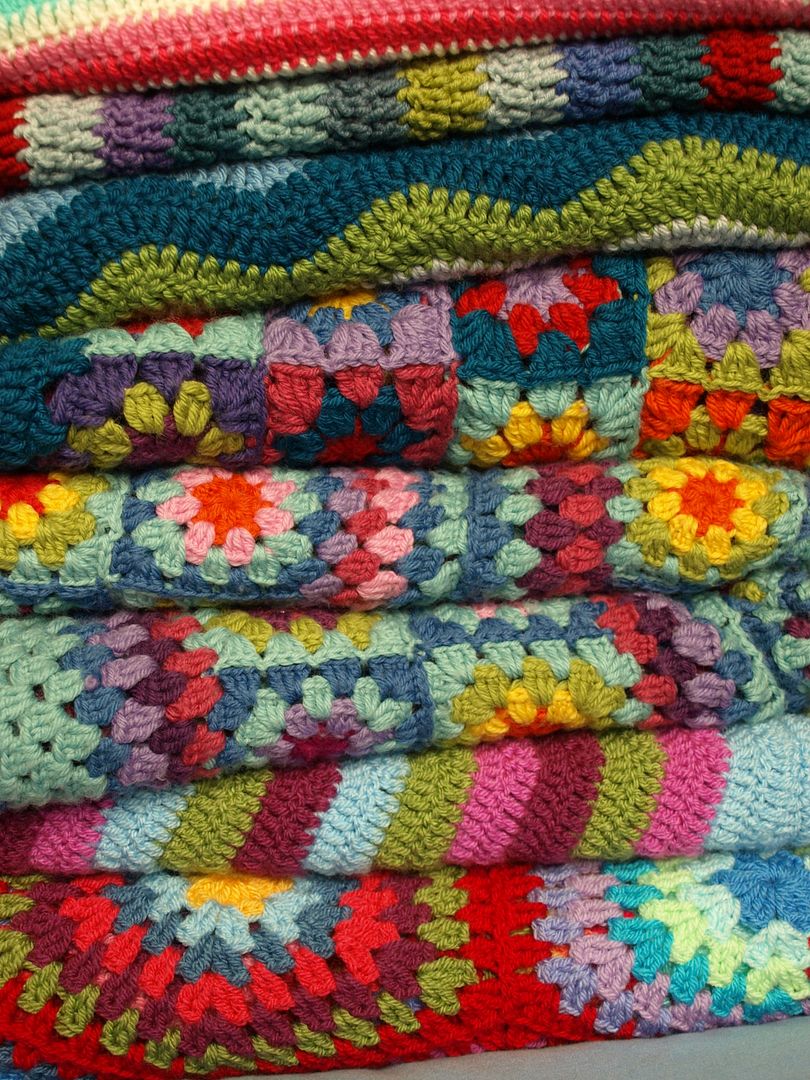 Phoebe Ripple, and of course the Horrible Hexagons underneath.
Not bad eh.
Here are the links to the relevant blog posts. Some of the blankets are WIPs, some are completed, some have no homes etc. But they make a pretty photo! I admit that this is just an excuse to take photos of all my blankets and think how pretty they look together :-)
Pink Daisies (almost finished WIP)
Phoebe Ripple (complete! yeaaah!!) I will do the Ta-daah post once I have given it to Katherine, it's a bit mean to do it first I think.
Sea Blue Ripple (will never be finished cos can't afford the yarn but is nice to wear as a shawl in the house when cold)
This is not including all the ones I have given away, such as the Rosie Ripple, Granny Rachel, Granny Alice, Baby Rosie Ripple, Baby Phoebe Ripple, that one I gave to Fran for Christmas but forgot to photograph, the Blanket Story Ripple and the one the same that I gave to an ex-colleague, and the Sweet Pea Ripple that was the only one I ever managed to sell (teehee).
I think I need a lay down now, and perhaps a finger massage …