Thursday already eh. I'm always surprised that it's "Almost Friday" already but then still feel like the week has dragged a lot. This week in particular because one of my colleagues who usually works Tuesday, Wednesday and Thursday worked Monday instead of Thursday this week so I feel that by rights it should be Friday right NOW. Friday evenings are my favourite time of the whole week: I'm about to have two days when I can get up when I like and I have a weekend full of potential hanging right there in front of me.
I really look forward to the weekends. I don't really like my job (it's just a job job. It's not an exciting job or a well paid job, it's just a job for now) so I feel like I really earn my weekends. I almost can't bear Friday afternoons at work because I just want to get home and start relaxing and making things. I was very productive this weekend just gone, although that has waned slightly this week.
On Sunday morning I woke up and had my shower and then came back to bed and crocheted 6 rows on my "College Stripe" blanket (above) which is now the size of a pillow. I think I'm going to keep it square, and I reckon I need 3 more sets of coloured stripes and 4 more sets of white stripes. Then a border and it's good to go.
After that I got dressed and went downstairs and added some rows to my knitting. Actually I haven't shown you this yet have I! Bear with me while I upload another photograph. I've done a lot more since this photo was taken … ah here we go, it's uploaded now.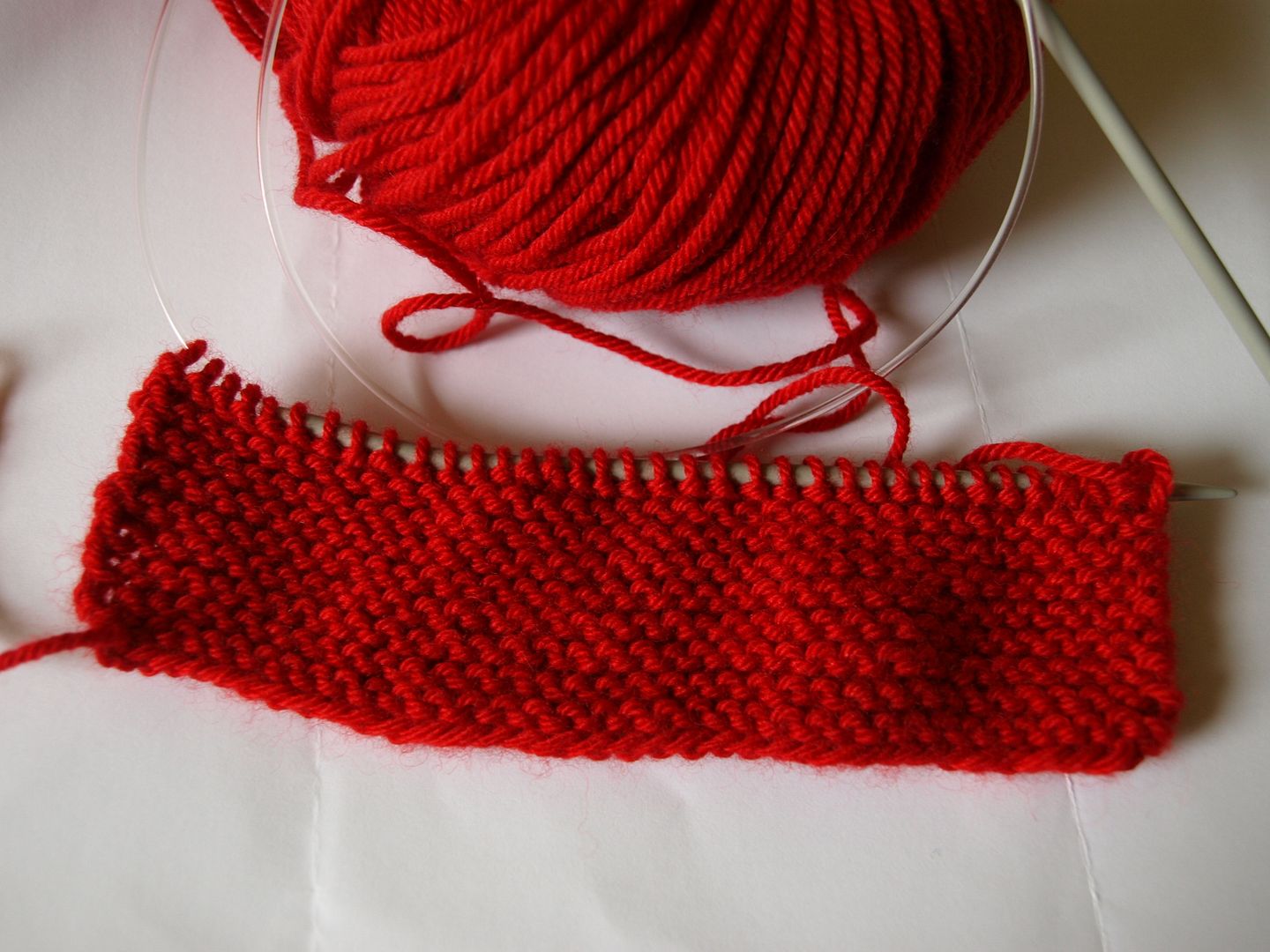 Now don't get too excited. It is about 6 inches tall now and it's destined to become a handwarmer. One of a pair, hopefully. It is Rowan Cashsoft dk – a lonesome ball I purchased in January in the John Lewis sale. It's the first time I've knitted with dk weight and I had to buy some needles especially to do so. These are 3.75 mm because the shop didn't have any 4mm ones. I prefer to knit with circular needles because I don't get poked so much and I manage better with a shorter needle I think because I'm so used to using a crochet hook. I knit just like I crochet actually, holding the needle in my hand rather than on top of it, and right near the tips.
I'm not using a pattern for this and it's all in garter stitch. I'm going to make a rectangle and then my friend is going to show me how to sew them up so that you can't see where the seam is, leaving a gap for the thumb. I'm very excited and hope to wear them at work where I always have chilly hands.
If you had been looking for me on Sunday, this is where you would have found me. Red chair + crochet + laptop. I made my last four squares for my blanket (by the way, should I call this the Pinketty Pink blanket or the Pink Daisies blanket? Can't decide.) and joined them up. In the interests of not making many ends, I join four squares together at once (making one block of four) and then join that to another block of four (making a block of eight). Then when I have two blocks of eight, I join them together. It cuts down on the number of ends a lot and the progress you seem to make feels greater as it grows quickly. I join one side of the four, and then turn it around and join the other.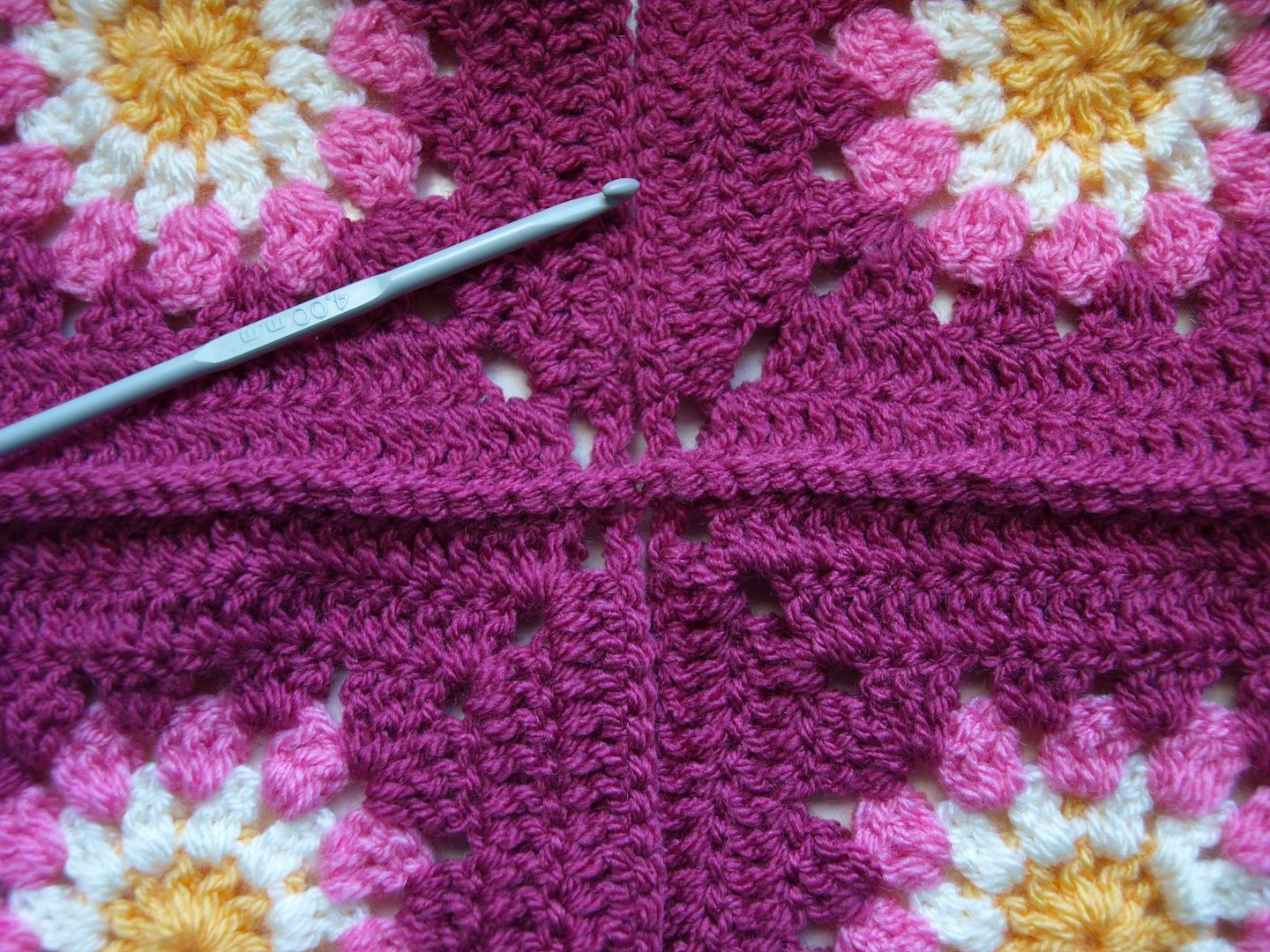 I join so that the ridge is on the back – can you see? I've joined two together and then I'll turn it around and join along the other way.
I tried to take some photos of it all joined together, before adding a border. The light wasn't great on Sunday but you get the idea. I like the holes! I was a bit worried that the dimensions of it were a little out; it looks too long compared to it's width but it's not a huge problem and I'm only intending it to be a pram blanket anyway.
I'm pleased anyway. I'm doing a "stitch in every stitch" border and then a pointy picot edging. I was going to do a shell edging but I have been struck with a sudden bout of "can't be bothered-itis". Pointy picot will take less yarn too, and I have some other plans for the remainder of the Raspberry yarn.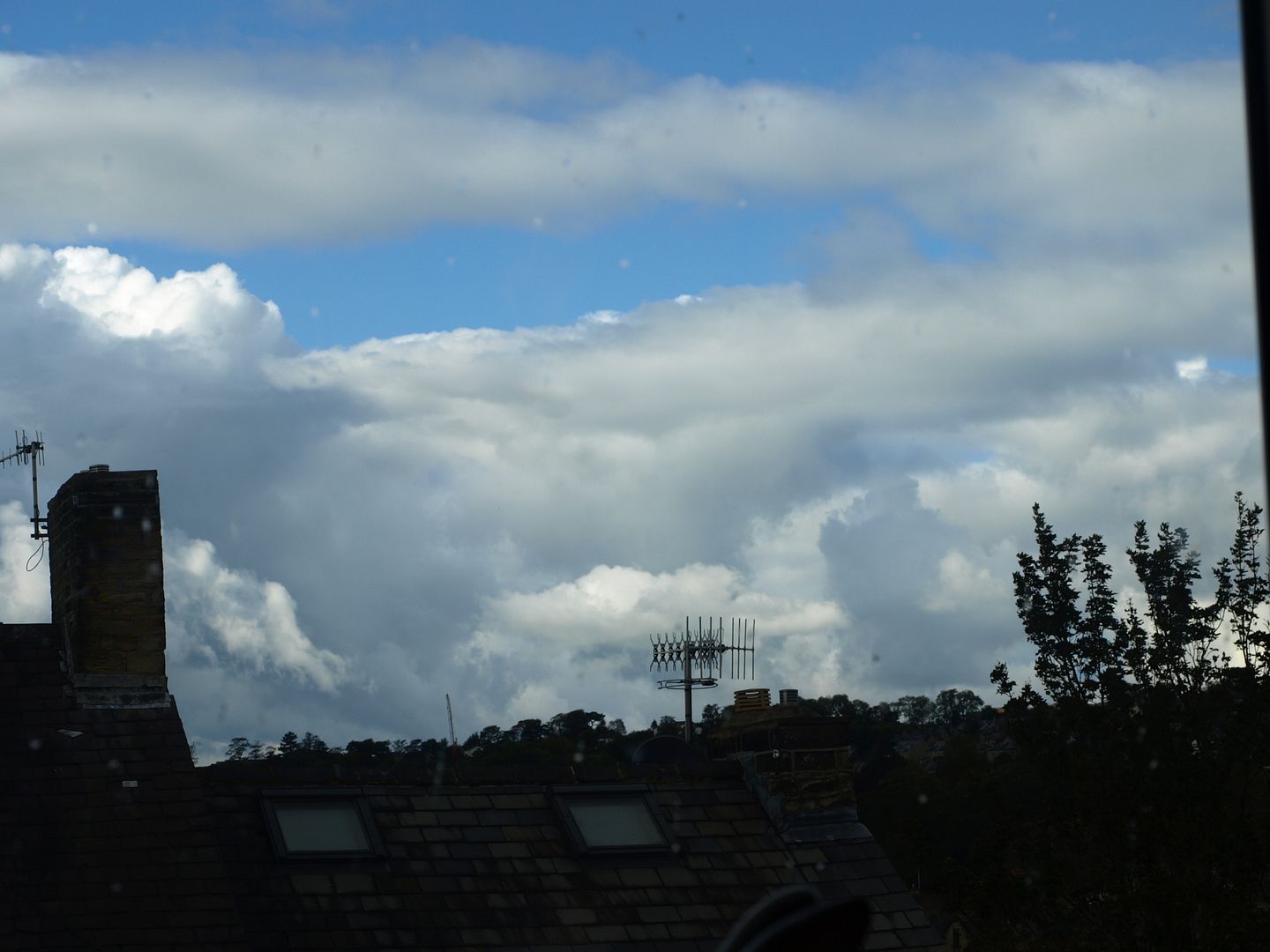 Sunday was a Good Sky Day as well. It rained later on but during the day we were treated to some good puffy clouds. I realised that I've taken quite a lot of skyscapes while stood on the back step and am a bit excited about doing a "skyscapes 2011" type post at the end of the year.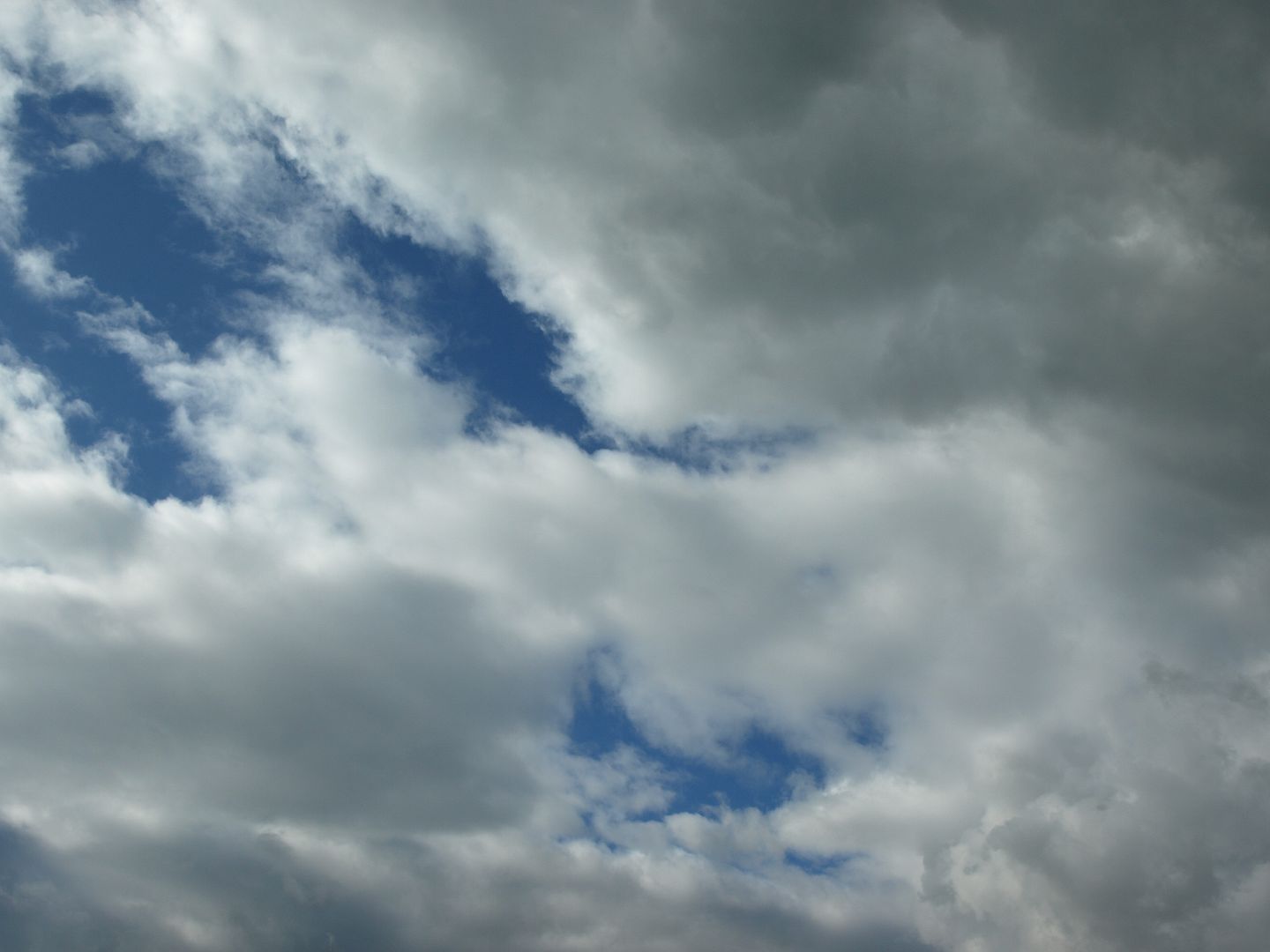 I took these ones from my bedroom window while chatting on the phone to Rach. Sunday was also a Good Nattering Day :-)
Now then. This is hopefully going to be a Good Weekend too. On Saturday I have to run my usual market/food type errands but then, then, we are going to attempt to put some more damp proofing up. Yes, more damp proofing! We did one sheet of it two weeks ago.
This took us FOUR HOURS to get fixed to the wall. The theory of evenly spacing the plugs is a GOOD theory. Unfortunately it doesn't take into account 110 year old bricks or the fact that there is a hefty seam of old stone in there too. Old stone is not even, not even slightly. But yes. Four hours. Did you wonder why I didn't have a "Saturday" type post the other week? It would have contained this photo, and probably some variation on the words: "dusty. achey. bored. tired. hate DIY."
We've learned a bit since then and are going to attempt it in a different way. Which was my idea, so I'm really hoping it goes well and I can feel chuffed for thinking of a better way, rather than guilty because I've discovered another way that doesn't work.
I tell you one thing though. It reaffirms my choice to not go into the building trade!
The other good thing about this weekend is that hopefully, hopefully, I can start MY NEW BLANKET this weekend! Not just any blanket. A selfish blanket. A BLANKET FOR ME! I know, shocking isn't it?
A blanket made from THIS:
My stashmerino cashmerino! I've been stashing this since what, May last year?
(actually, can you see that lone red ball at the back? That's my knitting! I took this photo in March.)
Exciting times. So exciting in fact that I've found it really hard to concentrate at work. My head really has been full of fluff and YARN this week. I've just wanted to get home and play with colour combinations. I've had to settle for making colour combination lists on my notepad at work while nobody is watching.
Another thing I wanted to say is that I am hopelessly behind with my emails and things. HI if you have visited here from The Girl's blog and also HI to those who have found their way from Emma Lamb's blog. I was v excited to be on her Colour Your Monday post the other week.
The other thing, Carla asked me about my Sweet Pea Ripple on my Pinketty Pink post. Yes I do certainly have a photo for you to see, here is it on Flickr:  http://www.flickr.com/photos/thelittletinbird/4826987202/ I love this blanket :) It's made from Rico baby dk in Fuchsia, Pistachio, Lilac and Cream. Every time I think of Jenny's baby bump I think of this blanket and if I knew she was having a girl I would definitely make it for her ;-)
Also I was half excited to know that I WAS doing a real stitch on my Pink Blanket, and half a little disappointed that I had not stumbled upon something new. I suppose that it is very very difficult to think of something new with crochet!
RIGHT THEN, time to go and wash up the old lunch box and prepare my stuff for tomorrow. Then bed, one sleep and it is F R I D A Y!
♥