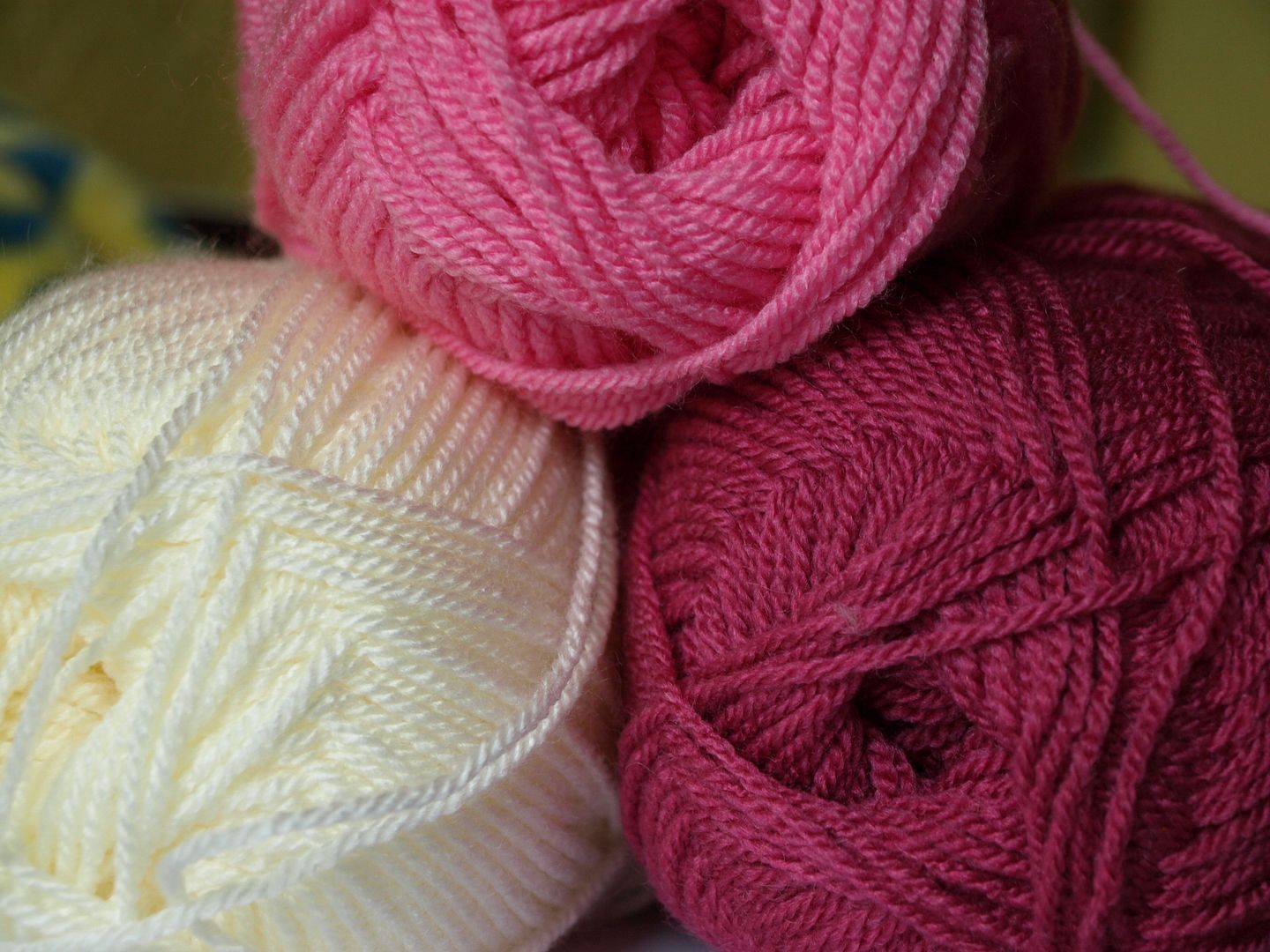 Pink pink pink. Pink pink pink!
Two weeks ago a baby was born. I reacted in the only way I know how: I wanna make it a blanket! Not it, her. One of the unsaid things that everyone really knows about baby blankets is that really you are making it for the mum. The baby usually isn't too bothered about things like ripple vs straight vs squares, or indeed about colour – it's the mum who will use it, like it, have opinions about it. That's all fine and dandy, until you want to make a blanket for a baby where the parent that you know is the dad. Not that dads can't be primary caregivers and have opinions about blankets you understand, but you know what I mean.
I've known the dad in question for about ten years – he is part of our canoe club family – but I've only met his wife recently (I don't get home much.) They didn't know the sex of their baby until she was born and so I'd held off making anything until then. Usually for a girl I'd do a Sweet Pea Ripple because I'm confident working with those colours, I have the yarn in my stash and I know that they work well together and it's quite a fashionable colourscheme. One thing I really try hard to avoid with crochet is making it look twee. I don't like twee crochet at all and would hate to give someone something that I'd made and think that it was twee. Or worse – think that I was twee!
I asked my sister for help. She's been at home this summer and has been friends with the baby's mum and chatty with her and stuff. AND she has had cuddles with the baby – what better authority than her to help me with my colourscheme dilemma?
So I asked. What colours should I use?
The answer came back straight away, with no hesitation:
PINK!
This is a PINK baby girl, pink pink pink!
Ah, pink. Now, I do like pink when it's in with other colours and I have used it a lot in my blankets. But I've never used it as a theme or made anything pink for the sake of being pink. I'm not a "baby girl = pink" believer, although I have no problem with the fact that other people are. It's just that when I make something, I have to "believe" in the colours and that they work.
It took me a while to settle on a PINK combination. This was the first incarnation – summer garden granny square all edged in white. But this wasn't pink enough and the pink didn't POP enough for me. It looked a bit washed out by all the white. Sooo I chucked that one in the bin and went back to the drawing board where I came up with incarnation number two: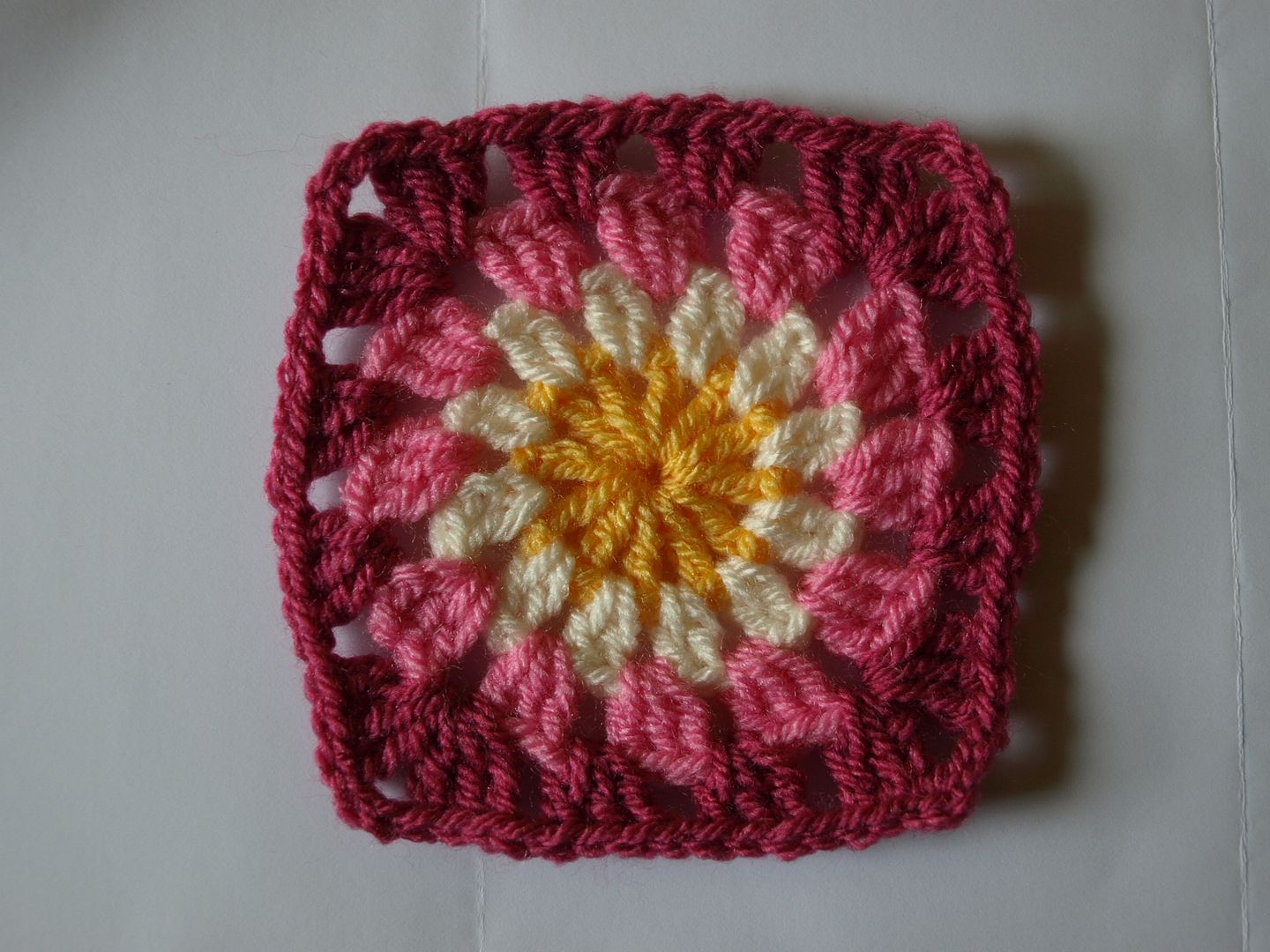 OOOOOOOH much better! It's like a daisy, with pink as well. Like rose petals! (That is her middlename, so extra bonus points there).
To make this I did:
Yellow: chain 4 and join to make a ring. Chain 4, and then work *1TR then chain 1* into the ring until you have 12 spokes. The first chain4 counts as your first of the twelve spokes.
White: work clusters of 2tr stitches into each gap. Separate each cluster with 1 chain stitch. (to make the first cluster, chain3 and then do 1tr)
Light pink: work clusters of 3 into each gap. Separate each cluster with 1 chain stitch. (to make the first cluster, chain3 and then to 2tr)
Darker pink: This is a bit tricky. I assume by now you are familiar with making granny squares and whatnot and know that you do one cluster of 3 on the edges and then two clusters of three (separated by 2 chains) on the corners.
That's all fine, except my corners were really rubbish and were pulling the circle out of shape. So I did what I thought was a double treble to make it taller, and was really pleased and happy until I showed Lucy on Monday evening and she was like, "er, no, that's not a real stitch."
So congratulations to me, I have created a stitch. Woohoo! I'm going to be modest and call it the Heather-Treble. (HTR was already taken.) Ok, so it may not be a new stitch but it's working for me so we will go with it. A brief explanation:
When you make a treble, you yarn over,  pull through (3 loops on hook), yarn over and pull through 2 loops (2 loops on hook), yarn over and pull through the remaining two loops on the hook.
With the Heather-Treble, you yarn over and pull through (3 loops on hook) then yarn over and pull through one loop. (3 loops on hook). Then yarn over and pull through 2 loops, then yarn over and pull through the remaining loops.
I'm not going to do a photo tutorial because it's a bodged, made up stitch and I probably won't need it again.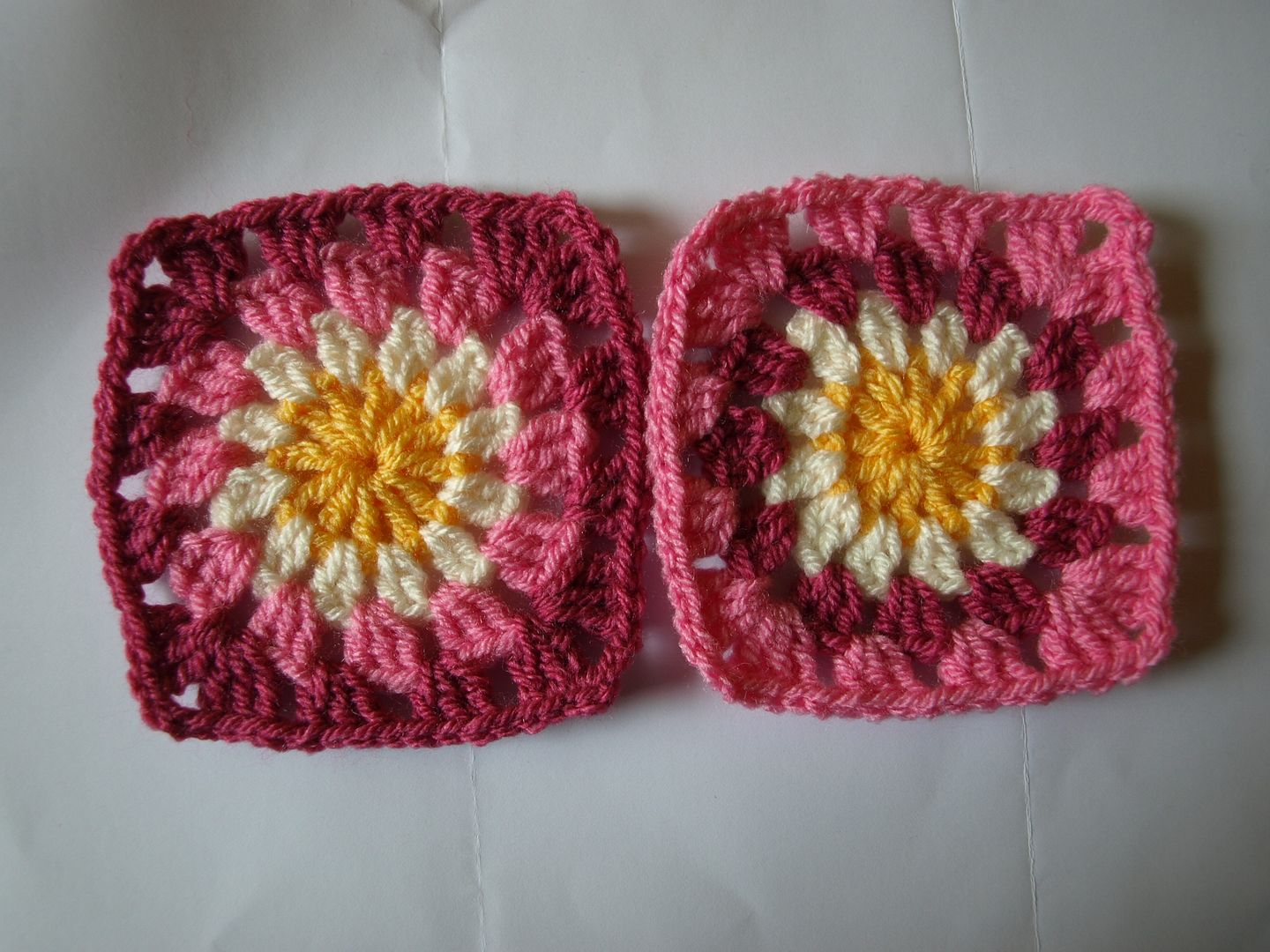 I pondered doing alternate edges like this, but decided against it because I don't like the lighter pink, nor the effect that alternate edges gives.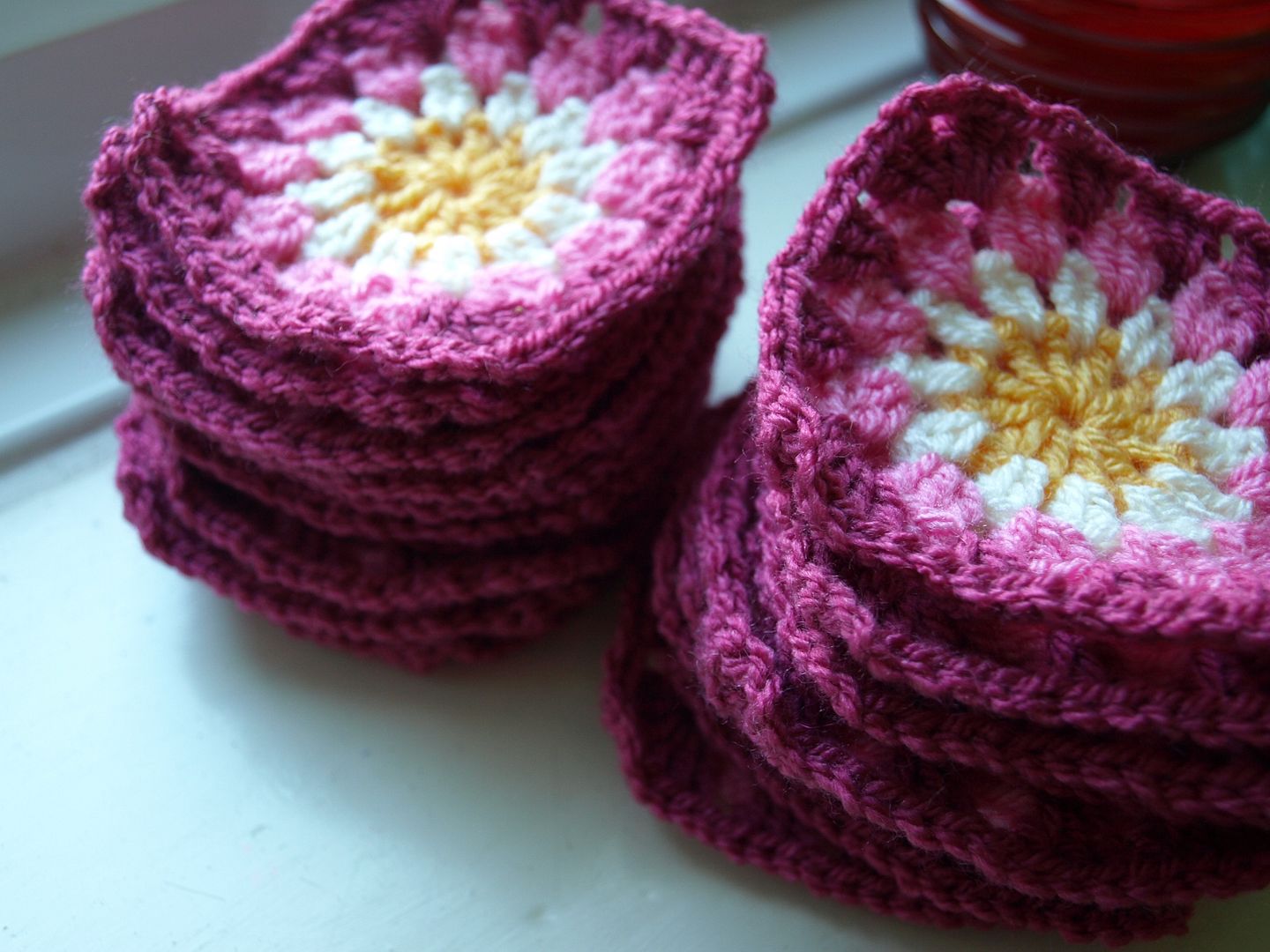 The good thing about doing all squares the same is that you can get a pretty good production line going and before you know it you have the required 24 squares with all the ends smugly sewn in. Oh yes, I'm all about the smug sewing in of ends at the moment. Just wish I had been when I was making hexagons! The underneath of that unfinished blanket of doom is like a plate of spaghetti.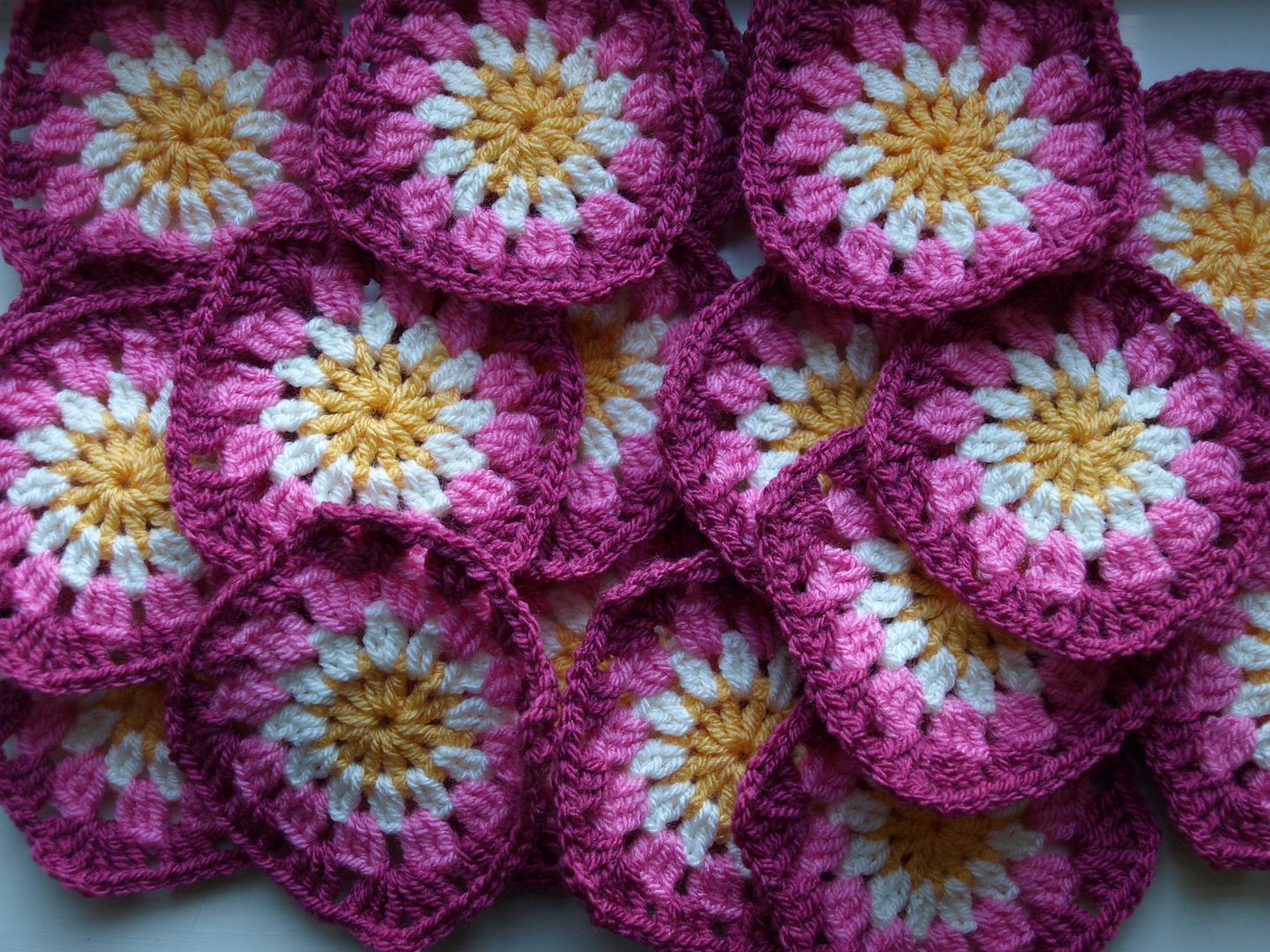 Quite pretty I think. They weren't quite blanket-y enough though, so I've put some more pink around them like this, and turned them into target granny squares with flowers in the middle and I'm really pleased with the effect. Also I have to say here that Stylecraft is at it's most beautiful and softest when worked as a target granny. All the stitches going the same way is divine when you feel it, trust me.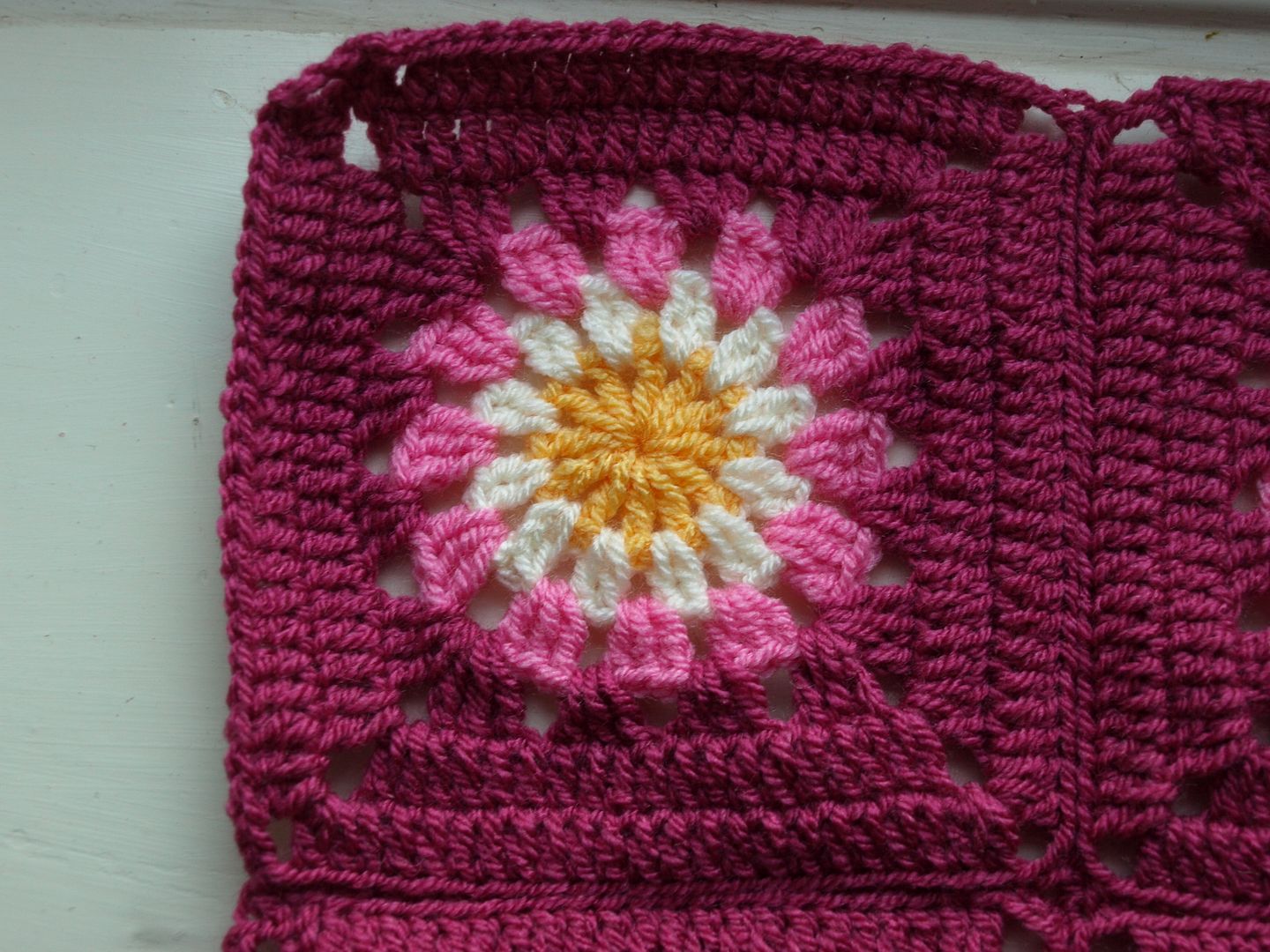 Four down, twenty to go!
Colours used (all Stylecraft Special DK):
Saffron
Cream
Fondant
Raspberry