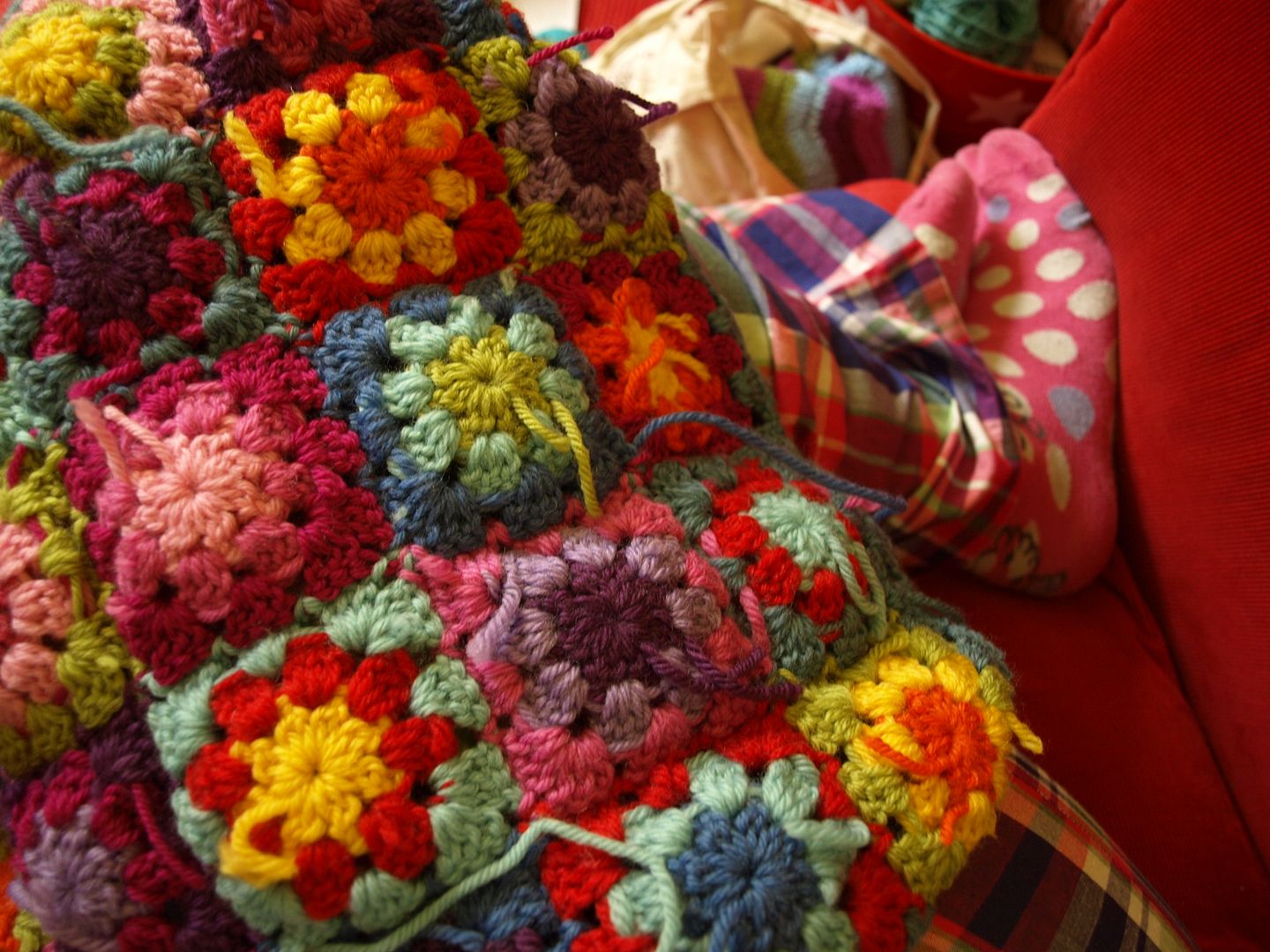 Finally I have a finished object to show you! I was hoping it would be two finished objects this week but I had a small crochet based disaster on Saturday so it is not to be.
You may remember way back in April or May that I blocked the front of a cushion cover – the first thing I ever blocked and I was really pleased with the result. It was a fast cushion cover to make, because I discovered it in a box with two squares left to join. I think I made it last summer. I joined the squares and added a border and after I blocked it, it just sat on my chair for ages. I finally got round to making the other side of it a few weeks ago. After all the time it took to complete the first side, I had the second side done during the course of Friday evening and Saturday. I put it on the blocking boards on Saturday evening and by the time I came back from Ikea on Sunday, it was done. I joined it up lickety spit and I'm really chuffed with it.
I am a blocking convert. I have to admit, I never really saw the point before because my tension is loose and when I made large blankets the weight of them kept it straight enough for me. I think you'll agree though that there is quite a difference between the blocked and unblocked cushion covers.
Oh and before you ask, no, I don't iron my bed linen. Life is far too short for me to iron things.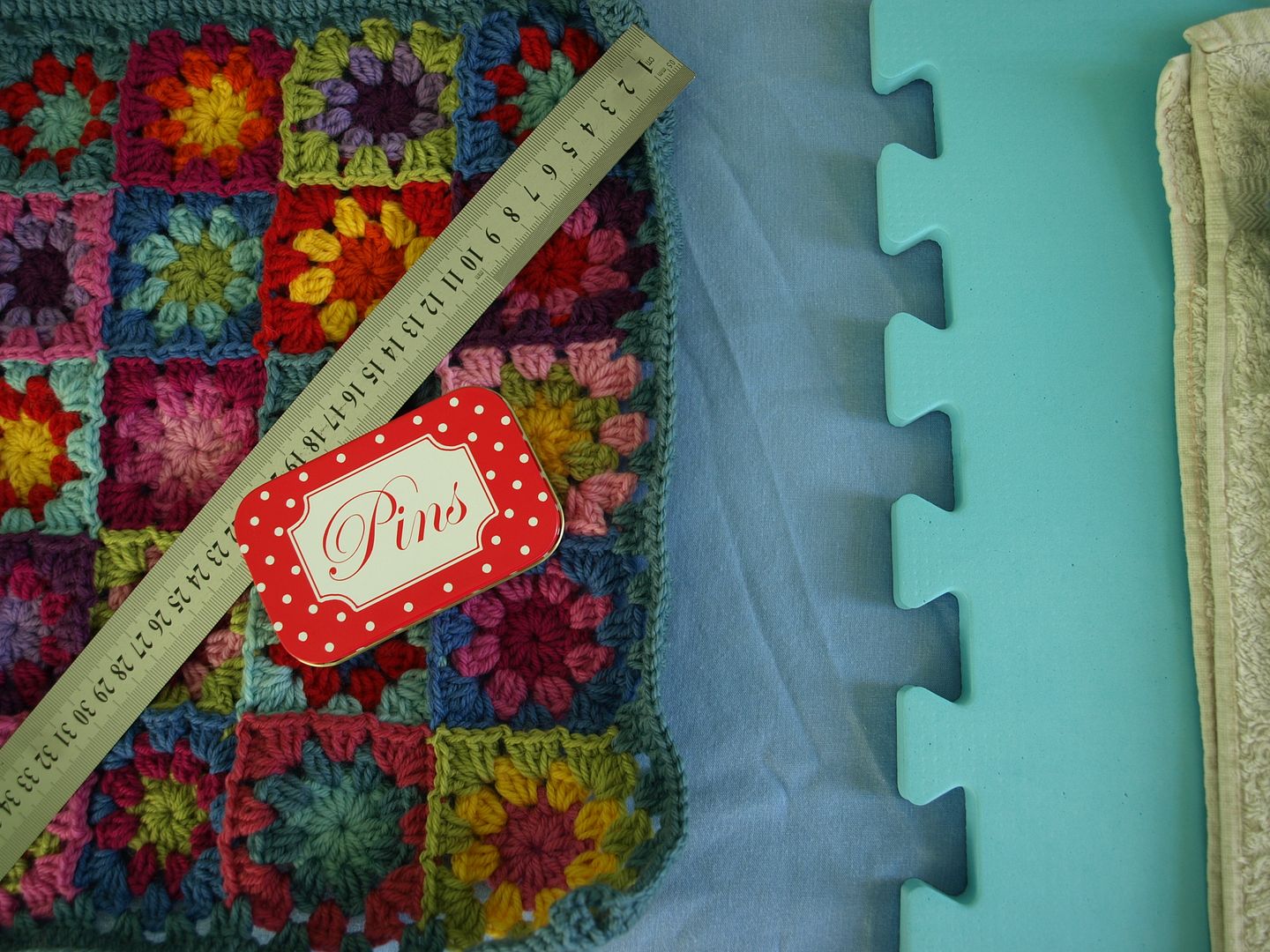 I got out my trusty blocking equipment and set to work. I start in the middle and work my way outwards. This is an improvement on last time when I started at the bottom corner and worked from there. I find working from the middle out more effective.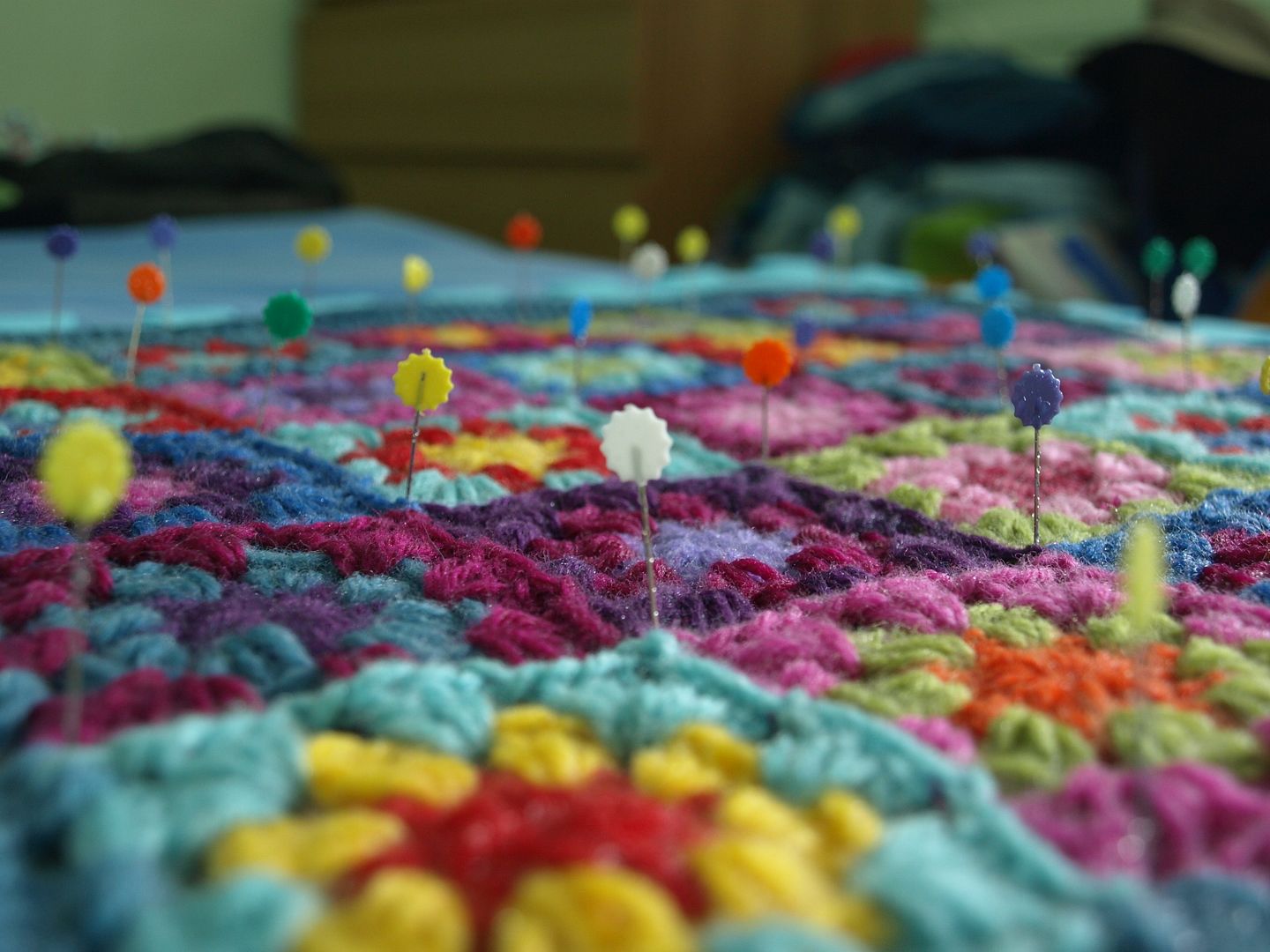 Then all you have to do is spray it liberally with warm ish water (and then don't touch it!) and take hundreds of pretty photos of it close up, whilst admiring how much the pretty pins look like a little forest. I'm an impatient kind of person, and as the last blocking effort took nearly a week to be satisfactorily dry, I stuck this one under the bathroom window in full, hot, glaring sunlight and it dried really fast. Excellent.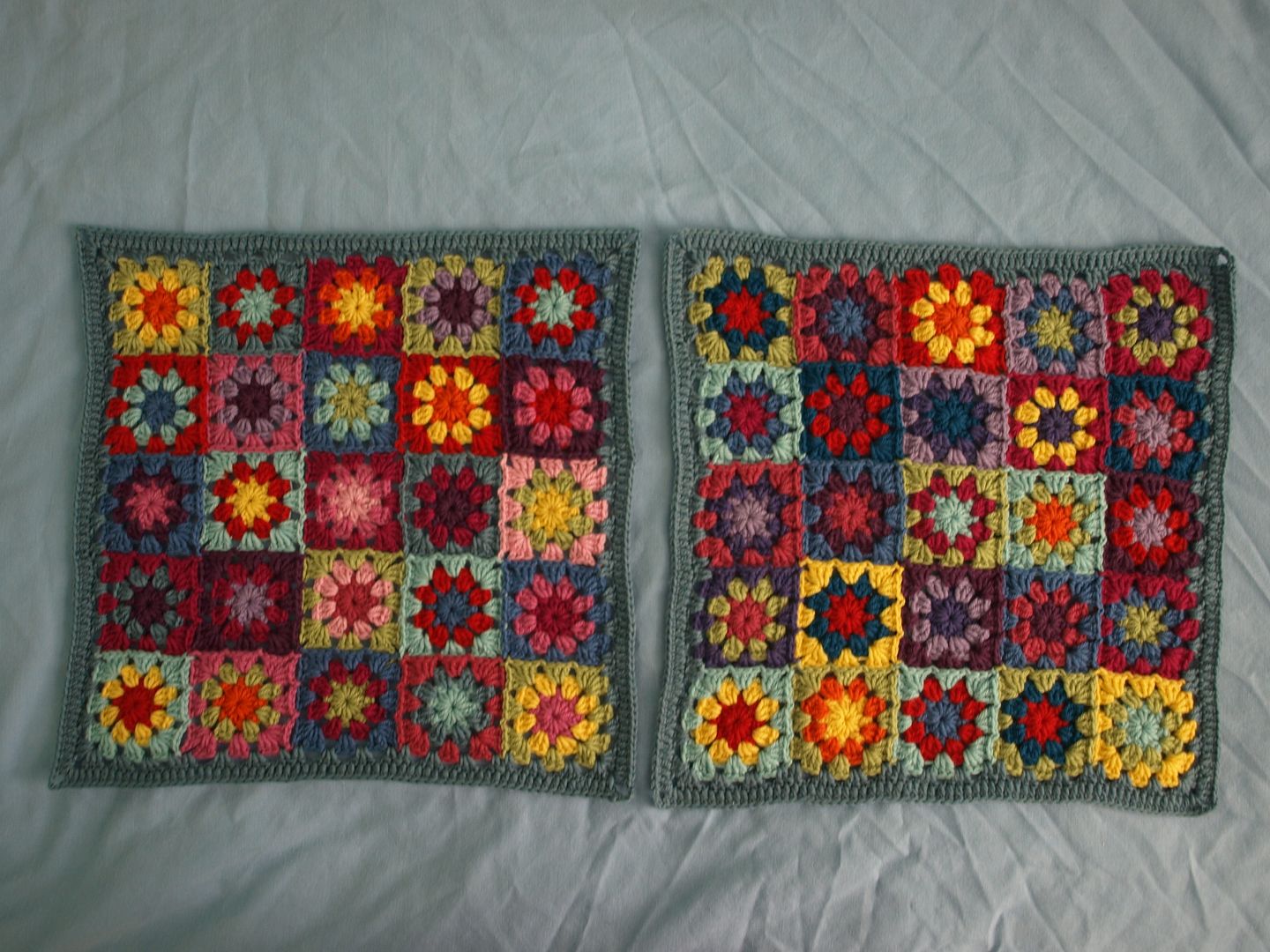 Lovely jubbly, two forty centimetre squares!
The yarn I used was Rowan Pure Wool dk, from stash. The right square is the one I made last year and it is a copy of a section of the 400 squares blanket. It also has one colour of Cashmerino in it. The left square has the addition of "Tea Rose" and "Hyacinth" and doesn't have "Ultra Marine" or the cashmerino colour. I like the left square better. I really made an effort with the colour placement too. There are a couple of what I think of as placement errors but I'm sure it's just me that sees them. I'm trying to be more "colour aware" with my work and I'm starting this with thinking of colours as hot and cold. So I tried to not have two hot colours next to each other, or two cold colours. I think it works well and looks more balanced.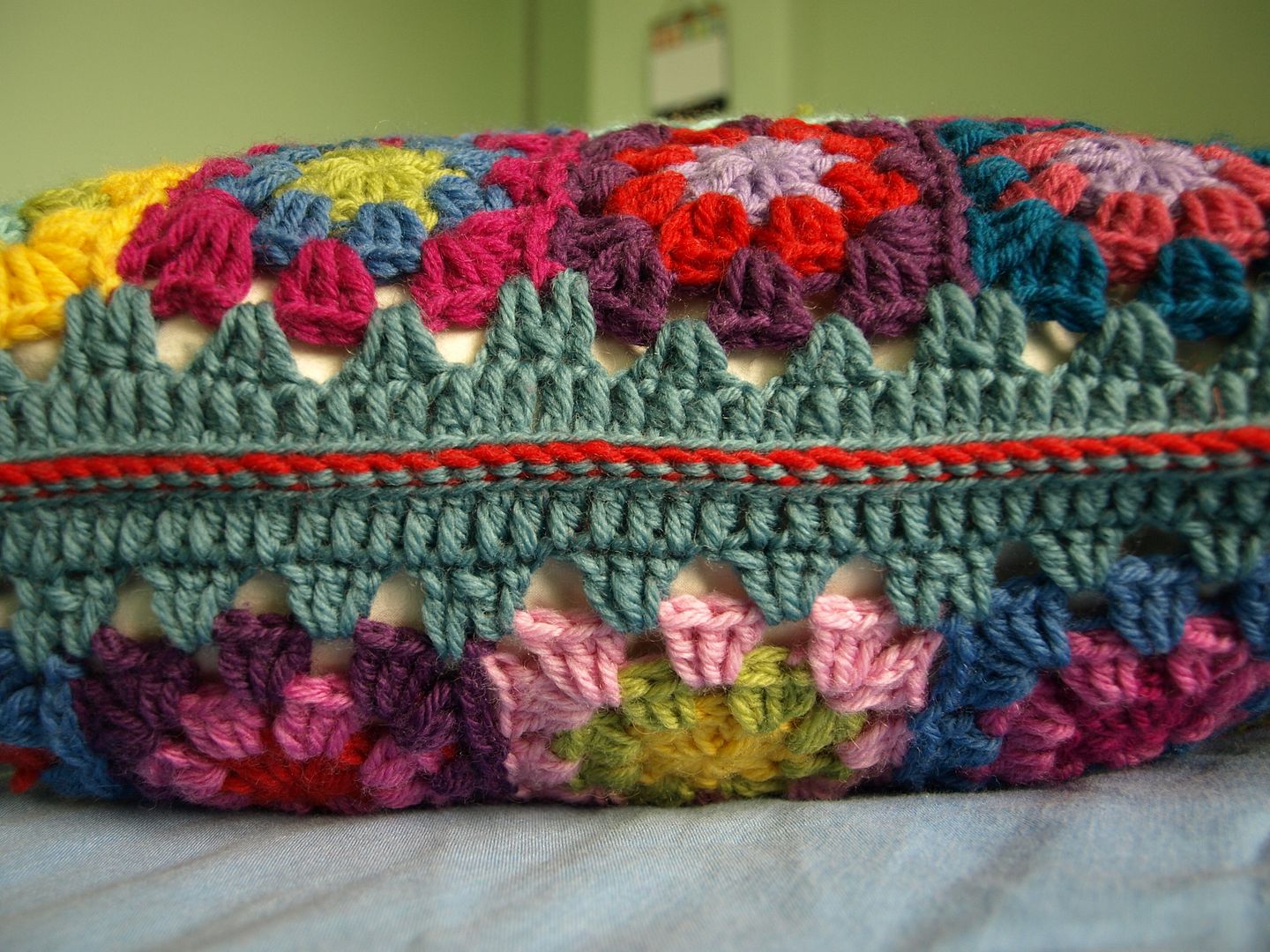 I joined it using red yarn because I like the join to look intentional. I've mentioned before that I join things leaving a deliberate ridge and I hope this shows what I mean. I join with wrong sides together, and leave the ridge on the outside.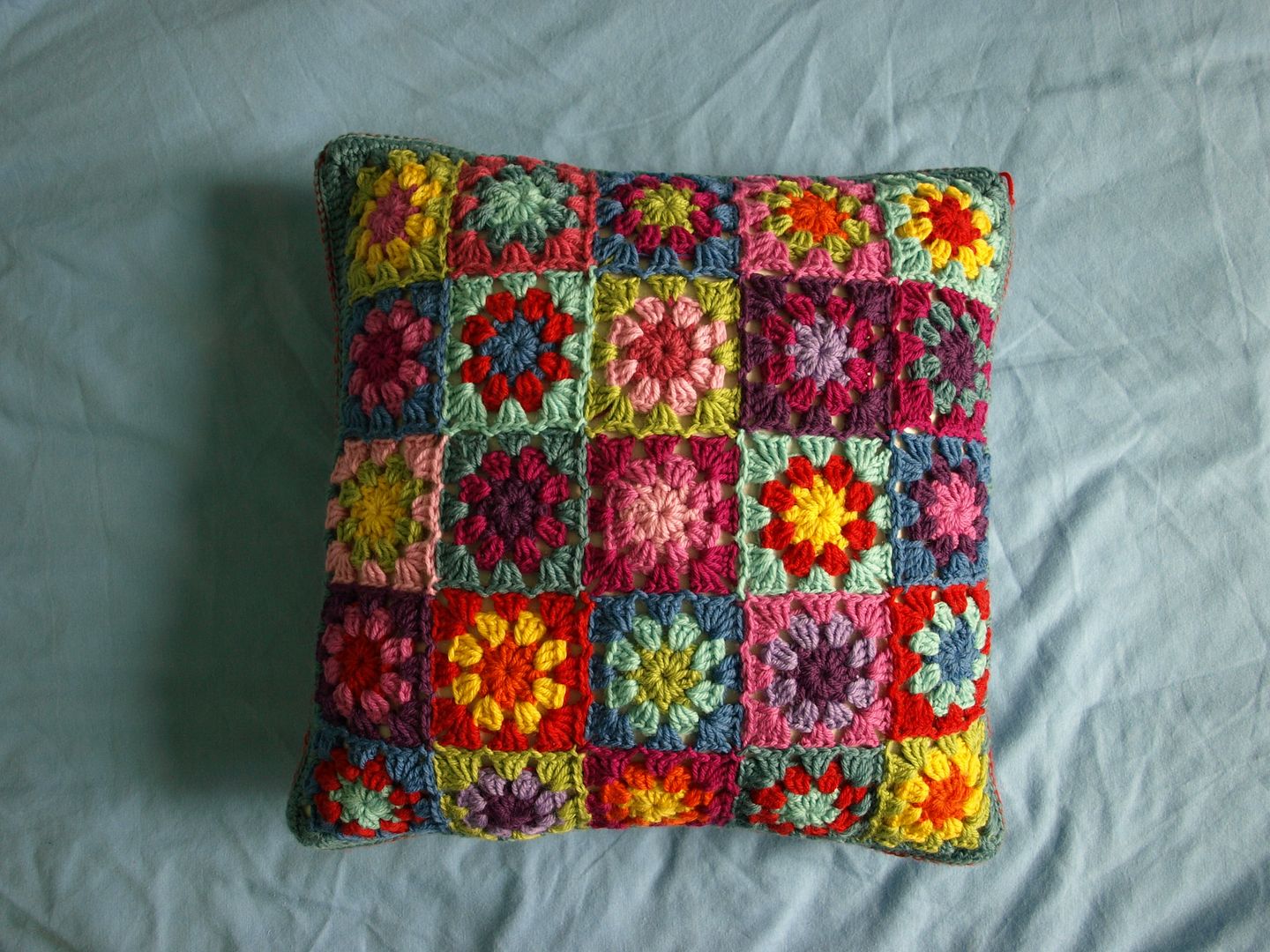 Very pleased with it :-) The only thing I'm not happy with is the white cushion underneath. It's REALLY visible up close which detracts a little from the crochet. If I were more confident with my sewing machine (and not so damn impatient!) then I would have covered the cushion first. But I didn't, and I'm still happy with the cushion despite that. I've used a feather cushion this time as the one I used previously was polyester and has really NOT stood the test of time. I used it all the time on my chair and it's really baggy now. Still, they're made to be used! :-)
p.s Hexagons: I have discovered that it is impossible to make 1/3rd hexagons. Actually impossible. It does not work. It was very frustrating to discover this, but I have (mostly) made my peace with it and will instead embrace the chevrons at the ends. I will also try to write up a half hexagons tutorial for those who asked for it. Can't promise WHEN this will get done thought!
xxx