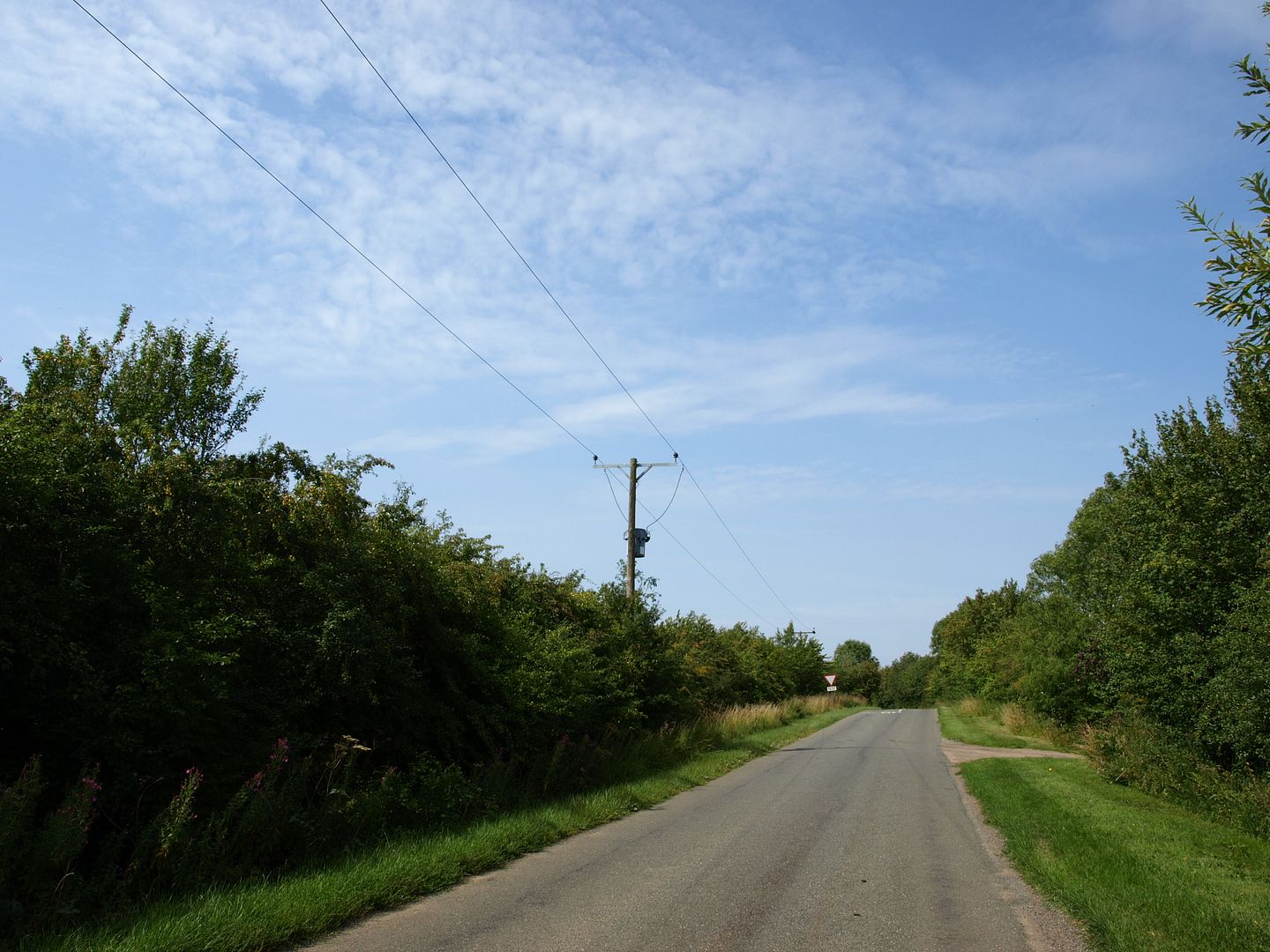 I've mentioned before on my blog how much I adore the countryside back at "home". When you live in a place all the time it is easy to miss the changing of the seasons as everything is gradual and rolls into one. The advantage of visiting at certain points through the year is that the seasons hit you in big, obvious chunks and it's easy to appreciate them and notice their beauty. I have been home in January, June, and twice in July this year. This time, the landscape is parched, the sky is so bright and hot that everything is bleached. The crops are ripe and the land is on the turning point of being harvested and being ploughed. I think I've said the phrase "High Summer" at least once a day for the past fortnight but really, it is what it is.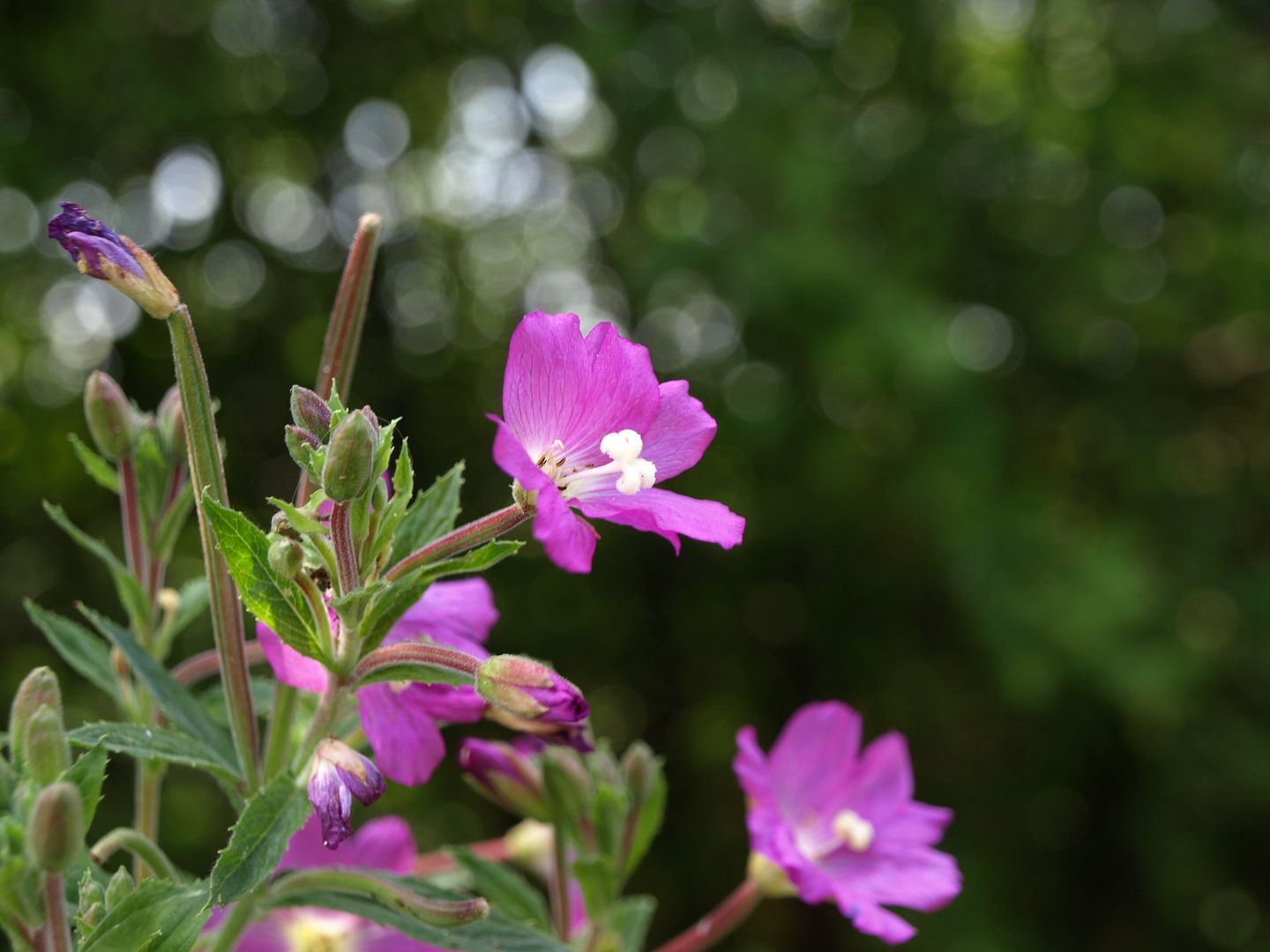 Not everything is stripped of colour though, in fact the world is bursting with it. You just need to photograph it closer up, that's all. Rosebay Willowherb fills the verges and while it never looks as punchy in a distance photograph as it does in real life, closer shots really do show the vibrancy of the colour. Soon though, the pretty pink flowers will give over to fluffy white fluffy seeds that carry on the wind and stick in cobwebs, trees, other plants, your hair…
In an unexpected weekend at home, unexpected things will happen. The other day my mum had been driving along the back roads and had found a large stretch of hedgerow that was laden with wild plums. Absolutely dripping in plums! Of course, she had to go back – she and Rachel are obsessed with jam making at the moment and this was too perfect to miss. Free jam!
Don't you think this looks like a lemon tree somewhere really hot? Not a hedge in deepest darkest Northamptonshire.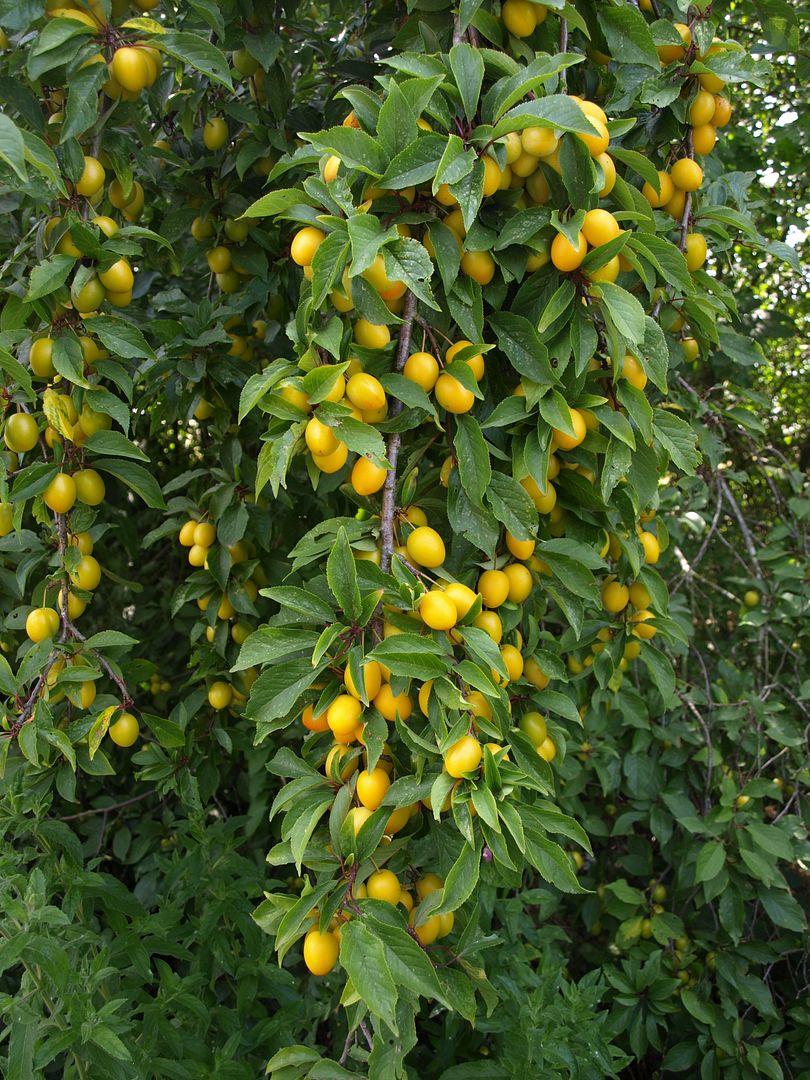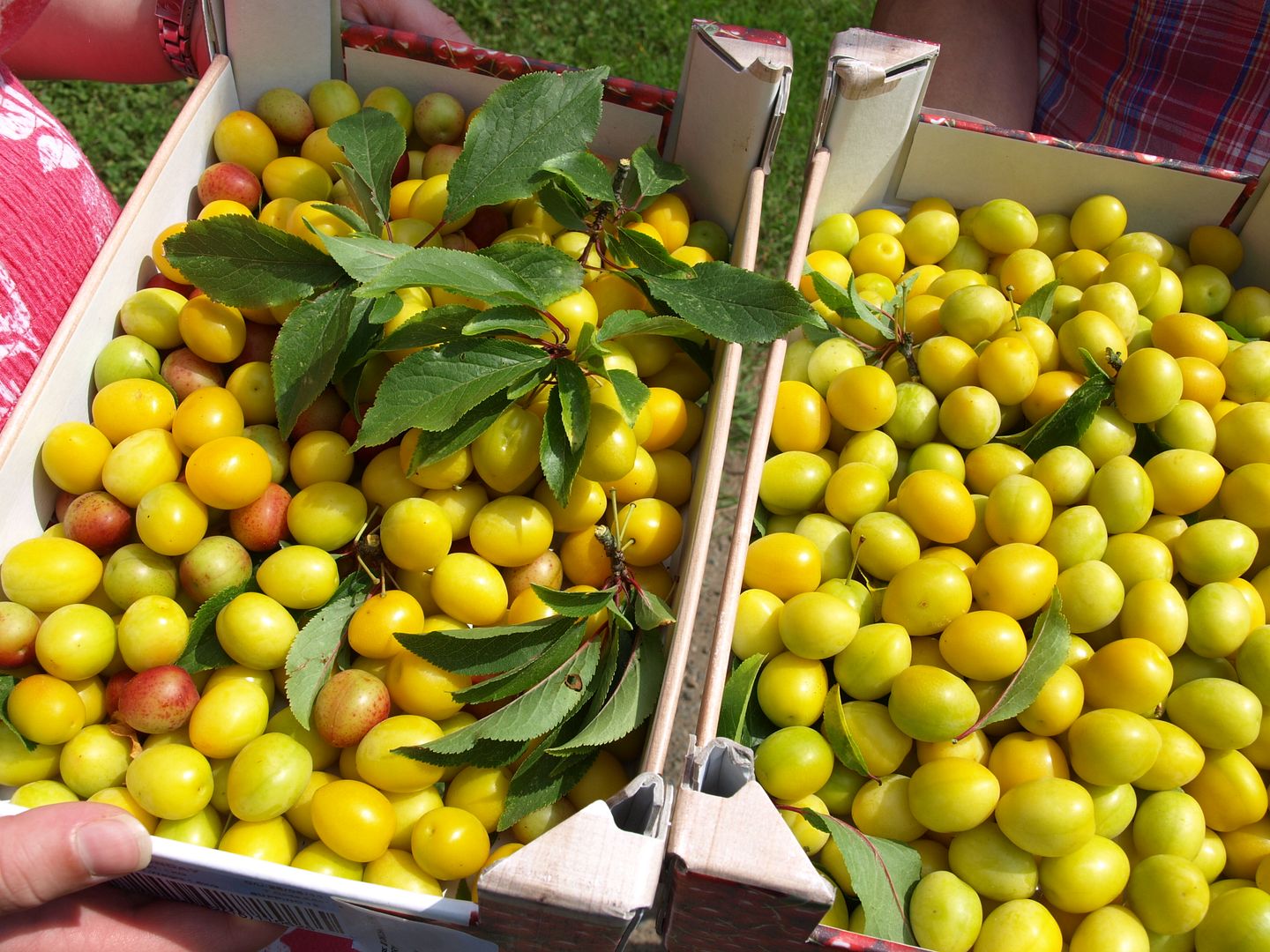 They were so ripe that they were just falling off in out hands. We didn't even take a tenth of what was there – which is good because you must always leave enough for the birds, and to take every single last one would be mean spirited really and a bit like cheating.
On the way home we drove the scenic way (it's all scenic but I had a particular field in mind that I wanted to photograph) and I hopped out briefly to take some photos. The day was just too good to miss taking photos of the area. If you can tell me where the church is, I will give you a special prize. Well ok not a ACTUAL prize, but a hearty "well done!" will be all yours.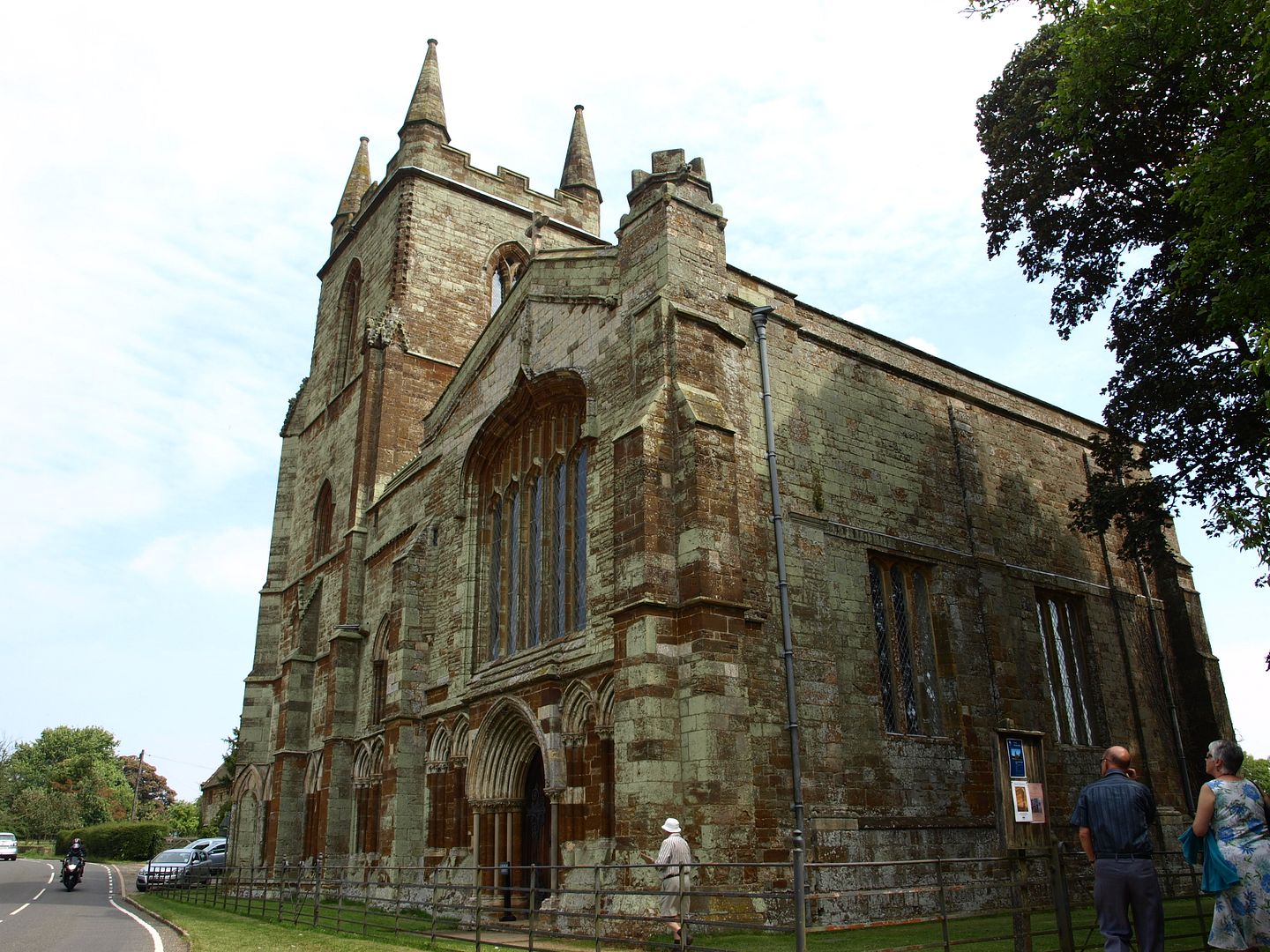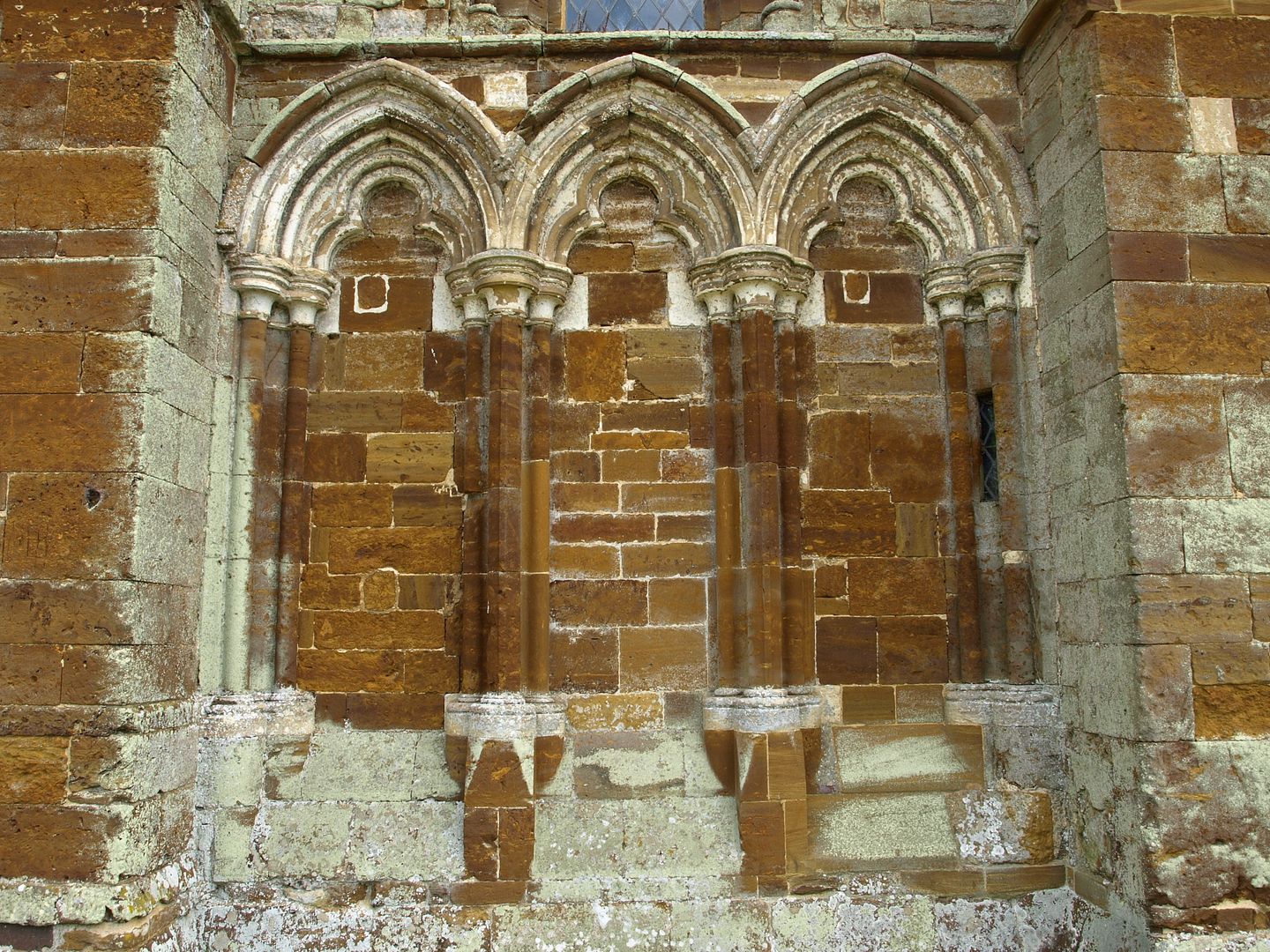 The colour of the ironstone around here is fabulous, it's so rich. I think the lighter parts are a sort of lichen but I'm not sure. Can you see the tiny little window in the right of the photo? I didn't actually notice it until I looked at my photos.
Aaaaah and THIS is the field I had in mind! When I was down for my birthday in June, me and Andy went on a drive round the back roads on one of the evenings and we stopped at the top of the hill here so I could show him where the old railway line went, and some of the other local features I'd mentioned to him before. The wheat then was greenish blue and not anywhere near being considered ripe. But now, just a month and a half later, look how it has changed!
I am so happy with how the wheat photos turned out, I love them loads. I keep pulling them up on my laptop and zooming in and out on them, looking at the detail fullsize. They were all snapped in the space of about twenty seconds – we'd overtaken some cyclists on the way to the field and my mum didn't want to have to overtake again (limited passing space as you can imagine). I leapt out of the car before she had stopped (accidentally – I thought she had, whoops), ran over to the wheat, took ten photos, turned around, saw the cyclists approaching and ran back to the car "They're coming! They're coming!". Leapt in and we were away before I'd even got my seatbelt on.  It's funny because I think that the photos of the wheat look so quiet and peaceful – like a lazy summer day – when in reality they were taken on the run in a very short space of time.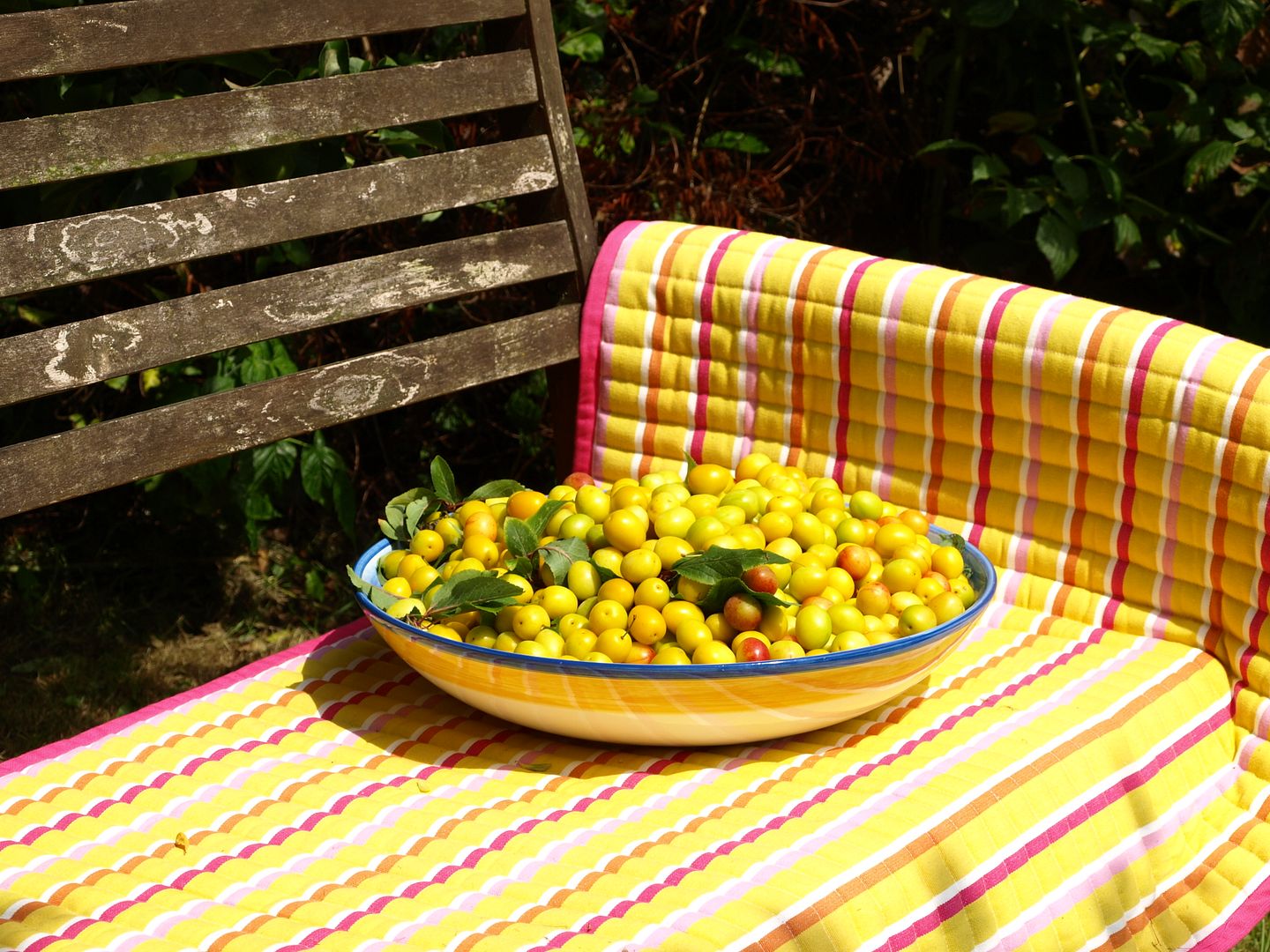 I don't know the weight of the plums we picked but wow, we got loads. They barely all fitted in the bowl! To give you an idea of scale, they are each the size of a grape. It makes me happy thinking about the food miles here – possibly about ten miles when you take in the round trip for my photos. Obviously this doesn't included sugar and pectin, but hey, it's not bad. The best part is nibbling them straight off the tree – does it get much better than that? Of course now I'm a bit taken with this hedgerow food thing and want to go and pick blackberries and make a recipe for hawthorn berry jam. However, I have no idea where any blackberries grow around here and I don't even know if you CAN eat hawthorn berries!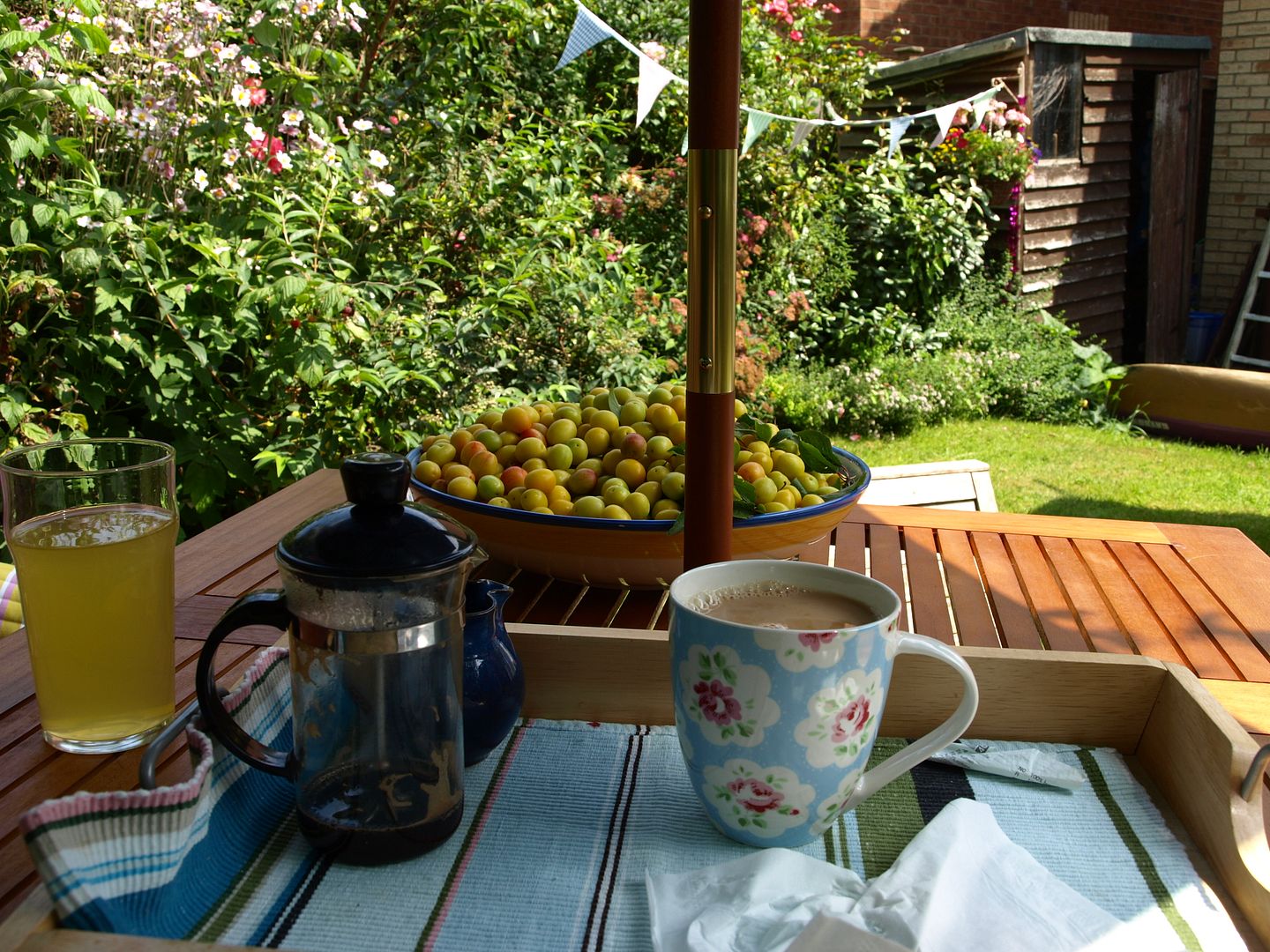 There were only about three hours left until my train, so we sat in the garden and moved the plums into view so that we could admire them best, enjoyed some refreshments and some lunch … and the bunting of course. I have many many photos of this bunting. I like bunting and I like to take photos of it. Two bunting photos per post is probably enough though. I did whittle it down from about six per post.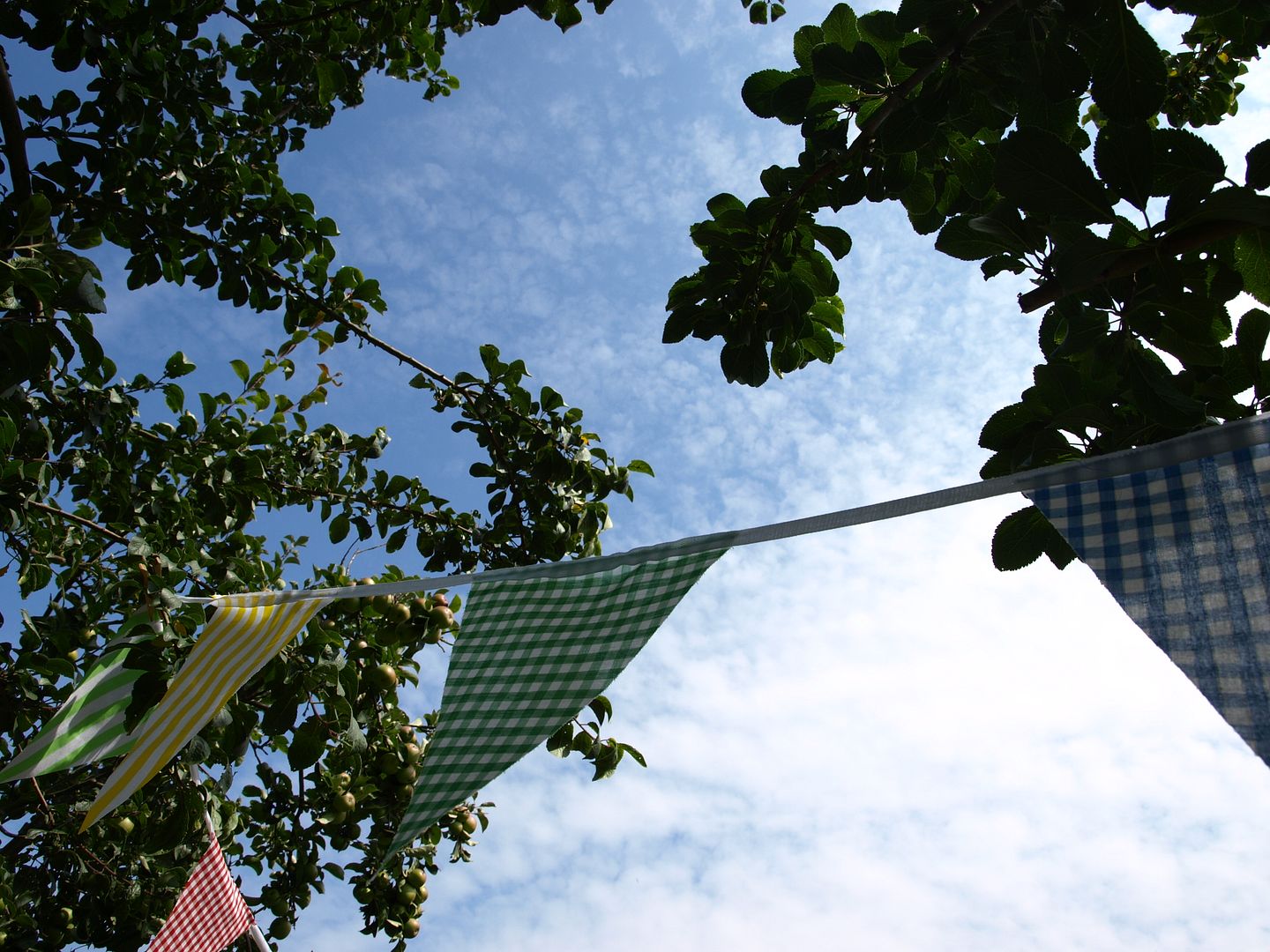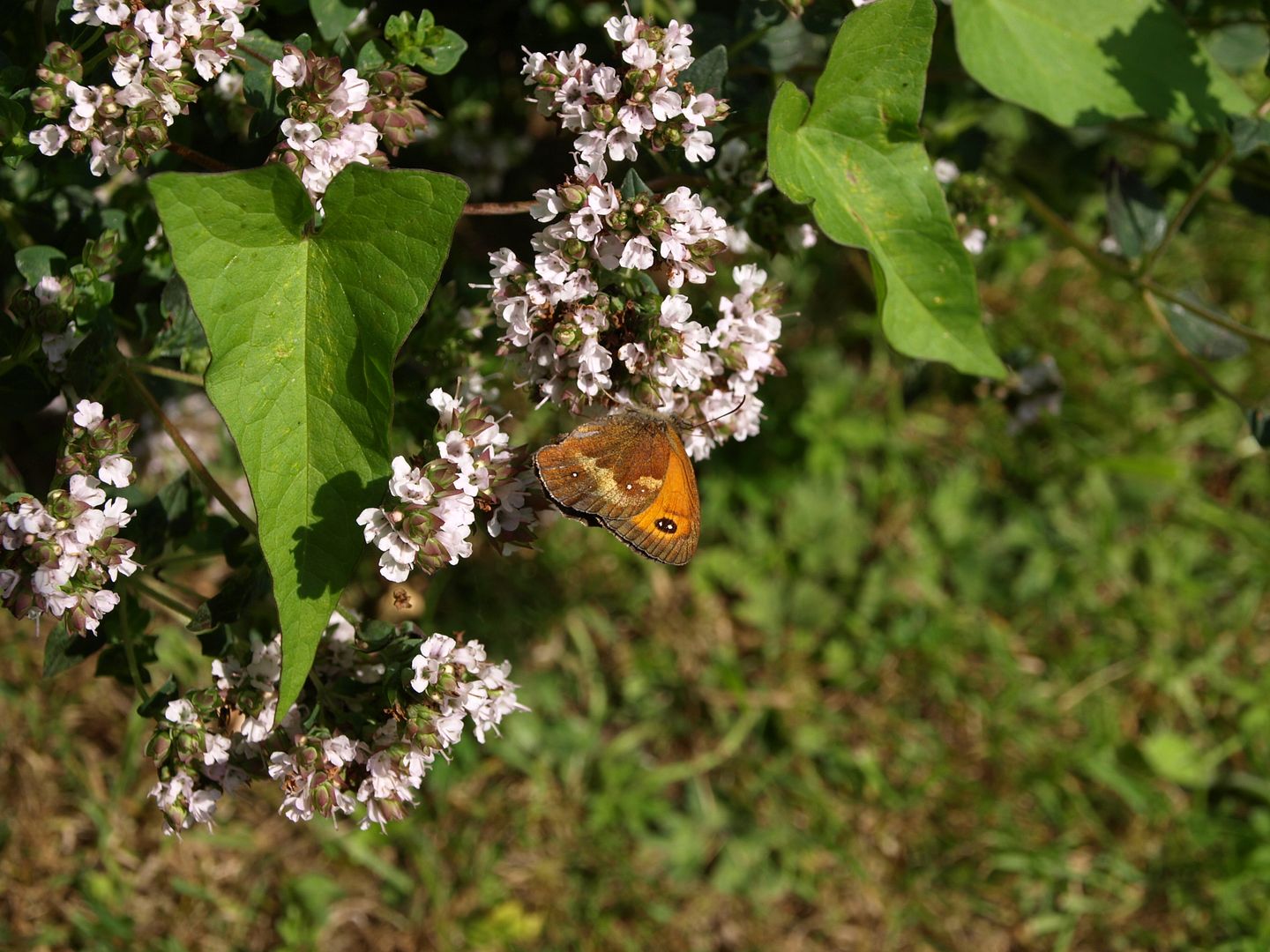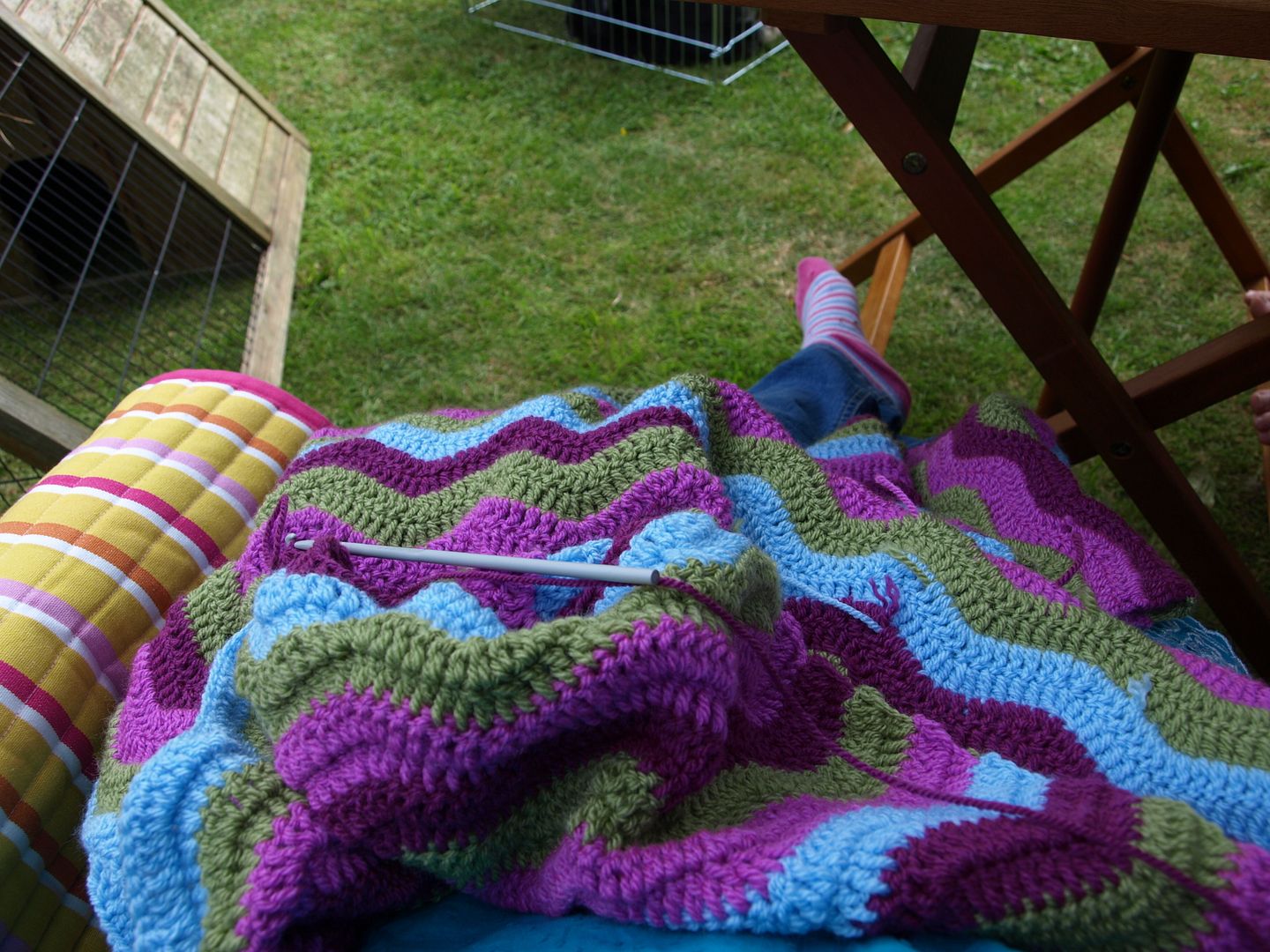 The garden is full of butterflies at the moment, which fills my heart with joy as they are just so rare now. There is a big old budleiea bush at the back of the garden and the butterflies just LOVE it. I saw about five different varieties. Devilishly difficult to photograph though as they keep flying away. I really wanted to get a perfect photo of one of the Peacock butterflies, or the Red Admirals, but they refused to stay put and in the case of the Red Admirals, refused to open their wings. The Gatekeeper was the most obliging but still would not open it's wings. Bah!
Then there was just enough time to add a few stripes to the ripple blanket before catching my train. I always marvel at this part: one minute I'm in my mum's garden, drinking tea and rippling, and then five and a half sweaty, slow, Sunday hours later I'm back home.
(I'll tell you a secret … I'm so full to bursting with happiness at the amount of things I'm doing and fitting in to 2011 … I feel like I'm really living and enjoying and appreciating. I made more of an effort to be "in the moment" a lot more and now it just comes naturally. I'm so glad. It's a lovely feeling. I hate feeling like I waste time or waste my life away but I am glad to realise that I am not doing so.)
xxxxxxxx