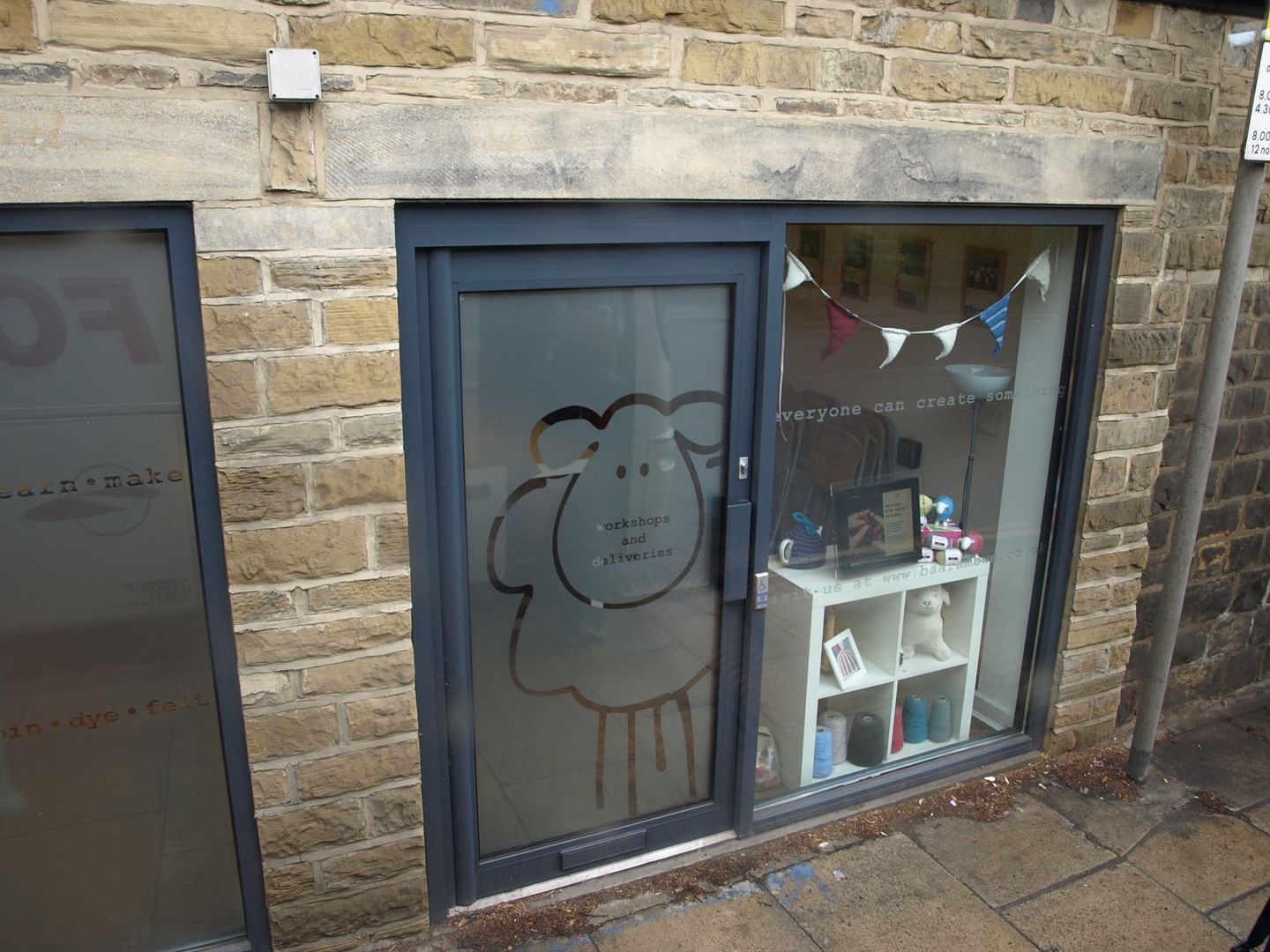 Ok then, let me take you on a virtual trip to Woolfest. Perhaps it will make you want to go next year?
Woolfest is located in Cockermouth in Cumbria and has been running since 2005. I went on the couch trip organised through Baa Ram Ewe in Headingley. I have only been to Baa Ram Ewe a handful of times, but Rach is a bit of a regular at the knit night (Thursdays, in case you fancy it) and is good friends with the Baa Ram Ewers so when she asked me along I thought, yeah, why not.
So the coach left at 8am and we had been estimated 2.5 hours to get there. This turned out to be a slight underestimation as we didn't arrive until 11:30.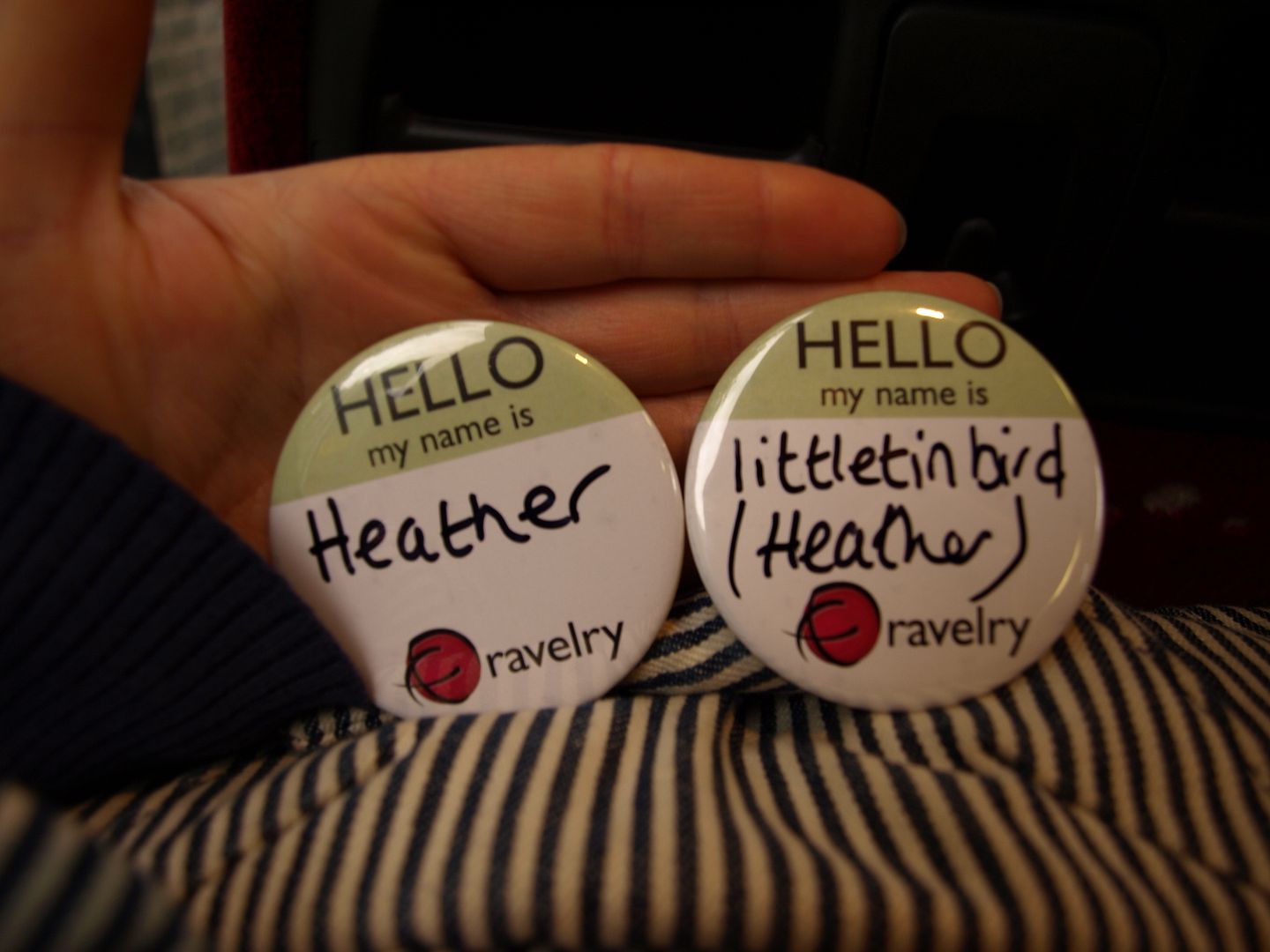 Hello, my name is Heather and I'm having an identity crisis as I thought we had to write our Ravelry names on our badges but nobody else did so I had to sneak another one. Didn't wear either of them in the end.
It was rainy and misty weather but actually very beautiful for it. This is Ilkley Moor around 8:30 am.
Loads of people (Rach included) were knitting on the bus. This was not surprising given that it was a trip organised by a knitting shop to go to a knitting festival ;-)
I didn't feel like doing any hooking on the bus so I just took photos, munched on tomatoes (still loving these by the way) and admired the view from the window.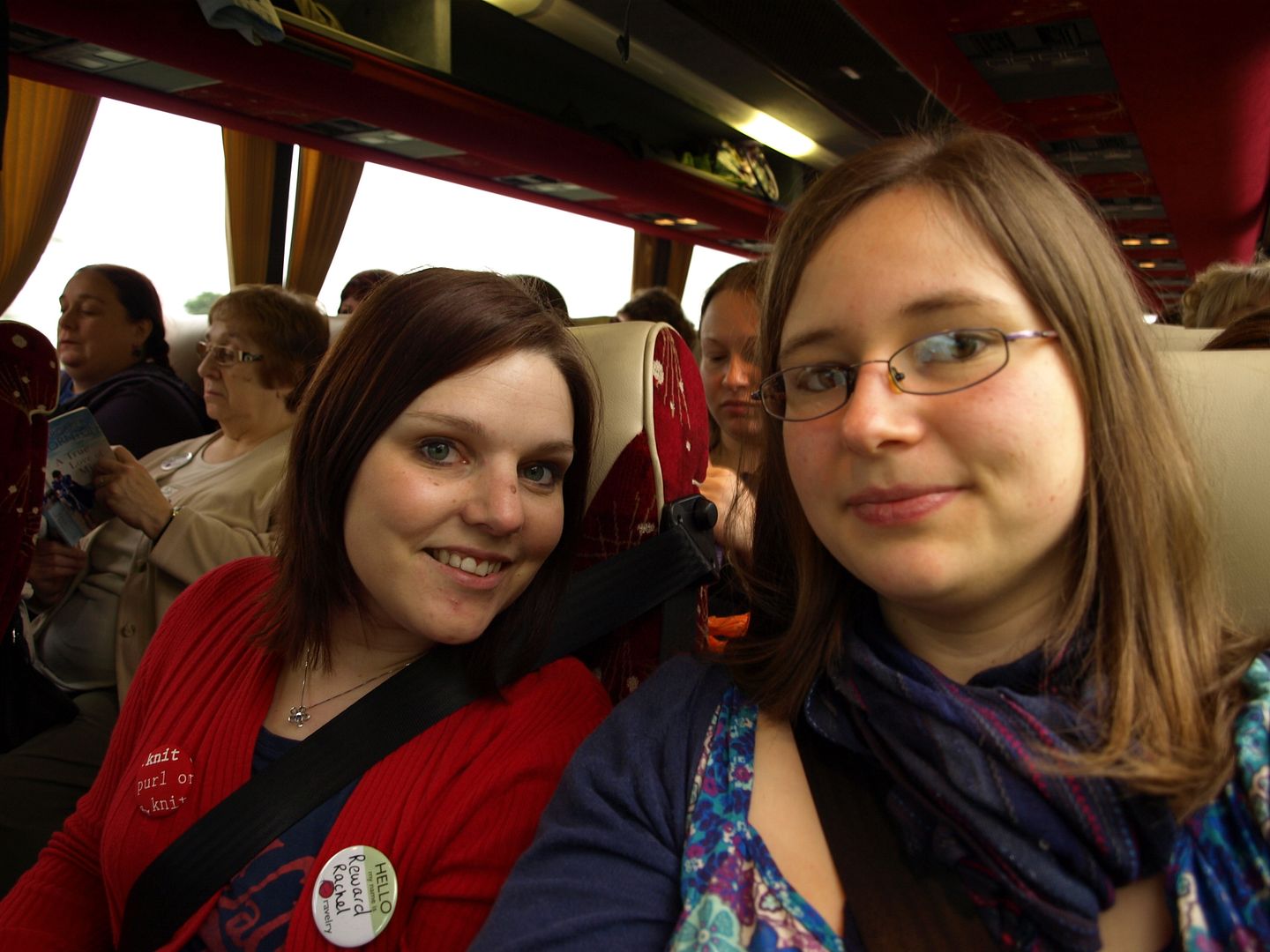 I definitely need to learn to smile in photos.
Apparently I actually DO look like this in real life though … we stopped for a wee break at Tebay services and as I was loitering looking shifty whilst waiting for everyone else, who should recognise me but Hazel from Quietly Stitching! I was very surprised: she called out "Heather!" but I must have looked very blank (frantically trying to place her, wondering if she is perhaps a cousin from my dad's sprawling side of the family haha) because Hazel then said "Little Tin Bird? I'm Quietly Stitching!" and then it all made sense. How lovely and unexpected! I felt very famous and a bit chuffed that I hadn't even needed my identity-crisis badges. Awesome.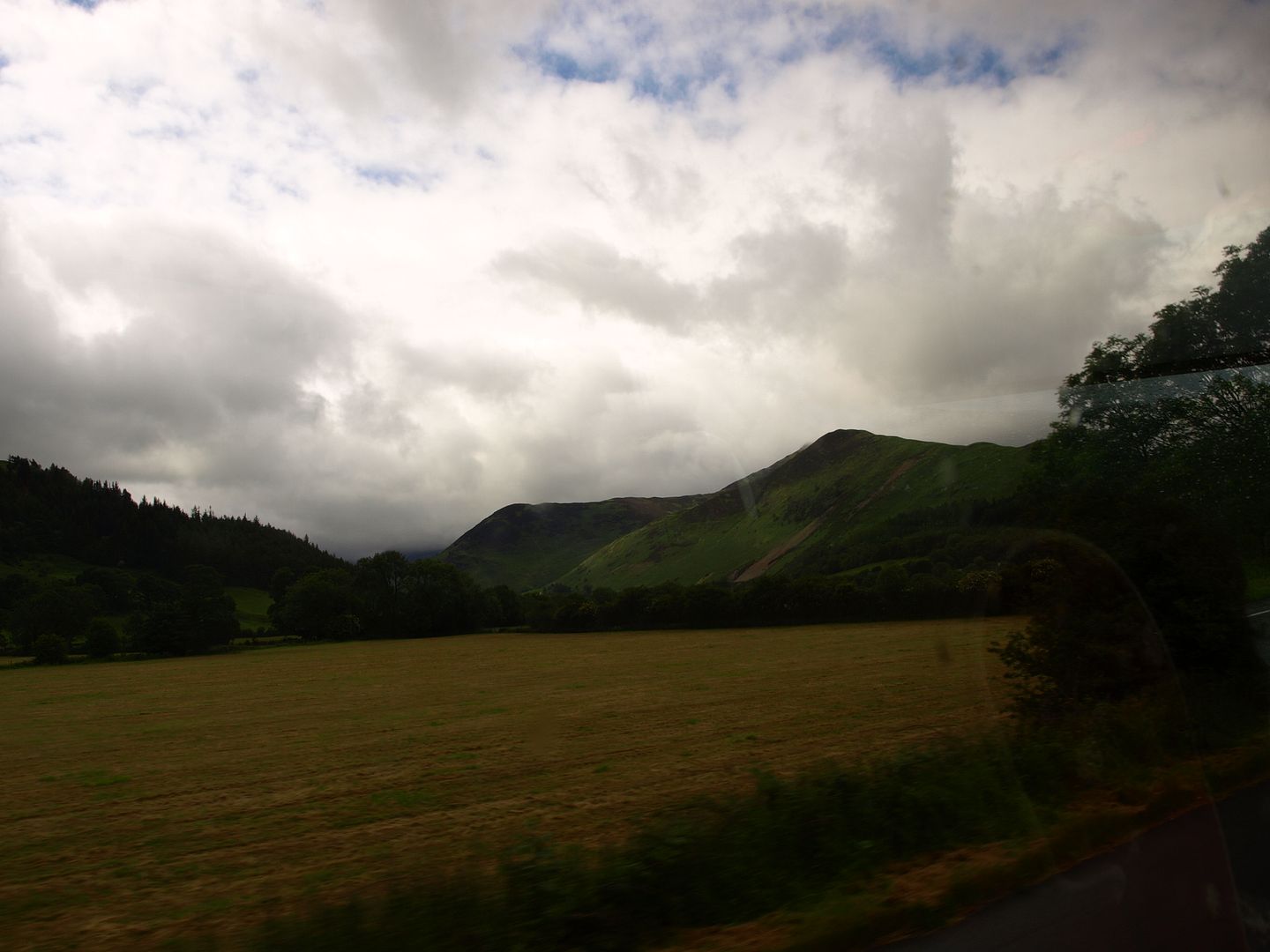 Gradually the countryside became more lumpy and pointy which I took to signal that we'd arrived in the Lake District. It was very Scottish actually and made me want to go back to Glenelg for another honeymoon.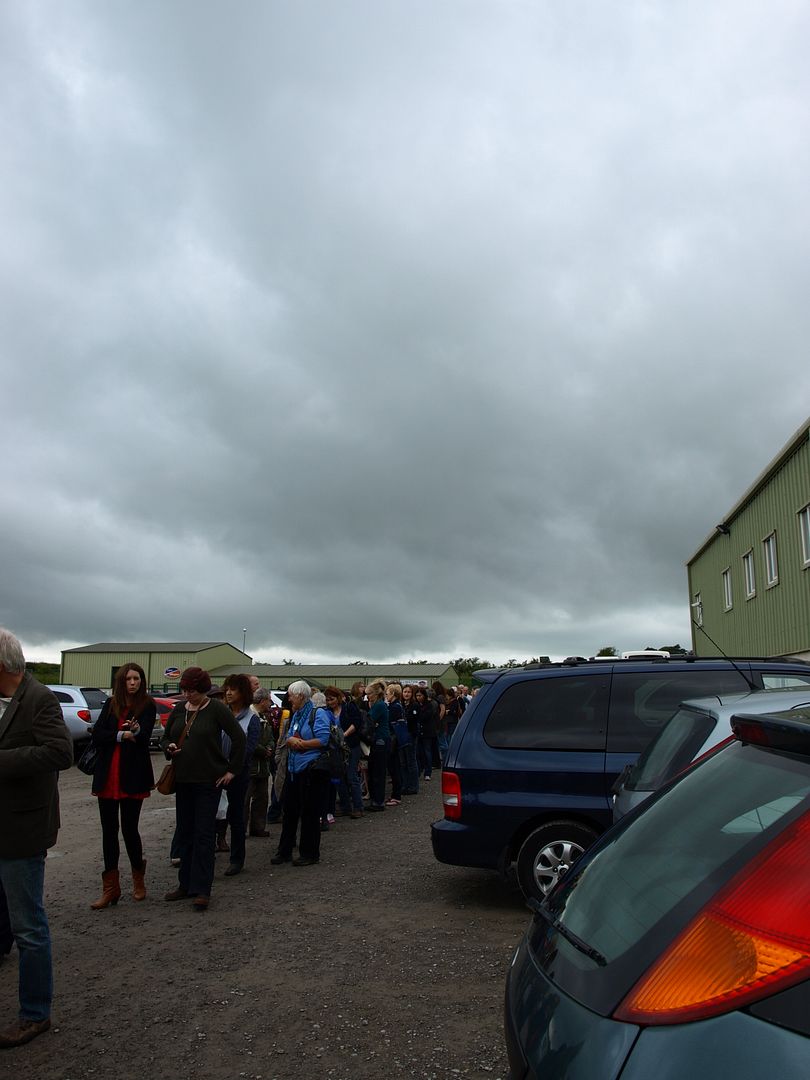 The queue was mahoosive to get in to Woolfest and this was not aided by a coachload of women pushing in to the queue. Very rude and unnecessary and they certainly should have known better.
When we made it inside it was ab-so-lute-ly heaving with people. It was all a little overwhelming and quite tricky to move around. Very tricky. We dived straight in to the middle aisle and were greeted by Fyberspates stand. Full of lush, beautiful skeins of yarn. So pretty and tactile. The olive green one in particular was divine … it had come just a little loose from the skein and so it was possible to give it a good old squoosh and oof yes, very nice.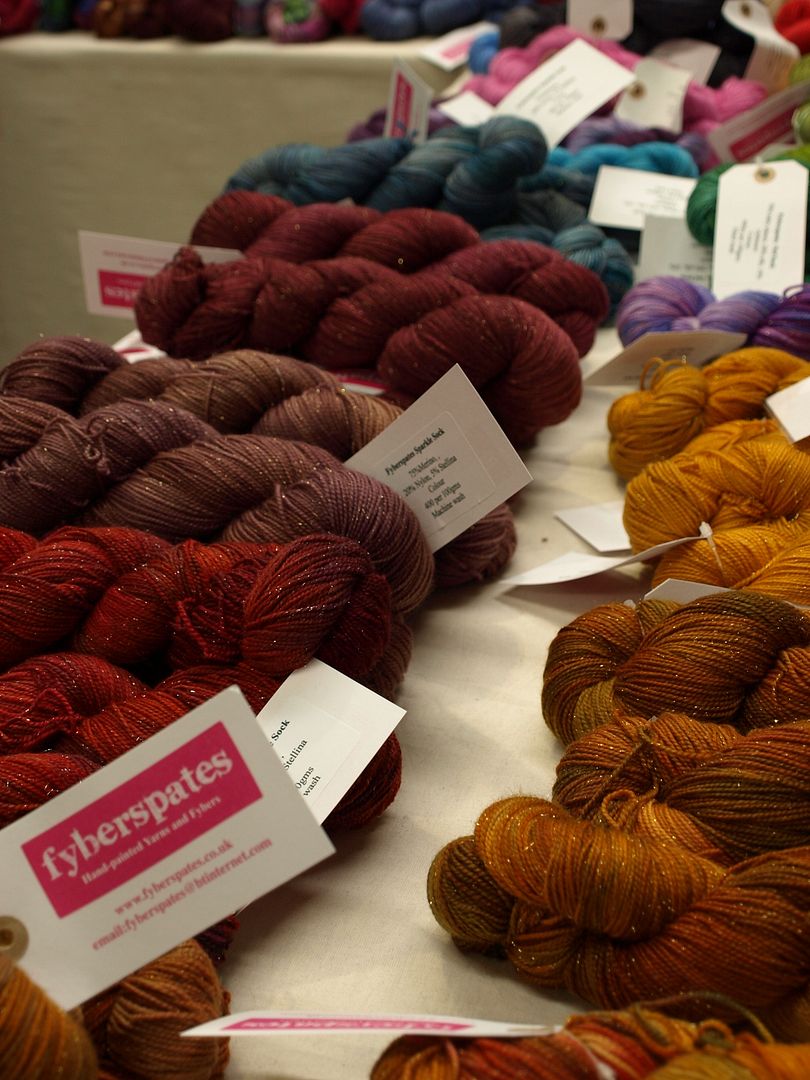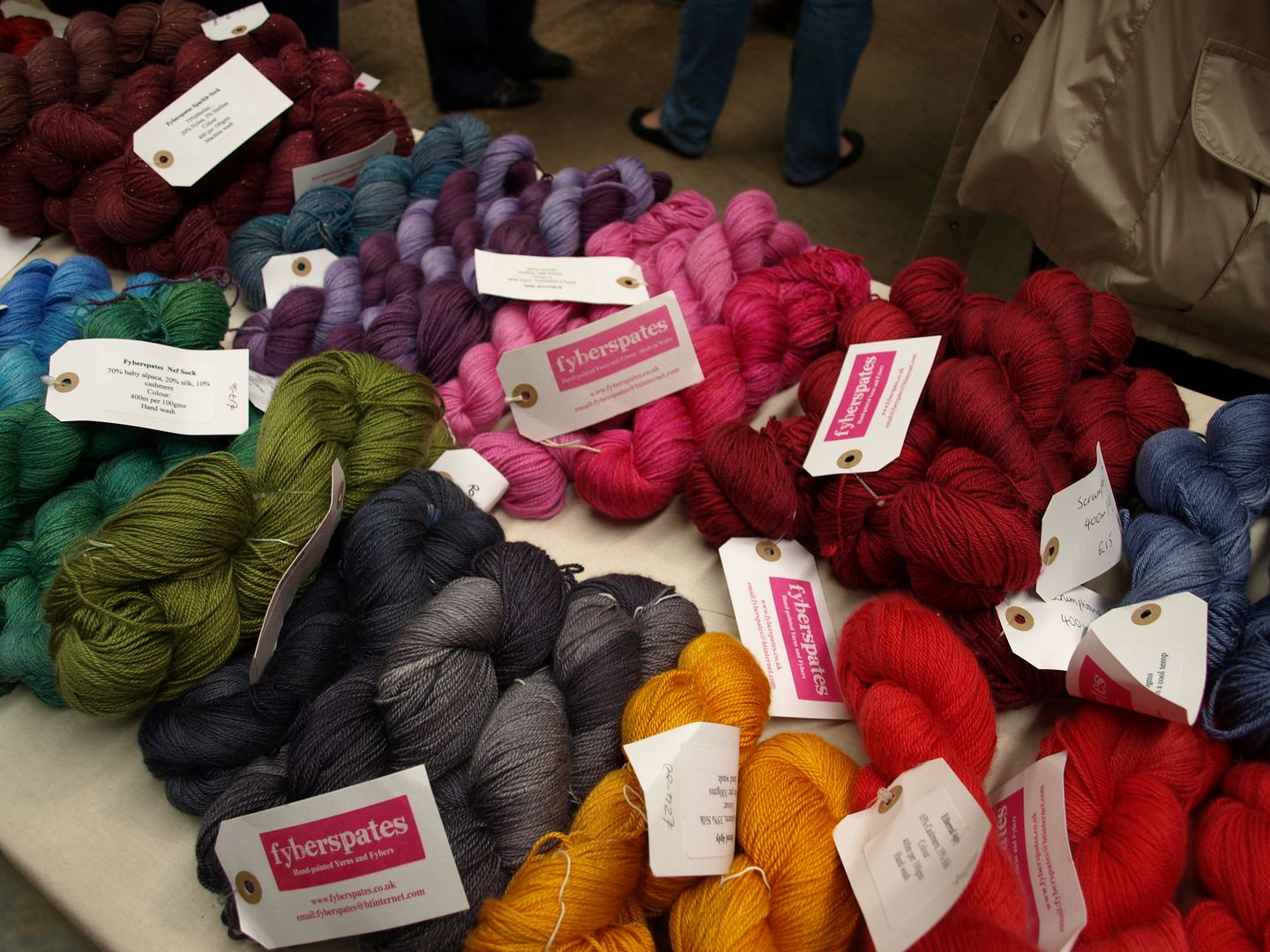 I had been really looking forward to visiting the Laughing Hens stand because I've been lusting over their Almerino Aran yarn for months, ever since I bought that crochet book back in October. There is a blanket in there made from Almerino Aran, it is just straight stripes made from half trebles but I desperately want to make it. I am even more set on it since feeling the yarn in real life, it is STUNNING, even softer than Cashmerino. And the colours! Oh, my. Take a good look at these though because these were the only balls of yarn I saw all day pretty much as the rest of it is in skeins, hanks, rovings etc.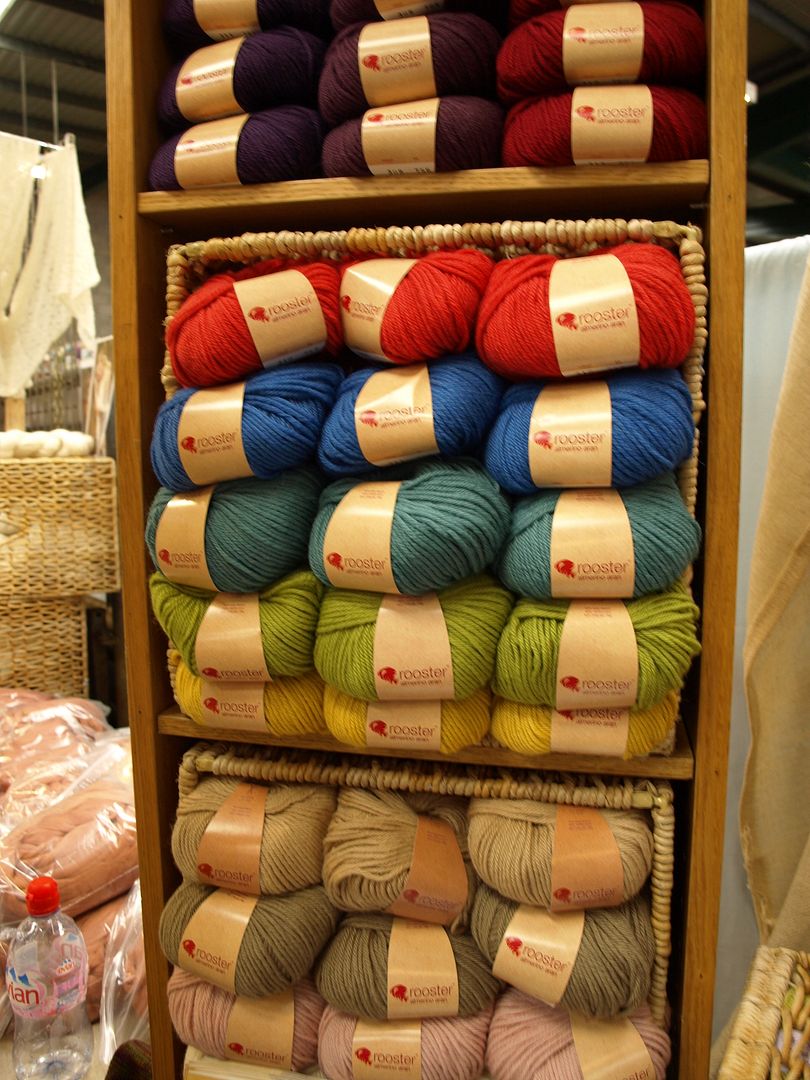 Or in plaits like horsetails! These were on The Laal Bear's stand. Rach bought some purple laceweight yarn here. The colours in handdyed yarn are particularly captivating but I always think that they look nicest in a skein and that if I was buying some I wouldn't want to knit with them, instead I'd just want to look at them and stroke them. Yeah I know, I'm a bit odd.
This stall was my favourite of the day and I definitely definitely would have purchased the dark bluey skein (the one just being touched by the pink knitting) and the turquoisey blue one. Rach bought the one that looks quite grey. It's gorgeous. There was a scarf knitted up in that same colourway and I was SO SURE that I'd seen it before. Not one like it, but That Actual One. When I realised that it was Ba'Tat yarns it all came flooding back – they stock Ba'Tat yarns in Create! That's where I'd seen the scarf and really lusted over it at the time. At least I know where I can go and get these yarns again, given how close I live to Ilkley.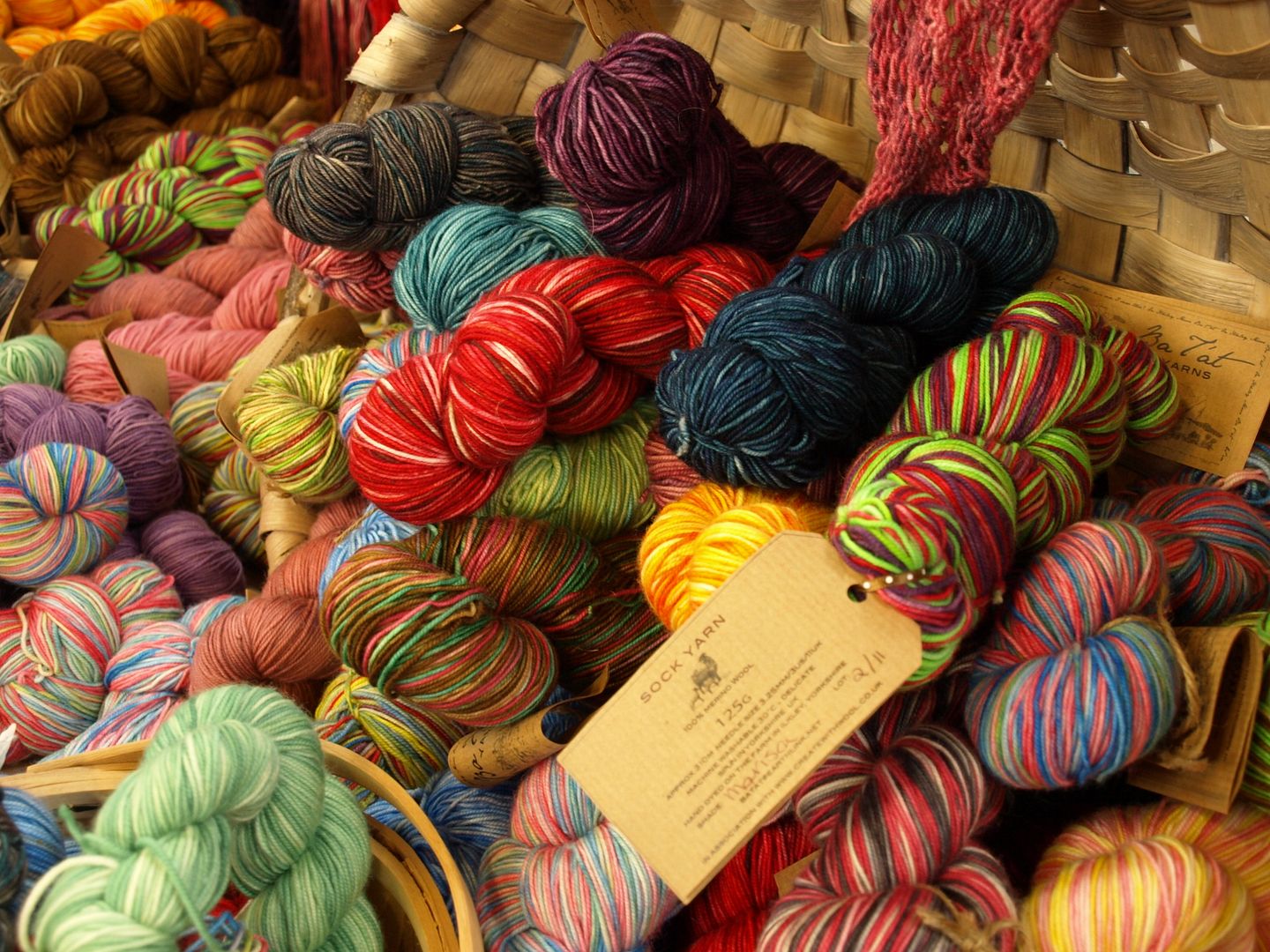 Talk about squoosh-tastic yarns … there were a few stalls that had miles and miles of soft natural yarns hanging around. I couldn't stop touching these, they feel diving. the chunky one that is in the centre particularly grabbed me. I'm not sure which stall the top photograph came from, but the next three photos came from Woolfish.co.uk It was £5 for 100g of this yarn and I was sorely tempted to buy some just to stroke.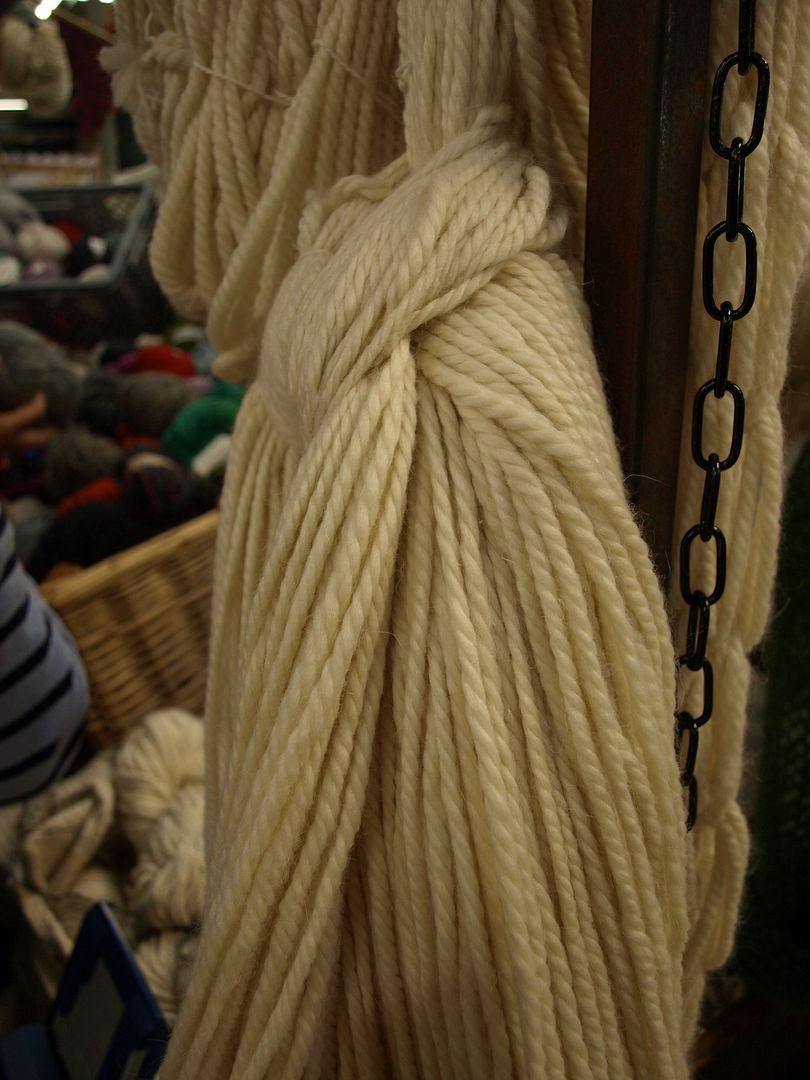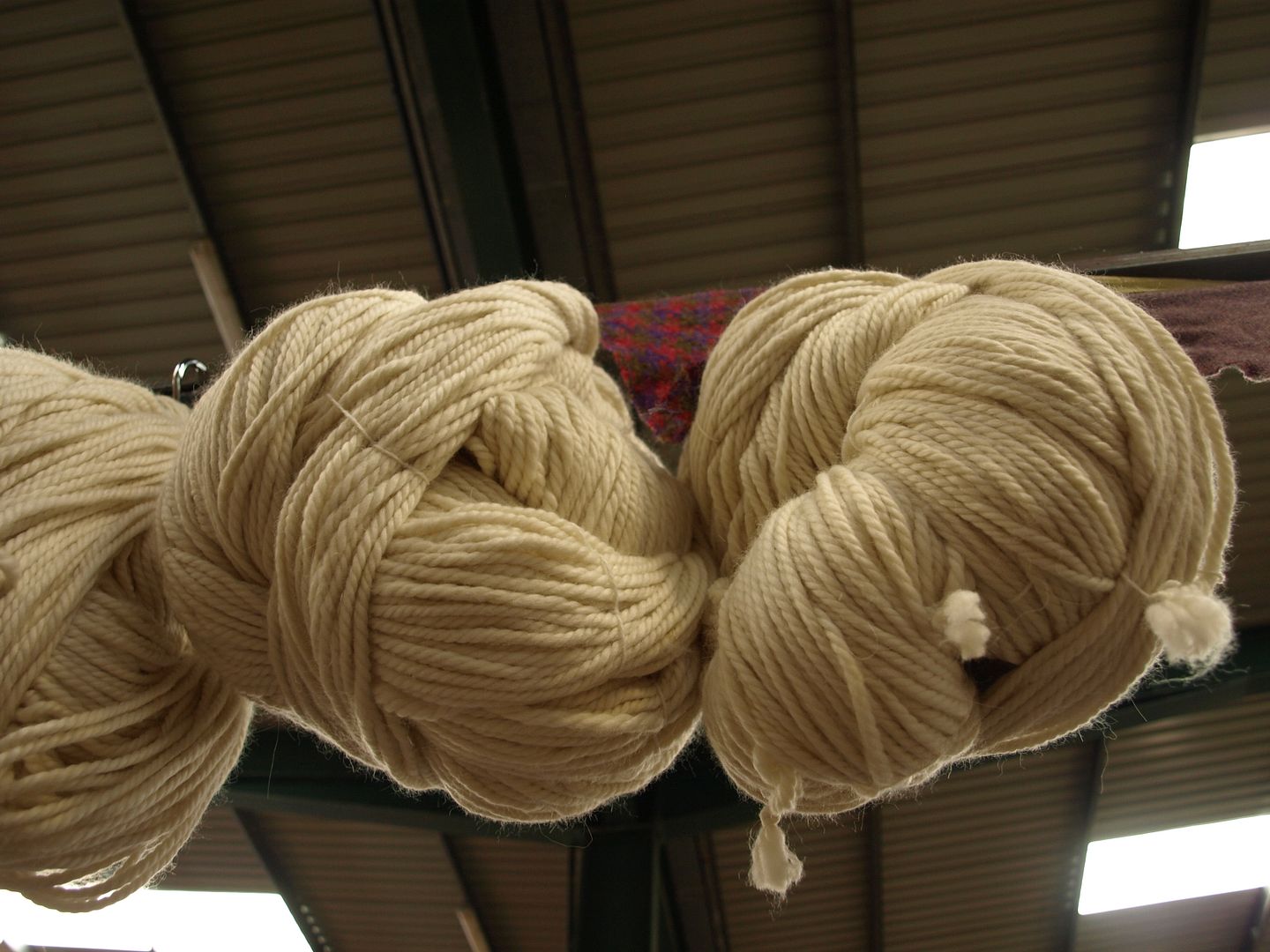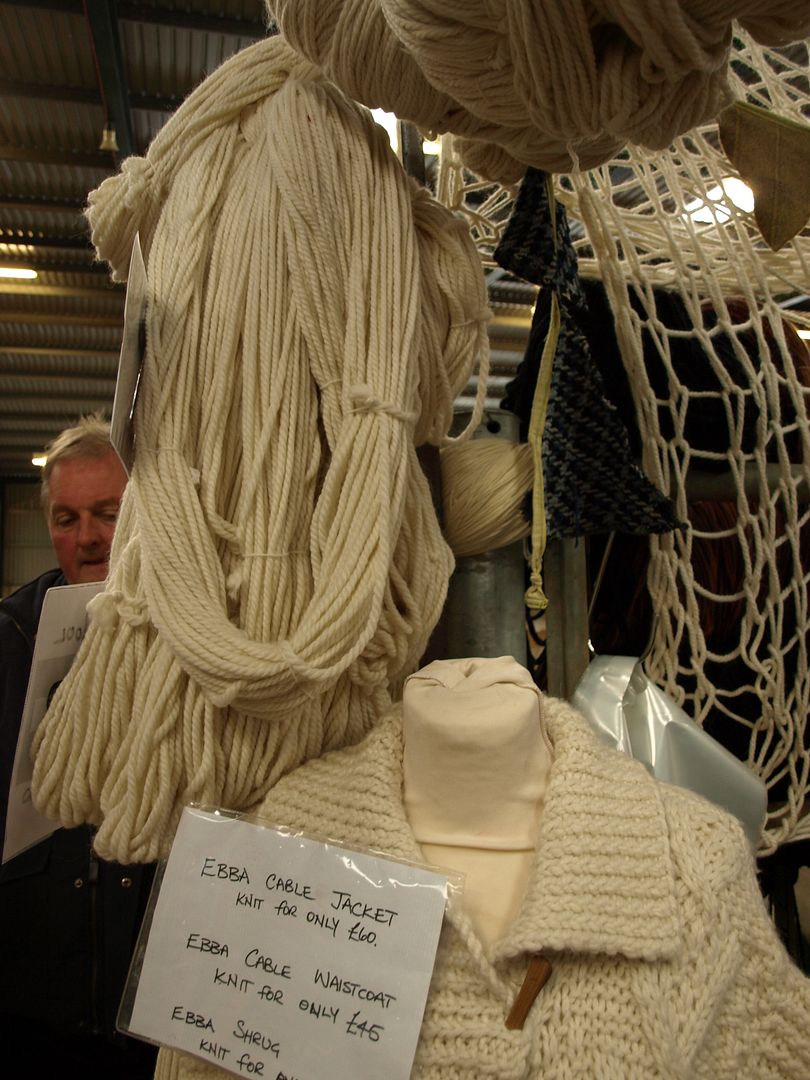 More lovely laceweight yarn from Wild Fire Fibres, hand dyed and handspun by Vikki (who is 25 according to her website and evidently far more talented and enterprising than me, also a twenty five year old …) I forgot to ask before I took this photo but she said it was ok as long as I have her a link back :)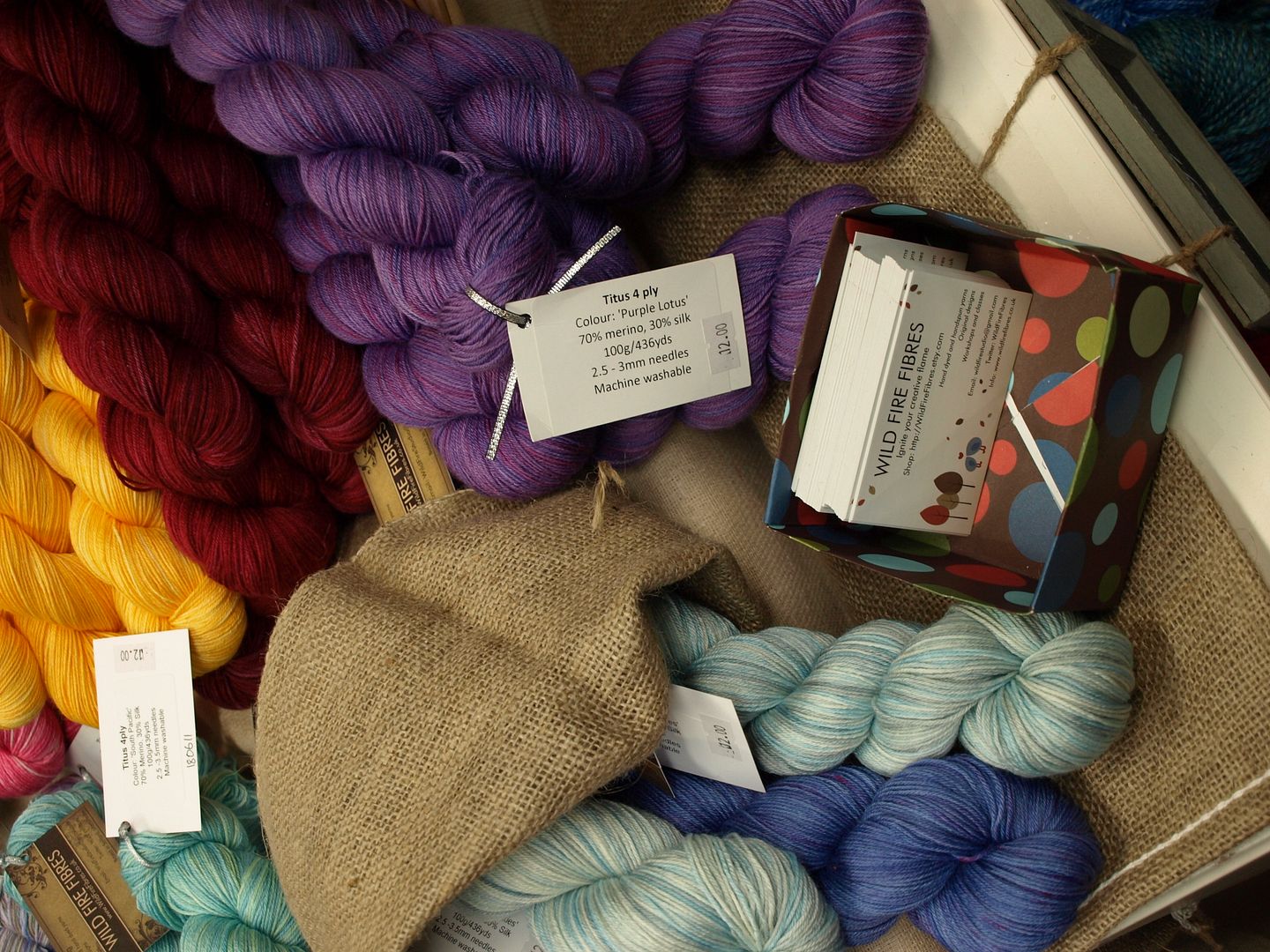 Now THESE really caught me. STRIPES! ZIG ZAG STRIPES! And the colours are ace. The photo really doesn't do them justice. They are knitting kits from Suzie Johnson at The Wool Sanctuary and it was a little while before I could put these down and walk away. WANTIES!
Fortunately I was distracted by the arrival of Jenny – lovely to catch up :-)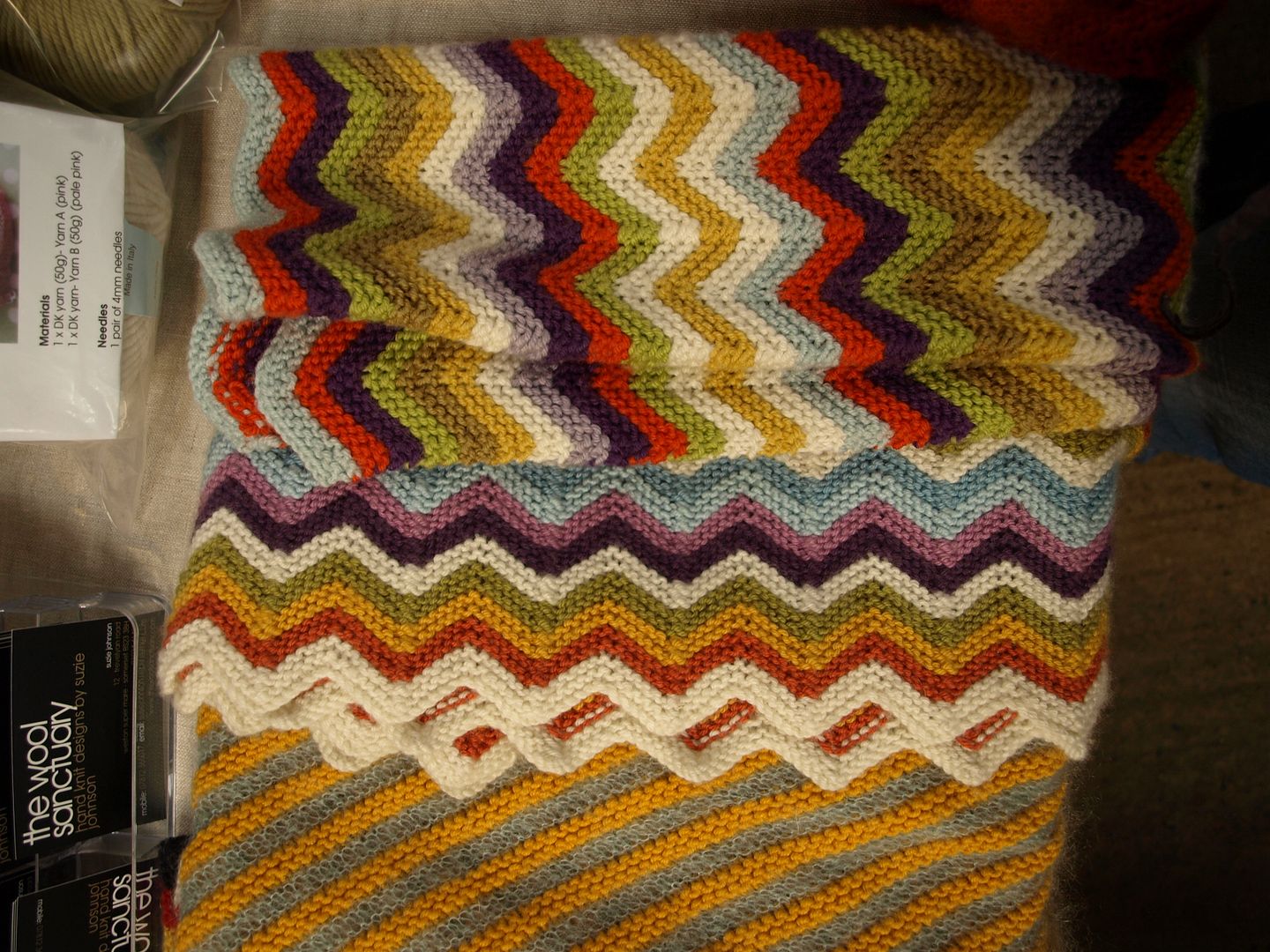 And of course a wool festival would not be complete without the wool that started it all … the sheep! There were a few pens of sheep but I have just photographed the prettiest ones for you. This is a Teesdale sheep with beeeeeeeaautiful flece and a very sweet nature, she kept sticking her head through the bars for some fuss and attention.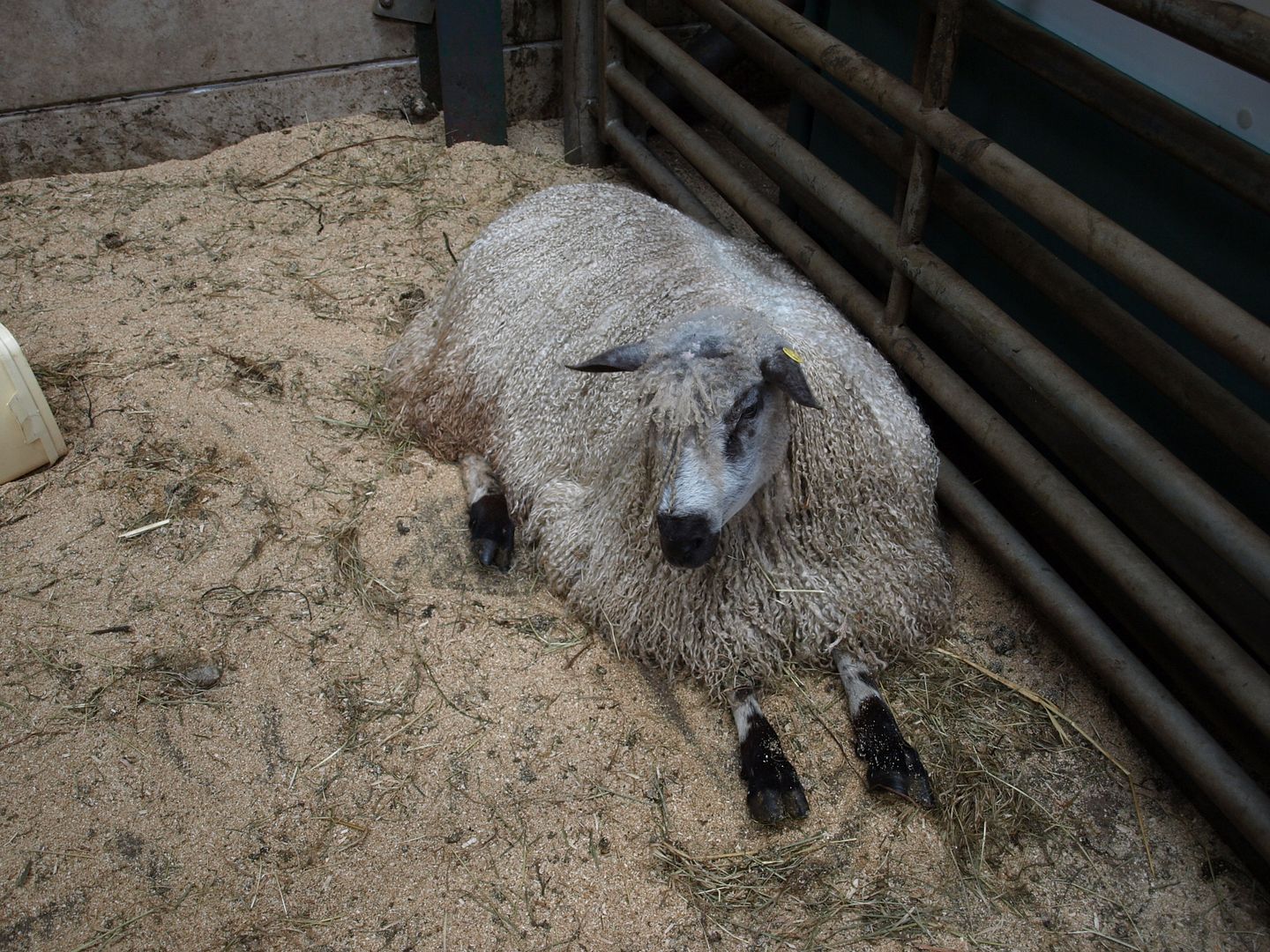 No idea what type of sheep these are, they may even be goats. I am not sure. They have lovely curly fleeces, and ears that look very very soft.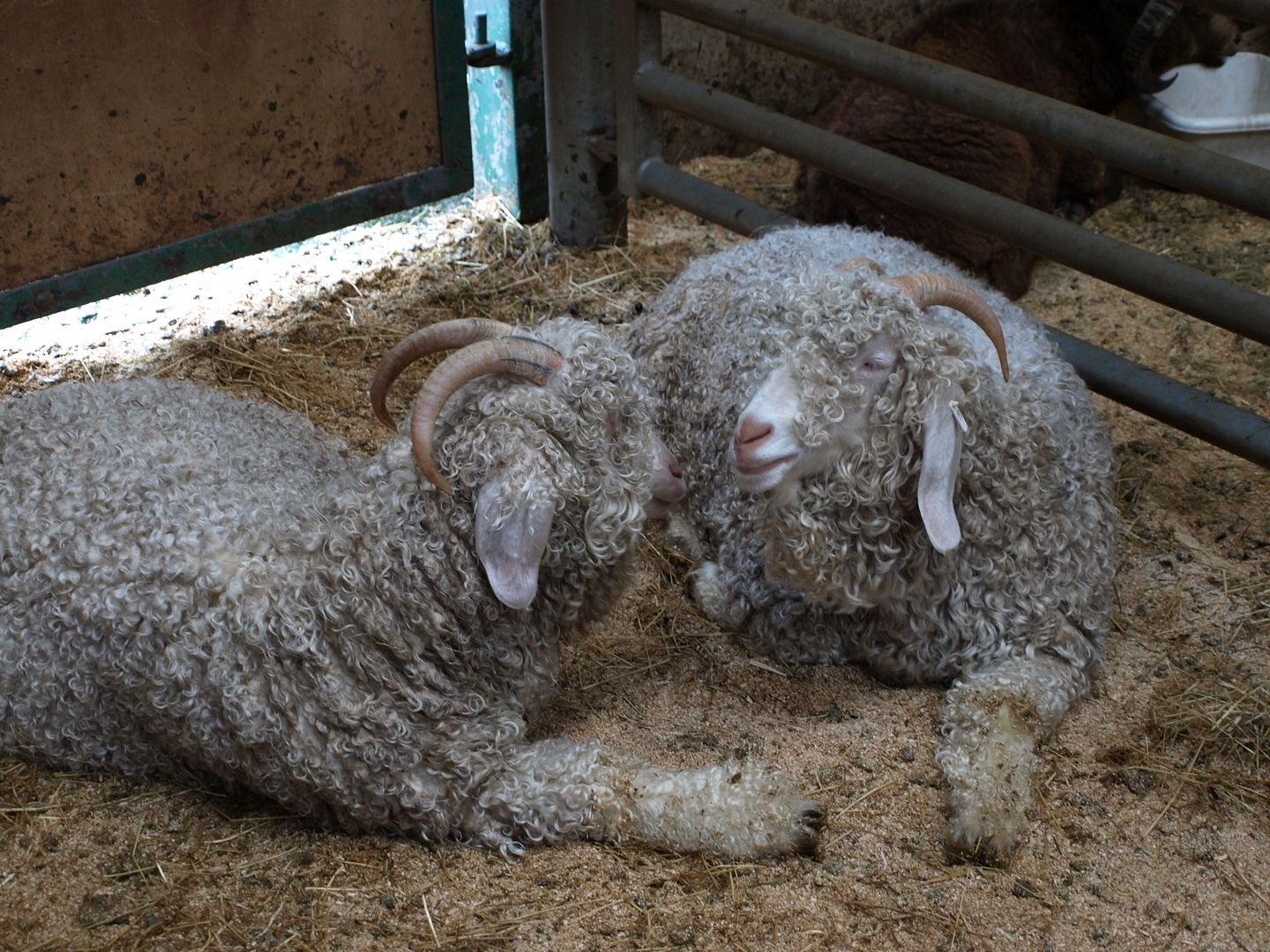 Alpacas! I love alpacas especially after they've been shorn because they're all stripy as a result. Couldn't get them to do a standing photo I'm afraid.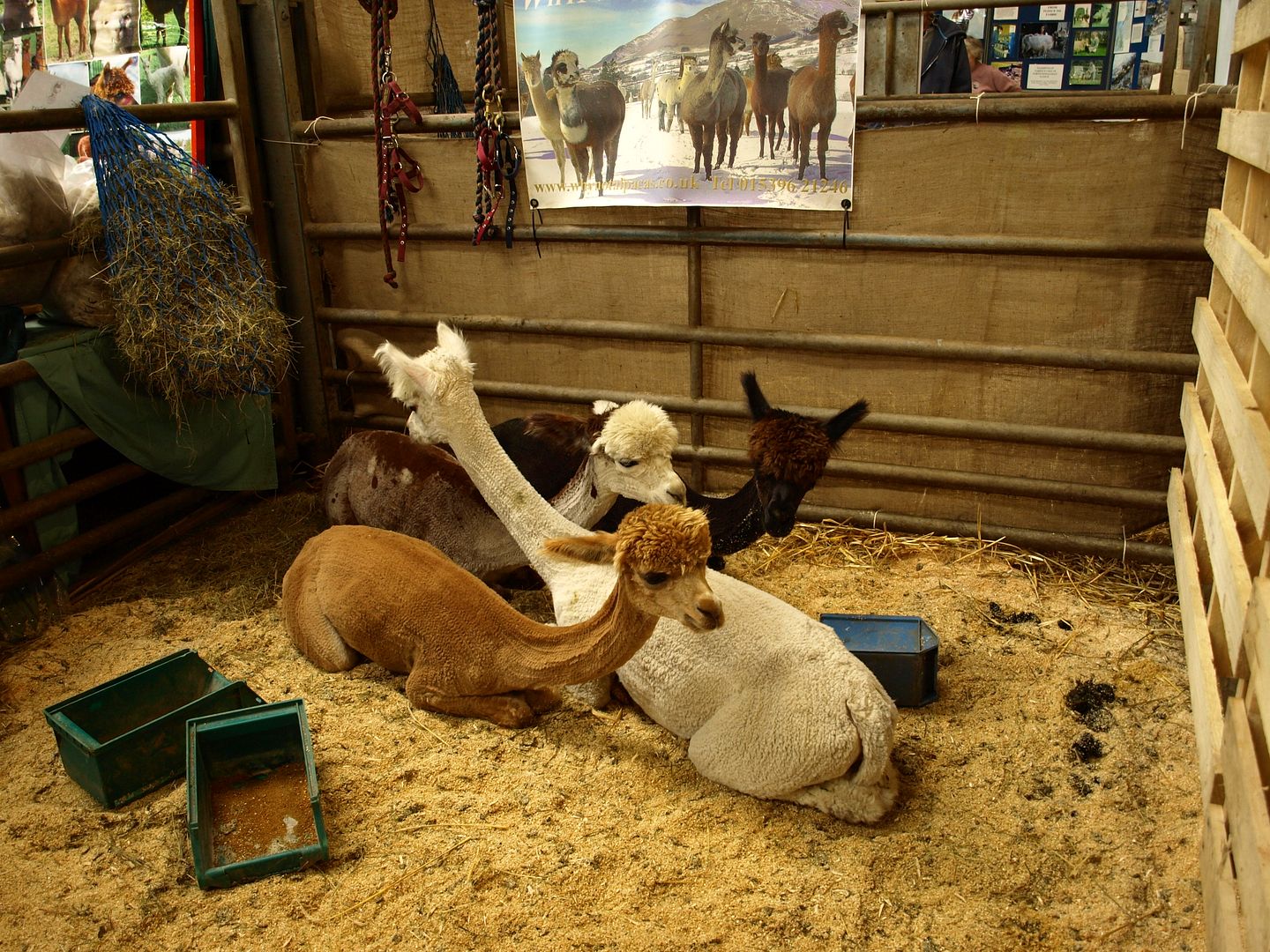 Ready for some more yarn? Ok.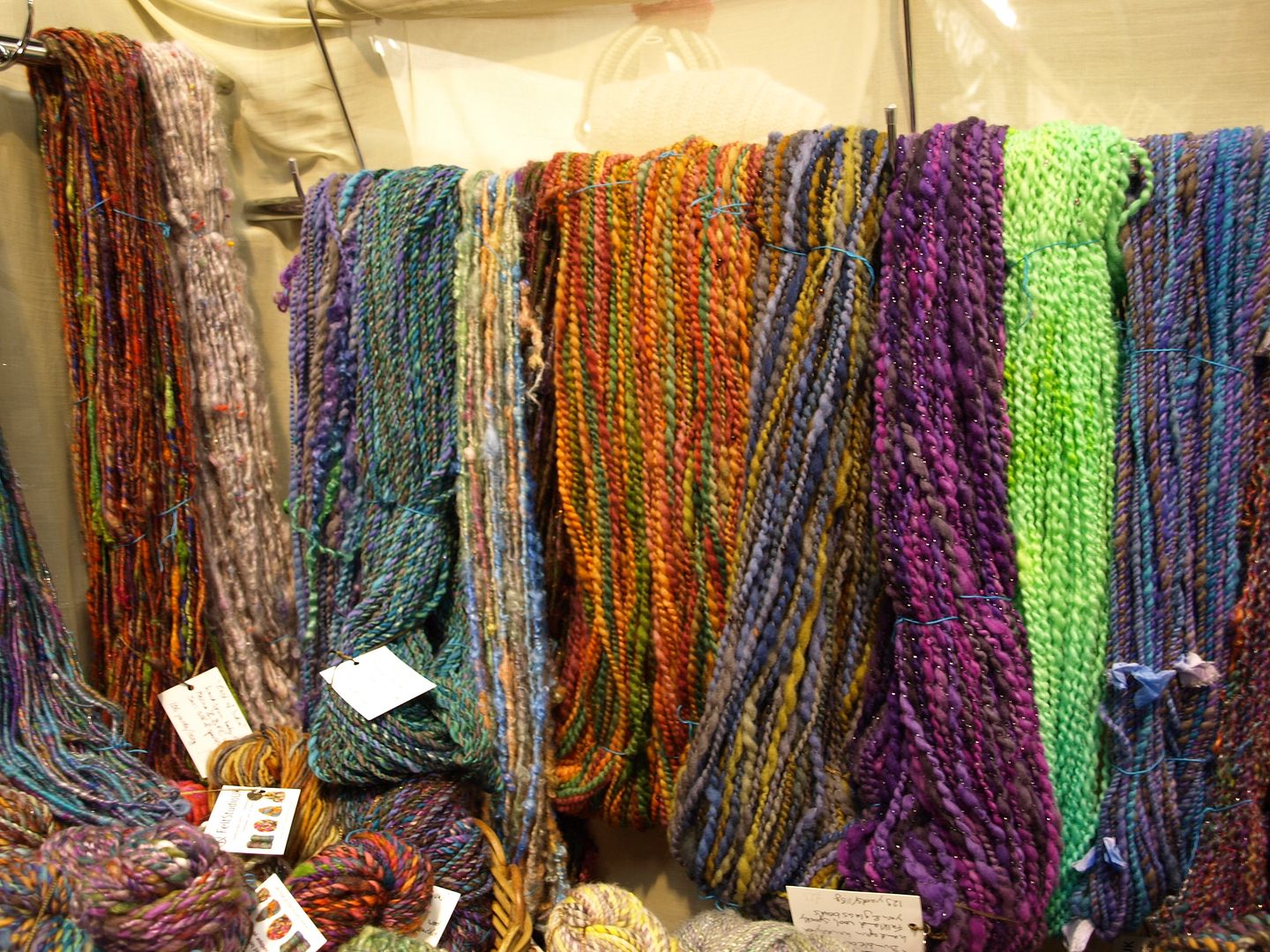 This is my favourite skein of the whole day. I think this may be the most beautiful handspun skein of yarn I've ever seen. This would definitely be one just to stroke though because I can't imagine what a knitted item would look like with it! But it's fab. This was made by Felt Studio UK.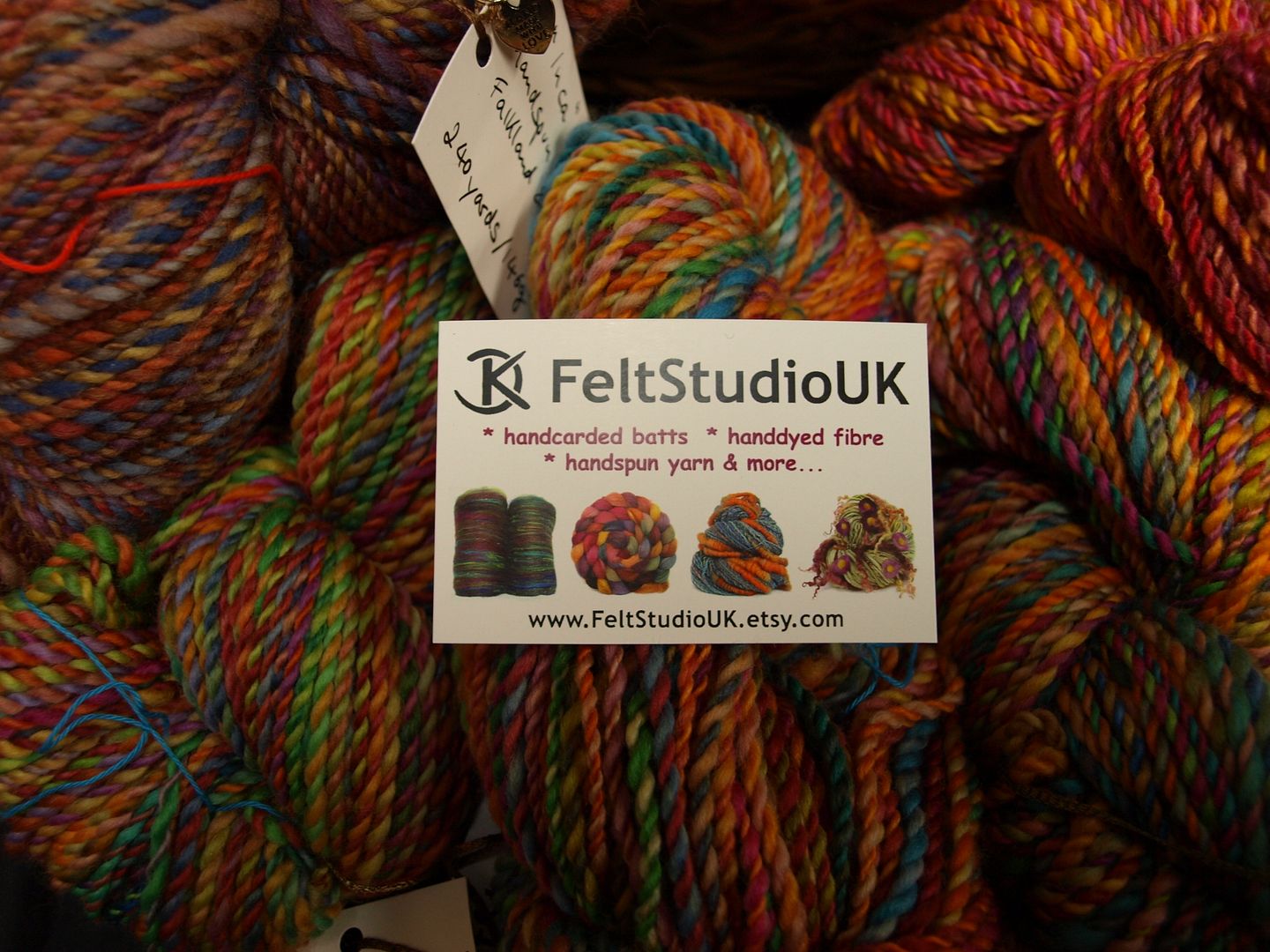 Aaahhh yet more yarn that I want to cuddle! There is so much of it too. Again no idea of the stall name or any other details but this is space dyed yarn or something. Either way it's lush and I even went back for a second sneaky snuggle of this later in the day. Oh hang on, I've just found the card – it is Knitting4fun from Nottingham.
I would have loved to have taken Andy a felted Bee home but as he doesn't like the feel of anything woolly it would have been a waste. Aren't the animals sweet? Felted mussels, who'd have thought it?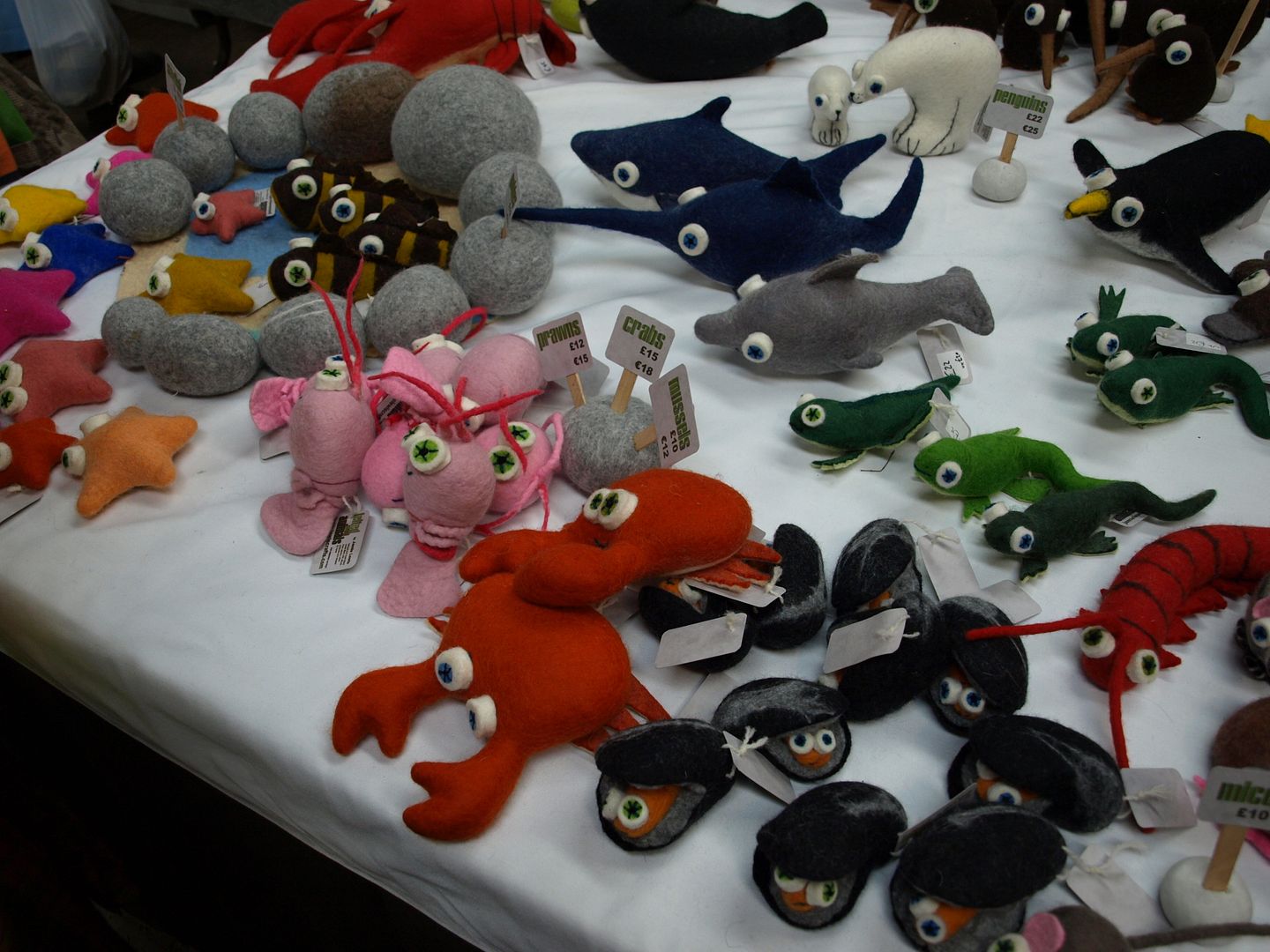 My only criticism of Woolfest is that it is just not geared towards crochet. Not at all. There was one stall that sold crochet hooks, including Tunisian crochet hooks, there was Inside Crochet magazine stand (selling magazines) and then these two blankets as part of another stall. That was it. It's not a crocheter's event. The only yarn for crocheting really was Laughing Hens. In one way it was a shame because there wasn't anything I could buy, but on the other hand it meant I didn't feel guilty about not spending money. It was a treat to go on the trip and I didn't have anything surplus to spend.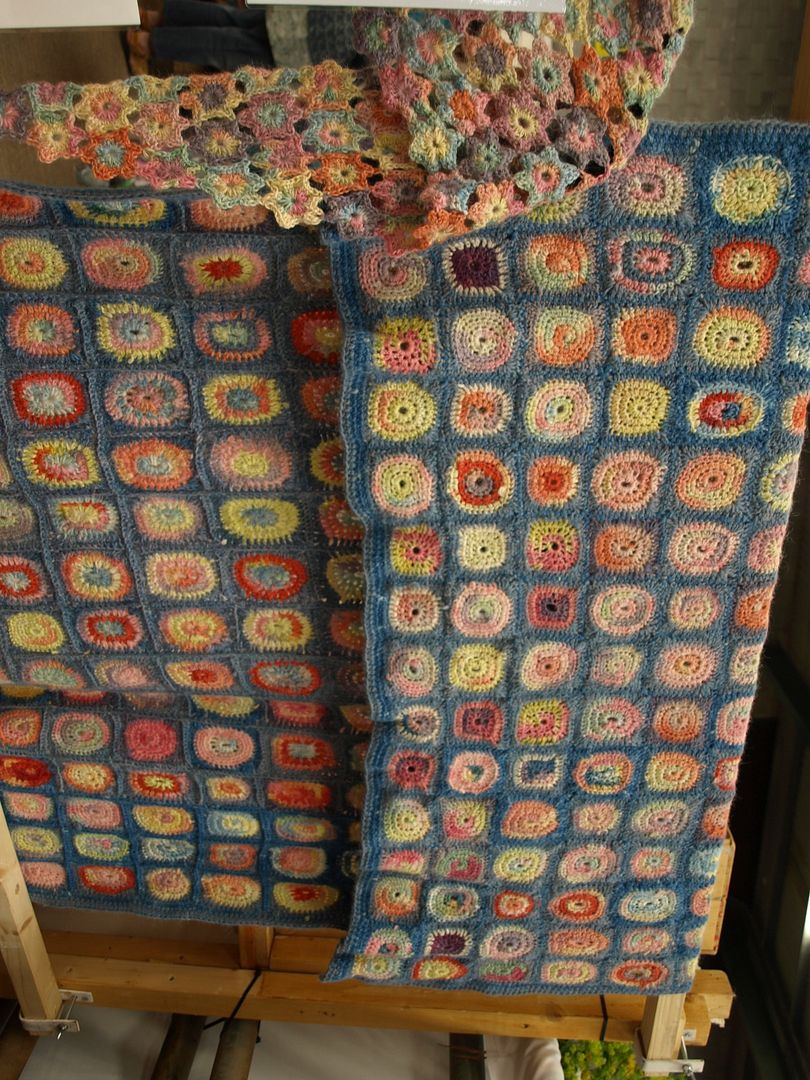 This is a clever idea though, pantone-style yarns. This is John Arbon Knit by Numbers
I did actually buy some yarn from this stall, although not the Knit by Numbers yarns. I bought three skeins of Alpaca Merino Nylon in the dk weight for £3 a skein. I was very taken with all the natural coloured yarns I saw so I was pleased to get some. It's nice to get something a bit special and it's nice that I could afford it. I appreciate that a great deal of work goes into spinning and dying all the yarns that I've shown you here today but they're all so out of my pricerange. I think if I was a good knitter, and I was going to make something lovely with some yarn, I would save and splash out but apart from that I really can't justify £24 on a skein of yarn.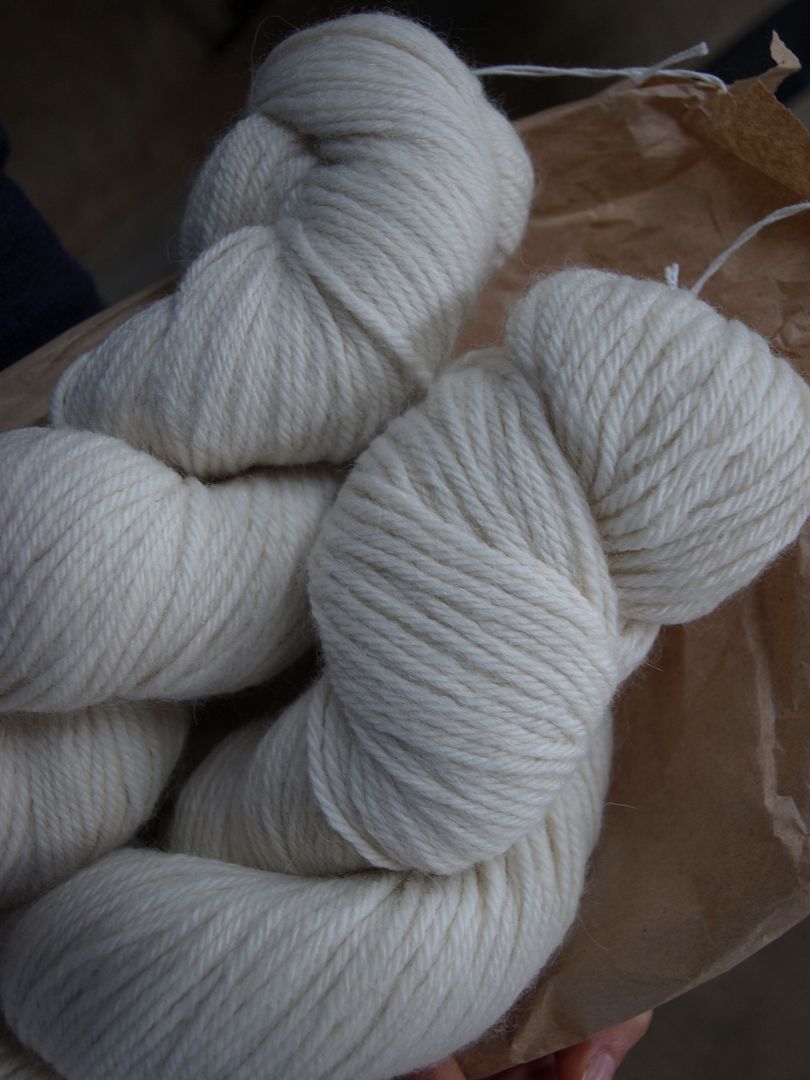 At 5pm the coach left and too us home. The only downside of coachtrips is that you're governed by when they leave. I could have been ready to leave at half 2 or 3 really. Plus it was nackering fighting your way through the crowds! We found a sofa in the end and had a nutritious snack of jaffa cakes and a good old natter (love nattering with Rach actually) before a final look round the stalls.
I even managed some crochet on the way home, before I fell asleep.
It was a really fun day and it was great to see so much – dyeing, spinning, weaving, looms, buttons, roving, carding, hanks, knitting, skeins etc but I would have parted with more money if there had been some more mainstream yarn there too. It didn't cater for crocheters and the focus was really on yarn for shawls and socks, as well as things like spinning and dyeing equipment that is harder to come across in shops. Unless I become a lot better at knitting in the next year I personally would give 2012 a miss, because it was a long way and a very long day (almost 9 hours on the coach in total) for not a lot of products that I could buy. I recommend going though, but personally for me I think I am more likely to get my yarn online like usual, and perhaps go to Create in Ilkley to get some Ba'Tat yarns. I was most taken by the Ba'Tat yarns out of everything there so I'm pleased that they are local and nearby.
If you get the chance to go though, you should do, it's a great experience.
Here are some tips for you if you do go:
– Be prepared to queue for 20 mins to get to the loos
– the vegetable lasagne was immense
– don't take a lot of bags round with you, you will not be able to move and it is hard work carrying everything for 6 hours
– take lots of cash as most stalls don't take cards and there is no cashpoint there
– walk around first before deciding what you want to buy
– there are lots of people who were very er, enthusiastic about Woolfest. So enthusiastic that they lost all sense of manners and personal space. Don't become one of these people because you just look rude. I really hate being shoved around in crowds particularly when people would normally have manners in a different situation. Politeness and consideration go a long way.
– wear comfy shoes :-)