I love visiting Home. The last time I visited was in January and it has been a l-o-n-g six months I can tell you. I've taken this last week of work, and on Tuesday morning I caught a train to come here and continue celebrating my birthday. I know, a week long birthday is a bit greedy but really, it's just an excuse for us all to have fun together and go out and things like that.
It always feels like such a treat to drive about the Northamptonshire/Oxfordshire countryside. It's simply stunning this time of year. Northamptonshire seems like a bit of a forgotten county in lots of ways and I'm really glad about that. Yes, Northampton itself is a bit of a dump and there is plenty to dislike about county but those are the parts we never go to. No, the beauty of Northamptonshire (south Northants in particular) is the gorgeous countryside, the farmland, the open spaces, the woodland, the way the old houses are built from local stone that changes even between villages. Stone in Sulgrave is creamy grey but just a few miles away in Great Bourton it's a wonderful deep orange ironstone. (I'm including North Oxfordshire here too.)
The countryside is very different from where I live in Yorkshire because it is mainly crop growing farmland. In Yorkshire it's a harsher landscape and doesn't lend itself to food crops, so it is mostly used to farm animals. The crops here look a little different this summer as it was declared a drought zone this morning. The wheat has not grown very high and the oilseed rape is either not flowering or has already flowered because there are no bright yellow fields for miles around.
On Wednesday, Grandma took me out for the morning to have coffee at Stowe. Spending time with Grandma is one of the things I miss most of all about living far away from home. The sky was blue but full of clouds. The journey to Stowe is one of my favourites – all through back roads and passing through villages. Each village seems to be having a church fete next weekend! You could feasibly hop from one village fete to the next on that day. Except I won't be here by then – boo.
Our family has been coming to Stowe for as long as I can remember, since I was about five I think. Given my recent birthday, this would make us Stowe patrons for twenty years. On Wednesday, we were the only people in the cafe/restaurant. We didn't go for ENORMOUS CAKE this time (biggest cake slices you'll ever see, ever in your whole entire life) but instead tucked in to toasted teacakes. A teacake to me is a sweet white bun with spices and dried fruit in it. Eaten toasted, with butter. It is not a savoury white bread roll in which you would put a burger, or make into a sandwhich. (To me, that is a roll. A bread roll. Not a barm, bap, breadcake, stottie, buttie or teacake. A roll. That is all I have to say on the matter. Yes Ellie, I am looking at you!)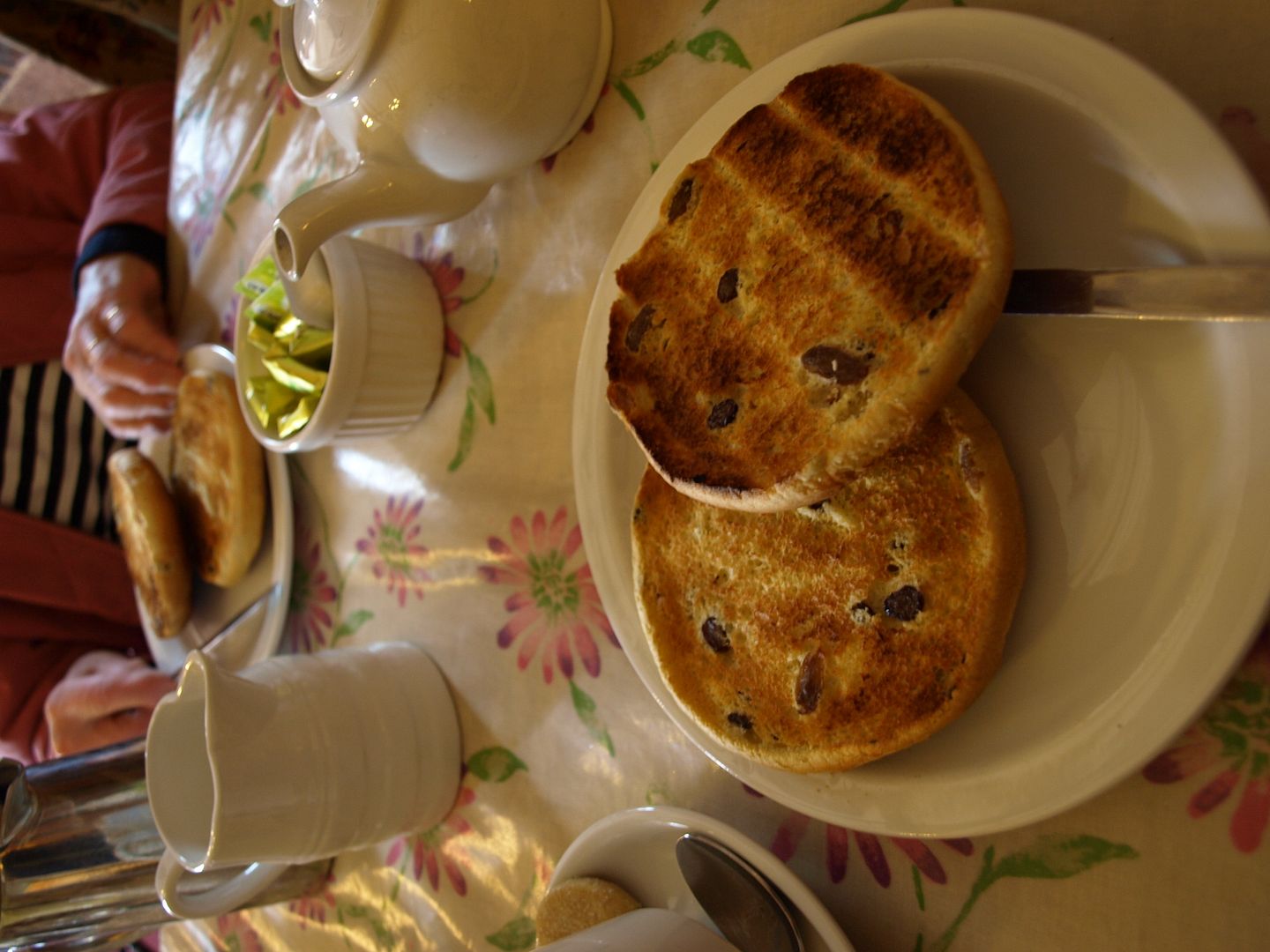 Toasted to perfection.
While we were eating our toasted teacakes, the heavens opened and we had a ten minute torrential rainstorm. Fortunately it ended quickly and we went on our way. We had a brief home-or-not discussion and decided to go to Heart of the Shires for a mooch around. This used to be a rail station but is now a complex of shops. There is a cookshop there and it is the same one that my mum works for, only at a different location. It's very pretty: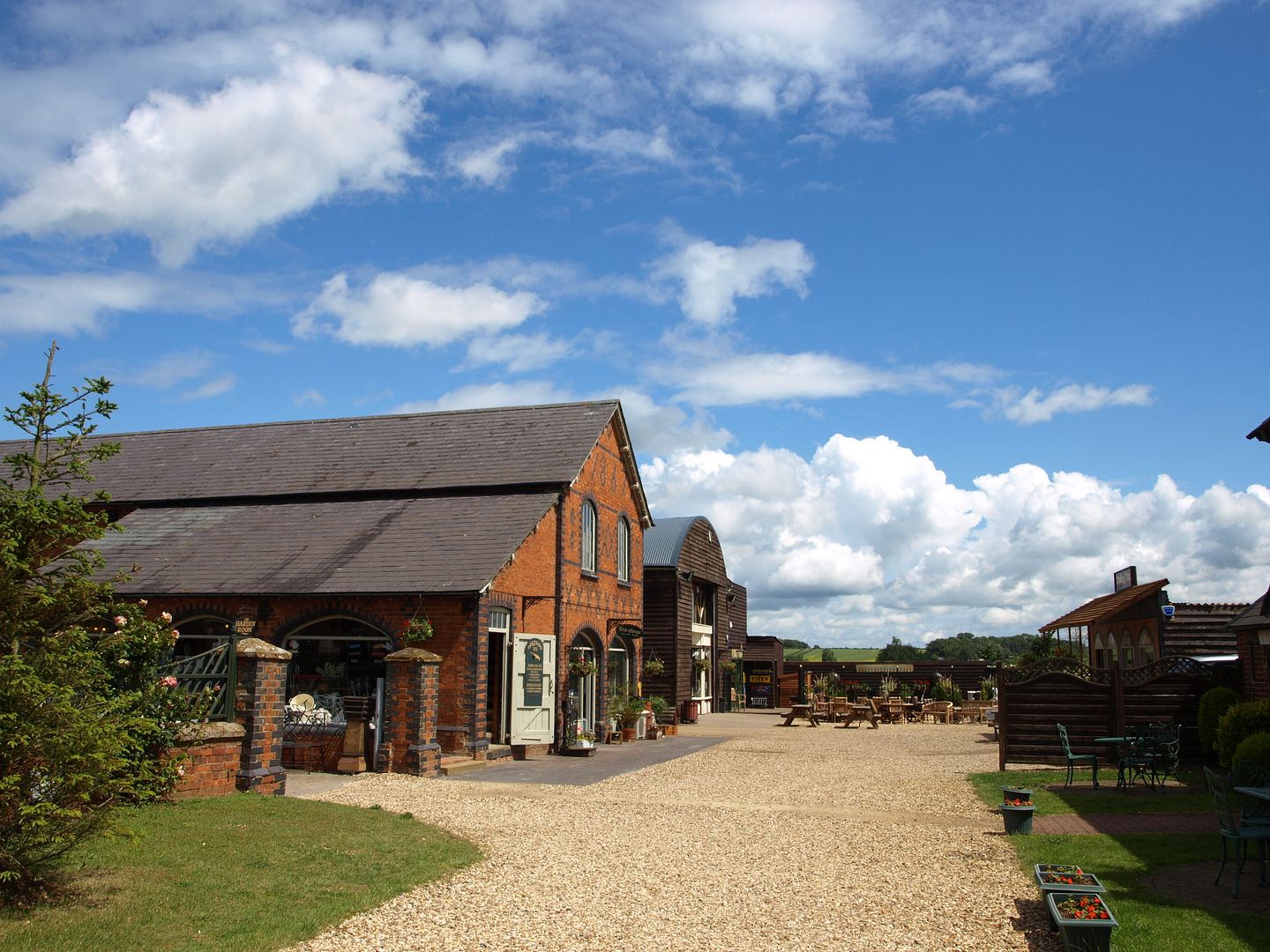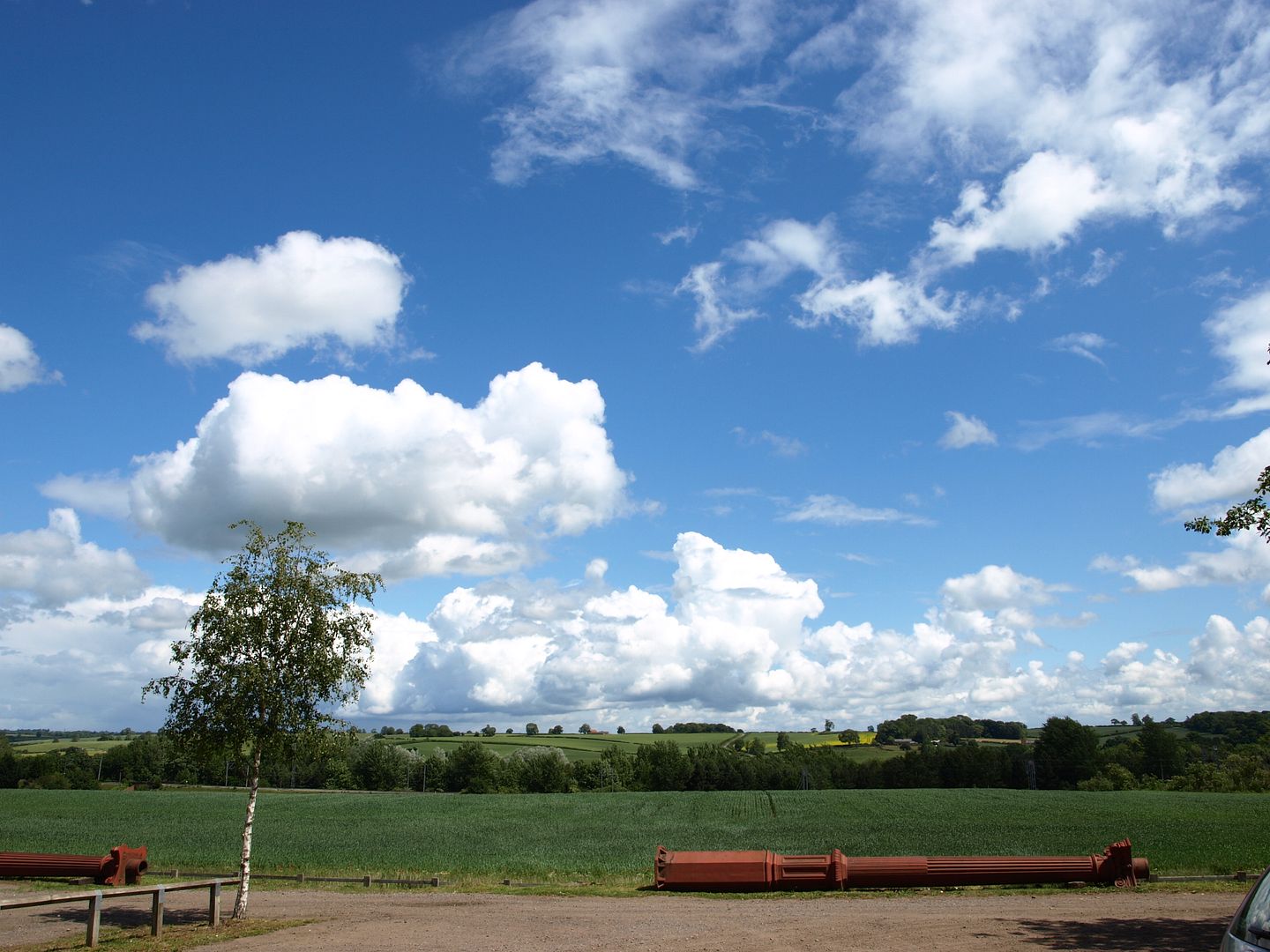 The West Coast Mainline runs along there, between the field and the row of trees. Lots of trains went past :-)
After this we drove home and on a whim picked up Rachel and Patch (my sister and brother) from home and all went for an impromptu picnic lunch at Grandma's house. Just lovely! Simply family things are the best really. Often impromptu things are more fun than planned things aren't they?