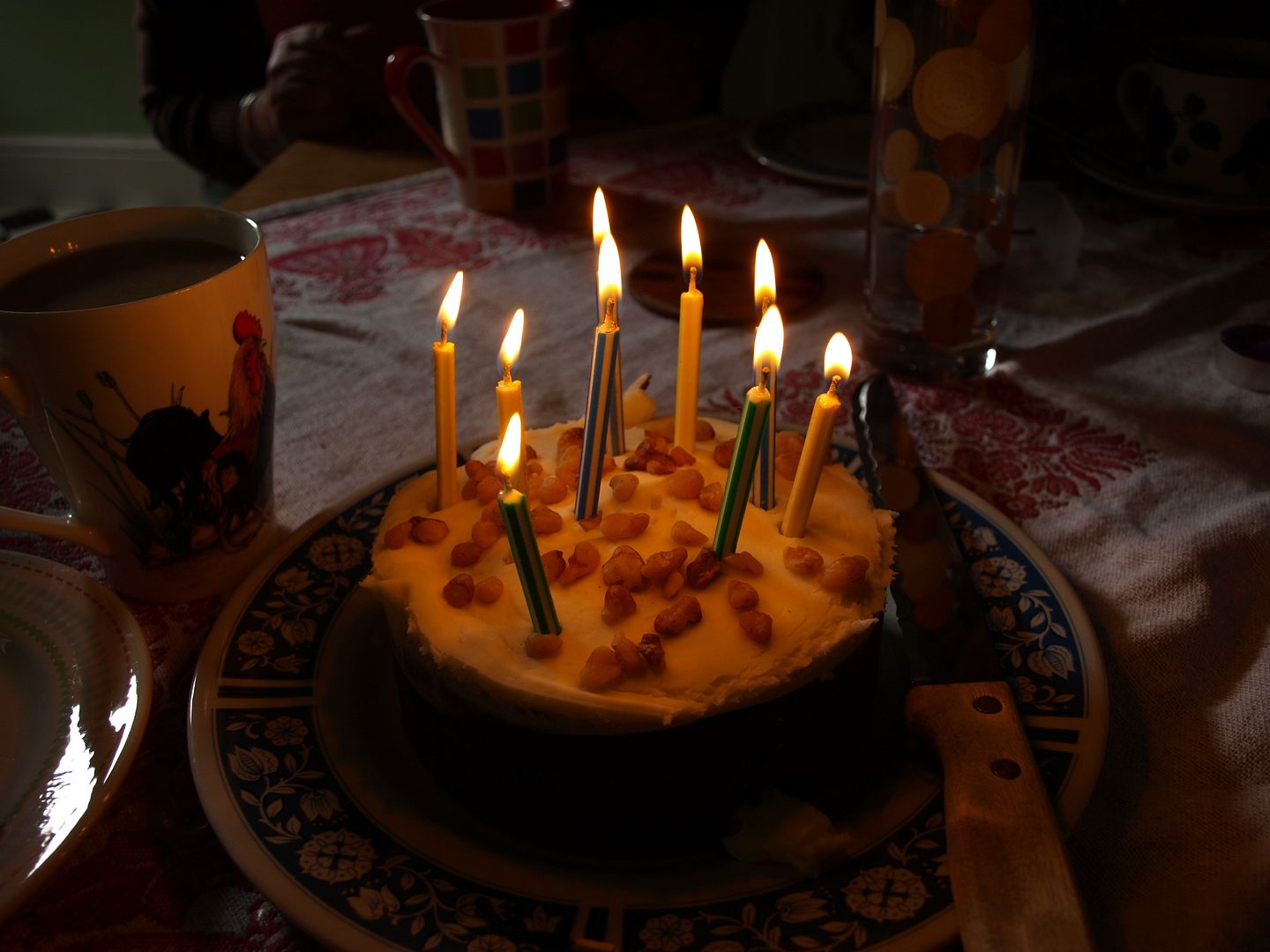 Thank you for all my Happy Birthday wishes on my meadow post, it was lovely to log on this morning and find them all in my inbox :-) Thank you Jacquie for identifying my mystery flower as Goat's beard – have a gold star!
So today – Birthday Business. It has not actually rained yet which is a blooming miracle – the only year I can remember in the history of forever (ie, my entire life) that it has not rained on my birthday is 2006. On my 14th birthday I went on holiday to Menorca with a friend and her family and for the entire week we were there, the ONLY day that it rained was my birthday. So I would like to go on record that as at 18:05 pm it has not yet rained on my birthday.
I've been a lucky lucky girl with gifts you know. Yesterday I went to visit Rach in Leeds and she has knitted me an Ishbel scarf! Well, it's a mini Ishbel scarf, or an Ish but no Bel (Ishnobel?) scarf. Very cute! Here is me modelling it. I like this photo as I believe my face looks slimmer in it. I am attributing this to deleting bread from my diet, and eating half the amount at my evening meal. Regardless of whether it's made any difference, the photo looks good and I like it, so there.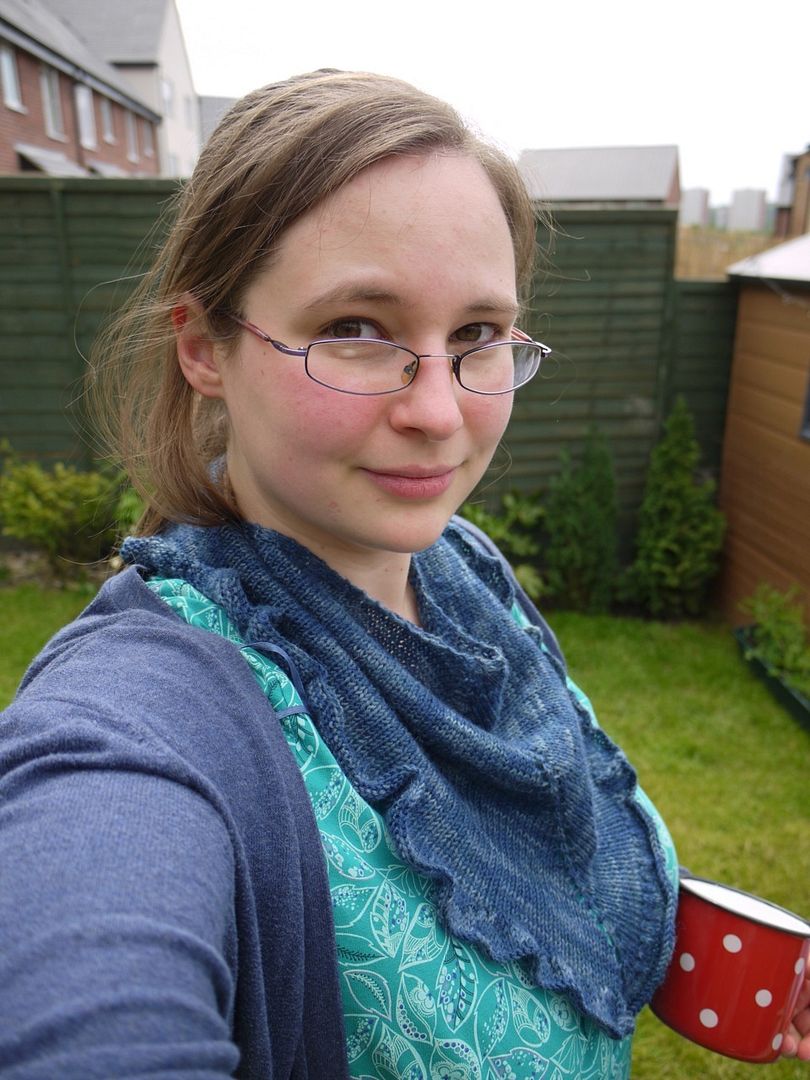 This morning, I met Ange and Lucy for coffee and birthday presents. Yay, presents! I'm not going to lie, it is lovely to receive presents on your birthday and opening gifts that just … keep … on … coming and are wrapped in dotty blue paper is really fun and made me feel humble/thrilled in equal parts.
Oh my goodness. Do you like my rabbit? Lucy made her for me, she is called Flora Bunny and ooooh, she is just so super cute that I went "eeeeeeeeeeee!" Here is a better photo for you: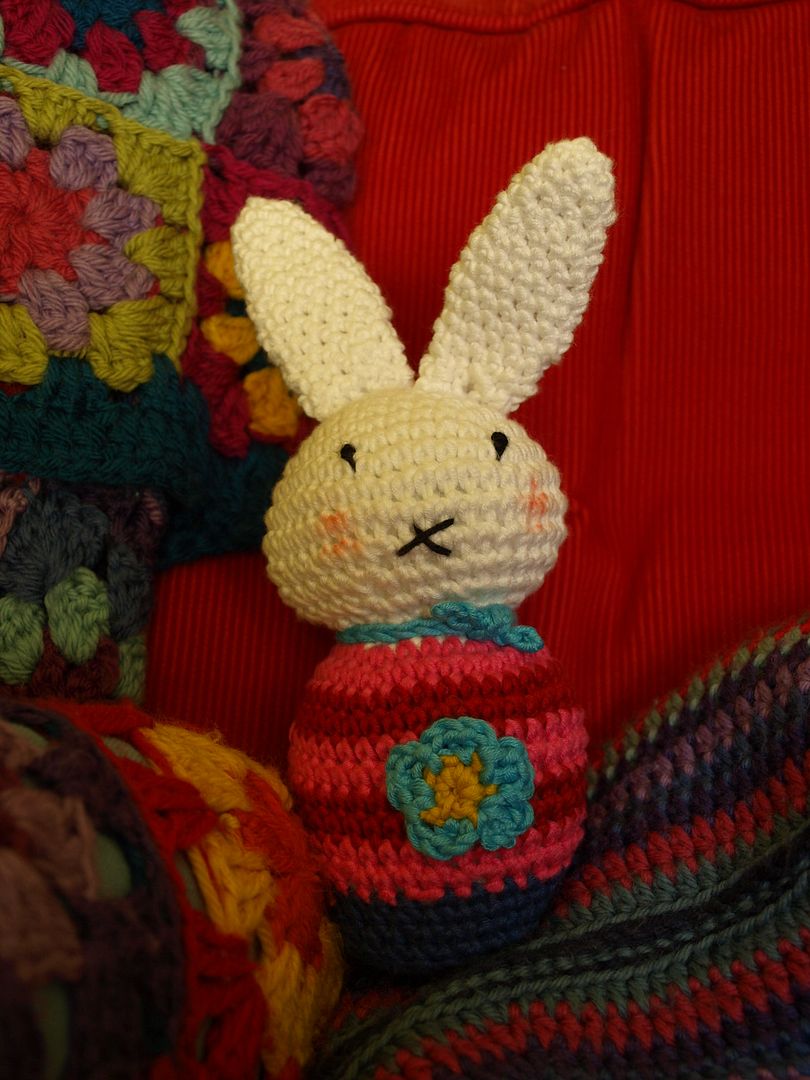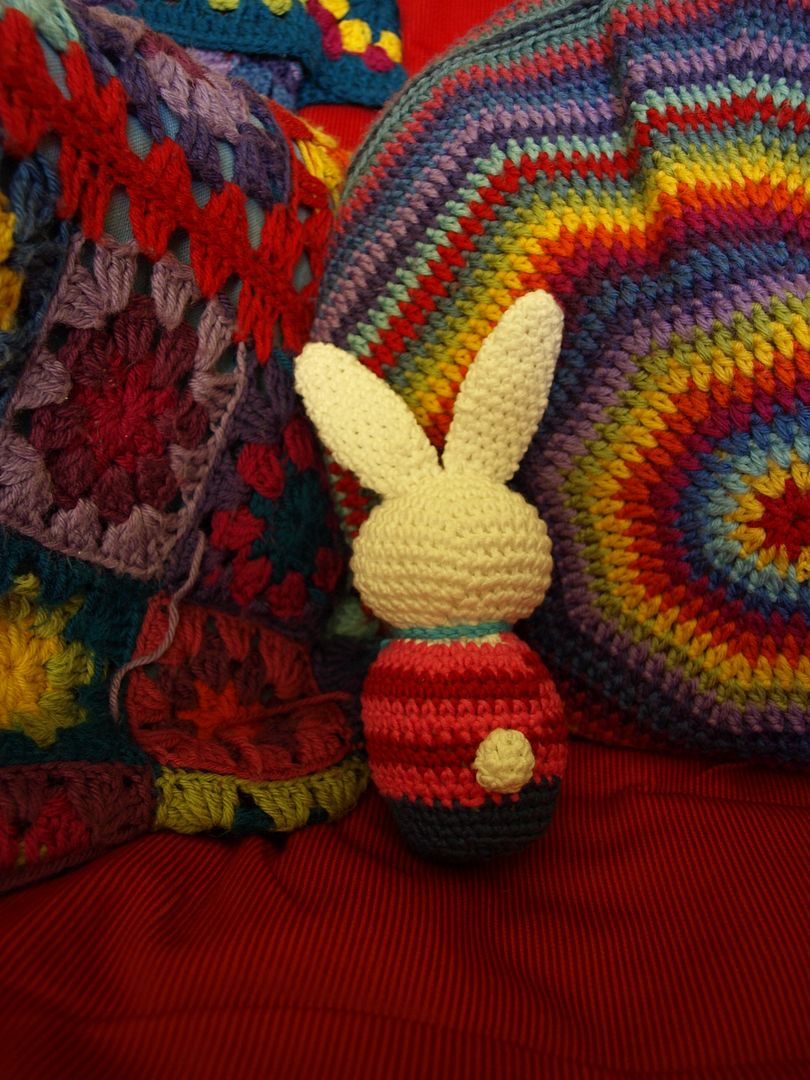 Look at her little tail! aaaaaah I LOVE her! Thank you so much.
Speaking of rabbits, my two big girls are moving house today, into the garden. Hurrah! We have discovered that house rabbits was a truly rubbish idea. It has also become apparent that whilst they do love each other and sleep snuggled up and do groom each other, that it is no longer possible for them to live together. One is a normal sized, slender bunny and the other one is a lardy food gobbling monster. No prizes for guessing what's going on there. Also, despite the fact that they are both females (I have checked this twice!) Bramble Will Not Stop Humping Parsnip. She is asserting her dominance over Parsnip, who seems happy enough to be the underdog but is NOT happy with being humped all the time. I think that they will be much happier if they live in separate cages but continue to have supervised play together. In the yard. Away from things including but not limited to telephone cables, Andy's shoes, my headphones (RAGE), yarn (like spaghetti – had to pull it all out, yuck) any paper items, the dustpan and the rug.
In my hallway is an enormous double hutch. It was delivered today and is so blimming big that I can't lift it on my own and I cannot move it from the hallway. In fact, it is so big that it will not fit from the hallway into the dining room into the kitchen and out into the yard. When Andy arrives home we are going to have to take it out of the front door, up the hill, around the houses, down the back street and in through the gate. Awesome. It will be so worth it though. I'm going to sell the indoor cage on ebay so if you fancy it give me a shout in the next week or so.
After the hutch was delivered we went and had a lunchtime tea party at Ange's house, joined by Sam, and had tea and cake and they all sang Happy Birthday to me.
This evening, me and Andy are having a designated non-healthy eating night and are having pizza from Marks and Spencer's. My favourite – chargrilled vegetable. Ooh I can't wait. Then we are going to watch X-Men: First Class at the cinema. Again, my choice and not Andy's but he is lovely and wonderful (and is buying me new headphones at lunchtime!) and taking me anyway.
Do you know, it really doesn't feel like ten minutes since I was writing about my birthday last year – our first visit to Bolton Abbey, a trip to York and buying a Matthew Rice tin. Time really flies. Mid twenties. Quarter Century. Holy Moly.