We live splendidly close to the Yorkshire Dales but as yet we aren't familiar enough with said Dales to simply drive into them, park, walk, not get lost, find car, come home. This is one reason why Bolton Abbey is so wonderful, and so perfect, especially if you have family visiting who desire to see a little of the Dales. On the Friday afternoon at lunchtime, I didn't need to persuade anybody very hard to come out here. I'm so glad we did. I just HAD to show my mum and Rachel Bolton Abbey, just had to.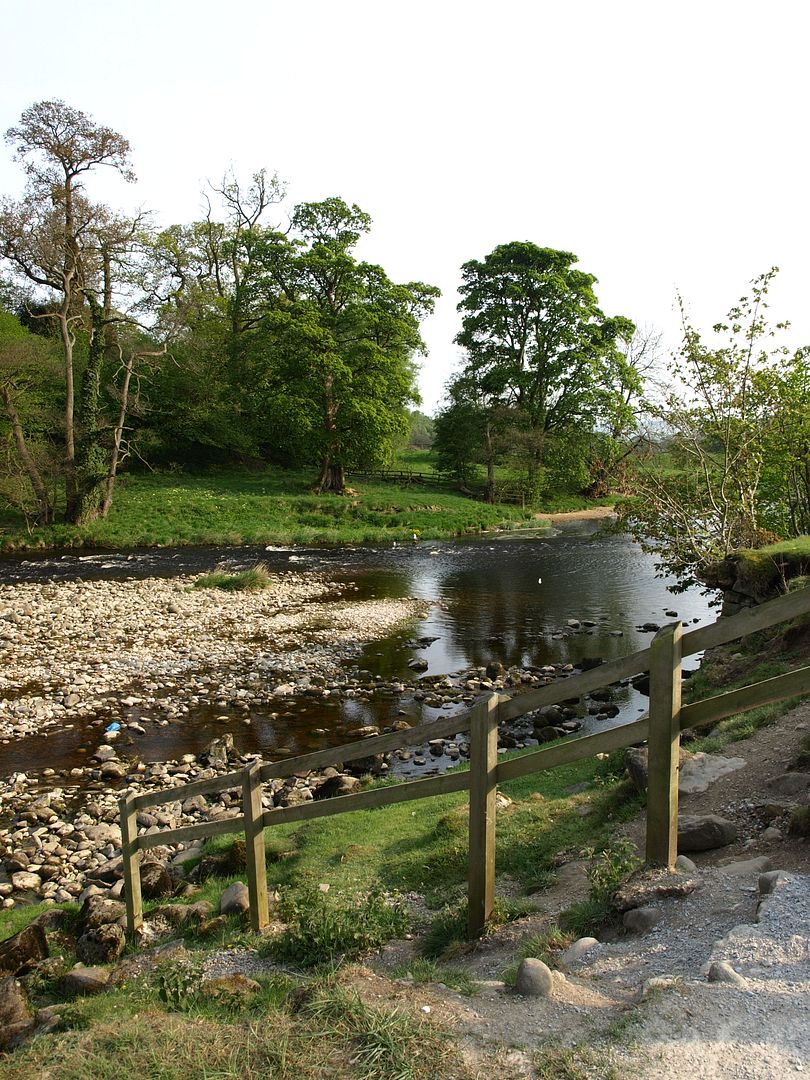 It was late in the day and the carpark man knocked £2 off our parking fee as we only had a couple of hours before the carpark closed. Lovely. We had a restaurant table booked for 7:30 so this was longer than a flying visit but certainly not a day out. Late in the day meant that we had glorious golden light all over again.
I'm happy to say that they were suitably wowed, as I knew they would be. How can you not be wowed by such a beautiful place? We chose to cross via the footbridge rather than the stepping stones, beautiful though they are I didn't fancy slipping and having a swim!
I led the way up the step path rather than the path that follows the river as I desperately wanted us to see the Money Trees. Oh I was so looking forward to them!
Yes yes yes! oh LOOK we aren't too late for the bluebells! Fantastic! yay for bluebells!
I took photos of all the bluebells I saw and as we got deeper into the woods there were just more and more, it was wonderful. Bluebells contributed greatly to the 909 photos in April ;-)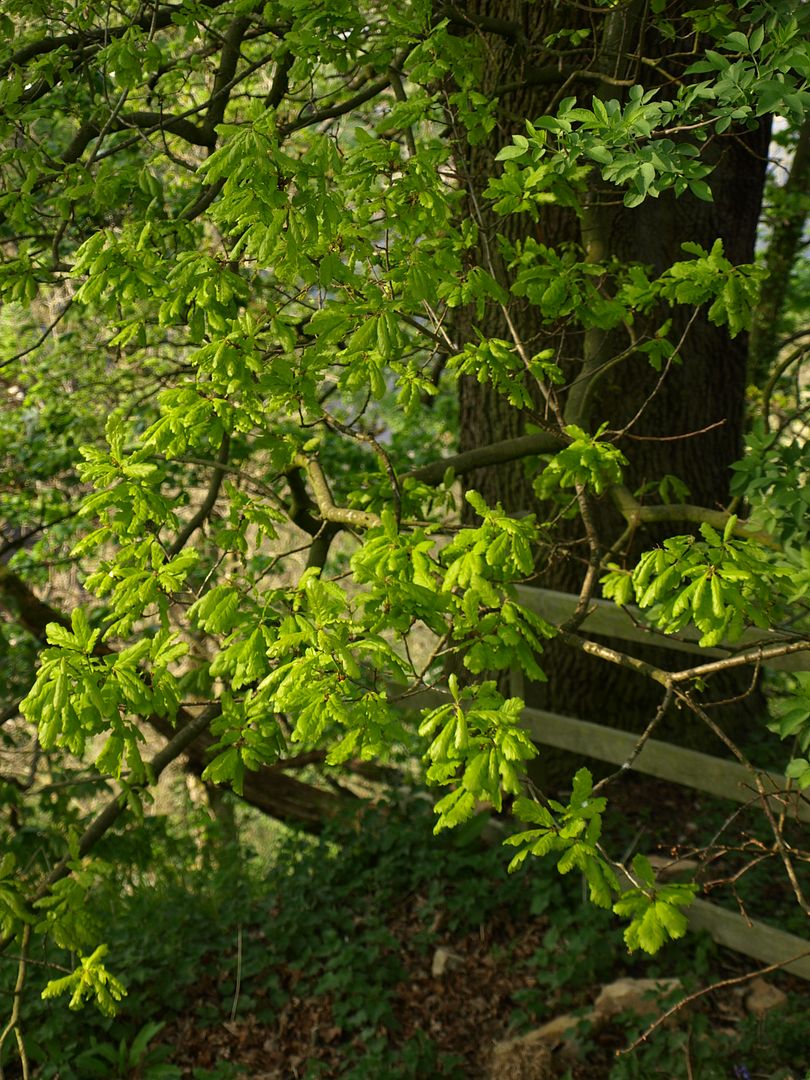 Everything around is is so green, so fresh, so new. I'm a little overcome by how spring-y it all is, it's so lovely to be out in the countryside with trees and flowers. Our town is not very urban, in fact it is very rural and does have a lot of trees, but oh yes, I'd forgotten how good it feels to be really outside. Albeit following a path, you know what I mean.
We're quite high up now and I keep turning back to take photos of the Abbey, and How High Up we are. See the drop?
Everyone is ahead of me. Rachel loves to take photos too and she's stopping to snap things that she sees: a tree with roots exposed propped up on a pile of stones. Wood anemones. Bluebells. Green leaves. Her shoes. Even she is ahead of me though. I try to catch up but am stopped in my tracks by a Rowan tree.
Hi Rowan tree! You have frothy white blossoms now my friend but soon you will have proud red shiny berries!
One of my all time favourite childhood books is called The Sheep and The Rowan Tree. Remind me to show you sometime, it's packed in a box here somewhere.
Can you see how high we are? That's the river snaking through the fields far below.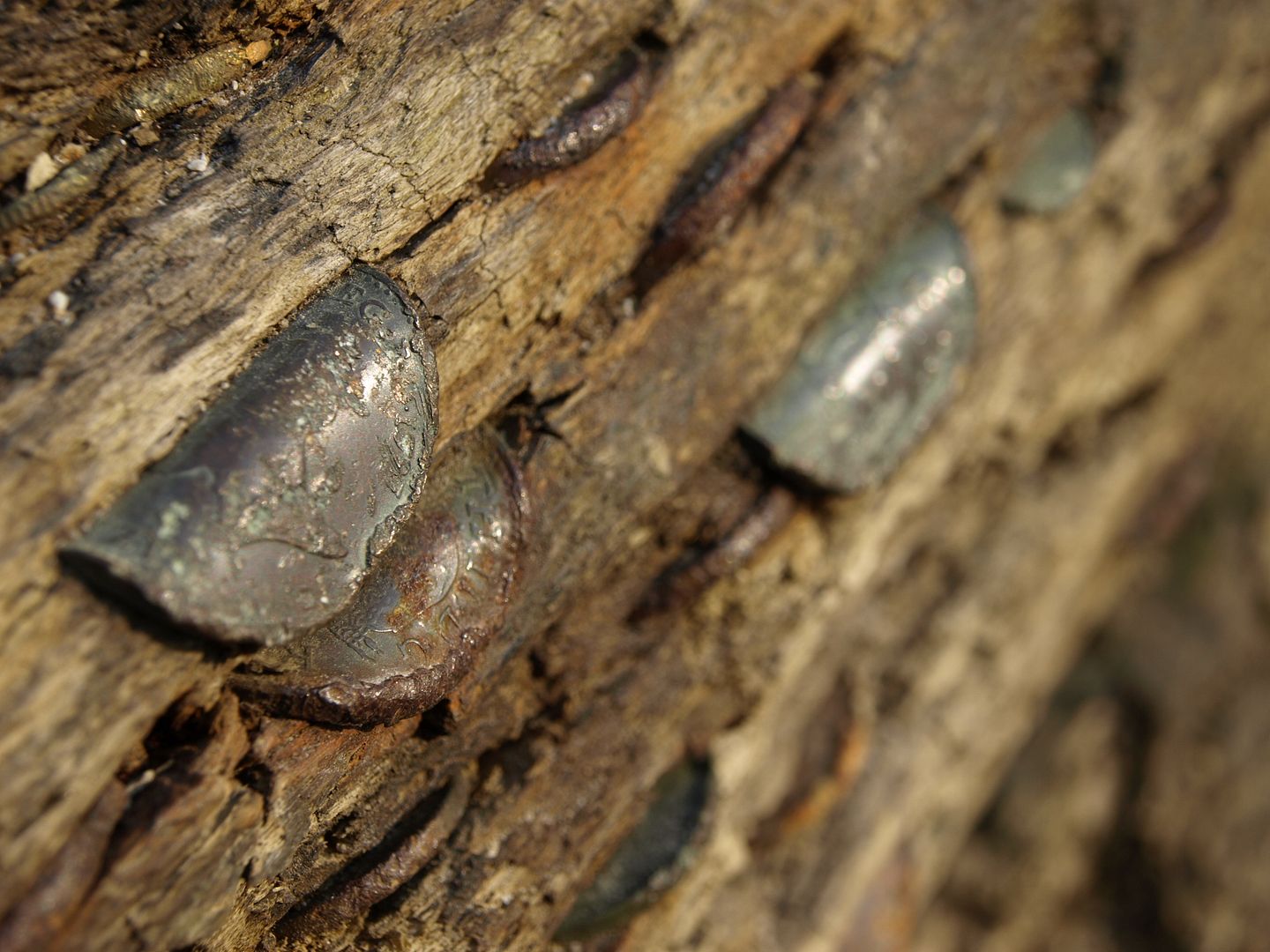 Before long, we reach the first Money Tree. Gasp! Wow! Really? How do the coins get there? Seriously? No way! Yes! Let's make a wish, all of us! ok! Quick, everyone, hold out your hands I want to take a photo! Hurry up! Does wishing with a 5p get you more wish-magic than a penny?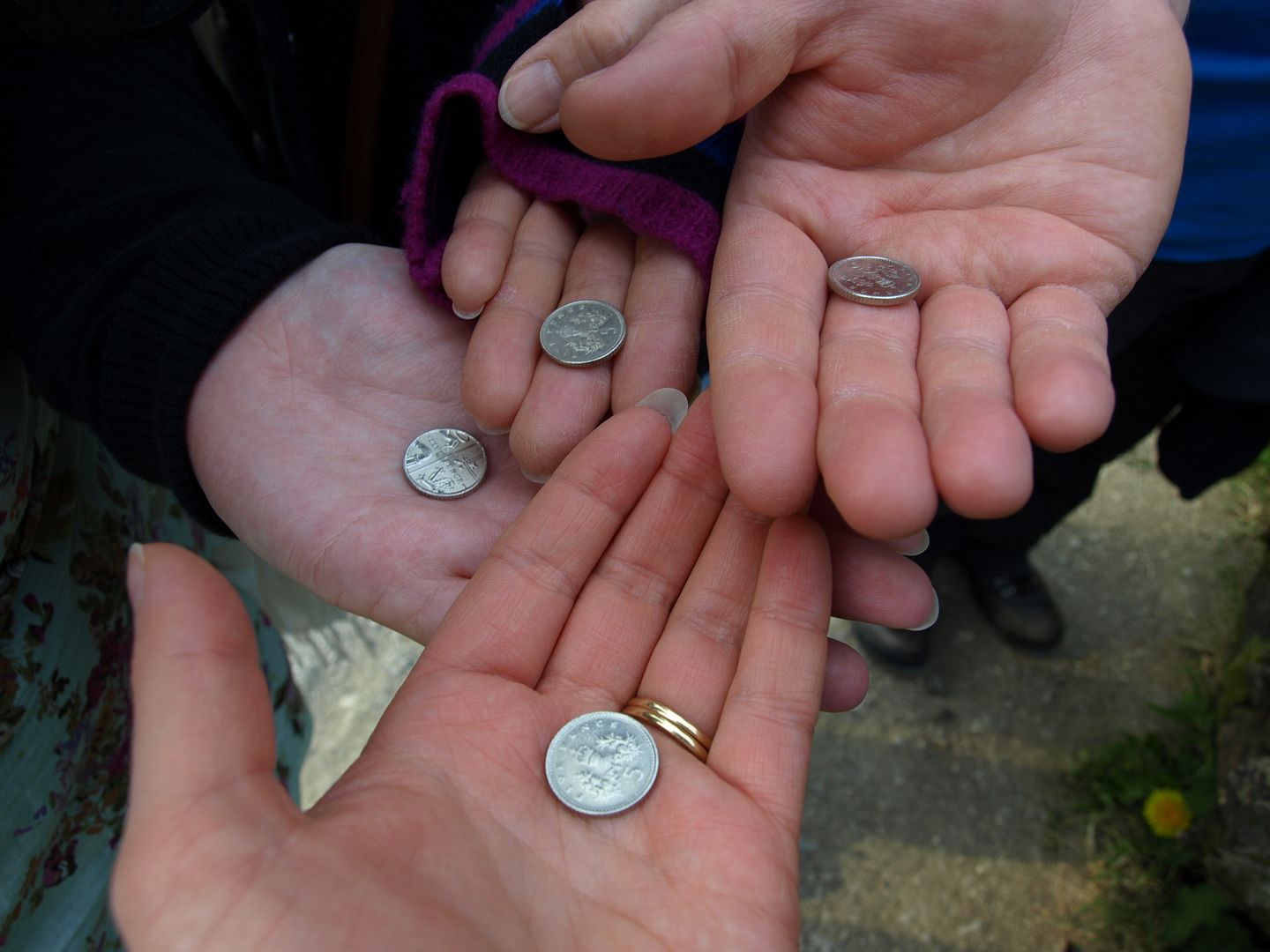 We push the coins as deep-as-we-can into the soft bark of the tree and wish hard, hoping that nobody will steal our shiny five pence pieces from the tree.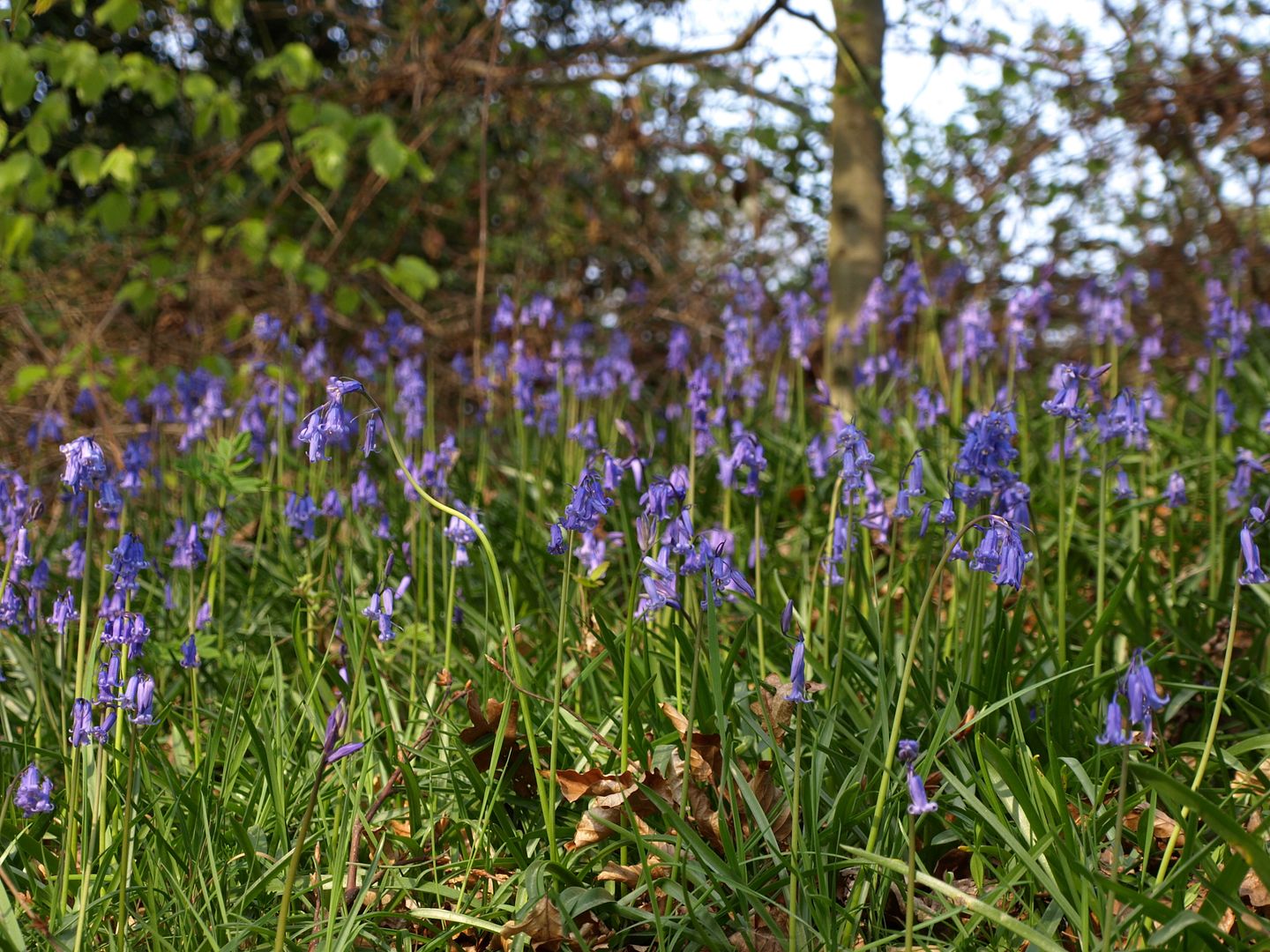 We continue onwards, the path twisting round corners and through drystone walls, each corner turn yielding bluebells more thickly growing than before. I do so love the bluebells. While we are walking my mum is pointing things out and naming the plants, the trees, the calls of birds. I feel sad that it's been so long since we've been out like this, and so happy and grateful that we're doing so now, and in a place where I live. I feel proud to live in such a beautiful place and just so happy inside that they've come to visit us and we've brought them here. I can't stop smiling.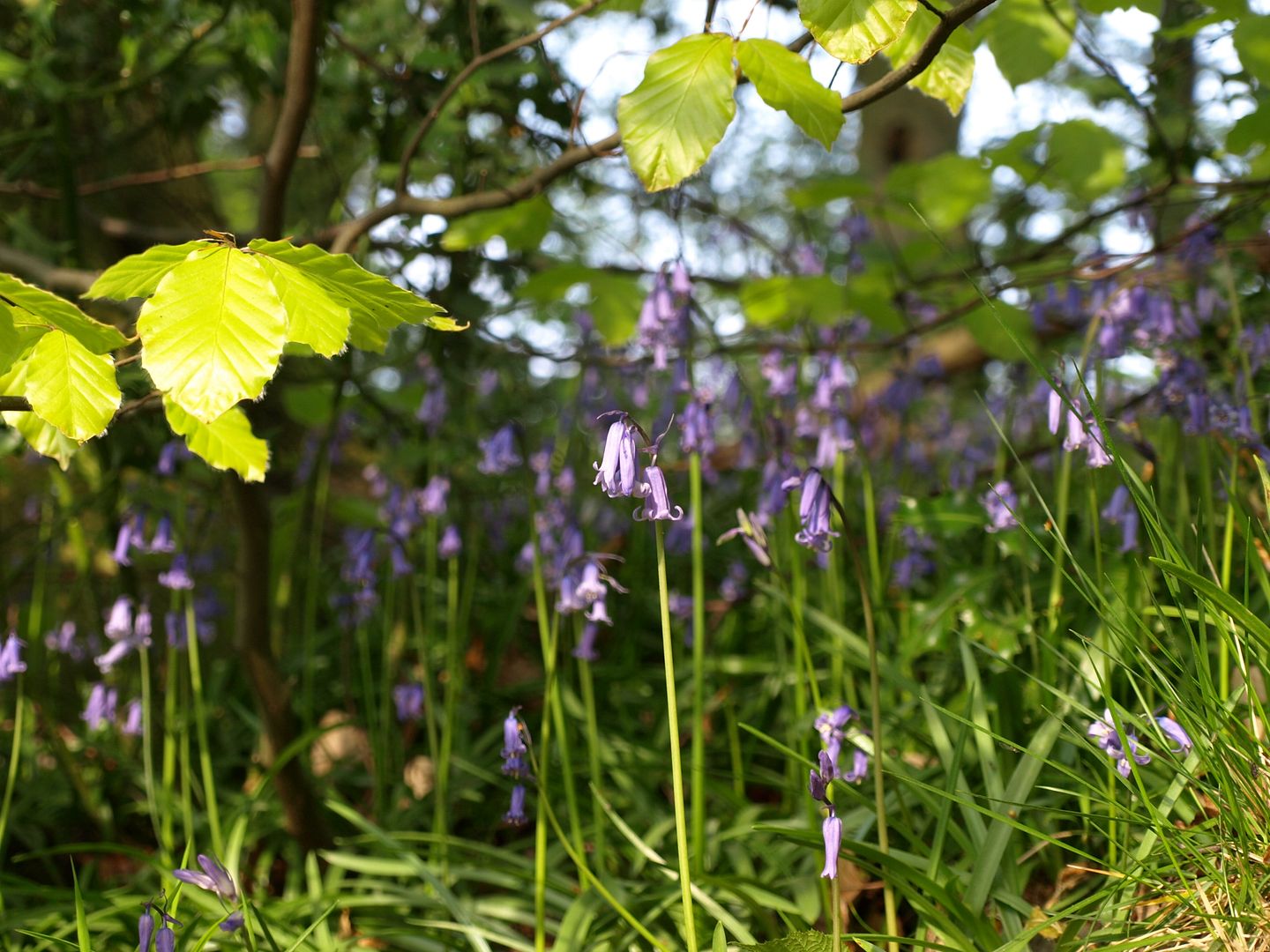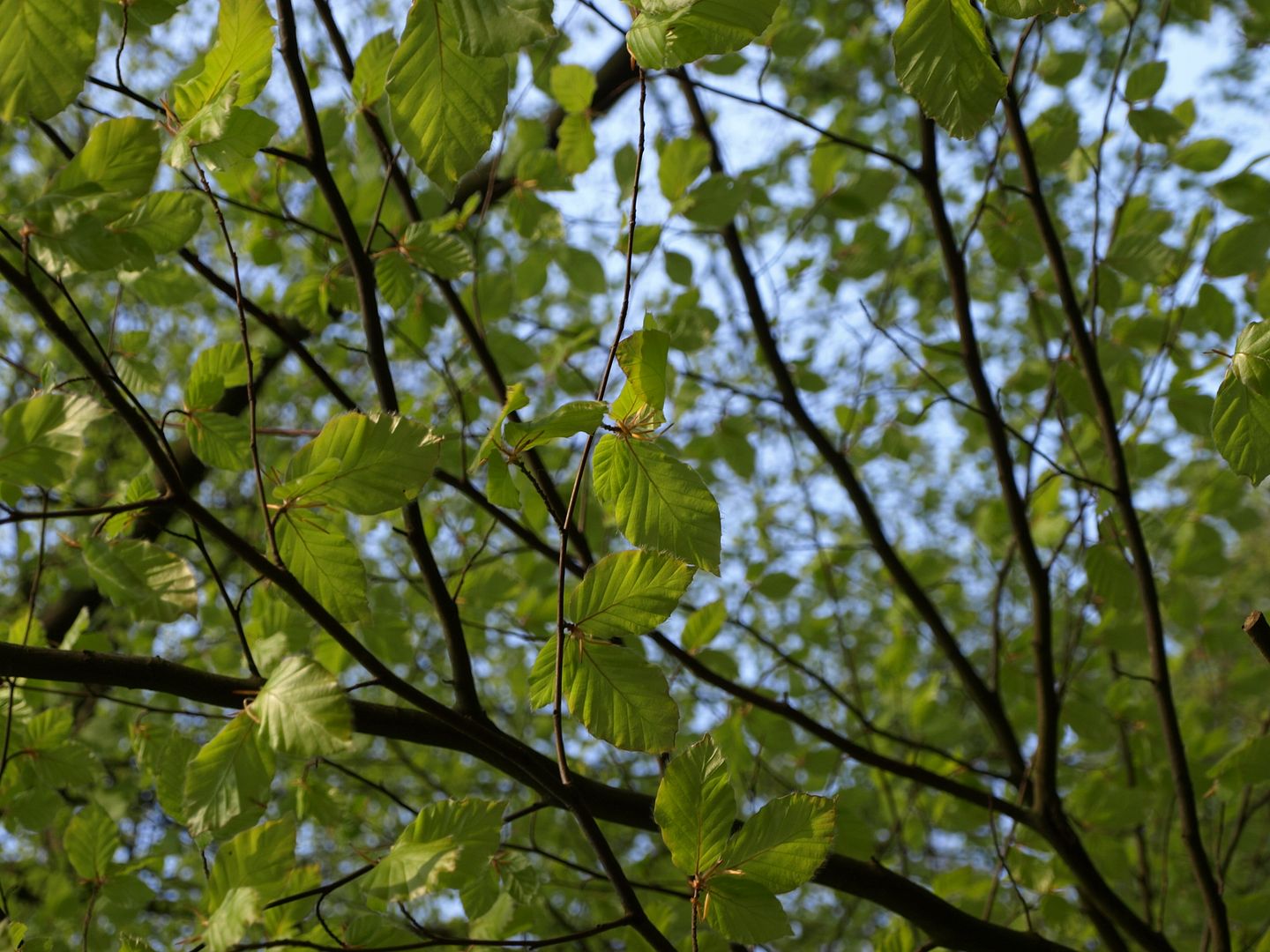 We're under a canopy of brand new leaves. The Beech leaves are so new they are almost yellow and don't look quite real with their peachy fuzz trim.
As the path takes a sharp turn to the right to avoid a ravine we stop and the four of us cram onto a bench that sits precariously on the edge of a sheer drop. We marvel at the distant hills and watch the wind blow ripples along the river. I hold Andy's hand and snuggle close, feeling so happy to be there. It's not far to the big Money Tree now though, so we leave our perch and continue on.
While trying to find the oldest coin I lose my footing and slip underneath the tree and almost down the whole steep slope. Winded, but fortunately ok! A bit scary though. The oldest coin I can find is 1978. I always think that the Money Trees look like armoured dinosaurs, perhaps an Ankylosaurus.
Rachel wishes again, for extra luck (20p this time), and I am struck by how alike our fingernails are. I know we're sisters, but still! Identical finger-nail twins.
We turn and begin to retrace our footsteps. The sun is low in the sky and casting a magical light over the world, gently illuminating the bluebells.
We follow the path back down, through the trees, past the drystone wall, lower and lower until we're again level with the river.
The silhouette of the Abbey behind the rippling water is breathtaking. We step aside to let a runner pass and smile as he chooses not the bridge but the stepping stones – one two three four, step, run, jump, leap. He's not afraid to slip and swim.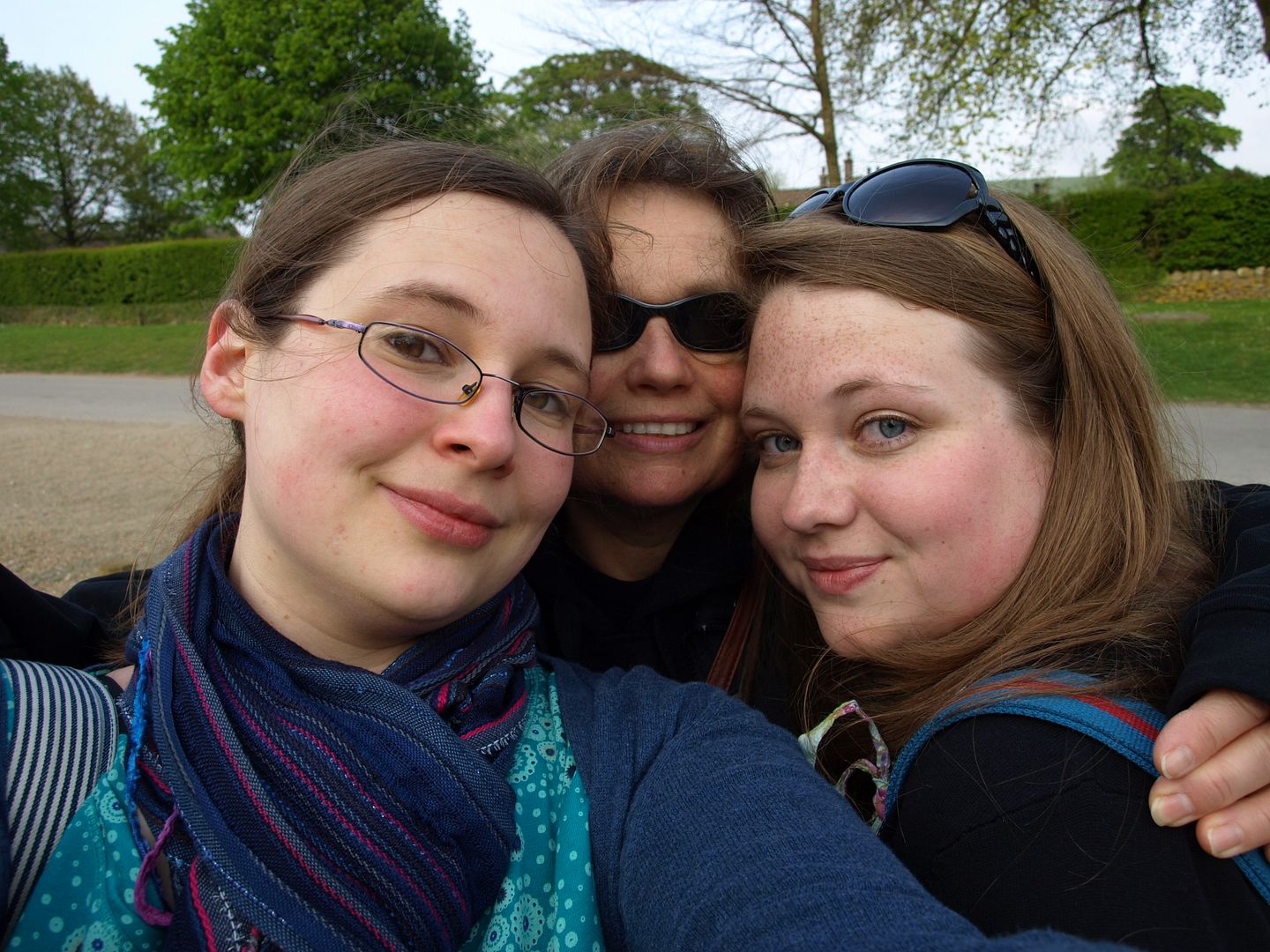 Back in the carpark just before we leave we pause and take a photo together to remind us of our wonderful day, our time together, and to remember that despite living in Yorkshire, Northamptonshire and Hampshire we can come together and pick up where we left off, we still enjoy our company (so much more than when me and Rachel were children!) and I feel blessed to have such a lovely family. I miss my brother, Patch, and my sister, Alice, dreadfully and wish that they were with us too. We begin to make plans for them to visit in the summer. I baulk at the idea of four people sleeping on two and a half airbeds in my spare room and suggest camping. Rachel says that she'll camp, as long as it means camping in my spare room. I relent. Four people on two and a half airbeds? Fine, as long as it's them and not me!
We drive home the scenic route, through Threshfield and Cracoe, pointing out cairns and high places that we'd love to climb in the future. All in good time. All in good time, and hopefully with Alice and Patch as well. I love my family.