This ripple blanket was an unplanned, out of the blue, "Yes let's DO THAT!" kind of blanket. I bought the yarn and began making this blanket on the 19th February, and finished it on the 20th March. Let's call it an even month, given that February is two days shorter than the average month. There was a deadline you see, the first birthday of a little girl named Rosie, who turns one tomorrow. She is the daughter of two friends who we love but don't get to see very often. You may remember that I made another Rosie Ripple before she was born, in slightly dubious colours since I did not know what flavour of baby she was going to be.
As you can see, since then I have progressed enough to do a border. Well I say progressed enough, it's probably just laziness that stopped me in the past. That, and the daunting task of making a ripple straight. This is Not Fun. It looks good when you've finished, and while I did listen to all advice and read all of the links sent to me, basically I just bodged it and it's fine. I went round again in the same colour and that sort of hides any bits that are a little wonky. Working into the top edge was all right, but the bottom edge was a pain. Have you ever tried to work out of the wrong edge of a foundation row? Tricky business, that.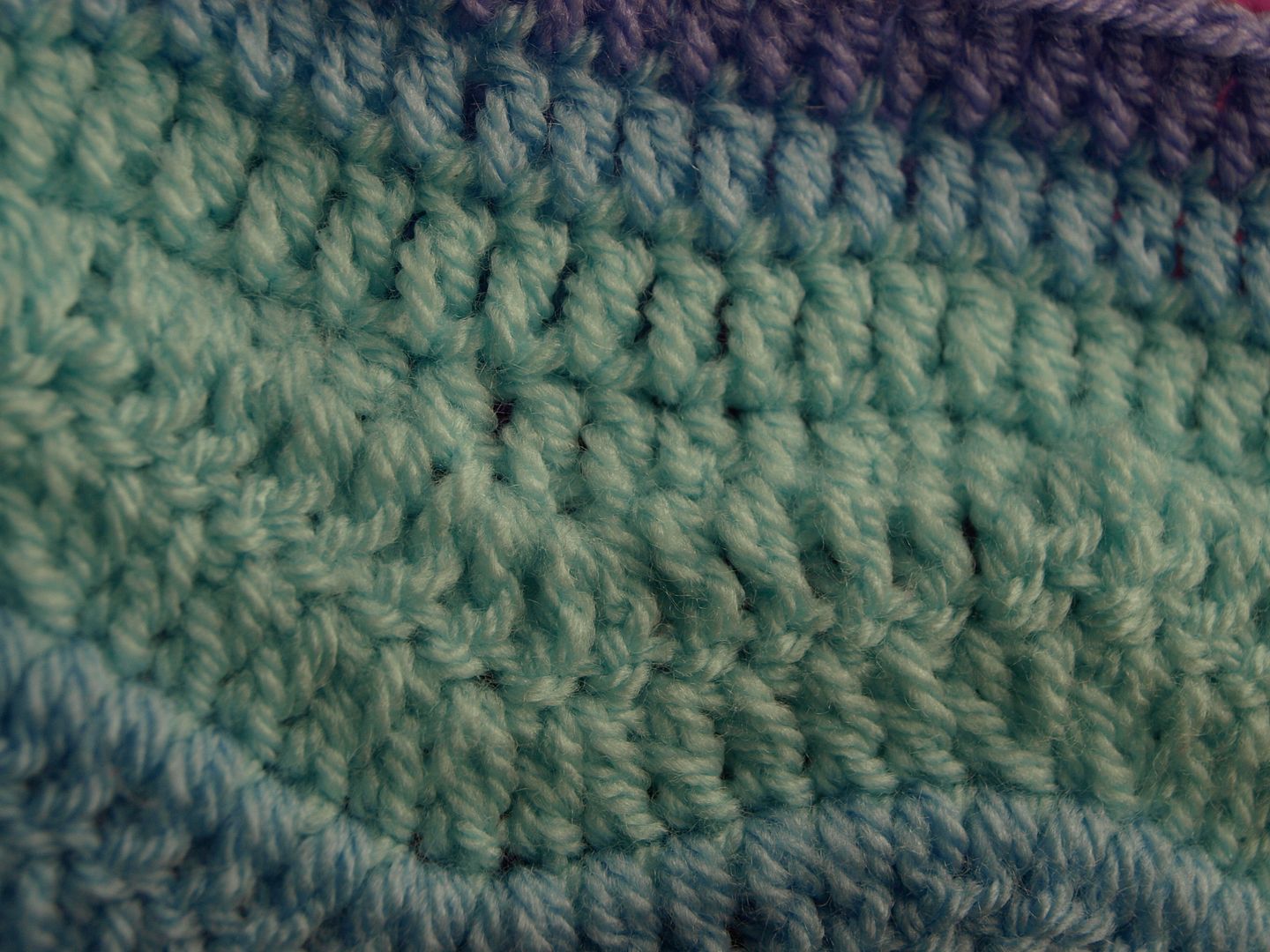 Can you see where I've made it straight? I slip stitched along the tall bits, and then did (UK terms) dc, dc, htr, htr, and then tr, tr, and then htr, htr, dc,dc. Or something like that, like I said I mostly just bodged it and hoped for the best. You can pull stitches short or tall if you need to ;-)
Oh and I forgot to say that I did ten repeats of the pattern, but then did one extra stripe of the first colour so that the border looked right.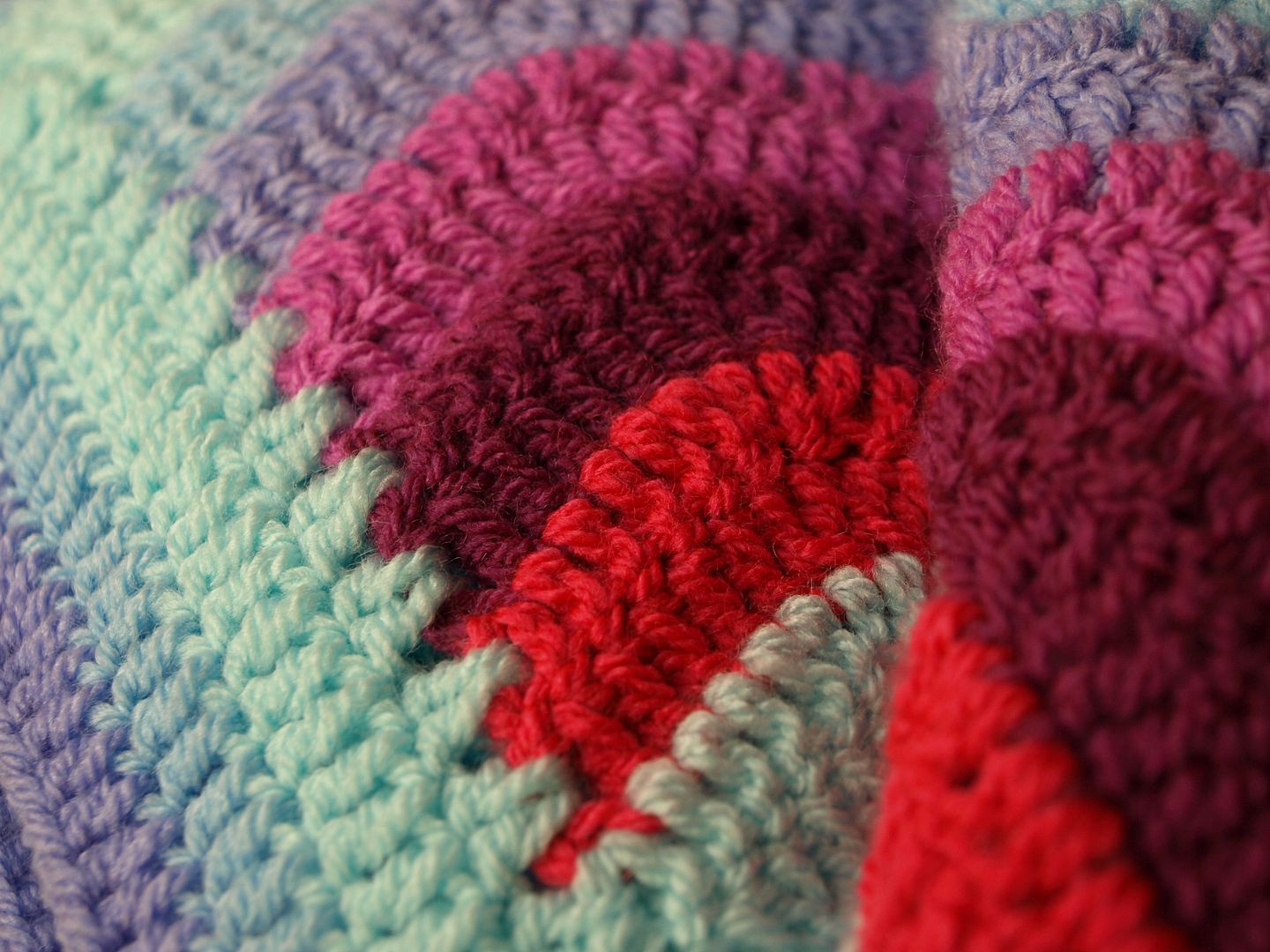 I want to snuggle in this photo.
After I had done battle with making a ripple straight, I went around the blanket and did two treble stitches into the side of each stitch. I think they look like little fingers holding on.
In the same colour, I then did a round around the whole blanket again in the same colour, putting one treble into each stitch. This was very enjoyable! I did this in the first, second and third colours and it's very therapeutic just going around and around like that.
I had planned to go round it in all six colours but once I'd finished the "lavender" round, it just looked … enough. I was unsure whether adding the two darker colours would work or not, the contrast that worked nicely in the mane body of the blanket would have ruined the border. I really like the way the colours of the border blend and I spent a long time looking at it and er, stroking it.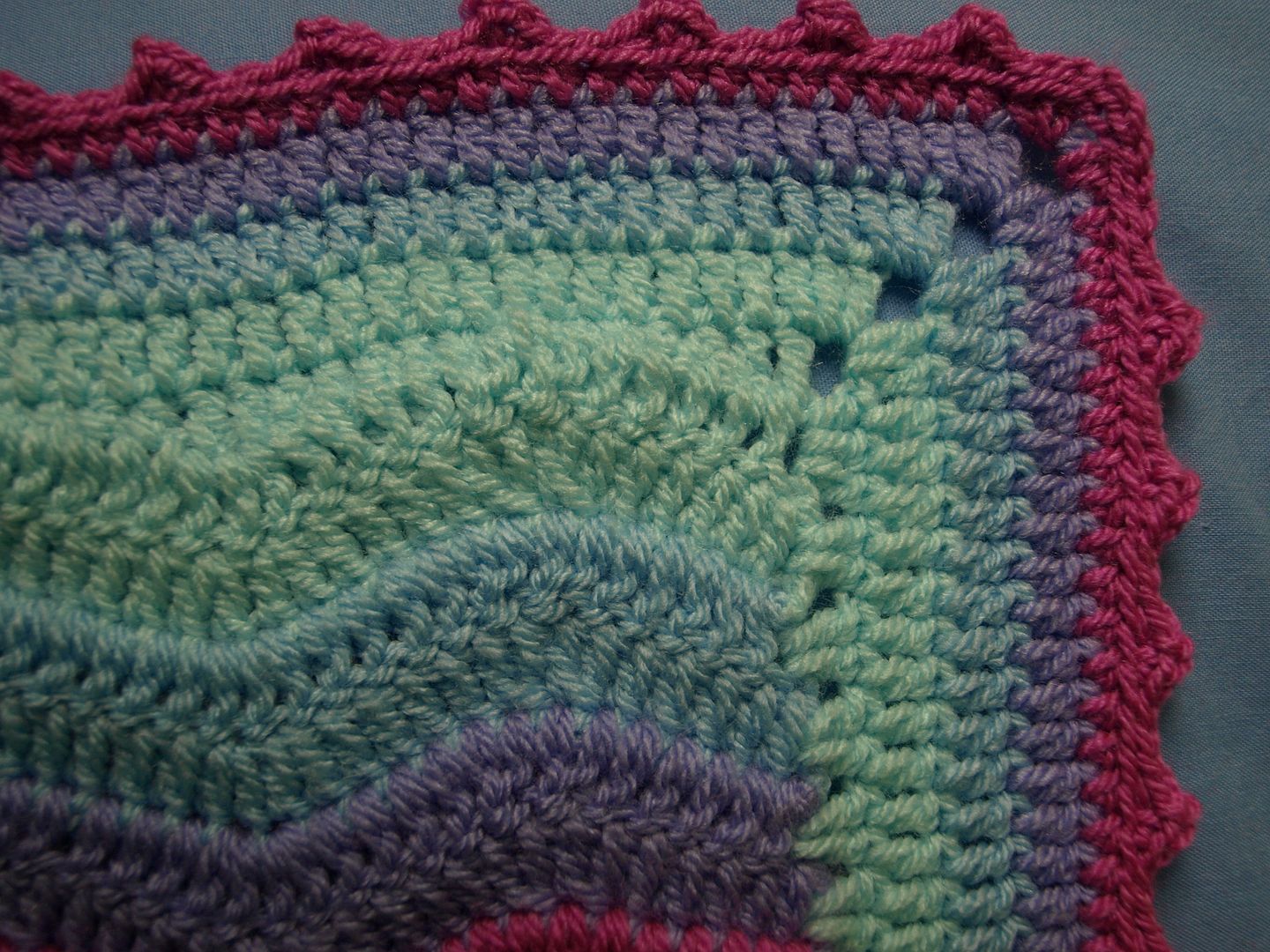 It did need to look a little more finished though, so I added a round of double crochet in "magenta" and then a row of pink pointy bits (you can see the method for making these HERE, about halfway through the post) to complete the look. I have to say, while the concept of these pink pointy bits is very simple, and they ARE simple to do, man this was my least favourite thing to do! I think I was so keen for the blanket to be DONE ALREADY that making myself do something fiddly and finicky right at the end was a challenge. The pointy bits are not evenly spaced because I lost the will to count or care. But, it looks great, I have to say. In fact, I felt little to no attachment during the making of the blanket (as I knew it was destined to be a gift) until I did the border. It is the first border I have made, and OH I just wanted to keep it for myself! The bit that really gets me is all the lovely neat little corners, oh so sweet.
It looks lovely folded, too. I always love it when I can fold what I make, there is just something about a folded blanket (or pile of folded blankets) that makes me feel good inside.
By now I expect you are waiting for a full photo aren't you? Well ok, but it's not the best, the reason being I was trying to catch the light after work and there wasn't a lot to catch. I was also trying to keep the messy parts of the bedroom out of the photo! Anyway, here goes …
Ta-daaa!
It sort of glows. Beautiful.
So, a few facts for you here:
Yarn used: Stylecraft Special Dk from Country Crafts
Colours: Sherbet, Cloud Blue, Lavender, Magenta, Plum, Pomegranate (in that order, makes one repeat.)
Starting Chain: approx 126 (or nearest number divisible by 14)
Stripes: 60, plus one to make it look right
Weight: hmmm well I used one whole ball of each to make the main body and then approx half of 4 other balls to do the edging. I forgot to weigh it when it was done, but that works out at approximately 800g. I know that each stripe took 10g of yarn.
Time taken: one month, working on it solidly and obsessively, and watching A LOT of things on iplayer. A lot. I even watched a programme about churches, and another about really old bibles. Yeah.
The idea of this blanket was to be a total surprise for the recipient. The thought of them having absolUTEly no idea about this blanket flying through the post to get to their door just made me full of bubbles inside. I was so excited. I didn't want to do my ta-daa post until I knew they'd received it.
Only, things didn't quite go to plan in that respect.
The thing about surprise parcels is that it's often helpful if there is someone at home to receive them.
Turns out, this was the week that our friends were in Italy. ITALY! How rude!
Anyway they are back now and have indeed received the blanket. So I am sorry that the ta-daa post took so long, but as you can see, not my fault ;-)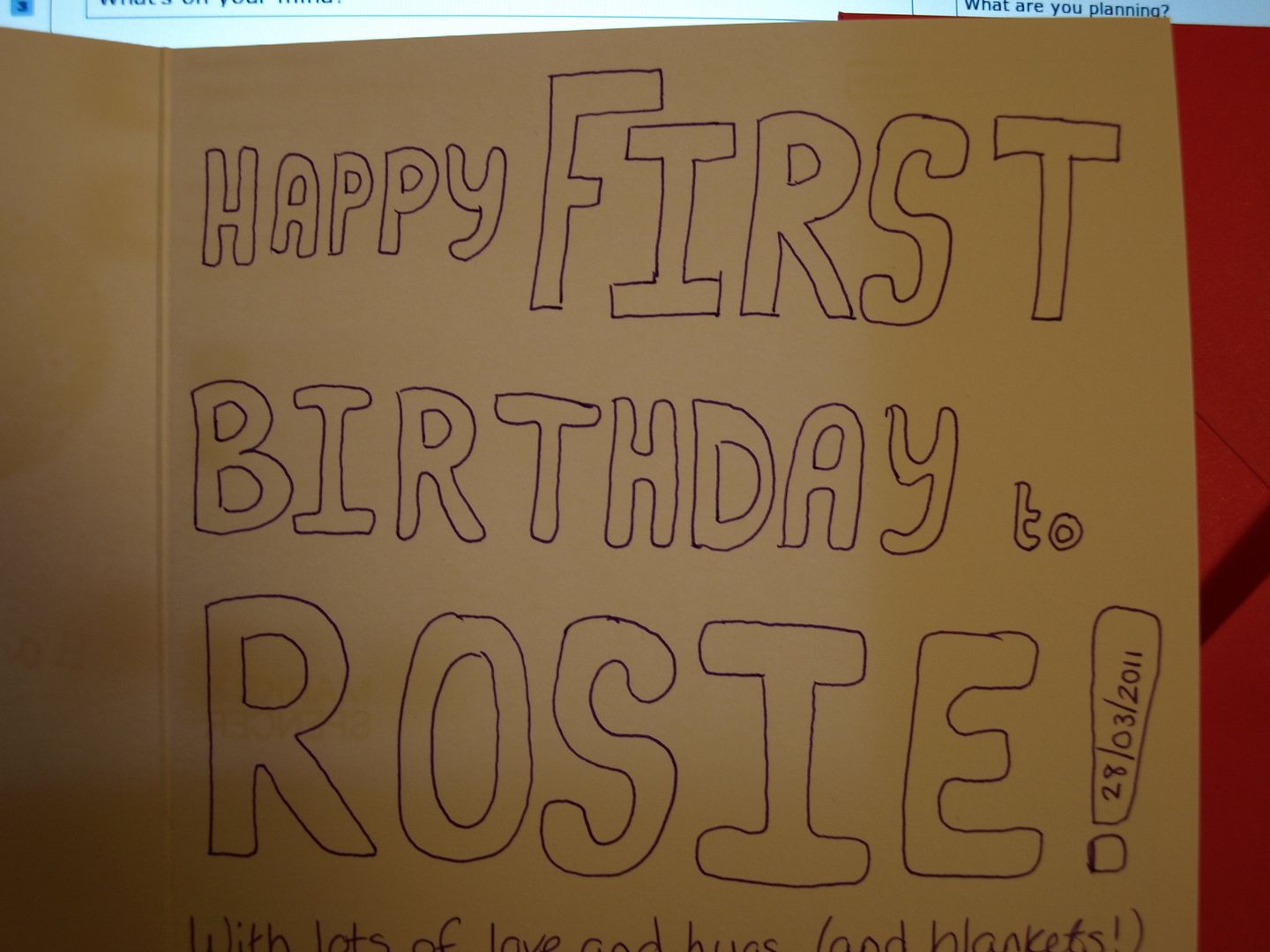 .
I received this photo (below) in a text message earlier today (and as I don't have a clever phone I had to send the text to Andy who DOES have a clever phone, so that he could email it to me to download to my computer to upload to photobucket to link to on my blog)
Definitely worth it.
Go on, make something and give it away. It feels great.