Goodness me, is it Thursday evening already? Time has FLOWN by this week. Never a bad thing in a job as boring as mine but wow, Thursday already. Nearly the weekend. Hurrah! At the moment I feel that I am so busy outside of work that I don't have time to GO to work. If only work would realise this and actually let me crochet or blog at my desk, things really would be a lot easier …
I am still working on the Sneaky Secret Ripple, I decided yesterday that ten repeats of the pattern is PLENTY rather than the 12 that I was going to do. I'm working on the border now and blimey, it's a lot trickier to make a ripple into a straight edge than I thought! I studied all the picture and links and advice you sent me but it's not a favourite thing to do, let me tell you! It will look good when it's done though.
Yesterday I went to the dentist for the first time since before uni (so er …. 6 years approx) and I only need one filling, one tooth to be sealed and my front incisors to be nicely smoooothed (I prefer to think of smoothing rather than the grinding that I know it will be.). So not bad then! Pricey pricey but teeth don't grow back if you mess them up.
I have been to beer n'hooky at the pub (love that) and I have spoken to my mum and my Grandma on the phone. I have sent an exciting card in the post, I have bought a magazine.
I have been definitely NOT starting new hooky projects, definitely definitely not. I HAVE been so flippin' inspired by some other people's work though that I could not resist have a little try of my own. But this is definitely not starting a new project! no no.
This is a cushion cover that I really really really want. Not my own version, I want THAT one. Because it's LOVELY and the starburst grannies look soooooo good with the green around them. So I had a try. Direct copy of course, because I want THAT one.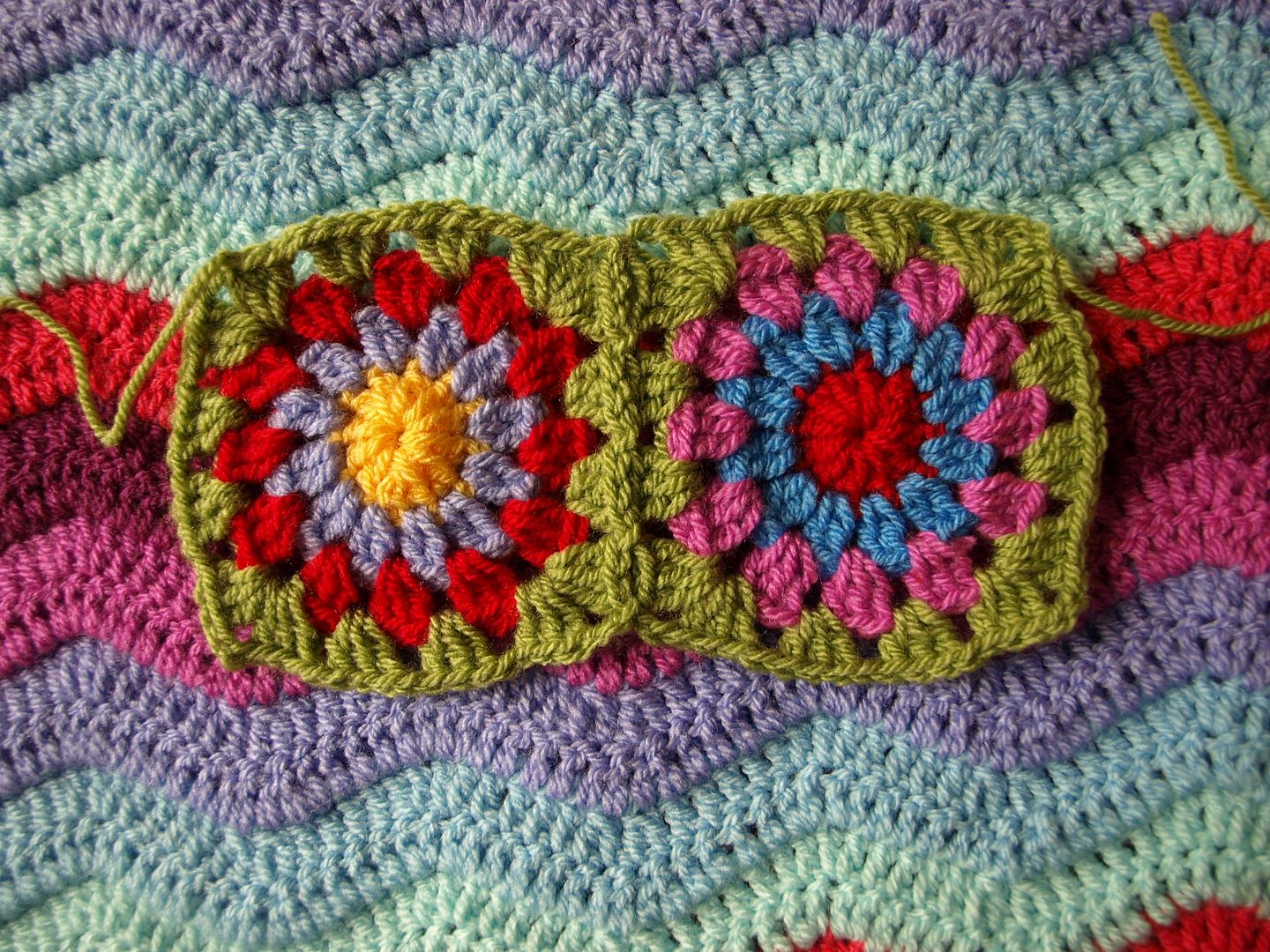 And also inspiring me (both of these inspire me so much that I've had them as tabs open in my browser for over two weeks …) is THIS lovely blanket in progress by Just So Sandra
I just … I just WANT it so much! Look, it's daisies! So pretty. I daren't let myself go too far with this because I am Not Starting Anything Else Yet, but yay, I made a daisy!
It's so sweet. I am going to do a "What Inspires Me" post at some point with lots more lovelies in it but for now I really need to get a shift on with my ripple border. I need to send it next week really.
Shall I show you why I'm Not Starting Anything Else? ok. Ages ago I said I was going to share photos of my Christmas presents and I never did. So, here is my present from Andy, Andy's dad, my mum and my Grandma (combined with what I spent last year building up a stash of)
Cashmerino scrumdiddlyumptiousness!
THIS is going to be a blanket for me, a ripplesome wonder that will adorn the arm of my future sofa to be snuggled under in the winter months in the living room that will be so fantastic when it is finished. I have a list of projects to make before I embark on my Cashmerino Ripple, and I'm hoping the living room will progress enough in that time that I can sit on my future sofa and work on my ripply ripple. The thought of making this blanket on our future sofa is carrying me through a lot! I very much look forward to having sofas, I think I may have already mentioned this? hehe.
RIGHT THEN, enough chitter chatter, I have a pesky ripple to straighten up.
See you soon!
xxxxxxxxxxxxx