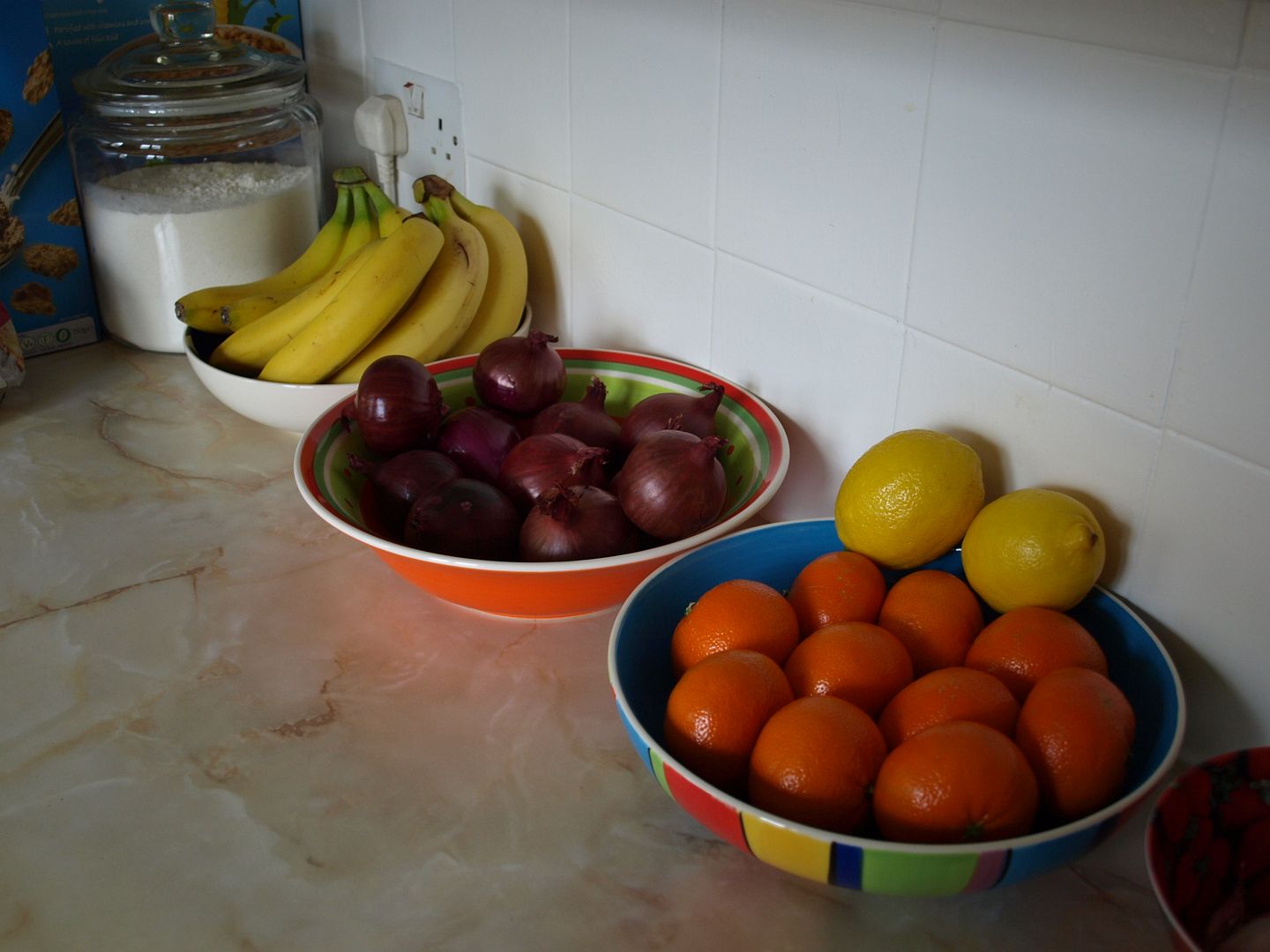 Sunday mornings here mean cleaning and shopping. At least for me they do! Last week I shocked myself at how much our weekly shop cost, and this week I was determined to do better. Even taking into account the fact that food prices are rising to crazy highs (partly because of failed wheat crops in Russia or something, and partly because supermarkets are greedy ****ers), £42 was FAR to much to spend on two people for a week. Ok so I had to buy rubble sacks (you mean thats … not … part of your normal weekly shop?) and I bought some daffodils but still.
So with a bit of planning, and taking advantage of the fact that we've still got lots of veg left over from last week's shop, I managed to do the shop for £22.59. Yessss! I wrote a list and guesstimated the cost of each item before I went, and then as I went round I wrote all the prices in my notepad and totalled it before I got to the checkout. I have to carry all of the shopping home because it's only walking distance and I make sure I pack the weight evenly and use a backpack and two strong shopping bags. Today, I managed 5kg of potatoes and 3kg of carrots in my backpack. I'm only telling you this because I'm a bit proud of that! Oh just like the photo above, I'm only showing you because I cleaned the whole kitchen today and sorted out the cupboard and it's such a rare event for it to look that nice that I took a photo for posterity.
Apologies for being a lazy slovenly housewife ;-)
ANYWAY. Rising food prices and low wages got me thinking about growing things. I've always been thinking about this, but as we have a teeny tiny yard (concreted) with two gigantic dustbins that dominate half of it I'm going to have to be creative about how we do this. I want to grow things that we'll actually eat, and that will be worth it cost wise compared to buying them. For instance, radishes are fairly easy to grow, but neither of us like them so whilst it will be satisfying to grow them it will ultimately be a waste as they won't get eaten. Equally for carrots – we both love carrots, and it is definitely possible to grow them in pots, but they take up a lot of space and are a one time crop so it's more efficient to buy those. But salad stuffs are something that we can do. We love salad and eat loads of it in the summer months. Soooo I am thinking about lettuces mainly, and I am thinking about growing them in hanging baskets to make best use of the space (and protect them from slugs.) Spring onions as well. Obviously I need to read up about this, but those are my thoughts so far.
Inside though, I am excited that my chives have sprouted on the kitchen windowsill. They did nothing for a week and I thought they were duff and was about to give up, but lo and behold I now have very short baby chives. Aww.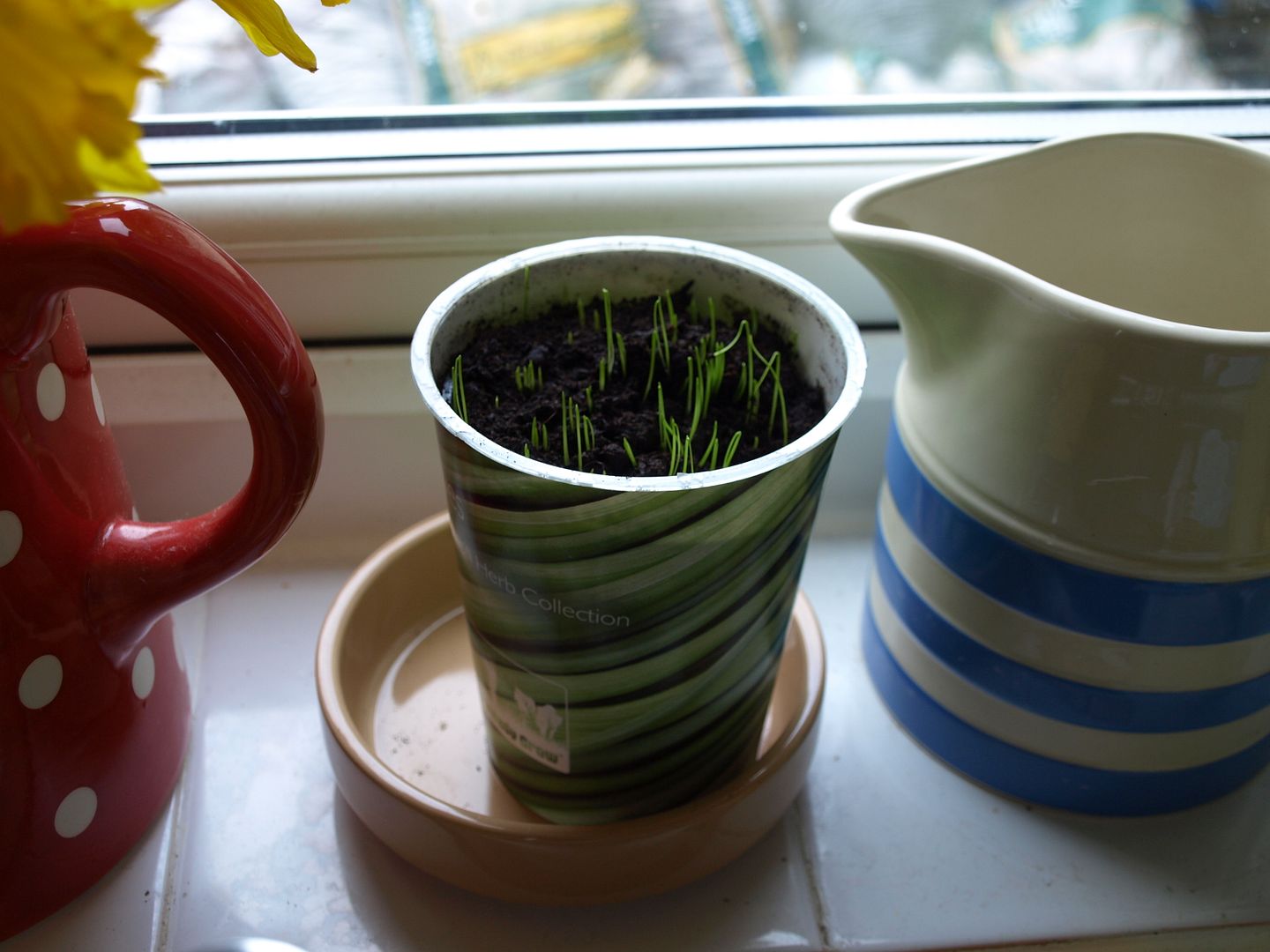 These herb pots are pretty cool, they're £1 from Morrisons and are comprised of a paper shell like a Yeo Valley Yoghurt pot, and then a plastic lid on top that acts like a propagator. It's all in there, you just have to plant the seeds and gently water it and then pop the lid on and hope for the best.
I have high hopes now for the coriander and wild flowers that I planted yesterday: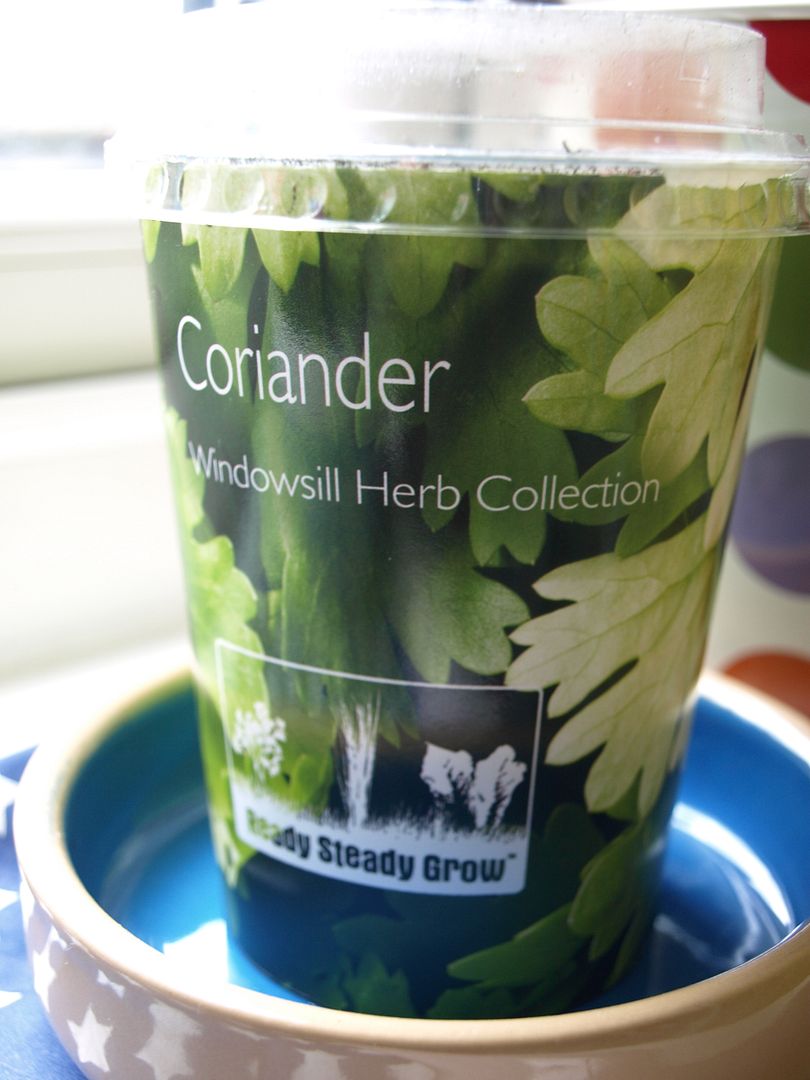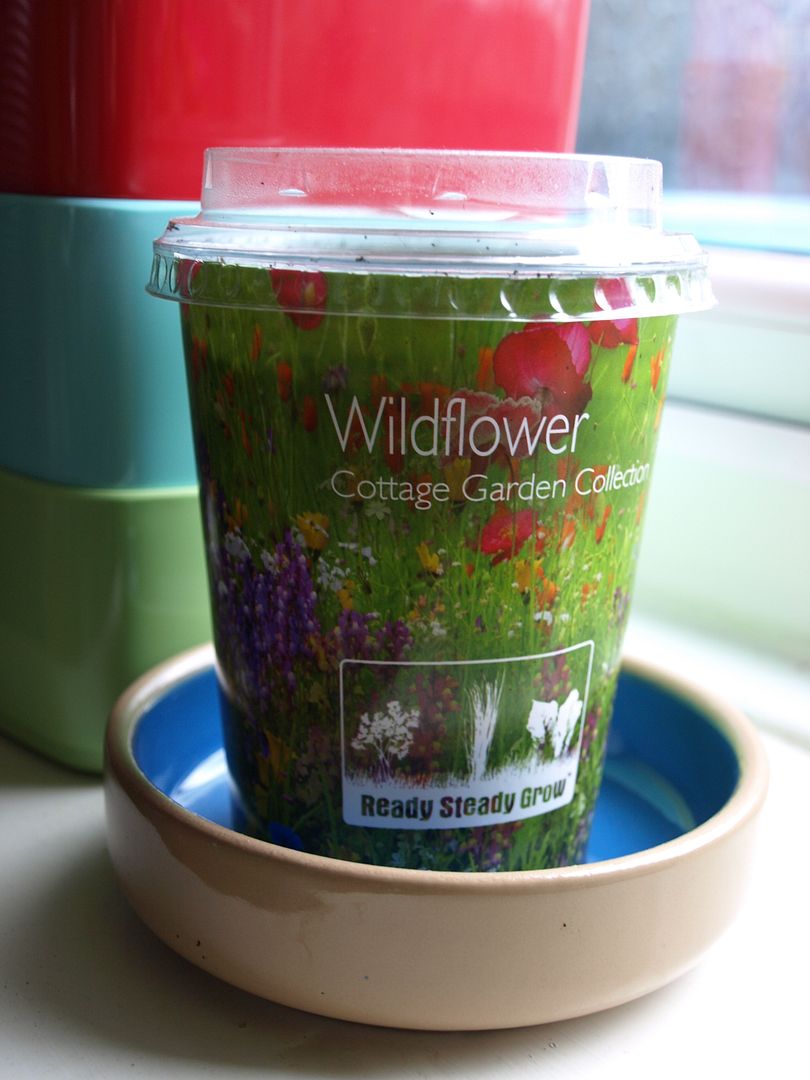 Do you like my little bowls? WELL they are cat bowls! Morrisons were selling them off cheap at 48p, but they went through the till at 18p! Absolute bargain. I do love a bit of Mason Cash.
Also growing on my windowsill is this ppppp … primula? polyanthus? some kind of P plant anyway. I didn't grow it from seed, I cheated and bought it in the shop but it's nice and cheery and a bit less out of control than tete a tetes! Makes me happy anyway.