Oh deary me – tone often doesn't come across very well when typed online does it!
That photo really IS progress – Andy stripped a whole wall on Saturday including the pesky gypsum bit underneath the window. That means it's just the chimney breast to do now, and then the building control folk can come and inspect it to confirm that we have indeed taken the plaster off the walls. (I am using "we" in a figurative sense here as apart from my brief fling with the crowbar, Andy has done this on his own.)
Once the building control folk have been round (I imagine them looking a bit like Mr Benn, but with clipboards and not so smiley … as if by magic, the building control man appeared!) we have various steps to go before we can look at sofas. Not entirely true as I do spend a lot of time browsing sofa websites (mostly goes like this: Leather – no. Scatter cushion back – no. Ooh nice – too pricey. Ikea – hello Svanby Green Ektorp, will you be my friend for a few years before you break and need replacing?)
I did write out a flow chart of what we need to do to be able to get a sofa, but it was a bit depressing and I threw a hissy fit when I'd drawn it all out to fit on the page and Andy pointed out that I hadn't included a bubble for having the window replaced.
I think it's something like … remove plaster from walls – building control to inspect – take down ceiling – replace window – install damp proof membrane –  plaster board them – put up new ceiling – skim plaster it  – skirting boards – build cupboards and shelves in the alcoves – paint – carpet – SOFAS AND BOOKCASES!
Add in the fact that we need to rewire it and put in sockets (at the moment there are only TWO sockets in the room. Two.) and lightswitches and light fittings and whathaveyou, plus insulate the wall around the utility meters.
Oh and sort the shower out because it's leaking everywhere and means that taking down the ceiling won't be too difficult as it's had a little soggy help already.
So would you like a few more photos?
The first photo above is my washing up on Saturday morning. I like to get up early on Saturdays and do some housework. By housework I mean clean the kitchen after being a bit slack with it all week. Unfortunately this meant that I washed up three times before lunch on Saturday. Still it's pretty and colourful and makes a nice photo. The red mug in the foreground is the other one I got from John Lewis in the sale, it's really chunky to hold (although it doesn't hold much tea – I do like a big cuppa) and nice and bright RED. We have lots of pint glasses because we love to drink water and pint glasses are the best thing for drinking water. In my opinion anyway.
On Friday night I was laying in bed and I said to Andy, "my alarm is set for the same time as during the week, I might get up and go for a walk up The Hill before breakfast."
7am, alarm goes off. Jump out of my skin before thinking, "bugger this, it's Saturday." and turning it off without much thought. Awake at 8:30 with a start and feel rather miffed at not having got up, but realise that it's still DARK and there is quite a bit of fog so don't feel too bad. Decide to make up for it by cleaning the kitchen. I don't like to waste Saturdays, and so it was verrrrrry frustrating being stuck in waiting for a parcel to be redelivered. It was from my mum, I'd left a couple of things at home last week. It didn't arrive until HALF PAST ONE! I was going flipping stir crazy. I had loads I wanted to do – food shopping, charity shop browsing, book delivering, yarn shopping … and I had to wait for the postman. Bah AND humbug. Penny, your parcel hasn't turned up yet but our post is notoriously slow so it will do soon I'm sure. I'm glad your calendar arrived safe and sound though :-)
Oh and I did three loads of laundry on Saturday whilst waiting for the postman. Three! I can't quite believe it.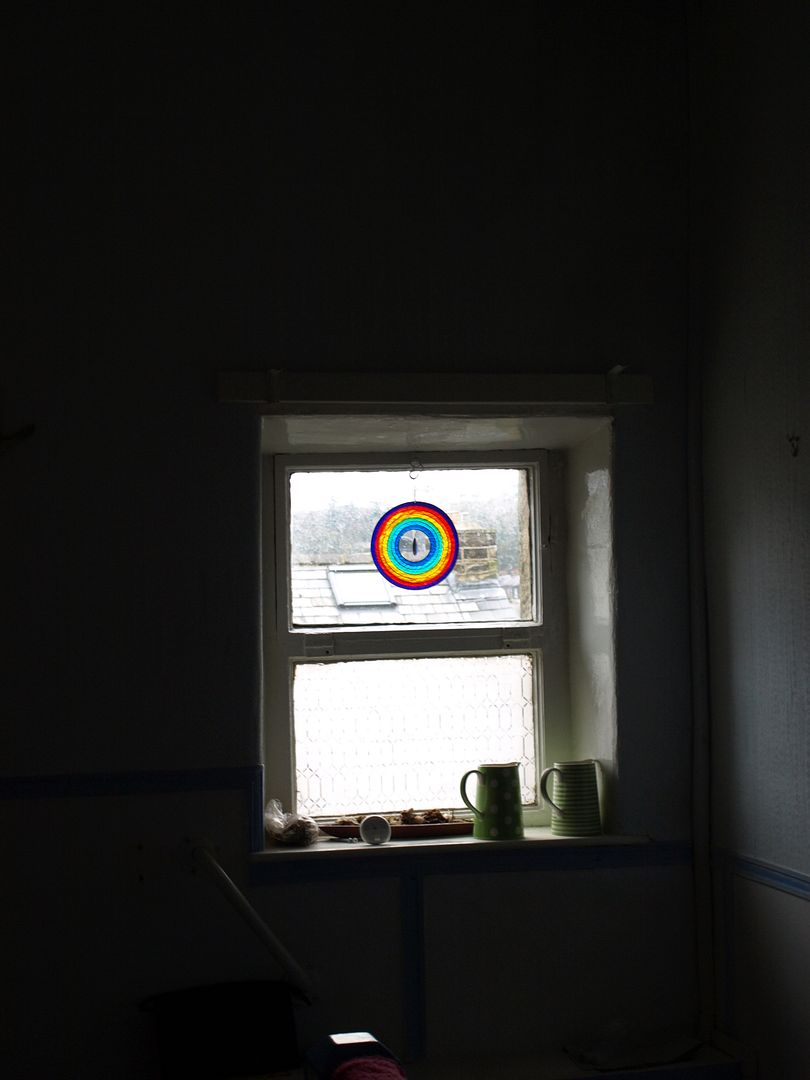 This is another corner of my home that makes me happy … the suncatcher in the Little Window. Not catching much sun at the moment, but if we zoom out for a minute you'll see why I like to focus on that speck of colour …
Argh! Dismal or what. I would mostly like to draw your attention to the top right hand corner, where you can see the smaller of the two damp patches caused by the broken roof. (who uses cement instead of lead to make flashings anyway? so pointless.) I have High Hopes for this hallway and stairwell. Oh and the wall to the left is our bedroom wall and is made from lathe and plaster. It bends. Like, really bendy when you poke it. I don't poke it, but Andy can never resist walking past there without prodding it to check that it does in fact still bend. So that wall needs ripping out and replacing with a plasterboard stud partition wall. Or something.
Onto the bedroom then. One of the loads of laundry that I did was my new bedding, a bargain from John Lewis sale (where else?) The cornflower blue bed set (kingsize duvet cover plus two pillowcases) was £6, and those lilac pillowcases were 90p each. The lilac pillowcases are 100% cotton and are divine, first time I've had 100% cotton pillowcases and you can definitely tell the difference. Oh and everything is creased because I don't currently believe in ironing.
Blue bedding means that I get to use my ripple bed runner … ok I know it's not finished and I haven't trimmed the ends or anything but who cares eh? it'll get done someday.
I am itching to have a nice bedroom. Don't worry, I'm not miserable about it or anything but I do look forward to having it Done. The flow chart for this goes something like: have roof fixed to remove damp patch – have mastick replaced on window to remove 2nd damp patch – replace bendy wall – strip wallpaper – insulate front wall – build fitted shelves/wardrobe in the tiny alcove (mine! Future yarn storage/pretty things shelves) and along the side wall which is sort of a very big alcove and sort of just a normal wall. But we're going to need some storage for clothes since we are currently sharing a chest of drawers and piling up everything else on the floor of the spare room. On the bits that are not soggy from the shower.
And yes, earlier I DID mention yarn shopping. It was just for one though, to welcome Violet to the hexagon family.
I thought I already had Violet from using it in my sister's blanket but it turns out I didn't have it. I saw it in Lucy's blanket the other day and realised what a numpty I was to not have bought it, and so went and bought it at the earliest opportunity. (After the postman had been.) Violet has been very useful and allowed for six new hexagons that were variants on what I already had. Score.
I placed all my hexagons out on my bed to see how far they covered and I think I need approx 150 in total. I have 56 so far, so a bit of a way to go yet. It's good though, I'm really enjoying making them. I am still debating doing a nice big granny stripe style border – wondering whether the red that I'm joining them with will be enough and it won't really need a border, or whether it will look ace to have a round of each of the nice colours, or whether my limited border making patience will be tested doing a border on a mahoosive blanket, and perhaps it would be best to test my border skillz out on a smaller blanket first.
Decisions, decisions!
Want to hear something a bit embarrassing? I was invited round to one of my new friends' houses tonight for a hooky creafty knitty gathering. I've not been to her house before or the street that it was on. So I walked up there in the dark with a big bag full of yarn (hexagon making not very portable) but then couldn't remember the address. There are two similar sounding streets and I couldn't for the life of me remember which one it was. And I don't have her phone number. So I had to come home! Oh dear. Must try harder, Heather.
p.s – I've had a few comments asking what hexagon pattern I'm using and I'm really lazy about replying to comments (sorry, I know that's a poor show) so it's HERE for you: Ruby Hexagon Blanket by Nova Seals. It' a lovely pattern. The only thing I do differently is to chain 5 to begin, rather than 6, because I'm using DK instead of worsted and chaining 6 made for too big of a holey hole in the middle of my first round.
p.p.s – There IS a long way to go with the house, but it's not all bad and I don't want you to think I'm whinging in this post, I just want to share plans and stuff really :-)