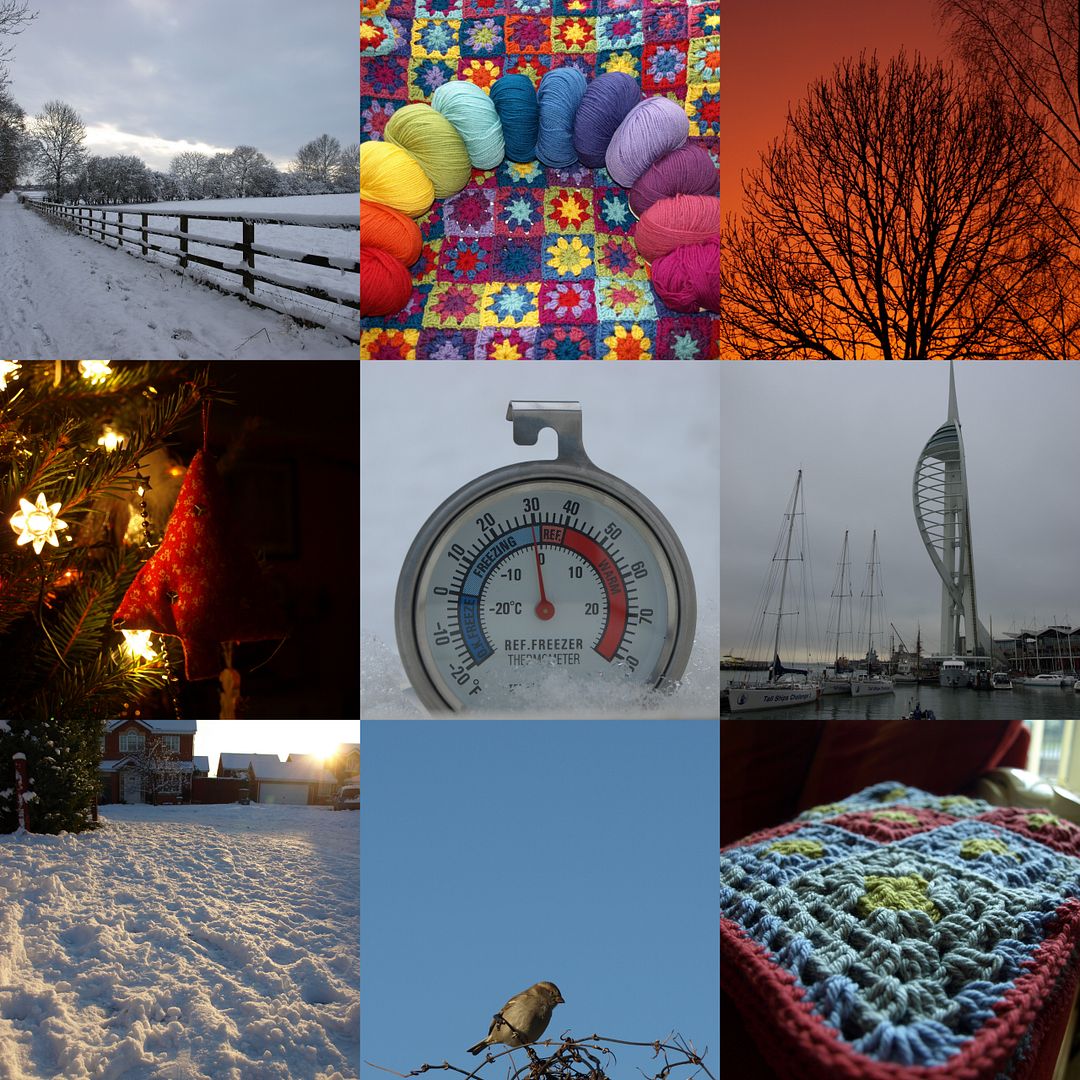 January: Snow, snow, cold, Christmas decorations, visiting Rachel in Portsmouth, staying with Andy while he was living in Southampton, gorgeous sunset, RSPB birdwatch, tiny granny blanket made from Cashsoft Aran (John Lewis sale.) rainbow of yarn on my patchwork blanket.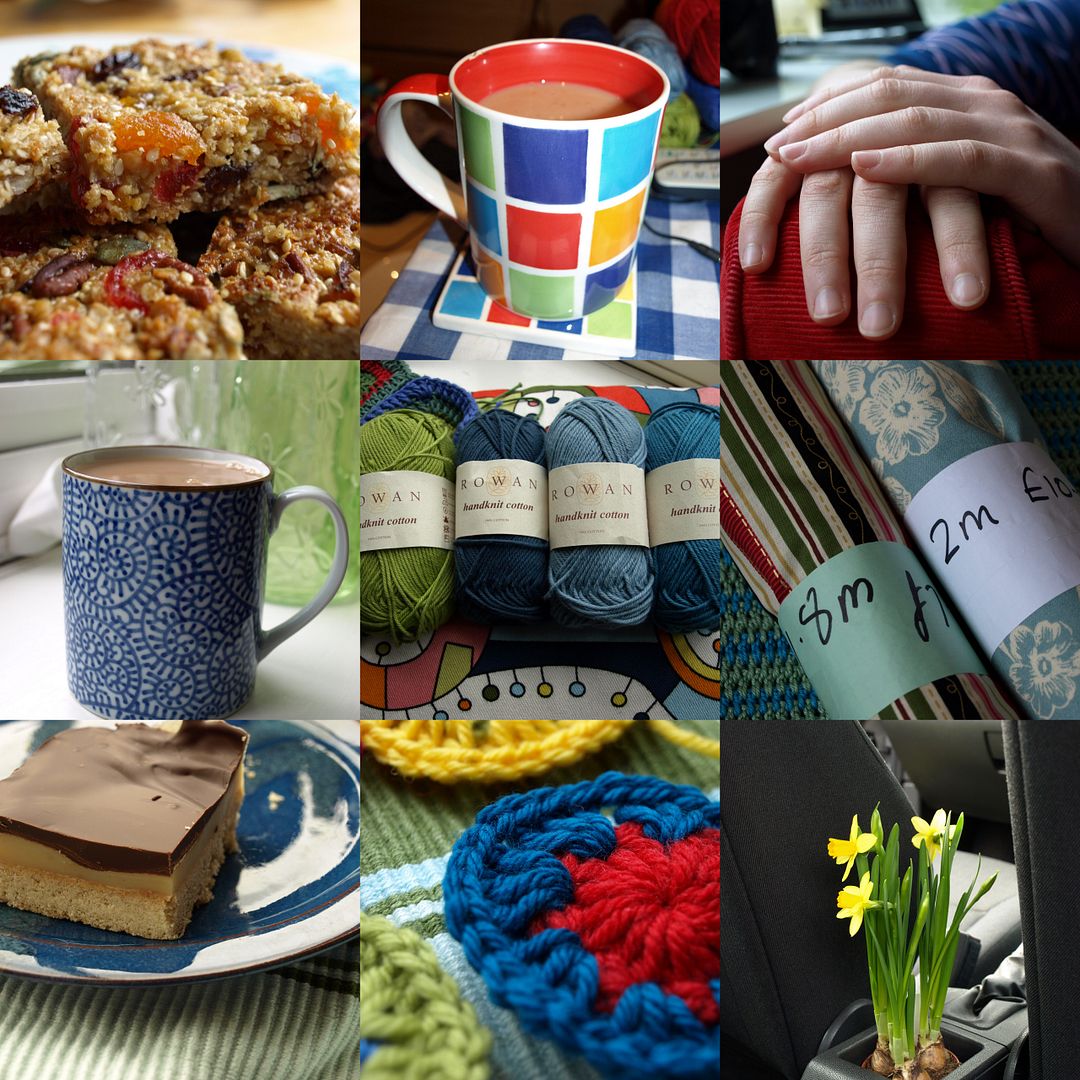 February: Baking granola bar and chocolate caramel shortbread, drinking tea, buying new mugs, spending time with my siblings and taking lots of photos of them, Bramble Patch fabric sale (and Katherine came down to visit for it), buying lovely Rowan cotton yarn, making more squares for my patchwork blanket and the infamous Narcissi in the Car incident.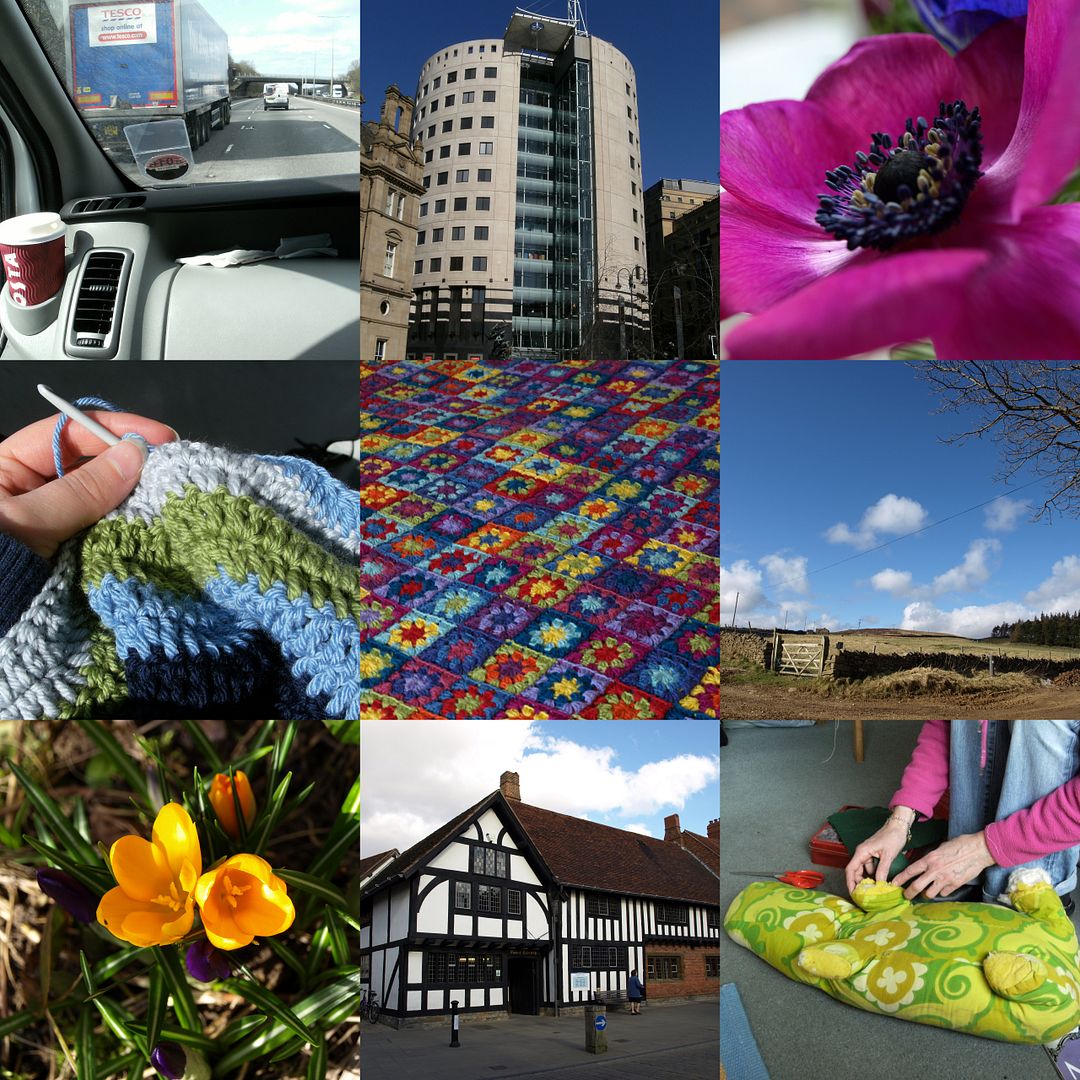 March: First flowers of spring in my mum's garden, beautiful anemones, Henrietta Gets New Feet, last day out with my mum (Stratford upon Avon) before moving back to Leeds! Then meeting Lucy for the first time, crocheting in public AND on the train on the way back, Patchwork Blanket Ta-dah! and me and Andy make the most of being back in Yorkshire by driving high up in the dales and admiring the view and feeling rather chuffed with ourselves for all our moving work. And for how many hours we spent on the M1.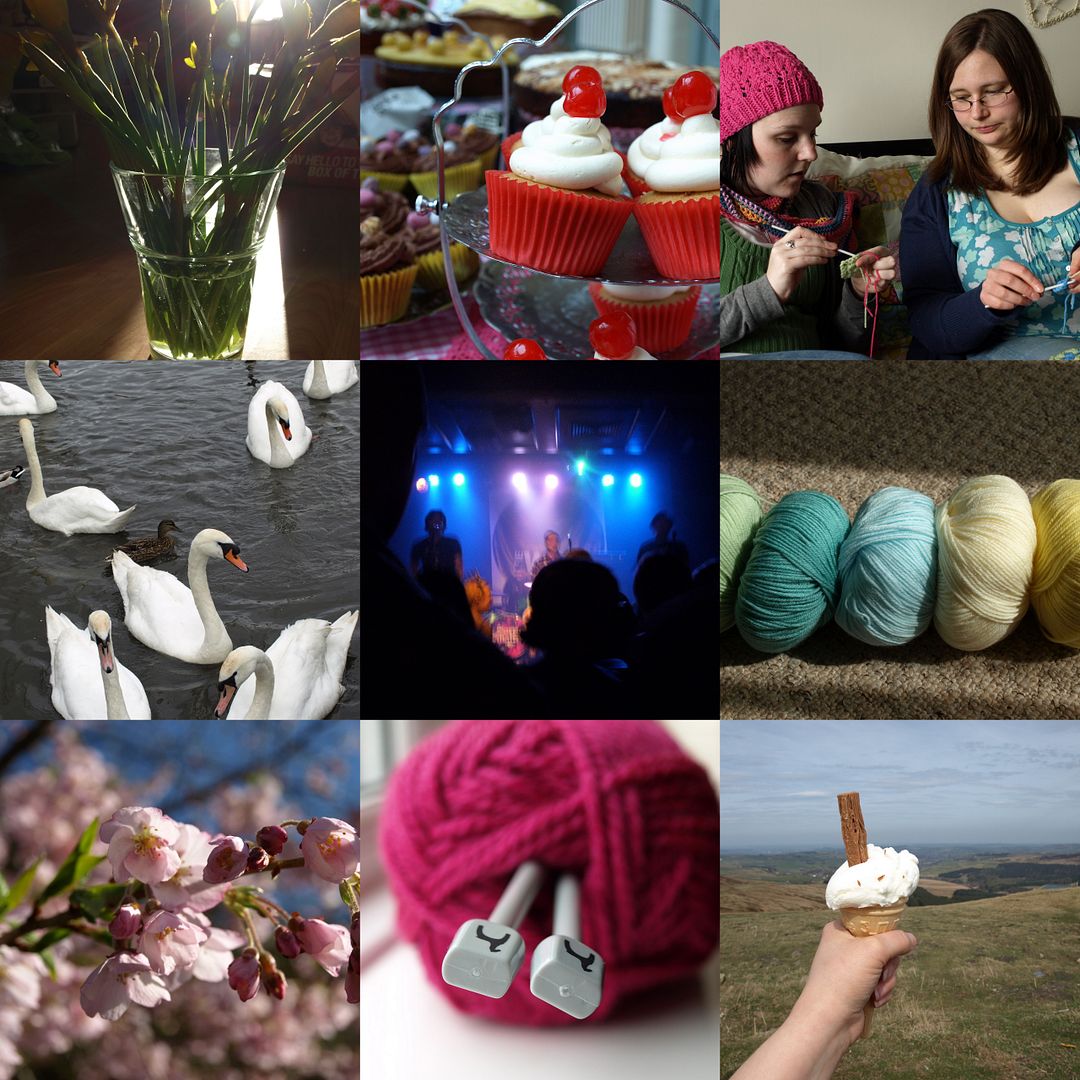 April: I filled every available vessel in the house with daffodils, attended the Marvellous Tea Dance with Rach and Fran, I tried to teach Rach to make Granny Squares (with varying degrees of success, eh Rach? :p) walking at Fairburn Ings at Easter, Sorry and the Sinatras gig, eating Ice Cream on top of the Derbyshire Dales, first encounter with Baby Rico yarn, Bretton Hall/Yorkshire Sculpture Park with Katherine, and I learnt how to knit. In a fashion. That fashion being straight lines.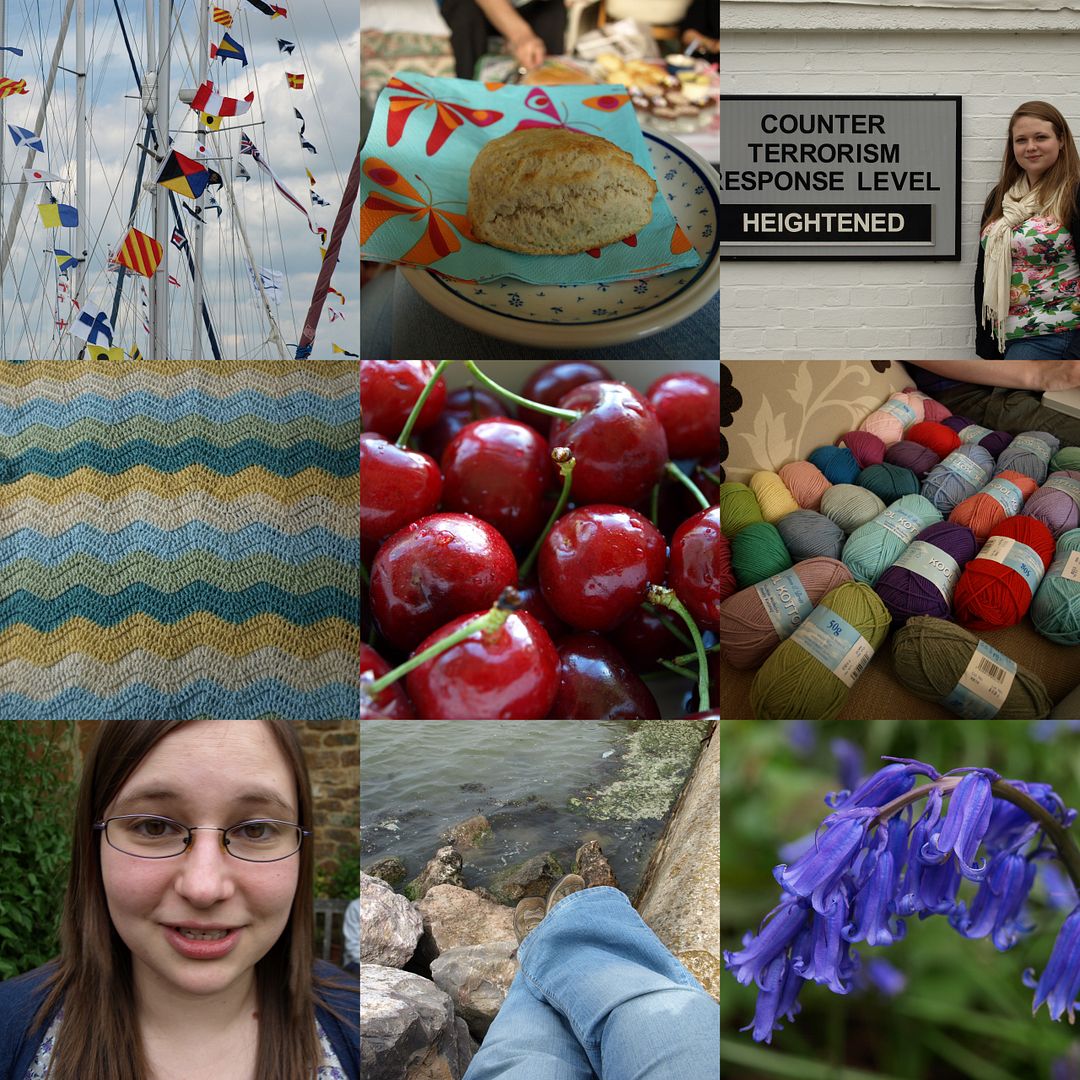 May: Isle of Wight day trip with Andy and his dad, cream tea picnic with my mum and grandma, luscious red cherries, baby Rico ripple for baby Katrin, I bought a LOT OF YARN (hello Kool Kotton, welcome to my life) went to the Bluebell Woods with my mum, brother, sister and Andy, visited Rachel in Portsmouth again (and went to the Historic Dockyards), took photos with my mum and grandma, and contemplated running away to live by the sea on the Isle of Wight.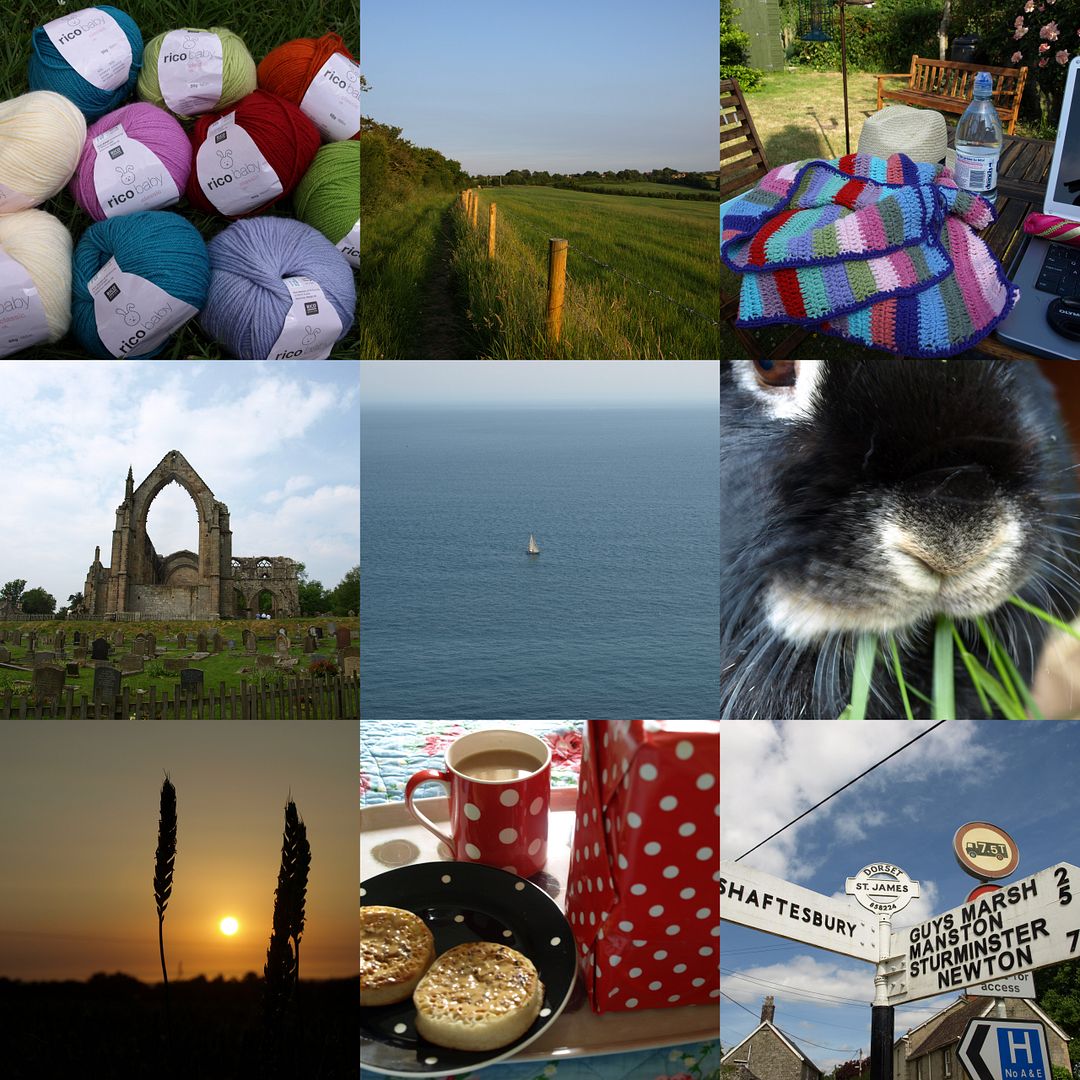 June: I turned 24, went to both York and Bolton Abbey, had a polka dotty birthday breakfast in bed, bought more Rico yarn, viewed "our" house for the first time, crocheted in the park, spent time with Willow the greedy bunny, went on holiday to Dorset to stay with my mother in law and her husband, took long evening walks and HOT daytime ones, visited Lulworth Cove and Shaftesbury. Oh and spent blissful early morning crochet time in their garden!
July: Still on holiday in Dorset, visiting Arne nature reserve. Daisies in Andy's dad's garden. Birthday blanket for my sister. Exciting Post Office Parcels – Ravelry swap. Everything in the Fridge Soup. Stash = eek. Tried to sell blankets = unsuccessful. York. Check out my knitting skillz!
August: First year of marriage! woohooo. Visited Alnwick: Barter Books, Alnmouth Beach, Boulmer Beach. York, and the National Railway Museum. Rico Cotton entered my life but I had much more fun lining it up in colour order than I did with making something. Those squares are still just squares …
September: Bought a house! yaaay! My folder for September if full of photos of guinea pigs. I made some ripples, and tried to knit a scarf. As yet unfinished, whoops. Managed to nab myself a cosy corner in the new house. I took photos of blue sky and clouds from our little yard.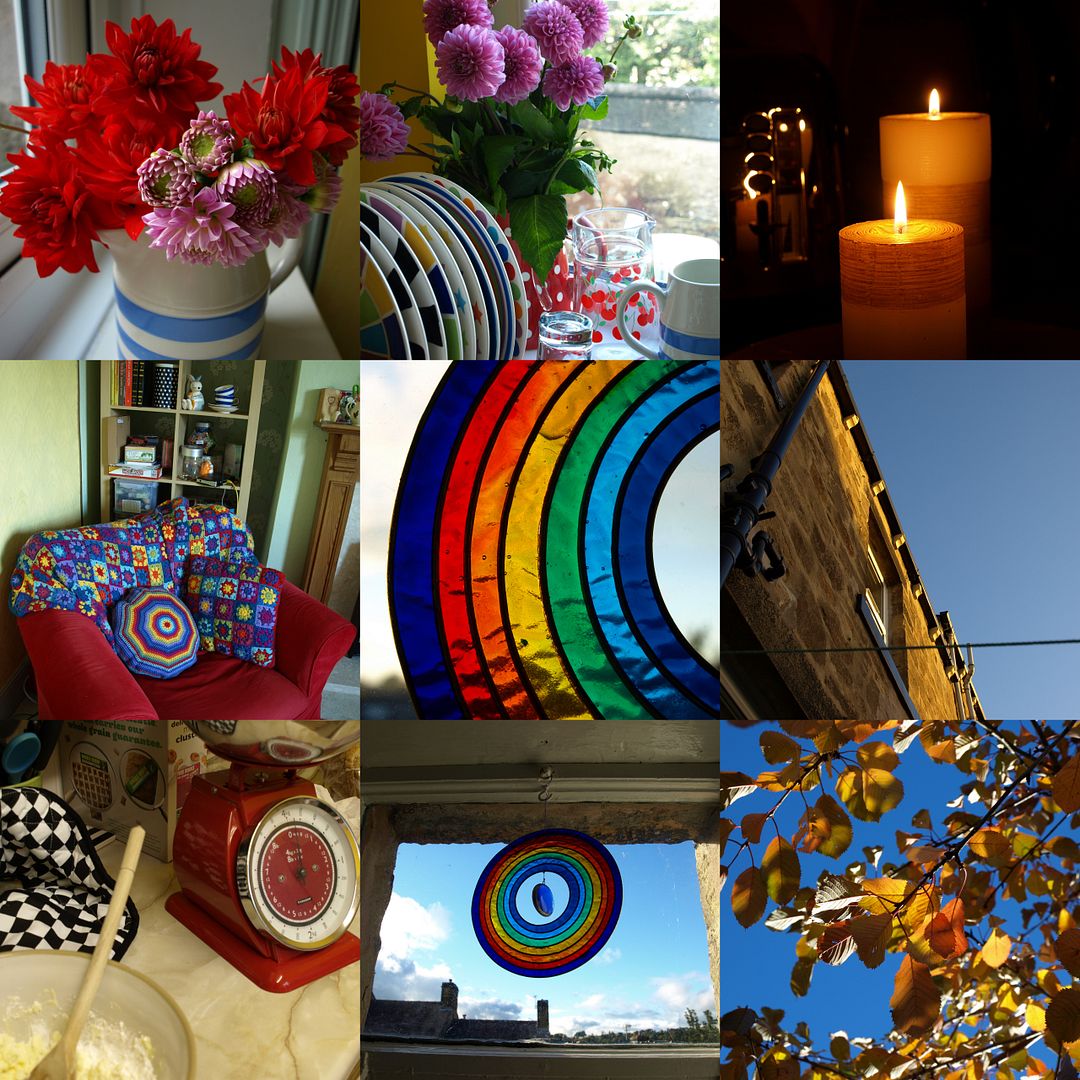 October: My mum visited, I baked, bought LOTS of dahlias on the market, got excited about a photo of dahlias, washing up, stripy jugs and the New View, took autumnal photos of the leaves, enjoyed the last light evenings, and began to unpack a few of my things to make the house feel like home. The electricity blew up and I cooked dinner by candlelight.
November: hooky with friends (and generally enjoying spending time with new friends, feeling homely), fab day in Leeds with Rach and Fran, German Christmas Market, first snow, MORE SNOW, beginning the demolition of the plaster in the living room, keeping snuggly warm, and buying Fat Man Santa.
December: Working up to Christmas with a couple of new decorations, posting my cards on time, advent calendar countdown (check out our snazzy wallpaper …), buying childhood memories from Oxfam, unpacking the spoons (quite a pivotal moment!) enjoying lunch with friends, feeling homely, CHRISTMAS with Andy's dad and brother, winter walking on Boxing Day, looking like a berry in a beret, fabulous frozen waterfall and the start of the Happy Hexagon Blanket.
Pheeeeew! It's really been quite a year hasn't it? I've lived in three homes, starting off in my family's home, unemployed, waiting to see whether Andy can get another job back oop norf, then moving in March to Leeds and then finally buying our First Home together in September. Lots of visiting (join me tomorrow for Places I Visited In 2010) and lots of making. Lots of stress, but also a LOT of happy times. I've been both more stressed and more happier this year than any other year I think. It's also the first Full Year of blogging, which excites me greatly, because when I did my review of 2009 I could only do it from May to December. Now I have a full year! In some ways though it feels like two different years, and that my 2010 began in March when we came back to Leeds. November – February was just a lovely extended Christmas holiday really!
Bring on 2011. I'm ready :-)