1. 400 Squares Blanket I started this in 2009, on my brother's birthday. I finished it in March 2010 and love how my crochet has spanned across the two years sort of joining them together. I love this blanket so much, and I have it on my red chair.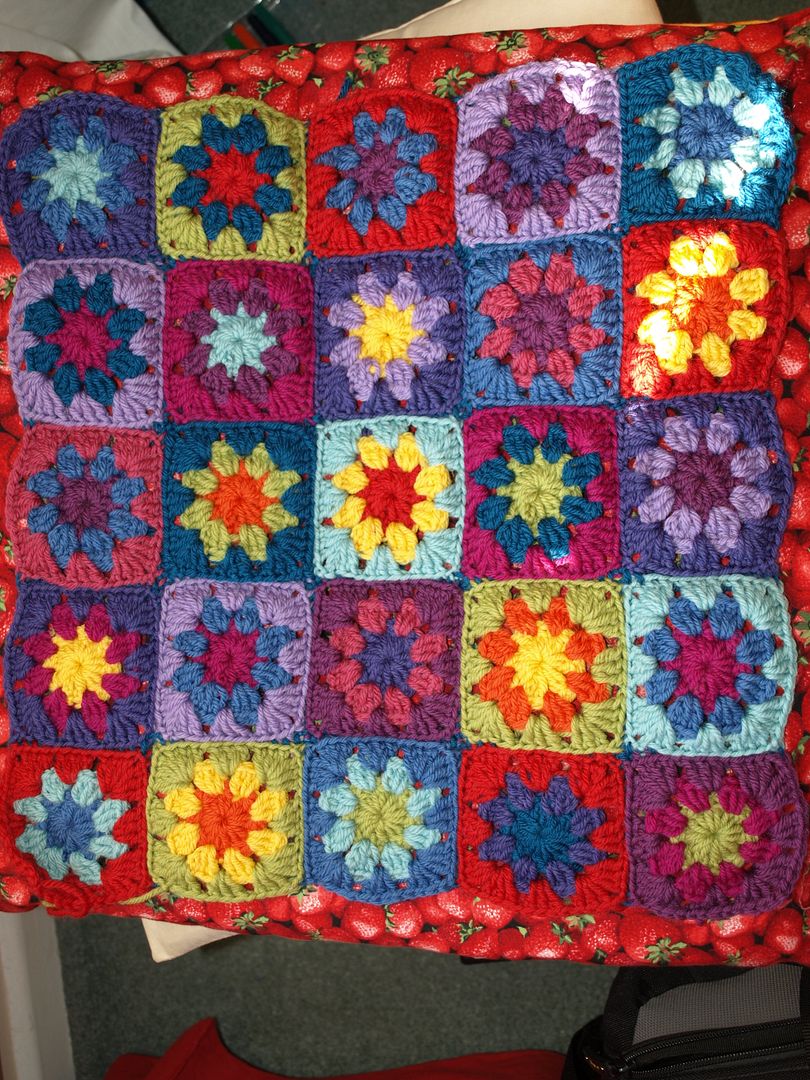 2. 50 Squares Cushion My blanket looked a bit lonely, so I made it a cushion for company. What's another 50 squares when you've already done 400? This cushion felt speedy quick to make. I finished the last seam when I was supposed to be packing to move back to Leeds (the very last night at home actually.) It's a bit worse for wear now because I use it all the time and the cushion is rather smaller than the cover now!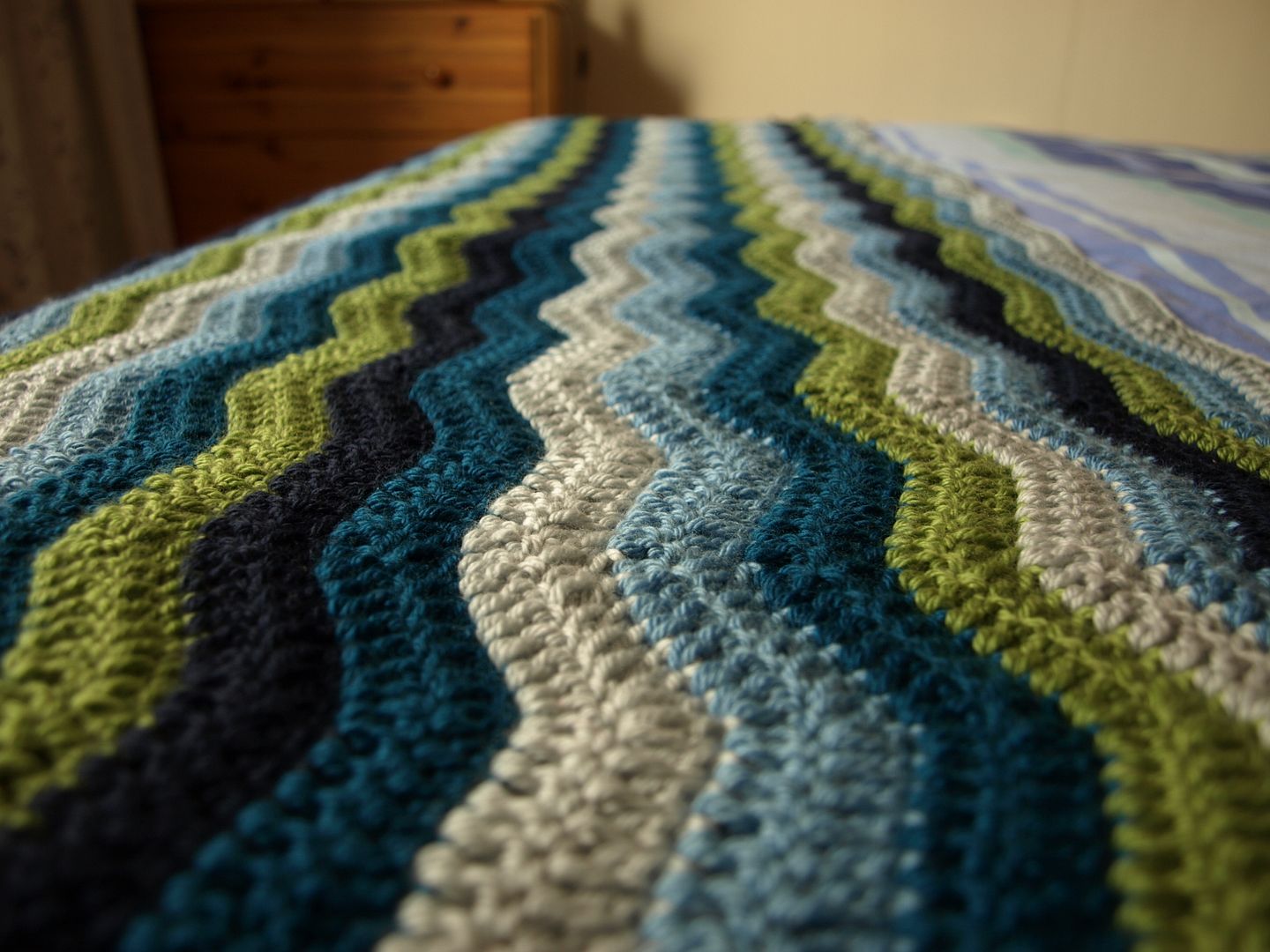 3. Cashmerino Ripple In the colours of the green fields, hills, sky and clouds. This was Christmas present yarn from Andy and my Grandma and still needs a few stripes adding before it takes pride of place as a runner on the end of the bed. It's so lush that I mainly wear it as a shawl around the house!
4. Second Cushion I sold this to a lady in America. That felt awesome. Hurrah for feeling awesome!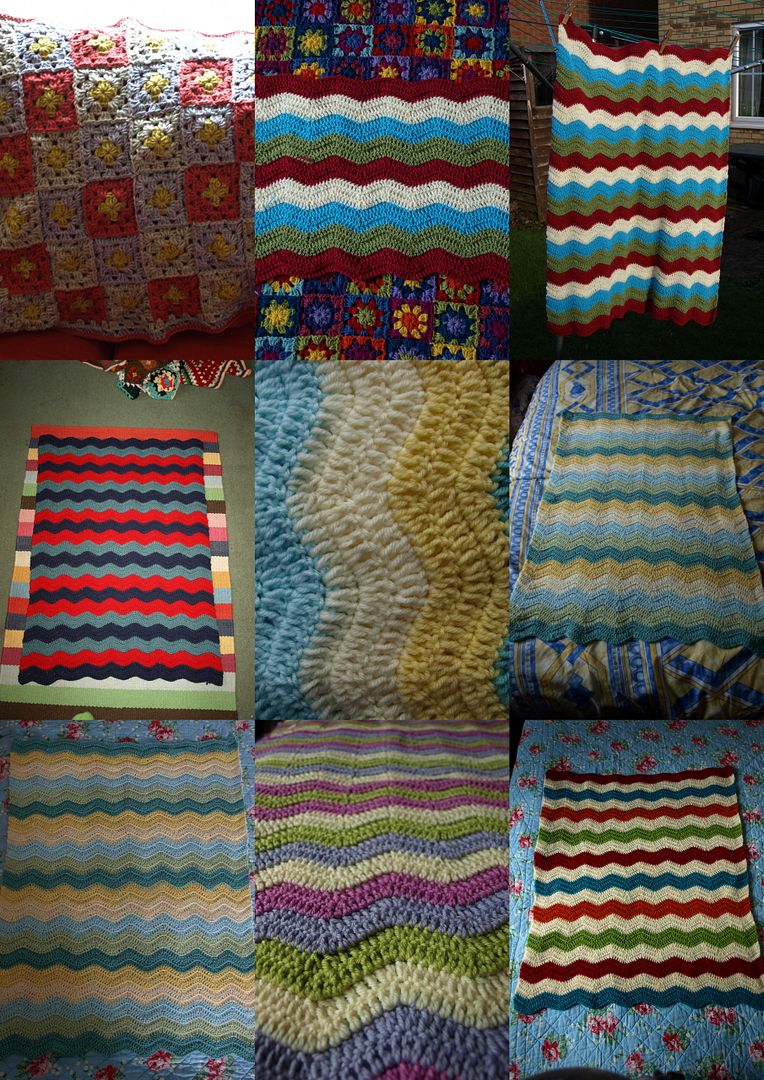 5. Cashmerino Aran Blanket from sale yarn made whilst staying with Andy in Southampton (during the whole living in the wrong places/redundancy/unemployment period). I have this on my little Lloyd Loom nursing chair that my mum handed down to me. You can't sit on it but it's strong enough to hold a little blanket!
6. Rosie Baby Ripple For our friends David and Ellie who had their first baby in March. Made from Bonus dk and Stylecraft Special dk – my first dabbling with acrylic yarn and as you can see, I came back to the Stylecraft later on.
7. Phoebe Baby Ripple For Katherine's firstborn baby. Made from Rowan Pure Wool dk in colours that my Grandma was horrified were intended for a girl. But Katherine likes it and it's warm and toasty (and was made from stash yarn, hurrah!)
8. Katrin Baby Ripple For Lisa-from-work's baby Katrin. My first use of Rico Baby dk, love it.
9. Another Katrin Ripple My baby blanket selling business didn't really take off.
10. Sweet Pea Ripple Rico Baby dk. Sold to Sarah! Wahoo!!!!
11. Circus Ripple Love this.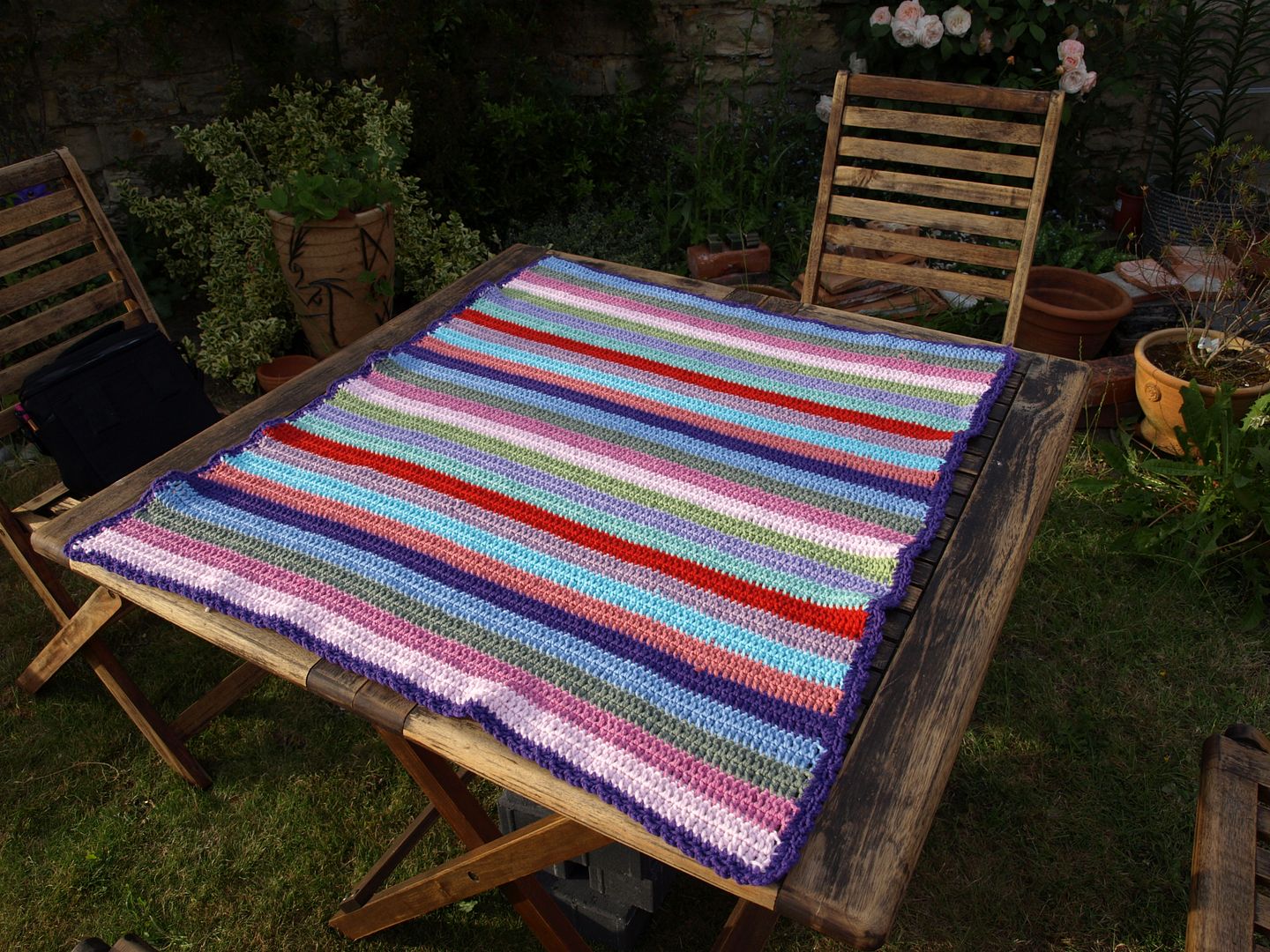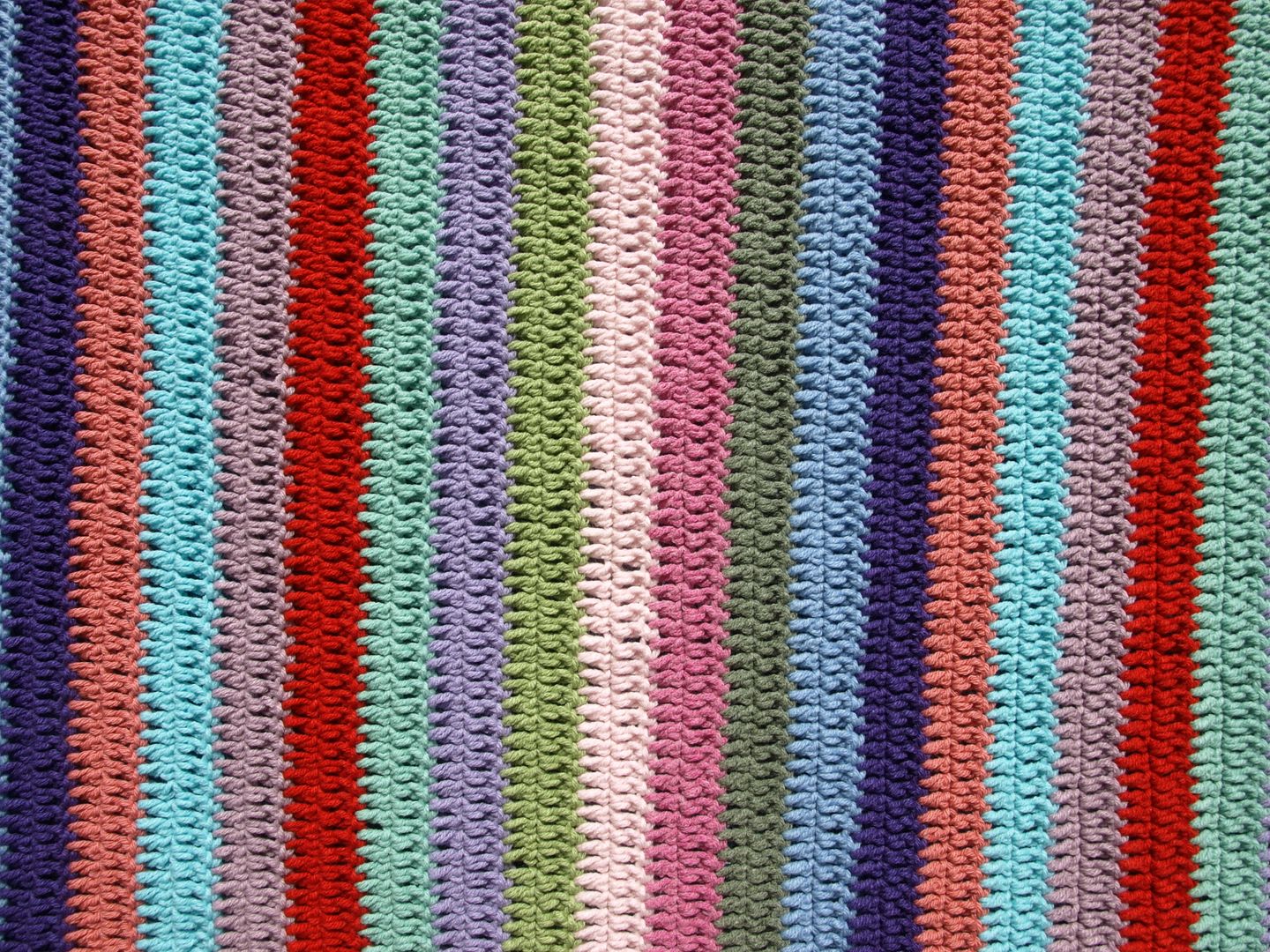 12. Kool Kotton Straight Ripple I love the feel of this (and the price of the yarn!) It was educational to work with unusual colours, but I love the end result. I made two of these, one with denser stitches. I don't have anything to use them for but I like to stroke them occasionally and admire the colours.
13.  Sweet Cotton Rose I created this rose and intended to write a pattern for you all but never got round to it. House buying got in the way. It felt awesome to design something myself. Hurrah for feeling awesome!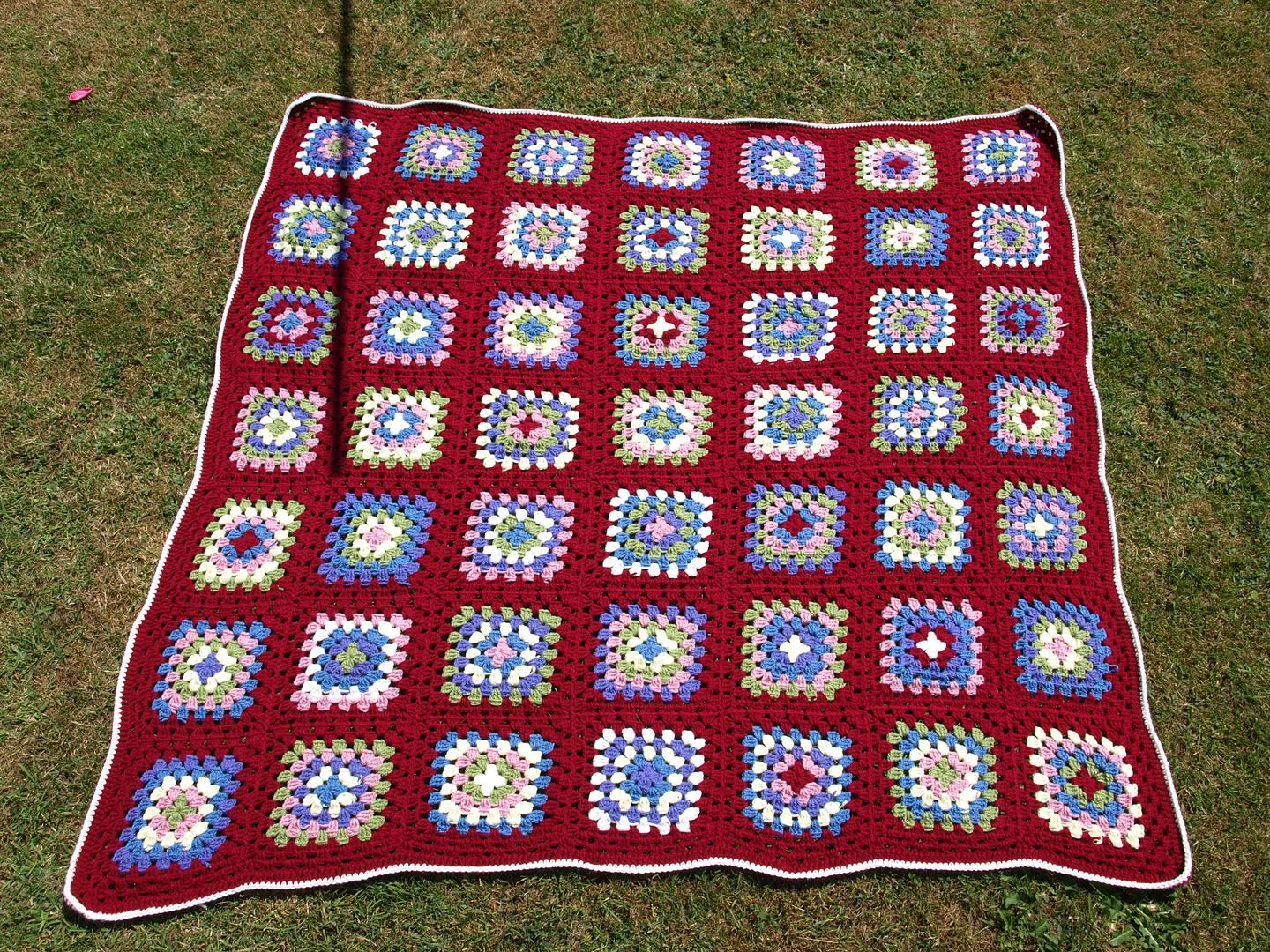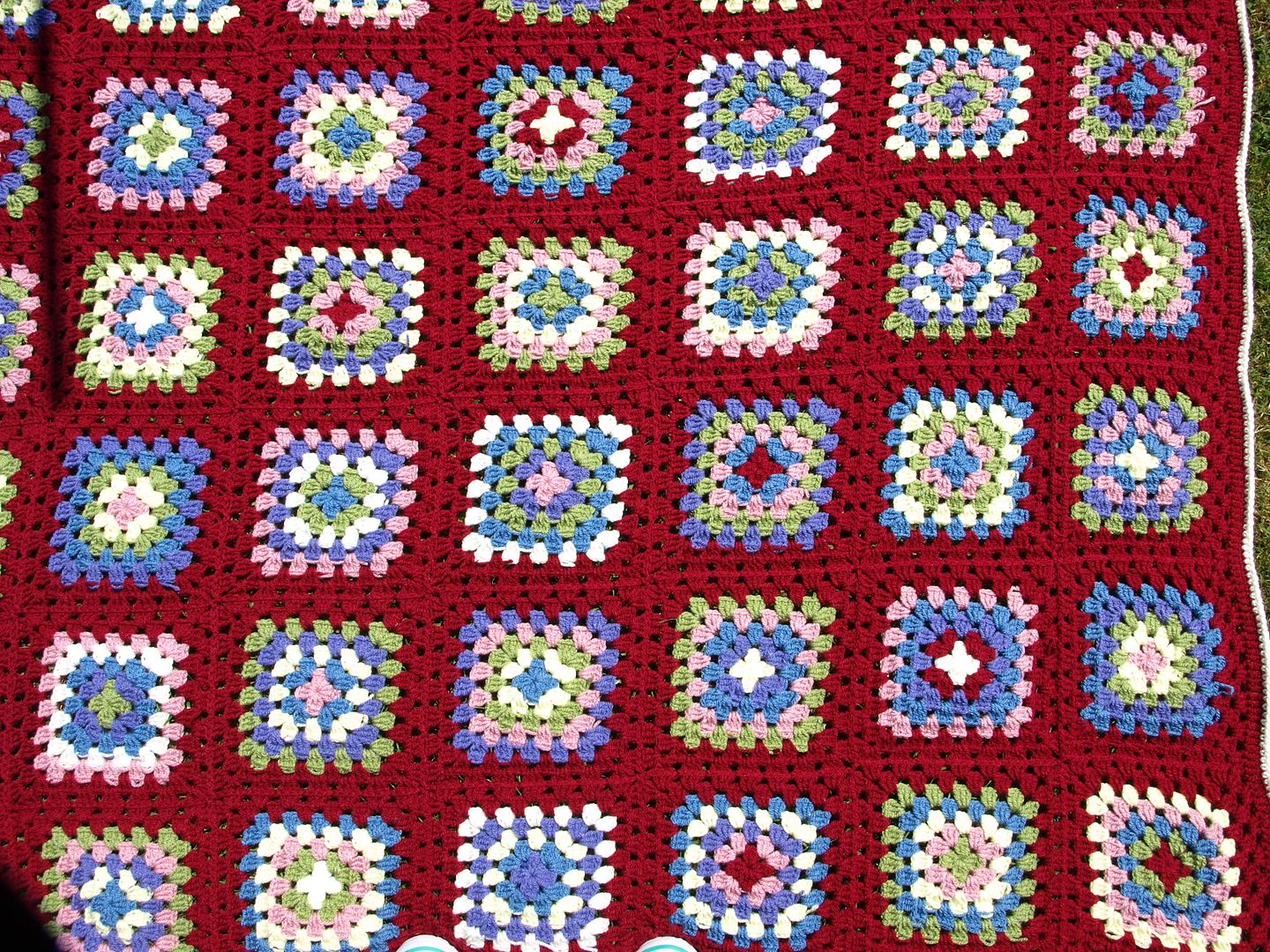 14. Granny Rachel Blanket For my sister's 20th birthday. Made from Stylecraft Special dk. My first attempt at making a vintage coloured blanket.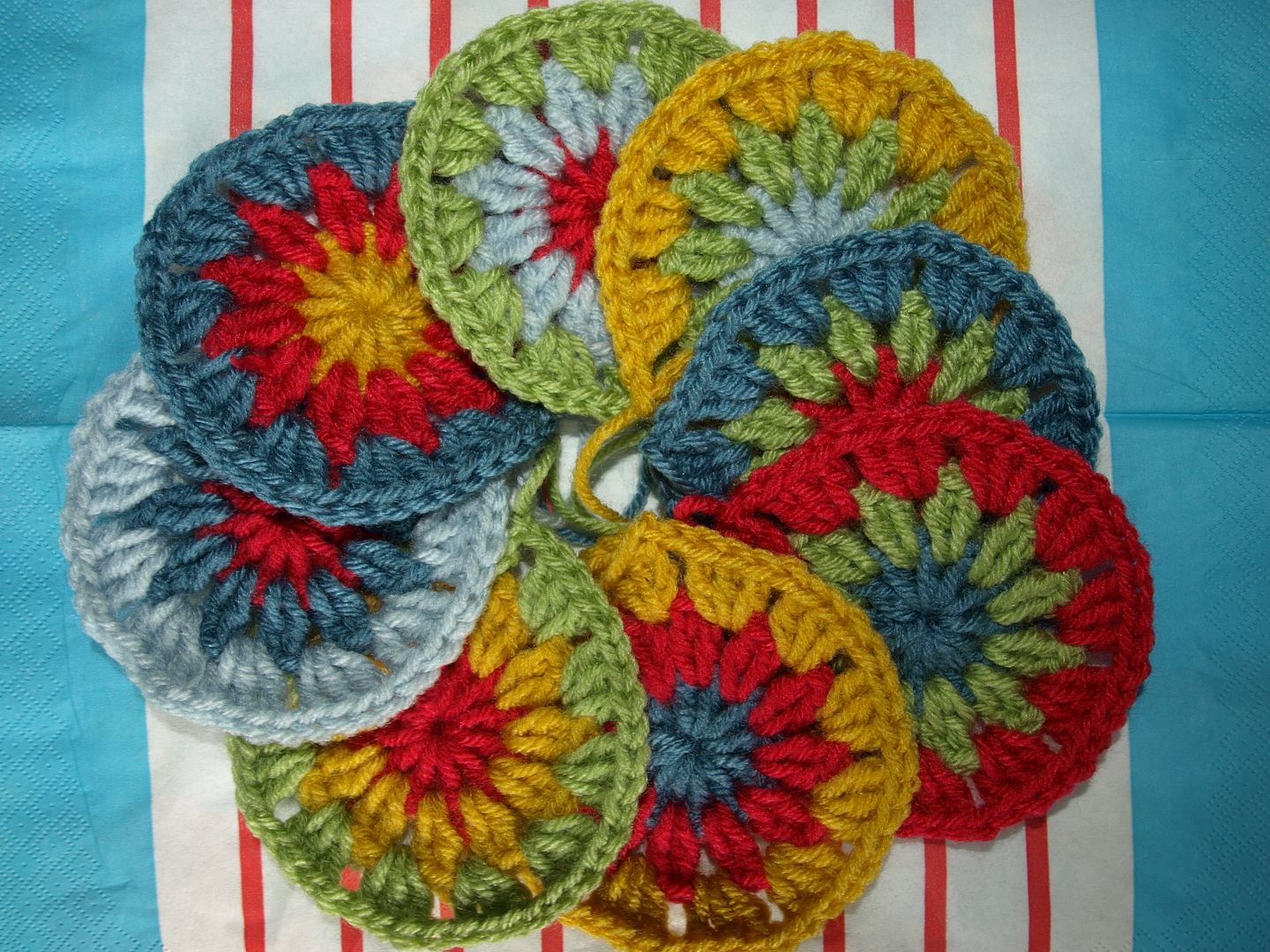 15. Vanna's Choice Circles I got gifted some gorgeous American yarn (Vanna's Choice) from the lovely Barb and set about making a cushion cover. Which I still have yet to finish. Roll on having a sofa, I say!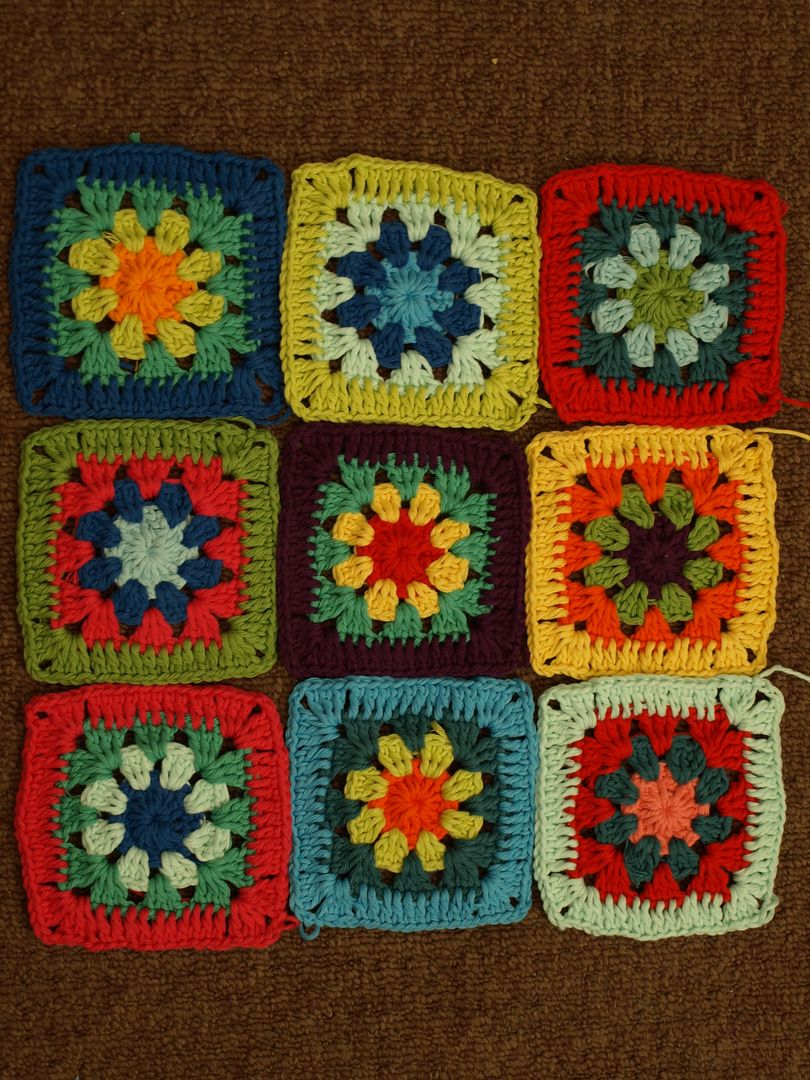 16. Rico Cotton Cushion Cover Speaking of unfinished cushion covers … these granny squares are still stacked in my bedroom! I have three other unfinished cushion covers but I can't find them to take a photo. All packed in boxes!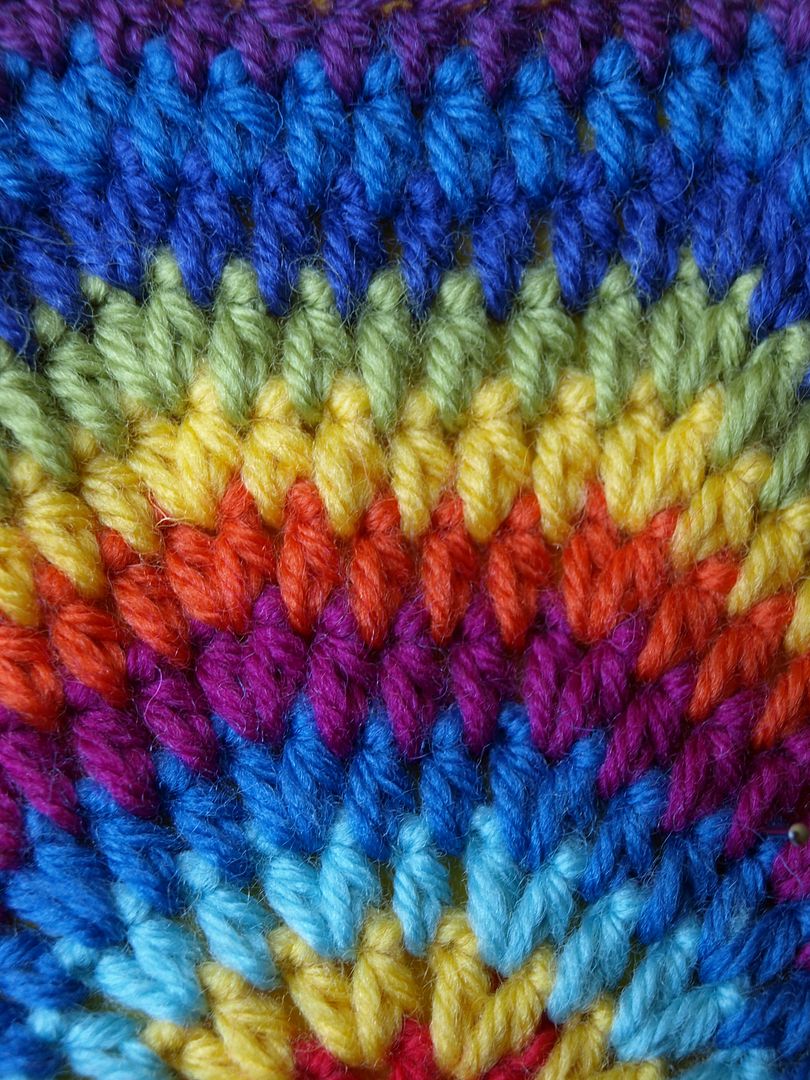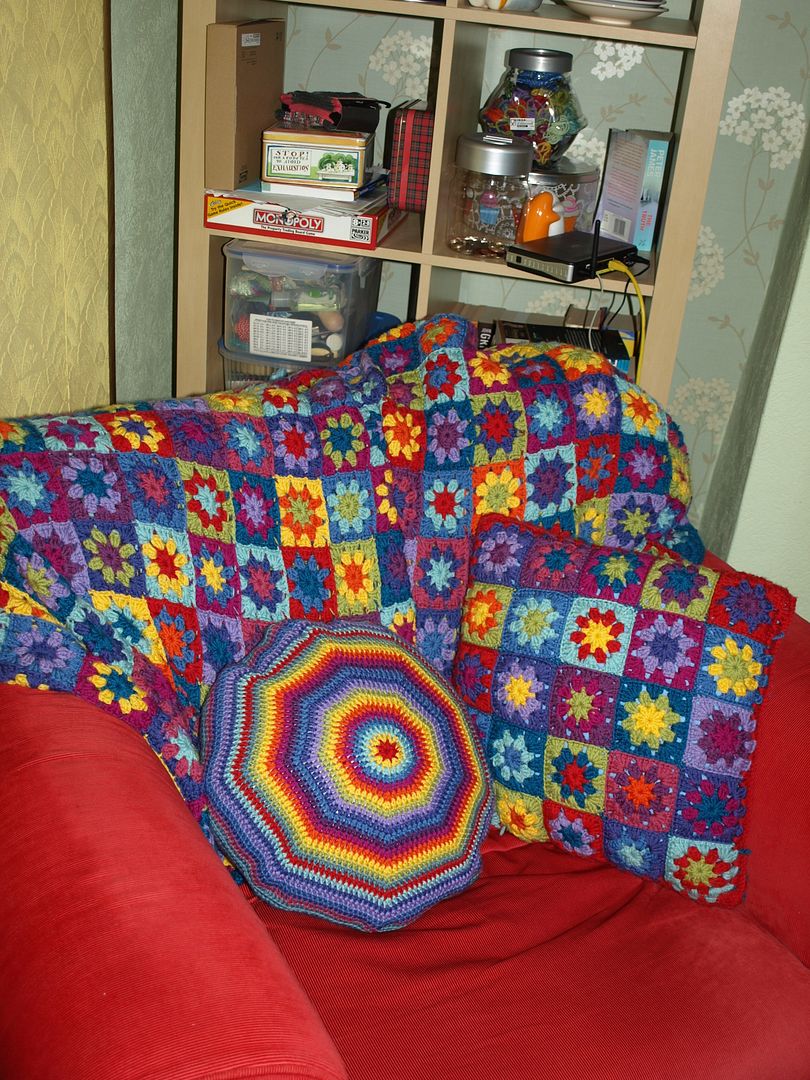 17. Round Cushion Cover Yay for finishing an item! Inexplicably wonky for weeks (stitches didn't match up) until I realised the glaringly obvious mistake – I'd missed out the final round of yellow on one side. Doh! I'm still debating whether to unpick and redo. hmm.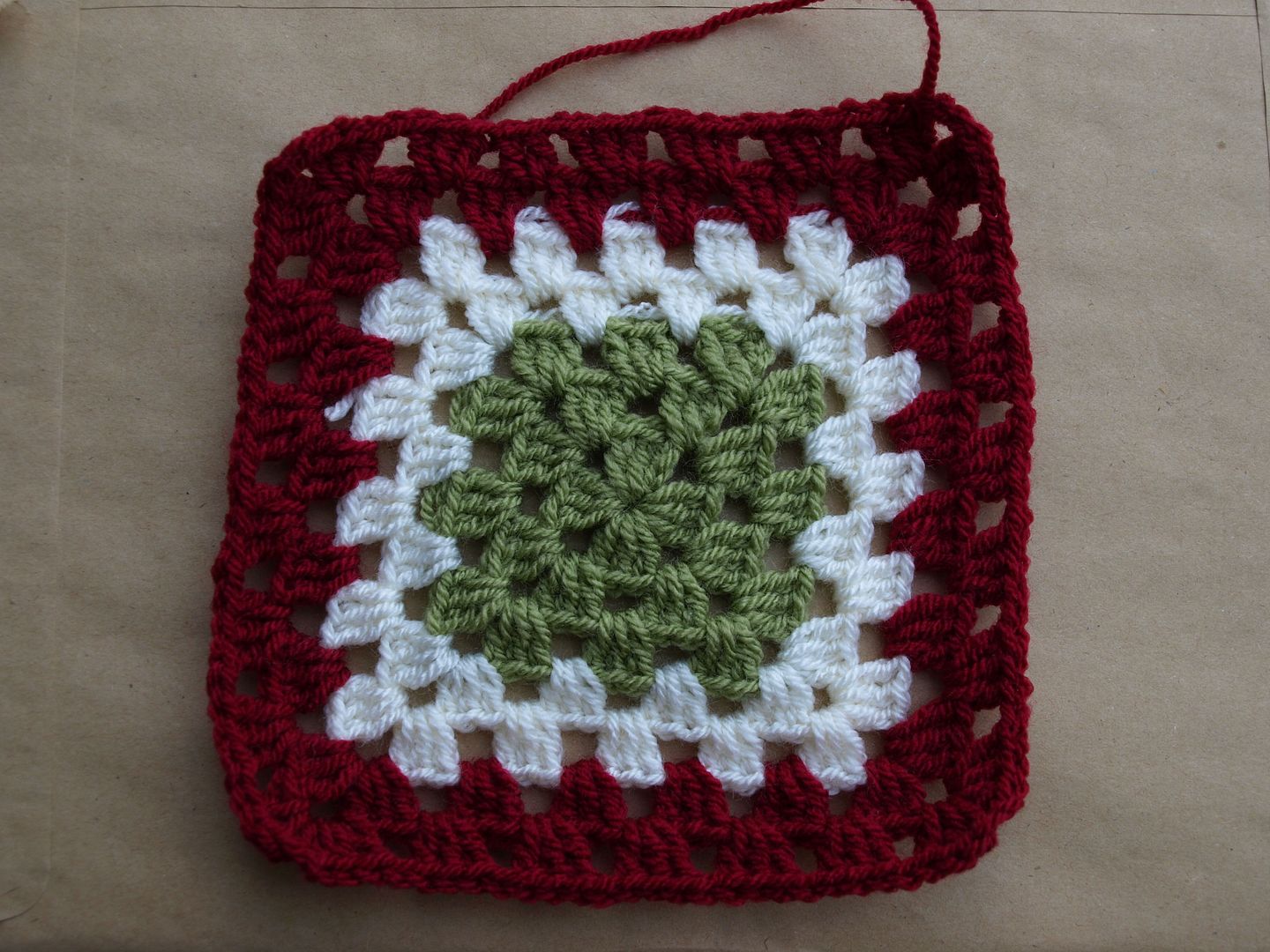 18. Christmas Square Blanket A Christmas present for Fran! It's bigger than this. It's actually made from 25 squares but I haven't taken a photo of the whole thing, whoops. It's like this. Times 25. With a border.
19. Happy Hexagons Oooooooh loook, aren't they scrummy? I have over thirty of them now. Once again, I love how this is started in 2010 and will bridge the year into 2011. That feels so special to me (when in reality it's probably a bit twee, but I don't care.)
20. I can't put number 20 on here as it is a Christmas present for someone who is yet to receive it. I wanted to include it though because 20 looks so much more productive than 19 ;-)
Pheewwww. I think that accounts for my time this year nicely! I have so many ideas popping out of my head for 2011, sometimes I feel like my fingers just can't work fast enough! I'm really proud of my 2010 crochet.