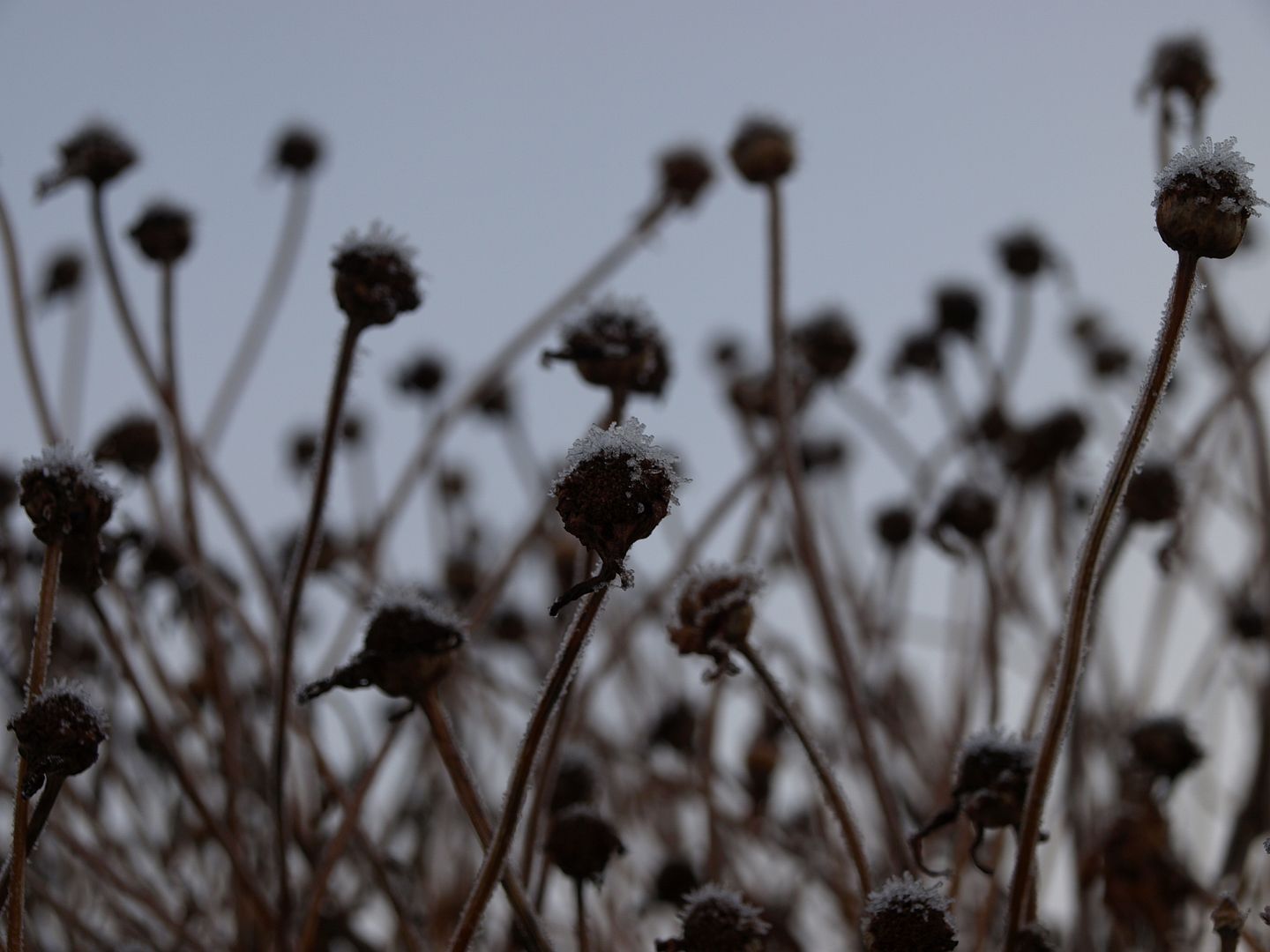 I've loved having my Father- and brother – in – law to stay over Christmas but occasionally it did feel a bit cabin feverish, having four of us in the one room for much of the time. The answer to this of course is to Get Out and Go For Walks. So that's what we did on both Boxing Day and the day after. We've had a lot of freezing fog lately, which doesn't make for a pretty view out of the window but it does leave an incredible hoar frost on everything afterwards.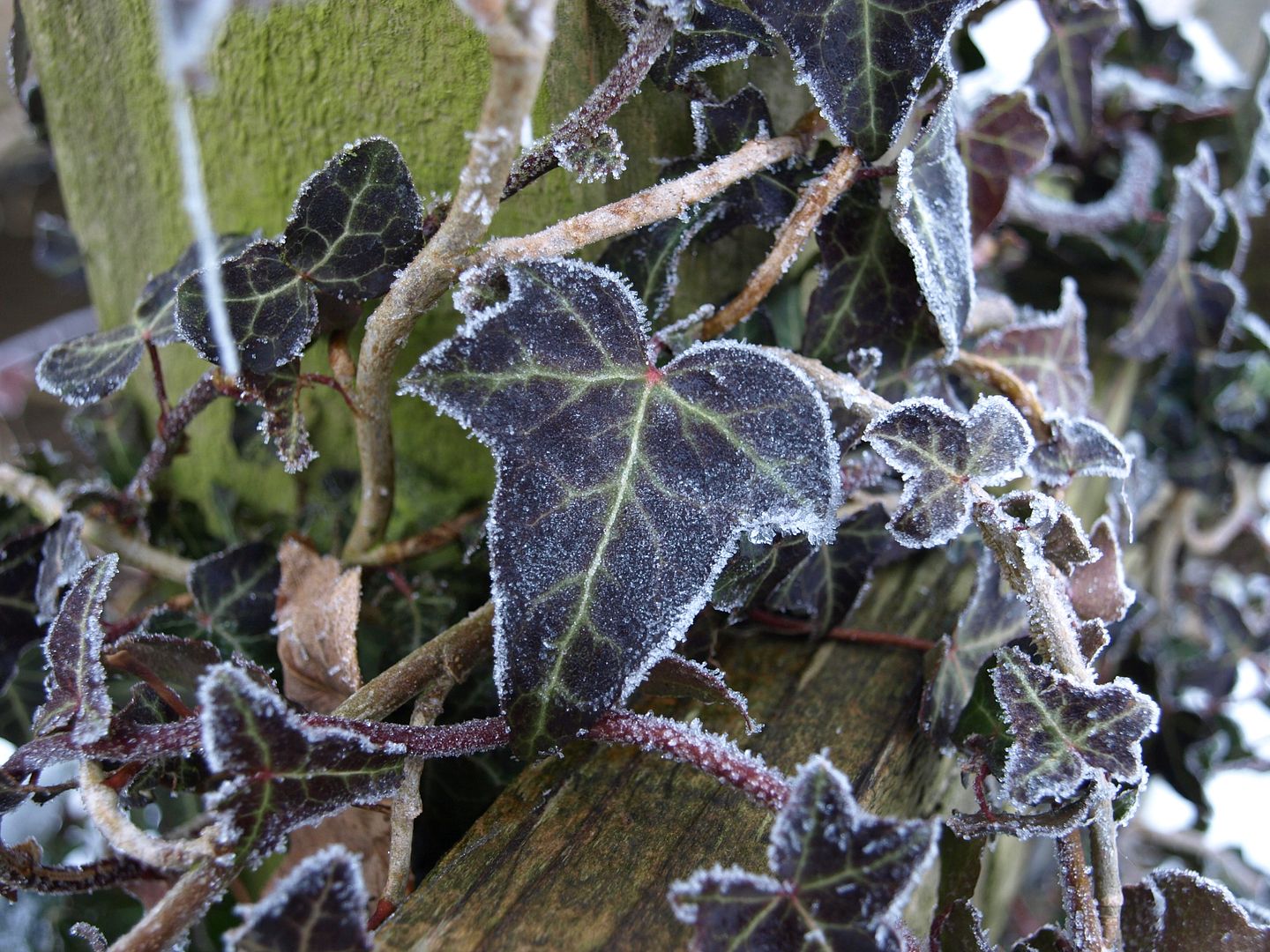 This is hoar frost clinging to the canal bridge. The majority of the walls in town looked like this, which is impressive in itself until you see it close up. Eeeeeeeh look! It's like a crystal-growing kit! (Did you ever have those? My mum had some left over from her childhood so we did have some, but I don't *think* they're made anymore.)
The combination of lots of snow, a slight thaw, a big freeze and the hoar frost has made for some interesting natural occurrences and it's such a pleasure to see them. I think the ice patches on the flowing water are really pretty, especially where it's flowing underneath the ice.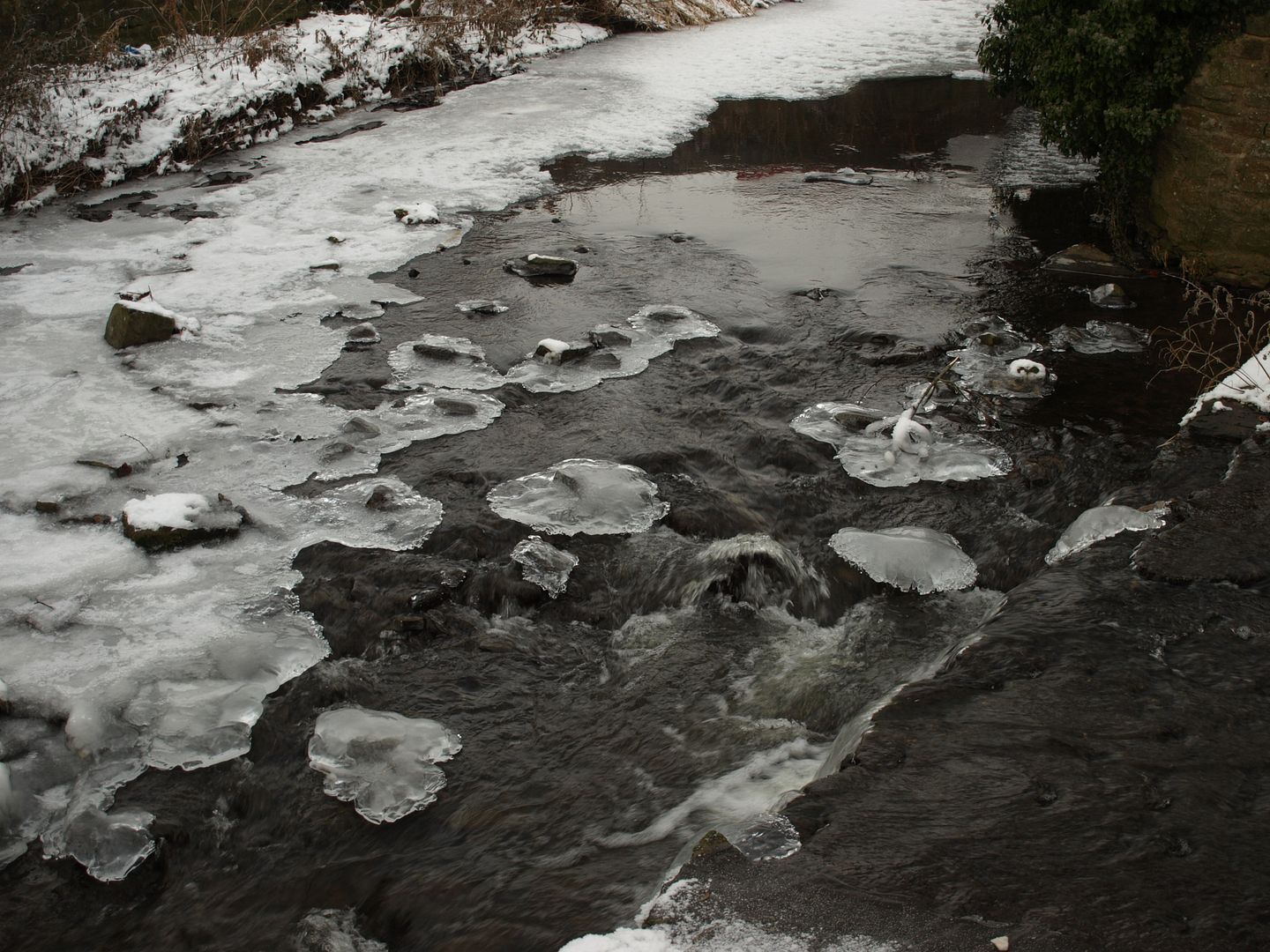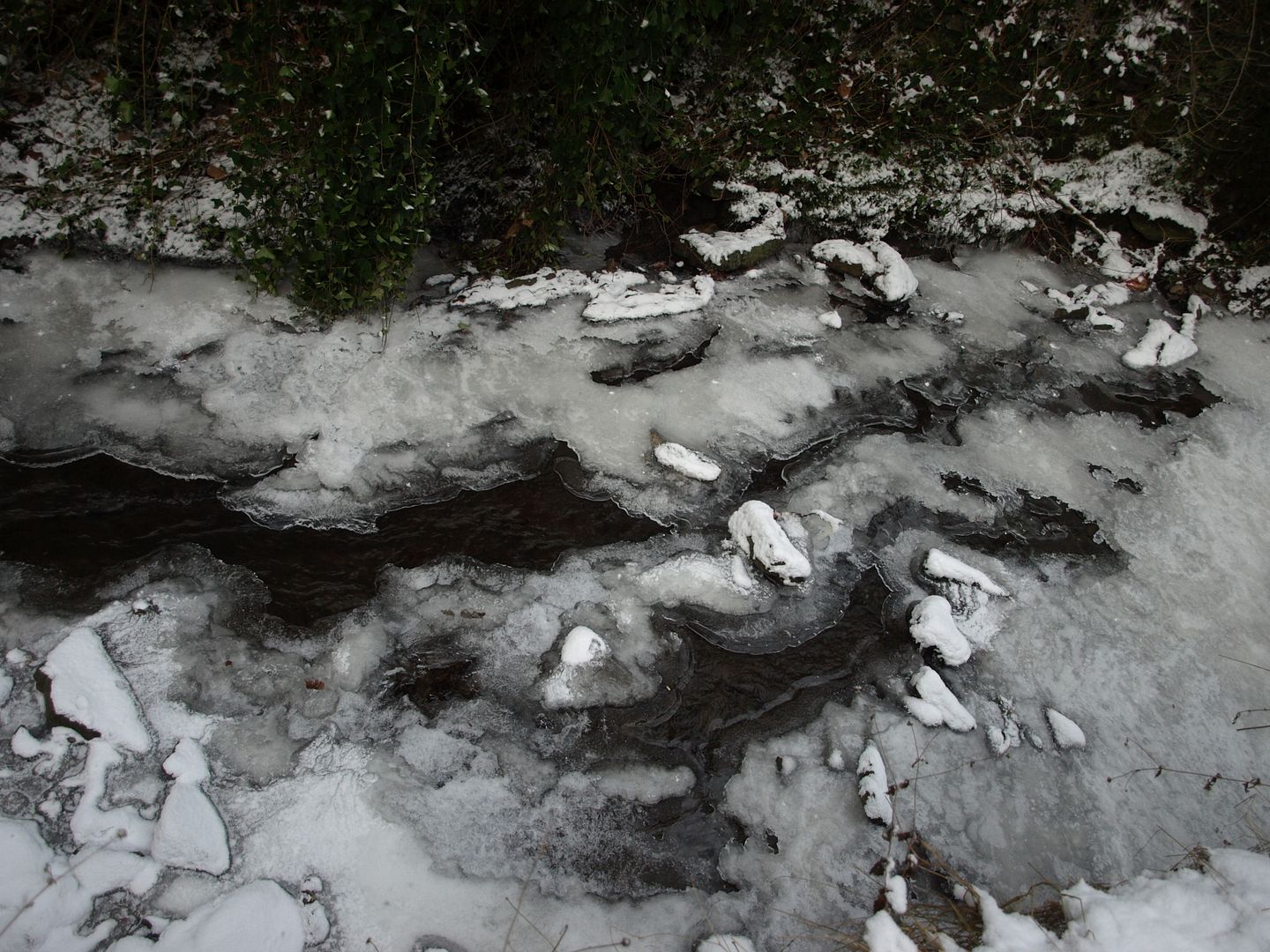 Part of our walk along the canal passes some stone walling below an embankment. There is a millpond at the top of the embankment and the water gushes, flows and trickles down and through the stones into the stream below. Not today though! Today, we have icicles. Lots of icicles!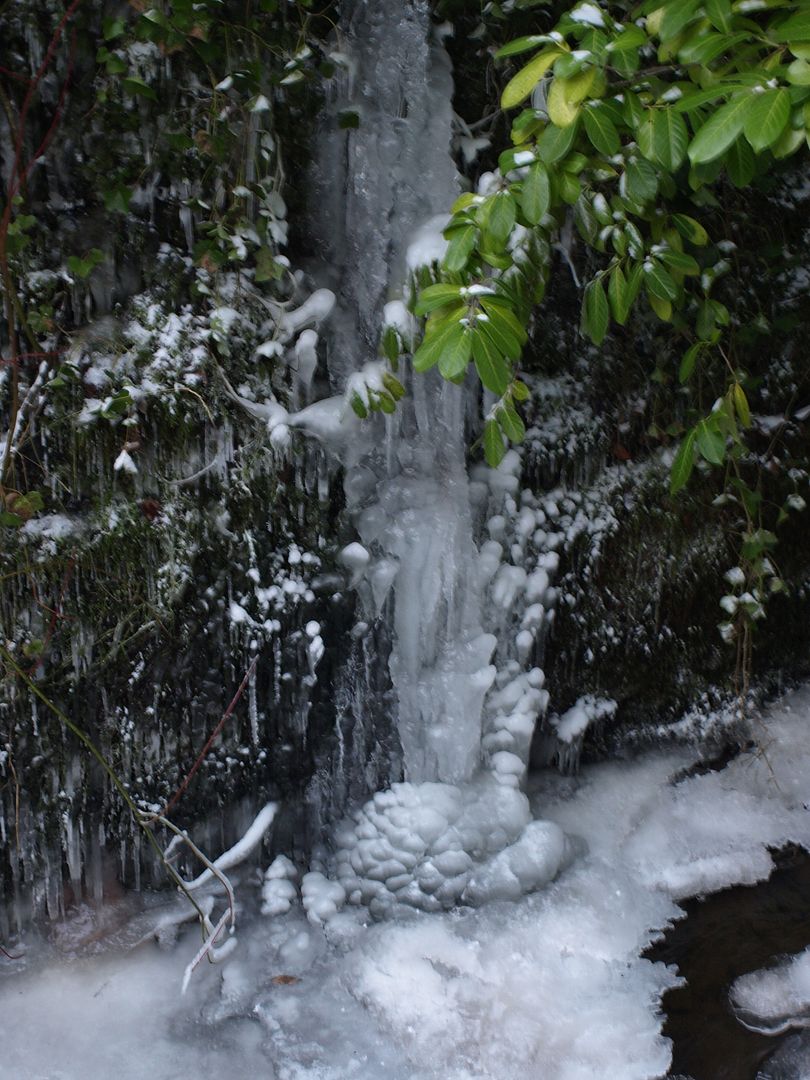 Look how it's all bubbling up! That's all frozen. I can't begin to think about how it's frozen like that, it's just a-ma-zing. And a bit like dribbly candlewax as well.
But the real, ultimate amazing thing is a bit further on. Just LOOOOOOK at the waterfall! Oh my goodness. I break into a run as we near this as I can't WAIT to see it. I round the bend in the path and am not disappointed. Oh wow, the waterfall is frozen! Never in my life have I seen a frozen waterfall. Woweee, I'm just in awe of it.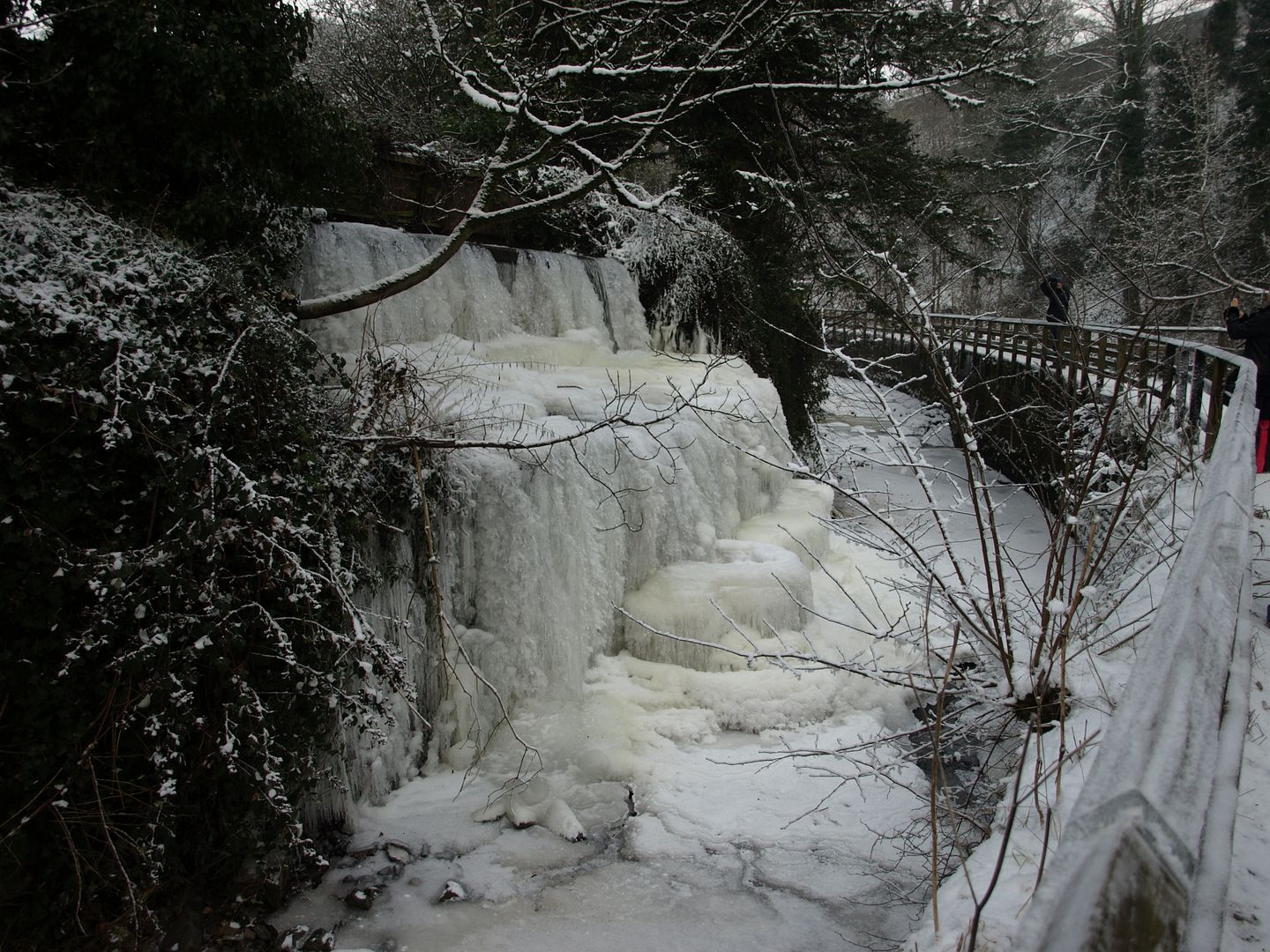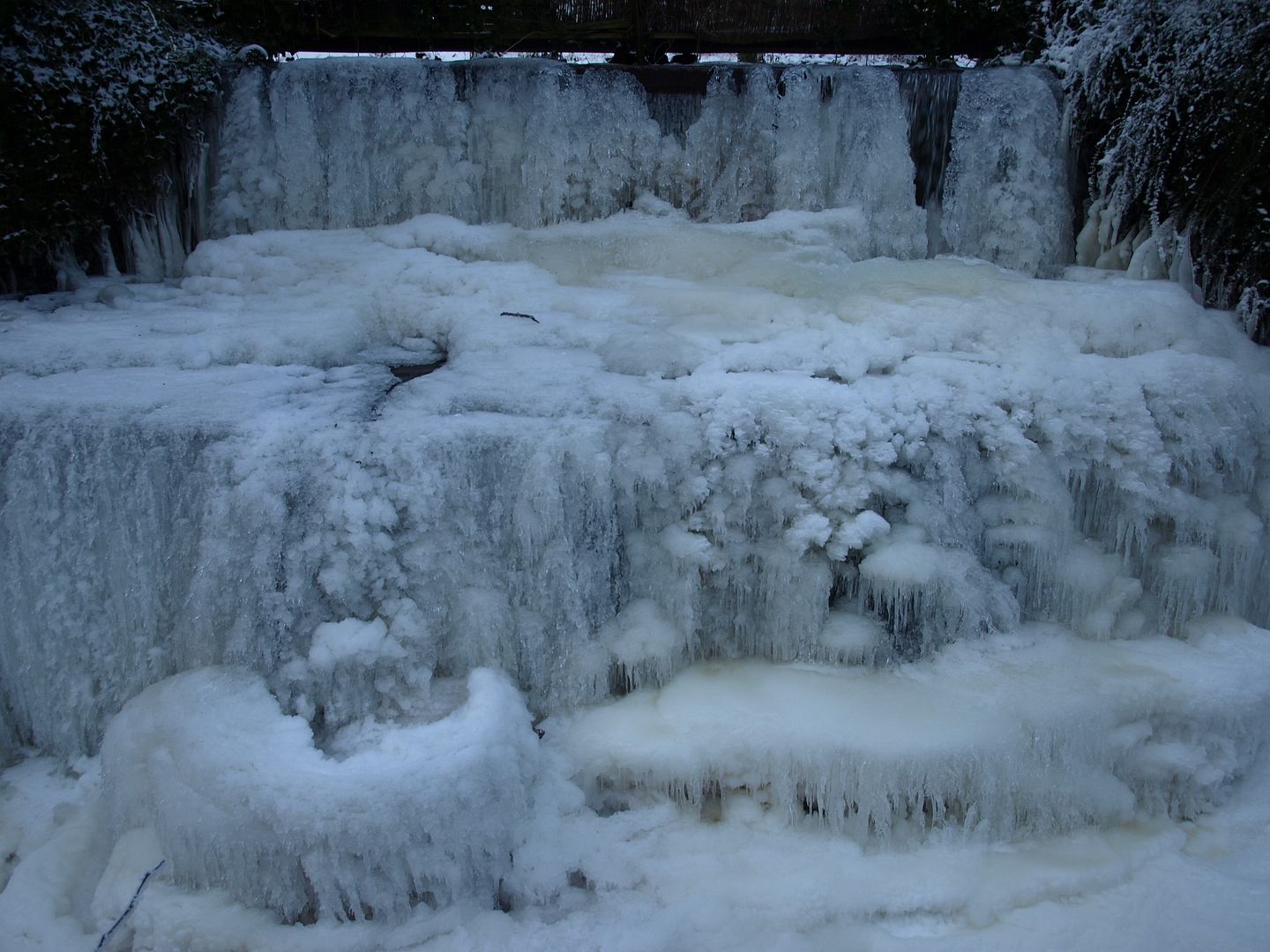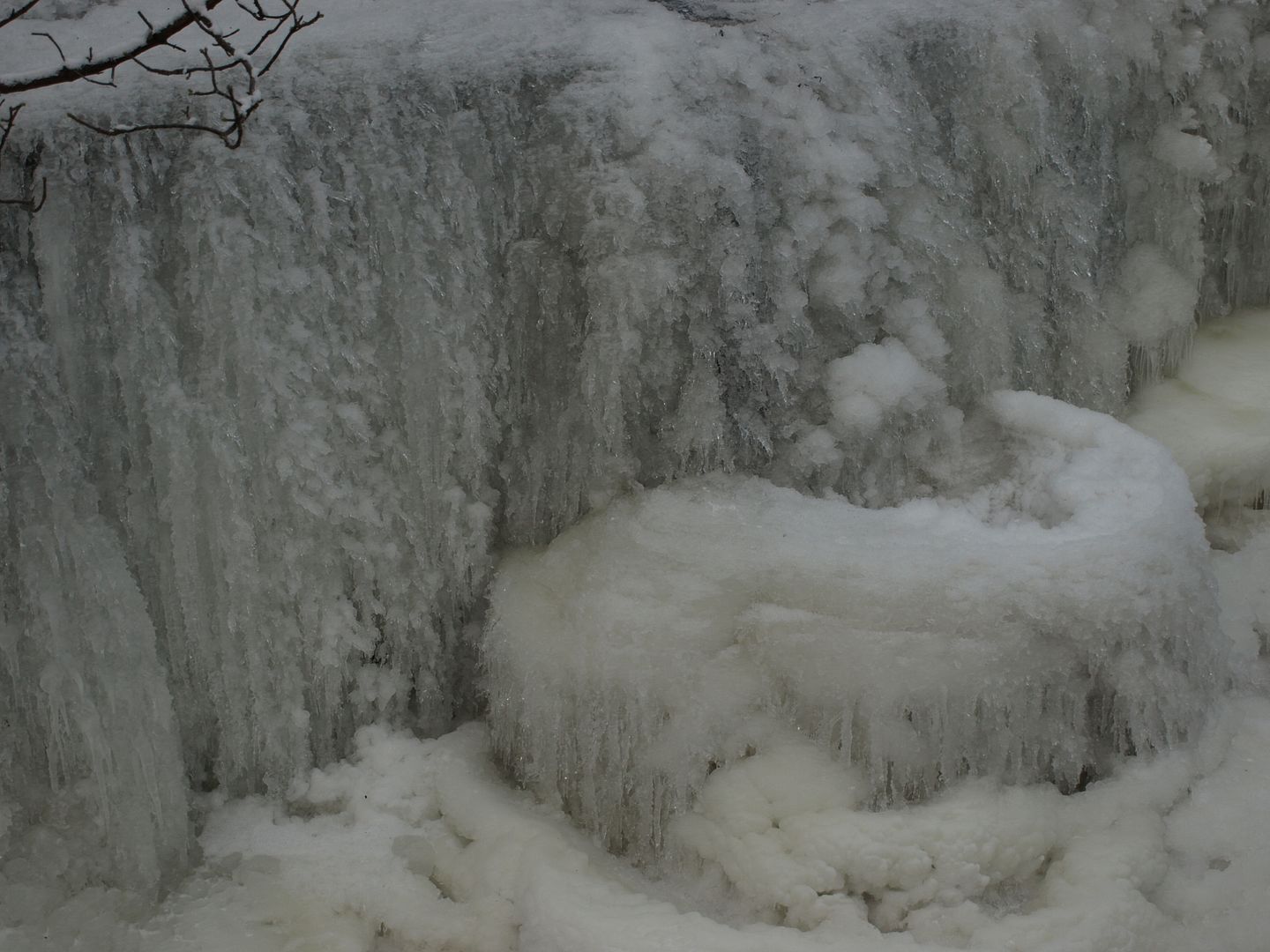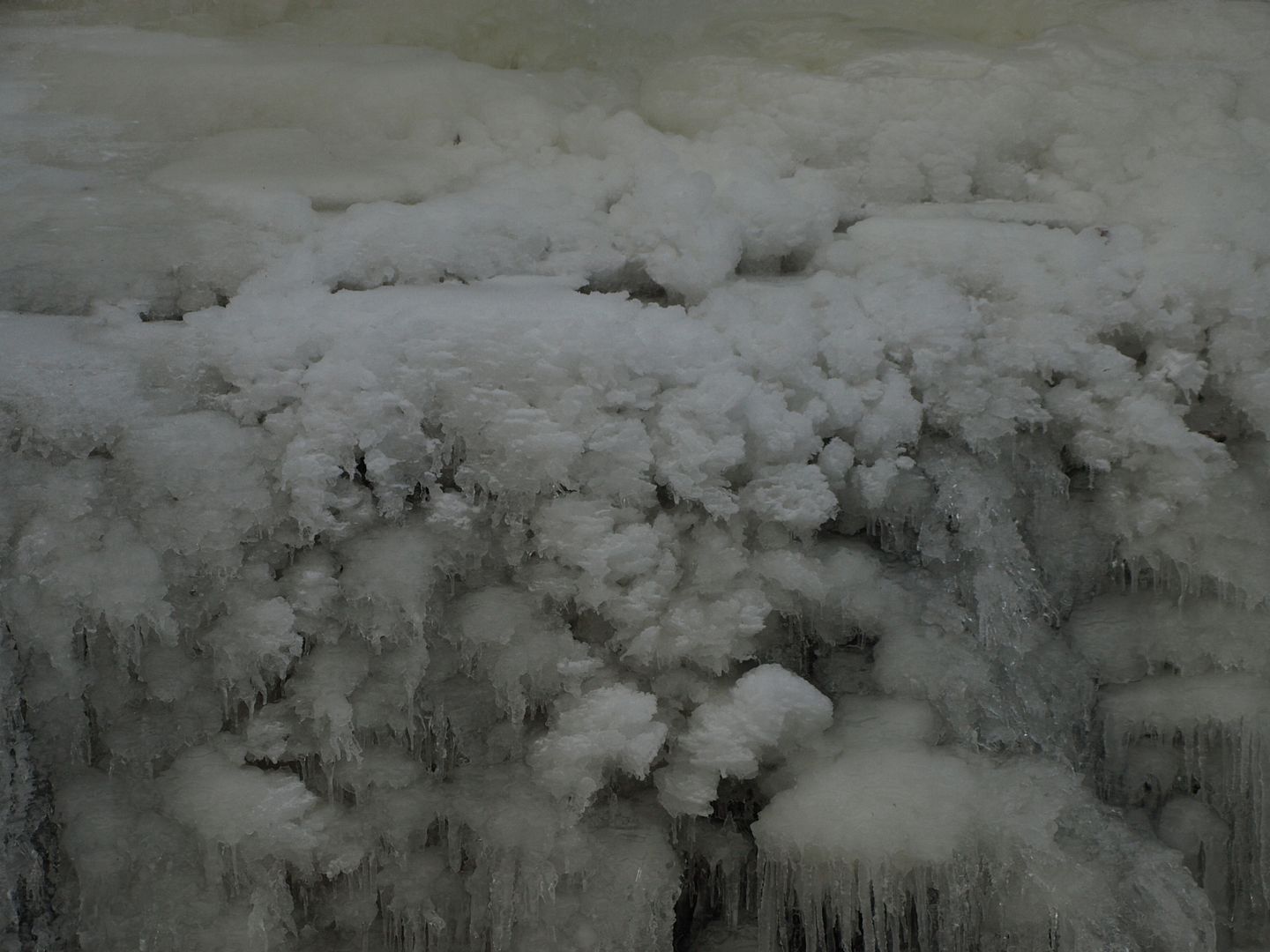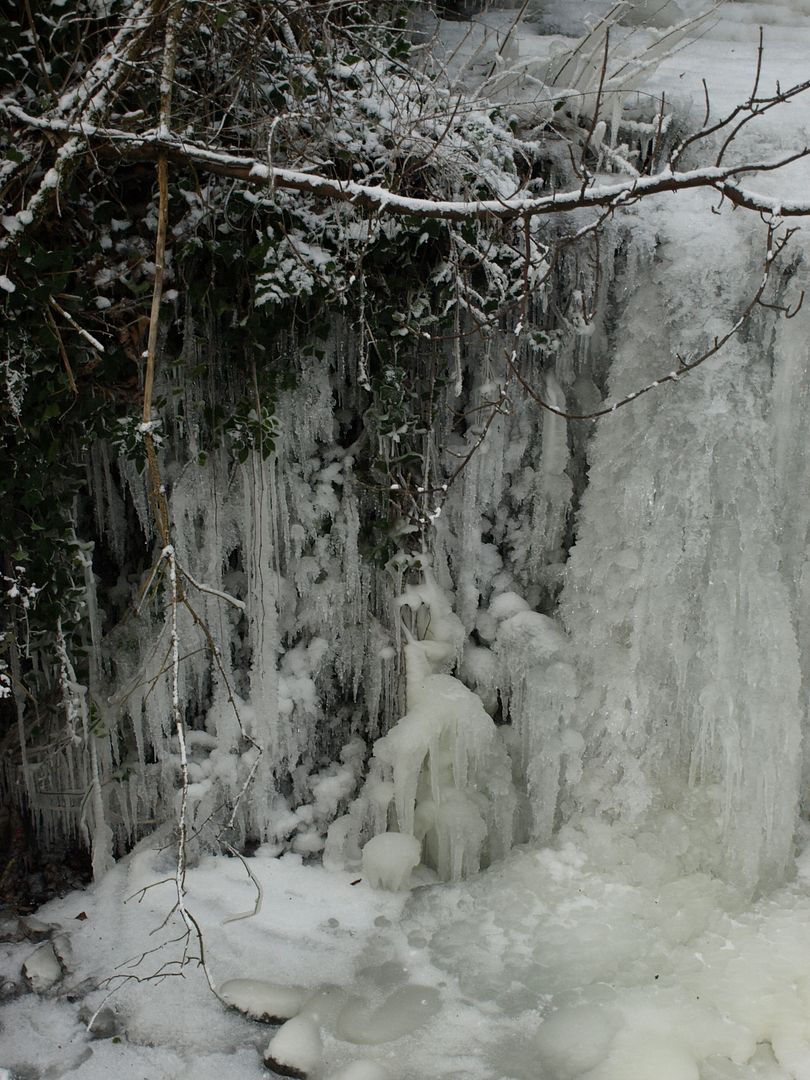 Water is still trickling behind it, but oh my goodness, it's just so beautiful. Can you believe that water, real running water, can freeze like that? In drippy icicles, bubbles, big sheets, puffy mushroom clouds of ice. The two roundy shapes at the base of the waterfall aren't anything physical that the ice has frozen around. It's just the force of the splash that's making that shape.
We return the next day after the temperature has raised a few degrees and it's starting to thaw a little. But it still looks like a wonderful magical cave or something.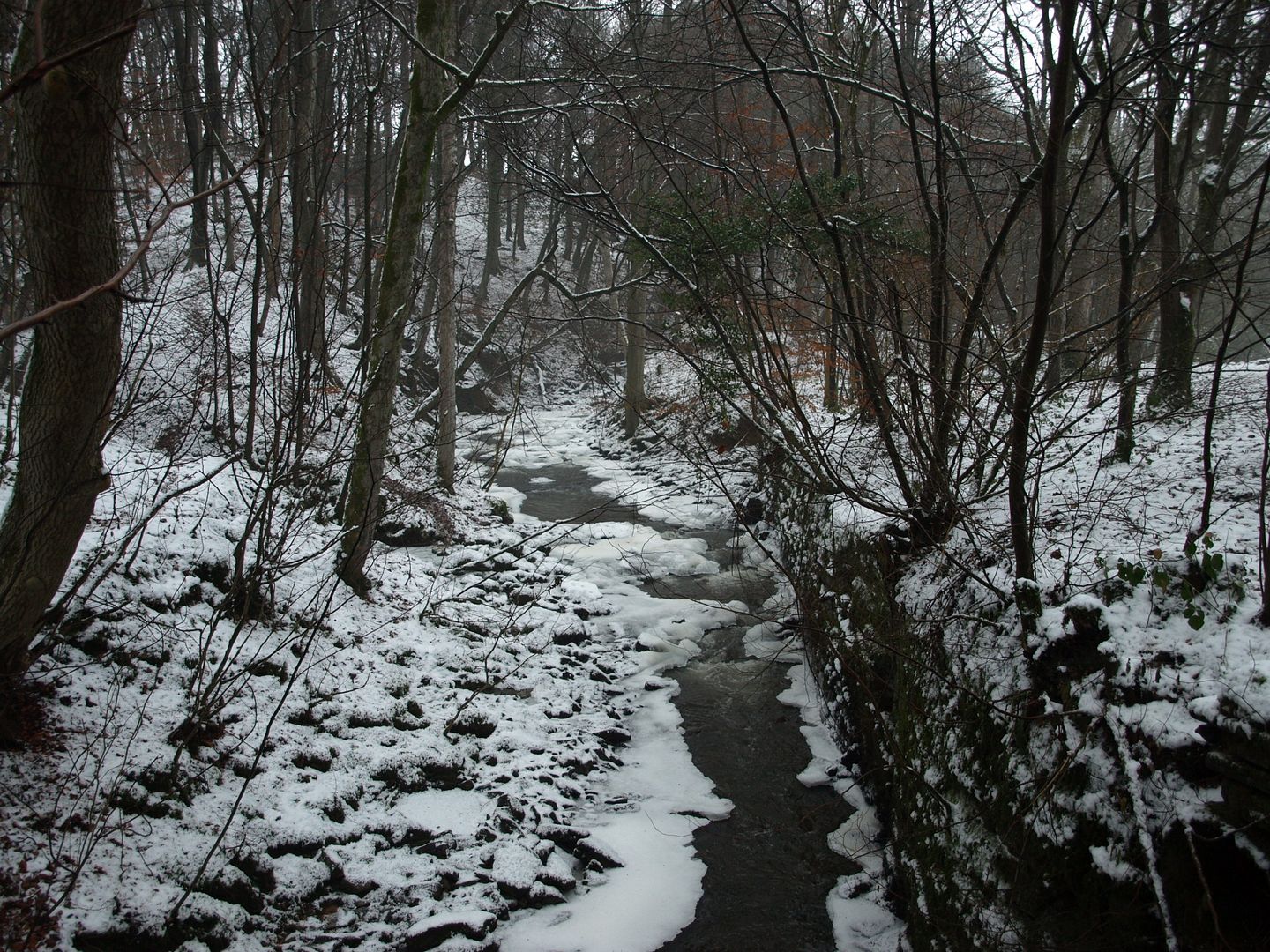 We continue our walk through the woods; I've not been this far into into it before but I'm pleasantly surprised. Actually I'm excited and overwhelmed by how pretty it is, and how it doesn't matter that it's cold and snowy and that my wellies are leaking, and that I'm getting fed up of the tiny amount of daylight hours we have in the winter, because you get to see the countryside like this. Like a winter wonderland. Beauty in the bleakness. Special. And it is even more special because by the end of the week it will be gone, the weather is due to warm up (it's already been raining a bit) and it won't look like this again.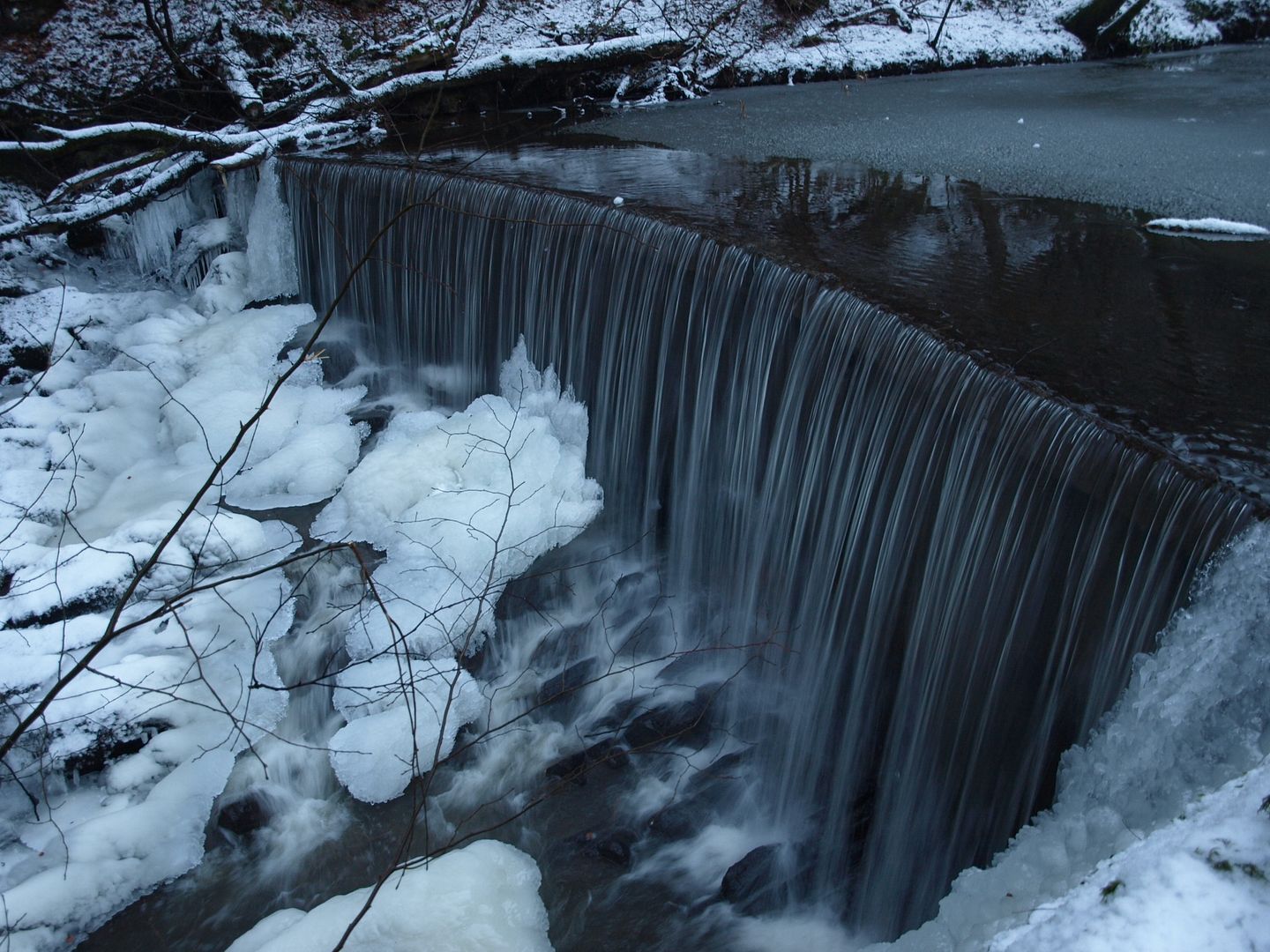 Further on we are treated to another frozen waterfall, although not quite so frozen as it has more flow and it is in a bit more of an open area. But it's no less lovely than the previous one and we spend quite a while admiring it.
Before we moved here, one of the things that we really looked forward to was being able to step out of our front door and go walking. Countryside walking. The great outdoors. We haven't done it at all really because of the house being stressful, changing jobs and whatnot, but oh my, I'm glad we did it this Christmas weekend. We also climbed the hill that we can see from our kitchen window and guess what? We can see our house from up there! Our actual house. That's ours. And we can see it, from the hill that we can see from our kitchen window. And we can see a hill from our kitchen window! OMG. For years I've wondered what the view from our home will look like, and as I was standing washing up the other day, looking out, I realised that this is it. THIS is the view from our home.
And you know what? It's really rather splendid ♥
♥♥♥♥♥♥♥♥